27 Hidden Gems in Colorado: Best Kept Secrets That Locals Love
This website may contain affiliate links and we may be compensated (at no cost to you!).
Are you looking for the best hidden gems in Colorado to escape the crowds? The Centennial State is a treasure trove of hidden gems and best-kept secrets.
The Rocky Mountains are full of natural beauty, historic mountain towns, relaxing hot springs, scenic drives, and mining history.
While cities like Aspen, Vail, Denver, and Estes Park are great spots to visit they can also be popular for tourist vacations.
Instead, we're sharing a local's guide to some of the best hidden gems in Colorado and that are off the beaten path.
Many of these destinations are easily accessible from the Denver area or are in close proximity to Colorado Springs.
1. Skyline Drive
One of the best hidden gems in Colorado is located in Canon City and known as America's most scenic-one way road.
The historic and narrow road that is Skyline Drive showcases 360 degree views and steep cliffs on either side.
Driving over Skyline Drive on a Canon City Jeep tour is one of our favorite outdoor experiences. If you're an adrenaline junkie, you'll love this adventure.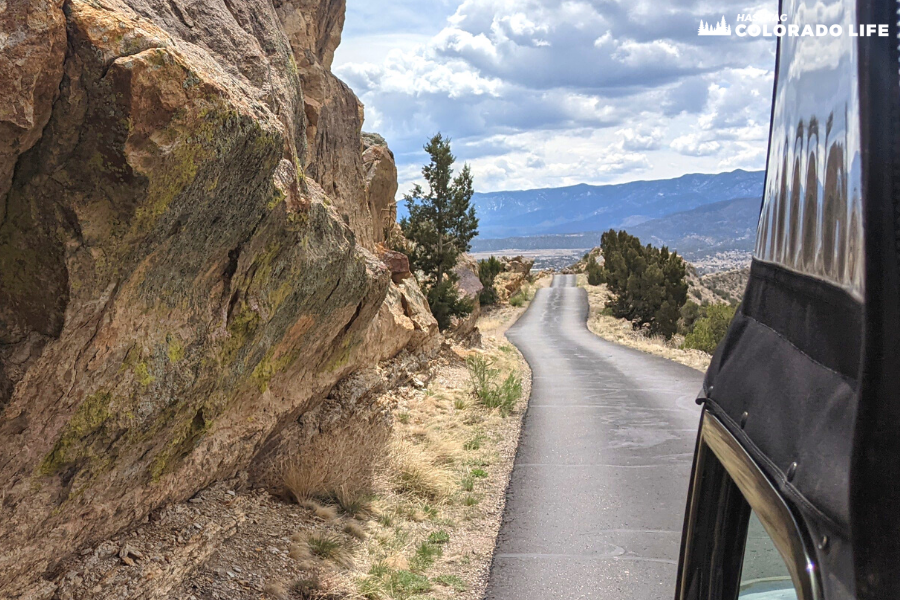 This one-way asphalt road is 2.6 miles long and sits along a razorback ridge with no guardrails or fences for safety.
Along the way you'll be treated to multiple pull-offs and scenic overlooks for a one-of-a-kind driving experience.
In addition to the stunning views, you can check out some of the fantastic dinosaur fossils and footprints that date all the way back to the Cretaceous Period.
2. Paint Mines
Another of our favorite hidden gems in Colorado is the Paint Mines Interpretive Park.
Located about 40 miles east of Colorado Springs, this geological park is like no other place in the state.
There is no fee to enter the park, so you can enjoy this short day trip without spending any money.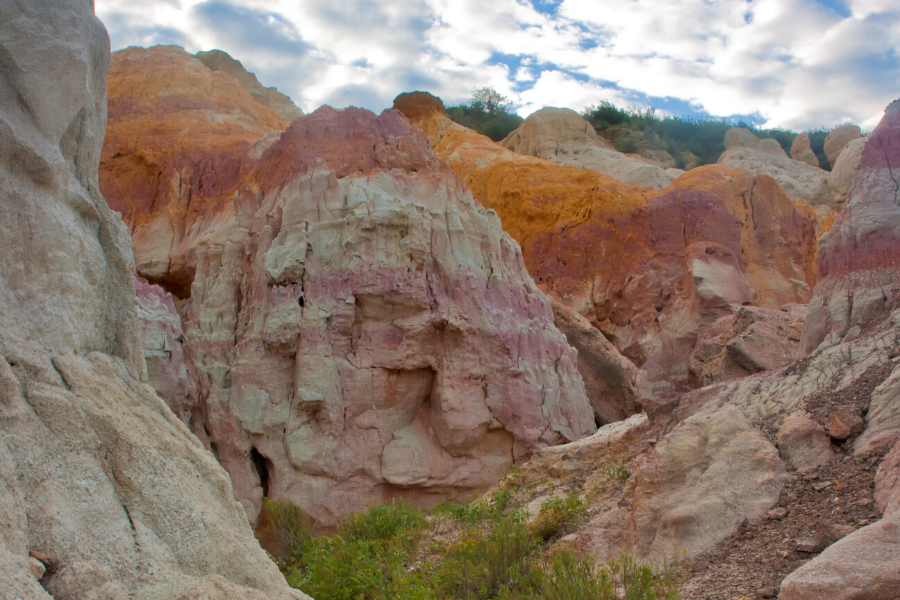 The Paint Mines is a large ravine formed by beautifully colored rock and sandstone that turned into spires and hoodoo formations.
After years of being exposed to the elements and harsh wind and erosion, these unique rocks are a very unique find.
The park features 3-4 miles of moderate to easy hiking that's great for both kids and adults. The Paint Mines Interpretive Park gives new meaning to the phrase "colorful Colorado."
3. Woodland Park
While considered a small mountain town, Woodland Park has a surprising amount of things to do and to see.
Conveniently located just 18 miles west of Colorado Springs, Woodland Park is listed as one of the best places to retire in Colorado.
The town has a stellar job market and offers secluded mountain living with plenty of outdoor activities.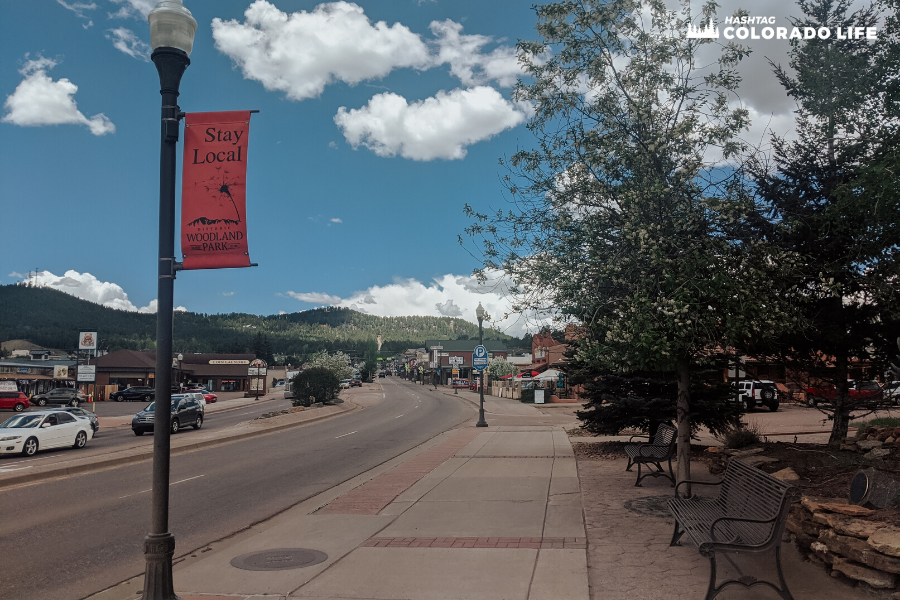 It's also home to the Rocky Mountain Dinosaur Resource Center which was rated #2 for the best dinosaur exhibit in the United States.
You can also check out Antler Alley, and a plethora of other shops and restaurants along main street.
We recommend getting a donut from the Donut Mill or eating lunch at Cafe Leo.
Another hidden gem to check out near Woodland Park is the Rampart Reservoir Recreation Area.
We enjoy camping and fishing here in the summertime. It's a beautiful 500-acre body of water and is the largest lake in Pike National Forest.
4. St. Elmo Ghost Town
Often considered the best ghost town in Colorado, Saint Elmo is also one of the most accessible ghost towns to visit.
St Elmo is located near Mount Princeton Hot Springs and is one of the main places to visit when planning a southern Colorado road trip.
Walking down the main street of St Elmo feels like a historic movie set that has come to life.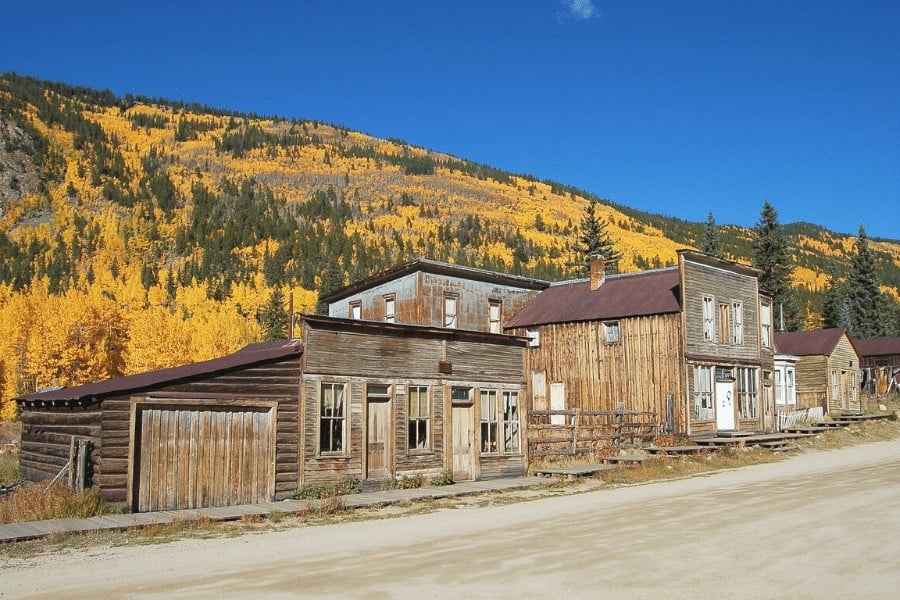 Of the 43 buildings that remain on Chalk Creek Canyon, there are still a few remaining. You'll find an old saloon, courthouse, jail and several private homes.
Today, you can check out all of the history and grab a snack at the local St Elmo General Store.
Saint Elmo is one of the best Colorado hidden gems if you like learning about the history and wildlife of the state.
5. Black Hawk & Central City
Just a short 45-minute drive west of Denver you'll come to the city of Black Hawk.
This self-governing town is one of the few in the state to be allowed fully operational casinos and legitimate gaming resorts.
Black Hawk and its sister city, Central City, are home to family-owned saloons, quirky local business, and an accessible main street.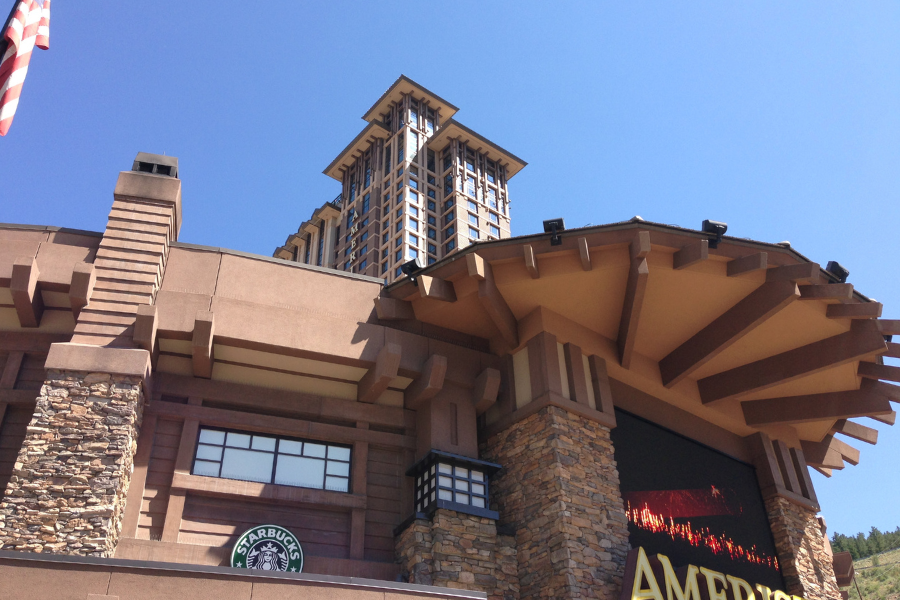 A self-guided walking tour of downtown yields many historical landmarks and unique architecture from the mid-1850s.
Near the city of Black Hawk is the Peak to Peak Scenic Byway, as well as gorgeous hiking and fishing spots.
And just outside of town is a popular winter hike, Saint Mary's Glacier, which is an easy 2-mile hike to a real glacier.
6. Golden Gate Canyon State Park
Just north of Black Hawk is another Colorado hidden gem, Golden Gate Canyon State Park.
Golden Gate Canyon State Park is only 30 miles west of Denver, so it makes for a great place for summer or winter hikes near the city.
This 12,000 acre landscape is full of rolling hills, aspens, evergreen pines and endless trails for hiking and biking.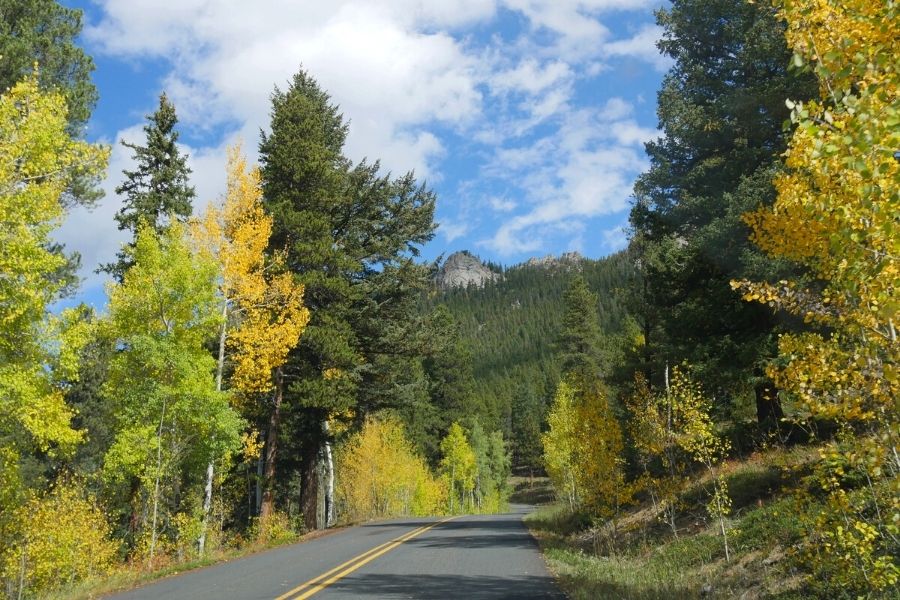 Golden Gate Canyon State Park is open year round and welcomes dogs that are leashed as well as horseback riding.
A lovely spot that's a hidden gem is Panorama Point Scenic Overlook. This 4.7 mile loop trail features wildflowers in the summer or epic leaf peeing in the fall.
7. Cripple Creek & Victor Narrow Gauge Railroad
Following Highway 24 heading west, Cripple Creek is located just 45 southwest of Colorado Springs.
The drive itself is beautiful with winding roads and scenic views. You'll pass through towns like Woodland Park, Divide, and Mueller State Park.
While the town of Cripple Creek is mostly known for its gold mining history and casinos, there is a surprising amount of kid-friendly activities as well.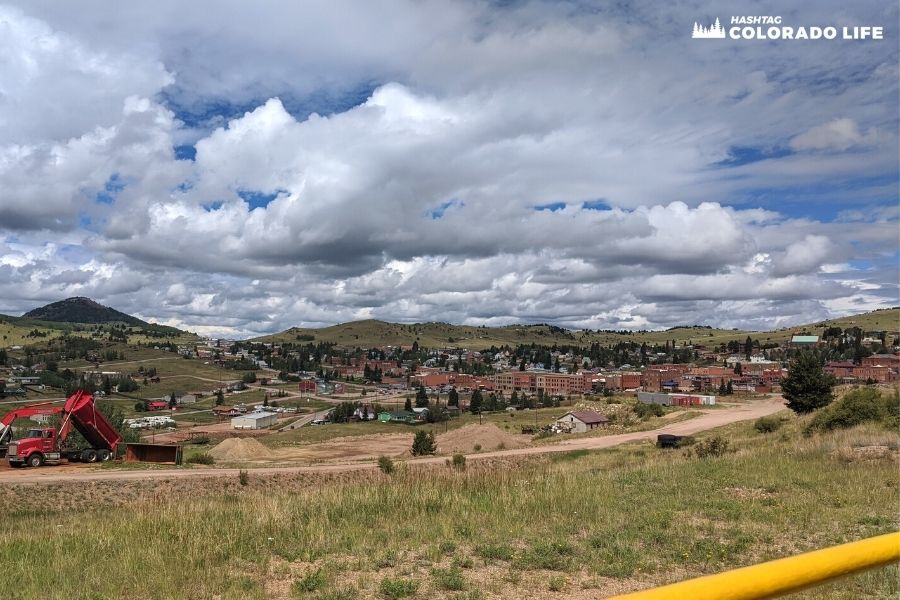 One of our favorite things to do in Cripple Creek is to take a train ride on the Cripple Creek & Victor Narrow Gauge Railroad.
This real, authentic steam engine runs on coal and travels at a nice slow pace of 101-2 mph.
The train ride lasts for about forty-five minutes and is a 4-mile round trip with three main stopping points of interest.
8. Bishop Castle
One incredible hidden gem in Colorado is Bishop Castle. A lot of locals don't even know about this place but it's a stop you don't want to miss.
Bishop's Castle is owned by Jim Bishop and has been around for the past 60 years. The castle is a monumental piece of architecture made out of stone and iron.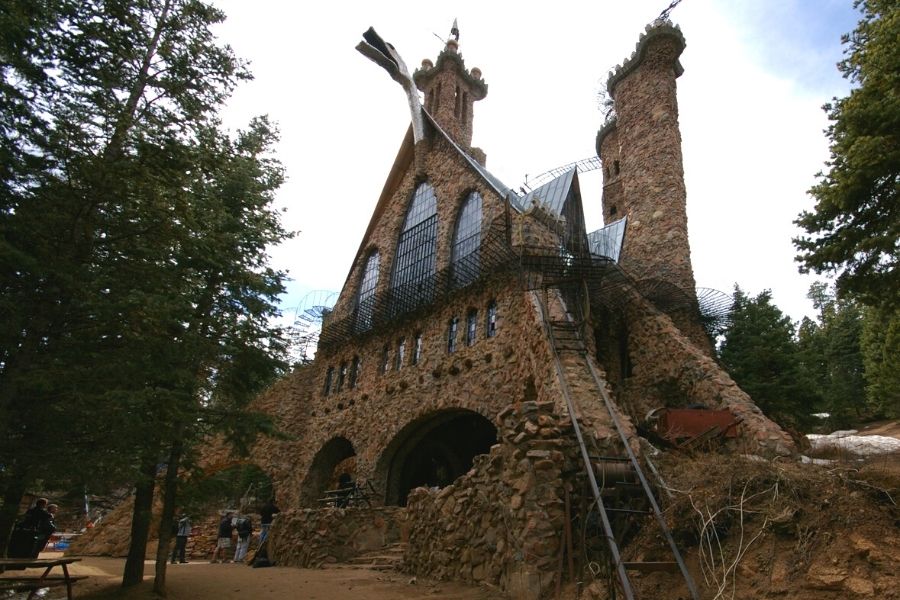 It features soaring towers, steps and bridges with views for hundreds of miles. Not to mention, all of the stained glass with floor to ceiling windows and doors.
It's like no other castle, or architecture you've seen in Colorado. Be sure to bring your camera for some truly breath-taking photos.
Visitors are welcomed to visit Bishop Castle free of charge and it's open all year round.
9. Strawberry Park Hot Springs
If you're looking for a secluded and hidden hot springs getaway in Colorado, you have to check out Strawberry Park Hot Springs.
Located just 7 miles from Steamboat Springs, it offers a secluded and peaceful oasis in the middle of the mountains.
Unlike other fancy resorts, it may not have all the amenities, but it offers a unique and authentic hot springs experience.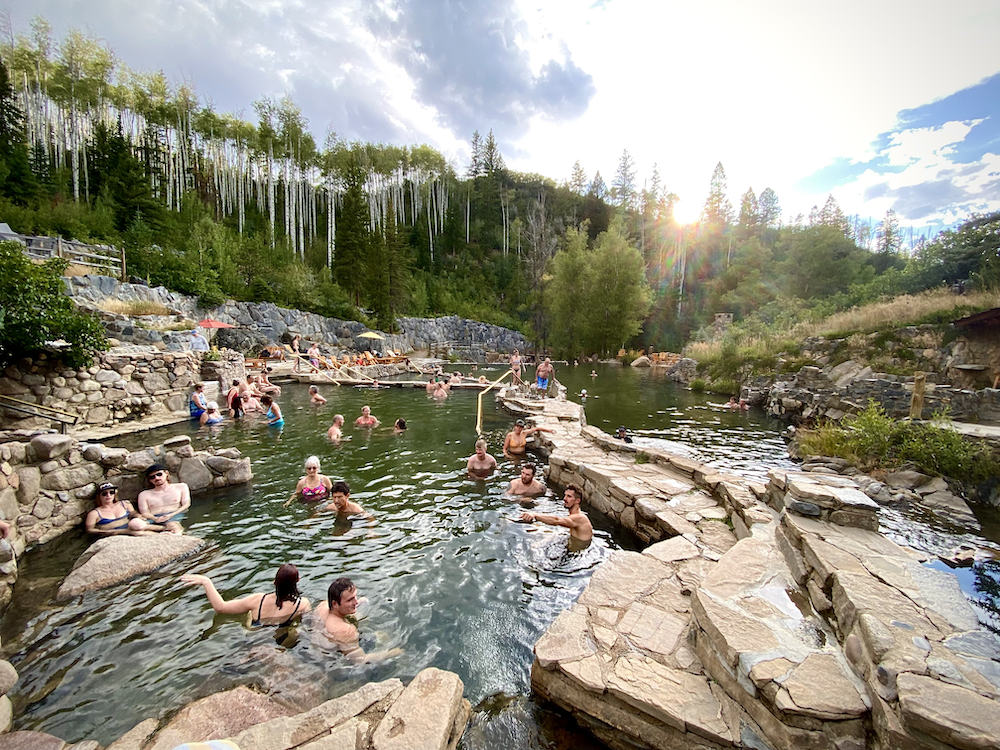 This well-maintained hot spring has multiple pools with different temperatures. The springs at Strawberry Park are fed with natural hot springs bubbling out of the ground.
Due to the cold lake nearby, soaking in the hot springs at Strawberry Park is great during both the summer and winter seasons.
Just know that the road to Strawberry Park Hot Springs is unpaved and only available via four-wheel drive during certain months of the year.
You can choose to camp in a tent or rent one of their rustic cabins, or opt to stay in a hotel in Steamboat Springs and visit the hot springs during the day.
10. Trinidad, Colorado
The historic town of Trinidad, Colorado is an obscure hidden gem but none-the-less an awesome destination.
The city is home to an attractive and historic downtown with brick-lined streets and Victorian architecture.
Trinidad is located 13 miles north of the New Mexico border or roughly 200 miles south of Denver. We travel through Trinidad every time we visit Carrie's family in Texas.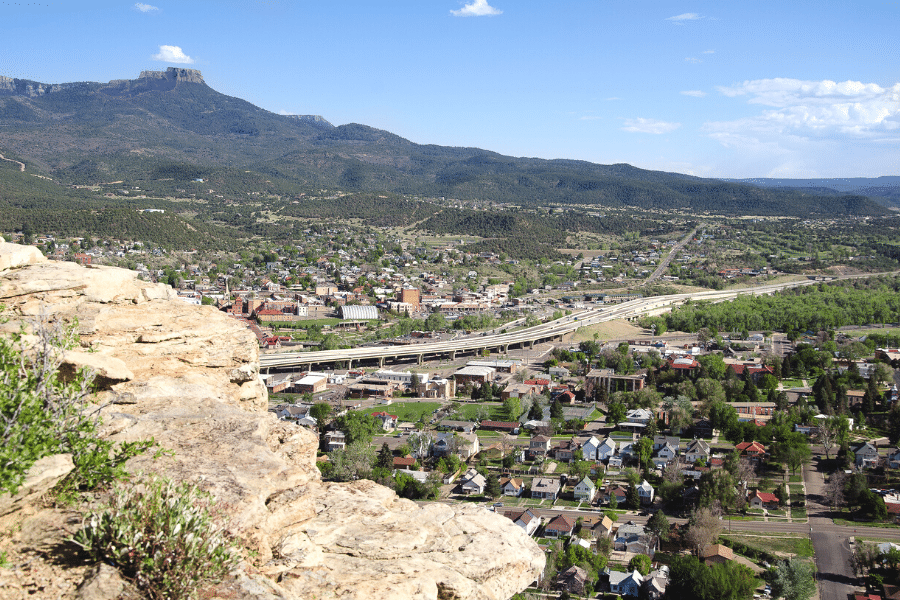 For miles of trails and wilderness hiking, check out Fisher's Peak which is now Colorado's 42nd state park.
Or spend the day in the sun at Trinidad Lake State Park. Visitors can enjoy boating, waterskiing, camping, hiking, horseback riding and more.
A local favorite is the Art Cartopia Museum in Trinidad, which features a unique art gallery, gift shop and 25 wildly decorated vintage cars.
11. Florissant Fossil Beds
The Florissant Fossil Beds are a best-kept secret destination that is located near the town of Woodland Park.
The word florissant actually comes from the French word meaning "flowering" which is a reflection of the area's rich fossil deposits.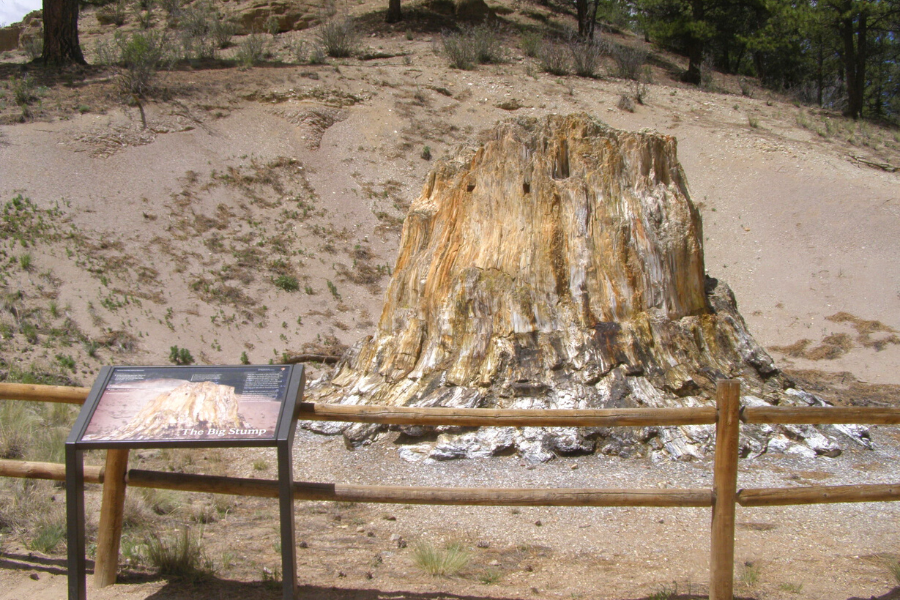 The Fossil Beds, as they're often called, feature preserved insects, plants, and petrified redwood stumps from long ago. Some of the exhibits can get up to 14 feet wide!
The Florissant Fossil Beds have been around for more than 50 years and is still an ongoing site for paleontological activity and investigations.
12. San Isabel National Forest
One of Colorado's lesser known recreation areas is the San Isabel National Forest.
Located near the town of Buena Vista, the forest features 100+ trails for hiking and nearly 50 campgrounds. In the winter you can enjoy activities like ice fishing, snowshoeing, and alpine skiing.
In addition to an abundance of summer and winter activities to do in the San Isabel National Forest, you'll also find the Twin Lakes Reservoir.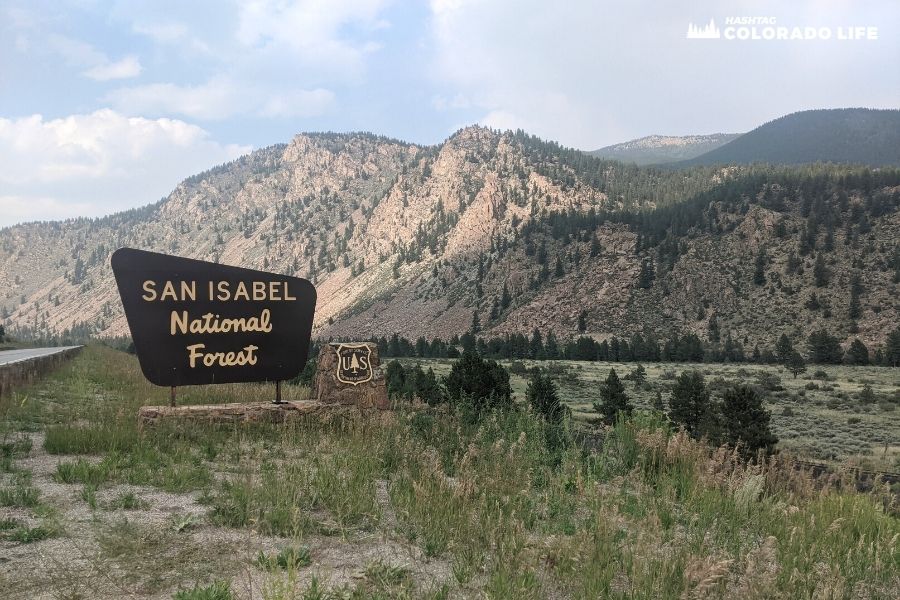 The reservoir is made up of two bodies of water spanning over 2,700 acres. It's perfect for boating, fishing, kayaking, and swimming in the summer.
The San Isabel National Forest is home to many large peaks and Colorado fourteeners. Many of which make up the Collegiate Peaks Scenic Byway.
This 57-mile long road runs along the Arkansas River and showcases gorgeous views of the mountains.
Bishop's Castle is also located inside the San Isabel National Forest along Highway 165.
13. Clifton, Colorado
Clifton, Colorado is a town with around 20,000 residents and often considered a suburb of Grand Junction. This unincorporated community is small but still worth a stop to visit.
Near Clifton is the beautiful James M. Robb Colorado River State Park which offers picnicking, fishing, swimming, and hiking in the summer.
You'll never get bored exploring all of the hiking and biking trails available here.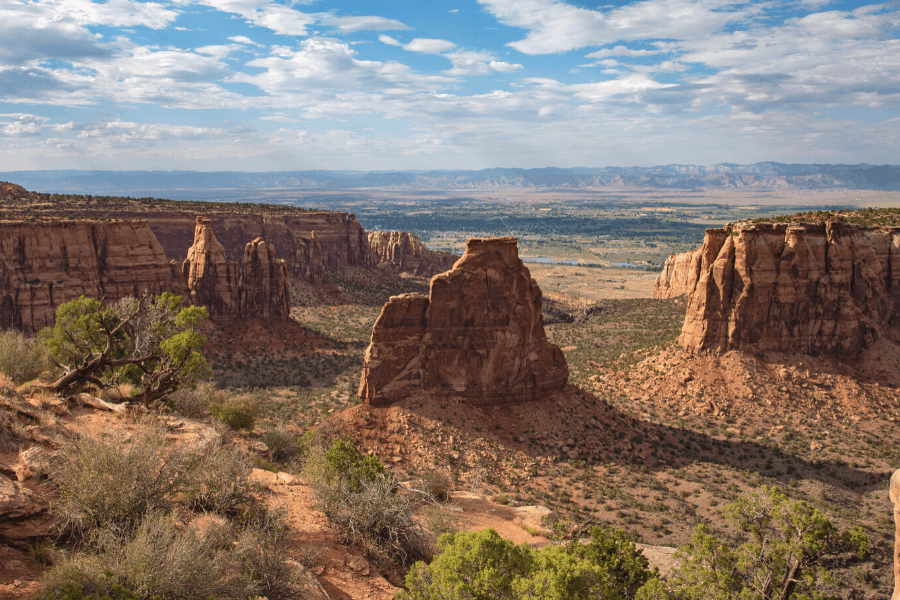 Clifton is also close to the Colorado National Monument, situated between Fruita and Grand Junction.
Locals often refer to Clifton as a real gem due to being located so near a beautiful town like Grand Junction.
14. Penny Arcade in Manitou Springs
If you're looking for vintage games and fun amusement for all ages, we highly recommend the Penny Arcade in Manitou Springs.
This outdoor and indoor arcade has hundreds of games, both old and new. There are 209 different pinball machines and 30 different racing games.
Some games even date back to the 1930's with at least one game that is over 100 years old!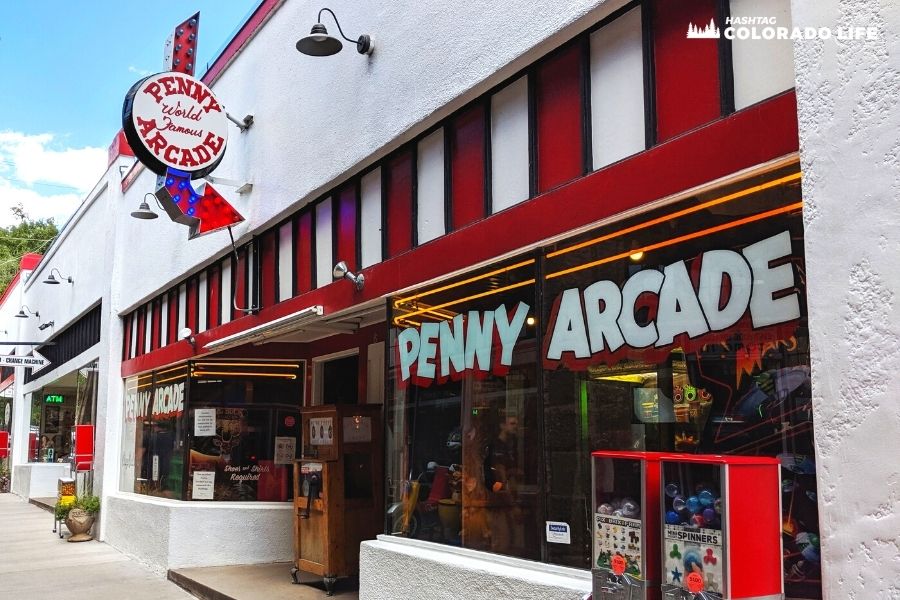 From vintage pinball machines to shooting galleries, the Penny Arcade lives up to its name.
There are plenty of games that only cost a penny, with many more costing anywhere from 5 cents up to $1.50.
Be sure to grab your cash and get ready for a fun day being transported back in time with vintage arcade games that only cost a few cents.
15. Marble, Colorado
Near the city of Aspen is a secluded town called Marble, Colorado. Since there are no direct paths from Marble to Aspen, it feels like you're worlds away.
Much like the name suggests, the town of Marble is known for marble, or more specifically the Yule Marble Quarry which used to produce some of the highest quality marble in the world.
The marble that was quarried in the town of Marble was so exceptional, despite the costs, it was exported in large quantities throughout America as well as all over the world.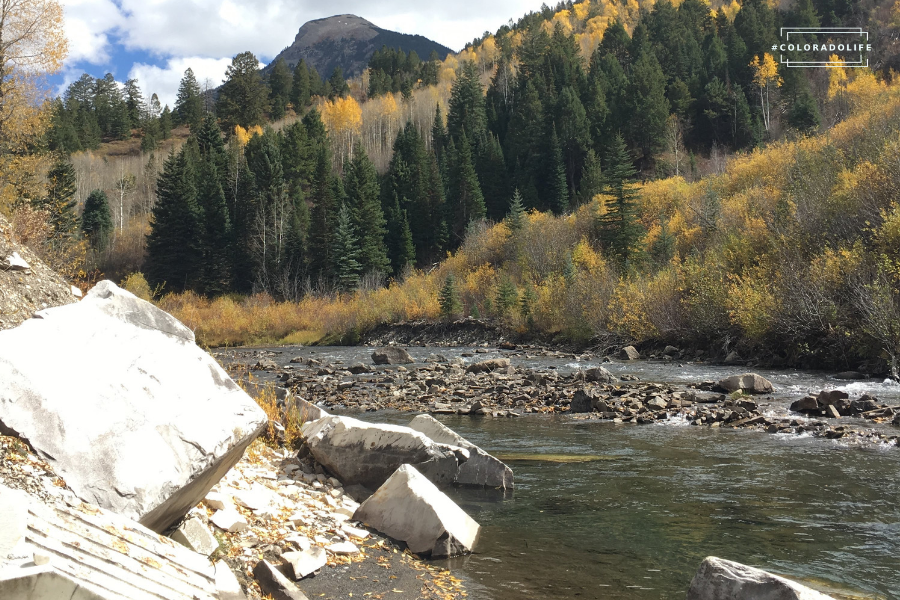 In fact, the gorgeous white marble from here has been used for the Tomb of the Unknown Soldier and the Lincoln Memorial.
Since 1941, Marble, Colorado has been mostly abandoned and was only reopened to the public in 1990.
Some fun things to do in Marble are easy hiking paths where you can explore real, uncut marble lying on the ground. See some spectacular wildlife watching and the clear rivers nearby make it great for fly fishing.
From late September to Mid October you can see spectacular aspen groves change into bold hues of red and yellow.
16. Black Canyon of the Gunnison
About 5 hours from Denver you'll find a beautiful hidden gem in Colorado called Black Canyon of the Gunnison National Park.
This is one of the least visited national parks in the state, and is considered a well-kept secret by locals.
However, the stunning beauty and staggering rock cliffs make Black Canyon of the Gunnison a must-visit location.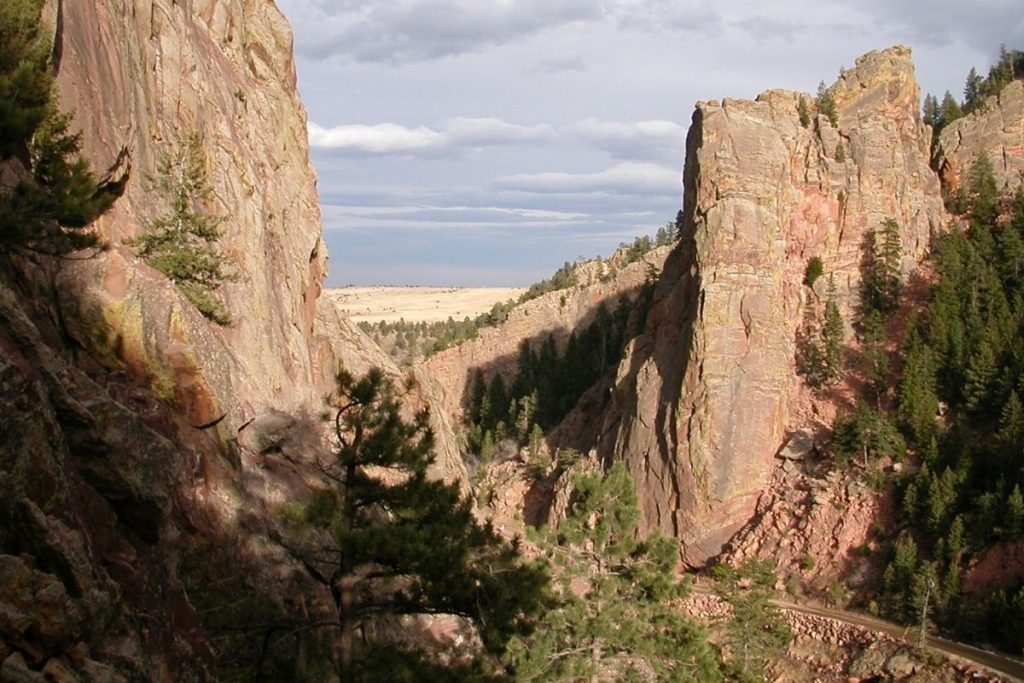 The Warner Point Nature Trail is an easy 15-mile hike that goes out-and-back for a nice 45-minute adventure. It gains in elevation and meanders along the rim of the canyons below and offers panoramic views.
Black Canyon of the Gunnison is a favorite of extreme athletes looking to rock climb or kayakers taking on the Colorado River.
To enter Black Canyon of the Gunnison National Park you will need a park pass or have to pay a day pass fee to access it.
17. Buena Vista
Another secluded town in Colorado is Buena Vista, which is often referred to as a public land paradise.
Enjoy beautiful views along the famous Colorado Trail, go whitewater rafting on the Arkansas River, or drive along the Continental Divide.
We visit Buena Vista every summer for our annual family reunions and love all of the things this small town has to offer.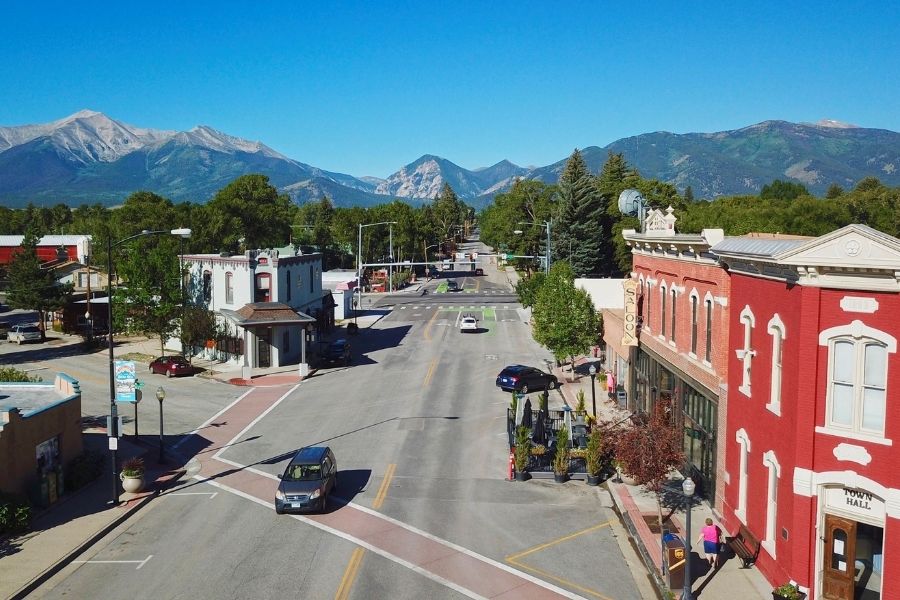 The historic downtown area is home to several art galleries, local restaurants, a book shop, and other specialty stores with unique finds.
Near downtown is the beautiful McPhelemy Park which has mature trees and a lovely river-fed pond in the center.
Across the street you can visit the Buena Vista Historical Society Railroad museum which showcases the history of the town and the area.
Buena Vista is the perfect small town for a romantic getaway as there are multiple natural hot springs nearby. Our favorites include Cottonwood Hot Springs and Mount Princeton Hot Springs.
18. Wild Animal Sanctuary
Keenesburg, Colorado is home to one of three Wild Animal Refuges located in the state.
The Wild Animal Sanctuary encompasses 33,000 acres and is home to lions, tigers, bears, cheetahs, leopards, camels and many other species of animals.
Plus, you can watch the animals in a mostly-natural environment from one of the 1.5 miles of elevated walkways. You'll be walking right over their fields and exhibits.
Most of the animals that live in these sanctuaries have been rescued from cages and captivity. Many have never even seen grass or been able to run around freely until now.
The Wild Animal Sanctuary near Denver is open 7 days a week to visitors, and donations are always welcomed.
Or if you like horses, check out the Wild Horse Refuge near Craig, Colorado. It's open to visitors by appointment only.
19. Georgetown Loop Railroad
Explore the Colorado Rockies in a different way by riding the Georgetown Loop Railroad. Considered a true Colorado gem, the train is located just off I-70 in Georgetown.
This narrow gauge train ride is a historically immersive experience, and includes a real silver mine tour as well as panning for gold. It's an excellent activity for kids and adults, no matter what age.
During the winter, and the holidays especially, the Georgetown Loop Railroad turns into a lighted wonderland.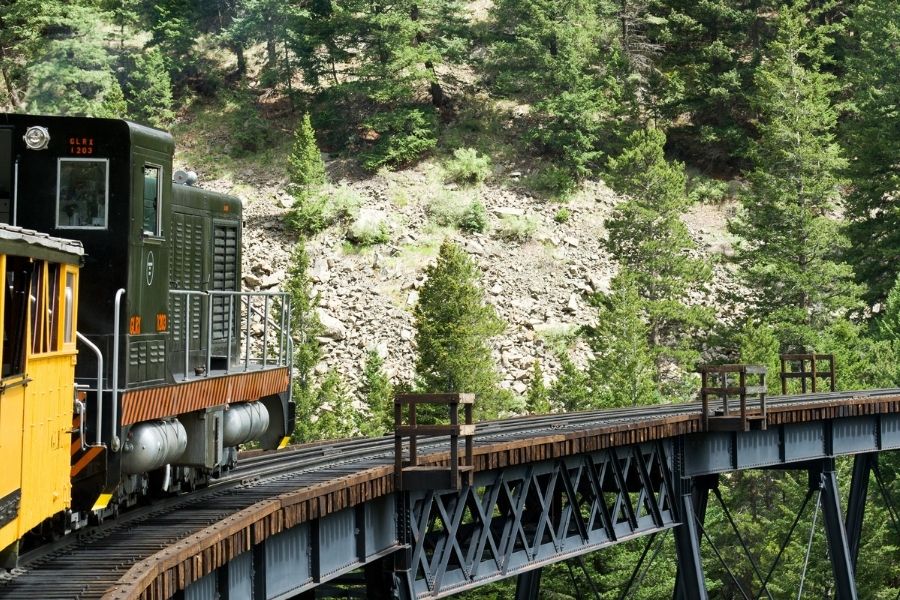 Take a ride on Santa's Rocky Mountain Adventure or explore Santa's Lighted Forest, two themed train rides.
Mining and gold panning tours are available from May through September every year.
Tickets can be purchased on their website but we recommend booking in advance since this train ride can be popular during busy seasons.
20. Rifle Falls State Park
Rifle Falls State Park is often overshadowed by the famous Hanging Lake, but this hidden gem is a must-see.
Located between the towns of Glenwood Springs and Grand Junction, Rifle Mountain Park lives up to its name. The area is abundant with gorgeous waterfalls and beautiful hiking trails.
In the winter, the flowing water freezes and creates cascading ice-covered waterfalls that are absolutely breathtaking.
The cold weather also creates stunning ice caves that can be explored near the frozen waterfalls.
Since Rifle Falls is a state park, there is a fee to enter but it's only $8 for a day pass. The driving time from Denver to Rifle Falls State Park is about 3 hours so it makes a fun day trip.
21. Creede
The history of the Old West in Colorado lives on in the small town of Creede. It boasts a warm and welcoming atmosphere with quaint storefronts and local restaurants for delicious dining.
One of the main things that the town is known for is the Creede Repertory Theatre. Founded in 1966, this professional theatre company has produced a range of high-quality productions and performances.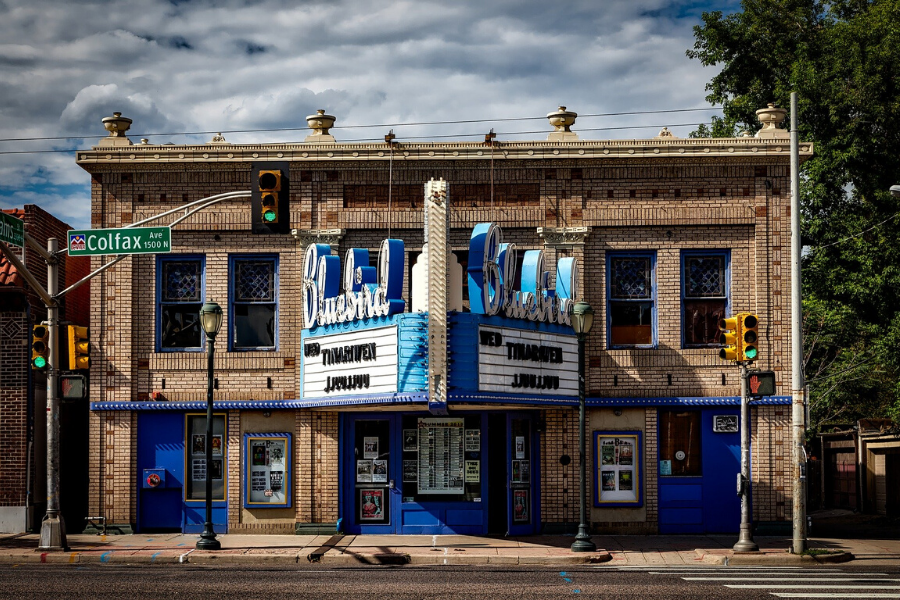 The theater seats 230 people and offers numerous musicals, events, concerts and nationally recognized educational programs. This hidden gem in Creede, Colorado is a great activity for all ages.
We also recommend stopping at the Creede Undergrounding Mining Museum. You'll see real mining equipment and exhibits displaying the history of mining in the area.
Creede is also conveniently located near the Rio Grande National Forest which is home to 1.8 million areas of recreational opportunities.
To say that Creede is full of history and fantastic things to do is an understatement.
22. Dillon & Silverthorne
Off I-70, near the town of Frisco, you'll find the small mountain towns of Dillon & Silverthorne, Colorado.
These hidden gems are favorites of locals but aren't seen by many tourists, even in the depths of ski season. They are both centrally located and perfect for family-friendly weekend excursions.
Silverthorne in particular makes a great basecamp for all of your high-country exploring and winter activities.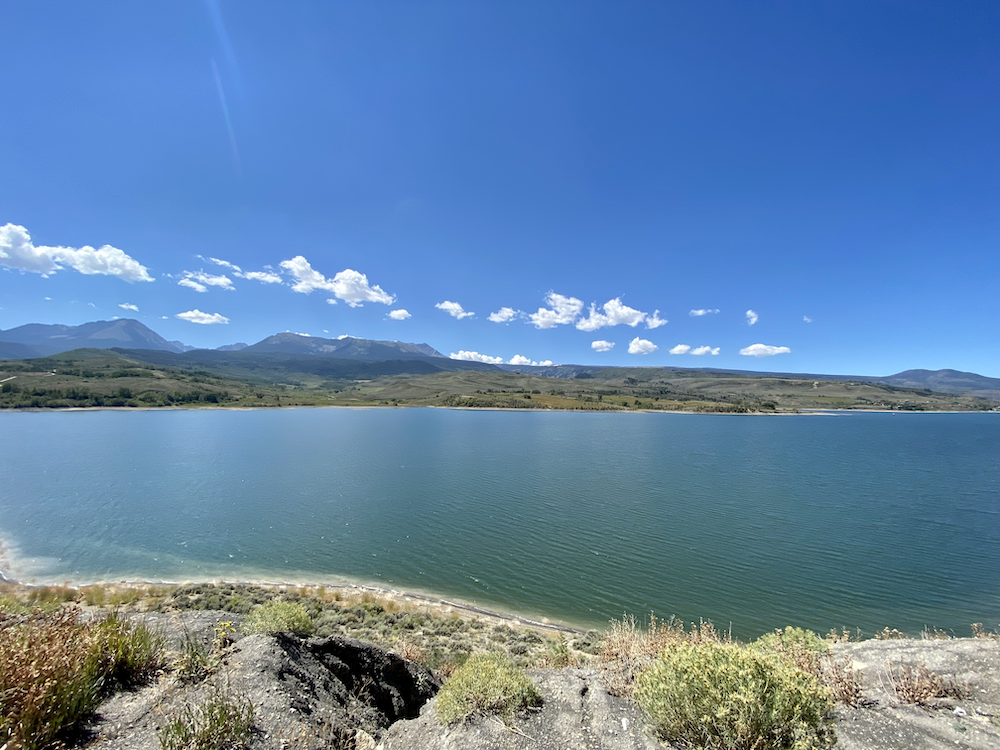 One of the main things to do in Dillon is shopping at the Outlets at Silverthorne. This multiplex store has more than 70 name-brand stores offering discounts and deals.
Lake Dillon is a popular destination in the summer due to many water activities and boating that's available to the public. Not to mention, the local restaurants and shops where you can find unique gifts.
If you enjoy art and the theater, the Lake Dillon Theatre Company is based at the state-of-the-art Silverthorn Performing Arts Center. And a walking tour of the town will yield some interesting public-art displays.
23. Great Sand Dunes National Park
The Great Sand Dunes National Park is a desert oasis in the middle of mountainous Colorado.
It's home to the tallest dune in the nation, the Star Dune, which is also the tallest sand dune in North America.
The Great Sand Dunes is a great spot for a spring break vacation and offers a wide range of activities for visitors, such as hiking, climbing, off-roading, and sandboarding.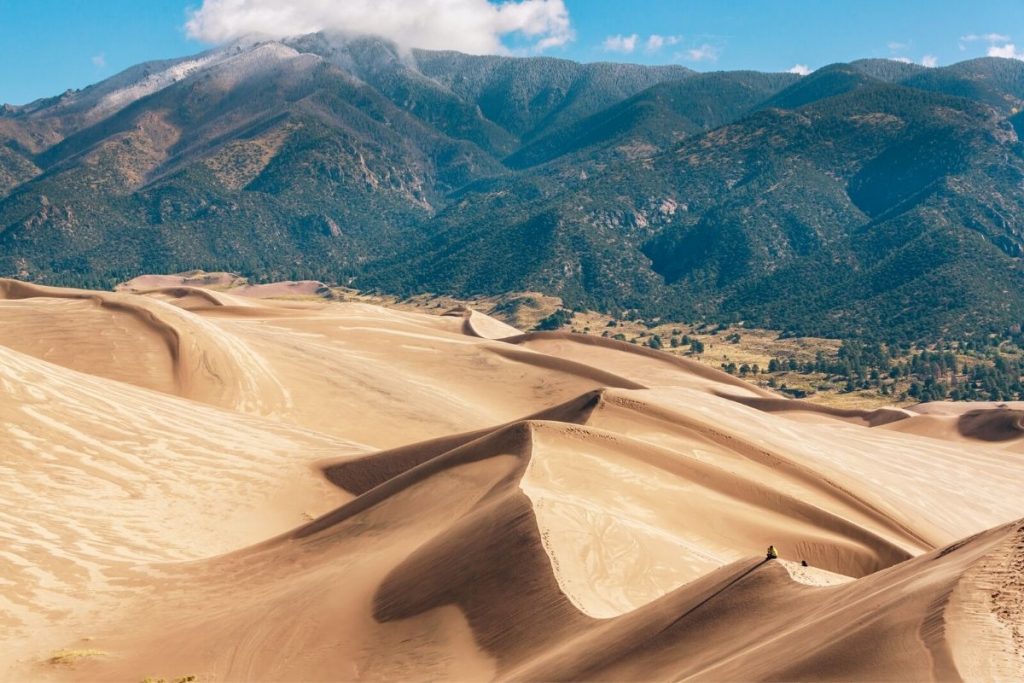 In the summer, the Medano Creek running along the base of the dunes is perfect for swimming and splashing.
Enjoy the stunning views of the Sangre De Cristo Mountains and make memories by sleeping under the stars or going sand sledding or boarding.
The Great Sand Dunes National Park is a mesmerizing place, and one of the best places to visit in Colorado.
24. Last Dollar Road
Between the towns of Telluride and Ridgway, you'll find a scenic unpaved route called Last Dollar Road.
This gorgeous stretch of road winds through the country displaying stunning views and bold colors.
As you drive along Last Dollar Road you'll be treated to unobstructed views of Sneffels Mountain Range and Wilson Peak.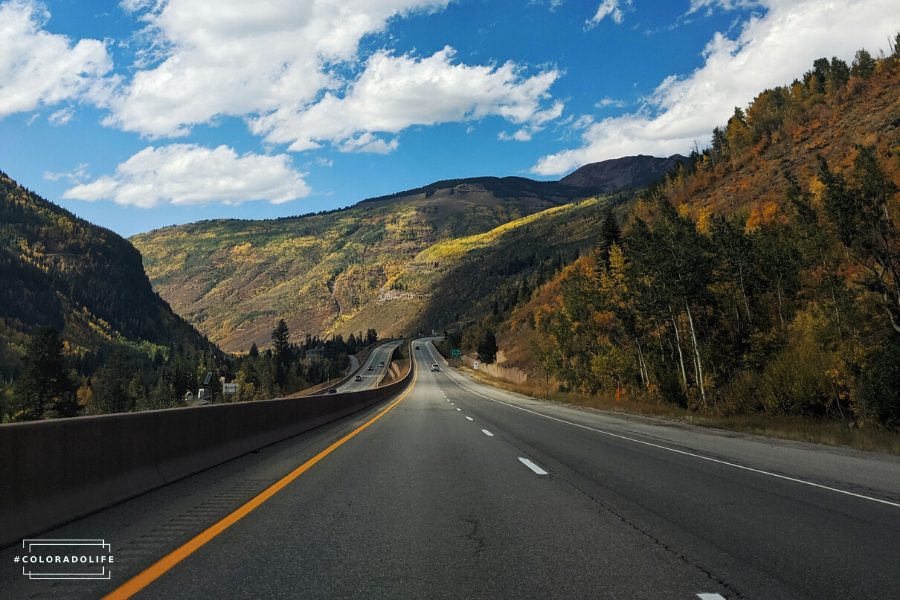 If you don't know, Wilson Peak is very recognizable due to the mountain that's featured on a Coors bottle.
This semi-circular route is a bumpy, hidden dirt road in the heart of Colorado ranching country.
Taking a ride along Last Dollar Road is perfect anytime of year, from spring to summer and into fall.
25. Grand Lake
Grand Lake, Colorado is a popular tourist destination known for its natural beauty and outdoor recreation opportunities. The town offers a plethora of things to do in every season.
One of the main things that Grand Lake is known for is visiting Rocky Mountain National Park. It's known as the western gateway to the park, which offers hiking, camping, fishing, and wildlife viewing.
In addition, there are many trails in the surrounding mountains for hiking, backpacking, and camping all summer long.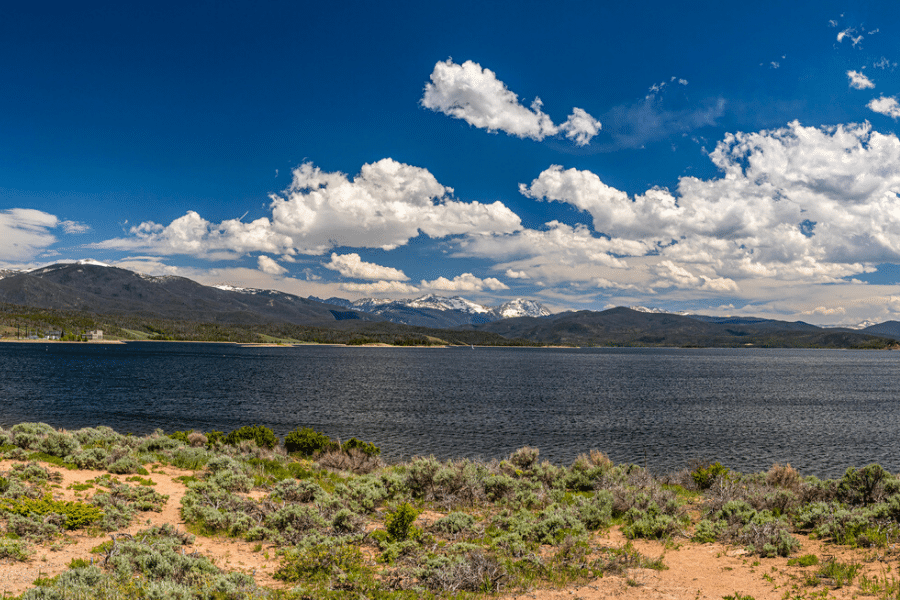 Grand Lake is also home to one of the most beautiful lakes in Colorado, aptly named after the town that shares the same name. The Lake is the largest natural lake in Colorado, and offers boating, fishing, and other water activities.
In the winter, the area around Grand Lake is popular for snowmobiling and snowshoeing. There are also several stables in the area that offer horseback riding trips.
The town of Grand Lake has a rich history and is home to several museums and historic sites. It has several shops and restaurants that offer a wide variety of goods and services.
Grand Lake is a charming mountain town that offers a mix of outdoor activities and scenic drives. It's a great place to visit if you want to experience the beauty of the Rocky Mountains.
26. Pagosa Springs
Located near Durango and the New Mexico border is the lovely town of Pagosa Springs. Many people think it's one of the most beautiful towns in the state, but it's also a best kept-secret among locals.
From soaking in the hot springs, to hiking, camping, and fishing, there are so many fun things to do in Pagosa Springs.
The town is known for its natural hot springs, and there are several public and private options for soaking.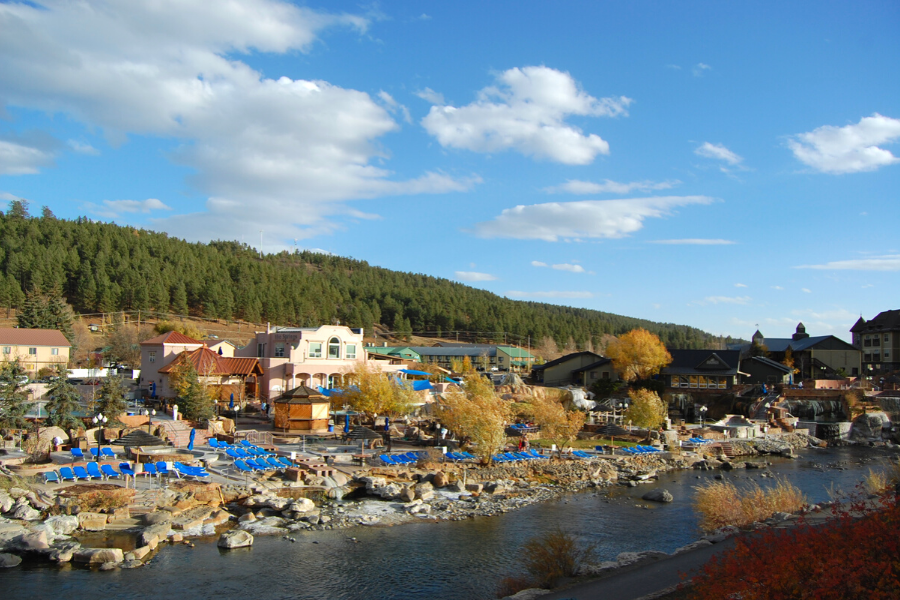 There are many trails in the surrounding mountains for hiking, backpacking, and camping. And thanks to the San Juan River and other nearby streams and lakes, there are good fishing opportunities for a variety of species.
In the winter there is skiing and snowboarding available thanks to the Wolf Creek Ski Area. It's located about an hour's drive from Pagosa Springs and offers a variety of terrain for skiers and snowboarders of all abilities.
Pagosa Springs is a great place for outdoor enthusiasts, and has a charming small-town feel.
27. Mesa Verde National Park
Located near the town of Cortez, Colorado, Mesa Verde National Park offers a glimpse into the history of the Ancestral Puebloan people who once inhabited the area.
The park is home to the dense archaeological site known as the Cliff Palace, featuring well-preserved dwellings that provide insight into the daily lives of these ancient tribes.
Visitors can explore the park via several roads and paths that are open to the public for hiking and rock climbing.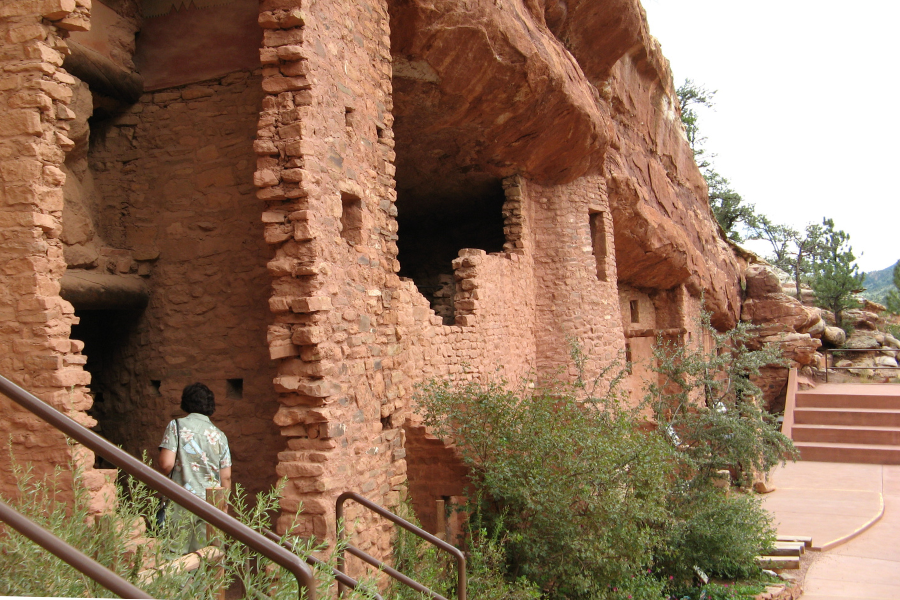 A short 45-minute drive from Cortez, Mesa Verde makes this an ideal outing for families with kids.
For those unable to make the trip, the Manitou Cliff Dwellings near Colorado Springs also offer a glimpse of the Ancestral Puebloan culture.
This concludes our list of the best things to see and to do in Colorado that are more hidden away.
While the state is divided into the Eastern Slope, Western Slope, and Denver regions, there are many unknown gems to explore.
We hope you consider some of these Colorado hidden gems to your itinerary for a more historic and unique vacation.