Hiking Paint Mines: A Guide to Colorado's Colorful Interpretive Park
This website may contain affiliate links and we may be compensated (at no cost to you!).
In this guide we are sharing an in-depth look at what you can expect when visiting the Paint Mines Interpretive Park.
We have personally visited this site and find it to be a unique and colorful experience like nothing else in Colorado!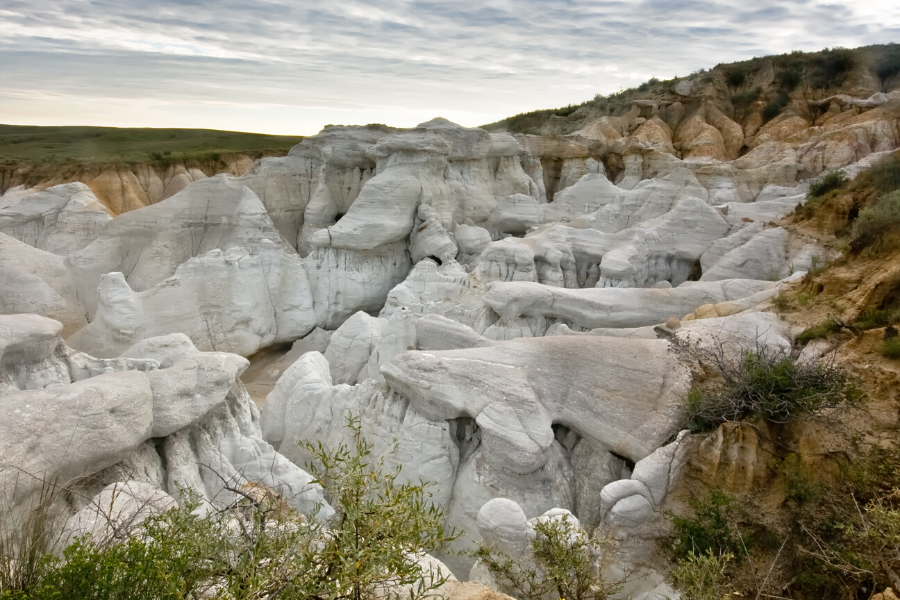 It is typically seen as a special attraction because it is actually out east on the plains, and not an activity you need to travel into the mountains to explore.
If you are looking for a short day trip that doesn't cost any money, you will enjoy exploring the Paint Mines Park.
Let's dive in! You can listen to our conversation on the podcast, or read the guide below.
What are the Paint Mines in Colorado?
The Paint Mines Interpretive Park is located on the eastern plains of Colorado in El Paso County, just one mile south of Calhan, Colorado.
It is one of the most unique hiking spaces in the state of Colorado that is not located in the mountains.
It features large, colorful rock formations called Hoodoos which are made out of sandstone.
The park covers over 750 acres of prairies, grasslands, and wetlands including about four miles of hiking trails.
Each year the site is visited by avid bird watchers and nature lovers. Geology enthusiasts also enjoy visiting this outdoor geological lab every year.
The Paint Mines has been designated by the National Park Service and is protected land, so keep that in mind when visiting.
How were the Paint Mines formed?
The Paint Mines is a ravine that was formed over many years of wind and erosion, causing it to display many colorful layers of rock and sandstone.
The spires and Hoodoo formations have varying degrees of iron oxidized in them, due to being exposed to weather over thousands of years, giving it layers of different colors.
Each Hoodoo has variable thickness to the rocks and differently shaped mushrooms or "totem pole-shaped bodies".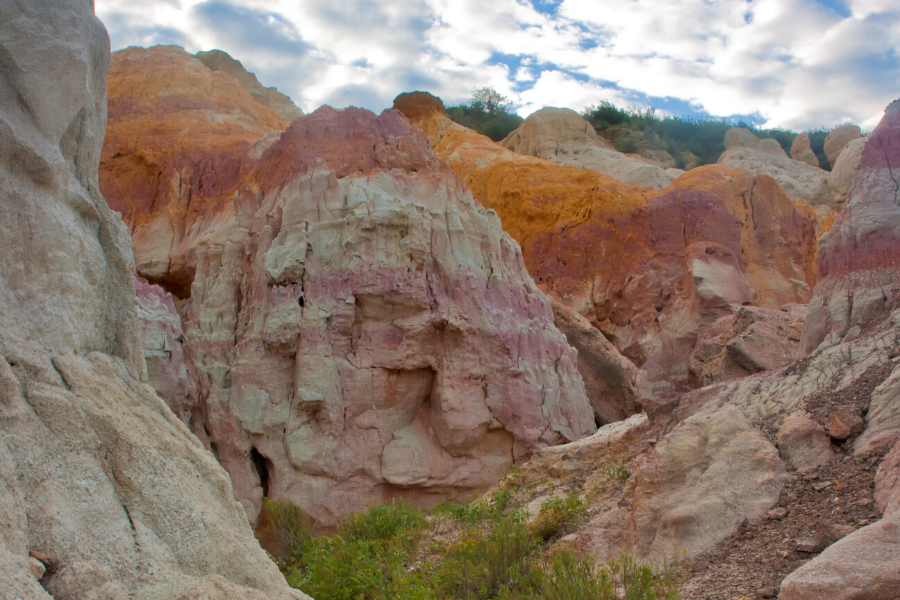 The park received its name from the colorful layers of rock, sandstone and clay on display.
These pieces of earth were even collected by the American Indians for different shades of paint for pottery and other items.
(If you ever wondered why "Colorful Colorado" became a theme here, this Park is one of the reasons why!)
And geologists have even found evidence of human life as far back as 9,000 years ago.
This destination makes a fun day trip or an excellent addition to your Colorado bucket list. And it is often found on a lot of bucket lists for Colorado activities.
How do you get to the Paint Mines from Colorado Springs?
To get to the Paint Mines from Colorado Springs, drive east on Highway 24 until you arrive at Calhan, Colorado.
Then, keep a look out for the Paint Mine Road to find the park.
It takes about 40 minutes to drive going east of Colorado Springs or about 90 minutes if you are coming from Denver.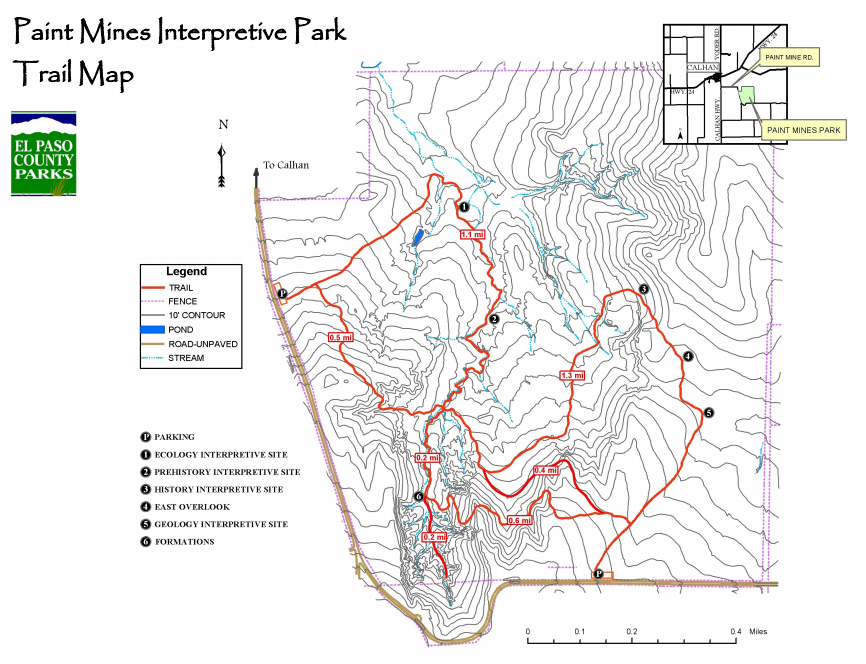 Map credit: El Paso County Brochure & Map
The park is free to enter from dawn until dusk 7 days per week.
Check out this map of the Paint Mines Interpretive Park thanks to El Paso County website.
What will you find when you arrive at the Paint Mines?
When you first start driving to the park you may think you are in the wrong place.
Everything is flat and prairie-like so it's hard to imagine there is a beautiful geological site here.
But as you keep driving, you will see a colorful ravine that has been eroded over time displaying colors like purple, yellow, gray, and red.
These are the Paint Mines Interpretive Park formations, so you are in the right place!
Here is what you can expect when arriving at the Paint Mines.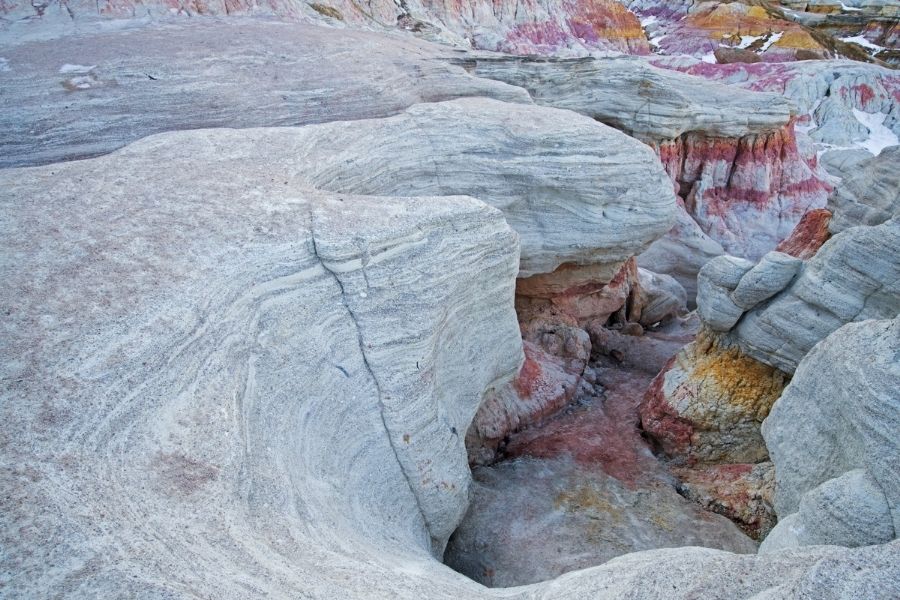 Parking areas
Upon arrival you will find 3 easy-to-locate parking areas, with quick access to the park and the trails.
There is no cost for parking and you can choose to park in any of the designated parking areas for free.
Remember, the cost to enter the park is totally free!
Basic bathroom
There is only one basic bathroom facility on the site, so you may want to take a bathroom break before hiking.
Please note that the bathroom is currently closed due to the COVID pandemic. We will update this once it reopens to the public.
Picnic tables
Picnic tables are available in the area but it's not a developed picnic site.
This park is mainly open for hiking and exploration so there are not any designated open spaces.
Historical signs
The park includes four miles of trails with interpretive signs that display facts and tidbits about the history throughout the area.
You can read and use the signs to learn more about the area's history, wildlife, and historical artifacts.
Wildlife
The Paint Mines is home to lots of wildlife, birds and fowls which make it a popular place for bird watching.
Some of the species of birds that are found here include:
Lark Bunting
Owls
Swainson's hawks
Canada geese
Mourning doves
Magpies
Western meadowlarks
Ducks
Other wildlife in the area that you might see including mule deer, coyotes, foxes, and small ground animals such as prairie dogs.
Artifacts
As mentioned, the area is a popular archaeology site with many different historical artifacts that have been found.
Some of the discoveries include relics like arrow heads, stone dart tips, and other artifacts proving human existence.
You may even find an artifact yourself while exploring the site!
Just remember that you must respect all of the formations and are not allowed to dig in the area.
Things to know when visiting the Paint Mines
The Paint Mines feature 3-4 miles of trails with very little elevation gain (only about 500 feet or so).
Because of this, the area is known for easy to moderate hiking for both adults and kids.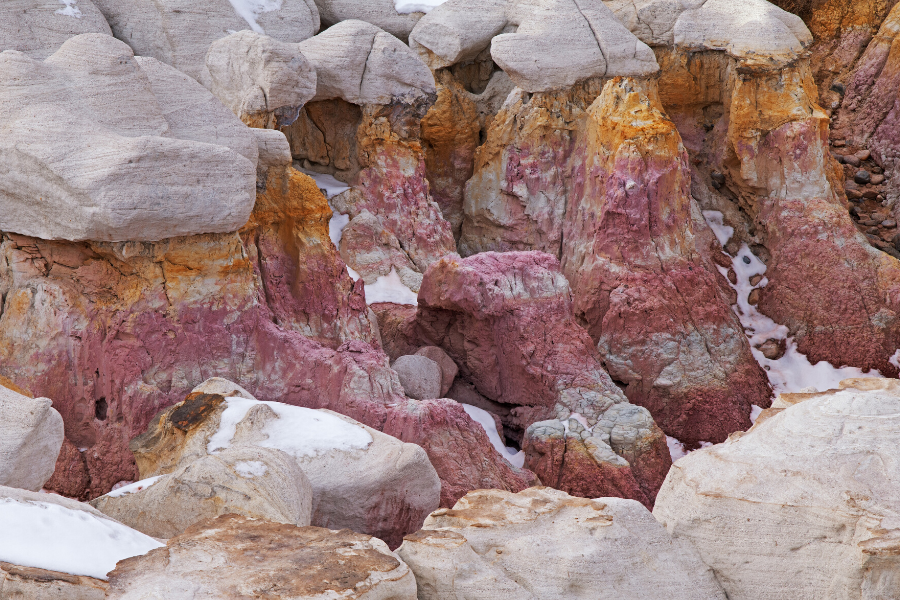 The park is open from dawn to dark, 7 days per week so you can plan a trip anytime of the week.
The best times of year to visit are fall and spring. But you should avoid visiting after a big rain or snow storm when it's muddy.
Are dogs allowed at the Paint Mines?
Due to the fragile ecosystem and birds of prey that inhabit the park, dogs and other pets, as well as horses and bicycles are not allowed.
Motorized vehicles are also not allowed at the park.
The rock formations are part of the area's ecosystem and are easy to disrupt, so be respectful of the area.
In order to preserve the landscape, climbing on the formations is prohibited. All plants, wildlife, rocks, minerals, and historic artifacts within park boundaries are protected by law.
It's advised that you do not remove, destroy, or disturb any of these features.
Pro tip: Take only pictures and leave only footprints!
Popular trails to hike at Paint Mines Park
The main hiking path here is called the Paint Mines Trail. This is a 3.5 mile loop hiking trail throughout the park and is considered an easy walk with only a few inclines.
There are also shorter trails available if you prefer a shorter hike.
Along the way you will likely see wildflowers, birds and many other types of wildlife that live on the plains.
Good hiking boots or shoes are recommended as the area does get washed out and can be muddy at times.
Be sure to bring extra layers of clothing since Colorado's weather can be unpredictable.
And don't forget to bring sunscreen, a hat and lots of water — the area doesn't have a lot of trees so it can get hot in the summer.
Exploring Colorado's Paint Mines Interpretive Park
We hope this guide to the colorful Paint Mines Interpretive Park helps you explore and enjoy this unique Colorado treasure.
Have you hiked or explored the Paint Mines? Share your experience, or tips, with us over on Instagram, @hashtagcoloradolife.