15 Fantastic Places to See Colorado Fall Colors Right Now
The content of this website may contain affiliate links and we may be compensated (at no cost to you!). Thank you for your support!
Where are the best places to see fall colors in Colorado right now? 
There really is no right or wrong answer as the state is completely transformed into a wash of gold, yellow, and orange colors.
Fall in Colorado truly is one of the most beautiful times of year with spectacular views.
Oftentimes the best way to see fall foliage is on foot but there are also some epic autumn drives you can check out.
Or stop by one of these places for a fun fall hike. Here are the top places to see Colorado fall colors right now and how to get there.
1. Rocky Mountain National Park
Rocky Mountain National Park takes the number one spot on our list for good reason. 
It covers more than 350 square miles and spans 265,769 acres of rugged wilderness.
It is home to the Colorado River, Trail Ridge Road, and connects to Grand Lake and Estes Park (all of which make our list!).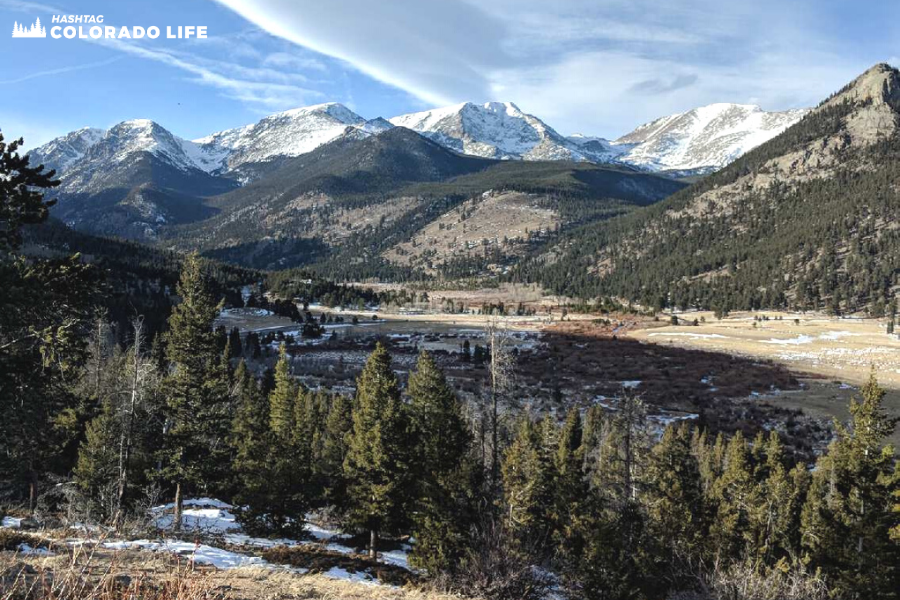 RMNP is open all year long, and you'll need a reservation, but one of the best times to see vibrant colors is during October. 
Be on the lookout for wildlife too as this pristine sanctuary is a breeding ground for elk, moose, mule deer, bear, mountain lions, to name a few.
Aside from the abundant Ponderosa Pines, the most common tree types you'll see are Aspens, Narrowleaf Cottonwoods, and Rocky Mountain Maples.
Many of the places to see fall colors on this list are inside or near Rocky Mountain National Park. 
So, it really is a one-stop destination for seeing epic fall foliage for leaf peepers this time of year.
2. Aspen
We can't make a list of the best places to see fall colors in Colorado without mentioning the mountain town of Aspen. 
If you've never been, the aspen groves are like nothing else you've ever seen, especially in autumn. 
The mountain town is surrounded by so many groves of aspen trees that the town is named as such.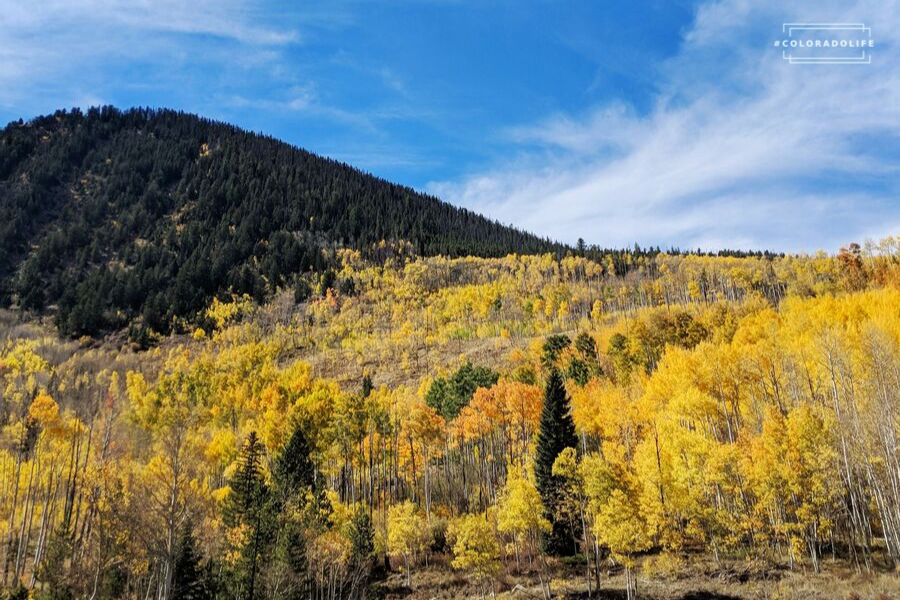 During the fall, aspen trees turn impressive hues of gold, bronze, and yellow. 
And since aspens are considered a singular organism, they can turn an entire mountainside into a stunning display of dazzling gold all at once.
The best time to see aspens change color starts mid-September and continues through late October. 
It's a very short window of time, but a once-in-a-lifetime type of experience.
3. Skyline Drive
If you're looking for fall scenic drives in Colorado, then add Skyline Drive to your list.
Skyline Drive is a historic one-way road that sits on top of a razorback ridge in Canon City. 
It's known as one of America's most scenic drives and offers breathtaking 360-degree views from all sides.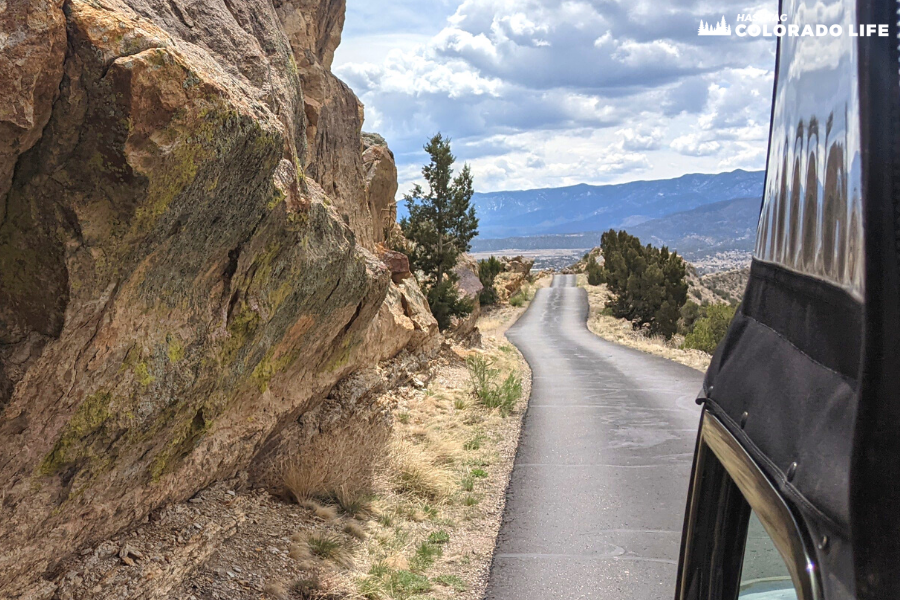 The narrow road must be traveled carefully as there are no fences or guard rails. And there's no turning around on this one-way street.
Skyline Drive is also well-known for featuring dinosaur fossils with footprints that date back to the Cretaceous Period.
The valley below overlooks Shenandoah National Park and the breath of the Blue Ridge Mountains.
During fall you can see the trees change with a vivid array of colors that stretches for miles and miles.
4. Estes Park
Estes Park is the gateway to Rocky Mountain National Park and offers all the amenities of a top small mountain town.
During September and October, the town really comes alive thanks to events like Elk Fest and elk rutting season. 
It's known for its rugged wilderness which becomes even more evident during fall.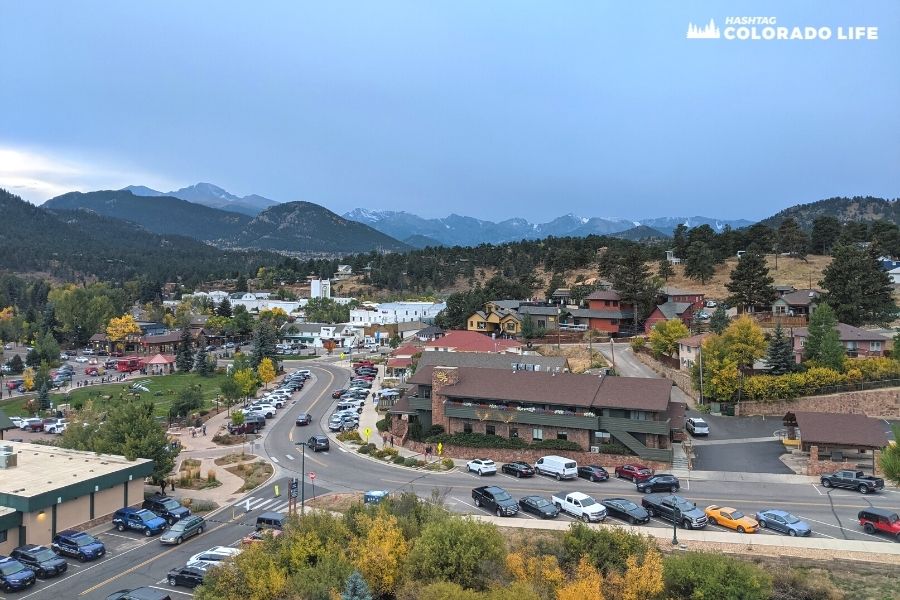 It's during this time of year that the leaves change into vibrant orange and yellow colors that can completely cover the mountainside.
Estes Park has a charming downtown, scenic Riverwalk, and historic attractions where leaf peeping is possible. 
Visitors can enjoy horseback riding, hiking, mountain biking, camping, and fly fishing.
Best of all though, access to both Rocky Mountain National and Trail Ridge Road is very easy from Estes Park.
5. Grand Lake
Another destination for seeing fall colors near Rocky Mountain National Park is Grand Lake.
With over 60 miles of surface water Grand Lake is Colorado's largest and deepest natural lake. 
It sits at 8,369 feet in elevation and is surrounded by RMNP on three sides.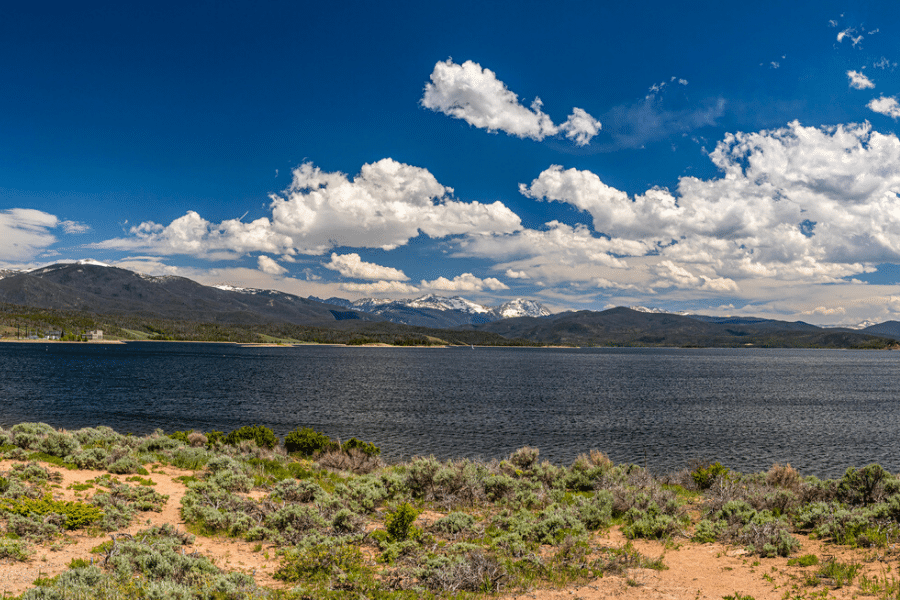 During the summer, kids and adults can enjoy the sandy coastline and shallow waters near the beach.
Relax in the cool waters on the last few summer days as the nearby tree-covered mountains change into breathtaking colors.
Add Grand Lake to your Colorado day trip itinerary when visiting RMNP, Estes Park, and Trail Ridge Road.
6. Breckenridge Gondola
One of the best vantage points for seeing fall colors in Colorado is the Breckenridge Gondola.
High above the trees, the BreckConnect features a 26-minute round trip to the top of the Breckenridge Ski Resort. 
Here you will see epic views of the city below as well as gorgeous colors dotting the mountainside.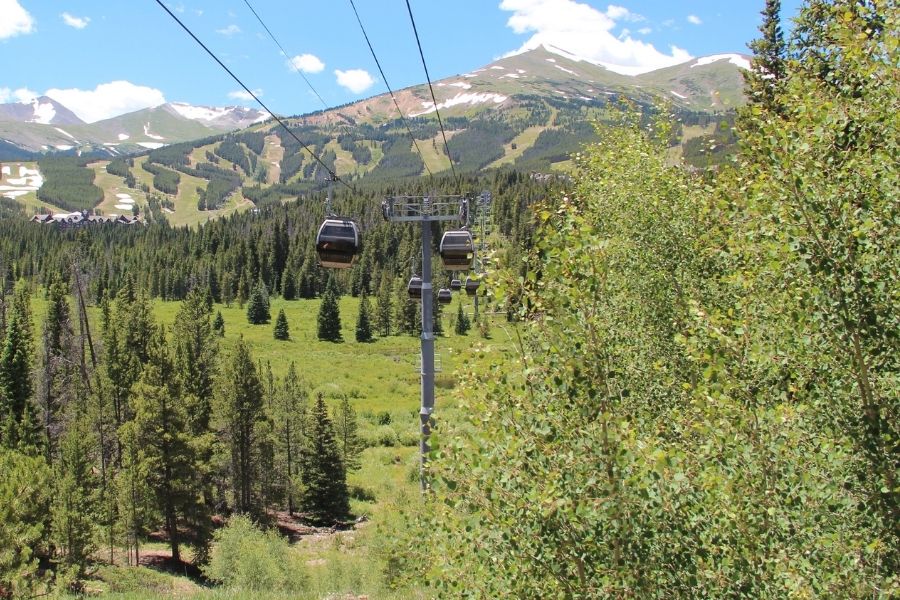 As you travel to the top, aerial views include the town of Breckenridge, the Cucumber Gulch Wildlife Preserve, and Peak 8.
Inside the 360-degree cab you'll ride through pathways and valleys lined with aspens and other fall foliage.
And the best part is that the Breckenridge Gondola is completely free and open to visit nearly all year long.
7. Kebler Pass
Kebler Pass is a stretch of Colorado highway between Crested Butte and Highway 133 that covers 30 miles. 
It's just north of Gunnison, Colorado and resides in Gunnison National Forest.
Kebler Pass is a great destination for seeing fall colors and is one of the most photographed roadways in Colorado during fall.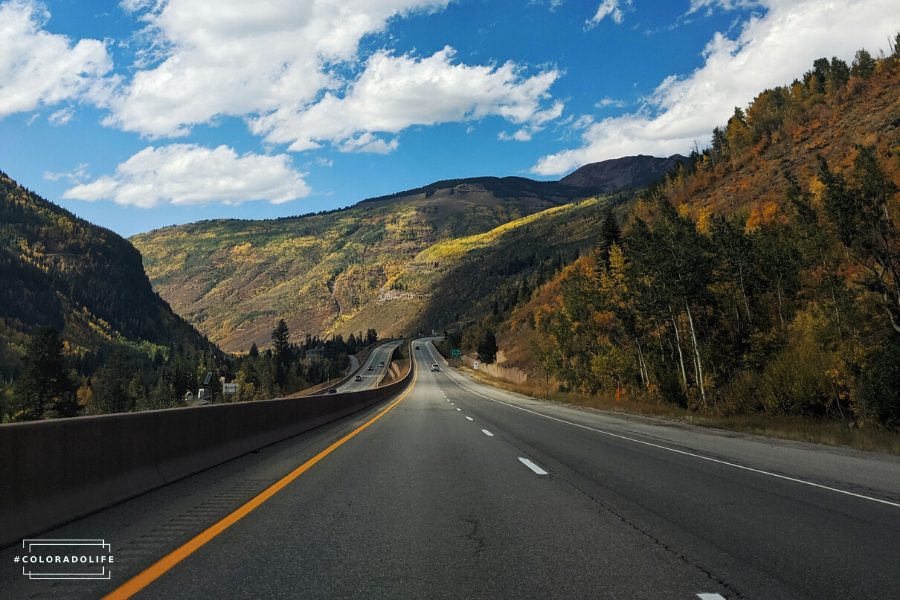 The area boasts the largest aspen grove in North America with miles and miles of aspens and evergreen trees.
The road passes through the old mining towns of Irwin and Ruby as well as rising more than 10,000 feet in elevation.
Driving along Kebler Pass will take you through an old lumber camp town and an old coal mining town.
The pass is also part of the West Elk Loop which is a 205-mile journey through the heart of the state.
8. Glenwood Canyon
On our way to Glenwood Springs each October, we drive through Glenwood Canyon. And it's something we look forward to every year!
Glenwood Canyon is part of I-70 and follows along the Colorado River for 12.5 miles. 
During the fall the road is lined with vibrant fall colors from various native trees and, of course, lots of aspens.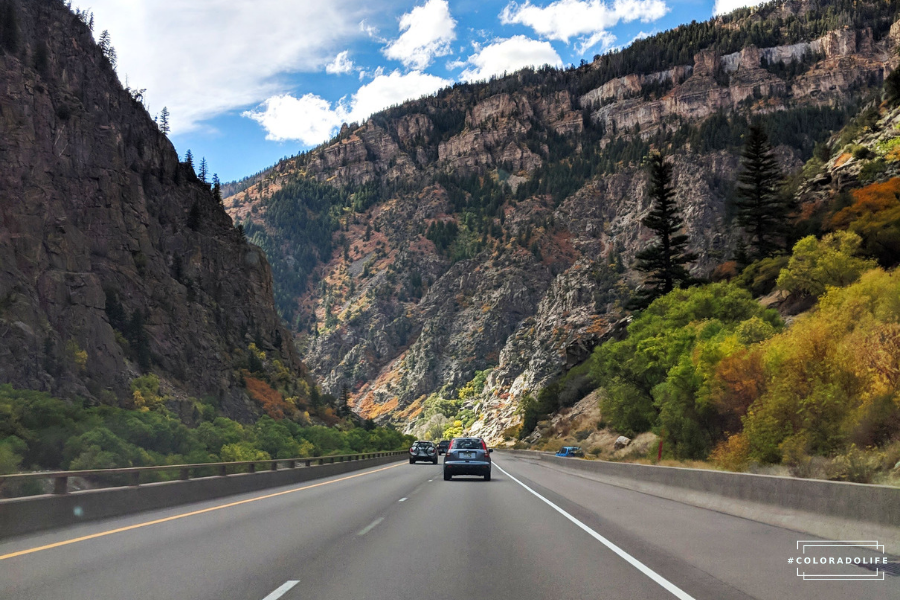 The canyon walls can climb as high as 1,300 feet above the Colorado River with staggering landscape views on all sides.
There are multiple pull-offs and places to get out and take photos or go for a hike.
Along the way, you'll pass some of the most beautiful rest stops near Hanging Lake and Grizzly Creek Trail.
Then, stop off at the overlook area in the Roosevelt National Forest and go for a hike on Lookout Mountain Trail.
9. Peak to Peak Highway
Known for being Colorado's oldest scenic byway, the Peak to Peak Highway is about an hour's drive from Denver.
And it's only about 40 minutes from Boulder so it makes a great day trip adventure!
It's a lovely drive, passing many old mining shafts and leads to several Colorado ghost towns nearby.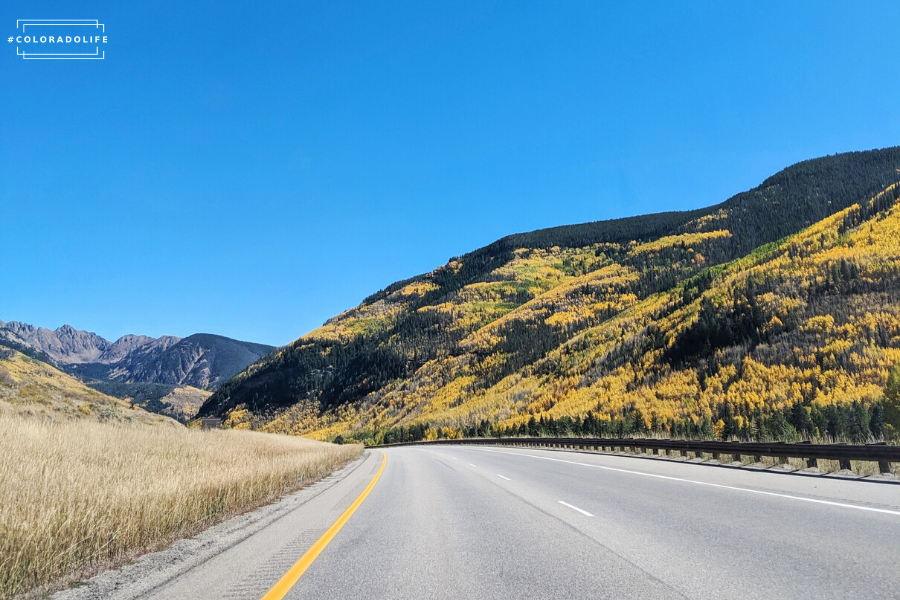 In true Colorado style, the highway is lined with evergreens and gorgeous aspens that turn a sunny golden color in fall.
We recommend combining a drive on the Peak to Peak Highway with a day trip to Estes Park or Rocky Mountain National Park. Both of which are nearby.
The Peak to Peak National Scenic Byway starts at Highway 7 in Estes Park then continues on to Highway 72 through Nederland. 
It continues on to Highway 119 through Blackhawk and Clear Creek Canyon down to Interstate 70.
10. Trail Ridge Road
Inside Rocky Mountain National Park is Trail Ridge Road which is lined with rolling hills, staggering mountains, and colorful valleys. 
Many travelers call this road the "highway to the sky" due to being the highest continuous paved road in North America.
It covers over 48 miles of road with 11 miles traveling above treeline between 11,000 and 12,183 feet in elevation.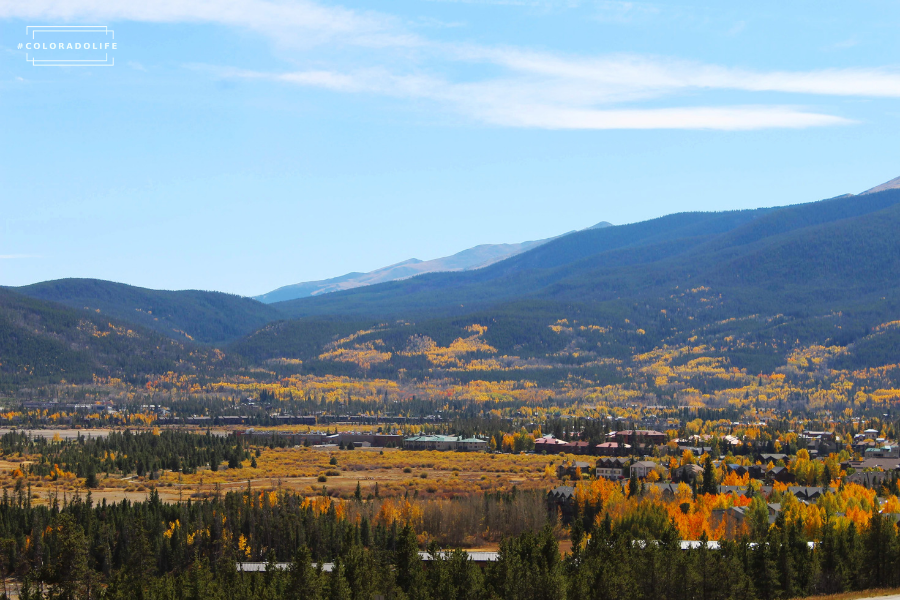 The drive offers amazing vantage points for fall foliage and seeing gorgeous autumn colors.
To see some vibrant colors, we recommend hiking the Tundra World Nature Trail, which is a half an hour path starting near the parking area at Rock Cut. 
11. Maroon Bells
When looking for the best places to see fall colors in Colorado right now, the iconic Maroon Bells is a must-visit.
Maroon Peak and it's sister North Maroon Peak, are two fourteeners located in the White River National Forest, about 12 miles from Aspen. 
Thanks to towering mountains and clear, glacial lake, they are the most photographed peaks in North America.
At sunset the mountains glow a reddish orange color, which is how they received the name of Maroon Bells. 
During autumn the hike to Maroon Valley offers unbeatable views of thousands of golden Aspen trees.
Due to the popularity of the site, reservations are required to visit the Maroon Bells.
12. Colorado Springs
Colorado Springs is one of the main cities along the Front Range with views of the Rocky Mountains from nearly anywhere in the city.
Mountain towns like Aspen and Estes Park tend to see trees changing colors a bit earlier than a metropolitan city like Colorado Springs.
Because of this you will see beautiful fall colors pepper the mountainside in the Springs during October and November.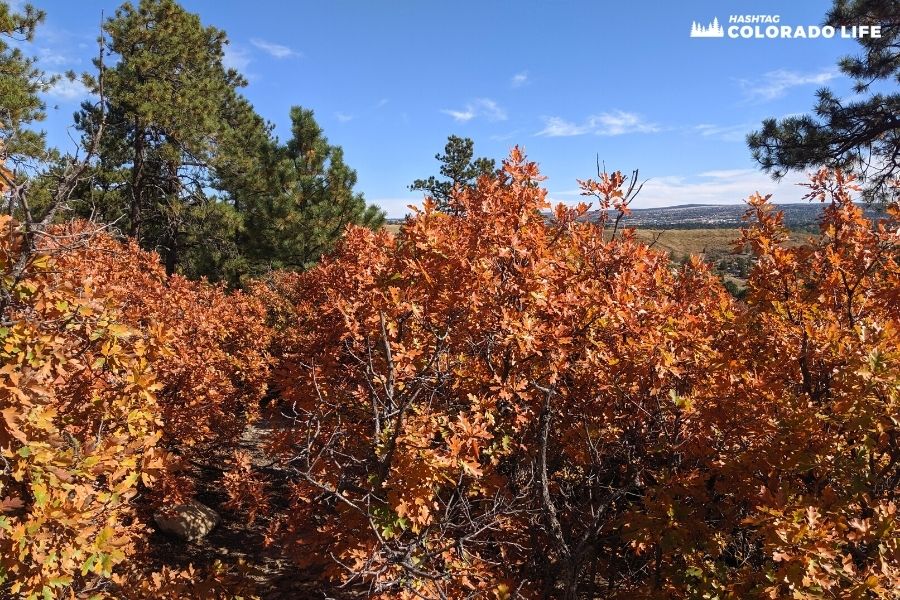 With many hikes in and around the city, Colorado Springs makes for a gorgeous place to watch the trees change color.
During fall, we recommend hiking North Cheyenne Canon Park and taking the Columbine Trail. 
This 7.6 mile trail is located on the edge of the mountain and winds up-and-down the cliff side. 
Along your hike you can expect to see majestic trees and ground cover, like Shrub Oak, changing colors. 
13. Cripple Creek 
At its core, Cripple Creek is a gold mining and gambling town, which makes for a rich history.
But it's also known for the Cripple Creek Narrow Gauge Railroad train depot. 
It is located downtown and leaves every 70 minutes from 10am-5pm daily. 
This authentic steam engine runs on coal with a 4-mile round trip train ride that stops at Echo Valley.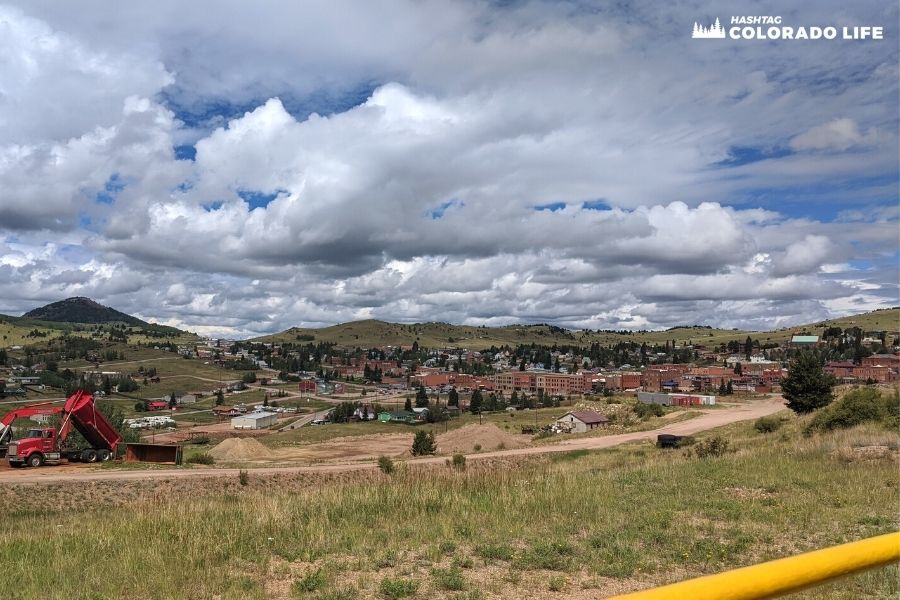 Here you will see rolling green hills and stunning views of the Sangre de Cristo mountains.
Both of which are covered in vivid colors of orange, red, and yellow during September and October.
Or you can stop at the overlook near the Heritage Visitors Center on your way into Cripple Creek. 
Here you can stop to breathe the fresh air and take in the expansive views overlooking the town. 
Plus, the Visitor Center is home to a completely free museum with interactive exhibits and detailed displays.
14. Golden Gate Canyon State Park
A short 45-minute drive west of Denver will land you in Golden Gate Canyon State Park.
This 12,000 acre landscape is full of aspens, evergreen pines, rolling meadows, and endless trails.
The park is open all year round and welcomes dogs that are on leashes as well as horseback riding.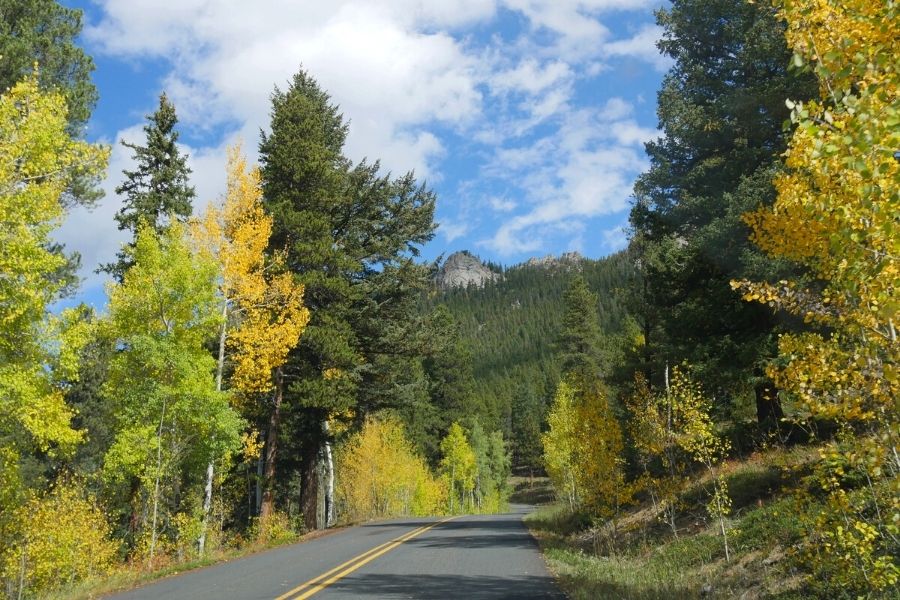 The Panorama Point Scenic Overlook is a 4.7 mile loop trail that features wildflowers in the summer and is the perfect spot for leaf peeping in fall. 
Here you will see more than 100 miles of aspen trees change color along the Continental Divide.
Or hike the Mule Deer Loop where the paths are lined with brilliantly colored aspens and make for epic photos.
15. Independence Pass
On your way to see the fall colors in Aspen, make a stop at Independence Pass. 
Every turn yields stunning views and gorgeous fall colors, all from the 12,095 feet vantage point. 
Along the drive you'll pass through the area of Twin Lakes. These two large glacial lakes provide beautiful autumn backdrops against the surrounding mountains.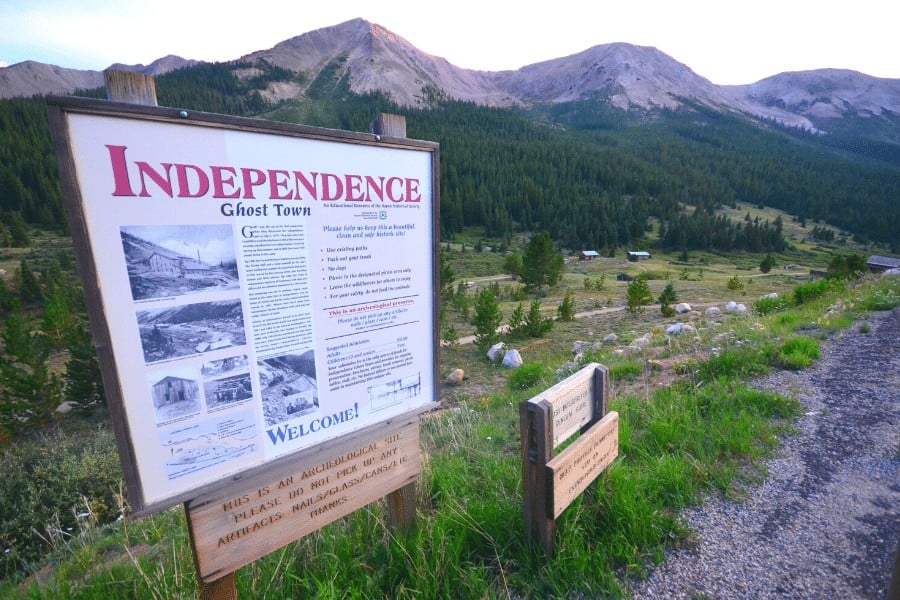 Be on the lookout for the towering Mt. Elbert, which is one of Colorado's most famous mountains.
While you're in the area, we recommend checking out the nearby Independence ghost town.
Independence Pass typically closes for the winter in November, so there is only a short window available to enjoy these fall colors.