14 Most Beautiful Places and Best Views in Colorado [2023]
This website may contain affiliate links and we may be compensated (at no cost to you!).
Colorado is a gorgeous state that offers the most beautiful places to take scenic photos.
With so many national parks, rocky mountains, and green forests there is never a shortage of photo opportunities and epic scenic drives.
Visitors and locals alike travel from miles around to take a peek and grab a picture.
Here are some of the best views in Colorado and where exactly to snap the perfect outdoor photo!
1. Garden of the Gods
Located in Colorado Springs is Garden of the Gods, which offers some of the most epic Colorado views you will see in the entire state.
It's no wonder that this destination is typically listed as one of the most beautiful places in Colorado.
Bright red rocks reach for the crystal blue sky, with the white snow cap of Pikes Peak towering in the background.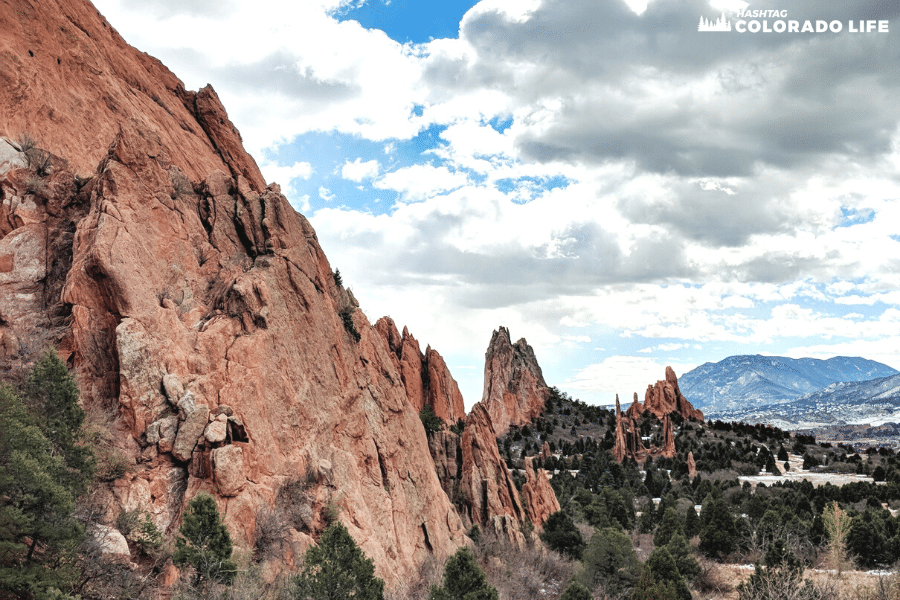 Garden of the Gods is a popular destination for climbers, hikers, sightseers, and everyone in between. You'll often see climbers scaling the towering red rocks.
There are actually several different locations within Garden of the Gods to capture an awesome photo.
You'll find some of the best views near Denver when visiting the:
Visitor and Nature Center
Gateway parking lot
Balanced Rock
Siamese Twins Arch
To visit Garden of the Gods from I-25, take exit #146 for Garden of the Gods Road. Then head west for 2.5 miles, turn left on 30th Ave, and continue a mile to the Visitor Center.
2. Colorado National Monument
The Colorado National Monument is part of the National Park Service and is located near Grand Junction. Most Coloradans think of it as our own version of the Grand Canyon.
Canyon walls cut into the landscape for miles showcasing gorgeous granite rock formations, sandstone, and other natural deposits.
The towering canyons spread out over 20,500 acres and can be as tall as 450 feet in some areas.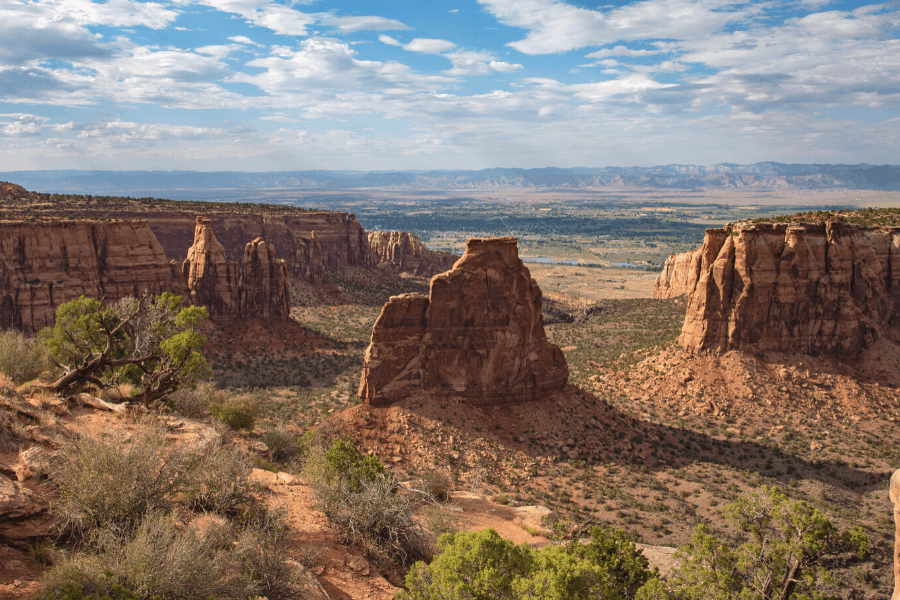 Some of the wildlife you can expect to see in the area are bighorn sheep, eagles, mule deer, coyotes, and lots of ground animals.
Bringing a camera is a must when visiting this location!
We suggest taking a photo at one of these spots:
Ute Canyon View (a marked spot)
Upper Ute Canyon Overlook
Monument Canyon View Overlook
To visit the Colorado National Monument, head west into the mountains on I-70 towards Grand Junction.
As you approach the western border into Utah, take a left onto Highway 340 in Fruita, Colorado and then follow the signs.
3. Maroon Bells
Maroon Bells is one of the most photographed locations in Colorado for good reason.
In the Elk Mountains, the two peaks and crystal clear Maroon Lake in between form a picturesque destination.
This classic alpine scene is showcased thanks to a mirror-like lake framed on either side by towering mountains and surrounded by foliage and fauna.
This destination is a popular centerpiece of Colorado-inspired art and photography, and will always grab attention.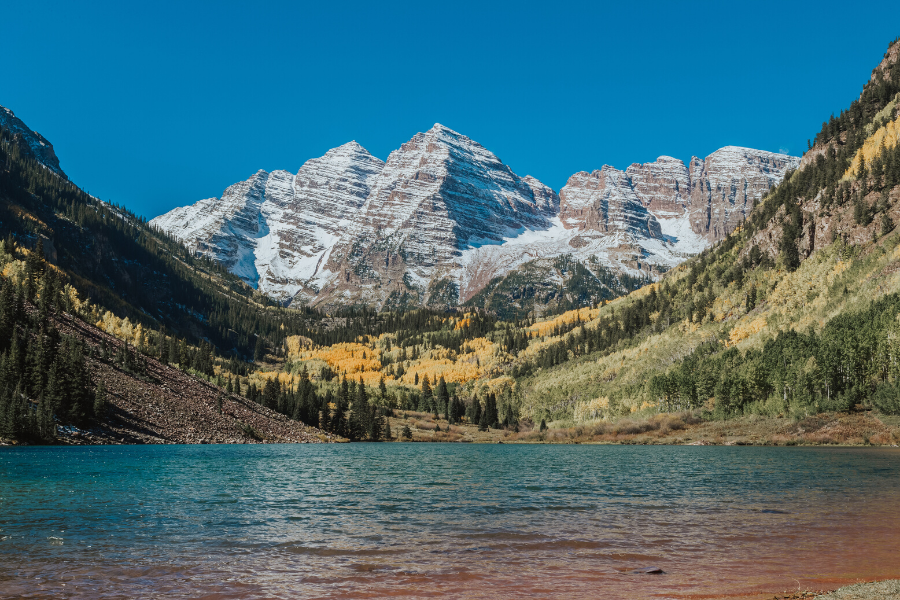 Because of the popularity of this destination, access is limited during high-traffic seasons like summer and fall.
Reservations are required to visit the scenic area, and we recommend visiting on a weekday if possible to reduce congestion.
A few of the most photographable locations can be found at:
Crater Lake Trail
Maroon Lake Scenic Trail
Maroon Creek Trail
The Maroon Bells wilderness area is located about 10 miles outside Aspen.
During summer months, Maroon Bells is easily accessed by public bus from the Aspen Highlands Visitor Center.
Pay to park at the visitor center and take the paid bus or hitch a ride on the free bus that runs from Aspen to Aspen Highlands, called the Castle/Maroon bus.
4. Royal Gorge Bridge & Park
Thrill-seekers will meet their match with the towering Royal Gorge Bridge!
The Royal Gorge Bridge and Park is a striking 1,200 foot high bridge that stretches across a red rock canyon.
It is the highest suspension bridge in the country, and offers unbelievable views from the middle of the bridge.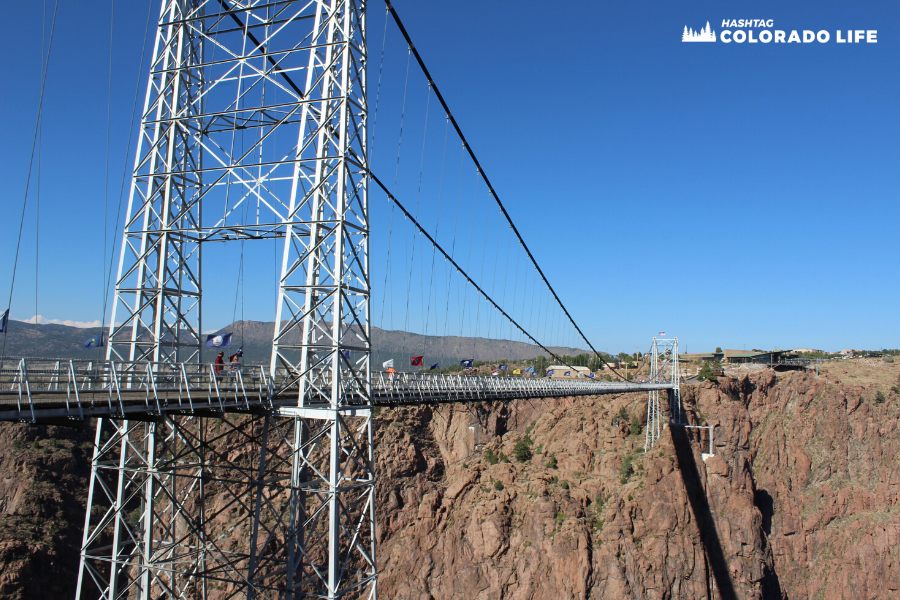 If you're not brave enough to walk across the bridge, you can still see the heights from the safety of the gondola!
Great photos can be taken from nearly anywhere near the bridge. We suggest aiming for:
Denver and Rio Grande Train (viewing platform)
Point Sublime
Near the Theater
Visitor Center
The gorge and bridge is located west of Cañon City. From the Front Range, head south on I-25, then follow CO-115. From here take US-50 W to the Royal Gorge Bridge and Park.
5. Manitou Incline
A long time ago, the Manitou Incline carried a cable car loaded with supplies up Manitou Mountain.
After it was decommissioned in 1958, and a rockslide damaged the rails in the 90s, the incredible incline remains.
And it is one of the most physically challenging hikes in Colorado. There are other intense hikes in Colorado, especially fourteeners.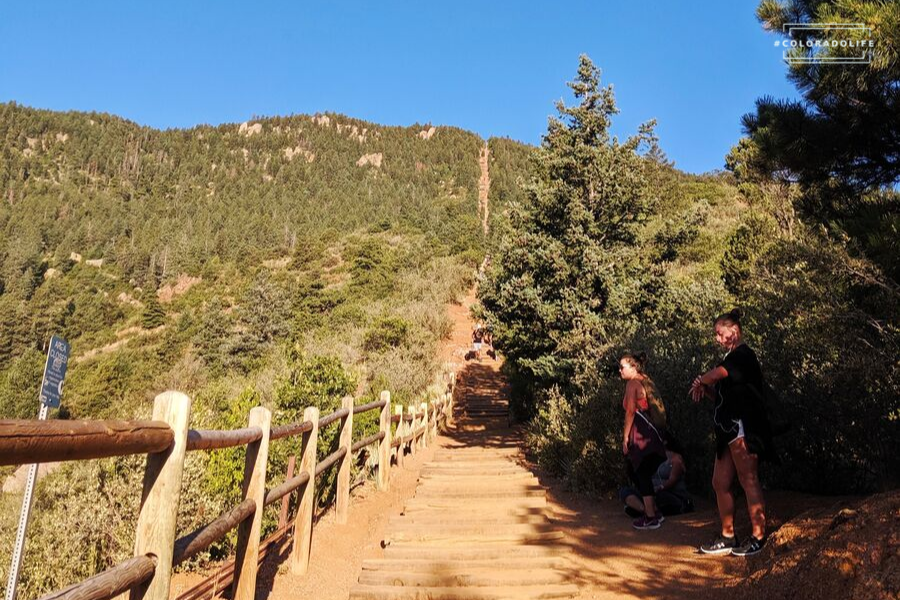 The railroad ties make up a staggering staircase that reaches 68% incline toward the top, and slices through the landscape like a razor-thin streak.
A photo from the peak of the incline would be remarkable, but there is lots to see from every spot on the incline.
Memorial Park in Manitou Springs
Lower Return Trail (bailout zone)
Barr Trail (top of the peak)
Starting point at the bottom of the Incline
From I-25, take exit 141 for US-24 W. Keep right toward US-24 W/W Cimarron Street and continue right following signs for Manitou Springs/Pikes Peak/Woodland Park.
Parking is free at the 10 Old Man's Trail in Manitou Springs.
Pick up the frequent free shuttle (route 33) to the trailhead. The free shuttle operates from 6am to 8pm daily and goes between the parking lot and the incline.
6. Pikes Peak
When it comes to recognizable and photographable mountains, you can't miss Pikes Peak.
If you've ever heard the song "America the Beautiful," then you've heard about this purple mountain's majesty.
This beautiful Colorado Springs peak inspired the poem that became the song!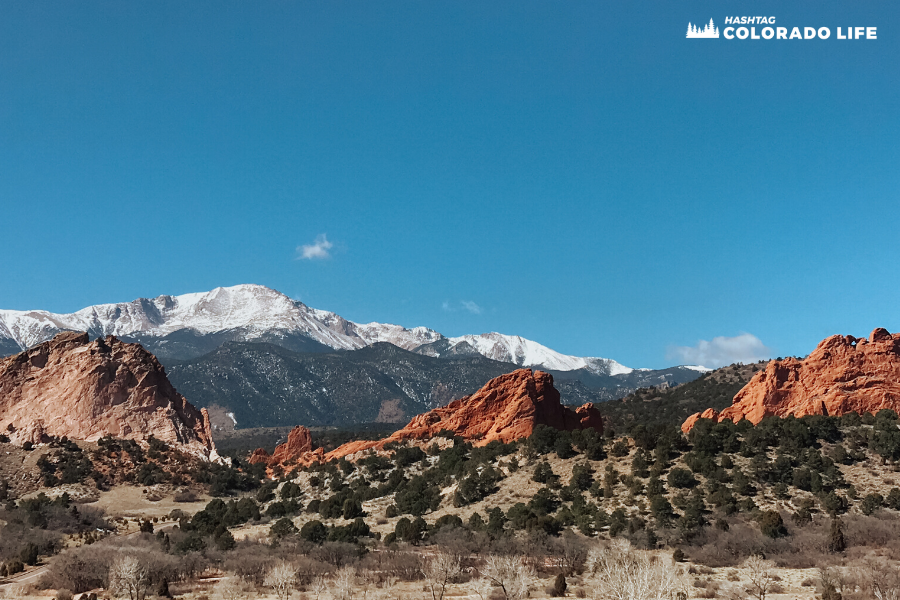 Pikes Peak is often purple in color, with a sprinkling of white snow on top. It can be seen from as far away as Denver, but is most remarkable when seen up close.
There are many ways to find the perfect picture at Pikes Peak, from ground level while you hike or bike, from the seat of a Jeep tour, or from aboard the Pikes Peak Cog Railway!
If you want an incredible view of Pikes Peak and the city of Colorado Springs, check out Palmer Park.
Pikes Peak is most easily accessed from Colorado Springs. Head up US-24 W toward the mountains and turn left onto Fountain Ave toward Pikes Peak Highway.
7. The Paint Mines
While many beautiful and scenic destinations will send you to the foothills of the Front Range and beyond, The Paint Mines are not in the mountains.
You may have seen rock and sandstone before, but the orange-red of other formations has nothing on the stunning multi-colored sandstone.
The stones vary from shades of bright white and gray to pink, red, orange, yellow, and many other colors in between.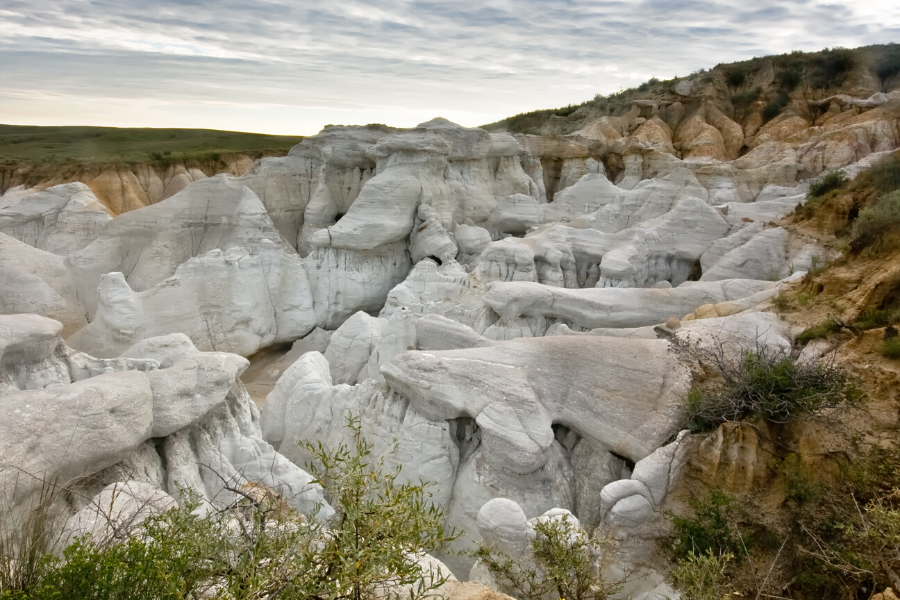 The rich colors and funky formations were created by alternating layers of sandstones and other rocks, carved away by water and wind erosion.
This park is ideal for visitors on foot, since motor vehicles, pets, and bicycles are prohibited.
The Paint Mines Interpretive Center is a popular destination for hikers and photographers who are looking for the meaning behind the phrase "colorful Colorado."
From Colorado Springs, head east on US-24 until you reach Calhan, CO. There are multiple routes from Denver to the Paint Mines, and all take about 90 minutes or more depending on traffic.
8. Dillon Ice Castles
If you're visiting Colorado in winter, we highly recommend the gorgeous and awe-inspiring Dillon Ice Castles.
The Ice Castles are an award-winning attraction that makes for a winter wonderland that adults and kids will enjoy.
The sculptures are bigger and more elaborate than any other carved ice display.
Each castle is made of over 20 million pounds of ice, with towering ice blocks making up the walls, archways, and crawl spaces.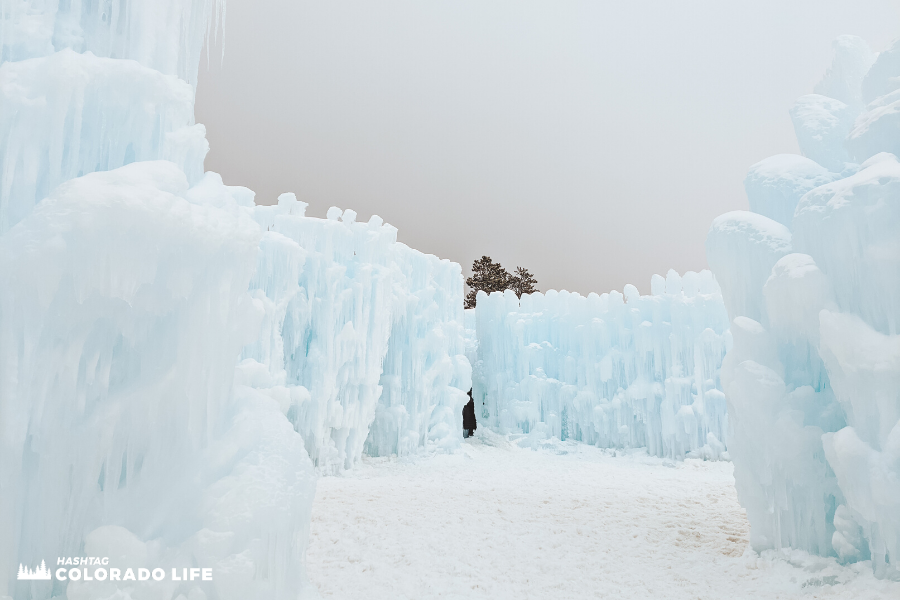 Anywhere inside the Dillon Ice Castles makes a great photo opportunity. But we suggest grabbing a photo at the:
Front entrance
Any of the hashtag signs
Giant ice block chair
Back exit when leaving
Tickets usually become available in December for the following January through February(ish) season. That makes the ice castles in Dillon a great post-Christmas winter activity!
And they are an ideal day trip destination to add to your Colorado bucket list.
The Dillon Ice Castles are (obviously!) located in Dillon about an hour and a half drive outside of Denver. Just head west on I-70 toward Dillon Town Park.
9. Hanging Lake
At the end of a steep, rigorous backcountry hike you will find Hanging Lake. This sparkling, blue-green gem of a lake is an iconic place to take photos.
The dazzling mountain lake is fed by multiple waterfalls from the travertine rock surrounding the lake.
Due to this gorgeous spot being so popular, the trail is reserved only and does require a permit, so plan ahead accordingly.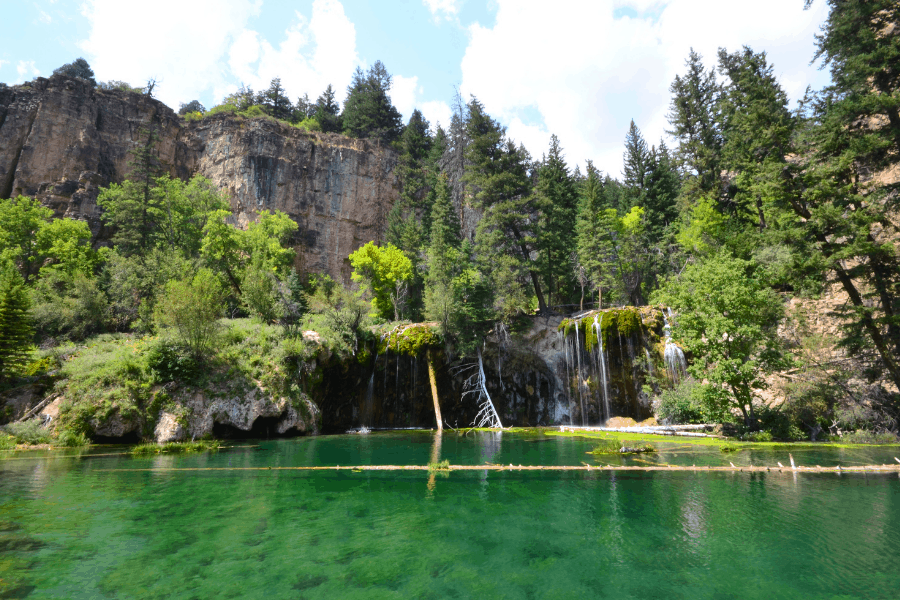 The trail is short, but very demanding and rocky. However, it's well worth getting an epic picture if you choose to make the trek!
Bikers can also reserve a permit, so you can hike or bike your way to the top.
Permit holders can utilize the shuttle from the Hanging Lake Welcome Center to the trailhead during the regular season May through October.
Hanging Lake trailhead is about 3 hours from Denver off I-70.
10. Rocky Mountain National Park
If you're visiting Colorado, Rocky Mountain National Park will make you feel like you're on top of the world.
This spectacular national park has so much to see and to photograph! You could easily spend a day, a week, or even longer exploring all this park has to offer.
RMNP features extensive mountain trails, clear alpine lakes, fearsome rock formations, and a variety of mountain plants and animals.
With over 415 square miles of park to tour, you'll find a million and one photo opportunities here!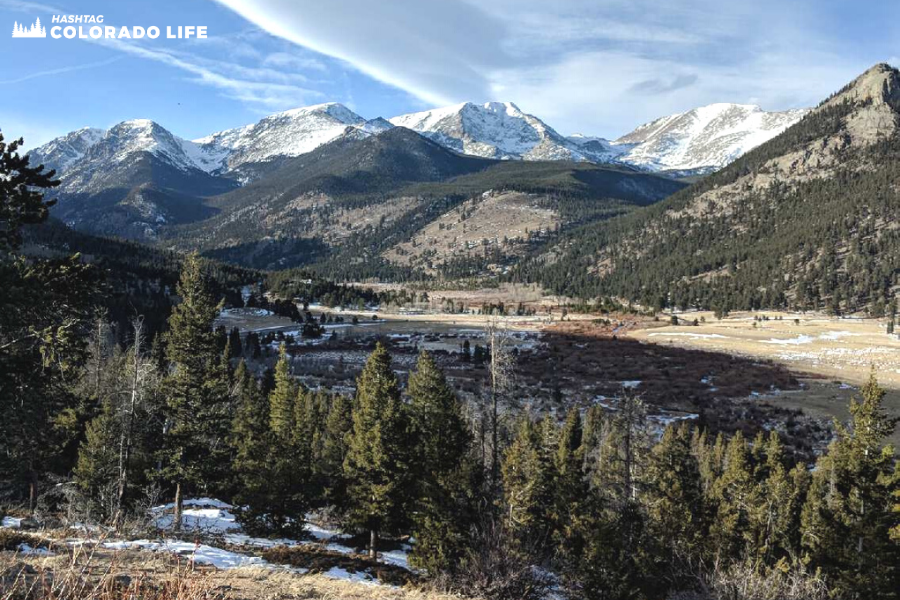 There are two entrances to Rocky Mountain National Park, via Estes Park and Grand Lake.
To access Rocky Mountain National Park from the east side of the park, head north on I-25 from Denver or north on US-36 from Boulder toward the city of Estes Park.
To access Rocky Mountain National Park from the west side of the park via Grand Lake, head west on US-6 from Denver, then take I-70 to exit 232 (Empire) to US Hwy 40 to Granby to US Hwy 34 to Grand Lake.
11. Boulder Flatirons
The Flatirons at Chautauqua Park are especially photogenic given their darker, foreboding color and striking, jagged shape.
The Flatirons which tower over Boulder are a popular destination for rock climbers, hikers, bikers, and sight-seers.
The peaks are among the most distinctive shapes and features of Colorado. Because of this, the Flatirons are always a beautiful subject for mountain photographers.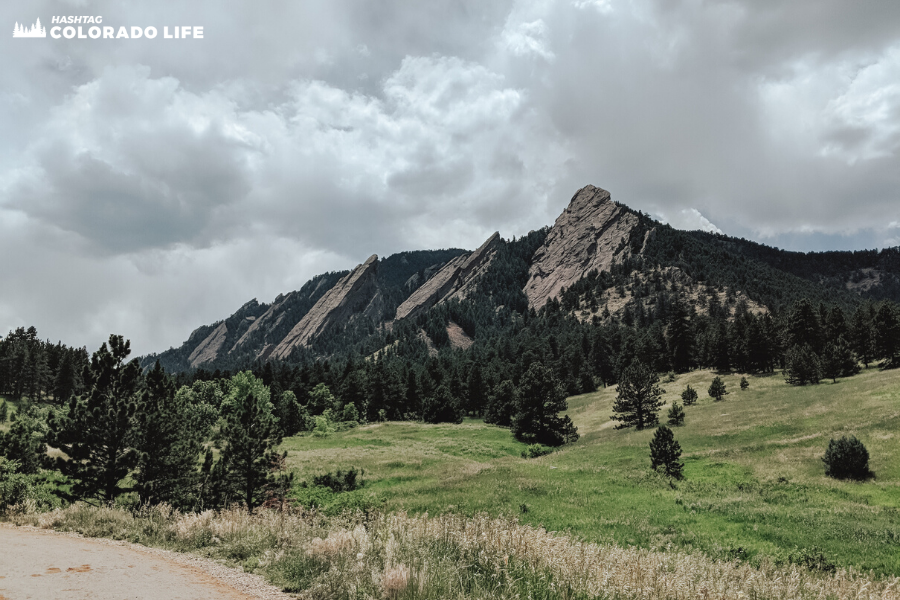 Chautauqua Park is the most popular place for snapping a photo and is easily accessible from the parking lot or any of the hiking trails.
Parking is limited at the park, but can be found in the surrounding neighborhoods.
Another good option is to take the free bus from Denver to Boulder, which leaves Union Station Gate B17 and stops at Broadway & Regent Drive in Boulder, just a few blocks from Chautauqua Park.
12. Union Station
For a very photogenic urban site, we love visiting Union Station in Denver.
The Crawford Hotel at Union Station is one of the most important historical landmarks in Denver.
The hotel was originally opened in 1881. And today, this beautiful building is home to many restaurants, shops, and of course, the Crawford.
This tall Romanesque Revival building is both beautiful and ornate. It has a substantial, old-fashioned feeling with all the modern amenities.
Epic photos can be taken anywhere near Union Station or take a walk down to the 16th Street Mall, which is nearby.
And we absolutely have to mention that Milkbox Ice Creamery is located inside Union Station!
Union Station is conveniently located in downtown Denver, just south of the junction between I-70 and I-25. It's about a 30-minute drive from the Denver International Airport via I-70.
13. Red Rocks Amphitheater
Whether visiting in the day time or at night, Red Rocks Park and Amphitheater is a beautiful place to sightsee and more.
This naturally occurring amphitheater is formed by the beautiful and erosion-carved red stones which give this area its name.
Red Rocks Park is open year-round (when shelter-in-place orders don't exist) for everything from concerts, to film on the rocks, to morning yoga.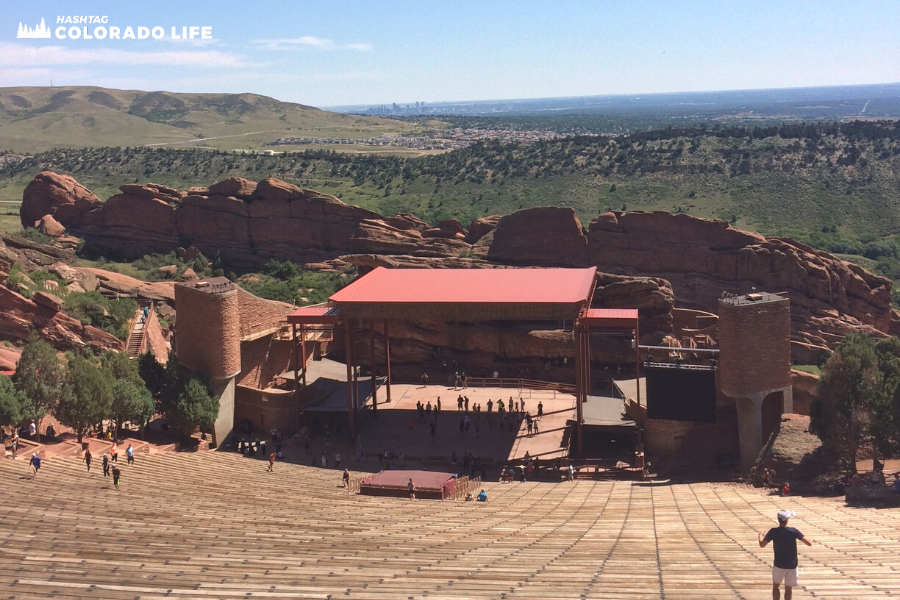 Featuring a beautiful view stretching over Denver, Red Rocks Amphitheater offers long horizon vistas day or night.
See the sun rise and set the stones aglow, or stay late and watch the city of Denver sparkle to life. There are also plenty of activities to enjoy in the park.
Bring your hiking boots or bicycle (and your camera!) to tour the orangey-red stones and see wildlife and native plants throughout the park.
Red Rocks Amphitheater and Park is just east of Denver in the city of Morrison. If you're in Denver visiting Union Station, you can continue your tour of Denver at the Amphitheater!
Take I-70 W toward Grand Junction, and exit 259 toward Jefferson County 93/Morrison. Continue on County Road 93 to Red Rocks.
14. Skyline Drive
A scenic drive that is one of the most beautiful in all of Colorado is Skyline Drive, and it does not disappoint.
This historic one-way road is extremely narrow and sits on top of a high razorback ridge.
The 360-degree stretches out for miles and miles and makes it one of the most beautiful places in Colorado.
There are no guard rails or markers to abstract your views, just steep drop offs along the narrow road.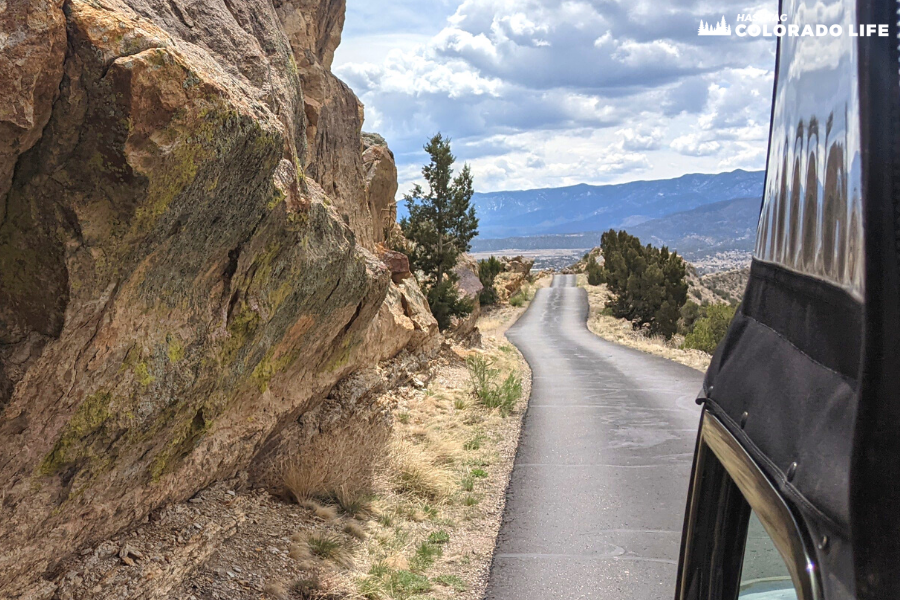 There are several pull-offs and overlooks along Skyline Drive, so be sure to stop, get out, and take a photo.
Not only that but it's full of history, thanks to the dinosaur fossils and footprints found along the Dinosaur Trackway.
The entrance to Skyline Drive is located on the western side of Canon City close to Royal Gorge Mountain Park.
And remember, this is a super narrow one-way drive so drive slowly and carefully.
Skyline Drive is located in the Royal Gorge area. Just take I-25 south from Boulder, Denver, or Colorado Springs. Connect to Highway 115 south through Penrose, Colorado.
Finally, you can turn your photos into high quality photo tiles that stick and re-stick with Wallpics.com.
If you're looking for some of the best views in Colorado, we hope this list inspires you.
The state is full of the most beautiful places and scenic places to visit to snap an epic photo.
There are so many awesome places to take Colorado photos in 2023! We hope this list inspires you to get out and visit an epic photographable location.