17 Fun Things to Do in Trinidad Colorado: Best Activities & Events
The content of this website may contain affiliate links and we may be compensated (at no cost to you!). Thank you for your support!
Finding fun things to do in Trinidad Colorado is pretty easy. While this area is considered a more rural part of the state, the charm can not be denied.
In fact, there are so many sites to see and places to explore, both indoors and outdoors, first time visitors might have to make two trips!
From walking the historic streets of downtown Trinidad, to hiking in the wilderness of Fisher's Peak, there are miles of trails and historic landmarks that can't be missed.
Here is our list of the best things to do in Trinidad, Colorado from special events, art museums, local attractions, and exploring the town's history.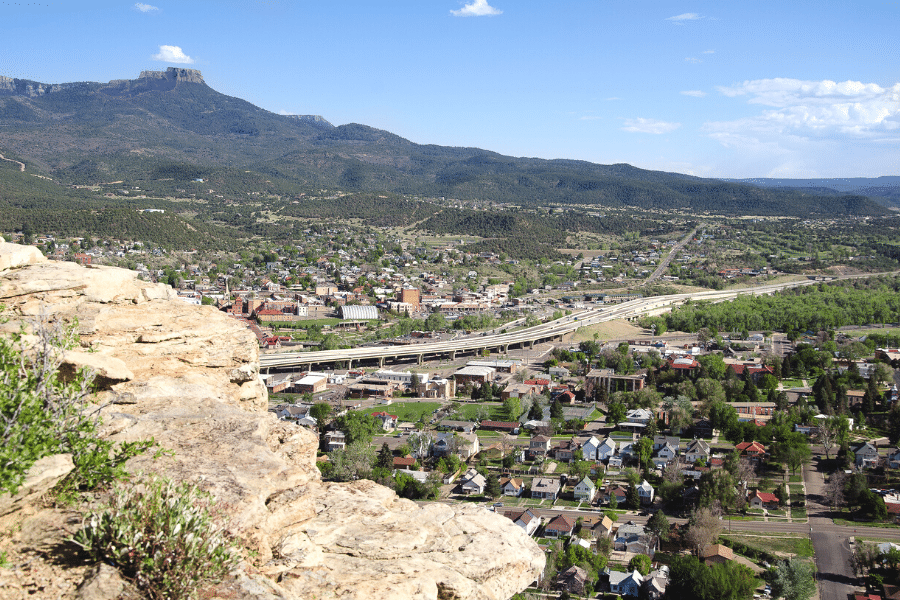 1. Trinidad History Museum
Along the city's acclaimed historic district you'll find the Trinidad History Museum. 
Unlike other museums you may have visited in Colorado, the Trinidad History Museum is several museums in one. 
This popular attraction is a collection of other historic buildings, gardens, and exhibits that cover an entire block.
Visitors can explore the different exhibits both indoors and outdoors for a unique experience that's fun for the whole family.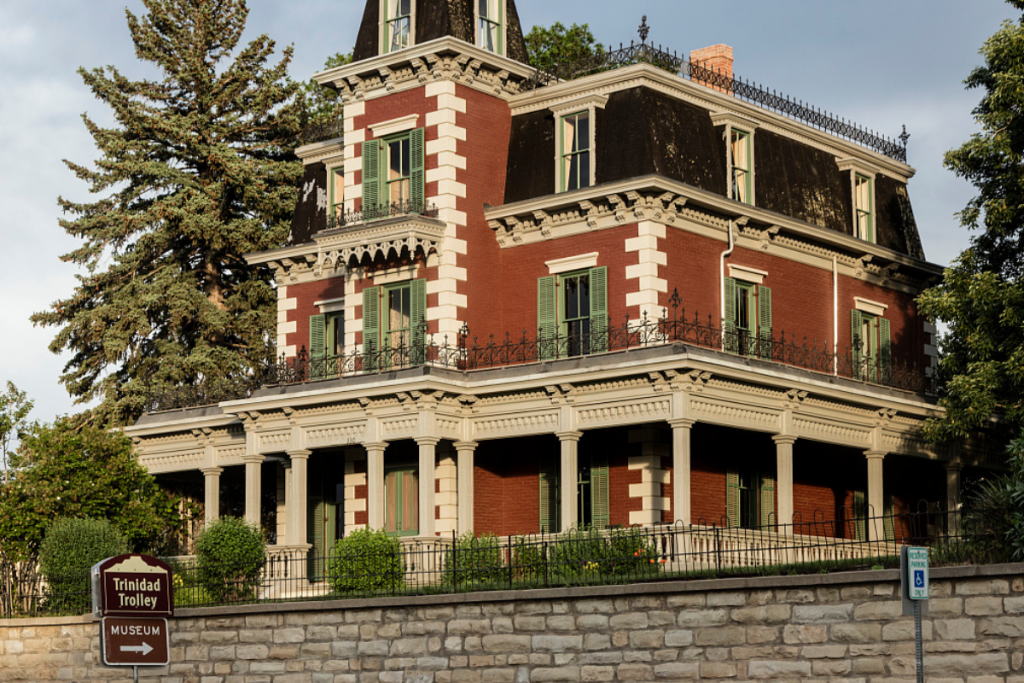 Included in the site's interactive exhibits is the Bloom Mansion, Borderlands of Southern Colorado, and the Santa Fe Trail Museum. 
All of which have their own unique history, architecture, and even original furnishings from the previous owners.
2. Trinidad Welcome Center
Anytime we visit a new town in Colorado we make time to stop at the Welcome Center. And Trinidad is no different.
The Trinidad Welcome Center has tons of great information and ideas for things to do and what you should know about this lovely city.
Kids will love the free activity books and adults will appreciate the clean bathrooms, outdoor eating areas, and other amenities for a fun and relaxing visit.
Want to know all of the city's hidden gems? Grab a free map or brochure to help plan an unforgettable vacation to Trinidad, Colorado.
3. Trinidad Lake State Park
Trinidad Lake State Park is one of Colorado's most beautiful lakes and is considered a hidden gem. 
The state park protects and surrounds Trinidad Lake, which is a reservoir in the heart of the city.
There are endless things to do at Trinidad Lake State Park from fishing, boating, waterskiing, camping, picnicking, and horseback riding to hiking, and ice fishing in the winter.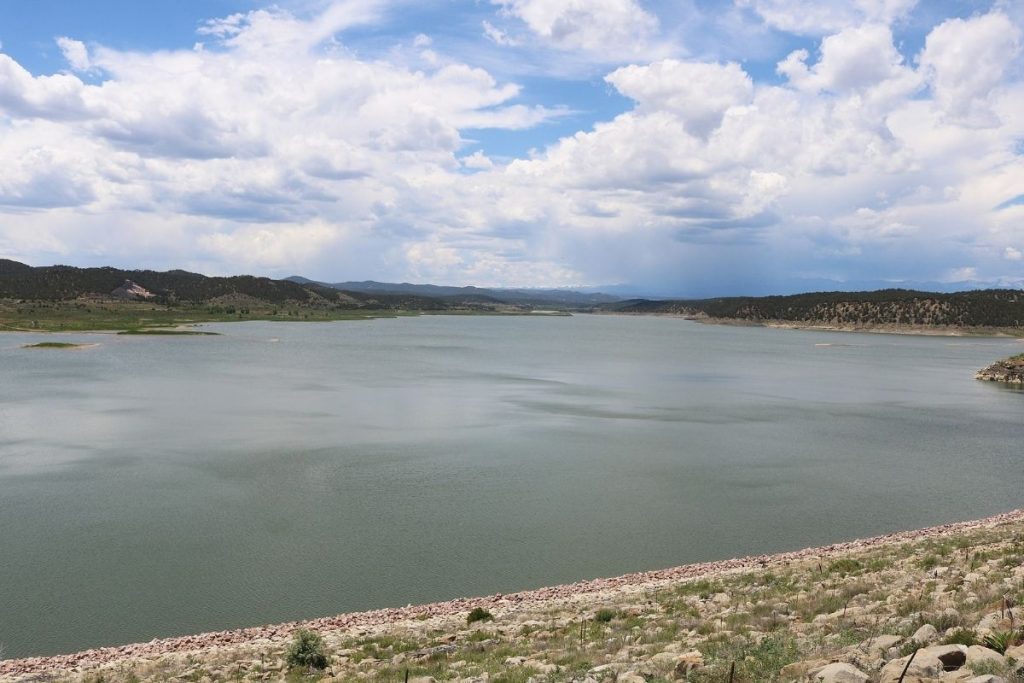 The reservoir is also a popular spot for avid fishers as it's fully stocked with many types of warm and cold-water fish. 
The different types of fish available are rainbow trout, channel catfish, walley, crappie, bluegill, and largemouth bass.
4. Trinidad Trolley
One of the best ways to explore the city of Trinidad if you're short on time is by taking a ride on the Trinidad Trolley. 
This small, rural town is easy to explore on bikes or on foot, but the Trolley is a fun and inexpensive way to see the sites.
Follow the signs towards the Trinidad History Museum and book a quick Trolley tour from the station on Nevada Avenue.
There are several different tours to choose from with stops that include seeing the Ava Maria Shrine which is a historic hospital, and a beautiful mural by a local nun named Sister Augusta Zimmer.
You can find out more information about the Trinidad Trolley at the Trinidad Welcome Center.
5. Rino's Italian Restaurant & Steakhouse
If you're looking for a place to eat while visiting Trinidad, Colorado this small town has lots of delicious options. 
And one of the most popular is Rino's Italian Restaurant & Steakhouse.
Conveniently located downtown, Rino's is managed by local Frank Cordova, and is only open Wednesday through Sunday from 5-9pm.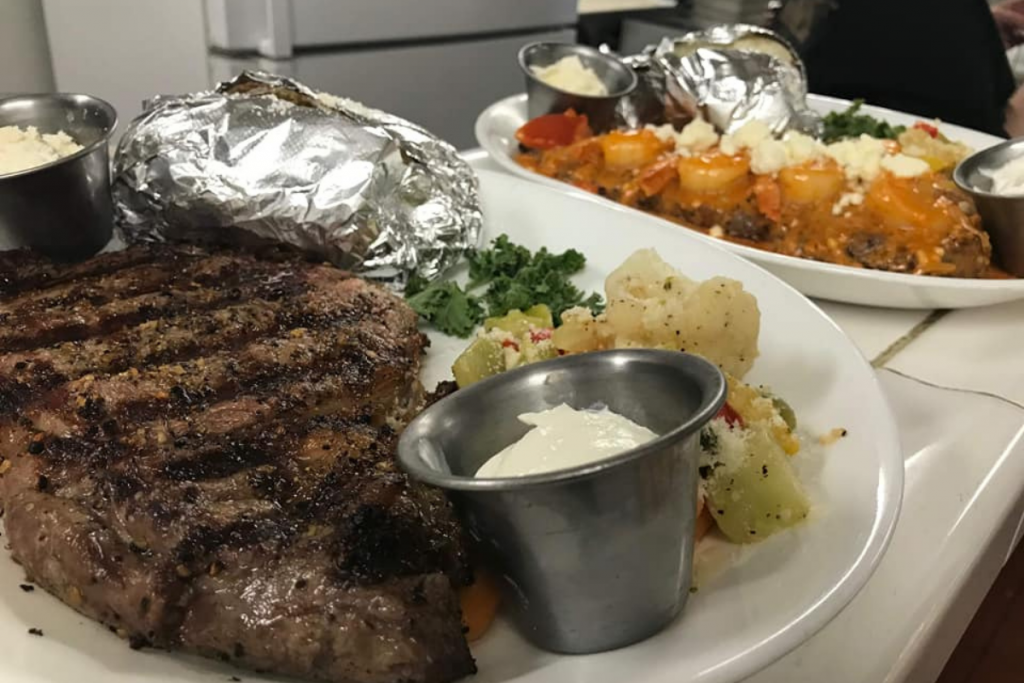 The eatery features an assortment of steak options and lots of traditional Italian dishes, like ravioli and gnocchi.
The building where Rino's is located is actually considered a historic landmark and is loved by the entire city. It's a unique local dinner you won't soon forget.
6. Simpson's Rest
When looking for the best things to do in Trinidad, Colorado you can't miss out on visiting Simpson's Rest. 
Located just north of the city, Simpson's Rest is a rocky, sandstone bluff that is currently a city park. It's easily identified by the giant "TRINIDAD" sign written on it. 
From the top of the bluff you'll be overlooking the town plus the entire expanse of the Purgatorie River Valley.
It's the perfect spot for a short 2-mile hike where you can enjoy scenic views of Trinidad and central Colorado's Las Animas County eastern prairie plains.
7. Steam Engine 638
In 1906 the Colorado and Southern Railroad system used the Steam Engine 683 to haul supplies throughout the state. 
The train transported goods like coal, cattle and other merchandise across Colorado.
These days, the Steam Engine 638 is retired and sits next to the Purgatorie River along main street in Trinidad.
The Colorado Railroad and trains like this one changed the way the American west did business and brought supplies to locals. 
Visit the Steam Engine in Trinidad for a fun photo and history-learning opportunity. 
8. Fishers Peak State Park
One of the newest state parks is Fishers Peak State Park, which is located just south of the city of Trinidad in Colorado. 
The park has over 19,200 acres of grasslands, foothills, untouched wilderness and hundreds of species of wildlife and nature for exploring. 
At its core is an entire nature conservancy and the crowning jewel known as Fishers Peak, which tops off at more than 9,633 feet in elevation.
After being privately owned for decades, Fishers Peak State Park is now Colorado's 42nd state park to be owned by Colorado Parks and Wildlife.
This truly is one of Colorado's most rugged landscapes. Maybe one day it could even become a famous landmark like some of the other national parks.
9. Corazon Gallery
If you love Western art and the historical significance of Colorado's Wild West, then check out the Corazon Gallery. 
This cooperative consists of local artists who create everything from handcrafted jewelry and ceramics, to oil paintings and photography.
Spend time perusing the local gallery or chatting with some of the featured artists who are often working on-site.
The Corazon Gallery has a comfortable and chill vibe where anyone can appreciate both historic and modern takes on Western art forms. 
10. Perkatory Coffee House
As a great way to start or end your visit to Trinidad, Colorado we recommend stopping at the Perkatory Coffee House.
Located on East Main Street this coffee shop has a fun, quirky vibe that's inviting and comfortable.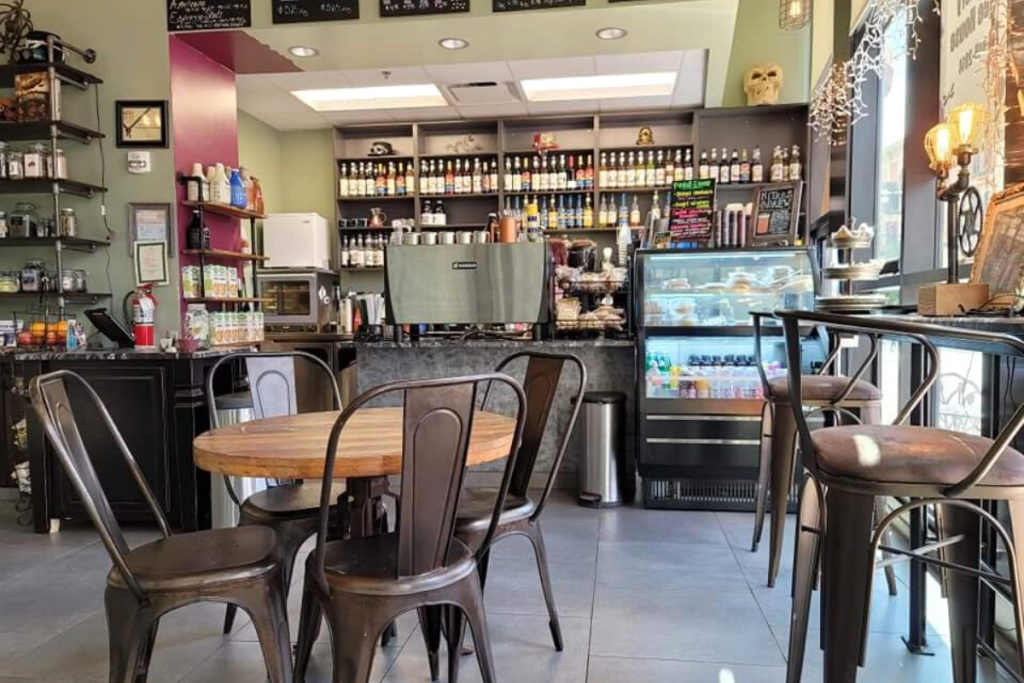 Not to mention they have a large selection of hot and cold drinks! They serve drinks from espresso and nitro brew to different flavored tea, Italian soda and juice.
Their main roaster is located in Colorado Springs, which has many amazing coffee shops as well.
Locals also love the Perkatory Coffee House's baked goods, pastries, muffins and their popular carrot cake with homemade cream cheese icing. 
11. Louden-Henritze Archaeology Museum
If you don't know by now, Colorado is rich in mining, coal, and archaeology history. 
The state is a wealth of findings from gold and silver to dinosaur fossils, with more discoveries being made every year. 
At the Louden-Henritze Archaeology Museum you'll find a trove of treasures that have been unearthed from past decades. Because of this, it has amassed an impressive collection of artifacts.
Some exhibits include findings such as ancient pottery, woven baskets, fossils of fish, and real dinosaur bones. 
Not to mention you'll see representations of village life from Native Americans who lived in the area of the famous Santa Fe Trail.
The Louden-Henritze Archaeology Museum is only open Monday through Thursday from 10am-3pm.
12. Scenic Highway of Legends
If you're looking for a fun day trip to Trinidad Colorado, we suggest taking the Highway of Legends Byway. 
This 82-mile route passes by some of the area's greatest attractions and gorgeous landscapes.
It's the perfect detour for exploring south Colorado and into New Mexico as it stretches from Walsenburg to Trinidad.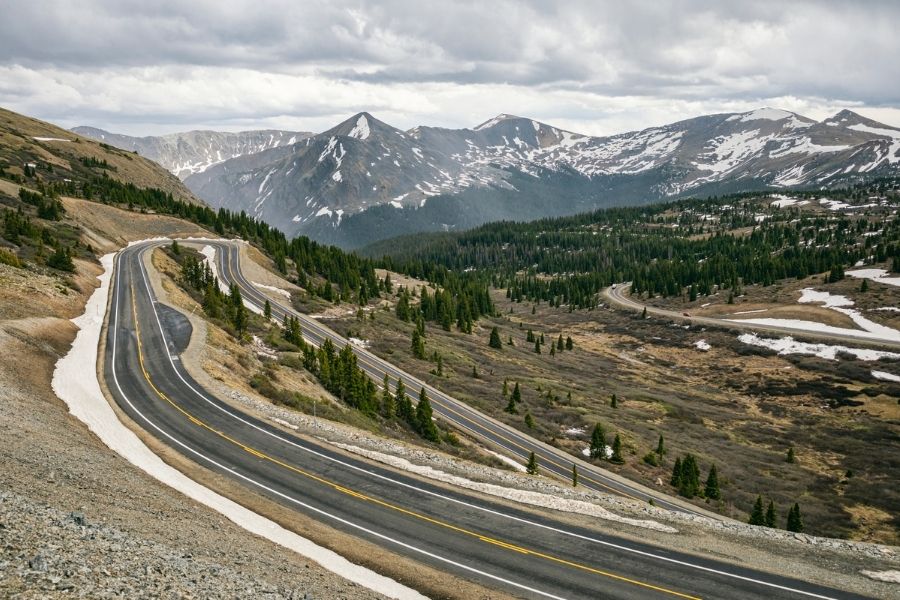 This scenic byway received its name thanks to the spiritual myths of the American Indians and the history of their clash with the Spanish explorers.
Much like the rest of Colorado, this scenic route is shrouded in promises of fortune, outlaws, and Native American history.
13. A.R. Mitchell Museum of Western Art
If you want to experience some real Cowboy art and Western exhibits check out the A. R. Mitchell Museum of Western Art.
The artist who's named for the museum is Arthur Roy Mitchell. He painted iconic western landscapes and 1930s scenes featuring horses, cowboys, and cattle.
The museum is a proud owner of many of Mitchell's most famous works of art. 
This includes 160+ western pulp magazine covers, over 350 paintings and illustrations from the 1920s to 1940s.
The A. Roy Mitchell Museum of Western Art has works and collections from Native American artifacts. The exhibits also include things like collectibles, blankets, rugs, and other historic articles of clothing.
14. Southern Colorado Coal Miners Memorial
Colorado's history can not be talked about without mentioning the hundreds of coal, silver, and gold miners who pepper its history books.
One of the main ways you can honor those long gone is with a visit to the Southern Colorado Coal Miners Memorial.
This life-size memorial is cast in bronze and showcases names of past, retired, and even active coal miners.
This memorial and monument is located in the historic district of Trinidad along West Main Street. 
Here you'll learn about the city's mining process. Plus, those who dedicated their lives to exploring Colorado's vast caves and caverns.
The Southern Colorado Coal Miners Memorial is a great place to stop at before heading to your next attraction.
15. Purgatoire River Trading Company
When looking for things to do in Trinidad, Colorado a day exploring isn't complete without a stop at the Purgatoire River Trading Company.
Situated in the iconic McCormack Building, this one-of-a-kind shop features a large collection of handmade goods. 
This includes local pottery, woven baskets, leather, rugs, and silversmith jewelry from Native American artists.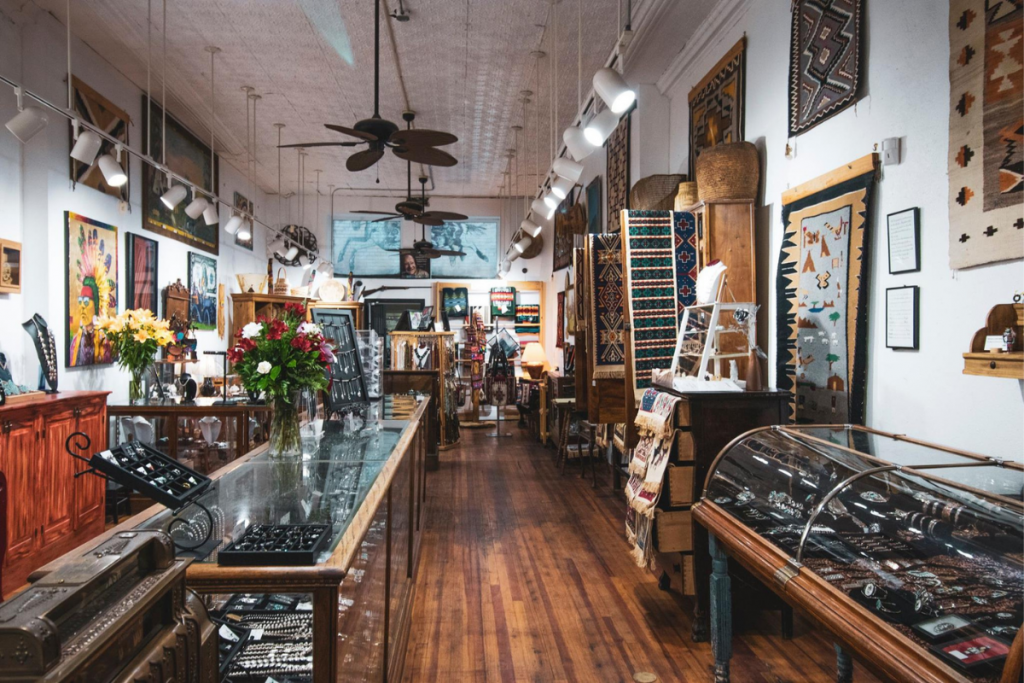 The Purgatoire River Trading Company began from an owner's private collection of Indian goods in the 1960s. 
All the items in the store were once procured from the owner's travels across the United States.
Today, the collectibles are chosen with care and feature only the best works in art and items from Colorado's most historic eras.
16. Art Cartopia Museum
If you're looking for an old-fashioned roadside attraction that showcases cars and art, check out the Art Cartopia Museum in Trinidad.
In addition to an art gallery and gift shop, there are over 25 wildly decorated and creative looking cars that are actually drivable.
At this unique museum you'll find sideshow banners, a vintage truck covered in old toys, and even a sculpture made from Volkswagen parts. 
There is also a car covered entirely in broken mirrors, even down to the hubcaps. 
And the best part is that new "car art" is being created and added every day so there is always something new to check out here.
Or you can attend the annual ArtoCade which attracts thousands of car and art lovers and features more than 100 art cars.
17. San Isabel National Forest
If you're looking for some outdoor activities to do near Trinidad, Colorado then you're in luck. 
The town is located along the border of the San Isabel National Forest. 
With more than one million acres of diverse landscapes, ponds, trails, mountains, and campsites there's always something to do.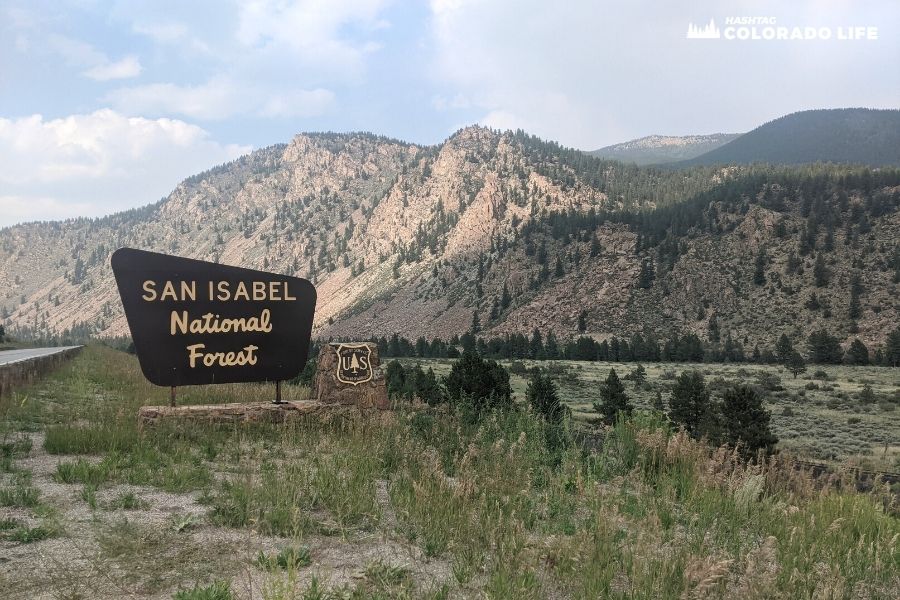 Two of the bigger lakes in San Isabel National Forest are usually very popular hangout spots. It's especially nice during the summer months for swimming, kayaking, fishing, and sunbathing.
You and your family can also enjoy a day exploring the Spanish Peaks which are part of the Spanish Wilderness inside San Isabel.