7 Things to Do at Rampart Reservoir Recreation Area in Woodland Park
This website may contain affiliate links and we may be compensated (at no cost to you!).
Rampart Reservoir is a 500-acre body of water near Woodland Park, Colorado.
It is the largest reservoir in El Paso County and the largest lake in Pike National Forest.
This man-made lake was created in 1967 to help supply water to the growing population of Colorado Springs and the surrounding towns.
By 1972, the reservoir was at full capacity and the lake was opened for recreational use.
Since then, Rampart Reservoir has been a little-known getaway for nature-lovers and avid fishermen.
How to get to Rampart Reservoir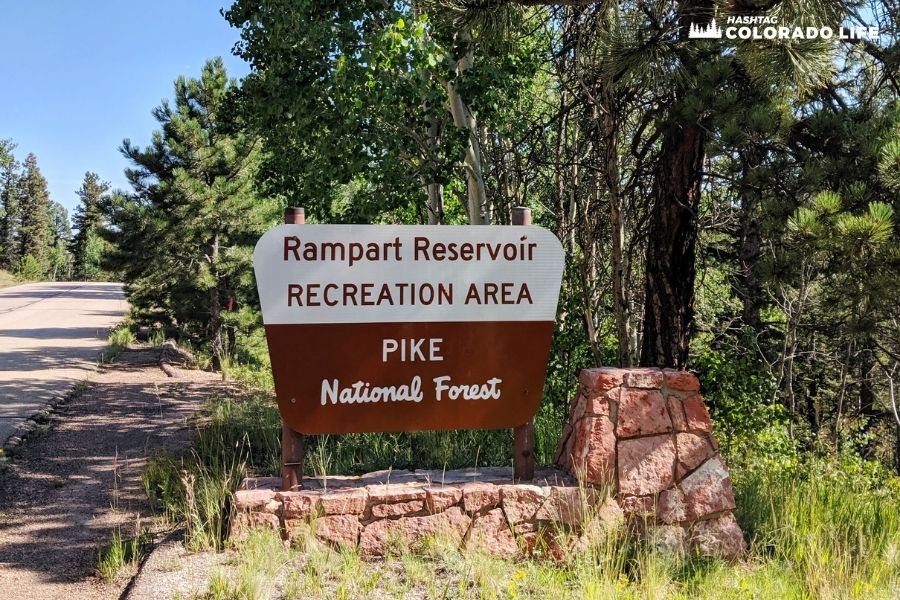 Rampart Reservoir is situated in Pike National Forest and can be found northwest of Colorado Springs.
Start by driving on Rampart Range Road from Woodland Park, Colorado for about 4 miles.
Then continue driving north on Forest Service Road 306 for about a mile. The narrow dirt road is not easily accessible for large RVs or small cars.
The water in Rampart Reservoir supplies the domestic drinking water for the city of Colorado Springs.
When does Rampart Reservoir open?
Rampart Reservoir is open to the public year-round 24 hours a day, seven days a week.
However, the campgrounds and parking area are only open from early May to late October.
There are day use fees of about $10 per day to access the public picnic areas, and overnight camping fees of about $25 per night.
No matter what time of year you visit, this 500-acre lake offers a fun experience in nature for everyone.
Here are the top things to do at Rampart Reservoir in the summer months.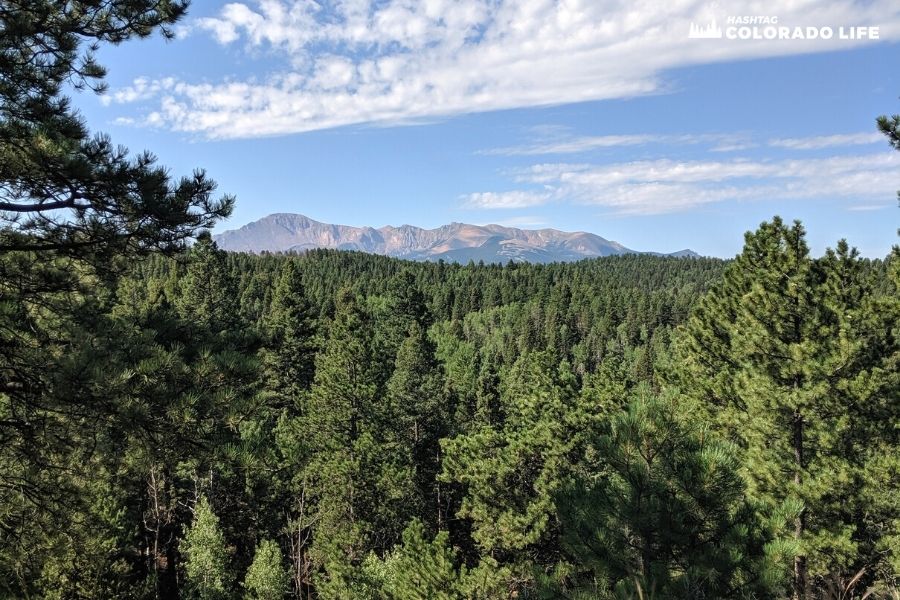 1. Boating
Boating is a very popular summer activity at Rampart Reservoir Recreation Area.
Visitors are allowed to bring motorized and non-motorized boats on the lake.
The Rampart Reservoir boat ramp is on the Dikeside and all motorized watercraft are inspected by the CPW for aquatic nuisance species.
However, Rampart Reservoir is a no-wake zone which means that high-speed boating is not allowed.
Boats and other water vessels are expected to travel at very slow speeds on the lake, so as not to cause any wakes.
The main reason for this is due to the huge rock formations that are both above and underneath the water.
It's easy to go from several inches of very shallow water to more than 80 feet deep in a few seconds.
2. Camping
A huge draw to visiting Rampart Reservoir Recreation Area is the awesome camping and gorgeous campgrounds that are available.
The National Forest Service maintains the Thunder Ridge Campground and Meadow Ridge Campgrounds near the shores of the lake.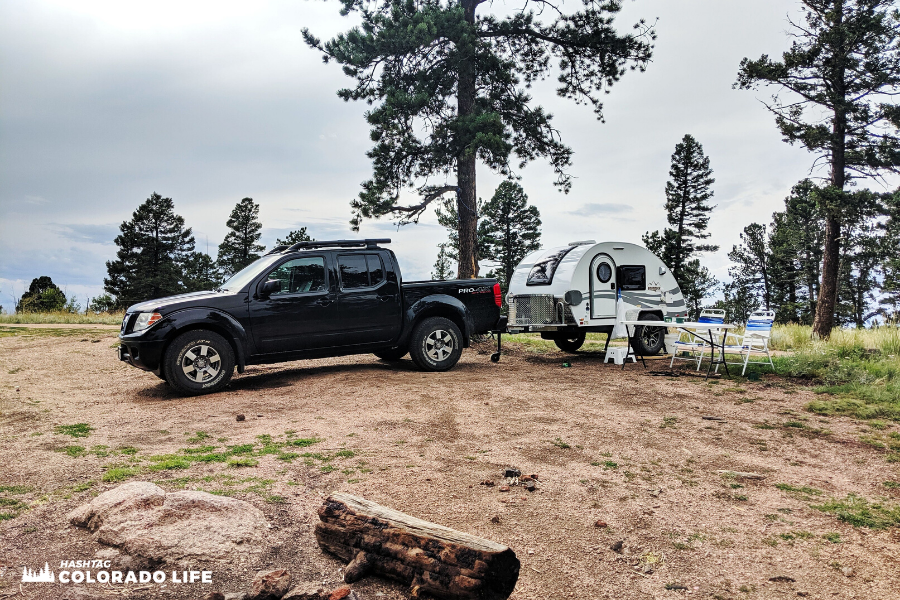 In order to camp at each campground you must have a reservation or pay an overnight fee of about $25.
Each campground includes tables, fire grates, drinking water, vault toils, and are standard non-electric campsites.
Both campgrounds are located on the south side of the reservoir and have a variety of campsites available.
3. Fishing
Avid fisherman will love the fishing options at Rampart Reservoir.
Fishing is allowed while on a boat or from any of the designated areas on the lake. However, fishing from the dam is prohibited.
Each year, Colorado Parks and Wildlife stocks the lake with a variety of trout.
Anglers will find tiger trout, brown trout, cutbow trout, rainbow trout and kokanee.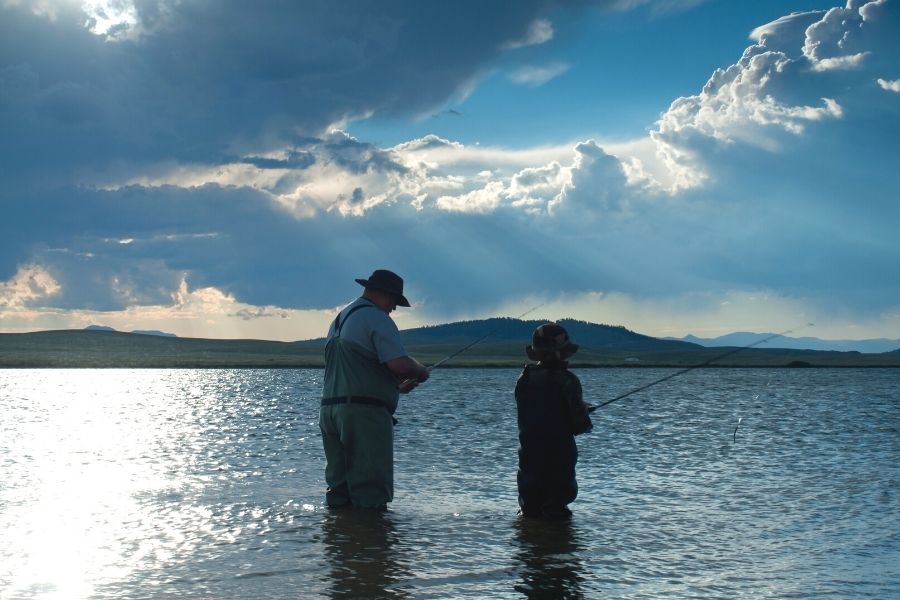 In order to fish in Rampart Reservoir you must have a valid Colorado fishing license and follow state regulations.
Fishermen are limited to bag and possession limits of 2 lake trout. And during the winter ice fishing is not allowed at Rampart Reservoir.
4. Hiking & biking
Rampart Reservoir provides lots of marked and unmarked trails for hikers and mountain bikers.
One of our favorites inside Pike National Forest is the Rainbow Gulch Trailhead.
This easy trail starts at Rampart Range Road and goes out and back for 3.4 miles.
At the end of the trail hikers will enjoy views of the lake and wooded forests.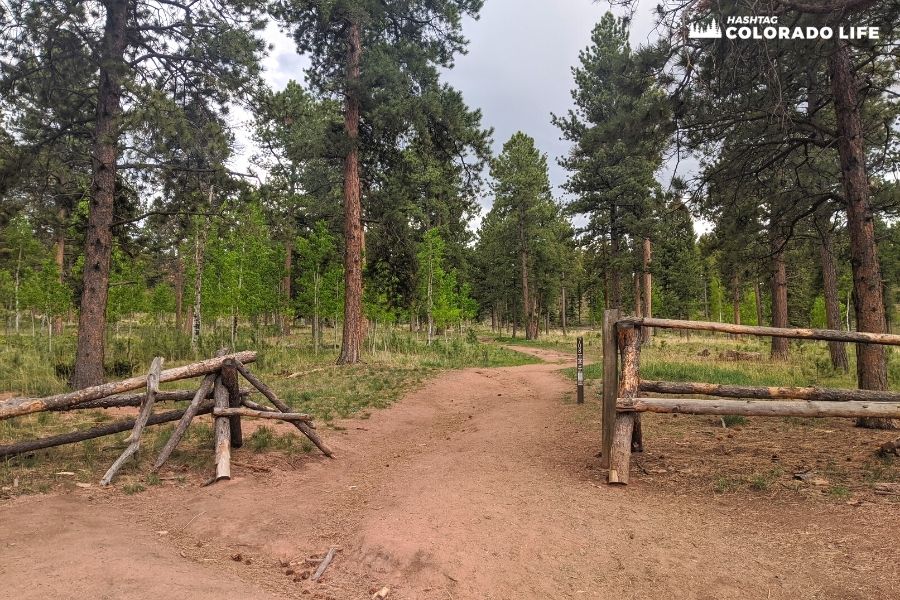 This hike provides gorgeous scenery in autumn and is listed as one of the best fall hikes in Colorado.
If you're looking for a longer, more advanced hike, check out the Rampart Reservoir Trail.
This trail is also located in Pike national Forest but is more than 13 miles long.
It loops around the reservoir featuring several overlooks and beautiful vantage points.
The trail is considered moderate to advanced but offers some great picnicking and fishing.
5. Wildlife watching
Since Rampart Reservoir is located in the beautiful Pike National Forest, you can expect to see lots of wildlife.
The fresh water often brings in all kinds of animals, birds, and small creatures looking to quench their thirst.
Birdwatching is a popular activity on the lake thanks to lots of waterfowl and a variety of woodpeckers.
Visitors have also seen bears, elk, porcupines, mule deer, and other small ground animals near the reservoir.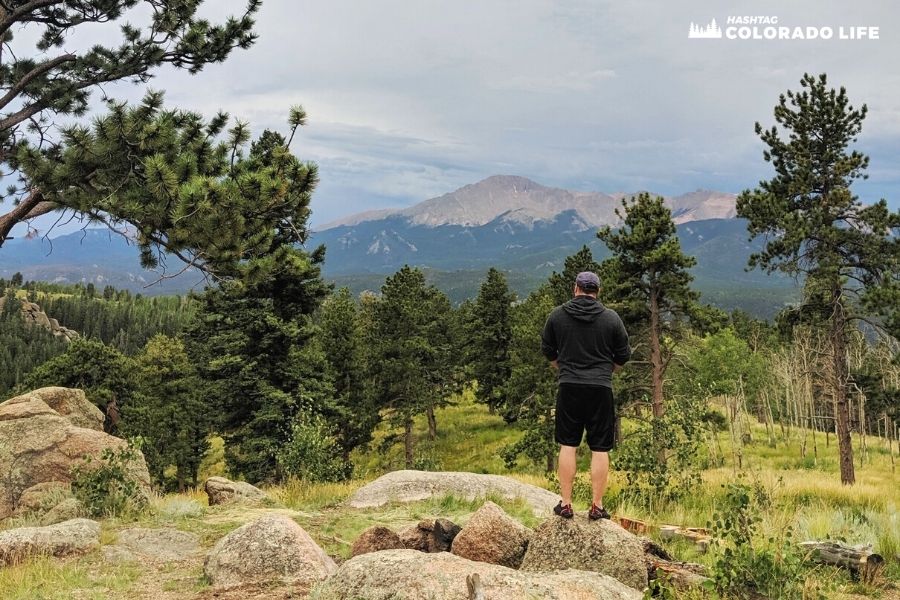 6. Big game hunting
Big game hunting is permitted at Rampart Reservoir Recreation Area but you must have a valid hunting license.
Elk, deer, moose, and pronghorns are commonly hunted in the area.
Hunting season in Colorado starts in mid-August and continues through December.
Check out the Colorado Parks & Wildlife website for more information on hunting licenses, fees, and dates.
7. Swimming & picnicking
Picnicking is widely available thanks to day use areas with picnic tables and grills.
The most notable picnic spot is the Promontory Picnic Area which is well maintained, has gorgeous views, and is very spacious.
Restrooms are also available in the day use areas for a small fee.
Since the lake is used for drinking water, swimming is not permitted at Rampart Reservoir.
However, you can still get out on the water via a boat for a small-day use fee.
Rampart Reservoir is a deep body of water near Colorado Springs with a multitude of family friendly outdoor activities.
It's a great place for wildlife viewing, accessible fishing, hiking, mountain biking, and horseback riding.