Top 7 Things to Do at Dillon Reservoir All Year Long
This website may contain affiliate links and we may be compensated (at no cost to you!).
Also known as Dillon Reservoir, Lake Dillon makes up 3,000 acres of fresh, pristine alpine waters. It sits at 9,017 feet in elevation and serves as the highest deep water marina in the world.
It is owned by Denver Water and is actually where the city gets most of its drinking water.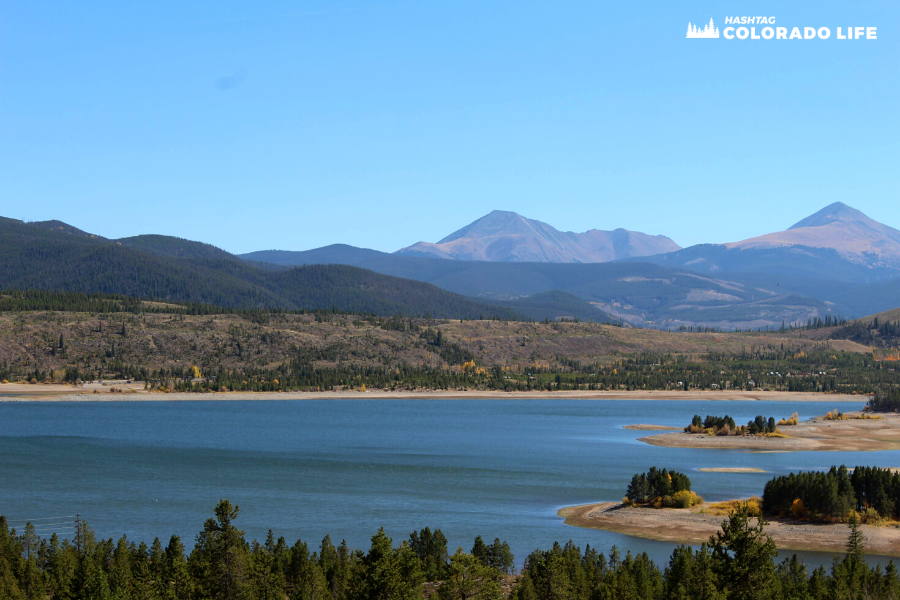 Dillon Reservoir is open year round, and with 26 miles of shoreline, there is plenty to do and even more places to disappear to.
In fact, Lake Dillon makes our list of the top 10 most beautiful lakes in Colorado.
Visitors to Dillon Reservoir can enjoy motorized or non-motorized boating out on the lake, or do some fishing from anywhere in the waters.
Where is Lake Dillon, Colorado?
Lake Dillon sits about 65 miles west of Denver, Colorado just over Loveland Pass.
It is sandwiched between the mountain towns of Dillon and Frisco, and is also very near Silverthorne.
Dillon, Colorado has a population of less than 1,000 residents with most of the people being tourists or visitors.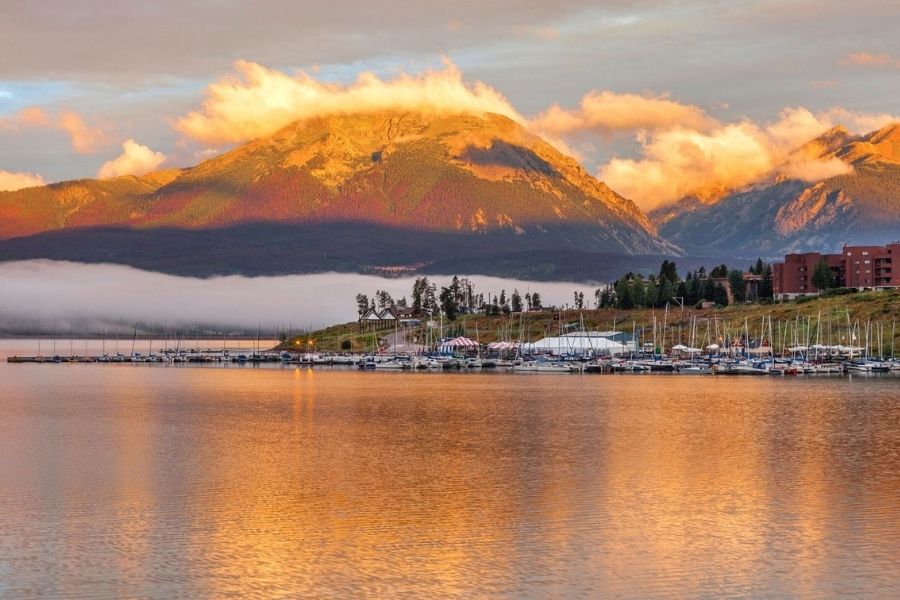 The lake is accessed via Highway 70 West, heading into the Rocky Mountains. The drive takes about 75 minutes from Denver or about 2 hours from Colorado Springs.
Here are some of the most popular things to do at Dillon Reservoir, whether you are visiting in the summer or winter.
1. Boating at the marina
Visiting Lake Dillon will cost you nothing but if you want to drop your boat into the Dillon Marina, or get some water craft rentals, there will be a fee.
Popular water activities at the lake include both motorized and non-motorized boating. Enjoy a day on the water via sailboat, pontoon, or other motorboat.
Both the Frisco Bay Marina and the Dillon Marina provide access for launching personal boats and watercrafts onto the water.
The marinas also offer sailing school lessons as well as boating tours and lakeside dining.
Access the marinas for boat rentals, kayaks, fishing boats, stand-up paddleboards, as well as slips and storage options.
The Frisco Bay Marina is a certified clean marina and a world-class sailing and boating destination.
2. Paddleboarding & kayaking
If you prefer to access the waters at Lake Dillon for free, non-motorized watercrafts are also a popular activity.
Grab your paddleboards, kayaks, and canoes and launch from any of the vast shoreline locations.
Unlike Boulder Reservoir, Dillon Reservoir does not require permits for non-motorized vehicles.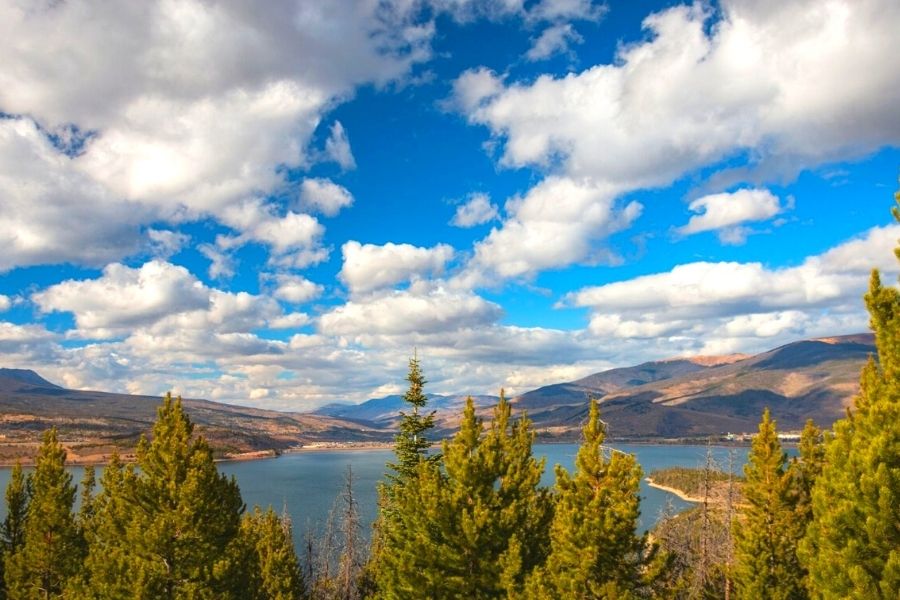 However, inspections for motorized watercraft are required and must be from the Aquatic Nuisance Species (ANS) to operate on Lake Dillon.
An important thing to know about using Dillon Reservoir is that all personal water craft and tow sports (including water skiing and tubing) are not allowed.
It is unlawful to operate a personal water craft, and unlawful to use a waterski, wakeboard, paraski, paraglider, parasail or any other recreational towing like this.
3. Hiking & camping
Lake Dillon resides within the White River National Forest and is managed by the U.S. Forest Services.
Because of this, Lake Dillon has some stellar hiking trails and beautiful campgrounds in the area, many of which allow RVs and camping trailers.
The five main campsites near Dillon Reservoir are Lowery Campground, Prospector, Windy Point, Heaton Bay, and Peak One.
These sites have potable water and are open from May through October every year.
Campground reservations can be made via the Recreation.gov website, and then searching for a campground near Lake Dillon.
For hikers and cyclists, check out the paved trail that runs on the south side of Dillon Reservoir, across from the Dillon Dam.
Or hike the Meadow Loop and Ridge Trail and the Old Dillon Reservoir Trail nearby.
The hiking trails near the lake are perfect for walking, biking, or even horseback riding.
And all of these paths offer epic views of the Lake and outstanding sights of the Colorado mountains.
4. World class fishing
Dillon Reservoir is a prime spot for both summer and winter fishing.
Ice fishing is popular in the winter and fishing can be done from shore or via a boat in the water in the summer.
However, fishing from the dam, bridges or boat ramps is not allowed. And in order to fish on the lake, anyone 15 years or older must have a valid fishing license.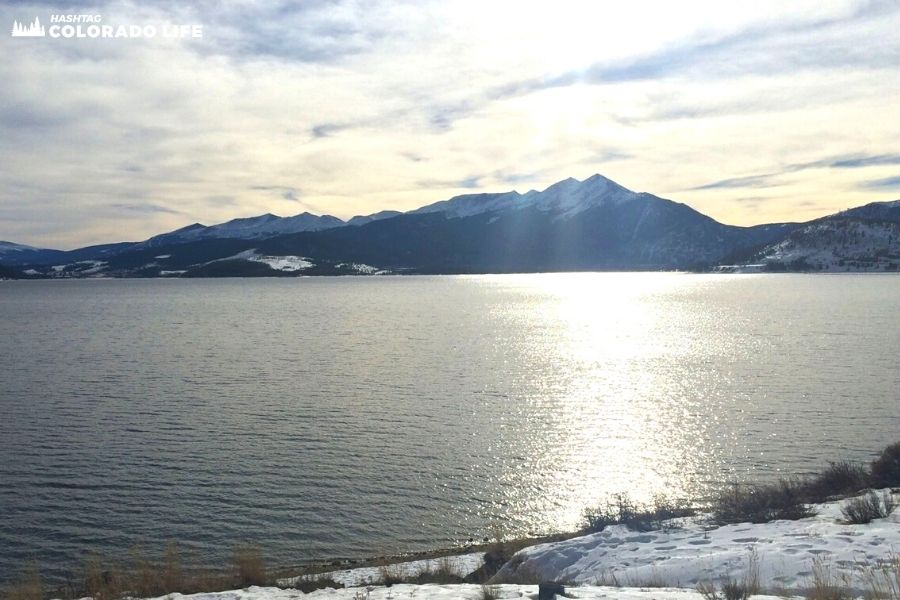 Colorado Parks and Wildlife manages the fishery and the lake is stocked with Brown trout, Rainbow trout, Kokanee Salmon, and Arctic Char.
Lake Dillon is the only public fishery in the lower 48 states, outside of Maine, where anglers have a chance of catching the prized Arctic Char.
Every year, Lake Dillon Reservoir is stocked with approximately 50,000 Rainbow trout and continues to be a fisherman's paradise.
5. Snowkiting & skiing
During the winter months, Dillon Reservoir completely freezes over and provides activities like ice fishing, snowkiting, and ice skating.
In case you are unfamiliar, snowkiting is an outdoor winter sport where you glide across the snow or ice thanks to the power of a kite. This activity is also known as kite skiing.
Nordic skiing is another popular outdoor activity that brings many visitors to the Dillon area.
The Keystone Nordic Center is just outside of town and offers access to more than 9 miles of gorgeous trails.
And with more than 18 different trails near Lake Dillon, there is never a shortage of hiking or skiing paths to explore.
6. No swimming allowed
Since Lake Dillon is the largest water supply for the Denver Water system, swimming is off limits.
In fact, no body-water contact is allowed on Lake Dillon.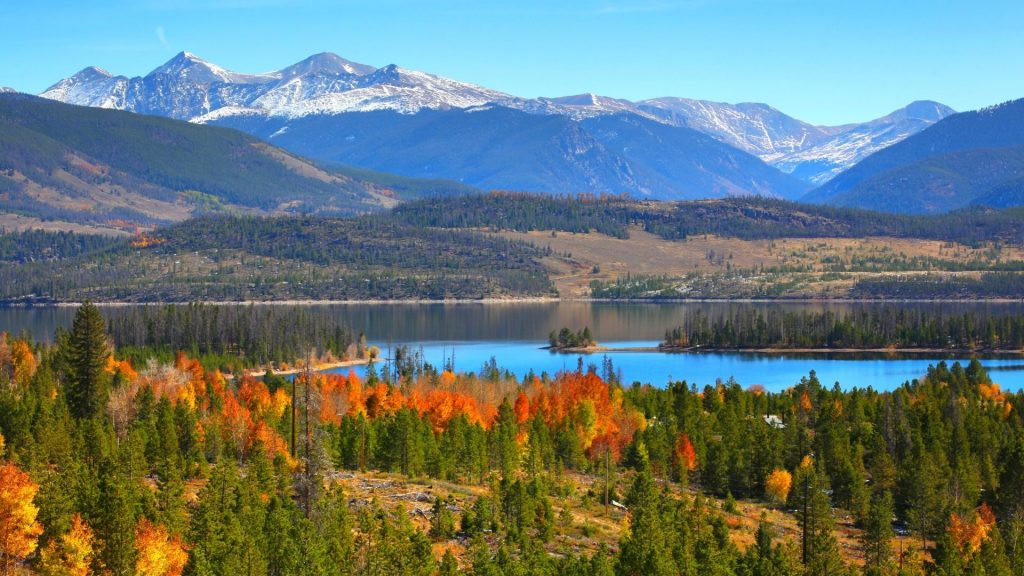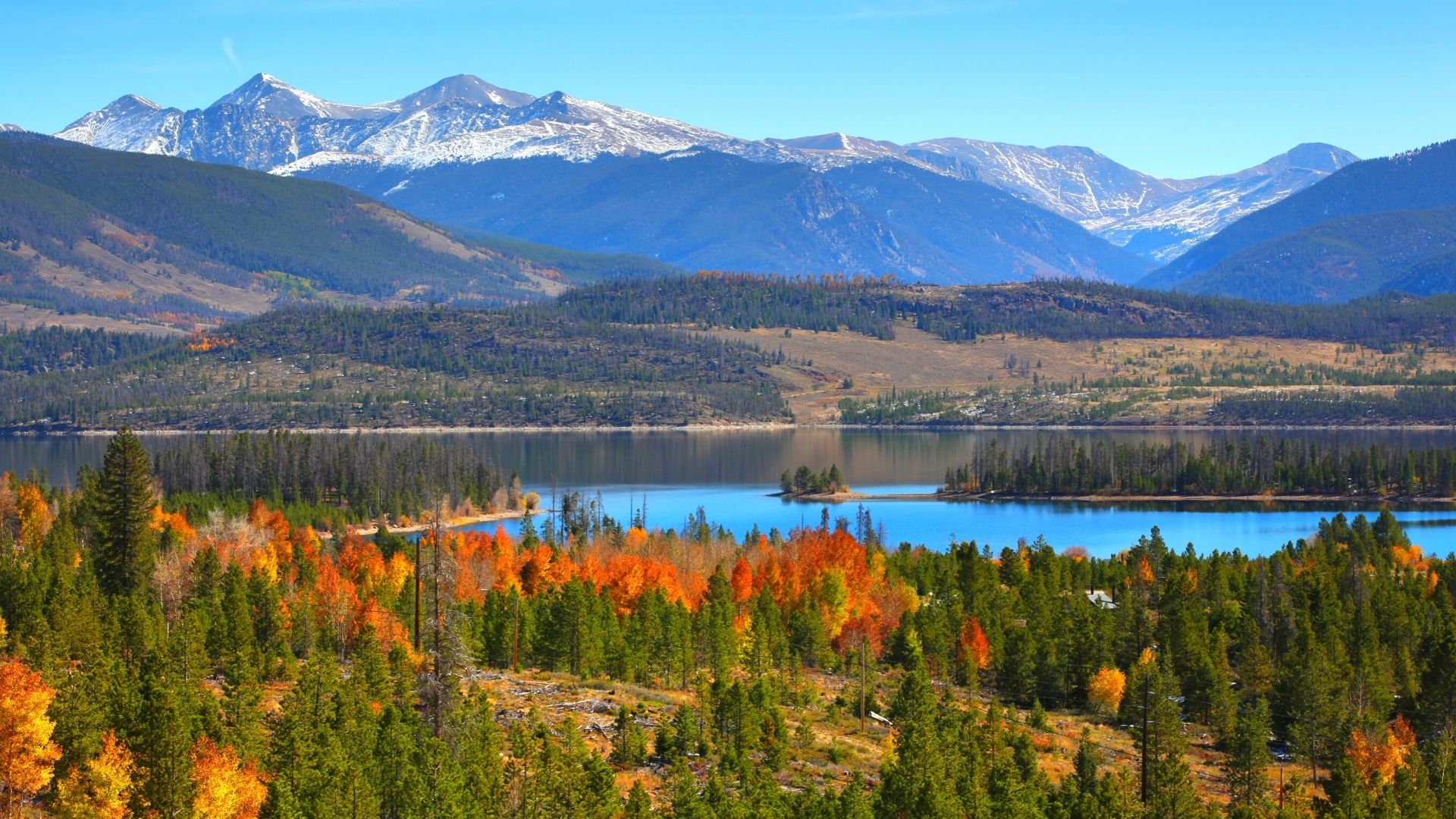 The local health department guidelines discourage bodies coming into contact with drinking water supply in order for it to stay pristine and clean.
Plus, the water is icy cold due to Dillon being a mountain town and how the wind patterns whip across the marina.
Still, visitors are allowed on the water via boating, kayaking, and many other water activities, as mentioned above.
Just know that Lake Dillon does now allow swimming and it does not have a beach area.
But you can go swimming in some of the other Colorado beaches and swimming areas in the state.
The closest swimming pool near Dillon Reservoir is at the Silverthorne Recreation Center.
7. Playing with your dog
Are dogs allowed at Dillon Reservoir? Yes, dogs are allowed at the lake and there are several dog-friendly activities.
Dogs can enjoy many of the same activities listed above, including ice fishing, camping, hiking, kayaking, and boating.
Take your dog out for a day at the lake and enjoy roaming around the woods and hills nearby.
When is the best time to visit Lake Dillon?
The best time of year to visit Dillon Reservoir are in the summer months from June through October.
And if you want to avoid a lot of tourists and traffic, it's recommended to visit lake Dillon in the earlier morning hours.
This is especially true if you plan on hiking around the lake, or kayaking the open waters.
For answers to any other questions while planning your trip to Dillon Reservoir in Colorado, check out the Town of Dillon website.