by Carrie Nicholson
|
Last Updated:
December 23, 2021
The content of this website may contain affiliate links and we may be compensated (at no cost to you!). Thank you for your support!
In this guide we discuss some of the best cities to live in Colorado if you are looking for warmer weather and mild winters.
Colorado can get very cold and windy for most of the year, and these towns allow you to escape the cold and enjoy the sunshine.
A good rule of thumb when moving to Colorado for warmer winters is to move out east, away from the mountains.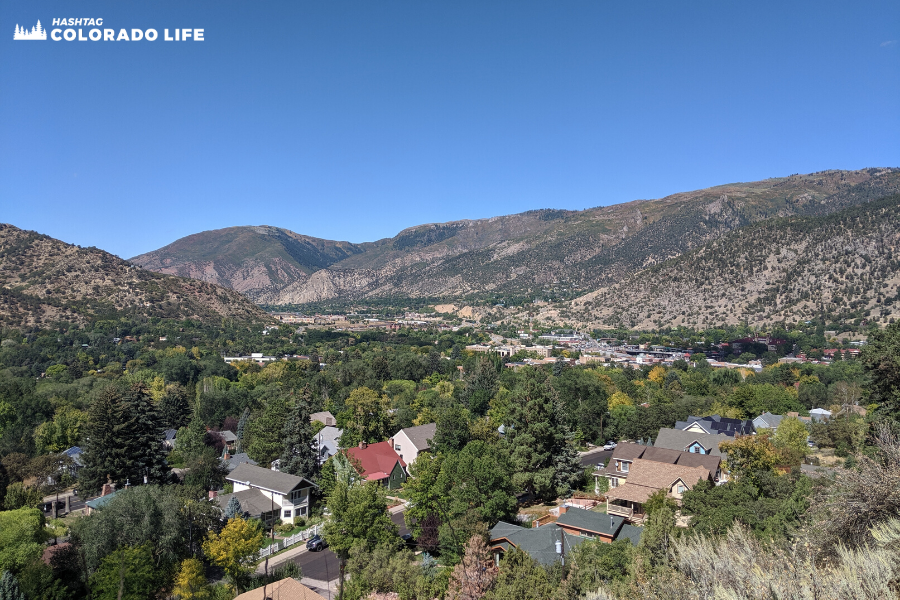 What are the warmest places to live in Colorado?
Anywhere is southern Colorado or out east on the plains is going to be warm and have mild winters.
The further you get away from the Rocky Mountains and the Front Range, the warmer the weather and climate will be.
The cost of living will be less expensive but the views and the weather will be just as beautiful as ever.
Plus, you can enjoy a lot of the wildlife that lives on the plains, as well as local vegetation and plant life.
Here are the top warm places to live in Colorado and weather you can expect.
1. Lamar
The warmest place in Colorado is a city called Lamar, a small town located 209 miles southwest of Denver, due east of Pueblo.
In 2019, it broke the record for the hottest temperature ever recorded in Colorado climbing to 115 degrees Fahrenheit.
The previous record high was 114 degrees, tied between Las Animas and Sedgwick in 1933 and 1954, respectively.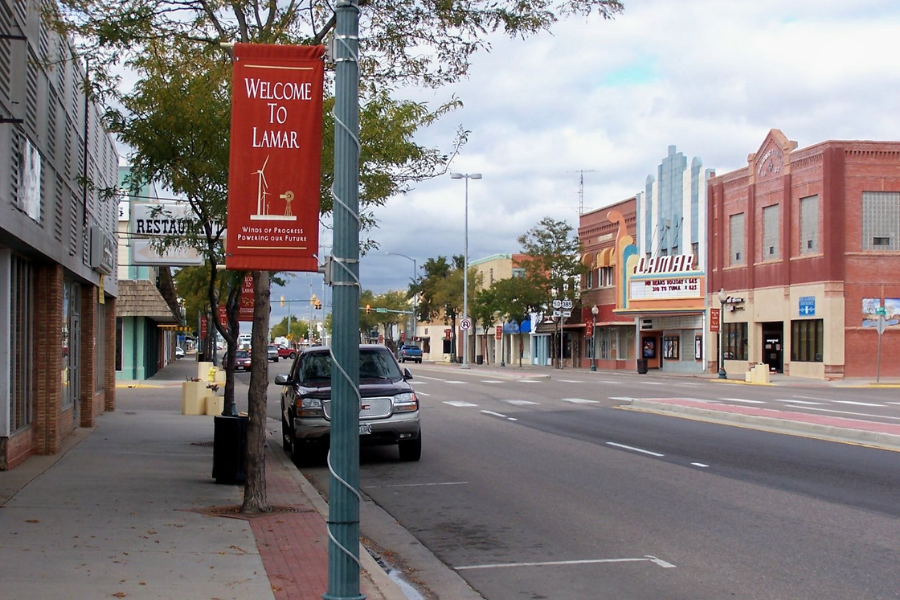 Lamar is steeped in old Colorado history, first becoming a town as a result of an argument between landowners and the railroad.
With all the gold rush history and ghost towns, we expect nothing less when it comes to Colorado history!
The welcome center in Lamar pays tribute to this history by being located in a restored 1907 train depot.
The center features a train engine and a 100-year-old windmill.
The summers in Lamar are hot with clear, sunny days and can last from the end of May through mid-September.
The average daily temperature in the summer is 94 degrees with a low of 54 degrees at night.
The winters are very cold, dry and windy with lots of cloudy days. The cold season usually lasts for about 3 months from late November to late February.
The average daily temperature in the winter is below 54 degrees with a low of 16°F and high of 44°F.
The temperature year-round in Lamar, Colorado fluctuates between 16 degree lows and 94 degree highs.
These mild temperatures make it one of the warmest places to live in Colorado, while still being able to enjoy the seasonality.
2. Pueblo
Pueblo is one of the largest and warmest cities in Colorado. It offers wide swings in temperature in the summer versus the winter months.
The city's summers are often very hot and very dry.
Throughout the year, Pueblo sees an average of 66 days a year of temperatures above 90 degrees, with 10 of those days being above 100 degrees.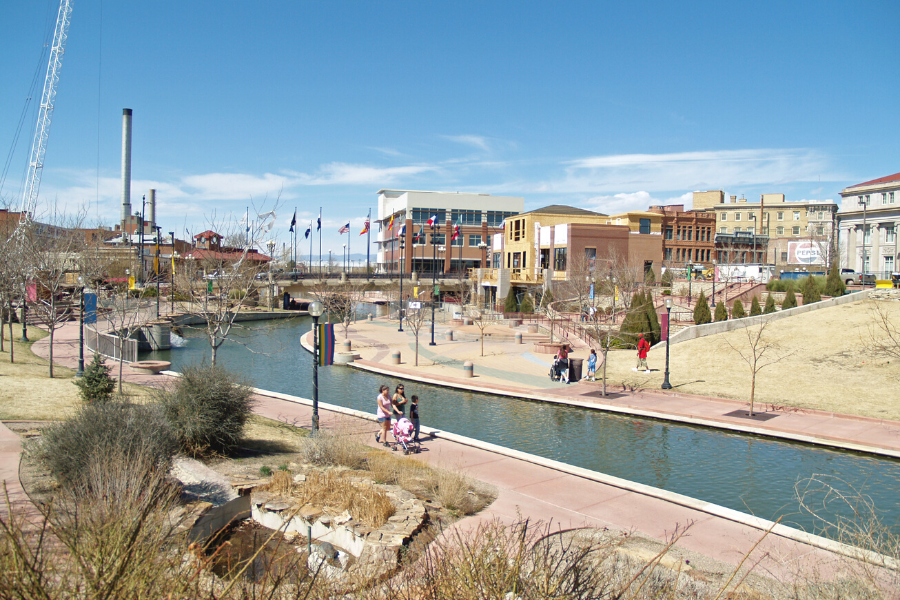 Since the summers are so hot, the winters in Pueblo are mild.
On average the city only has 15 days a year where the temp does not exceed freezing.
And Pueblo is a popular city, since it is located on the Front Range and offers amazing views of the Rocky Mountains.
Pueblo's population hovers around 110,000 residents and has an elevation of about 4,692 above sea level.
It is not uncommon for snow to fall in the winter months in Pueblo. But when it does, it only hangs around for a day or two due to the elevation and sunny disposition.
During the summer, the Pueblo Reservoir is a popular spot for enjoying the sunshine while cooling off in the clear water.
Pueblo is considered a High Desert with a semi-arid climate, making it a great atmosphere for produce like chilis and peppers to grow year round.
If you are looking for a warm place to escape the cold winters in Colorado, Pueblo is a great choice.
3. Grand Junction
Of all the places listed, Grand Junction is one of the warmest cities that doesn't get a ton of snow.
Like most of the state, Grand Junction has a semi-arid climate and sits in a large area of high desert in western Colorado.
One major difference that affects the weather of Grand Junction is the fact that it sits on Colorado's western slope.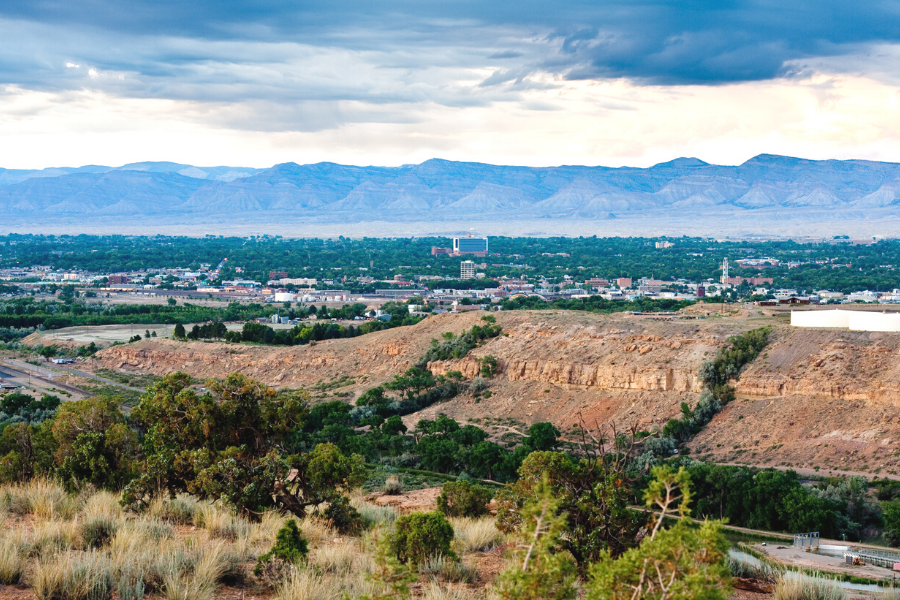 The western slope includes any city that is located west of Colorado's Continental Divide.
Situated with mountains surrounding the city, Grand Junction is protected from the normal arctic air masses.
These cold blasts can descend from the north or swoop across the Great Plains, causing lots of snow and cold temperatures.
Due to the lack of cold fronts, temperatures in Grand Junction stay a few degrees warmer than the state's average.
This increase in temperatures helps keep the snow at bay. The mountains protect the city and make Grand Junction a warm place to live year-round.
It's also a very picturesque place to live since it sits in the middle of a valley surrounded by the Rocky Mountains.
The high desert and mountain ranges that deter cold fronts and snowfall in the winter, also allow for warmer summer temperatures.
The weather and the abundant sun in the area make Grand Junction Colorado's top wine producing area.
The soil is prime for fruits for wine-making as well as other Colorado produce that benefit from lots of sun too, like peaches, melons, and chili peppers!
4. Denver
As of 2019, Denver's metro-area population included 705,000 residents making it the 19th most populated city in the United States.
Believe it or not, Denver is a pretty warm place to live in Colorado with winters that are actually quite mild.
In comparison to many of the mountain towns, or even Colorado Springs, Denver is usually 10-15 degrees warmer in the summer.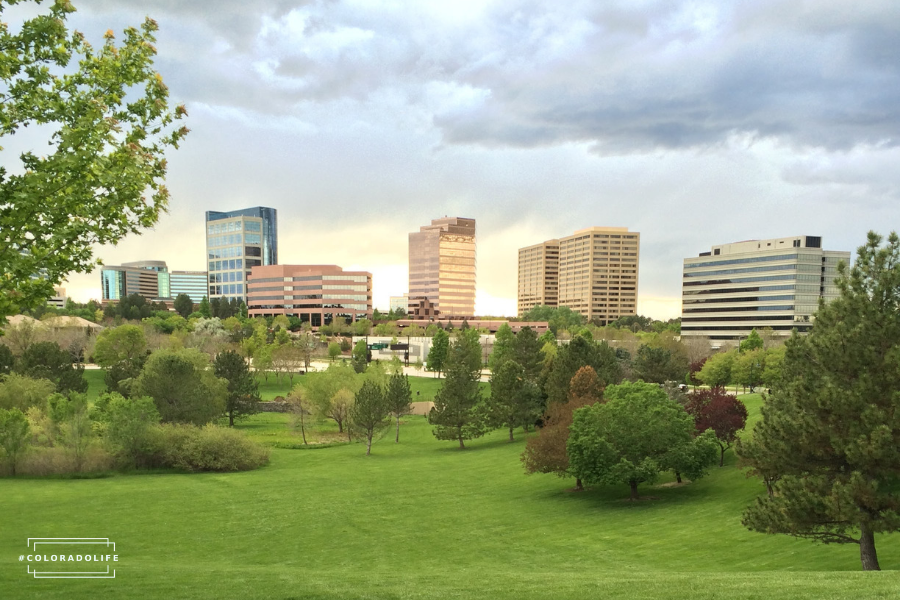 This is due to the fact that Denver's elevation is 5,280 feet (making it the Mile High City!) while Colorado Springs sits higher at 6,035 feet in elevation.
The coldest month of the year in Denver happens in January with average temperatures reaching about 15 degrees overnight.
July is the warmest month, with the average daily temp rising to 88 degrees.
Still, Denver gets about 60 inches of snow per year, compared to the national average of 28 inches annually.
The city is also one of the sunniest cities in America, averaging 240 days of sunshine a year.
That's a lot of sunny days and the city often gets more sun than Miami!
Overall, Denver has more extreme temperature swings than most Colorado mountain towns, with hotter summers and colder winters.
5. Greeley
Moving north of Denver just outside of Fort Collins is Greeley, Colorado.
Although it is not one of the main cities along the Front Range, Greeley still holds its own.
The city sits at an elevation of 4,675 feet and has a population of over 105,00 residents.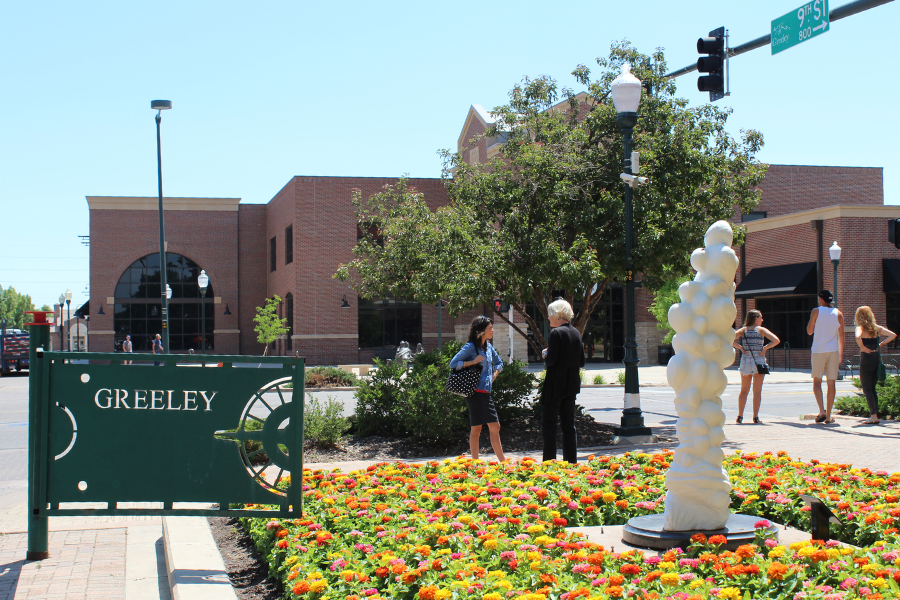 Greeley is most well-known for being a major beef-producing area and began the practice of confined feedlots for cattle.
Each year, the city gets about 15 inches of rain and an average of 40 inches of snow annually.
Much like Denver, Greeley also sees about 244 sunny days per year, in contrast to the U.S. average which is 205 sunny days annually.
With little precipitation and a lot of sun, Greeley is a very warm city in Colorado.
The hottest days usually occur around the third week of July with the coldest days being sometime in January.
The average temperature in the summer in Greeley is 79 degrees, which is similar to Pueblo (mentioned above).
One thing to note is that with all of the cattle and meat packing plants, Greeley often smells like a ranch or zoo.
And the warm weather exacerbates the odor of the city with warm winds and hot cow manure smells.
So, keep this in mind if you are thinking of moving to this Colorado city.
Which cities in Colorado have the warmest winters?
Colorado is often associated with the cold weather and snowy mountain towns.
But this is not always the case!
There are actually many warm places to live in Colorado if you want to escape the dreary winter months.
Use this guide as a tool to help you determine the best climate and weather for where you want to spend your time in Colorado.
Eagleridge Estates
Regency Park
South Pointe
Colorado State University
Pueblo West
Lake Pueblo State Park
---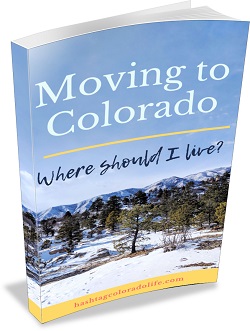 Need more ideas for the best places to live in Colorado? Be sure to listen to our podcast and subscribe to future episodes for free in iTunes or Spotify.
Or check out our book, Moving to Colorado: Where Should I Live? which has been updated for 2022.
---
Carrie Smith Nicholson is one of the co-founders of Hashtag Colorado Life. After living in Texas for her whole life she moved to Colorado 5 years ago. As a travel blogger and entrepreneur for the past 10 years, her writing has been featured on NBC News, HuffPost Live, Glamour Magazine, Inc Magazine and many other media outlets. When she's not writing about new travel locations, she enjoys spending time outdoors hiking, camping in her NuCamp teardrop trailer, and trying new foods. You can follow her outdoor adventures on Instagram, @hashtagcoloradolife.