10 Best Colorado Summer Towns Near Denver That Are Along I-70
This website may contain affiliate links and we may be compensated (at no cost to you!).
Interstate 70 is one of the main arteries through our country that travels east to west from Pennsylvania to Utah. And this main thoroughfare cuts a swatch through Colorado making it one of the busiest roads in the state.
In fact, the busiest part of I-70 is just west of Denver near the town of Idaho Springs, which sees upwards of 44,000 cars a day!
It's no wonder that Colorado is one of the prettiest states for road tripping and day trips to beautiful summer towns.
If you're looking for the best Colorado towns to visit for a summer vacation or road trip, keep reading.
Safety Tips for Driving Along I-70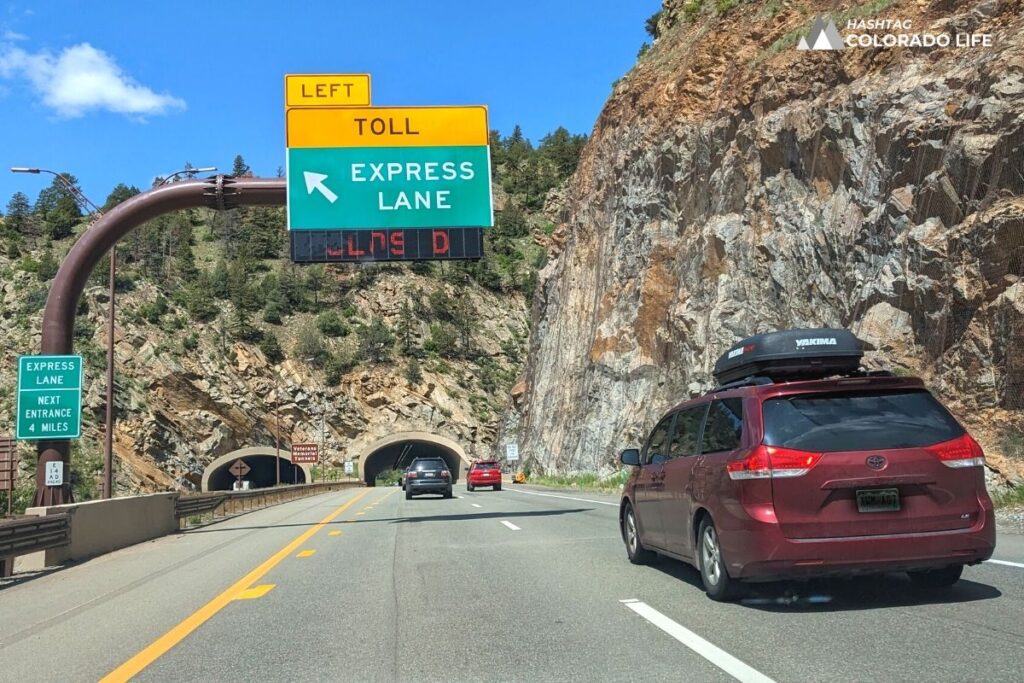 Before we dive into the list of the best Colorado summer towns, we have to take a second to talk about the I-70 Mountain Express Lanes.
Anyone in Colorado knows that I-70 traffic can be a real nuisance, from too many tourists to construction that slows down the flow.
To help relieve this congestion, the Mountain Express Lanes are shoulder lanes that were built to aid during peak periods, such as holidays and weekends.
The rest of the time, they operate as typical shoulders to be used only by two-axle vehicles for emergencies and breakdowns.
While driving along I-70 and attempting to use the Express Lanes, here are some safety tips you should know. Please know, it is dangerous and illegal to:
Drive in the Express Lane when signage indicates it is closed, except in an emergency or as an authorized emergency vehicle.
Weave in and out of the Express Lane over the solid line. Drivers may only enter and exit the Express Lanes at designated points that are marked by overhead signage and dashed lines.
Use the lanes in vehicles with three or more axles or longer than 25 feet, such as recreational vehicles, vehicles hauling boats and trailers, and tractor-trailers.
In 2022, the Colorado legislature passed a new bill to reinforce the rules of using Express Lanes. It allowed the Colorado Transportation Investment Office (CTIO) to enforce these rules using civil penalties.
The enforcement will eventually apply to all Express Lane corridors, but early enforcement will focus on the I-70 Mountain Express Lanes.
The penalty for an infraction is a $75 civil penalty sent via mail based on the registered address of the vehicle's license plate.
The enforcement period of the I-70 Express Lanes began June 21, 2023 and includes a month-long grace period. During this grace period, drivers will receive warnings in the mail when they have been recorded committing a violation.
These notices will inform drivers that the grace period ends on July 21, 2023, and violations committed on or after the end date will result in a $75 fine. Violators have a period of 20 days to pay their fine before it increases to $150.
Now that we've covered some safety tips for driving along I-70 this summer, let's get into the list of the best Colorado summer towns.
The Best Colorado Summer Towns Along I-70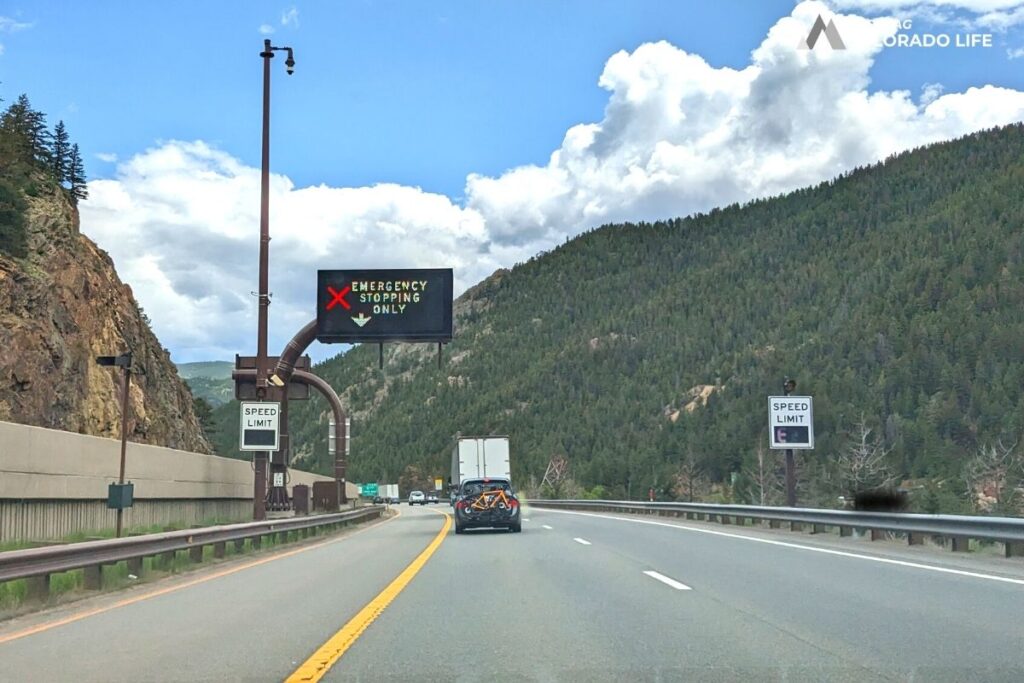 Driving west out of Denver, you'll quickly come across some beautiful, quintessential mountain towns. And all of the ones on our list, sit along the I-70 corridor for easy access on any road trip.
Plus, many of these Colorado summer towns are within just an hour or two drive of the Mile High City.
And they're even sometimes just a few minutes from each other, so you can plan for a day trip or a weekend getaway.
If you're planning a fun trip this summer, here are ten of the best Colorado summer towns to visit along I-70, near Denver.
1. Idaho Springs
One of the first towns you'll come to when driving west on I-70 from Denver is Idaho Springs.
While the population of this Colorado town is fewer than 2,000 residents, there are a surprising amount of fun things to do.
In the summer, Idaho Springs is the go-to destination for whitewater rafting, gold mine tours, and soaking in the hot springs.
The Indian Hot Springs is one of the closest hot springs to Denver and makes for a fun day-long getaway.
The main street that runs through the town is full of local shops, restaurants, and even a Starbucks.
A quick stop at the Visitor's Center includes a museum, gift shop, and art on display from local artists.
We also recommend checking out the Underhill Museum which is a mansion that was owned by a former Colorado resident.
The home is designed to include two front entrances, one for the personal residence and the other for the couple's business.
Idaho Springs is located about 30 miles west of Denver, so it makes for a lovely day trip adventure in the summer.
2. Georgetown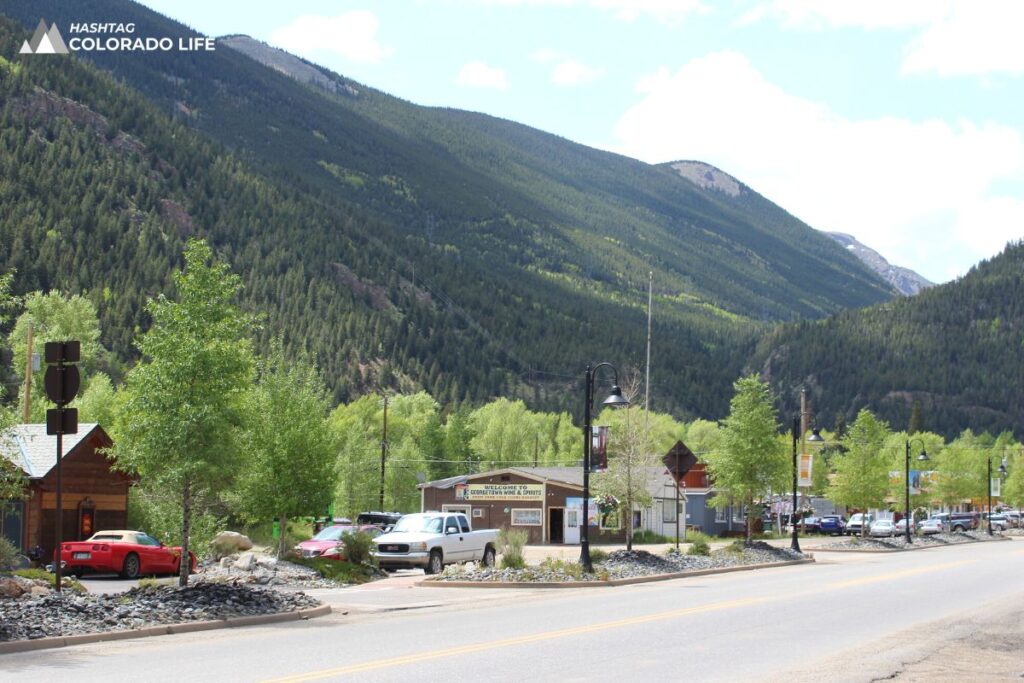 Continuing west on your journey on Interstate 70 from Denver, you'll come to Georgetown. It's located about 12 miles west of Idaho Springs, and is full of local treasures.
This Colorado mountain town is tucked away in the middle of the towering Rocky Mountains and offers stunning views from all sides.
One of the main things to do in Georgetown is to board the Georgetown Loop Railroad which has been welcoming visitors since 1884. The train loops up to Silver Plume and back on a narrow-gauge railroad.
Georgetown Lake is a popular spot for fishing in the summer, or even ice fishing in the winter.
The main street is lined with Victorian-era buildings and local shops. It features some highly-rated places to eat and drink as well as historic museums like the Hotel de Paris Museum.
Georgetown is located 45 miles west of Denver, along I-70 and makes for a very scenic drive in the summer.
3. Dillon & Silverthorne
Another one of our favorite Colorado summer towns near Denver is the Dillon & Silverthorne areas. Known for the Dillon Reservoir and the Silverthorne Outlet mall, both of these towns are booming in the summer.
It's a great stop along I-70 to use as a hub for exploring the immediate area as well as the surrounding mountain towns.
Not a ski town itself, it is surrounded by ski towns and has easy access to them all in the winter months.
However, the Dillon Reservoir is a must-visit destination in the summer thanks to water activities like boating, kayaking, paddleboarding, and world-class fishing.
This reservoir is owned by the city of Denver and is known as the highest deep water marina in the world.
Or if you're into some beautiful outdoor shopping, check out the Outlets at Silverthorne, which is home to three villages and over 50 different stores.
Dillon and Silverthorne are located about 68 miles west of Denver, directly off Interstate 70.
4. Frisco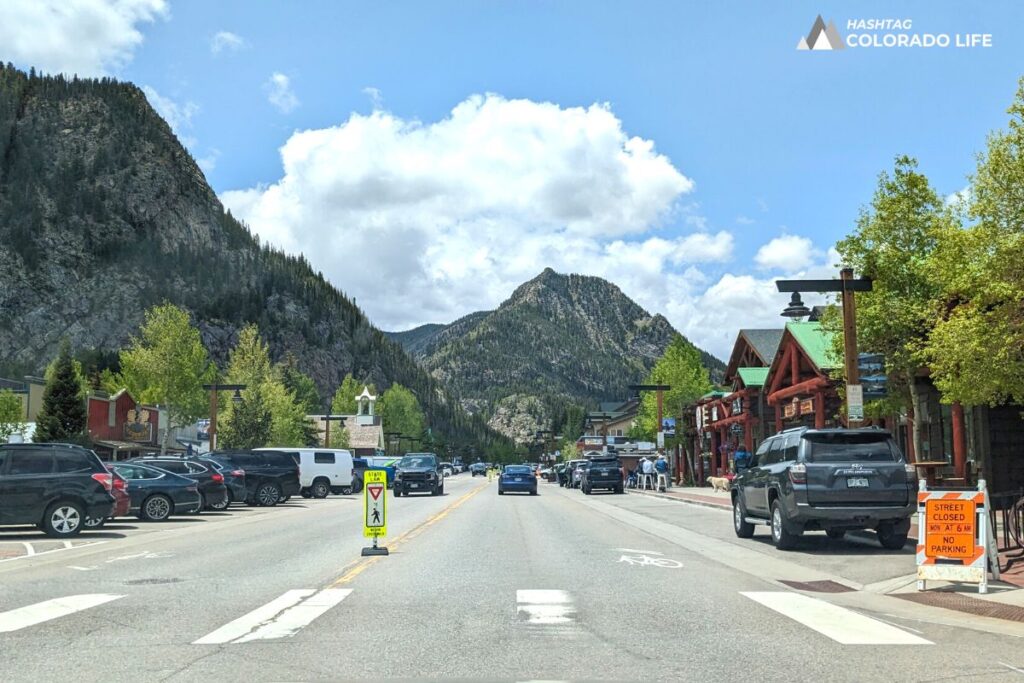 It's no secret that we love the town of Frisco and consider it one of the best Colorado summer towns along I-70.
With over 50 hiking trails near Frisco, there is always a great spot to enjoy a scenic hike. Not to mention the beautiful Blue River Rec Path that runs from Frisco to Breckenridge.
Frisco's downtown area is affectionately called the "Main Street of the Rockies" due to all of the local dining and shopping options.
The town features an abundance of gift shops, clothing stores, and boutiques that feature local artists, jewelry makers, and more.
The Frisco Adventure Park is a family-friendly place that offers year-round activities including biking, skateboarding, disc golf, and hiking in the summer.
In addition to visiting Frisco, the town of Breckenridge is just a few miles south and offers even more fun things to do in the summer.
Frisco is located 71 miles west of Denver, between the mountain towns of Georgetown and Vail.
5. Vail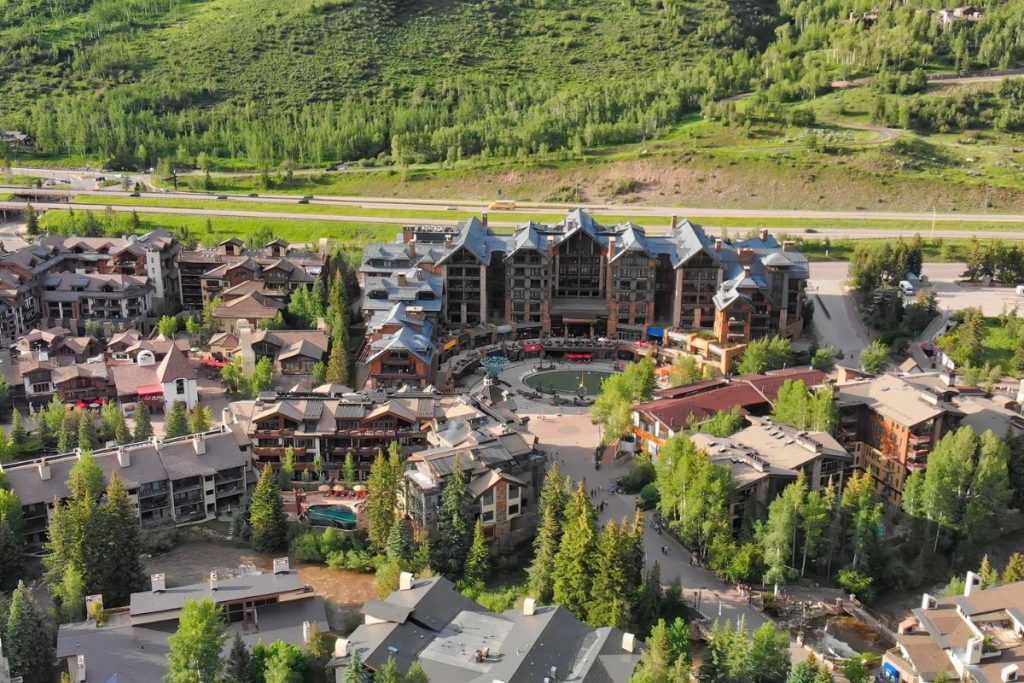 While some consider Vail to be overshadowed by mountain towns like Beaver Creek or Aspen, this Colorado town holds its own.
It's most well-known for being one of the largest ski resorts in the world and covers more than 5,300 skiable acres.
In the summer, Vail Mountain comes to life with lots of wildlife viewing, hiking, mountain biking, as well as a golf course that basically takes over the entire town.
Vail Village is another stop we recommend thanks to the European-inspired architecture featuring quaint, walkable stress, and sculptures from local artists.
You'll also find some of the best entertainment, shopping, and restaurants located in Vail Village.
The Forest Flyer Mountain Coaster is another exciting activity for both kids and adults. This thrilling ride winds its way over 3,400 feet around the mountain, and it offers some of the country's best views!
The town of Vail is located 96 miles west of Denver and is a beautiful Colorado summer to visit.
6. Avon & Beaver Creek
Much like Dillon and Silverthorne, the towns of Avon and Beaver Creek are an unparalleled duo. Each mountain town brings many summer activities for adventure lovers to do.
The Beaver Creek Ski Resort is without a doubt one of the most popular ski destinations in the state. And the town of Avon is conveniently located next to Beaver Creek Village.
Both Colorado summer towns feature excellent options for shopping, dining, and lodging. Whitewater rafting is available thanks to the Eagle River which features rapids ranging from Class II to Class IV.
In addition, Avon's Whitewater Park offers a unique whitewater kayaking experience with three different water features.
Mountain bikers and hikers will love taking the Centennial Express Lift up to the mountaintop for miles of trails during the summer months.
Avon sits 106 miles west of Denver, along I-70 and includes the only exit to the town of Beaver Creek.
This marks the half-way point between Denver and the last Colorado summer town on our list.
7. Glenwood Springs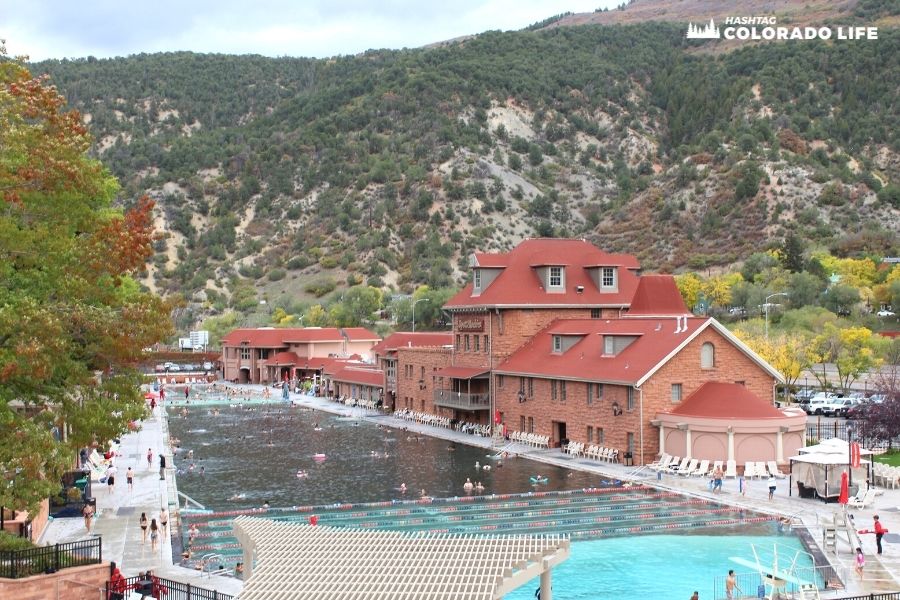 We consider Glenwood Springs to be one of the best Colorado summer towns for good reason.
Not only do we visit this mountain town annually, but it continues to improve with new and exciting things to do.
A great reason to visit Glenwood Springs is to soak in the world's largest natural hot springs pool. Stay at the Hot Springs Lodge and enjoy an all-access pass for relaxing in the natural hot springs water.
Downtown Glenwood Springs is booming with local shops, bookstores, and restaurants including the Glenwood Canyon Brewpub.
Some other awesome activities in the area include whitewater rafting or swimming in the Roaring Fork River.
Not to mention, there are tons of scenic trails available for hiking and biking. Or book a reservation to visit Hanging Lake, one of the state's most beautiful destinations.
If you enjoy riding a scenic gondola up the side of the mountain, or touring some of Colorado's best caves, then check out the Glenwood Adventure Park.
Glenwood Springs is 158 miles west of Denver in Garfield County, Colorado.
8. Rifle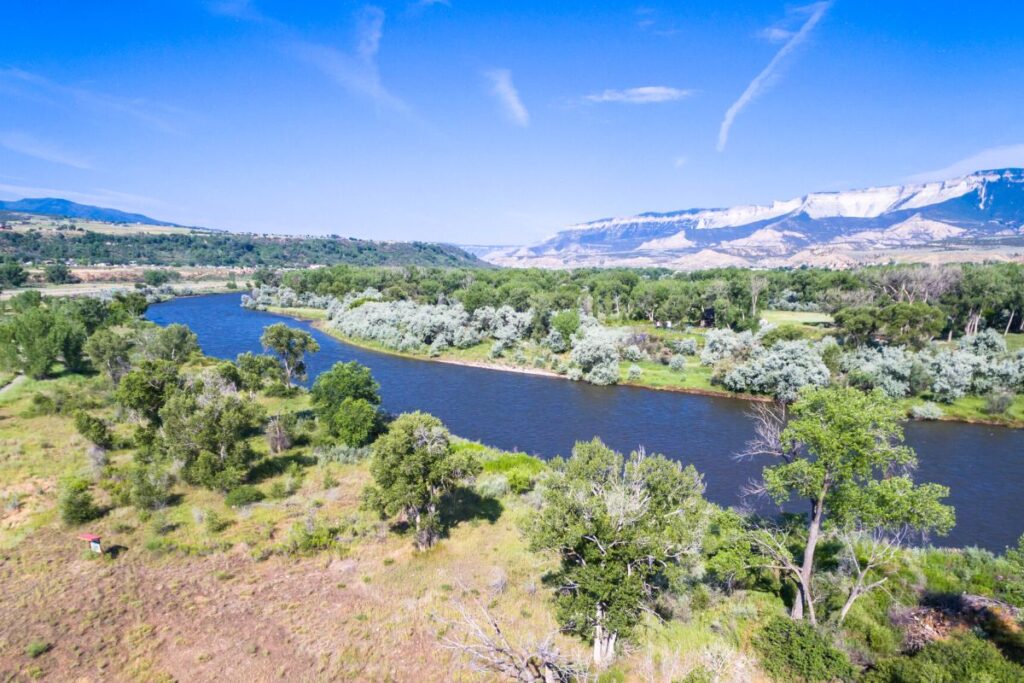 Continuing west along Interstate 70, you'll come to the town of Rifle. This beautiful, yet small town, sits on Colorado's Western Slope. It makes for a unique stopping point if you're on the way to visit Grand Junction.
Rifle's most famous attraction is the aptly-named Rifle Falls State Park, which features some of the most gorgeous waterfalls you'll see in the state.
Inside this state park you'll also find plenty of hiking and fishing available in the summer. Not to mention ice climbing and snowmobiling that's available in the colder months.
Rifle Falls State park is a beautiful oasis that features limestone caves below some of the falls, so bring your camera.
If you're wanting to explore more of Rifle, Colorado we recommend bringing in a heavy duty vehicle as there are many 4×4 trails in the area.
Rock climbing is another popular thing to do thanks to Rifle Mountain Park, which is one of the most popular areas for technical climbing in the country.
Rifle, Colorado is located 185 miles west of Denver and makes for a great destination in the summer.
9. Palisade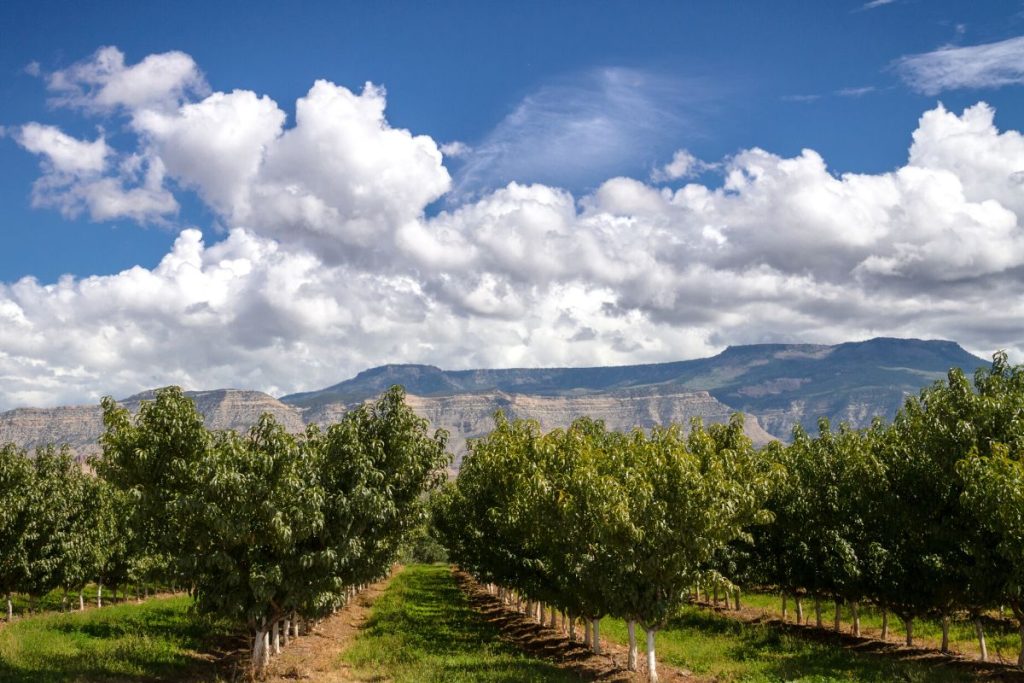 If you're looking for the best wine country near Denver that's along I-70, look no further than Palisade.
The town of Palisade is home to a number of wineries, vineyards, orchards, and local farms. The mild weather in the western part of the state makes for long and lush growing seasons.
Enjoy a tour of a Colorado winery thanks to homegrown grapes and sample delicious food like Palisade peaches.
The Palisade Peach Festival is a popular summer event that's hosted in August every year. This is the time of year when the best peaches are harvested at their best and enjoyed throughout Colorado.
Just east of the city lies the Grand Mesa, which is the largest flattop mountain in the entire world. It spans 500 square miles and is protected by the Grand Mesa National Forest.
This makes summer in Palisade the perfect place for mountain biking, hiking, and camping.
Or you can take a guided tour through historic downtown Palisade thanks to the local Historical Society. You'll discover the history of the town and see the area's gorgeous architecture.
Palisade is a generous 232 miles west of Denver, along I-70. When visiting this part of the state we recommend setting aside a couple of days to explore.
10. Grand Junction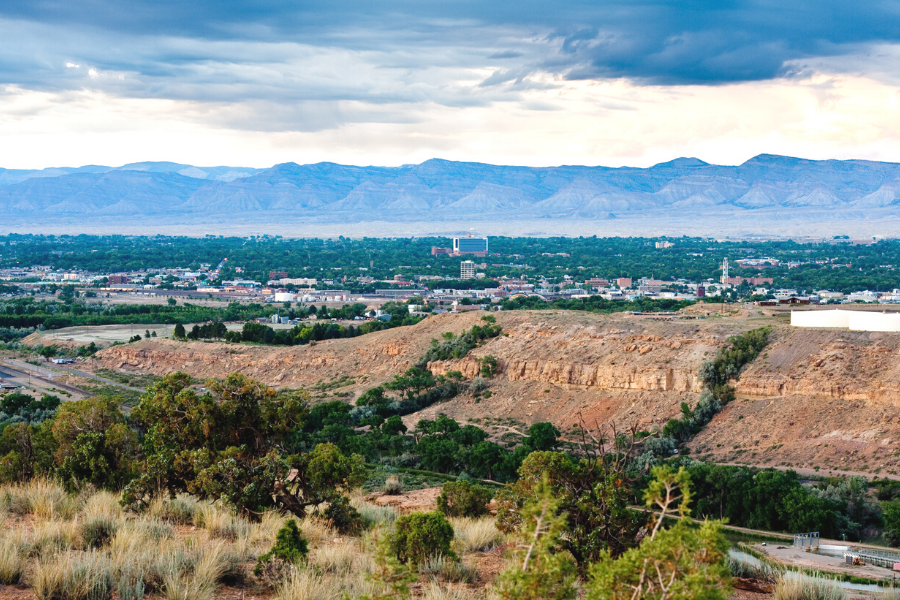 The furthest west of any city on our list of the best Colorado summer towns near Denver is Grand Junction.
Summer in Grand Junction is full of outdoor activities as there are over 30 miles of hiking and biking trails for exploring.
Just 14 miles west of the city is Colorado National Monument, which covers more than 20,000 acres of iconic red rocks and rugged cliffs.
But if city life is more your thing, take some time to explore the historic downtown district which has a thriving art scene.
Grand Junction is actually one of the first cities in the entire country to create a pedestrian-friendly downtown. So there are plenty of walkable destinations to explore with shops, boutiques, and art galleries.
And while you're exploring downtown, be sure to stop by the iconic Museum of the West. This museum showcases over 1,000 years of history throughout western Colorado.
Grand Junction is located near the borders of Colorado and Utah, which is 243 miles west of Denver.
What is your favorite Colorado summer town?
When visitors think of Colorado, often what comes to mind first are the powder-covered ski slopes and the many iconic ski towns.
But it's no secret that summertime in Colorado is equally magical and offers a plethora of outdoor and indoor activities. The Rocky Mountains are, afterall, the ultimate way to escape the heat.
Come late May and early June, you can expect to see a big shift in the Colorado mountain communities. They start to move away from skiing activities in order to embrace the warmer weather.
We hope this list of the best Colorado summer towns near Denver helps you plan your next road trip or day trip through the state.