9 Awesome Winter Hikes Near Denver for Beginners
This website may contain affiliate links and we may be compensated (at no cost to you!).
One of our favorite times of year to go hiking in Colorado is in the winter. The snow-covered trails, warm sun, and blue skies make for fantastic scenery for hiking.
These trails are easy to get to from Denver, and still very accessible even in cold, snowy weather.
Plus, nearly all of the hikes on this list are protected from the wind and are great for beginners as well as being family-friendly.
If you're looking for the best winter hikes near Denver, read on to learn these easy hikes that are breathtakingly beautiful.
And be sure to check out our best tips for hiking in snow safely.
1. Castlewood Canyon State Park, Castle Rock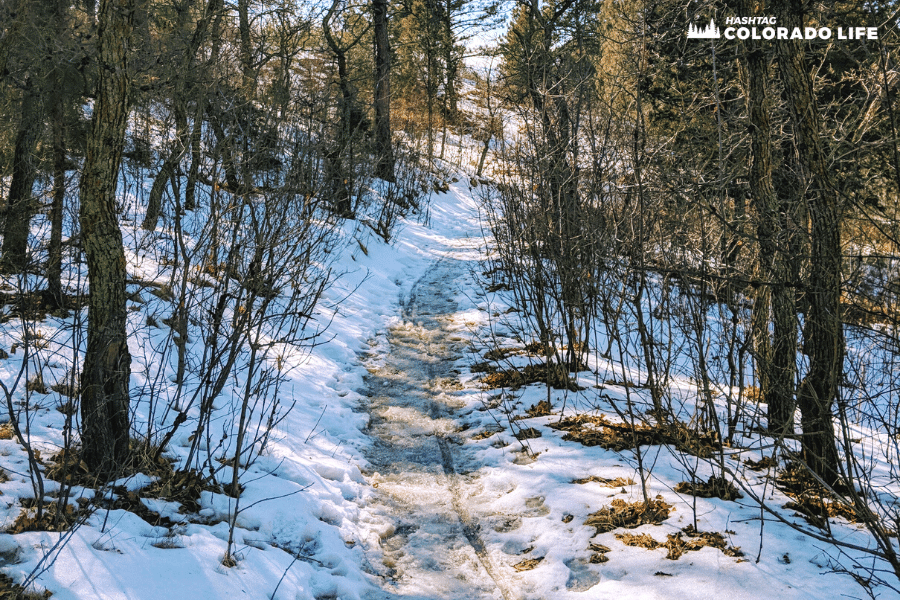 After a fresh snowfall, Castlewood Canyon State Park is a quiet place to hike that's hidden away from most crowds.
The park is located within a short distance from Castle Rock, just south of Denver. Castlewood Canyon is situated out east and off the beaten path, so there are fewer crowds.
Thanks to the pristine snow in the winter, you'll often see animal tracks alongside the snow-covered creeks that run through the park. And there is plenty of bird-watching available all year long.
We recommend taking the Castlewood Canyon Falls Trail, where you'll see gorgeous streams, ice-covered waterfalls, and caves.
However, there are plenty of other hiking trails to explore inside this beautiful Colorado State Park.
Distance: 1.1 miles
Difficulty: Easy
2. Elk Meadow Park South Loop, Evergreen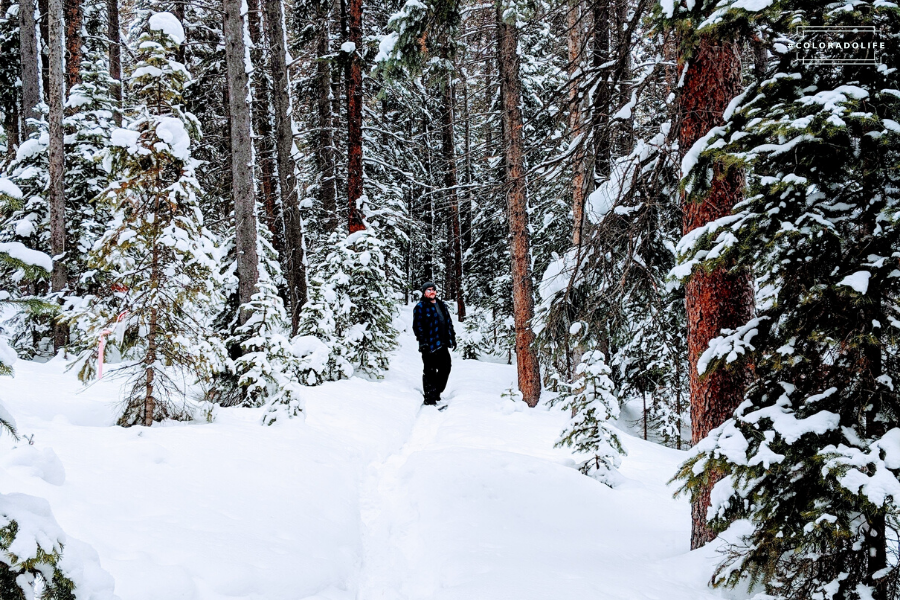 If you're a family with small kids looking for a fun winter hike near Denver, then check out Elk Meadow Park.
Located just west of Denver, near Evergreen, this beautiful landscape spans more than 1,650 acres of rolling hills and trails.
The Elk Meadow Park South Loop is an easy 2.6 mile hike that includes a walk along the edges of Evergreen Lake. In the winter, locals use the lake for ice skating!
Along your hike you'll pass by huge ponderosa pines, and other fauna native to Colorado.
Aptly named Elk Meadow Park, you may even see herds of elk that gather to graze in the open valley. This is a great winter hike near Denver that's easy and family-friendly.
Distance: 2.6 miles
Difficulty: Easy
3. Red Rocks Park, Littleton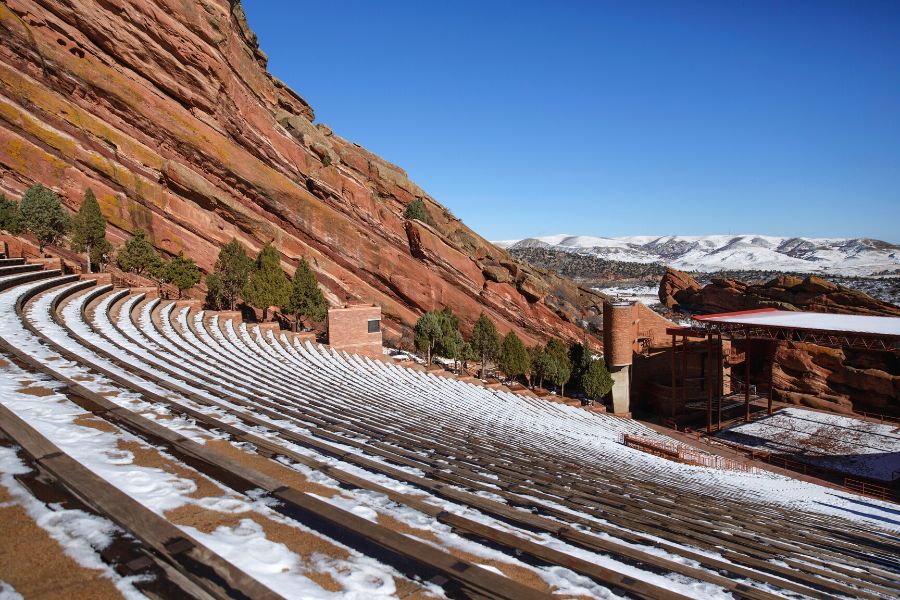 By far one of the best winter hikes near Denver is Red Rocks Park near Littleton.
With several different trails to choose from, Red Rocks is just 25 minutes from downtown Denver. You can even create-your-own adventure by wandering through the meadows to find the most expansive views.
In the colder months, the iconic rock formations sit in contrast to the white snowy trails and winter skies.
Red Rocks Park is home to the famous Red Rocks Amphitheater which allows for stair climbing and other workouts if you choose.
The Trading Post Trail at Red Rocks Park takes you in and around ten of the area's giant red rock formations.
While the hike is considered relatively easy, the terrain is uneven so it's best to wear comfortable hiking boots.
Distance: 1.4 miles
Difficulty: Easy
4. Dream Lake, Rocky Mountain National Park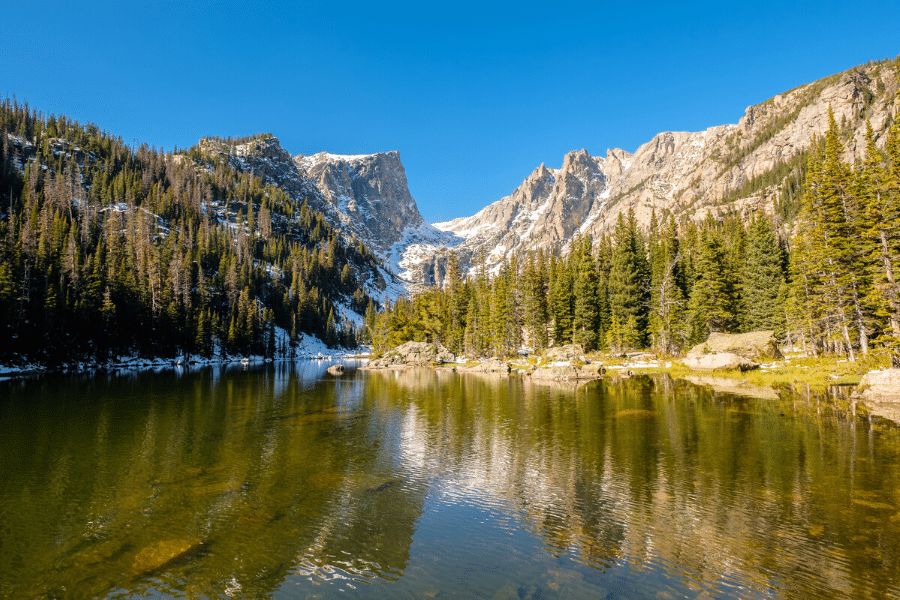 A hike along Dream Lake in Rocky Mountain National Park really is like stepping into a dream. The scenery seems as if an oil painting has come to life.
This trail is considered one of the best winter hikes near Denver, even if the location takes a bit longer to access.
The path to Dream Lake from Bear Lake is typically pretty busy so trail conditions are packed down relatively safe in the winter. If there's been a lot of snowfall in RMNP recently, we recommend wearing snowshoes.
Access to Rocky Mountain National Park may require a timed permit entry system, depending on the time of year. You will also have to pay an entrance fee to get into the park.
After a beautiful snowy day hiking Dream Lake and taking photos, stop off at one of the many coffee shops at Estes Park to warm up before driving home.
Distance: 2.2 miles
Difficulty: Easy
5. Emerald Lake, Rocky Mountain National Park
One of the most popular trails in Rocky Mountain National Park is the beautiful hike to Emerald Lake.
The destination of Emerald Lake tops out at over 10,100 feet above sea level but the trail only has an elevation gain of 700 feet from the start. That means the trailhead already starts out at a pretty high altitude of 9,400 feet — pretty close to tree line.
Emerald Lake Trail takes you past three alpine lakes including the well known Nymph Lake, Dream Lake and of course the destination of Emerald Lake.
During the high elevation trek, you will have awesome views of Rocky Mountain National Park and towering peaks surrounding you on all sides. The trailhead starts out easier and flatter than at the end where it can get somewhat steep for the final push.
The most popular time to make this hike is in summer, but this hike is equally as grand with a pair of snowshoes in the winter. Make sure to check weather conditions before heading out as the Rockies can have volatile and quick weather changes.
This hike will take 2hrs for experienced hikers and likely a bit longer for those unaccustomed to the elevation or folks with kids. And keep your furry friend at home as no dogs are allowed on any trails within the park.
Distance: 3.6 miles
Difficulty: Easy to Moderate
6. Spruce Mountain Open Space, Larkspur
Located about 45 minutes south of Denver, just outside Larkspur, is Spruce Mountain Open Space. The trails inside this nearly 1,400 acre park are extensive and beautiful.
The main hiking trail, known as Spruce Mountain Open Space Trail, is a 5.5 mile trail that is a relatively moderate hike.
Throughout the hike you'll see expansive views of Colorado's rolling green hills. And on clear days, you may even see views of Pikes Peak in the distance.
Most of the trails within Spruce Mountain Open Space are exposed to the sun, with some shaded trees available sporadically. So, dress accordingly in the summer and drink plenty of water.
On weekends, the parking lot at the trailhead fills up quickly, so we recommend arriving here before 9am when possible.
Distance: 5.5 miles
Difficulty: Moderate
7. Seven Bridges Trail, Colorado Springs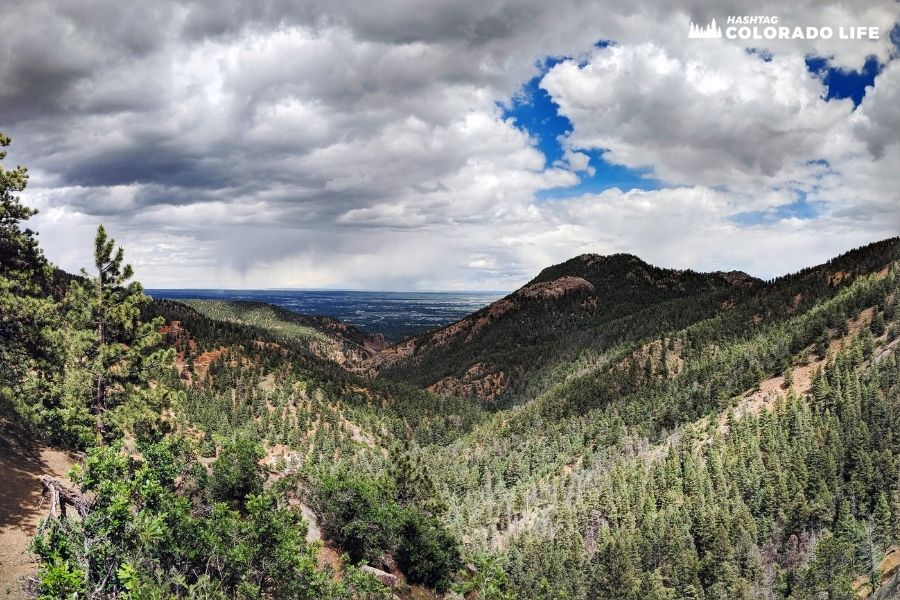 No list of the best winter hikes near Denver is complete without mentioning the Seven Bridges Trail in Colorado Springs.
Seven Bridges is one of several gorgeous trail systems located within North Cheyenne Canon. Depending on the trails you choose to hike, each one is different with some being easy and others more difficult.
We recommend the Seven Bridges to Kineo Mountain hike which is about a 7.5 mile round trip hike that's moderately difficult.
In the winter months, extra traction may be required when hiking, but the views make it worth it.
Along the hike you can expect to see frozen waterfalls, snow-covered valleys, and beautiful evergreen forests.
Trail 662 follows along the creek, crossing it seven times with different bridges. Which is how the trail received its famous name!
To extend your hiking adventure, checkout the short but epic trail at Helen Hunt Falls which is nearby.
Distance: 7.5 miles
Difficulty: Moderate
8. Coyote Song Trail, Littleton
It's hard to believe that such a beautiful hike can be so close to a metropolitan area like Denver. But Coyote Song Trail manages just that.
With an elevation gain of a little more than 300 feet, Coyote Song Trail is one of the easier and most family friendly hikes on this list. In fact, this is the trail you should feel comfortable inviting your grandparents on.
Located in the southwest Denver suburb of Littleton, this great hike starts right at the foothills of the mountains that bump up to the city limits.
You can expect to see staggering red rock formations that aren't too dissimilar to what you see just a bit north at the Red Rock Amphitheater.
This easy hike meanders through a valley situated at the base of the Rocky Mountains with lush, green vegetation and filled with wild flowers in the spring and summer. And of course there's ample opportunity to see some local wildlife like deer, elk and tons of songbirds that make the area their home.
Coyote Song Trail is a winter wonderland when fresh snow falls in the colder months and its so close to Denver that easy to forget that the buzzing metropolis is only a stone's throw away.
Distance: 2.9 miles
Difficulty: Easy
9. Roxborough State Park
Roxborough State Park is like no other "park" you've ever been to. The trailhead is located about 40 minutes south of Denver, near Chatfield State Park.
The massive red rock formations are quite a contrast to the green rolling hills and blue skies. And in the winter, when covered in snow, it's like a red and white wonderland.
Some of the best views can be seen while hiking the Fountain Valley Trail as well as Willow Creek Trail.
Roxborough State Park is considered one of the best hikes near Denver because the trails are fairly level and you are shielded from the cold winds.
A Colorado State Parks pass is required to get into Roxborough State Park, but you'll get access to some of the best trails and views you've ever seen.
Distance: 2.3 miles
Difficulty: Easy to Moderate
The Best Winter Hikes Near Denver
These are just some of the best winter hikes near Denver that are great for beginners.
Hiking in the snow isn't the same as hiking in the summer, so be sure to dress warm and take your time.
If you're looking for other hiking spots, check out our list of super easy Colorado winter hikes that are safe and easy to hike!