14 Things to Do in Cripple Creek From Gold Mining to Gambling
This website may contain affiliate links and we may be compensated (at no cost to you!).
In this guide, we are talking about visiting the small mountain town of Cripple Creek, Colorado.
This is a very budget-friendly day trip that's a perfect getaway for families or friends.
Even for being known as a gold mining and casino town, there are a surprising amount of kid-friendly activities available (as well as some not-so-kid-friendly ones).
Where is Cripple Creek, Colorado?
Cripple Creek is located 45 miles west and southwest of Colorado Springs and takes about 60 minutes to drive there.
From Highway 24 you go west and then follow the road into the mountains.
The road will twist and turn as you have to go north then south and then southwest to get to the town.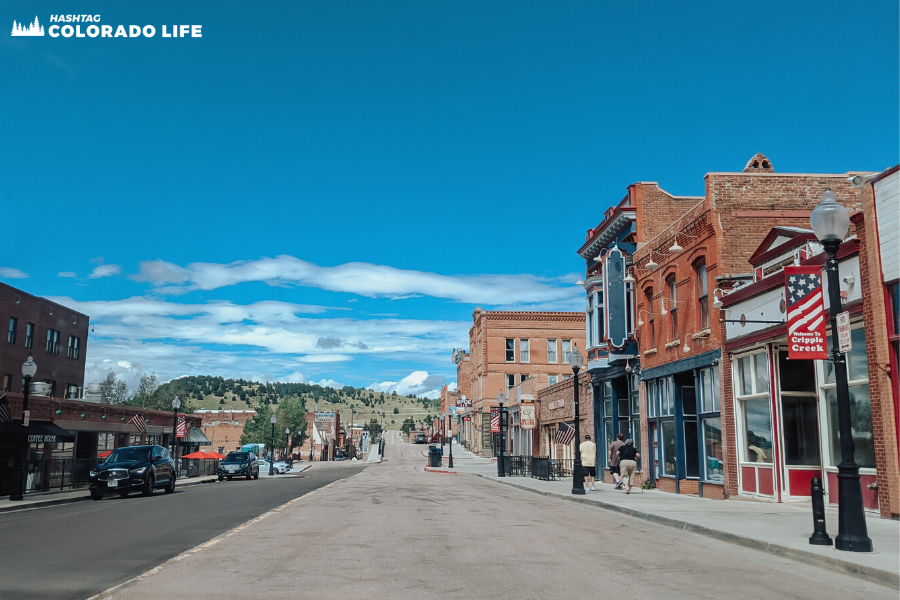 It is a really pretty drive with winding roads with beautiful views through Manitou Springs, Woodland Park, Divide, and Mueller State Park.
If you are coming from Denver, it is 112 miles southwest or roughly about a 2 hour drive.
The easiest and fastest and fastest route from Denver to Cripple Creek is by taking I-25 to Hwy 24.
The town is located near the base of the backside of Pikes Peak with awesome views and nestled in the middle of rolling hills and mountains.
What is the history of Cripple Creek?
The town of Cripple Creek is 9,494 feet in elevation and is one of the highest incorporated communities in Colorado.
It resides in Teller County and is considered the county seat. In recent years it has become part of the Colorado Springs Metropolitan area.
The population of Cripple Creek is less than 1,200 residents but gets lots of tourists and vacationers.
The Cripple Creek and Victor Gold Mine is still open today, and employs numerous people in the area.
There are still millions of gold still available in the mountains today!
What is Cripple Creek known for?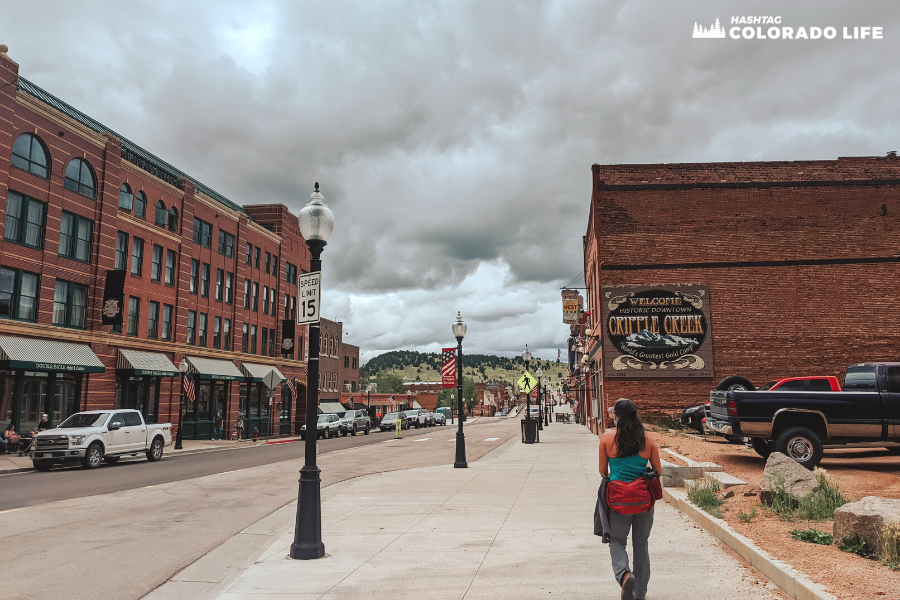 Originally one of the most populated gold mining towns in Colorado. And in the late 1800's Cripple Creek grew from 15 to more than 50,000 in just ten years.
By 1894 Cripple Creek was the social and economic capital of the state and had 150 active mines that produced more than $3 million that year.
But due to labor strikes, WWII and railroad closures, the town population was reduced to just 2,000 by 1950.
Cripple Creek used to be two towns, Fremont and Hayden Placer but merged in 1894 to become one town often referred to as Colorado's "mining capital".
Two fires destroyed many of the town's wooden buildings and homes in 1896.
But thanks to a town council mandate, the city was rebuilt using stone and brick. These are the brick and stone buildings you see along Bennett Avenue today.
In 1961 Cripple Creek became a National Historic Landmark and began using tourism as a way to bring in visitors and revenue.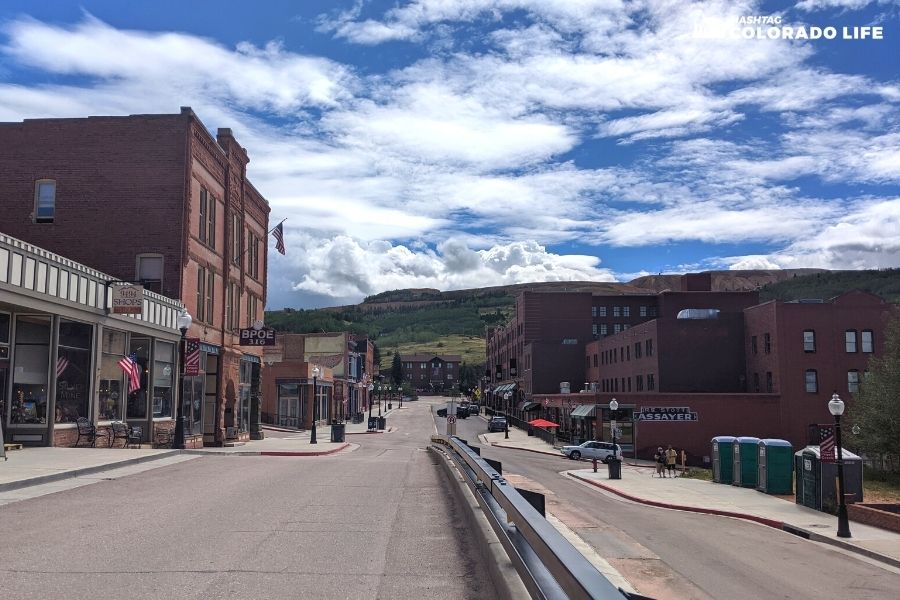 Then, in 1990 Colorado voters legalized gambling in Cripple Creek and many casinos now occupy the historic buildings along the main street.
The Wildwood Casino calls itself the "highest casino in the world".
In recent years Cripple Creek's twelve casinos have generated about $10 million in taxes annually, or roughly 9 percent of the statewide total.
When asking the question, what is Cripple Creek, Colorado known for? It's safe to say that it is known for two things: gold mining and gambling.
Things to do in Cripple Creek
For being a small mountain town, Cripple Creek has a surprisingly large amount of things to do.
It's easy to get out and explore the town on foot since it's super walkable as everything is within close proximity of each other.
Many of the places we mention are located on the main street called Bennett Avenue.
1. The Heritage Center & Visitors Center
The Heritage Visitors Center overlooks the town of Cripple Creek, and you can visit on the way into the town or on your way out.
This completely free museum features interactive exhibits and displays that detail what life was like back in the days of the World's Greatest Gold Rush.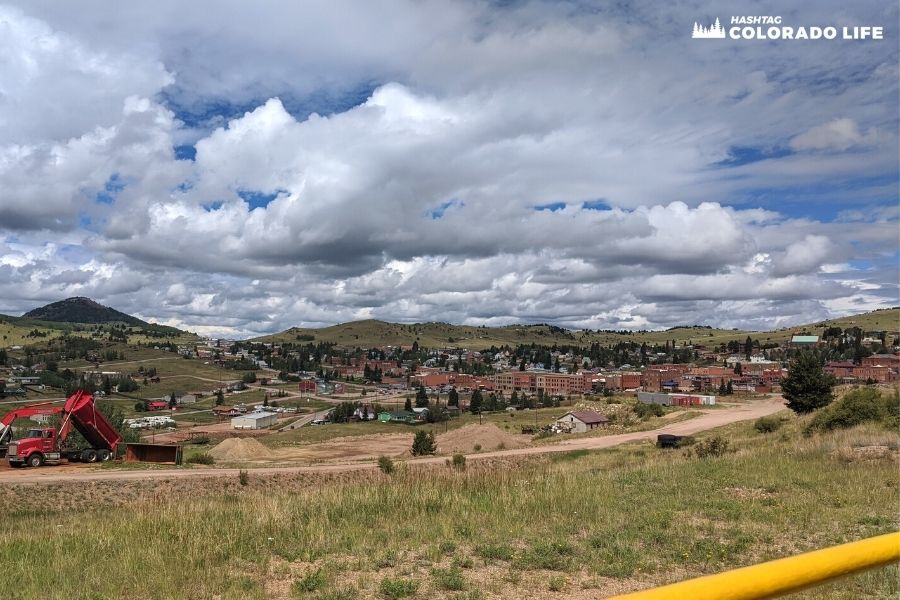 Learn about the early explorers, some of Cripple Creek's first residents, the gold and mining lifestyle, and wildlife in the area.
Plus, check out the wall of windows that showcases stunning views of the Sangre de Cristo mountains.
2. Cripple Creek and Victor Narrow Gauge Railroad
The train depot is located right downtown and is an easy walk from the main street and nearby parking lot.
The Cripple Creek and Victor Narrow Gauge Railroad leaves every 70 minutes starting at 10am-5pm daily.
This real, authentic steam engine runs on coal and is a great activity for kids as the train only travels about 10-12 mph.
The train ride is 4 miles round trip, and is gone for about 45 minutes (20 minutes out and 20 minutes back). It stops at 3 main points of interest including Echo Valley.
Listen in as the train conductor shares local stories and details the history of the area.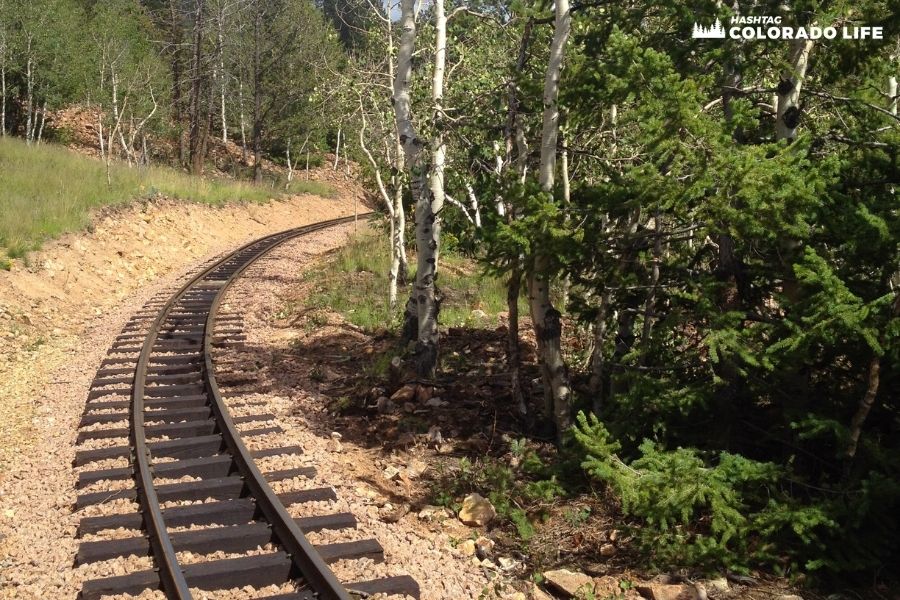 The cost of the train ride is $15 for adults, $10 for kids 3-12 years old, kids under 3 are free.
The train is first come, first serve and will run even when it's raining!
Frugal tip: Save $4 off ticket prices when booking a ride on the Cripple Creek and Victor Narrow Gauge Railroad.
Head over to CrippleCreekRailroad.com and scroll down towards the bottom to print off a $1.00 savings coupon per ticket (up to 4 riders).
3. Old Homestead House Museum
This is one of the most historical and elegant parlour houses (aka brothel) in Cripple Creek.
The Old Homestead House was built in 1896 by the now-famous madam, Pearl DeVere to serve the rich and affluent men during the gold rush.
A night at the Homestead used to cost $250 (or $7,672.53 in today's dollars. For context a good wage for a miner in those days was $3 per day!
The House is now a museum and you can take a scheduled tour to see the luxurious decorations and history from the late 1800's as well as handmade furniture.
It is open 7 days a week from noon to 4pm. Adult tour tickets cost $7 and children tour tickets are just $3 each.
4. East Bennett Avenue
Taking a walk down East Bennett Avenue is completely free and allows you to enjoy a lot of hte history the town has to offer.
As you walk down the main street, take in all of the architecture and ornate decorations that the old buildings have to offer. The city is charming, warm and inviting.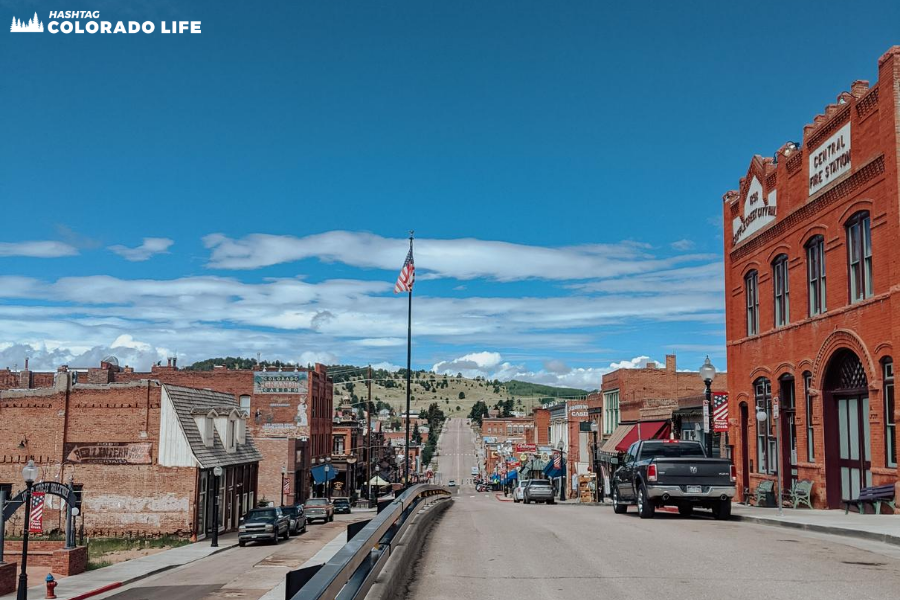 Check all of the shops, restaurants and casinos. Or stop to take photos near some of the beautiful art murals.
Parking is abundant and is completely free. If you have kids there are also clean port-a-potties available nearby the downtown area.
5. Outlaws & LawMen Jail Museum
With the gold rush and casinos comes unsavory nightlife, so the police in Cripple Creek had to work on keeping the peace and maintaining order in the city.
The Outlaws & LawMen Jail Museum is a historic old west jail that served as the Teller County Jail for about 90 years.
The 2-story cellblocks have been kept intact with displays showcasing the history and life of criminals back then.
Walk through the museum to check out the sample police logs from the 1890s, copies of early city ordinances, and real newspaper accounts.
Visitors can even enjoy a photo op in prisoner uniforms! The museum is open 7 days a week from 10am-5pm.
Tickets cost $3 per person over 11 years old, kids 10 and younger are free.
6. The Butte Theater
The historic Butte Theater is located right next to the fire station along Bennett Avenue.
You can find ample street parking as well as a small parking lot on the west side of the building.
The theater has seating for up to 184 guests with period wallpaper and chandeliers for decoration.
There are many different shows offered throughout the year, including a popular show at Christmas called, "A Cripple Creek Christmas Carol" and a local favorite called "The Christmas Donkey".
Tickets typically cost between $12-22 depending on the time of year and the show. A visit to the Butte Theater is a great way to support the local Colorado theater scene!
7. The Crippled Cow
If you are looking for unique local restaurants in Cripple Creek, here are some of our recommendations.
Important: One thing to note about going into some of the casino restaurants is that they are very strict with not allowing kids to enter.
You basically need to have another adult go in and reserve a table (outside) and grab a menu. NO kids allowed.
There are a few kid-friendly places to eat in Cripple Creek but not a lot, so keep this in mind.
The Crippled Cow is a kid-friendly restaurant that serves delicious wood-fired pizza that can be customized to your liking.
The interior has a relaxed vibe with a wood-burning pizza oven in the middle of the restaurant.
You can choose to eat inside or outside on their patio. In addition to delicious homemade pizza, they also serve Colorado craft brews and coffee.
Please note they are closed Mondays & Tuesdays.
8. The Little Store
On our recent trip to Cripple Creek, we really enjoyed our visit to The Little Store and getting a chance to meet the owners.
The store was very clean and well organized. We especially liked all of the kitchy items like pajamas, hats, beanies, socks (that are super soft and warm).
If you are looking for a cute local place to get some gifts for your friends and family, we highly recommend this store!
It's also right next to the Cripple Creek Candy Store so you can conveniently shop at both of them along Bennett Ave.
9. Prospector's Perk Coffee House
If you are looking for some delicious coffee while in Cripple Creek, check out the Prospector's Perk Coffee House.
This kid-friendly place is open 7 days a week right next to the Double Eagle casino.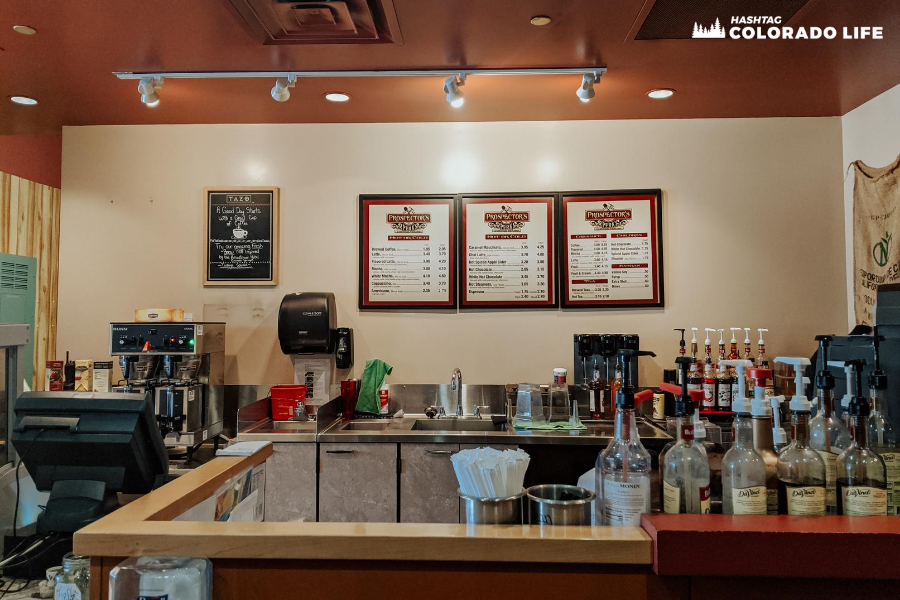 They serve both hot and cold espresso drinks, teas, apple cider and hot chocolate. Plus, mix and match any flavors you want. Also check out their yummy pastries and other baked goods.
We recommend trying the "1918" Fresh Brew which is inspired by the Broadmoor Hotel in Colorado Springs.
It is some of the best coffee we have ever had!
10. McGill's Pint & Platter
Open daily from 12pm-8pm, McGill's Pint & Platter is a traditional irish pub serving delicious comfort food.
The menu features food like chicken wings, cheese curds, French onion soup with entrees like fish & chips, and corned beef Rueben sandwich.
And it's the only place in Cripple Creek that serves Guinness on tap!
The decor features a historic carved bar, with authentic Irish artifacts, paintings, and stained glass windows which creates a warm and inviting experience.
The food is relatively affordable, not super cheap but too expensive either. You can choose to eat indoors or outside in the large outdoor space available along the street.
11. Mid City Grill
Serving all-American food, Mid City Grill opens daily at 7am and offers breakfast, lunch and dinner.
This local restaurant has unique Colorado All Natural Ranch to Table selections featuring Red Bird Farms chicken and buffalo sirloin.
They also have a great selection of pies to choose from, and nothing could be all American than pie!
12. Maggie's
Maggie's is a perfect place for families with young kids thanks to the separate street entrance.
Open seven days a week serving breakfast, lunch, and dinner.
Adult menu items include seafood, steak, and burgers. They even offer a special children's menu!
During the holidays they have an extensive holiday menu featuring exotic and local favorites.
Cripple Creek is known for having tons of festivals and events all year long! Here are some of the most popular and unique events to check out.
Note: Due to social distancing practices some of these events have been changed or updated for 2021.
13. Donkey Derby Days
Donkey Derby Days is a classic staple in Cripple Creek every year. And in 2021, the event is celebrating its 90th year on August 14-15th.
Donkeys have a long history of aiding in the gold rush days of Colorado.
Before we had modern mining techniques donkeys were the only source of transportation for coal, gold, and rocks.
Over the years, the need for donkeys decreased as the invention of electric trams took over. Many of the donkeys used in Cripple Creek were turned loose to roam wild in the surrounding hillsides.
To help raise money and celebrate their existence, an annual Donkey Derby Days event is hosted along East Bennett Avenue.
14. Cripple Creek Ice Fest
If you like supporting local artists and love ice sculptures, then check out the Cripple Creek Ice Fest.
This event, also known as the Ice Festival, is hosted annually in February.
It features artistic displays of ice that have been turned into creative and beautiful sculptures.
You can visit during the day or at night and watch the transparent sculptures light up with gorgeous displays.
Sadly, this event has been cancelled for 2021 but is expected to be back for February 2022.
We hope this in-depth travel guide for Cripple Creek, Colorado allowed you to learn something about this awesome and historic small mountain town!