10 Best Colorado Spring Break Ideas for the Whole Family
The content of this website may contain affiliate links and we may be compensated (at no cost to you!). Thank you for your support!
Are you planning a visit to Colorado for spring break? It's the perfect time of year when warmer weather is coming and spring is on it's way. 
The state has a wide variety of things to do and popular spring break destinations for everyone in your family. 
Whether you're only going away for a day trip or plan to take an entire week off for vacation, these spring break ideas won't disappoint.
We're partial to Colorado Springs (since we live here!) so we've included a couple must-see highlights from our home city.
Check out these Colorado Spring Break ideas for the whole family that are actually affordable.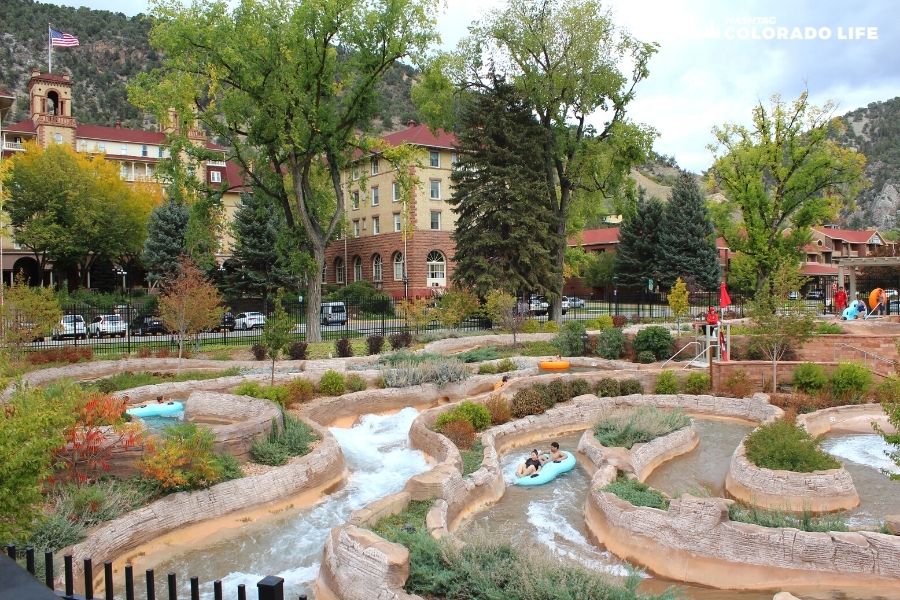 1. Drive up Pikes Peak
No Colorado spring break vacation is complete without a drive up to the top of Pikes Peak. Known as "America's Mountain" this is one of the most visited mountains in the world.
It overlooks the city of Colorado Springs and offers some of the most picturesque views you will ever see!
There are several ways to get to the summit of Pikes Peaks. But the easiest and cheapest way is to simply hop in your car and drive up the side of the mountain.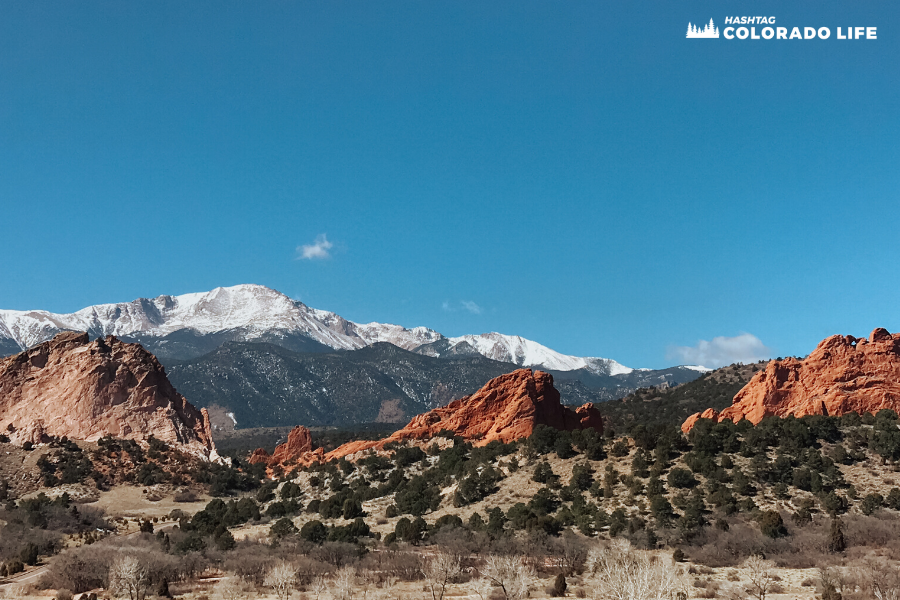 Or you can enjoy a curated trip thanks to a Pikes Peak tour guide who will drive you and your family up the mountain. Some tours include lunch, scenic stops, photos, and activities along the way.
Either way, once at the top you'll be greeted by 360 degree views, endless photo opps, and even some native wildlife. Not to mention the tasty treat of a delicious high-altitude donut.
2. Visit a Colorado Ski Town
Even though spring break is here in Colorado, there is still lots of snow for spring skiing, tubing, snowboarding, ice skating, snowshoeing, and snowmobiling.
In fact, during spring break you can find some of the best ski deals and packages to save money. You can even grab a lift ticket for up to 40% on some ski resorts like Winter Park! 
Ski resorts in Colorado and mountain towns are gearing up for their tourist season, but it's not too crowded yet.
Some of the best ski resorts to visit during spring break in Colorado, include:
Aspen/Snowmass
Beaver Creek
Crested Butte
Ski Cooper
From winter activities to springtime fun, there are lots of outdoor activities in a Colorado ski town. 
And for complete family vacations, kids can enjoy sleigh rides while adults have fun cross-country skiing.
Plus, all of the shopping, restaurants, pubs, and parks to enjoy no matter the weather.
3. Soak in Natural Hot Springs
The state is full of natural and mineral-rich hot springs. In fact it's said that there are more than 93 developed and undeveloped hot springs in Colorado.
This makes Colorado home to many different hot springs resorts where you can soak up the hot, mineral-rich goodness. 
Spring days in Colorado can be warm and sunny but the nights are still cold. This makes visiting natural hot springs one of the most relaxing experiences during spring break.
A great place to indulge in natural hot waters is the Glenwood Hot Springs Pool located in Glenwood Springs.
It features the world's largest hot springs pool that produces over 3.5 million gallons of naturally hot mineral water every day.
Kids and adults will love the lazy river, lap pool, water foundations, therapy pool, slides and kiddie pools. 
Plus, it's an easy 2 minute walk to the hot springs pool from the Hot Springs Lodge across the street.
Mount Princeton Hot Springs is another local favorite! Chalk Creek runs through the resort and offers a truly epic geothermal hot springs experience. 
You can also relax in the Historic Bath House that was built right after the civil war. Or dive into the large pool with epic views of the Collegiate Peaks.
Mount Princeton is located near the town of Buena Vista, which is also a great spot for a spring break getaway.
4. Explore a Colorado National Park
Colorado is home to some of the most incredible national parks in the country. And spring is the perfect time to visit before peak tourist season starts in May.
Here are the four main Colorado National Parks we enjoy visiting during spring break:
Rocky Mountain National Park
Near the town of Estes Park sits the ruggedly gorgeous Rocky Mountain National Park. And it tops many "best of" lists for good reason.
The park is rugged and wild, with scenic hikes, alpine lakes, and countless wildlife. It's home to Dream Lake, one of the most beautiful lakes in Colorado. 
RMNP offers some of the most picturesque scenery and gorgeous views, so be sure to bring your camera.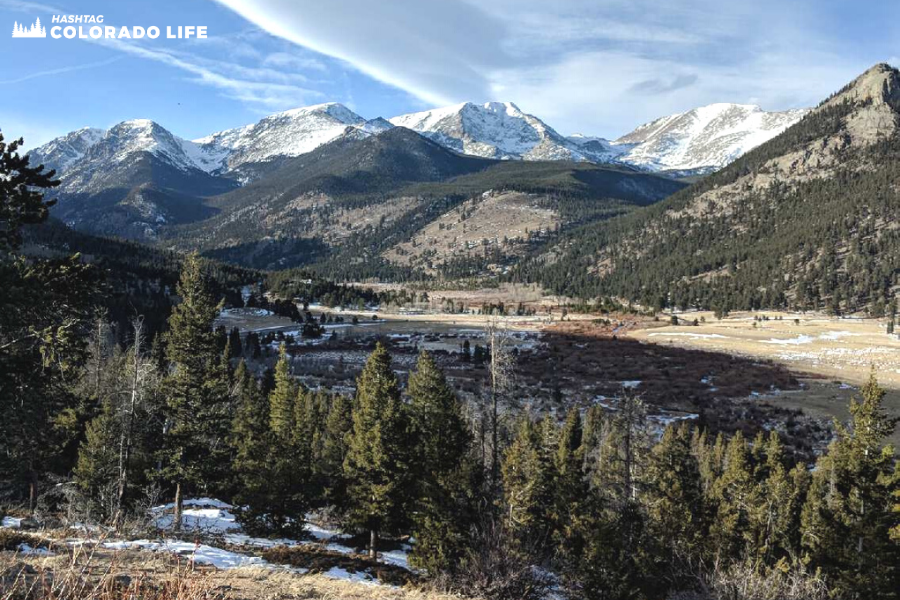 Great Sand Dunes National Park and Reserve
The Great Sand Dunes are home to the nation's tallest dune and is a desert oasis in the middle of a mountainous state. 
Go sand sledding or boarding, hike at sunset, sleep under the stars, and swim in Zapata Falls. The entire San Luis Valley is a great spot for a spring break vacation.
Mesa Verde National Park
Home to the Ancestral Puebloan, Mesa Verde National Park is full of history and a great outing for families with kids. 
Learn about what life was like near Cortez, Colorado and get a sneak peek into the daily lives of the inhabitants and dwellings. 
Or if you don't want to travel that far, get a taste of Mesa Verde at the Manitou Cliff Dwellings near Colorado Springs.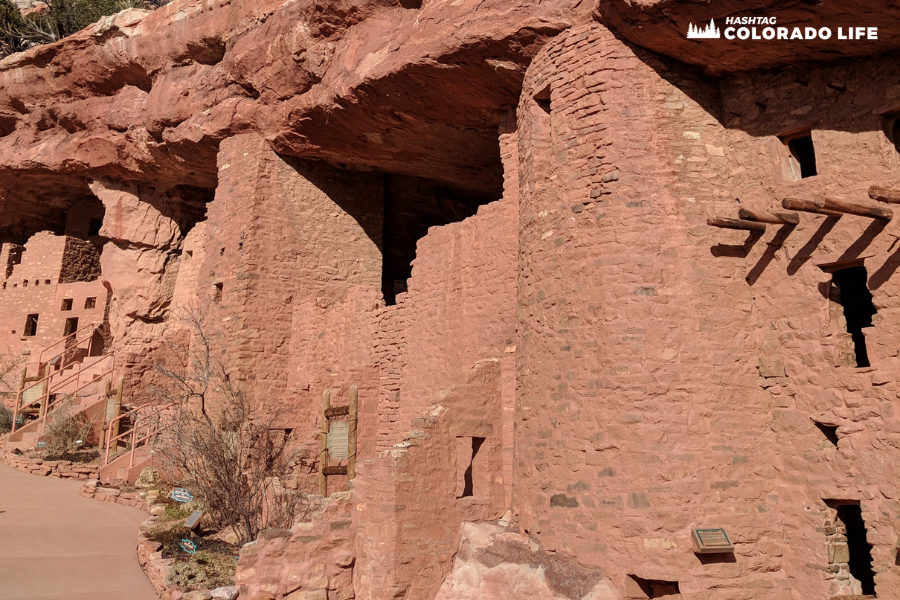 Black Canyon of the Gunnison National Park
Colorado's own "grand canyon" is without a doubt Black Canyon of the Gunnison National Park. The dramatic cliffs and breathtaking views will leave you speechless. 
Not to mention the stunning rock formations, epic hikes, and great biking trails that have been formed over centuries of exposure to the elements.
5. Relax at a Dude Ranch
We have recently come to love dude ranches and the unique vacation experience they offer. Get ready to unplug from technology, unwind from work, and get away from it all.
Our top dude ranch recommendation in Colorado is Vista Verde Ranch near Steamboat Springs. 
This all-inclusive resort is perfect for spring break because it will help the entire family relax while enjoying the outdoors.
At a dude ranch everything from your lodging, to meals, snacks, drinks, activities, and evening wind downs are completely taken care of.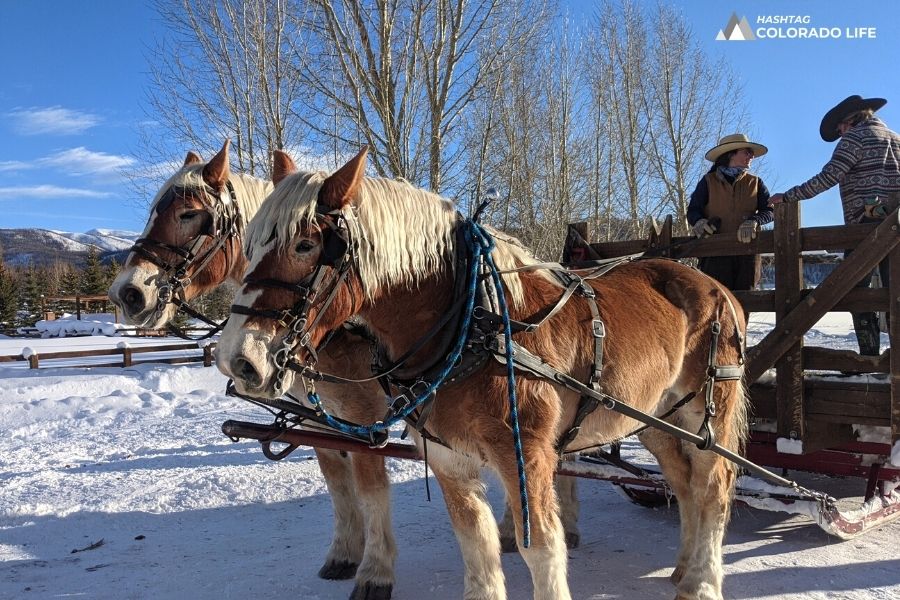 Live like the cowboys used to with log cabins, pot belly stoves, and deliciously curated chef-prepared meals and snacks all day long. 
Then enjoy a full day of hiking, biking, horseback riding, tubing, skiing, cooking classes and more. Kids of all ages will like feeding the horses and spending the day in the Adventure Hut.
6. Hike the Cheyenne Mountain Zoo
If you've never been to the Cheyenne Mountain Zoo it's like no other zoo you've ever visited. 
Located just west of Colorado Springs, this zoo is built into the side of a mountain! The scenery and exhibits have made it the #4 best zoo in North America.
After checking out the unique exhibits and natural scenery, take a ride on the Mountaineer Sky Ride. 
This open-air chair lift is a slow but scenic ride up the side of the mountain and then back down, at your leisure. The views and the experience are unmatched!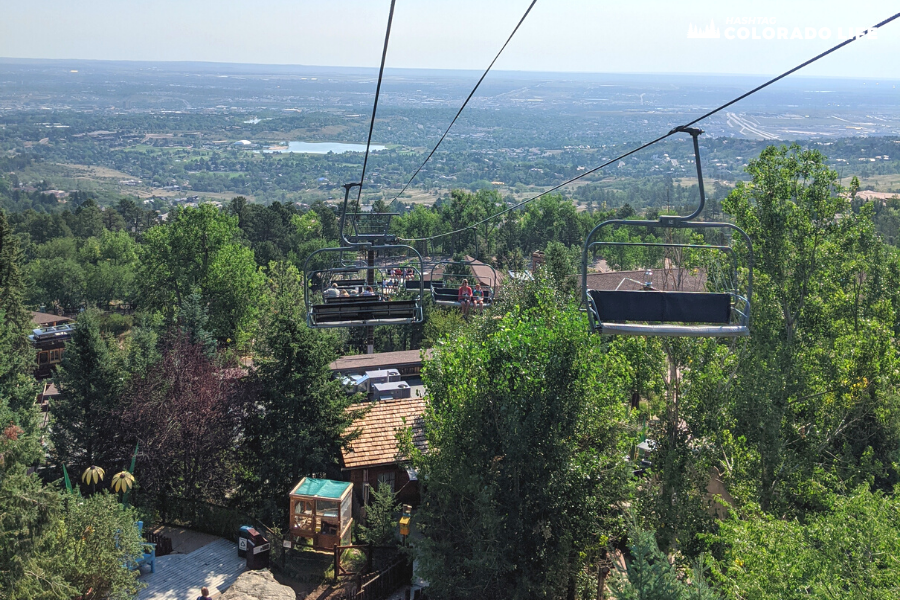 Once at the top you'll be able to take photos, play at the children's playground, and enjoy the scenic views.
Then after your visit to the zoo, be sure to drive up to see Will Rogers Shrine of the Sun and take in the panoramic views of the city below.
7. Enjoy a Royal Gorge Bridge Jeep Tour
After going on a jeep tour for the first time, we now understand why they're such a popular Colorado activity. 
In the spring especially, a visit to the Royal Gorge Bridge is a must! And the best way to view it is on a Colorado Jeep tour.
Go for a half-day or full-day excursion, complete with mid-day lunch and a free ticket to the Royal Gorge Bridge. 
During your ride, you'll learn about the local flora and fauna, see an abundance of wildlife, and stop at historical or noteworthy destinations. 
You'll even take a trip up to Skyline Drive and see some old dinosaur fossils embedded in the rocks.
No matter what the weather is like, a Jeep tour is a great choice thanks to roll-down canvas windows, heated cabs, and clean blankets.
You can also combine your jeep tour with a water rafting trip, train raide, zip lining, or wine tours for a truly amazing spring break experience.
8. See a Colorado Ghost Town
Colorado is rich in history of the cowboys, gold mining, and the wild west. 
Throughout the decades there have been stories of making it rich in gold and silver, and spooky adventures of rough riders and rebels. 
This makes a Colorado ghost town for the perfect spring break destination. In fact, the state is home to more than 1,500 ghost towns available for public exploring.
When visiting a ghost town in Colorado you can explore the old buildings, tour derelict mine shafts, or simply enjoy hiking, biking, or jeeping in the area. 
Some of the most popular ghost towns in Colorado include:
Arrow
Teller City
Saint Elmo
Dearfield
Ashcroft
Independence 
If you're interested in the history of gold mining or listening to ghostly tales, then you need to check out a Colorado ghost town.
9. Take Photos at Garden of the Gods
If you've never been to Garden of the Gods, now is the perfect time to visit! 
And we highly recommend experiencing this majestic place on horseback, or one of the other amazing Garden of the Gods tours.
From segway tours and custom jeep rides, to hiking ventures, rock climbing, and even a 1909 Trolley tour, there is something for everyone at Garden of the Gods.
Kids and adults will also like checking out the Rock Ledge Ranch which features an old timey General Store, stables with horses, chickens, sheep, and cows. 
Not to mention an old blacksmith stable where they do real life demonstrations of the craft.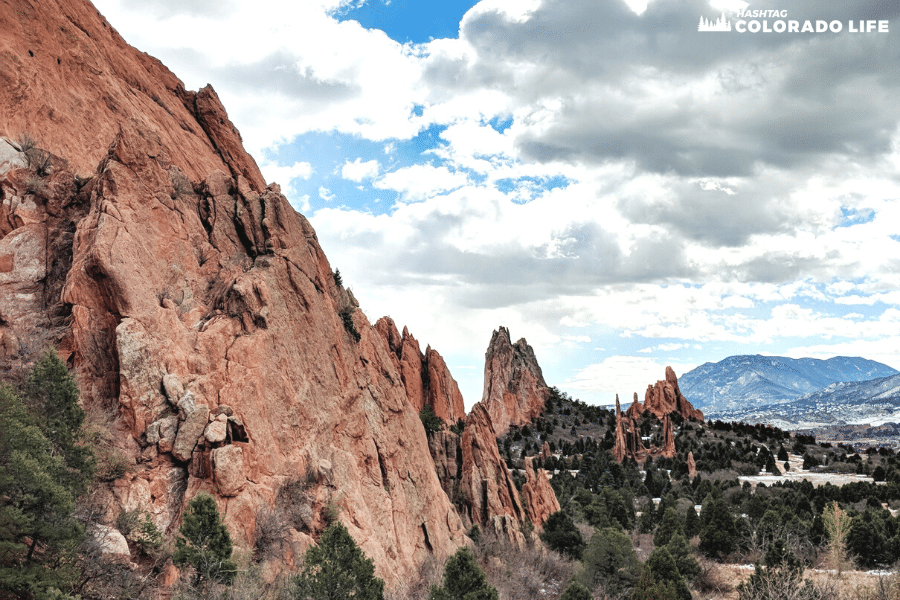 Or hike the popular Palmer & Central Gardens Trail Loop for some gorgeous views and photo opps.
After building up an appetite, head over to the Visitor and Nature Center for a bite to eat and drink at the Cafe. 
Afterwards, check out the free museum and take photos at the iconic viewing balcony. 
There are endless things to do at Garden of the Gods, even if you don't have a lot of time to spend here. And the best part is that a visit to Garden of the Gods is completely free!
10. Ride the free Gondola
Breckenridge is a well-known ski town and a very touristy spot for spring break in Colorado. 
But a visit to Breck isn't complete without a ride up to Peak 8 on the free Gondola. 
There are no tickets to buy or reservations to make. Simply walk up to the BreckConnect and jump onto the gondola.
The ride up and down the mountain is a slow but scenic one, and takes about 26 minutes roundtrip.
Free parking is available at the Breckenridge Welcome Center or at the north & south gondola parking lots.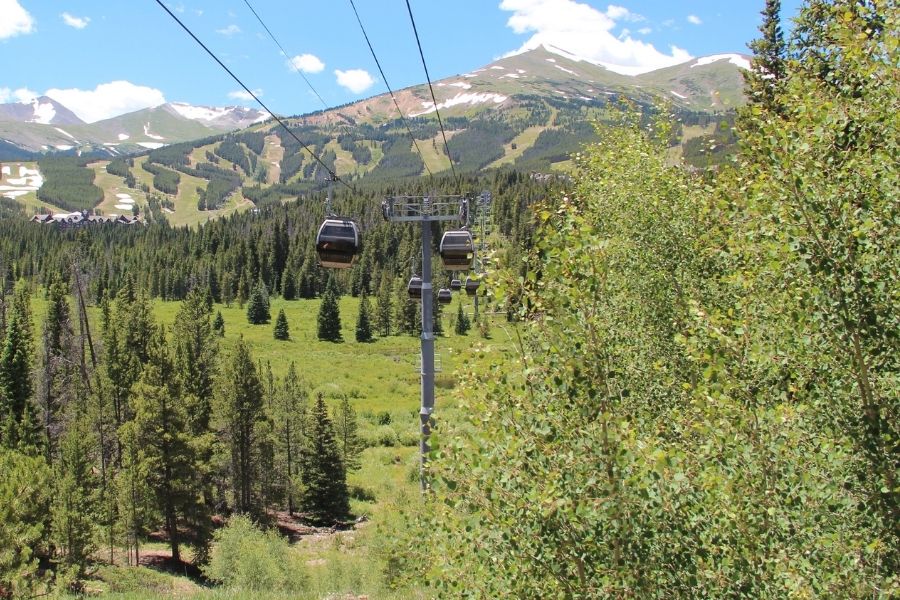 Once at the top of Peak 8 there are cafes, restaurants, and tons of outdoor activities for kids and adults to partake in.
Before ending your spring break trip to Breckenridge, be sure to stop by and visit Isak Heartstone, the Breckenridge Troll.
From soaking in hot springs, jumping in a jeep tour, and summiting mountains, this guide will help you plan the perfect spring break trip in Colorado. 
With these popular spring break destinations, you'll find something to do for everyone in the family!
---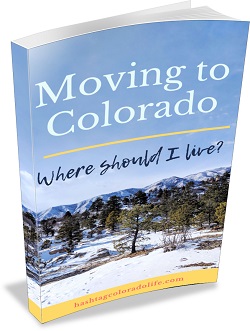 Need help moving to Colorado? Want more ideas for the best places to live in the square state?
We literally wrote the book about our experience moving across the country to Colorado.
Get our new book, Moving to Colorado: Where Should I Live? which has been updated for 2022.