by Carrie Nicholson
|
Last Updated:
December 6, 2019
The content of this website may contain affiliate links and we may be compensated (at no cost to you!). Thank you for your support!
If there is one thing that Colorado is known to have the best ski towns with incredible skiing and snowboarding culture!
With so many terrific peaks to shred, it's no surprise that Colorado boasts many of the world's best places to hit the slopes.
If you're looking for the best Colorado ski towns, then you're in luck. As locals, we share our top favorites in the list below.
The best towns to ski in Colorado
Every ski town has its own vibe and different amenities, so no matter how you plan to enjoy powder, Colorado has the perfect destination for you!
And the great news is, that most of the major ski resorts in Colorado are within a few hours' drive of Denver.
Breckenridge Ski Resort
Breckenridge Ski Resort is calling all independent spirits! Breckenridge, or "Breck" if you're a local, is a less well-known resort located in a historic mining town.
In fact, it's a Colorado ski town where locals enjoy visiting because it's not overrun by big-name hotels or chain-style restaurants.
There are lots of local festivals happening all year long and you can even seek out the Breckenridge Troll.
You'll find Breckenridge about 80 miles west of Denver driving on I-70, just past Frisco.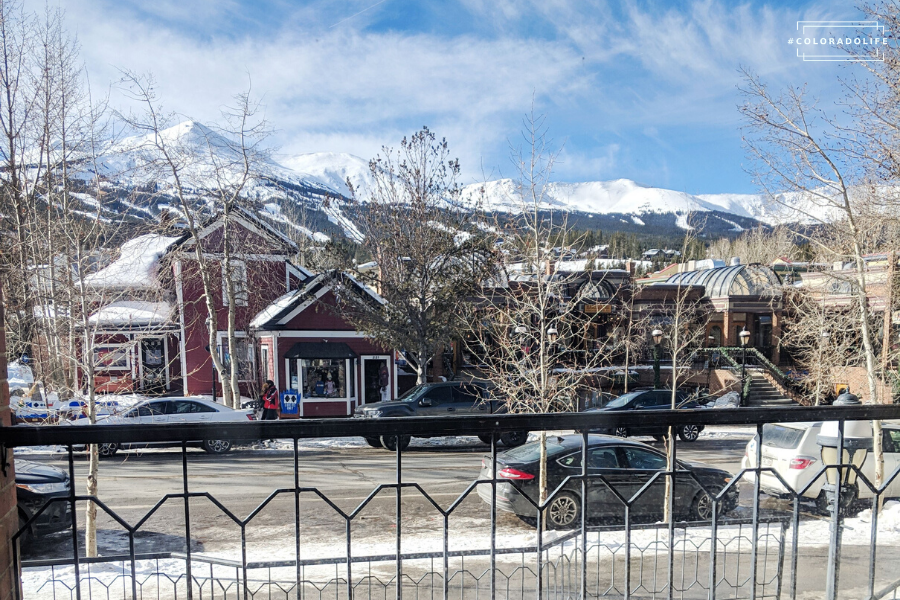 Keystone Ski Resort
Start wintertime right with playtime at Keystone Ski Resort. Keystone is usually one of the first ski resorts to open each snow season.
This small town is a great place for kids to discover the magic of playing in the mountains. And adults can discover that, deep down, they're still kids too!
Keystone Ski Resort is within Keystone Colorado and is about 75 miles west of Denver, via I-70.
Copper Mountain Resort
Copper Mountain is undergoing massive renovations and awesome changes to the resort, making it one of the top Colorado ski towns.
Visit in the winter for epic skiing or in the summer and you'll find plenty of activities for all ages.
During peak and off seasons, you can ride The Rocky Mountain Coaster which is a 5,800 feet long. This makes it one of the longest in North America.
Copper Mountain Resort is about 78 miles west of Denver right along I-70.
Winter Park Resort
Winter Park is another one of our favorites as we usually visit every year. In fact, my family has been coming to this ski town since I was a teen, so I know the place well!
In fact, Winter Park was named the Best Ski Resort of 2018 by USA Today? This town spans more than 3,000 acres with 166 named trails for skiers and snowboarders to choose from.
And since the 07/08 season, winter park has averaged just shy of 300 inches of snow each winter.
Plus, who doesn't love jumping on the Mary Jane and going for a ride?!
Winter Park (and the nearby town of Fraser) are about 65 miles west of Denver along I-70 then take the exit to Highway 40.
Arapahoe Basin Ski and Snowboard Area
Open since 1946, the Arapahoe Basin area has a local, laid-back vibe.
Not only will you find great skiing and snowboarding at the A-Basin, you can even host events and weddings at 11,500 feet while overlooking the Continental Divide!
It's located near the Loveland Ski area and is about 65 miles west of Denver when taking I-70 to Highway 6.
Vail Mountain Resort
Never settle for anything less when visiting a Colorado ski town. Visit Vail Mountain Resort and blaze new trails to get to the best snow in the world.
Vail is one of the most popular ski resorts in the U.S. because of its unique culture and style. The town has a Bavarian feel with period building details and architecture.
We recommend signing up for one of their free Art Walks that happens every day! You'll see some amazing art and architecture.
Vail Mountain Resort is located in Vail, Colorado about 97 miles west of Denver, right off of I-70.
Beaver Creek Resort
Embrace the start of winter at Beaver Creek Resort. This ski town is what many would call luxurious and while not budget-friendly, still worth the price.
Enjoy all that Beaver Creek has to offer from the top of the slopes down into the heart of the village. Ski or snowboard all day and catch a show at the Vilar Performing Arts Center on the mountain that night!
Take I-70 up through the mountains to get Beaver Creek Resort, which is about 110 miles west of Denver.
Aspen Snowmass
With 5,527 acres, 362 trails, 41 lifts, 4 mountains, 2 towns, and just one life ticket, you'll experience everything the Colorado ski scene has to offer at the Aspen Snowmass ski area.
Aspen is one of the most popular ski destinations in Colorado, so prepare for big crowds and an even bigger experience.
While this town is mostly filled with local and international tourists, there's nothing quite like it. Especially in the fall, visit Aspen for a one-of-a-kind autumn experience.
Steamboat Springs Resorts
Going further into the mountains you'll find Steamboat Springs Resorts. This ski town is a family-friendly destination for skiing, snowboarding, and even more attractions.
With fun activities like the Outlaw Mountain Coaster, sleigh ride dinners, night skiing, hot springs and snowmobile tours, there's something for everyone at Steamboat Springs!
Drive up I-70 from Denver and then head north at Silverthorne for about 150 miles to reach Steamboat Springs.
Eldora Mountain
For a smaller and more affordable ski experience, check out Eldora Mountain. You can use your Ikon Pass for budget-friendly but awesome skiing.
Be aware though, that it is very windy at Eldora so dress appropriately!
About 30 minutes outside of Boulder, this is smaller resort is an easy drive from the Denver metro area.
Monarch Mountain
Monarch Mountain is included for free in the GetOutPass Colorado and you can save $40 instantly when using code: coloradolife40 at checkout.
The crew at Monarch Mountain have been keeping it real for 80 years. Located in Salida, Colorado, Monarch Mountain is a place for real people to ski on nothing but real snow.
For expert skiers and riders, try cat skiing in the 1,635 acres of diverse expert terrain. The slopes feature wide open bowls, steep chutes, beautiful glades and some of the best tree skiing you will ever experience.
Located near Salida, Colorado, Monarch Mountain is about 150 miles southwest of Denver.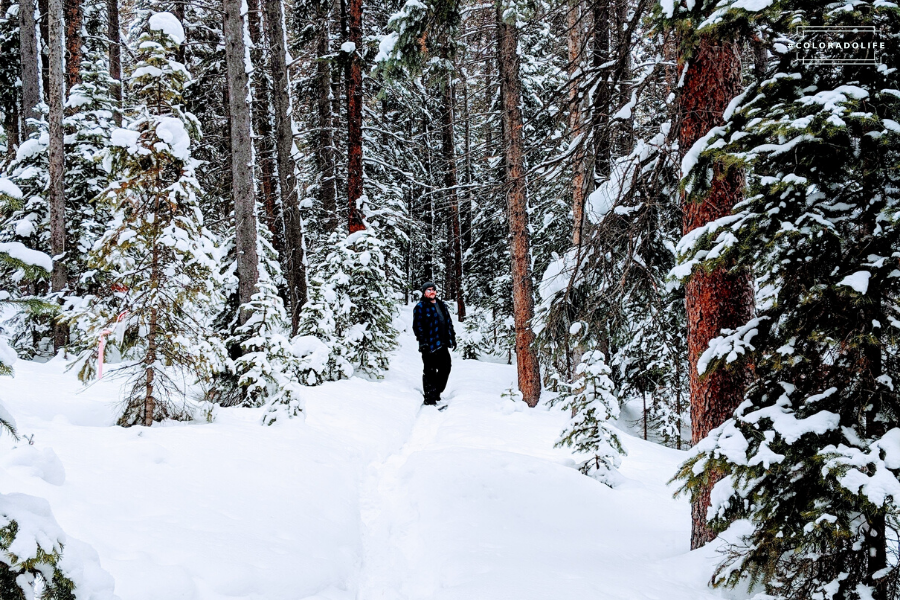 Getting to each Colorado ski town
Whether you're a Colorado native or visiting from out of town, prepare for a safe trip to and from your ski destination.
Winter in Colorado features dramatic weather changes, high altitude, and often quite a bit of traffic. Get ready for your trip and travel safe!
Here are our best tips to keep you safe out on the road this winter!
Check your route before you go
The further you drive into the mountains, the harder it is to maintain clear roadways as snow piles up. Check for local weather advisories and ensure the passes are clear and open for travelers.
Some low-traffic passes have scheduled closures, but if a storm pops up, even heavily-trafficked passes will be required to close.
Get there without your own car
Coming into an airport (and want to save on a car rental)? Or, are you looking to spare your personal vehicle the trek up the mountains in the snow?
There are lots of ways to get to the mountains without a car! Here are the best options for taking shuttles from the airport.
Epic Mountain Express
If you're flying into Denver International Airport, you can grab a shuttle from the airport directly to your mountain resort.
We recommend catching the Epic Mountain Express shuttle which offers services from DIA to Breckenridge, Keystone, Copper, Vail, Beaver Creek, Aspen, and Snowmass.
You can rent 5, 10, and 12 person vans with complimentary wifi is available on all vehicles.
While it will cost you around $60 per person, it may be worth the peace of mind knowing you personally don't have to drive up the mountains in the snow.
Summit Express
If you're planning to ski Breckenridge, Frisco, Copper Mountain, Keystone, Vail, Dillon / Silverthorne or Beaver Creek, you can catch a ride from Denver airport with the Summit Express.
Pickups are scheduled from Denver every two hours starting at 9:30 am, with more frequent pickups starting later in December 2019.
Fresh Tracks Transportation
Hoping to visit more than one Colorado ski town during your visit? Check out the Fresh Tracks Transportation shuttle.
Fresh Tracks Transportation offers shuttle service from the Denver airport to multiple ski destinations as well as service between resorts.
Catch a shared ride shuttle or charter a private shuttle for your group!
Carpool and ridesharing
There are several carpool lots available along I-70 for anyone who wants to share a ride up to the mountains.
The Dinosaur lots in Golden, Colorado (just before you start to climb up I-70) are a convenient meeting spot where overnight parking is allowed.
You can find more resources for carpooling and ridesharing on the GOi70 website, as well as traffic and weather updates to help plan your trip.
Use an app to find a ride
Apps like SkiCarpool and Gondola App help Colorado skiers and snowboarders connect to share a ride up to the slopes.
This is a great option for visitors and for locals who want to cut down on the carbon footprint if you visit the mountains often.
Check your resort for discounts and shuttle services
Some resorts offer their own shuttle services to and from the mountain. Breckenridge offers free public transit and skier drop off, while Keystone offers discounts or premium parking lots for those who carpool.
Check the website for the resort where you plan to ski for other perks of carpooling!