11 Best Ski Towns in Colorado and Top-Rated Resorts
This website may contain affiliate links and we may be compensated (at no cost to you!).
If there is one thing that Colorado is known to have the best ski towns and resorts with incredible skiing and snowboarding culture!
With so many terrific peaks to shred, it's no surprise that Colorado boasts many of the world's best places to hit the slopes.
If you're looking for the best Colorado ski resorts, then you're in luck. As locals, we share our favorite places to ski in the list below.
Every ski town has its own vibe and different amenities, so no matter how you plan to enjoy powder, Colorado has the perfect destination for you!
And the great news is, that most of the major ski resorts in Colorado are within a few hours' drive of Denver.
Related: The Best Ski Essentials You Need to Pack
1. Winter Park Resort
Winter Park is one of our favorites as we usually visit every year. In fact, Carrie's family has been coming to this ski resort town since she was a teen, so she knows the place well!
Winter Park Resort was named the Best Ski Resort of 2018 by USA Today. This town spans more than 3,000 acres with 166 named trails for skiers and snowboarders to choose from.
This makes it the fourth-largest ski resort in Colorado.
Since the 2007/2008 season, Winter Park has averaged just shy of 300 inches of snow each winter. That's over 25 feet of snow, for anyone not wanting to do the math.
One of Winter Park's main attractions is skiing the Mary Jane run.
This is obviously a play on words for the weed culture in Colorado, but it is a popular slope for skiers and snowboarders.
The town of Fraser is nearby and is where a lot of the locals have ski getaways during the winter. We usually end up staying in Fraser because Winter Park resort is so small.
And there is a lot to do here, including the Fraser Snow Tubing Hill and the Colorado Adventure Park.
We also had some of the best BBQ in the entire state, at The Smokehouse BBQ restaurant. If you check it out, we know you will enjoy it!
Winter Park (and the nearby town of Fraser) are about 65 miles west of Denver along I-70 then take the exit to Highway 40.
For the 2022/2023 ski season Winter Park is expected to open on or around November 24, 2022. It's expected to close the season on May 8, 2023.
2. Copper Mountain Resort
Copper Mountain has been undergoing a massive $100 million dollar, multi-year, renovation project — making it one of the top Colorado ski towns.
The 2019/2020 season debuted the Woodward Peace Park, a unique, ever-evolving terrain park open to all guests.
And there is more epic stuff coming for this upcoming ski season!
Other attractions at Copper Mountain include, Uphill Ski Tours and the Woodward Copper Barn playground.
During peak and off seasons, you can ride The Rocky Mountain Coaster which is 5,800 feet long.
This makes it one of the longest roller coasters in North America.
The resort is near Frisco and Breck, so you can enjoy some great skiing, food, and entertainment at any one of these cities.
Copper Mountain Resort is about 78 miles west of Denver right along I-70.
For the 2022/2023 ski season Copper Mountain opens on November 17, 2022 and is expected to close the season on April 21, 2023.
3. Breckenridge Ski Resort
Breckenridge Ski Resort is calling all independent spirits. Breckenridge, or "Breck" if you're a local, is a less well-known resort located in a historic mining town.
In fact, it's a Colorado ski resort where locals enjoy visiting because it's not overrun by big-name hotels or chain-style restaurants.
There are lots of local festivals happening all year long, including the International Snow Sculpture Championships.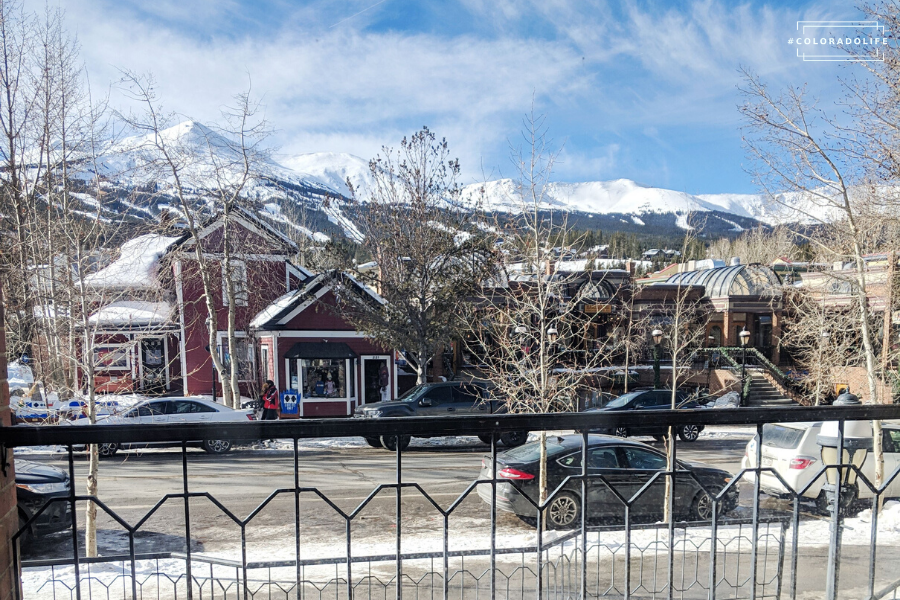 And there are two Nordic centers for snowshoeing and cross-country skiing.
You can even seek out the Breckenridge Troll. You'll find Breckenridge about 80 miles west of Denver driving on I-70, just past Frisco.
Check out the nearby Frisco Adventure Park for snow tubing and kid-friendly snow activities.
Frisco is a small town with lots of charm and a quirky downtown to explore.
For the 2022/2023 ski season Breckenridge is celebrating its 60th anniversary and will opens on November 14, 2022. It's expected to close for the ski season on May 5, 2023.
4. Aspen Snowmass Village
The Aspen Snowmass ski area is a lot like Vail, with high-end boutique shops and fancier restaurants.
It is very much an international destination for skiers, so there are always lots of tourists here.
With 5,527 acres, 362 trails, 41 lifts, 4 mountains, 2 towns, and just one lift ticket, you'll experience everything the Colorado ski scene has to offer.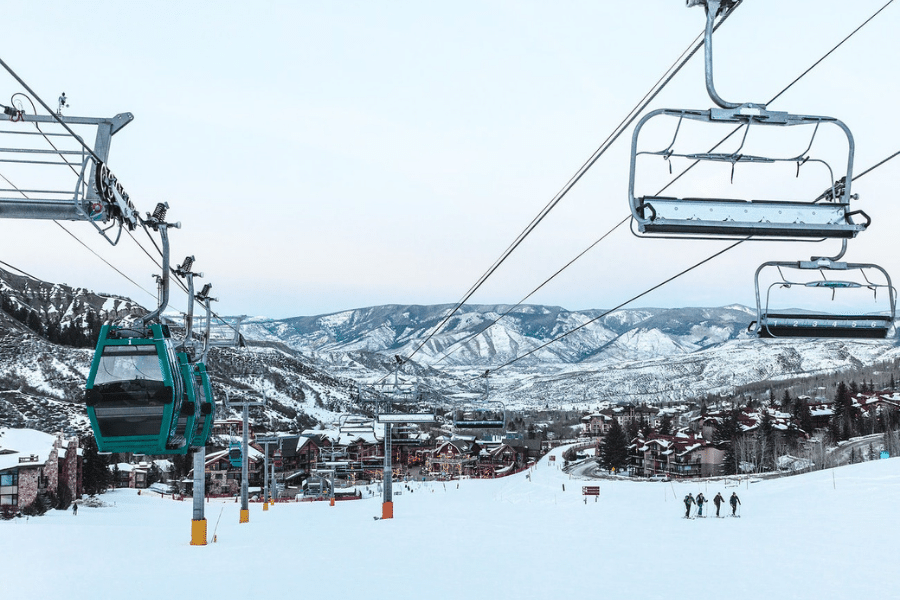 Aspen Mountain is close to near-by Maroon Bells, one of the most photographed spots in all of Colorado.
It is also home to beautiful landmarks like the Wheeler Opera House that was built in 1889 during the silver mining boom.
While this town is mostly filled with local and international tourists, there's nothing quite like it.
Especially in the fall, visit Aspen for a one-of-a-kind autumn experience.
Aspen Snowmass Village is one of the most popular ski destinations in Colorado, so prepare for big crowds and an even bigger experience.
For the 2022/2023 ski season Aspen Snowmass opens on November 24, 2022. It's expected to close the ski season on April 21, 2023.
5. Vail Mountain Resort
About 30 minutes west of Breckenridge and Frisco is Vail Mountain Resort. Here, you can blaze new trails and get access to some of the best snow in the world.
Vail is known for its world class skiing, but it's also known for all of the amazing amenities it offers. Vail Village is full of high-end shopping, restaurants, and luxury hotels.
In addition, it is home to some of the top spas of any ski resort in the country.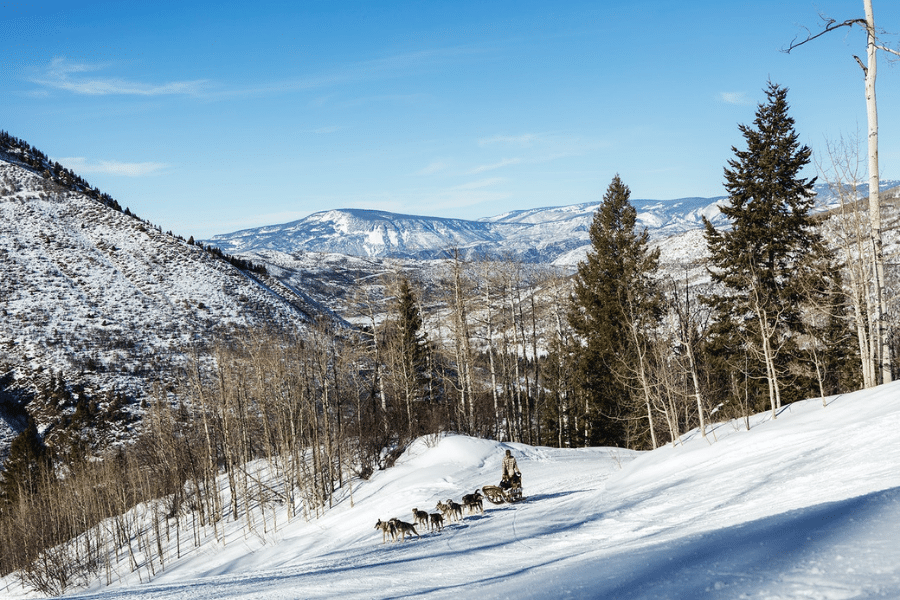 This resort is one of the most popular ski areas in the U.S. because of its unique culture and style. The town has a Bavarian feel with period building details and architecture.
We recommend signing up for one of their free Art Walks that happen every Wednesday!
You'll see some amazing art, historic architecture, and sculptures from local artists.
Vail Mountain Resort is located in Vail, Colorado about 97 miles west of Denver, right off of I-70.
If you're visiting for the 2022/2023 ski season, Vail Mountain Resort opens on November 22, 2022. The resort is expected to close for the season on April 21, 2023.
6. Beaver Creek Resort
A 20-minute drive beyond Vail takes you to Beaver Creek Resort.
This ski resort town is what many would call luxurious and while not budget-friendly, we feel it's still worth the price.
Enjoy all that Beaver Creek has to offer from the top of the slopes down into the heart of the village.
The resort area has an ice skating rink, with lots of shops, restaurants and activities.
You can also ski or snowboard all day and catch a show at the Vilar Performing Arts Center on the mountain that night!
Take I-70 up through the mountains to get Beaver Creek Resort, which is about 110 miles west of Denver.
For the upcoming 2022/2023 ski season, Beaver Creek Resort opens on November 24, 2022 and is expected to close the season on April 14, 2023.
7. Steamboat Springs
Much more off the beaten path, going further into the mountains, you'll find Steamboat Springs Resorts.
This ski town is a family-friendly destination for skiing, snowboarding, and even more attractions.
They offer something called, "First Tracks" which gives early access to the slopes each morning before opening. Be one of the first ones to hit the fresh powder!
With fun activities like the Outlaw Mountain Coaster, sleigh ride dinners, night skiing, hot springs and snowmobile tours, there's something for everyone at Steamboat Springs.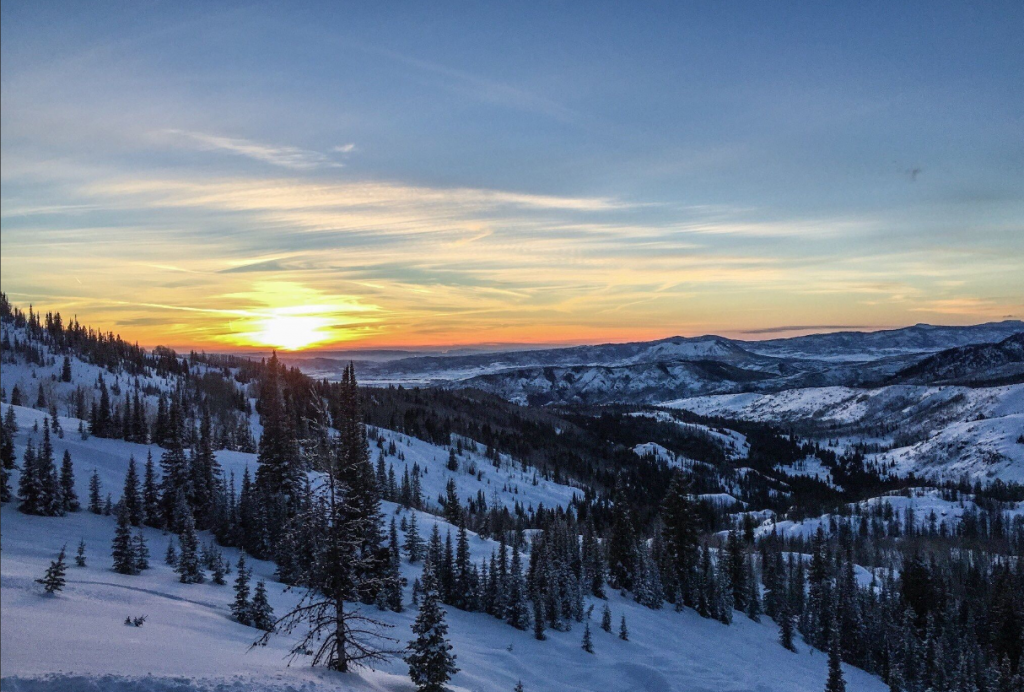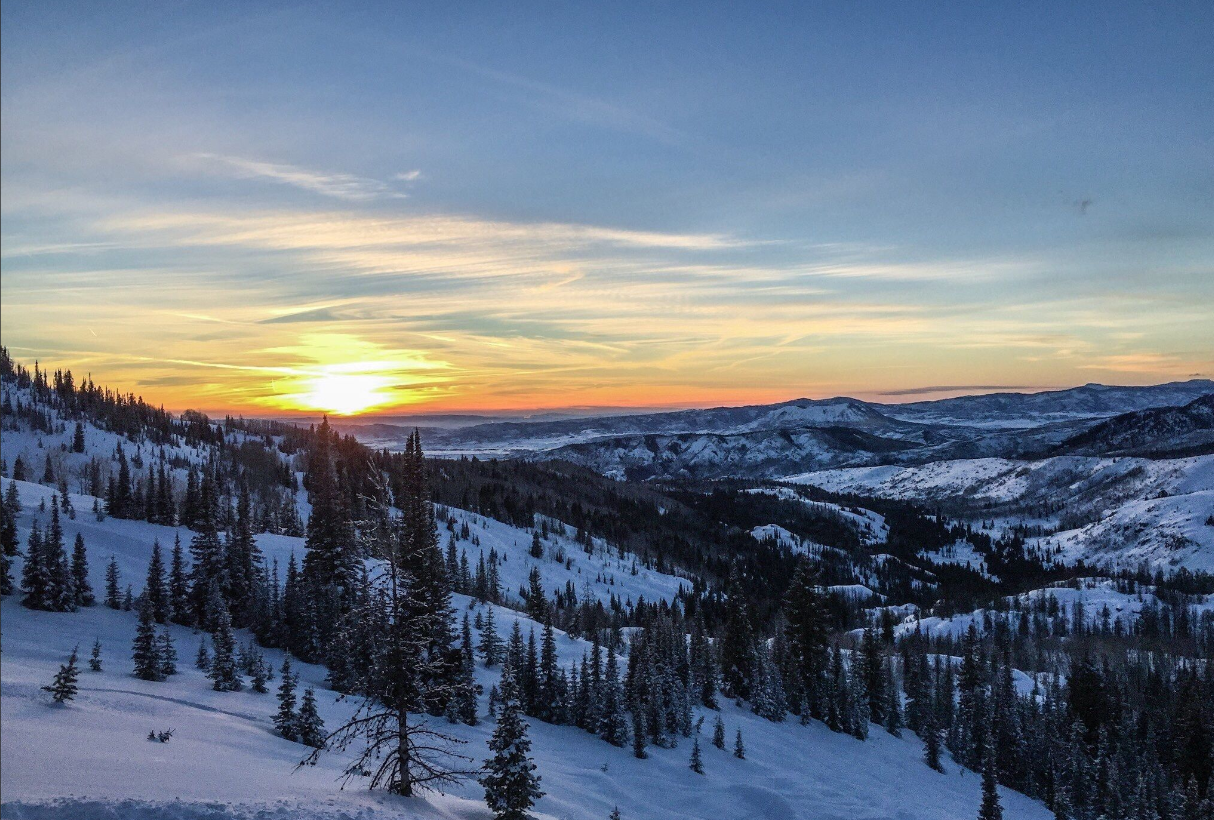 Every Thursday this year through mid-April is Sunset Happy Hour where you can get some cocktails, listen to some good live bands and enjoy watching a beautiful sunset.
Strawberry Park Hot Springs is nearby, so after a tough day of skiing, call a shuttle to get there and you can go relax in the hot water.
The hot springs are basically integrated into the mountain but have all of the amenities of a relaxing spa.
Beware though, that you will need a 4×4 vehicle to reach the Strawberry Park Hot Springs area.
Drive up I-70 from Denver and then head north at Silverthorne for about 150 miles to reach Steamboat Springs.
For the 2022/2023 ski season Steamboat Springs opens on November 23, 2022 and it's expected to close for the ski season on April 13, 2023.
8. Keystone Ski Resort
Start wintertime right with playtime at Keystone Ski Resort. Keystone is usually one of the first ski resorts to open each snow season.
This small town is a great place for kids to discover the magic of playing in the mountains.
And adults can discover that, deep down, they're still kids too!
Don't miss the Kidtopia Snow Fort, which is the world's largest snow fort atop Dercum Mountain. It is huge and basically looks like a real ice castle.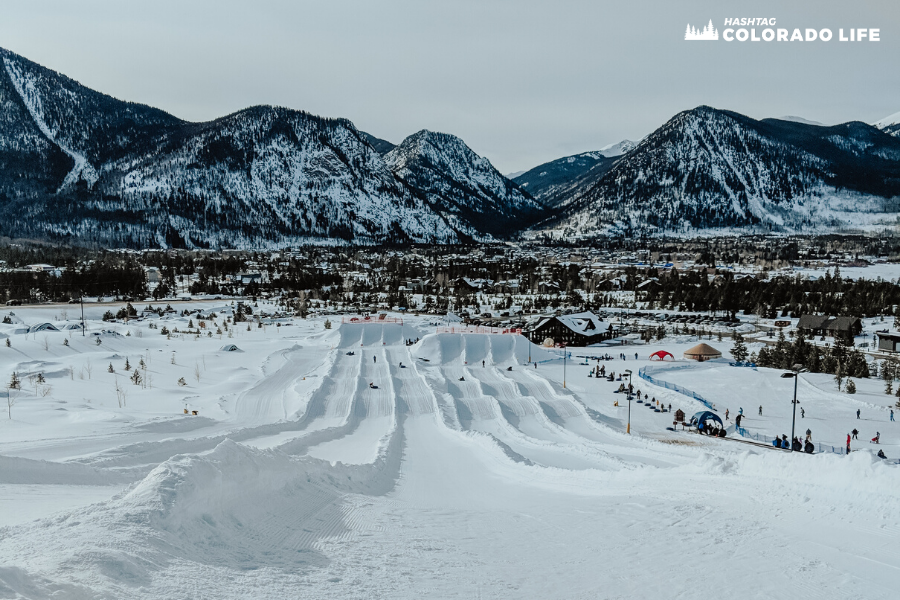 Keystone also has North America's largest outdoor zamboni maintained ice skating rink.
The resort is close to Dillon / Silverthorne which is home to an awesome outdoor outlet mall and the Dillon Ice Castles.
This makes it pretty centrally located, which makes it a good place to stay if you want to hit multiple mountains on one trip!
Keystone Ski Resort is within the city of Keystone, Colorado and is about 75 miles west of Denver, via I-70.
For the 2022/2023 ski season Keystone opens on November 7, 2022 and is typically one of the first ski resorts to open in the state. The resort is expected to close the season on April 12, 2023.
9. Arapahoe Basin Ski and Snowboard Area
Open since 1946, the Arapahoe Basin area has a local, laid-back vibe that appeals to the "purest" type of adventurer.
This is a good choice if you are there to simply ski and are not too worried about the amenities that other resorts often offer.
Arapahoe Basin, or A-Basin for short, is known for having the longest season in Colorado, with seasons (usually) running from mid Oct to early June.
The longest season was back in 1995 when the slopes finally closed on Aug 10th!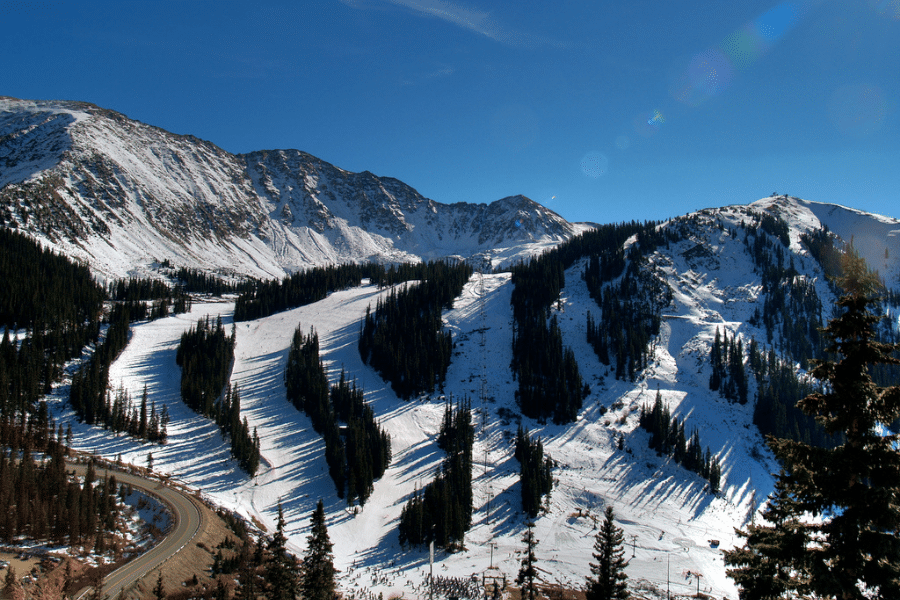 Not only will you find great skiing and snowboarding at the A-Basin, you can even host events and weddings at 11,500 feet while overlooking the Continental Divide.
It's located near the Loveland Ski area and is about 65 miles west of Denver when taking I-70 to Highway 6.
For the 2022/2023 ski season Arapahoe Basin opens on October 23, 2022 and is one of the first ski resorts to open in the state. The slopes are expected to close on June 8, 2023.
10. Monarch Mountain
The crew at Monarch Mountain have been keeping it real for 80 years. Located in Salida, Colorado, Monarch Mountain is a place for real people to ski on nothing but real snow.
For expert skiers and riders, try cat skiing in the 1,635 acres of diverse expert terrain.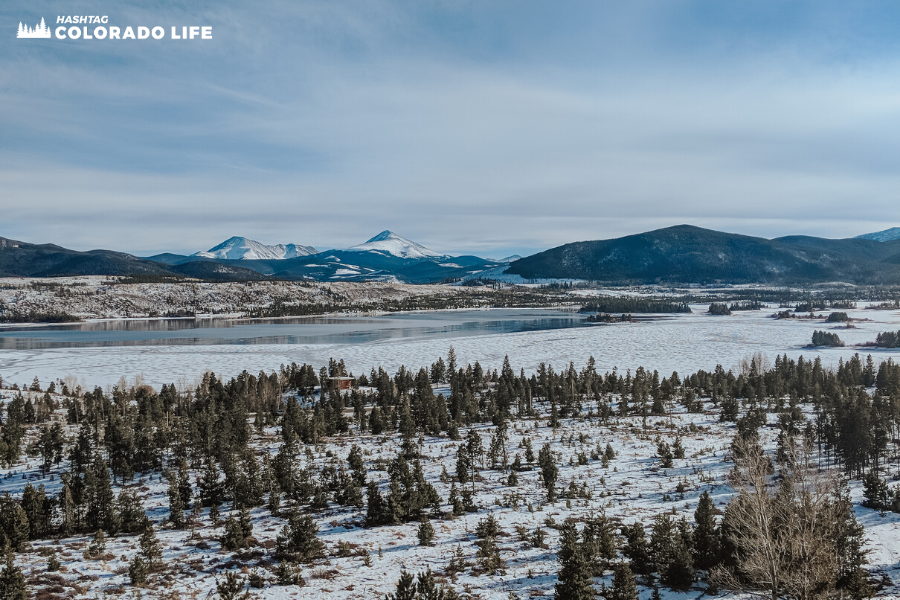 The slopes feature wide open bowls, steep chutes, beautiful glades and some of the best tree skiing you will ever experience.
Located near Salida, Colorado, Monarch Mountain is about 150 miles southwest of Denver.
If you're visiting for the 2022/2023 ski season, Monarch Mountain opens on December 11, 2022. It's expected to close for the season on April 14, 2023.
11. Telluride Ski Resort
Framed by the San Juan Mountains, Telluride is one of the most scenic ski towns in Colorado.
It offers incredible terrain, plenty of snow, and is a popular resort destination. In fact, the average snowfall is about 300 inches per year.
With more than 2,000 acres of trails for skiing and snowboarding Telluride Ski Resort is one of the best places to ski in Colorado.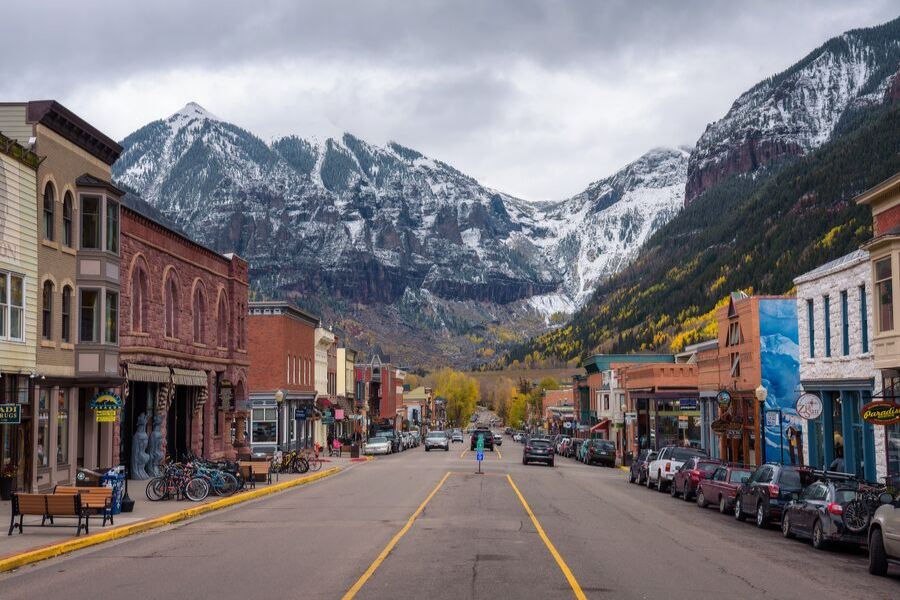 The mountain has a good mix of beginner, intermediate and expert level runs. Plus, there's a free gondola for anyone to ride from the town of Telluride to the Mountain Village.
Much like Breckenridge, Telluride is a true Colorado ski town and not a corporate-owned resort town.
The main street is lined with local restaurants, boutiques, and coffee shops. There's always something fun and festive happening in Telluride depending on the time of year.
For the 2022/2023 ski season Telluride opens on November 29, 2022 and is expected to close the season on April 5, 2023.
Tips for getting around ski towns in Colorado
Whether you're a Colorado native or visiting from out of town, prepare for a safe trip to and from your ski destination.
Winter in Colorado features dramatic weather changes, high altitude, and often quite a bit of traffic. Get ready for your trip and travel safely!
Here are some tips from locals when visiting ski towns in Colorado this year.
Check your route before you go
The further you drive into the mountains, the harder it is to maintain clear roadways as snow piles up.
Check for local weather advisories and ensure the passes are clear and open for travelers.
Some low-traffic passes have scheduled closures, but if a storm pops up, even heavily-trafficked passes will be required to close.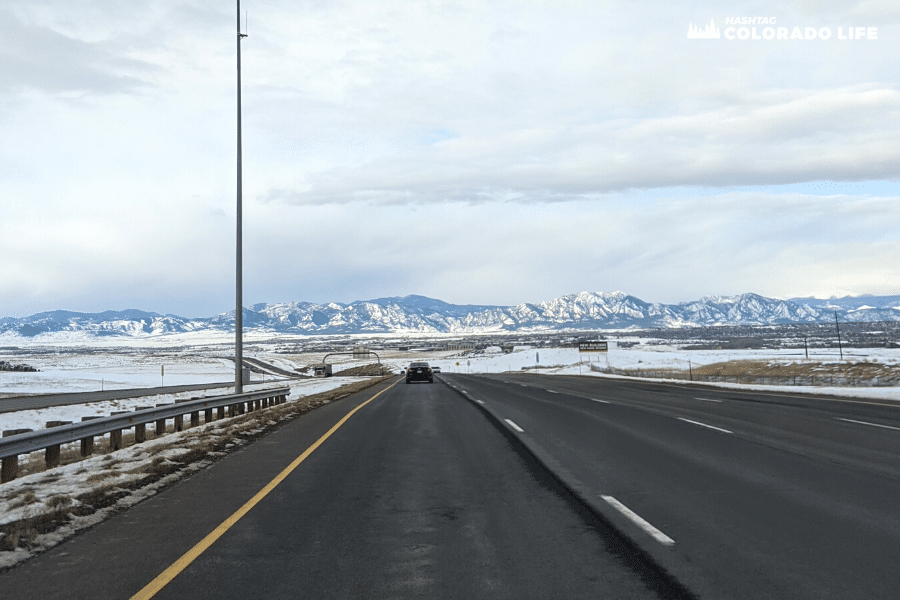 Epic Mountain Express
Coming into an airport and want to save on a car rental?
If you're flying into Denver International Airport, you can grab a shuttle from the airport directly to your mountain resort.
We recommend catching the Epic Mountain Express shuttle which offers services from DIA to Breckenridge, Keystone, Copper, Vail, Beaver Creek, Aspen, and Snowmass.
You can rent 5, 10, and 12 person vans with complimentary WiFi available on all vehicles.
While it will cost you around $60 per person, it may be worth the peace of mind knowing you personally don't have to drive up the mountains in the snow.
Summit Express
If you're planning to ski Breckenridge, Frisco, Copper Mountain, Keystone, Vail, Dillon / Silverthorne or Beaver Creek, you can catch a ride from Denver airport with the Summit Express.
Pickups are scheduled from Denver every two hours starting at 9:30 am, with more frequent pickups starting later in December 2019.
Fresh Tracks Transportation
Hoping to visit more than one Colorado ski resort during your visit? Check out the Fresh Tracks Transportation shuttle.
Fresh Tracks Transportation offers shuttle service from the Denver airport to multiple ski destinations as well as service between resorts.
Catch a shared ride shuttle or charter a private shuttle for your group.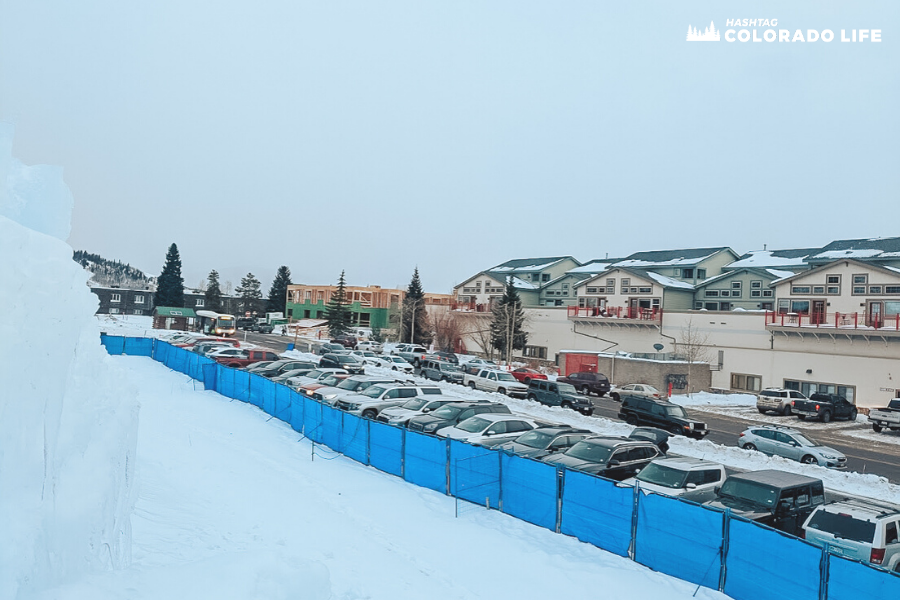 Carpool and ridesharing
There are several carpool lots available along I-70 for anyone who wants to share a ride up to the mountains.
The Dinosaur lots in Golden, Colorado (just before you start to climb up I-70) are a convenient meeting spot where overnight parking is allowed.
You can find more resources for carpooling and ridesharing on the GOi70 website, as well as traffic and weather updates to help plan your trip.
Use an app to find a ride
Apps like SkiCarpool and Gondola App help Colorado skiers and snowboarders connect to share a ride up to the slopes.
This is a great option for visitors and for locals who want to cut down on the carbon footprint if you visit the mountains often.
Check the resort for discounts and shuttle services
Some resorts offer their own shuttle services to and from the mountain.
Breckenridge offers free public transit and skier drop off, while Keystone offers discounts or premium parking lots for those who carpool.
Check the website for the resort where you plan to ski for other perks of carpooling.
We hope this guide helps you find the best ski resorts in Colorado so you can start planning your next ski trip.