13 Fun Things to Do in Buena Vista, Colorado for Kids & Couples
This website may contain affiliate links and we may be compensated (at no cost to you!).
Buena Vista, Colorado is located in Chaffee County, which is often considered a public land paradise.
With a population of less than 3,000 residents, this small mountain town is situated along Highway 24, very near the center of the state.
The activities available in Buena Vista make this destination an amazing spot for couples seeking a romantic weekend or a fun family vacation.
In less than 2.5 hours from Denver you can:
enjoy epic mountain views on the famous Colorado Trail
whitewater rafting on the Arkansas River
drive on the Collegiate Peaks Scenic Byway
hike along the Continental Divide
camp in the San Isabel National Forest
Continue reading to discover the best things to do when visiting Buena Vista, Colorado.
1. Historic downtown & South Main Street
Buena Vista has two distinct neighborhoods: historic downtown and south Main Street.
The historic downtown area features several art galleries, a book shop, and multiple speciality stores.
Here you will find unique Colorado gifts, outdoor gear, and handmade antiques.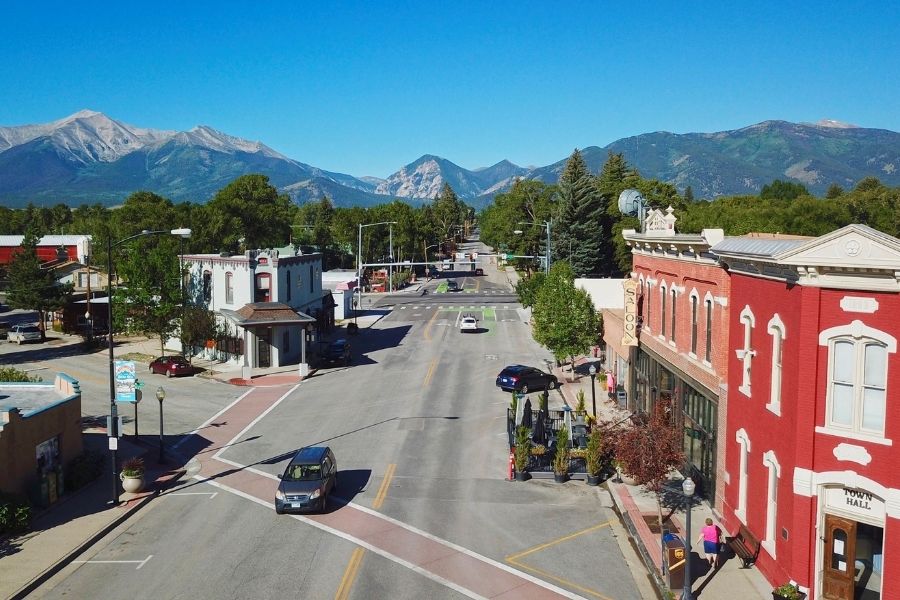 In south Main Street you'll find boutique shops, hotels, more art galleries, and handcrafted items.
The world class whitewater park is located nearby and Main Street is also next to the Arkansas River.
Both neighborhoods have awesome things to do, with delicious local food and stunning mountain views.
2. House Rock Kitchen
For a yummy bite to eat in Buena Vista, we recommend checking out House Rock Kitchen.
This restaurant is a local favorite for healthy but delicious eats. Their menu features fresh, local and seasonal ingredients with takeout available.
House Rock Kitchen's salads are so fresh and delicious, perfect for re-energizing after a hot summer day outdoors.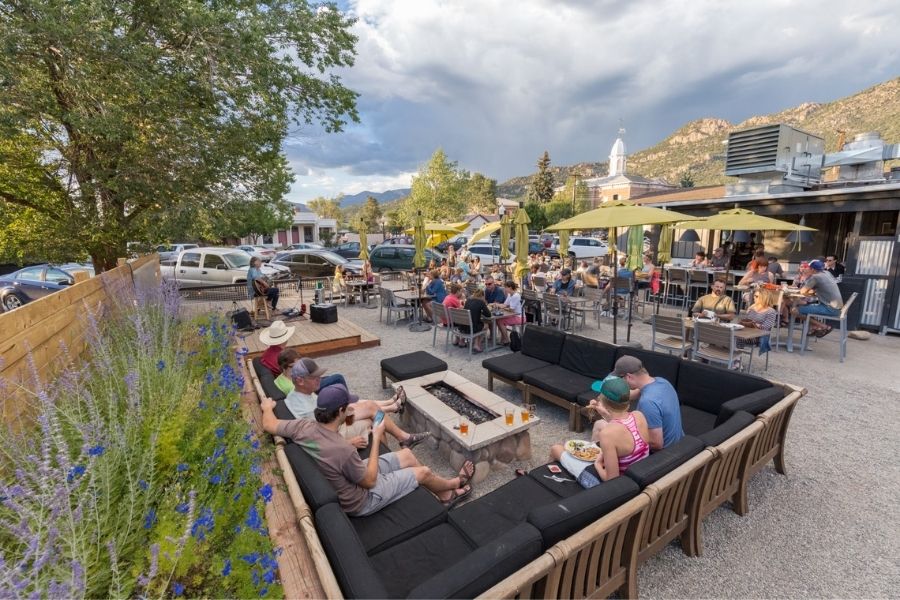 During the winter, they have hearty dishes like house-smoked pulled pork and beef brisket, BBQ burgers, and stuffed burritos.
They also have plenty of options for vegetarian, gluten-free, dairy-free, and paleo diets.
3. McPhelemy Park
McPhelemy Park is a gorgeous park located in the heart of Buena Vista, Colorado.
The park is easy to access as it's located at the intersection of Hwy 24 and Main Street on your way into and through town.
It features mature trees, a beautiful river-fed pond, a kids playground, walking trails, open space, and is a dog-friendly park.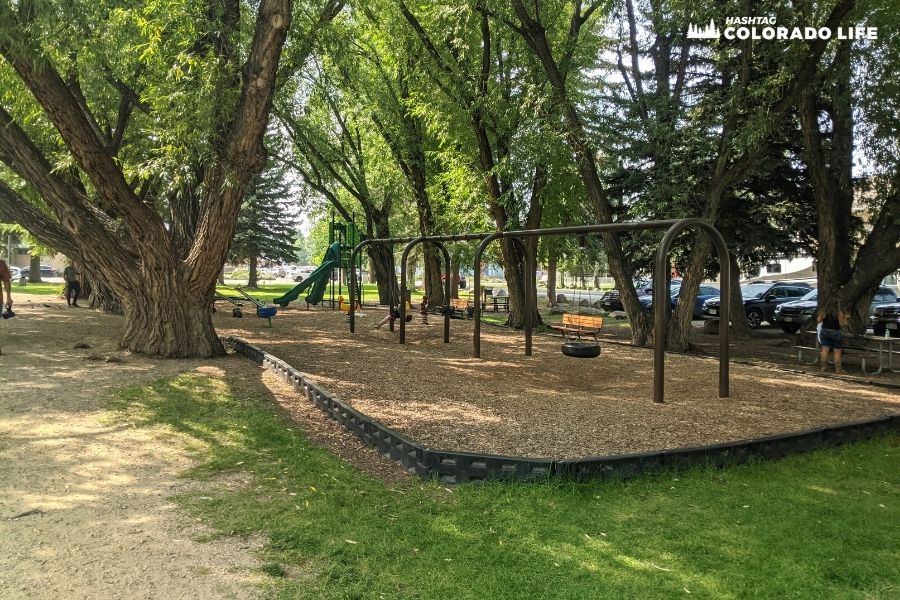 McPhelemy Park hosts lots of events throughout the year including concerts and a Paddle on the Pond race.
If you're in the mood for discovering history, right next to the park is the Buena Vista Historical Society Railroad Museum.
And across the street, you can take a walk through Historic Downtown to visit local shops and restaurants.
4. Vista Court Cabins
Continuing west down Main Street you will see the quaint Vista Court Cabins.
These cabins are perfect for camping on a weekend, a rustic romantic getaway, or a quick overnight stay.
When we visited Buena Vista this summer for a family reunion, we found it was a very nice location for a large gathering.
Each cabin is fully self-contained with bedding, towels, kitchen appliances, and accessories.
You can book a large or small cabin, depending on your family size.
The public spaces are very spacious too, offering multiple fire pits, propane grills, picnic tables, and ambient lighting in the evenings.
We will definitely be booking another stay soon! The cabins were very clean, warm, and comfortable.
Plus, Vista Court Cabins are centrally located on Main Street, close to food, shopping, hiking, swimming, and other outdoor activities.
5. Cottonwood Hot Springs Inn & Spa
A few minutes west of Buena Vista Colorado and Vista Court Cabins, on the same road, is Cottonwood Hot Springs Inn & Spa.
It's located at 18999 Co Rd 306 and nestled at the bottom of the mountains. This rustic hot springs & spa is bordered by the San Isabel National Forest and located just a few miles from Buena Vista.
The geothermal waters are some of the purest in the country, and are known for their therapeutic and medicinal properties.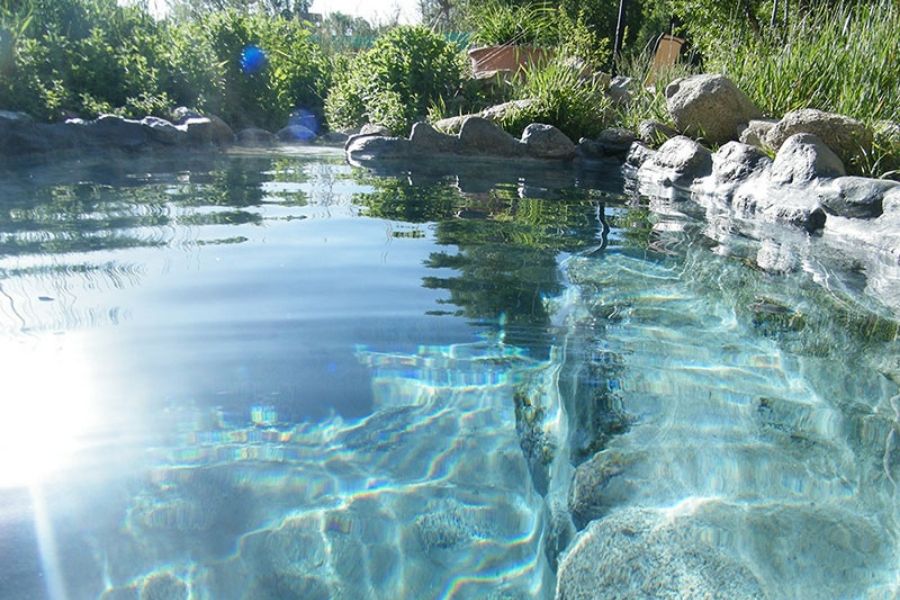 It's the perfect spot to enjoy a relaxing soak after a long day hiking, skiing, or whitewater rafting.
Plus, Cottonwood Hot Springs is a distraction-free zone, with no phones, TVs, or WiFi available.
If you're planning a romantic weekend getaway, we recommend booking a private soaking tub for two.
6. Elkhorn Pizzeria
It may sound strange to say, but one of the best pizzas we've ever eaten was from Elkhorn Pizzeria. And we're not alone when coming to this conclusion.
The locals LOVE Elkhorn Pizzeria so much the restaurant sometimes has to close early because they run out of ingredients.
In fact, when we made an order for 3 large pizzas we had to wait an extra 15 minutes for our order. But it was worth the wait!
The customer service is outstanding and the ingredients are locally sourced and fresh.
The staff pumps out six pizzas every minute, and they still can't always keep up with demand. It's a local favorite we highly recommend trying!
7. Cool Beans Coffee Shop
When asking locals what the best coffee shop in Buena Vista was they all recommended the Cool Beans Coffee Shop.
This tchotchke covered place is located in what looks like a rustic red barn with collectibles that cover every inch of the walls inside.
This fun and quirky shop has great service and items that are reasonably priced.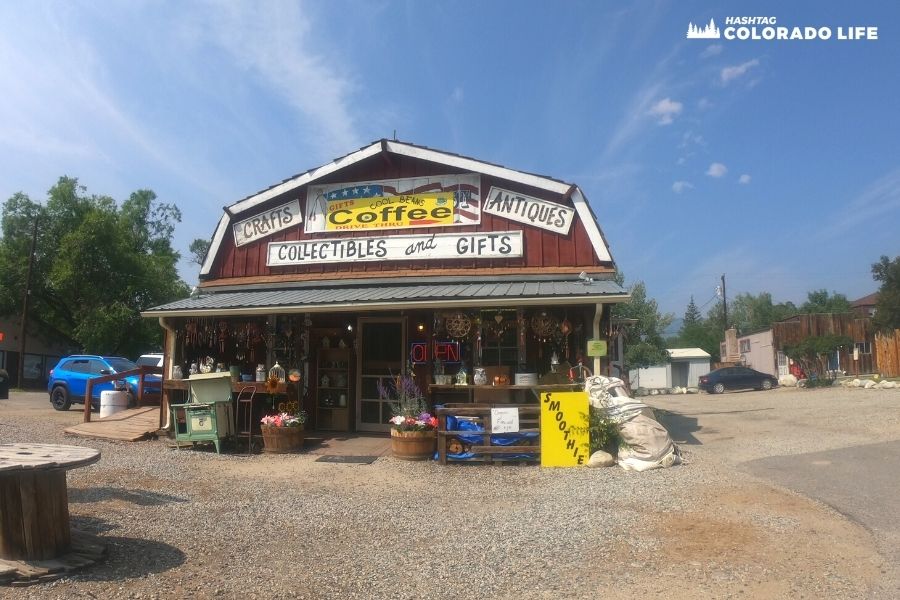 With delicious hot beverages and cool, refreshing drinks their menu has a wide variety of options.
In addition to delicious coffee via their drive-thru you can also buy antiques, crafts, and local gifts when taking a peruse inside.
8. San Isabel National Forest
The San Isabel National Forest is made up of 1.1 million acres and covers a large portion of Colorado.
In relation to Buena Vista there are 80+ hiking and biking trails, multiple hot springs, and 46 campgrounds to enjoy during the summer.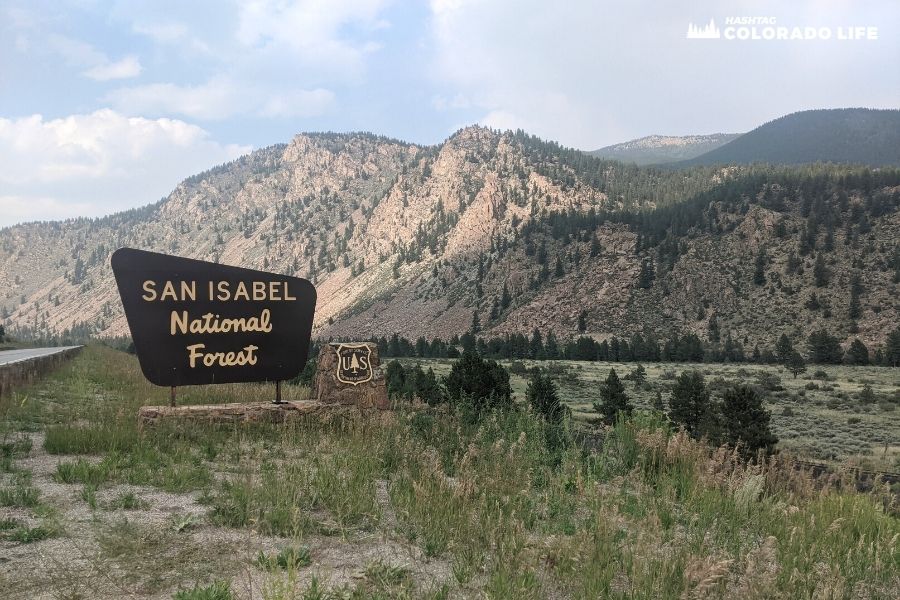 The forest actually contains nineteen of the state's total fourteeners including Mount Elbert, the Collegiate Peaks, and the Sangre De Cristo mountains.
To say there are endless things to do in the San Isabel National Forest is an understatement.
You will also find the Twin Lakes Reservoir and the Collegiate Peaks Scenic Byway inside the forest (see more below).
In the winter you can enjoy snowshoeing, snowmobiling, alpine skiing, or backcountry skiing.
9. Lost Lake Trailhead
Lost Lake Trailhead is a lesser known hiking spot off Cottonwood Pass near BV.
The trail is considered moderate to difficult as it starts at 11,200 feet in elevation before climbing even further.
If you're not used to the Colorado elevation then we recommend taking this hike slow.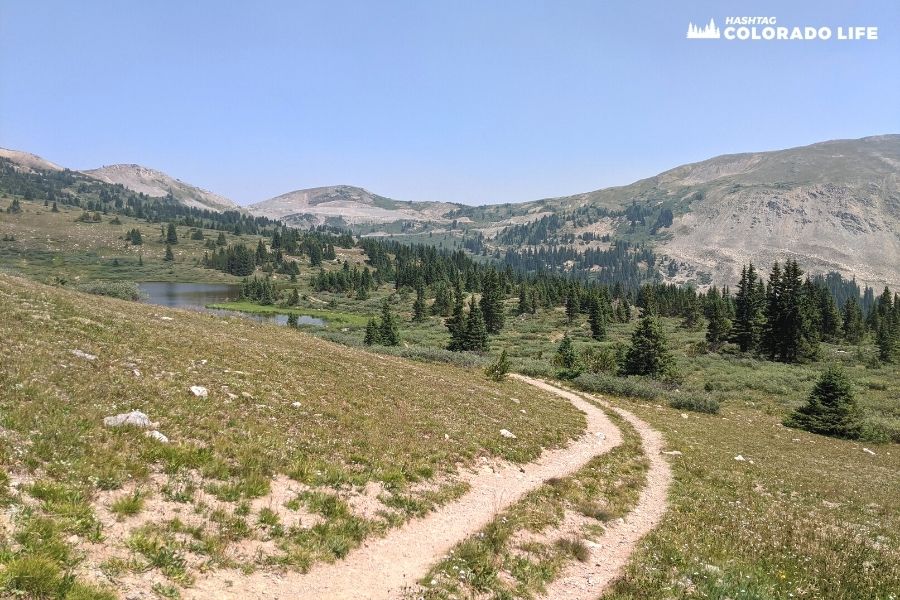 However, if you're looking for a less crowded hike with two gorgeous alpine lakes, you will really enjoy this destination.
The trail goes out-and-back for about 2.5 miles winding through gorgeous meadows, mountain views, and numerous streams.
After about a half mile you will come to Lower Lost Lake where you can grab some scenic photos and walk around the water's edge.
At the end of the trail you will find Upper Lost Lake which is located in a valley surrounded by beautiful Rocky Mountains.
On a clear day the views are insane and you can even see Pikes Peak in the distance!
10. Mount Princeton Hot Springs
Just south of Buena Vista near Mt. Princeton Trailhead is Mt Princeton Hot Springs Resort.
The resort is located between Buena Vista and Salida, along Chalk Creek. It's the perfect destination for family vacations and romantic getaways.
Check out the historic bath house, water slide, relaxation pool, or build your own hot spring pool in Chalk Creek.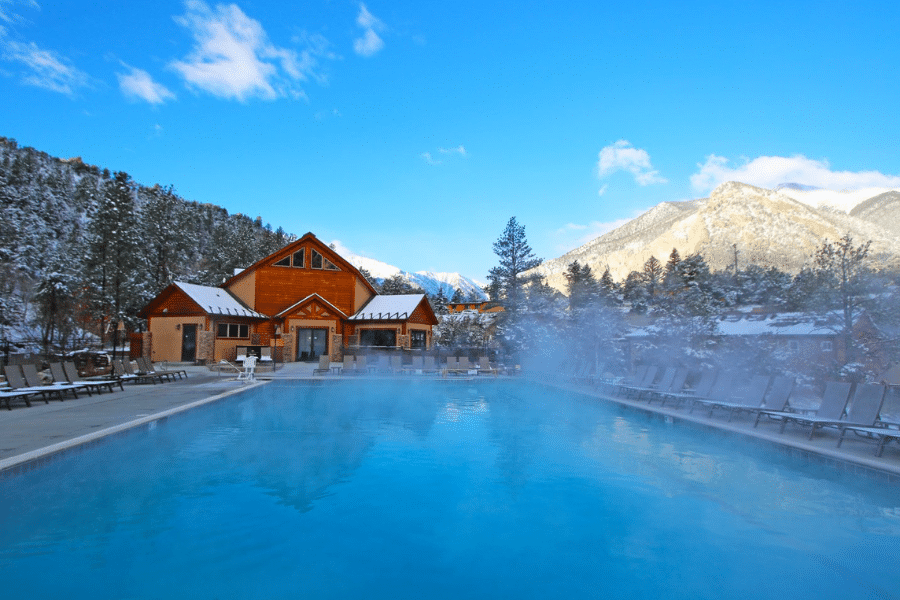 The infinity pool opened in 2019 and features zero-entry access, built in therapy jets, and a large sun deck.
The water temperatures at Mt Princeton Hot Springs are typically between 75 to 107 degrees, so you can pick and choose the best temp for you.
Mount Princeton Hot Springs was named Traveler's Choice from Tripadvisor in 2020.
11. Saint Elmo
Speaking of Chalk Creek, the ghost town of Saint Elmo is built along the Chalk Creek Canyon.
This abandoned town is one of the most well preserved ghost towns in Colorado.
It is home to 43 buildings with historic charm and numerous haunted ghost stories.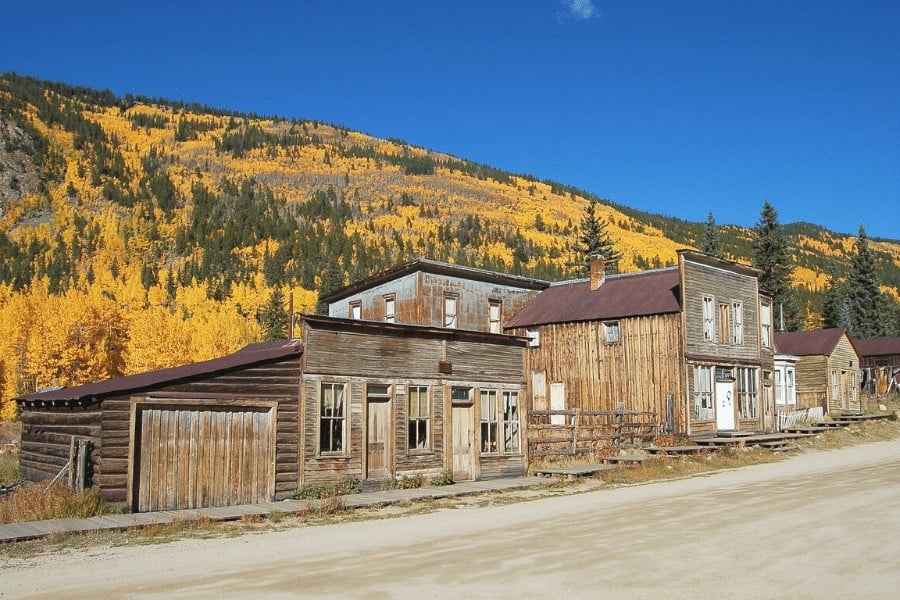 However, these days the town isn't quite abandoned and there are several private homes nearby.
You can spend a weekend at the Guest House Bed & Breakfast or check out the St. Elmo General Store for souvenirs and snacks.
Bring your hiking boots to explore Agnes Vaille Falls, the ruins of Hancock and Mary Murphey Mine on foot.
Take your jeep or 4×4 and enjoy driving up Tincup Pass, Chinaman Gulch, Bald Mountain, or Fourmile Area Trails.
12. Twin Lakes Reservoir
Twin Lakes, Colorado is located off Highway 24 between Leadville and Buena Vista.
The town was named for the Twin Lakes Reservoir that is just a few miles south of the tiny community.
The Lakes (as the name suggests) consists of a pair of alpine lakes surrounded by forests and mountain ranges.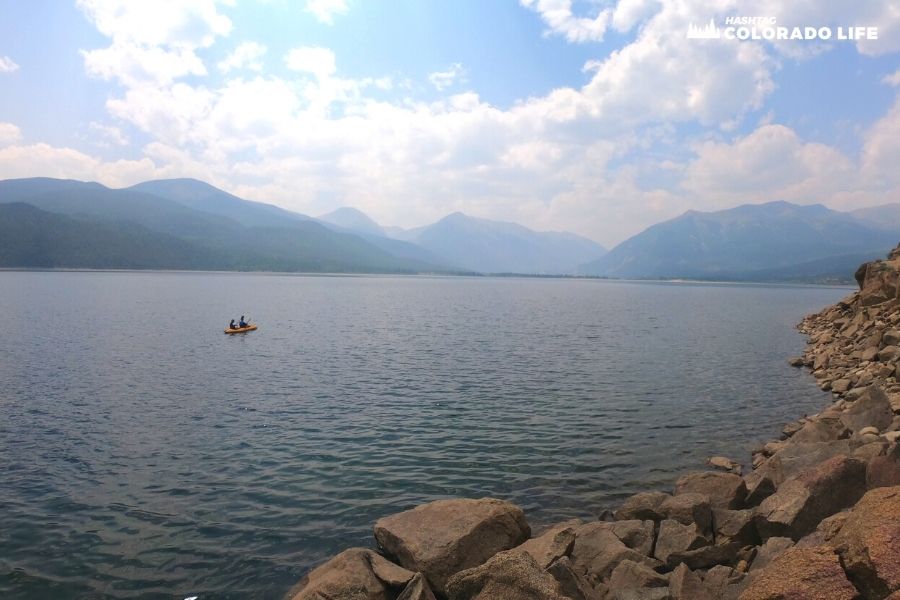 The Recreation & Day Use Area is open to the public and features a boating ramp and sandy swimming area.
The cost to access the Twin Lakes Recreation Area is $7 per car, per day.
Bring your standup paddleboards, kayaks or canoes and enjoy a day on the water. Or fish from any of the banks on the lake's 2,700 acres of water.
Camping is also allowed at Twin Lakes Reservoir, with designated campgrounds, RV parking, and dispersed camping.
In the colder months, ice fishing is a popular activity for winter anglers.
13. Collegiate Peaks Scenic Byway
Driving north (or south) from Buena Vista you'll end up on the Collegiate Peaks Scenic Byway.
This 57-mile long road follows along the Arkansas River and is home to the famous Collegiate Peaks.
This mountain range hosts huge fourteeners including Mount Princeton, Mount Yale, Mount Columbia, and Mount Harvard peaks.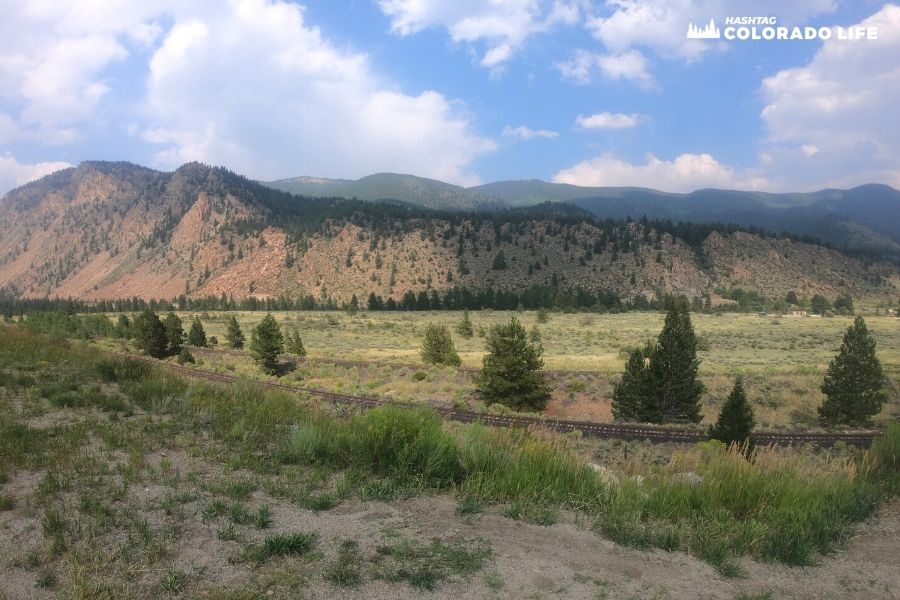 As you drive along Highway 24 you'll pass through towns of Nathrop, Buena Vista, and Granite, with Salida and Poncha Springs nearby.
In the fall, the Collegiate Peaks Scenic Byway explodes in autumnal color and makes for one of the best fall drives in Colorado.
The aspens turn the mountainside a gorgeous hue of yellow and gold.
This activity, paired with a hot springs getaway, makes for an epic weekend in the fall in BV.
Buena Vista, Colorado is a quaint & quirky mountain town that offers some of the most scenic hiking, best hot springs, and epic outdoor destinations in the state.
If you are planning a trip to BV, we hope this gives you some ideas and inspiration for your next romantic getaway or family vacation!