21 Gorgeous Lakes in Colorado for Summer Fun in 2023
This website may contain affiliate links and we may be compensated (at no cost to you!).
Choosing the best lakes in Colorado to visit throughout the year is no easy task.
Despite Colorado being the 6th driest state in the country, the state has some spectacular lakes and reservoirs to visit on a hot summer day.
Whether it's jet skiing, sailing, or just a good old fashion dip into the water, Colorado is home to more than 4,000 bodies of water, both natural and manmade.
And many of the lakes and reservoirs are within a short drive from Denver or Colorado Springs, and make excellent day trips.
And it's not just for summertime! Several lakes in Colorado offer ice-fishing and ice-skating during the winter.
Beyond water activities, there are also loads of things to do nearby. Most Colorado lakes offer access to hiking, sunbathing and swimming beaches, picnic tables, and camping!
In this guide, we are sharing the top most beautiful lakes in Colorado for fishing, boating, camping, and swimming.
1. Grand Lake
Grand Lake sits at 8,369 feet above sea level and is located in the town of Grand Lake, near Rocky Mountain National Park.
In fact, Grand Lake Rocky Mountain National Park surrounds the lake on three sides and serves as the western gateway to the Rockies.
In the summer months, you can even visit Estes Park from Grand Lake via Trail Ridge Road, which is the highest paved road in America.
Grand Lake has over 60 miles of surface water and is Colorado's largest and deepest natural lake.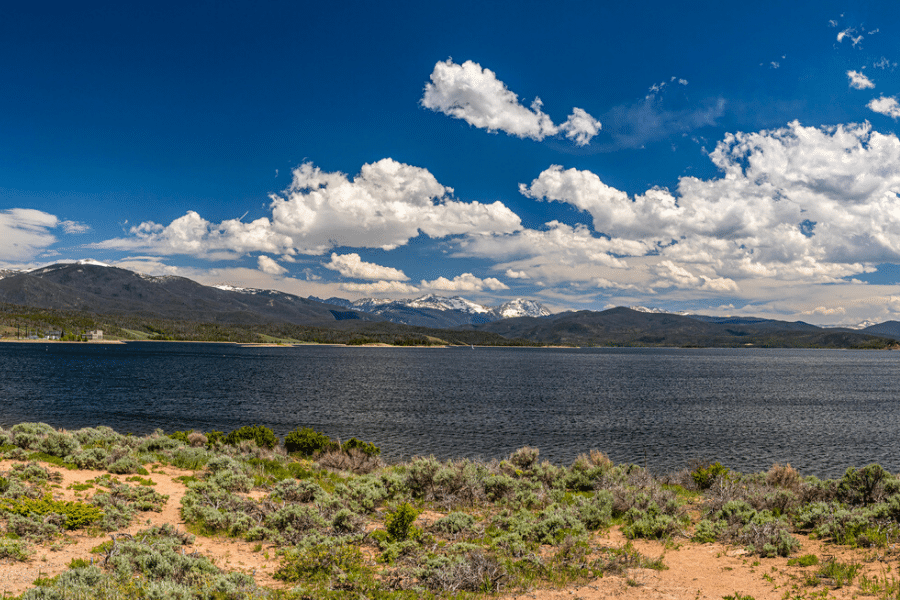 If you are planning to go boating on the lake, head to the Grand Lake Marina. Various boats are available for rent as well as paddleboards.
Water sports that are popular on the lake include water skiing, kayaking, jet skiing, and wakeboarding. So, you will always find something fun to do!
Grand Lake also allows for public swimming and features a well-maintained swimming and sunbathing beach.
And since Grand Lake is nearby RMNP visitors can enjoy hiking, biking, camping, fishing, horseback riding, and many other outdoor activities.
2. Dream Lake
Much like the name sounds, Dream Lake is a gorgeous alpine lake in Colorado. It's like something you'd see in a dream!
Dream Lake is located inside Rocky Mountain National Park and is one of the most popular destination hikes in the area.
It sits at 9,905 feet in elevation and is not a destination for the faint of heart. However, access to the lake is via Dream Lake Trail, which is an easy 2 mile hike.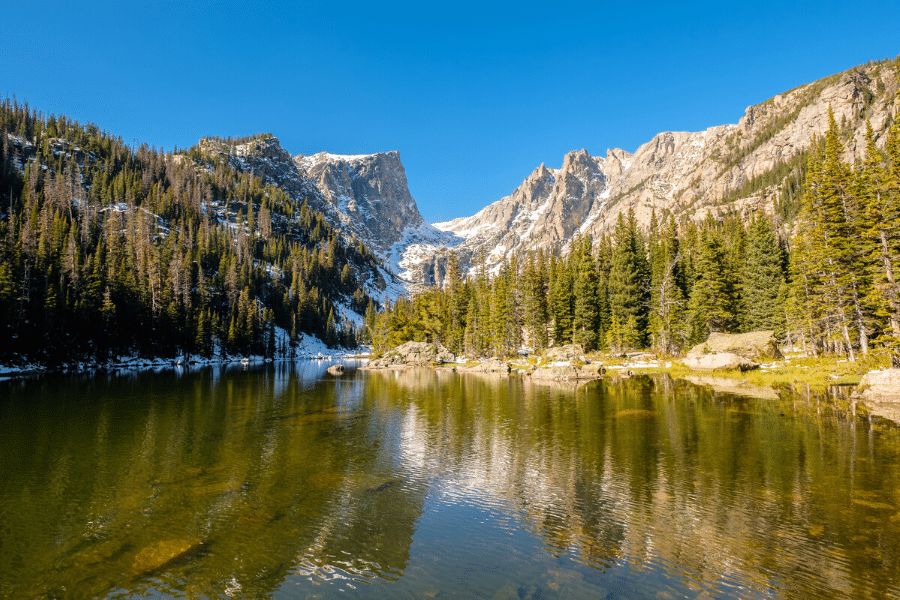 It's a nice scenic walk and makes a popular hike for families with dogs and small kids.
In order to visit Dream Lake you must pay the entrance fee to Rocky Mountain National Park.
The pass costs $25 per vehicle and is good for 7 days or you can grab a day pass for $15 per vehicle.
3. Blue Mesa Reservoir
Blue Mesa Reservoir lives up to its name and is Colorado's largest body of water, even though it's man made.
It is located in western Colorado near the town of Gunnison and sits at 7,519 feet in elevation.
Blue Mesa Reservoir covers 20 miles of water surface and 96 miles of shoreline. It's the perfect summer destination for beating the Colorado heat.
In the summer there are two full-service marinas where visitors can rent power boats, paddleboards, pontoon boats, and kayaks.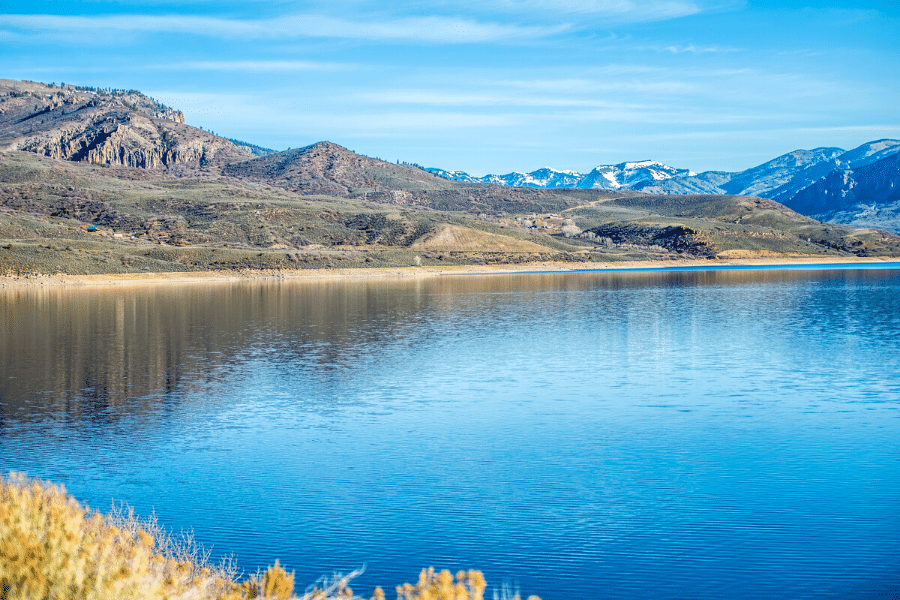 One of the more popular lake activities is the guided fishing trips.
Fishing and deep water fishing are common at Blue Mesa and avid fishermen can expect to see gold medal trout and wild trout.
State fishing licenses are required to fish in Blue Mesa Reservoir.
Thanks to being located within the Curecanti National Recreation Area, there is also excellent hiking nearby.
Check out the top hiking destinations and trails, including Dillon Pinnacles Trail and Pine Creek Trailhead.
So, bring your hiking boots and swimming gear to enjoy a day at Blue Mesa Reservoir.
4. Hanging Lake
Hanging Lake in Colorado is a stunningly beautiful lake that is located in Glenwood Canyon.
It features the most unusual green water color due to the minerals in the water. In addition to the stunning turquoise color, the lake is surrounded by lush greenery and towering cliffs.
The water is so clear that you can see all the way to the bottom, and there are waterfalls cascading down the cliffs into the lake.
One of the coolest things about this lake is that it looks like a hanging garden, thus the name; Hanging Lake.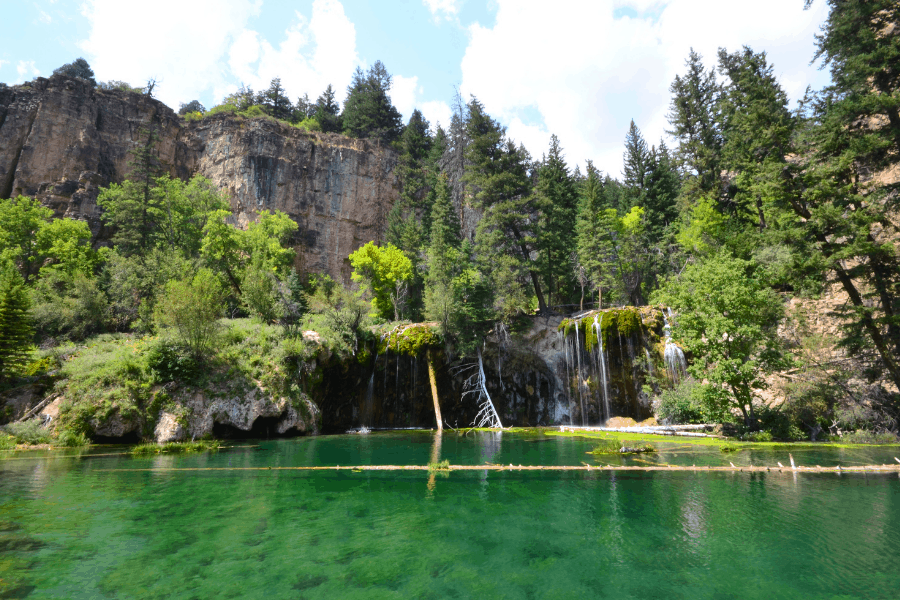 The water that feeds the lake comes from underground springs. And the minerals in the water create a perfect environment for moss and other plants to grow on the nearby cliffs.
It is also one of the most popular hiking destinations in the state but is not for the faint of heart.
The 1.2 mile trail is steep, rocky, and considered a challenging hike. But with a seriously epic payoff, Hanging Lake is definitely worth a visit.
Just be sure to get there early, as the trail gets crowded quickly. There is also a limited the number of hikers allowed on the trail in order to protect the delicate ecosystem.
5. Boulder Reservoir
Boulder Reservoir is one of the most beautiful lakes in Colorado for many reasons.
This man made lake is located about 7 miles northeast of Boulder, near Gunbarrel.
The Reservoir is a 700-acre lake and Recreation Area available for boating, swimming, fishing, paddleboarding, kayaking, and more.
The most popular spot is the beach and swim area which allows for swimming, sunbathing, and picnicking.
The lake is stocked with local species of fish like bass, catfish, crappie, rainbow trout, and walley.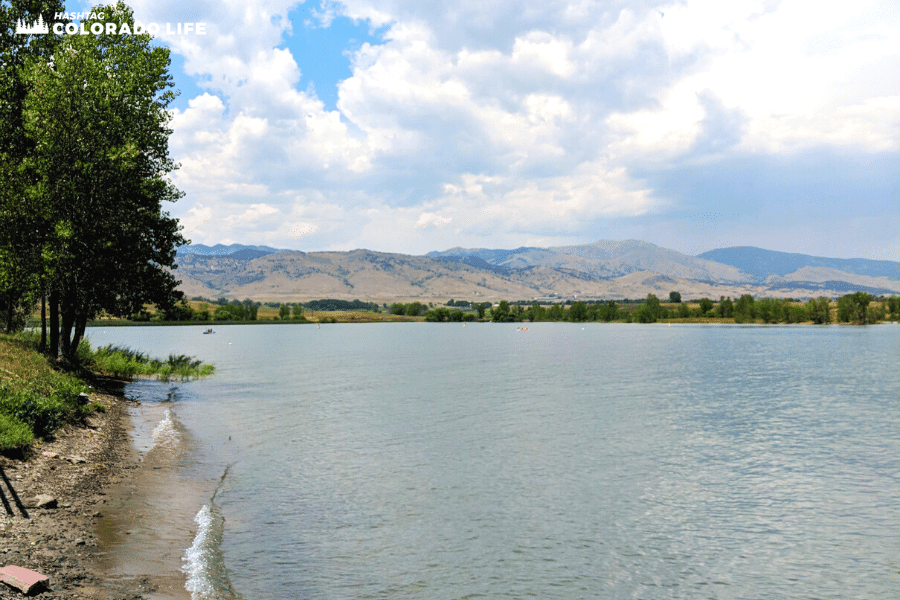 If you enjoy hiking or running, check out the Boulder Reservoir Loop Trail which is a 5.3 mile trail surrounding the lake.
Paddleboards, kayaks, and canoes are available for rental and use on the lake.
The Community Sailing of Colorado also offers sailing classes and rentals for those interested.
And the Boulder Reservoir offers fantastic views of the iconic Boulder Flatirons to the west. It's a perfect summer getaway for families with kids and dogs.
It costs $5 per person or $10 per vehicle, per day for daily access to the Boulder Reservoir through May 27, 2021.
6. Manitou Lake
Unlike the Reservoirs on this list, Manitou Lake is not available for swimming and dogs must be kept on a leash.
But the Lake does feature other popular water activities like kayaking, canoeing, and fishing.
It's also a nice spot for picnicking at one of the many picnic areas or you can rent the Pavilion for $50 per day.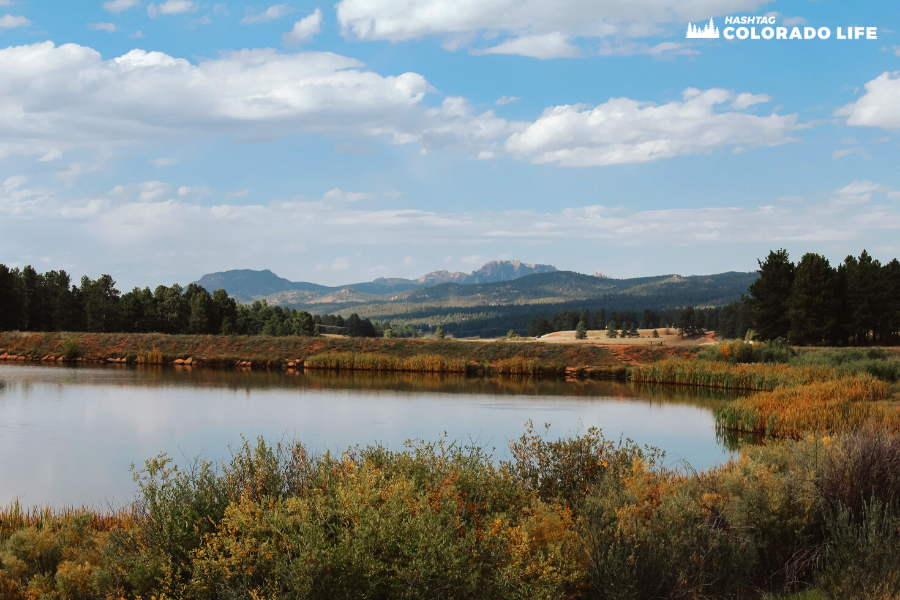 In addition, the Manitou Park Lake Trail is a great hiking spot as it surrounds the entirety of the 5-acre lake in a 2.4 mile loop.
The trail showcases amazing views of Pikes Peak and the Pikes Peak National Forest, near Woodland Park.
There is also lots of wildlife viewing and bird watching available for nature lovers. It costs $7 per vehicle, per day to access the Manitou Lake and Recreation Area.
7. Sloan's Lake
In the middle of Denver's hustle-and-bustle is a watery oasis known as Sloan's Lake.
The Lake and surrounding green space covers 290 acres and features a popular walking path called Sloan's Lake Loop.
If you want access to city amenities and gorgeous views of the Rocky Mountains, then Sloan's Lake is the perfect choice.
The trail is an easy and flat 2.6 mile hike that circles the entire lake. It is also home to many Canadian geese and other local waterfowl.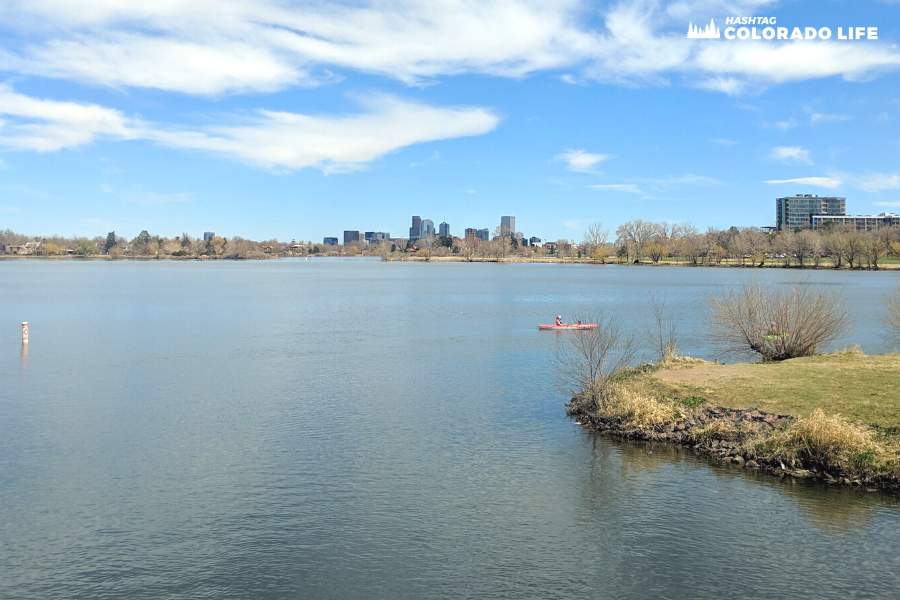 Outdoor activities available include hiking, biking, boating, fishing, tennis courts, a basketball court, sports fields, and multiple playgrounds.
Other popular things to do include birdwatching, water skiing, picnicking. Dogs are welcomed but must be kept on a leash.
Visiting the lake is free, parking is free and there is no fee to enjoy the many outdoor amenities available.
8. Lake Pueblo Reservoir
Pueblo Reservoir, also known as Lake Pueblo, is another beautiful lake in Colorado. The weather and water temperatures are especially nice in the summertime.
Pueblo Reservoir is located within Lake Pueblo State Park and is located just west of the city of Pueblo. It is rated as one of the top fishing spots in the state!
Lake Pueblo covers over 4,600 acres of water with 60 miles of shoreline and nearly 10,000 acres of land and open space.
It is open all year round, 24 hours a day. Day passes start at $10 per vehicle and must be purchased to access the lake and campgrounds.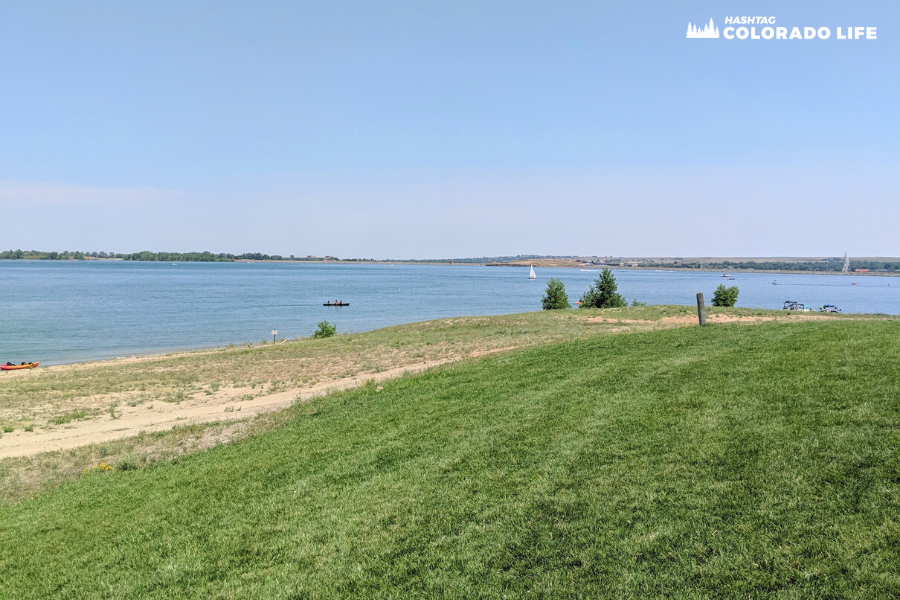 Fees for camping or using the facilities start at $22 per night but annual passes can be purchased for $80.
The main recreation activities include hiking, biking, picnicking, sailing, motor-boating, waterskiing, tubing, and fishing.
Visitors can choose from two full-service marinas and a wide array of campsites.
There are also 22 hiking trails that are great for mountain biking, running, walking and more. Dogs are welcome too, but must be kept on a leash.
We recommend hiking Stonehenge and Rock Canyon Loop Trail, or Skyline Trail.
Both of these are easy 2-4 mile hikes and offer gorgeous views of the plains and the Rocky Mountains.
If you're planning to visit for the day, check out the Lake Pueblo State Park trail map.
9. Lake Dillon Reservoir
Also known as Lake Dillon, Dillon Reservoir is located between the towns of Frisco and Dillon.
It actually supplies Denver with drinking water and is operated by the city's water utility program.
Lake Dillon is open year-round and the Frisco Bay Marina serves as the world's highest deep-water marina.
With over 25 miles of shoreline there are endless things to do. Enjoy both motorized or non-motorized boats from the boat ramps at the two marinas, or fish from anywhere on the lake.
In the winter, visitors can enjoy ice fishing as well as nordic skiing around Lake Dillon.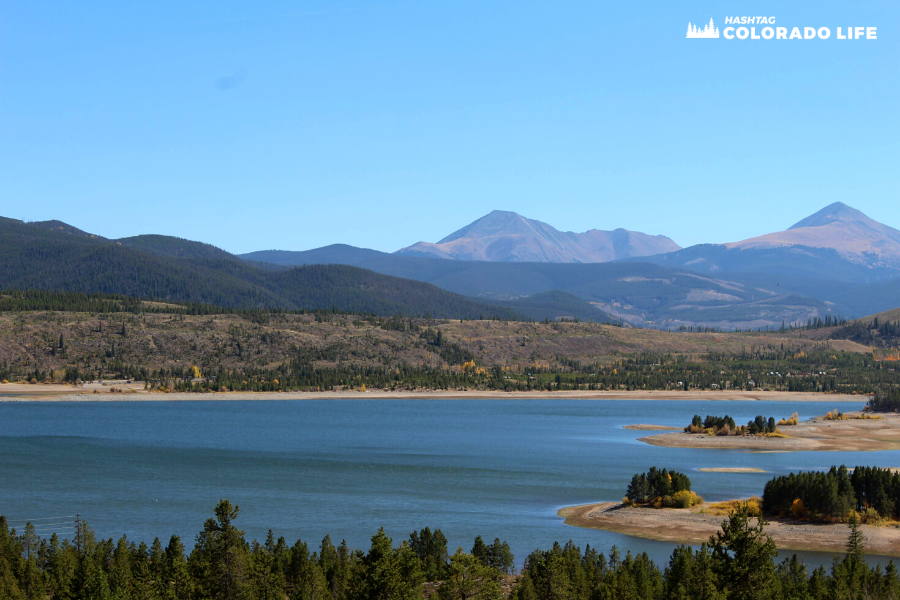 The Reservoir is home to several large camping grounds and is a popular destination for RVs and campers during the summer.
If you enjoy hiking or running, we recommend Meadow Loop and Ridge Trail or Old Dillon Reservoir Trail.
Both are pretty easy hikes and feature gorgeous views of the Colorado mountains, Lake Dillon, and the entire Recreation Area.
Rentals are available for boats, paddleboards, and kayaks but are weather dependent.
There is no cost to visit Lake Dillon but if you want to dock at the marina, there is a boating fee.
10. Eleven Mile Canyon Reservoir
If you're looking for a lake in Colorado that's a bit more secluded, we enjoy visiting Eleven Mile State Park and Reservoir.
The Park is located about 65 miles west of Colorado Springs, going directly into the mountains.
The closest town to Eleven Mile Canyon Reservoir is Lake George, which is a popular summer destination all its own.
This is another popular fishing spot due to the abundance of fish available!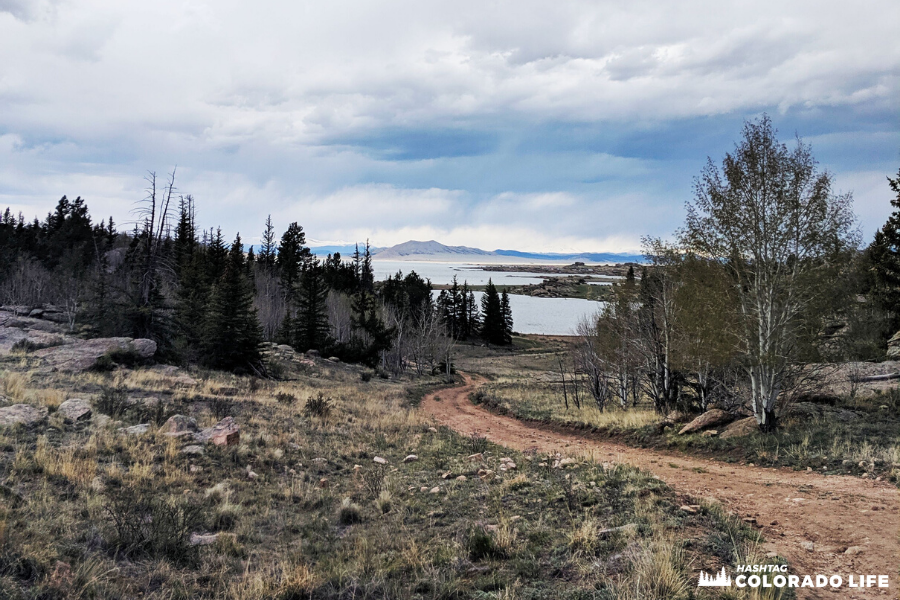 Fishers can expect to catch many species of fish including trophy rainbow, brown, cutthroat, kokanee, and pike.
The top things to do at Eleven Mile Canyon Reservoir are:
Fishing
Motor-boating
Canoeing
Kayaking
Camping
Sailing
Windsurfing
Hiking
Bird watching
Eleven Mile State Park is home to lots of wildlife like deer, elk, coyotes, bobcats, badgers, jackrabbits, and other ground animals.
There are many different species of birds that live in or migrate throughout the park. So, be on the lookout for all kinds of wildlife.
Waterfowl and small game hunting are also available at Eleven Mile Canyon during the fall.
11. Horsetooth Reservoir
Located west of Fort Collins, Horsetooth Reservoir covers over 3,900 acres of water and surrounded by 1,900 acres of public land.
Specific beaches along the water's edge are designated for swimming and are crowd favorites. Additional water activities available include fishing, boating, water skiing, and scuba diving.
Other outdoor activities available here include camping, hiking, biking, horseback riding, and rock climbing.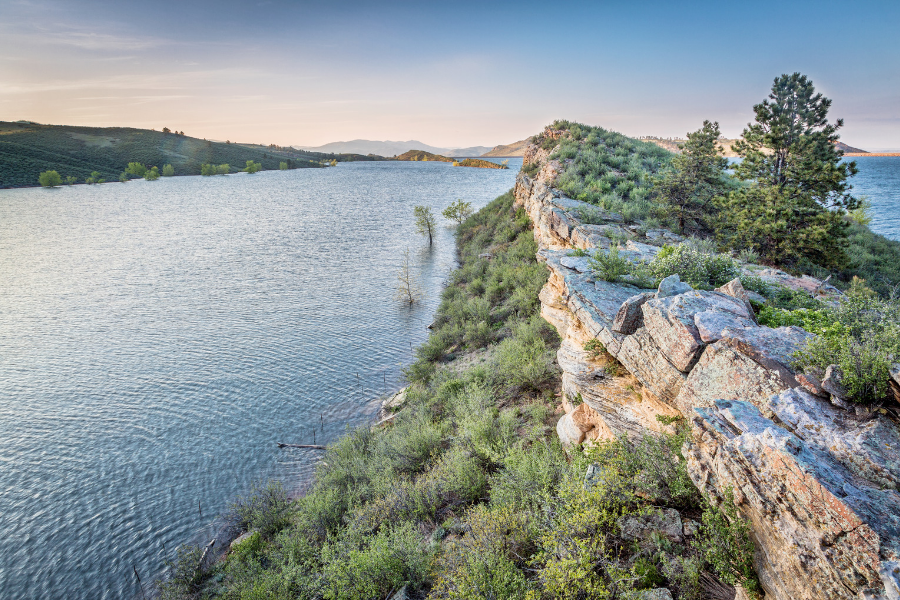 Daily Entrance Permits are required to access the Horsetooth Reservoir and cost $9 per vehicle and/or $9 per boat trailer.
Annual Entrance Permits can be purchased online starting at $90 and are valid for 12 months.
The information center and the main entrance are both located in the South Bay of the Horsetooth Reservoir.
12. Lake Granby
Located 5 miles outside the town of Granby, right along the Colorado River, sits the beautiful Lake Granby.
With more than 40 miles of shoreline and 8,000 surface acres, Lake Granby is considered the third largest body of water in Colorado.
The lake was created in 1950 when the Granby Dam was built and is a popular place for hiking, fishing, and boating in the summer.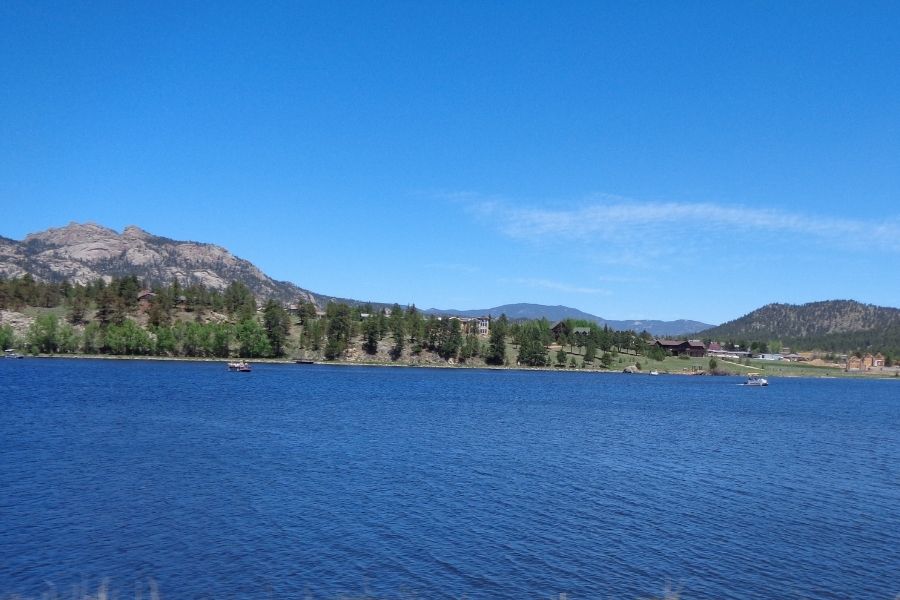 In fact, there are three boat launches on the lake as well as being home to the Lake Granby Yacht Club.
Thanks to being stocked with trout and kokanee salmon, Lake Granby is also one of the best fishing lakes in Colorado.
In the winter the trails around the lake make for excellent snowshoeing and cross-country skiing.
13. Twin Lakes Reservoir
The town of Twin Lakes was named for the Twin Lakes Reservoir and is a summer staple for those visiting the San Isabel National Forest.
The town of Buena Vista is located 25 miles south of Twin Lakes with an awesome Recreation & Day Use Area that is open to the public.
Like the name suggests, the Twin Lakes features two lakes, similar in size. Together they offer more than 2,700 acres of water for fishing, boating, paddleboarding, kayaking, canoeing and more.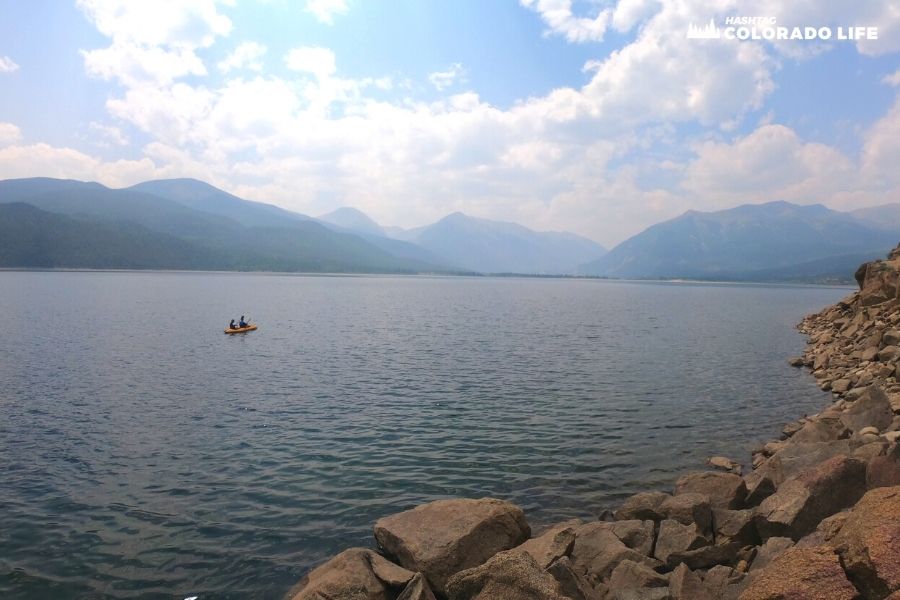 Camping is also allowed in both designated campground spaces or dispersed camping, with additional RV parking available.
Accessing the Twin Lakes Recreation Area costs only $7 per day, per vehicle and features a boating ramp and sandy swim area.
During the winter Twin Lakes is also a popular spot for ice fishing!
14. Crater Lake
Crater Lake sits inside the picturesque Maroon Bells Snowmass Wilderness area. Not to be confused with other lakes that share the same name across the country, this one is in Colorado.
The trail to Crater Lake shares a very popular starting point to some other iconic Colorado scenery: Maroon Lake. And since these two hikes share the same parking lot, the parking can be very limited.
But in the peak seasons of summer and autumn, the Maroon Bells Shuttle will depart daily from Aspen.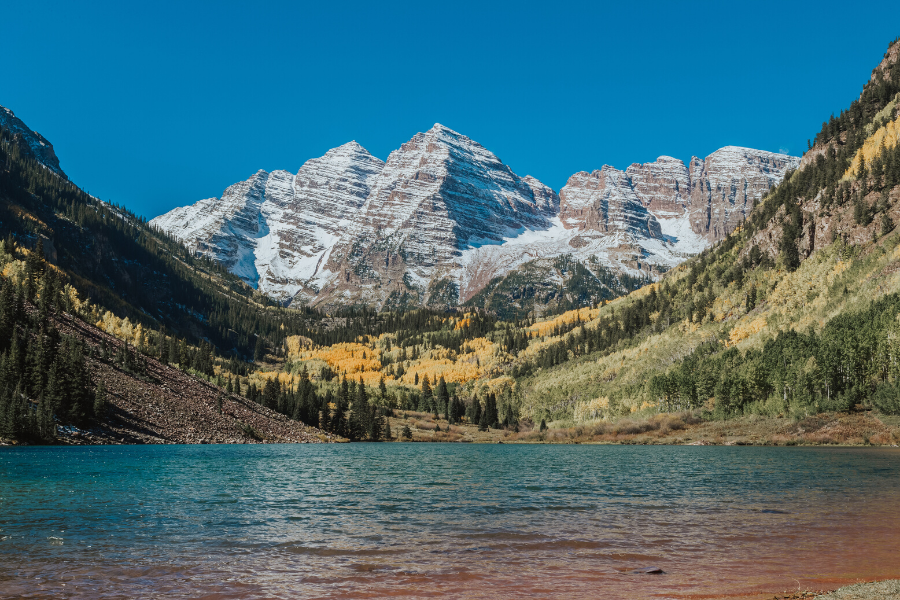 The trail to Crater Lake is just shy of 4 miles and is considered moderate skill level as it can be a rocky climb.
Sometimes the trail is hindered by slush and snow even in the warmer seasons. But due to the popularity of this trail it's well-marked and easy to follow the trail.
The size of Crater Lake throughout the year is not constant and eventually dries up by November each year. But starting in April with the spring melt, the basin that is Crater Lake begins to fill again.
Surrounding Crater Lake might be some of the most beautiful landscape in the state thanks to the Elk Mountains and of course Maroon Bells.
Aside from hiking to the lake and taking photos, permitted camping and hiking is a popular activity in the area.
15. Chatfield Reservoir
If you aren't looking to travel far but still enjoy some of Denver's freshwater attractions, then look for further than Chatfield Reservoir.
Butted against the mountains with easy access to the foothills nearby you can enjoy hiking, biking and camping at Chatfield Reservoir.
Located in the suburb of Littleton, Chatfield State Park is an oasis not far from Colorado's capital. Both the State Park and Reservoir at Chatfield offers some stellar views of the Front Range and Denver itself.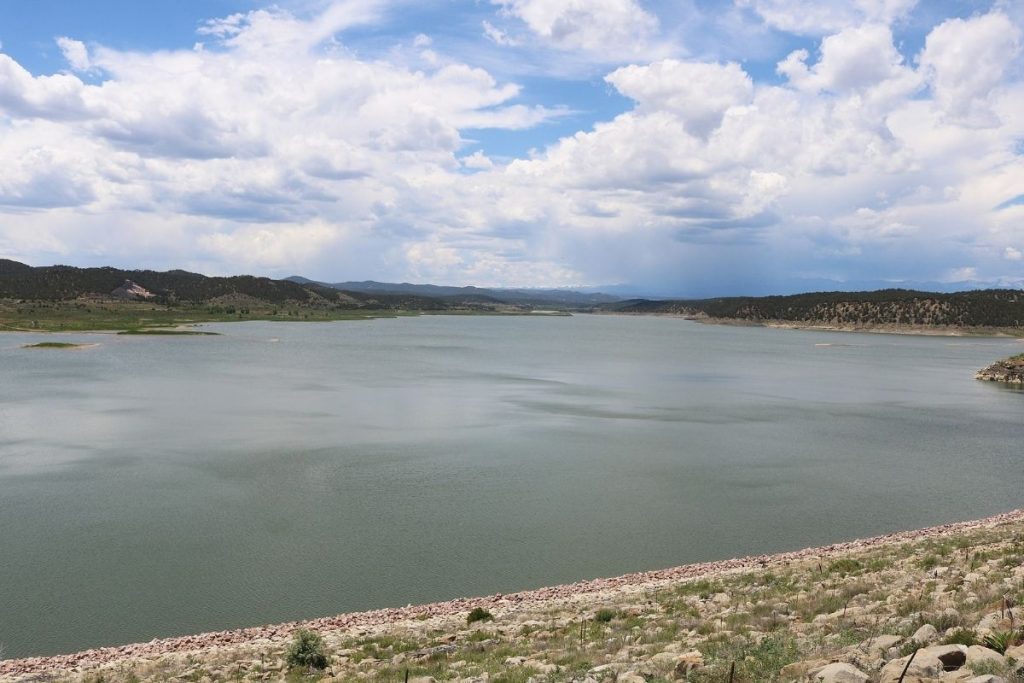 Chatfield Reservoir provides 1500 square acres for watery activities nearly year round. But the State Park remains a popular place for people to get out, even in the coldest months.
All of the nearly 200 campsites are within walking distance to the waters and all have electricity and most have water/sewer hook ups.
Boating is a popular activity at the lake and it's easy to sit back from the shore and water people water skiing and wakeboarding.
16. Lake Estes
Estes Park might be best known as the gateway to Rocky Mountain National Park. So naturally, the town's vibe and feel is also very outdoorsy.
The 185 acre Lake Estes is surrounded by the Rocky Mountains on all sides. And the charming town of Estes Park at its banks, leaving this lake pretty easy on the eyes.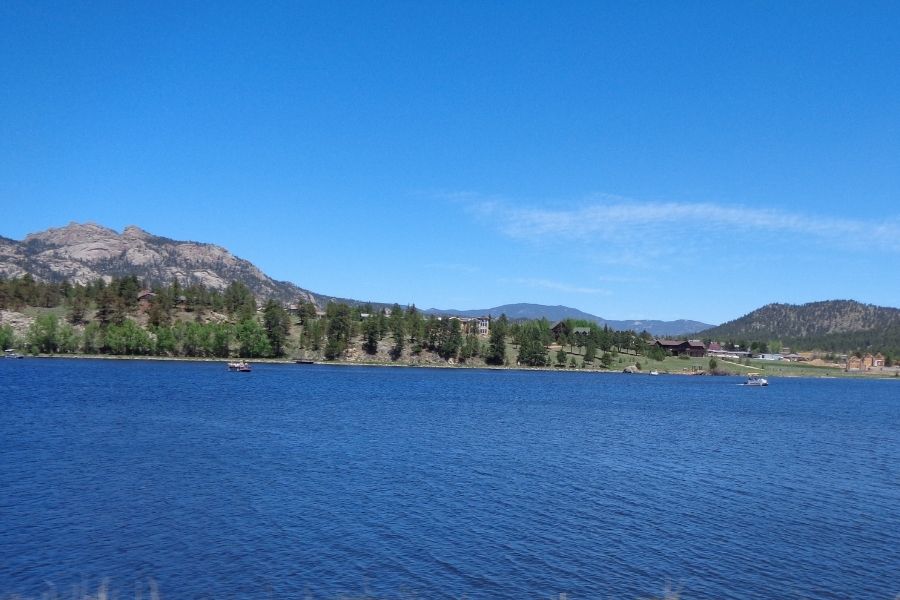 Now, Lakes Estes is a swim-free and wake-free lake but that doesn't mean there's nothing to do here. It is a sure place to find some quiet while picnicking or hiking on the appropriately named Lakes Estes Trail.
The lake offers rentals of paddle boards, kayaks and even pontoon boats to help get you on the water.
While swimming isn't allowed in Lake Estes, there is a sandy beach area that you can wade into the water.
But for all that Lake Estes lacks in terms of swimming, it makes up for in its views and the wildlife in the area.
As the gateway to Rocky Mountain National Park, the motorless, wakeless and swim-free waters of Lake Estes encourage wildlife in the area and can usually net you some one-of-a-kind nature viewing.
17. Shadow Mountain Lake
While Lake Estes sits at eastern gateway to RMNP, Shadow Mountain Lake is the opposite. It marks the opposite, western side and the higher elevation gateway area.
This Colorado lake is named after Shadow Mountain, which sits on the eastern bank.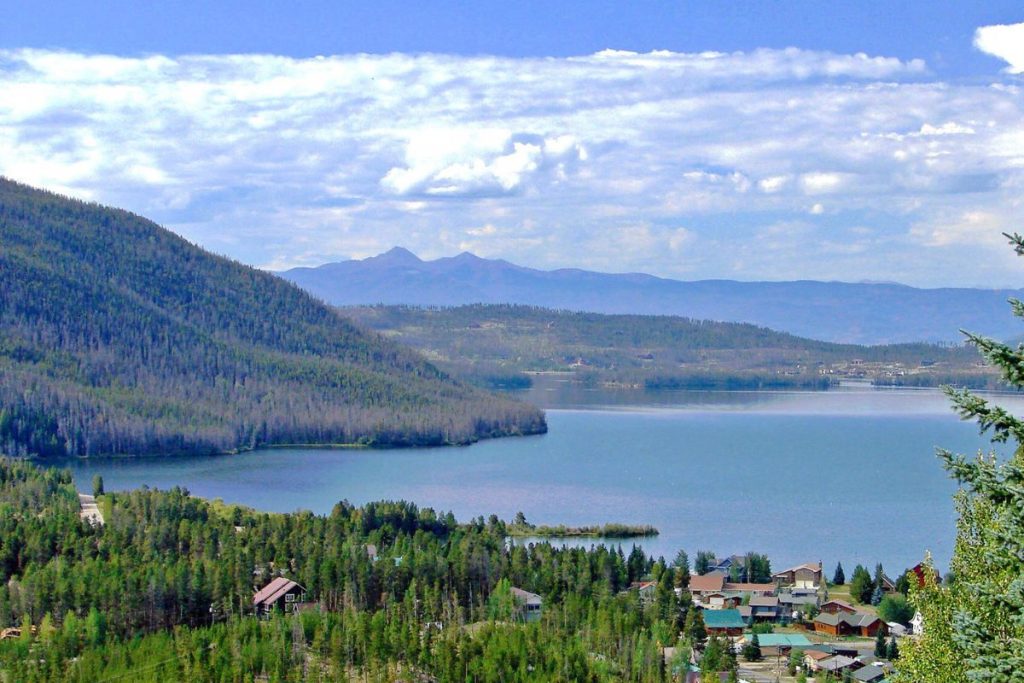 This 10,000 foot mountain rises up into Rocky Mountain National Park and provides awesome hiking and scenic photos.
With 1,350 acres of rich blue waters, there is plenty of space to get out on the water.
Shadow Mountain Lake is perfect for power boating, kayaking or canoeing around with a fishing line in the water.
Picnicking, hiking, swimming and camping are popular things to do in the area in the warmer months, but the lake does stay open year round.
With a small waterway connecting Shadow Mountain Lake to Grand Lake, this opens up the opportunity to also explore Colorado's oldest, deepest and largest natural lake.
18. Green Mountain Reservoir
For a brief time, in only the warmest months of the year, will you find the waters of the Green Mountain Reservoir tolerable for swimming.
This 2,125 acre man-made lake sits about 15 miles south of Kremmling, Colorado in Summit County.
This lake offers a full list of activities in the area such as fishing, camping and biking.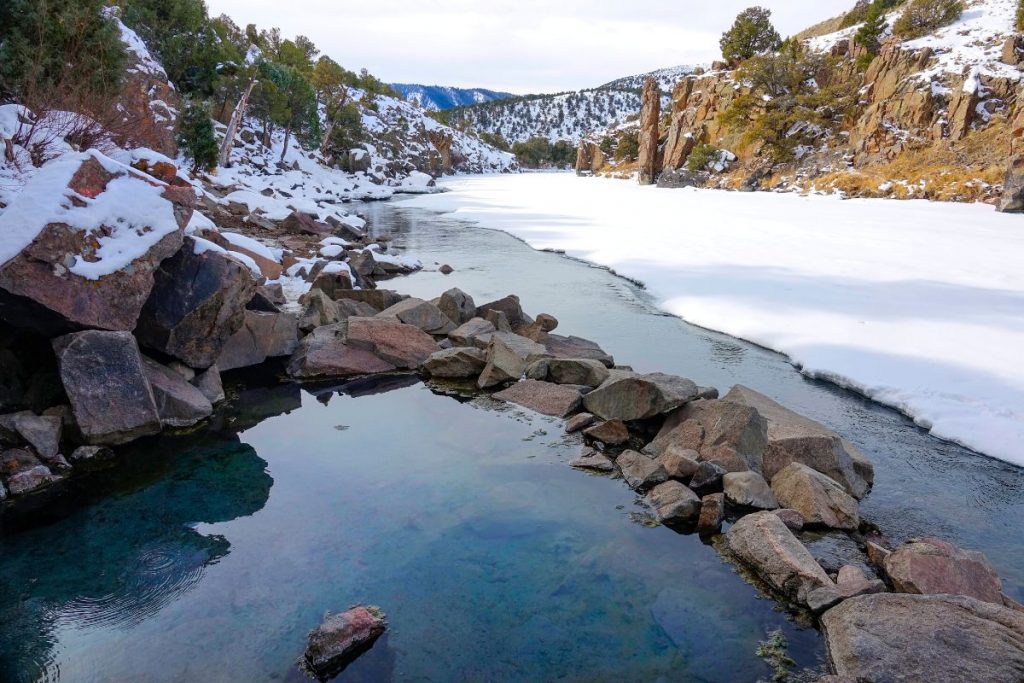 The most popular activities on the lake include swimming, picnicking, hiking but watersports are also available.
The lake is dominated by the winter season and because of the elevation, it actually falls into the "sub arctic" category on climate maps.
Due to these reasons, Green Mountain Reservoir will be a less busy choice in the colder weather months.
Green Mountain Reservoir is surrounded by mountains and sits within the Continental Divide.
If you have ever heard of South Park, the basin that this reservoir sits in is actually part of Middle Park.
19. Steamboat Lake
Steamboat Lake is one of the most breathtaking natural lakes in Colorado. As a year-round state park, the lake offers is more than simply a body of water.
The lake is surrounded by majestic mountains that offer spectacular hiking trails, fishing spots, and camping grounds.
The crystal-clear water of the lake is perfect for swimming, paddleboarding, kayaking, and even motorized water sports like jet skiing.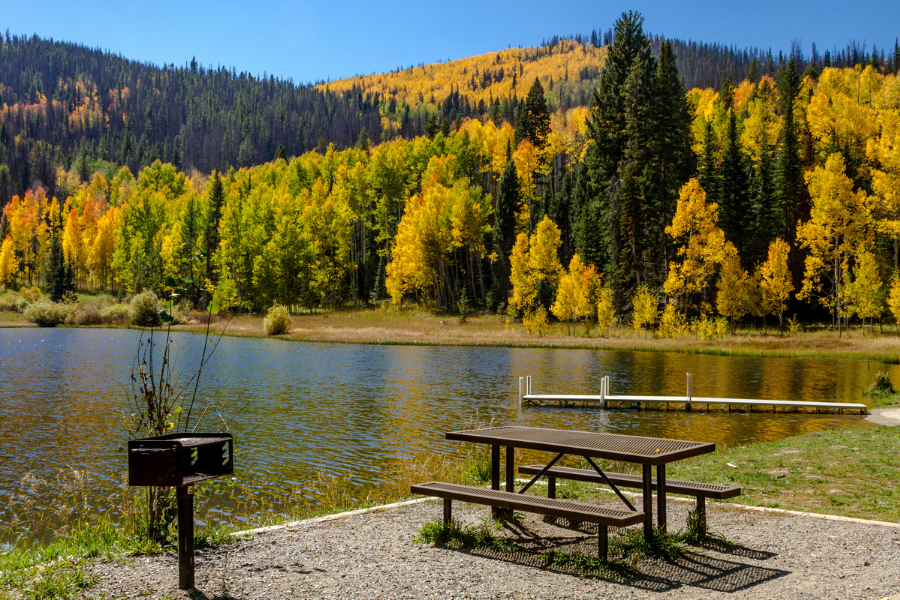 If you're looking to stay for a few days, there are also plenty of campsites, cabins, and RV parks around the lake.
Or consider renting boats and fishing gear from the marina or taking a guided fishing tour with a local expert.
If you're visiting in the winter, you can hit the nearby slopes at the Steamboat Ski Resort, which is just a short drive away.
Located in the stunning Routt National Forest, Steamboat Lake is a must-visit destination.
It's a hidden gem in the heart of Colorado that offers endless opportunities for outdoor adventure and relaxation.
20. Monarch Lake
As one of the prettiest lakes in Grand County, Monarch Lake is smaller than some of the other more well-known lakes. However, that doesn't make it any less stunning.
Located in the Indian Peaks Wilderness, Monarch lake is near the town of Granby, just south of Rocky Mountain National Park.
The hike to Monarch Lake is an easy 4.4 miles with a well-maintained trail and offers some pretty sweet scenery along the way.
This high-altitude lake is situated at about 8,000 feet above sea level, that offers breathtaking views.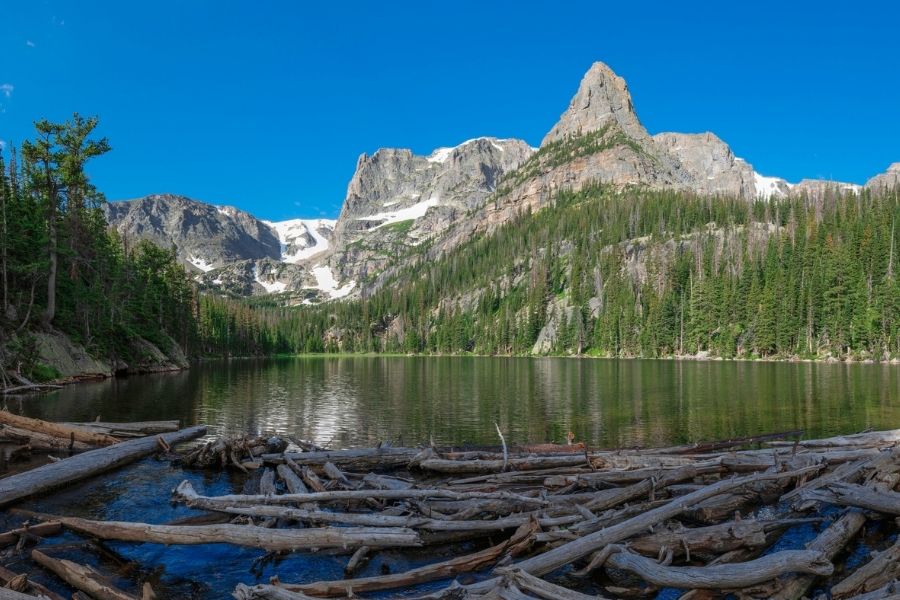 Once you get to the lake, you'll be treated to crystal clear water that reflects the surrounding mountains like a mirror. It's like something out of a postcard.
Fishing is a popular activity at Monarch Lake, especially for trout, and you'll find rainbow, cutthroat, and brook trout here.
You can even rent a canoe or kayak to take out on the water if you're feeling adventurous. If you're looking for a place to set up camp, there are a few campsites nearby that offer some killer views.
And if you're lucky, you might even spot some wildlife like deer, elk, and moose which are known to hang out in the area.
21. Lake Isabelle
Lake Isabelle is located in the Brainard Lake Recreation Area, which in itself is a beautiful spot to explore on its own.
The hike to get to the lake is an adventure in itself covering over 11 miles of out-and-back trails that are nestled into the mountains of Colorado.
As you wind your way up through the forest you'll cross over streams and see stunning views of the Indian Peaks Wilderness.
Once you reach Lake Isabelle, prepare to have your mind blown. The crystal-clear water reflects the towering mountains around it, and you'll feel like you've stumbled upon a secret paradise.
One of the best things about Lake Isabelle is that it's accessible for hikers of all levels. Whether you're a seasoned pro or just looking for a leisurely stroll, this trail has something for everyone.
This large reservoir is a great summer destination for everyone. So pack a picnic, and get ready to fall in love with one of Colorado's most gorgeous destinations.