The 17 Best Places to Visit in Colorado in 2022
The content of this website may contain affiliate links and we may be compensated (at no cost to you!). Thank you for your support!
In order to create a unique list of the best places to visit in Colorado, I wanted to include the top destinations I personally like visiting as a local.
As both a native and a newcomer to Colorado, there are endless cities that offer expansive terrain, scenic destinations, and gorgeous views.
It was a tough list to narrow down!
We know that Denver is a popular destination for things to do in Colorado, but we are not including it in this list. Why?
Denver is typically the hub for visiting Colorado and we expect that you will either drive or fly into Denver when coming to the state.
Otherwise, enjoy this list of the best places to visit in Colorado in 2022!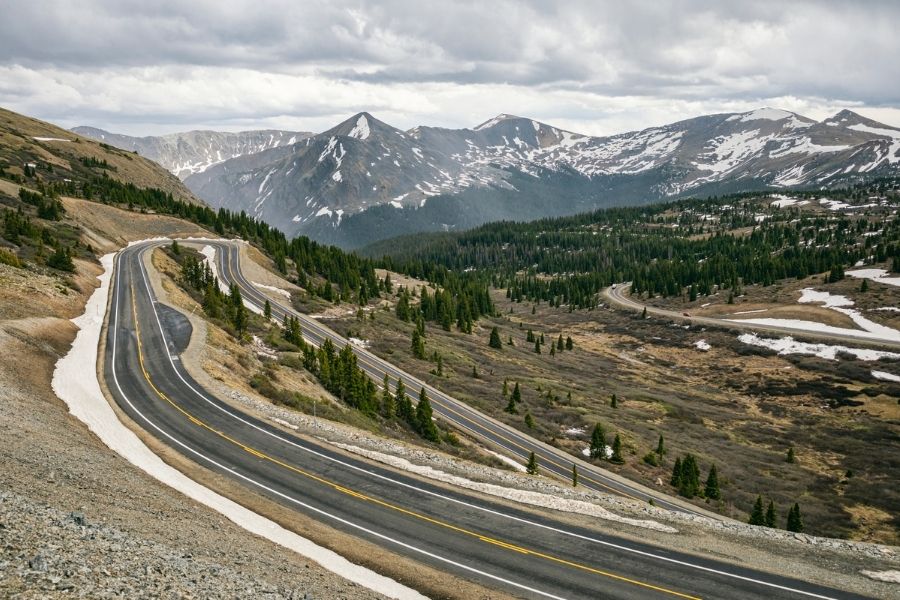 1. Colorado National Monument
The Colorado National Monument offers 31 square miles of red rocks, sandstone towers, and grand landscape.
Many liken it to a mini Grand Canyon with its expansive rock formations, grasslands and deep canyons.
It's about a 4.5 hour drive from Denver near the western border of the state, close to Utah. There are over 40 miles of hiking trails and plenty of public roads to drive along.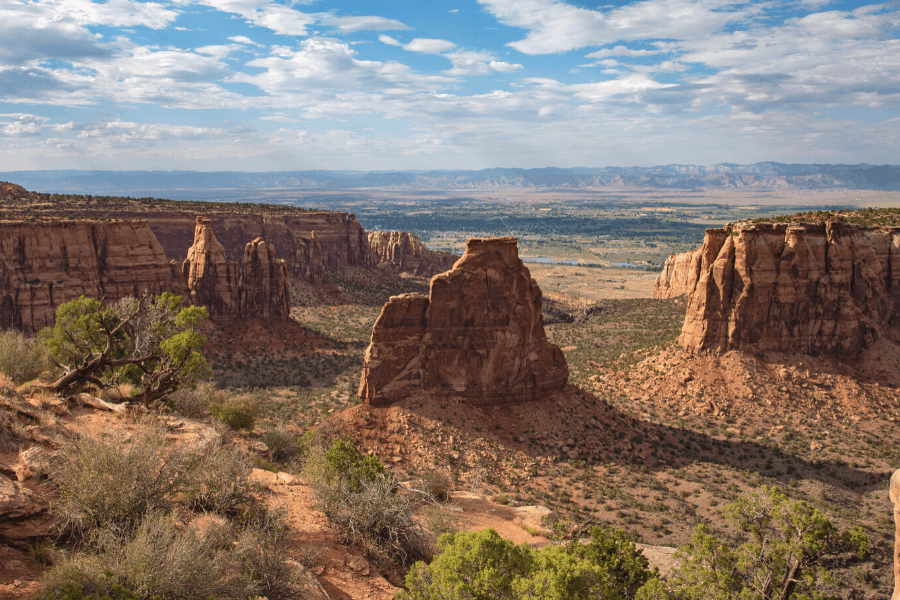 Bring your camera too, as you can capture some of the most beautiful views in Colorado you will ever see.
You can also expect to see lots of wildlife from bighorn sheep, to mule deer, coyotes and even eagles.
2. Garden of the Gods
With views of Pikes Peak in the background, Garden of the Gods is located in Colorado Springs.
It has towering red rock formations that jut out of the ground that offer stunning views from every angle.
This National Registered Landmark is completely free to visit with over 14 hiking trails and many scenic routes to drive.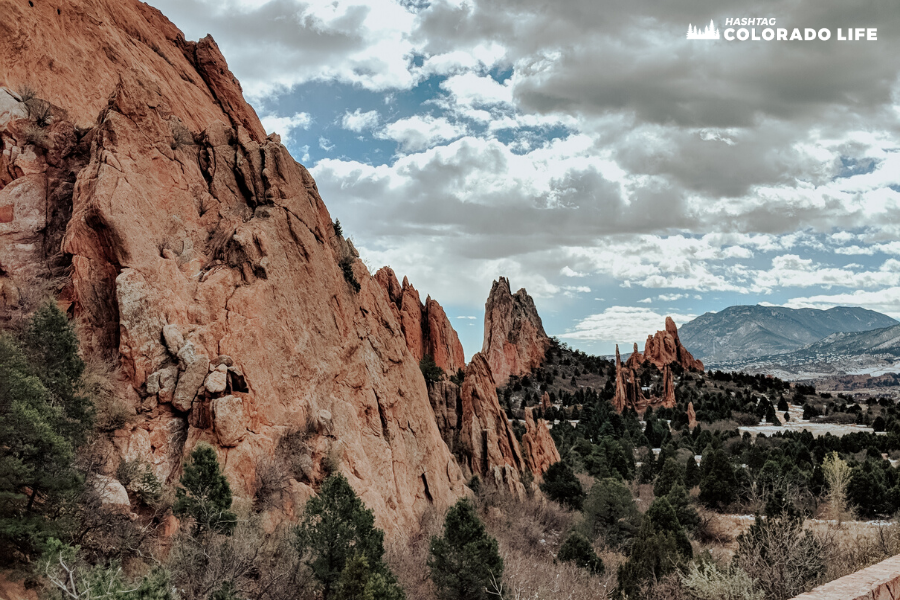 Horseback riding, biking and mountain climbing are other popular activities in the area.
Plus, stop by the Visitor and Nature Center for a free visit to the museum or to grab a snack.
3. Rocky Mountain National Park
Rocky Mountain National Park is quite expansive but can be very rugged. Located near Estes Park, Colorado there are limitless areas to see and explore.
Visiting it anytime of year will yield a completely different, and amazing, experience.
Within the park is Trail Ridge Road, which is a paved road that takes up a staggering 12,183 feet, quite a bit above treeline.
It will give you unmatched views of the surrounding areas, so you'll want to bring your camera.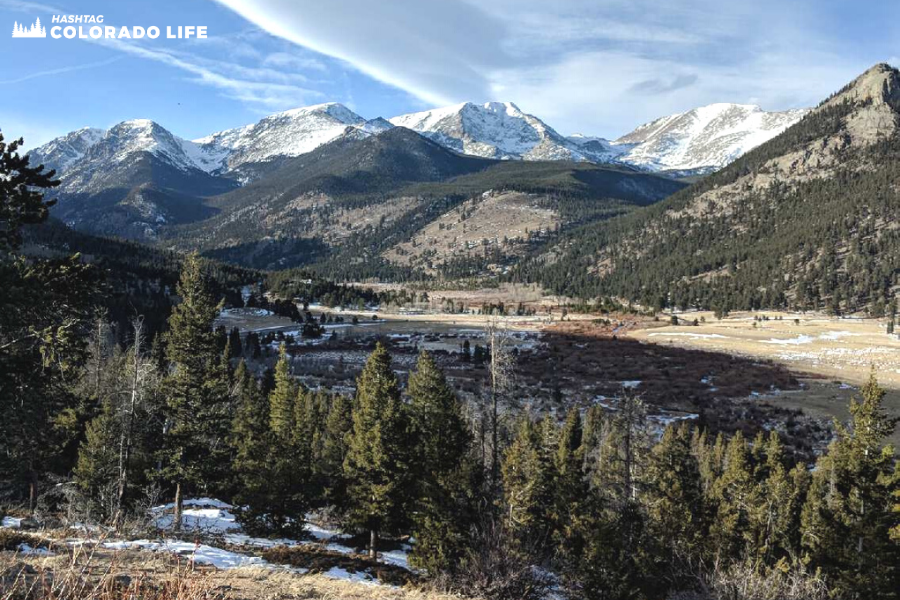 Be mindful of nature and wild animals as you are likely to see elk, moose, and even mountain lions or bears.
Other wildlife that live here include rabbits, birds and other ground animals.
You can get into the park for a day pass (fees vary) or invest in an annual Rocky Mountain National Park pass.
4. Royal Gorge Bridge
The number 1 bucket list item for visiting Colorado is the Royal Gorge Bridge. And with good reason!
It's the tallest suspension bridge in the U.S. at 1,250 feet at its highest point off the canyon floor.
The Royal Gorge Suspension Bridge outside Canon City is quite a spectacular thing to behold. In fact, it's one of the many awesome things to do in Canon City while you're there.
It's a somewhat terrifying, but amazing experience that should be on everyone's bucket list. If heights is not your cup of tea, you might want to skip this one.
The drive there from Denver or Colorado Springs is actually pretty pleasant.
The area is a valley so you're surrounded by mountains that protect the Bridge from harsh weather conditions.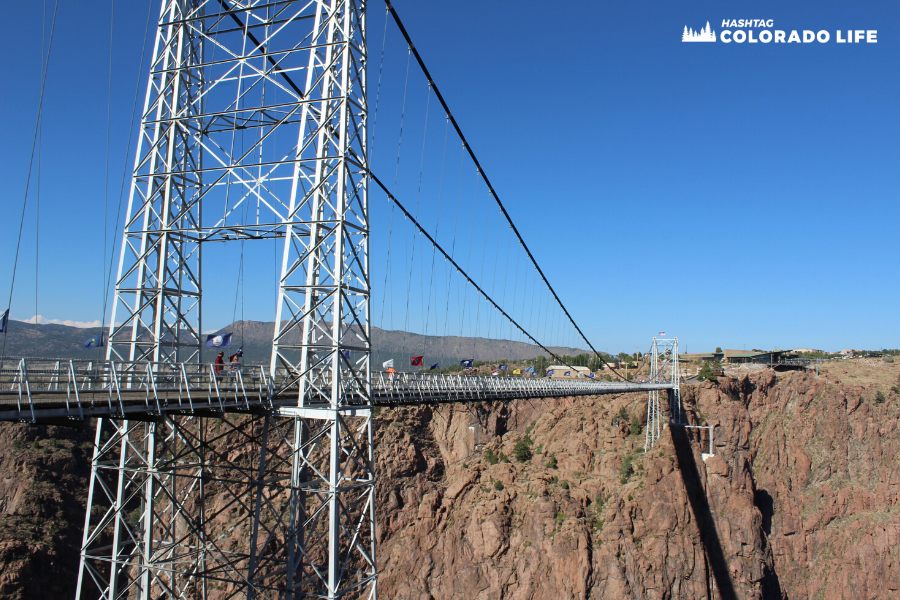 This makes it a great place to visit year round! The bridge itself can be walked across or you can take the gondola across.
With breathtaking views, grand panorama, and high elevation you really get a sense of being on top of the world.
The gondola has huge picture windows and is hanging nearly a quarter mile above the Arkansas River below.
In other words, your heart will quickly be in your throat and you may start sweating a little bit while crossing the canyon.
On the other side of the gorge, hit up the movie theater and learn a bit of interesting history about the construction of the bridge.
There are also food carts, a little petting zoo, a carousel for kids, and other fun activities to experience in the area.
5. Pikes Peak
One of the most famous mountains in the entire country is Pikes Peak, and it towers over the city at 14,115 feet in elevation.
Located in Colorado Springs this typically snow-capped mountain peak is easily seen and recognizable from anywhere in the city.
Plus, it's the mountain that inspired the song, "America the Beautiful".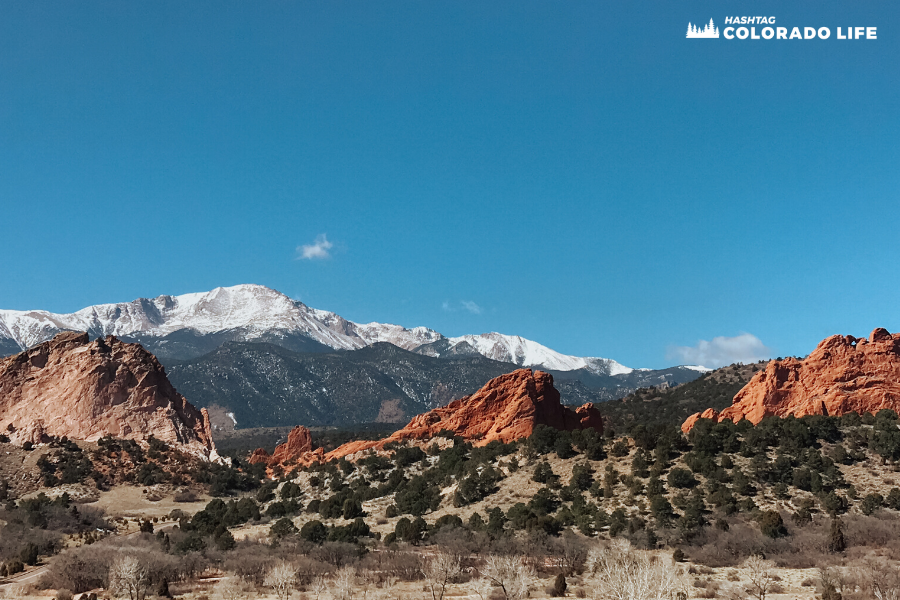 Getting to the top is no easy feat. Whether you're biking, hiking, or driving, the views once you've reached the peak will be worth it. 
You can also book a spot on the Pikes Peak Cog Railway, or take a guided tour to the top of Pikes Peak in style.
In addition to see the breathtaking views from the top, the area is well-known for other recreational activities like mountain biking and fishing in the reservoirs.
6. Skyline Drive
Another scenic drive to add to your list of the best places to visit in Colorado is Skyline Drive in Canon City. 
It's known as America's most scenic one-way road, and it's not for the faint of heart. 
This one-of-a-kind drive follows the top of a high razorback ridge (called a hogback!) with huge drop-offs on both sides.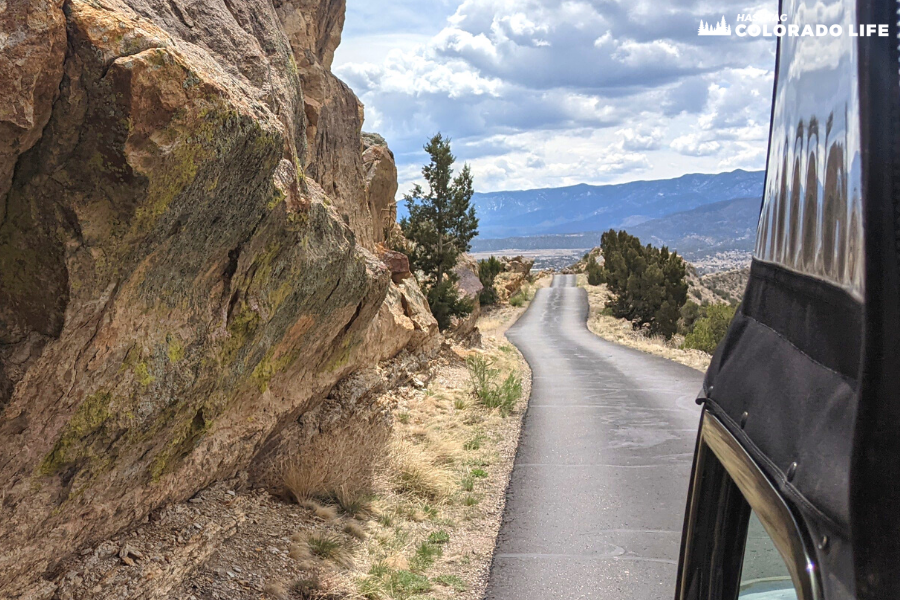 And once you start driving down Skyline Drive, there's no turning back. 
However, there are several scenic pull-offs and historic markers for visitors to get out and take photos or simply take in the gorgeous views.
7. Breckenridge
Breckenridge, or simply "Breck" as it's known to the locals, is our favorite ski town! The city feels quaint and quiet with a quintessential main street you can walk down.
Breck is especially pretty around the holidays with the lights twinkling and smells of Christmas!
The city has lots of local shops and small restaurants, and it hasn't been taken over by huge grocery-store or restaurant chains.
Just a few miles west of Denver, it's one of the easiest ski towns to drive to for a day trip.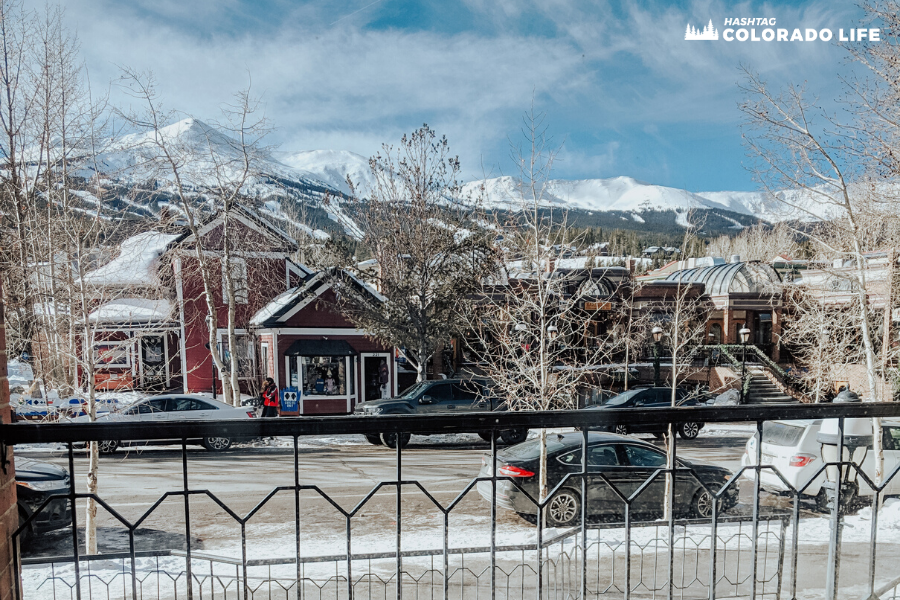 And because of the close proximity to CU Boulder, Breckenridge has a really cool young vibe, with a really thriving night scene.
The Breckenridge Gondola, also called the BreckConnect, is free to ride up and down all day. But you will need a lift ticket if you want to hit the slopes.
The gondola ends at one of the mountain peaks and offers many places to eat with break-taking views.
8. Glenwood Springs Hot Springs
We enjoy visiting this destination so much that we have an entire podcast episode detailing the best things you can do in Glenwood Springs.
Be sure to give that listen if you plan on taking a trip this weekend.
We actually visit the mineral hot springs here annually and look forward to it every year!
Only a few hours from the main cities along the Front Range, Glenwood Springs is a small town nestled in Glenwood Canyon.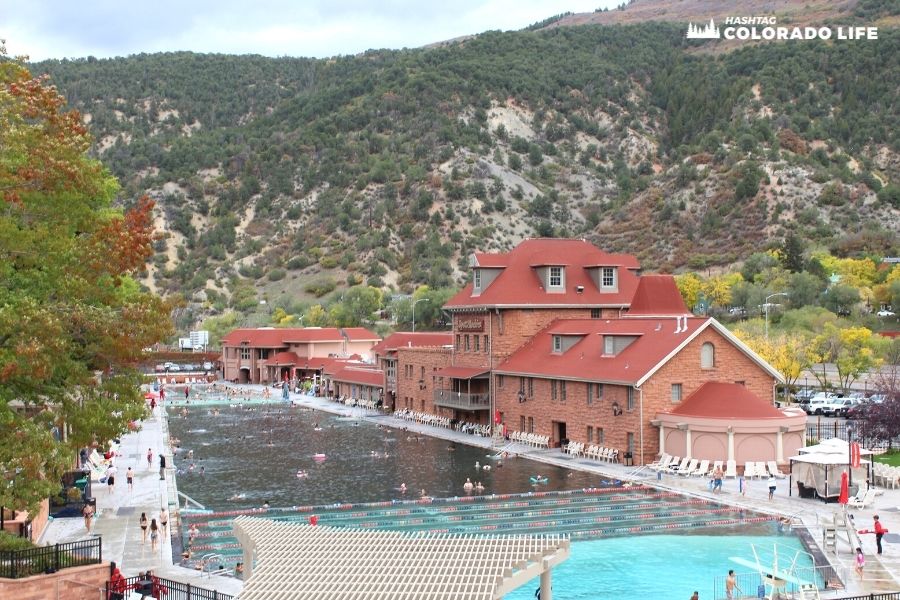 It's popular for the mineral hot springs pools in the area, which are said to offer health benefits and relaxation.
Nearby you will find the Glenwood Caverns Adventure Park and the historic Linwood Cemetery where Doc Holliday is buried.
There is lots of scenic hiking nearby too, including Hanging Lake, Bear Creek and many other awesome destinations.
9. Great Sand Dunes National Park
Some of the best places to visit in Colorado are the national parks, and the Great Sand Dunes National Park is one of them. 
Featuring the Star Dune, the tallest sand dunes in North America, the area creates a stunning setting. 
Plus, the sand dunes offer a wide variety of things to do for locals and tourists. Get ready for some hiking, climbing, off-roading, or sliding on sand boards all year long.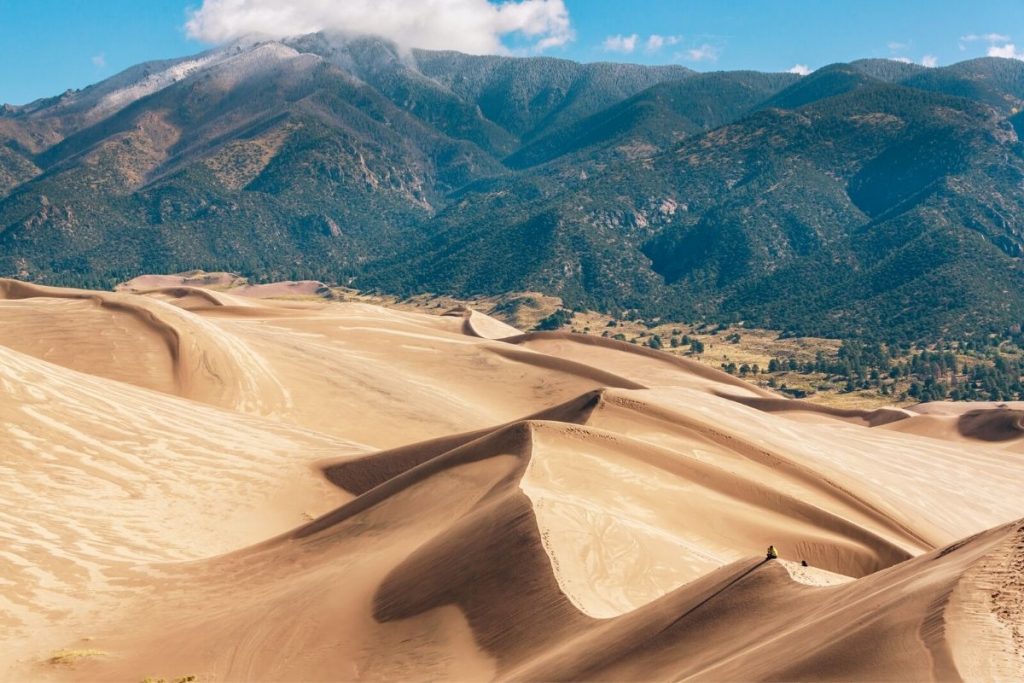 During the summer kids and adults can have fun splashing in the Medano Creek that runs along the base of the dunes.
The Great Sand Dunes National Park is a mesmerizing place, surrounded by gorgeous views of the Sangre De Cristo Mountains.
10. Boulder and the Flatirons
The city of Boulder is located at the foot of the mountains with gorgeous views of the Flatirons and the Rocky Mountains.
As a university town, the city has a laid back vibe with plenty of relaxing and outdoor activities.
Nature lovers will enjoy the proximity to the mountains, miles of hiking trails, and ease of biking to work everyday.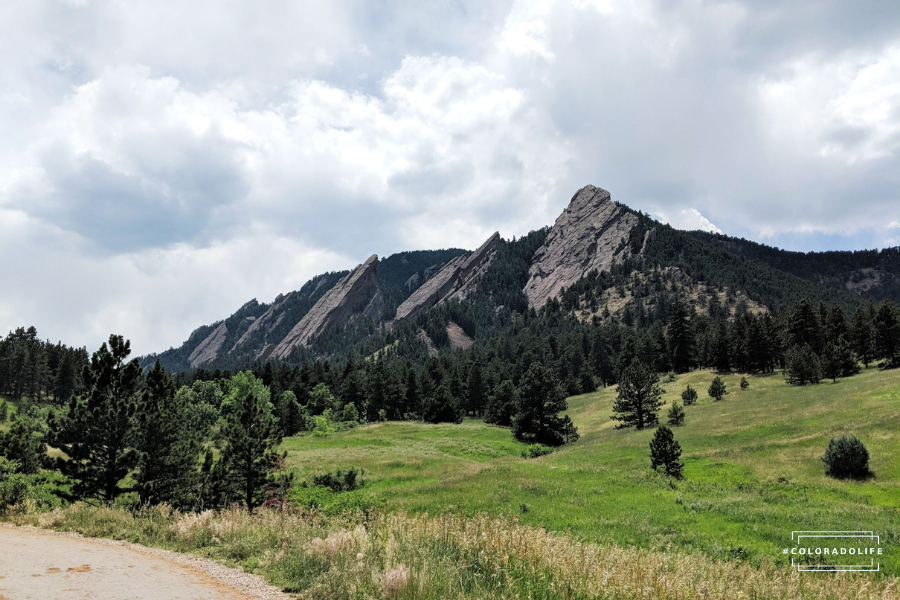 You can even Tube to Work down the Boulder Creek during the summer.
Boulder is popular for the Pearl Street Mall which features famous restaurants, shops and bars.
The Flatirons and Chautauqua Park are big attractions to the city as they offer one-of-a-kind views and hiking trails through the mountains.
When you see a photo of Boulder, you will likely see the Flatirons in the background.
11. Colorado Springs
Colorado Springs is the second largest city in the state with a population of nearly 500,000 residents.
It continues to grow at a rapid pace thanks to the affordability, family friendly atmosphere, accessibility to nature, and picturesque mountain views.
Not only that, but Colorado Springs has a booming food scene and is well-known for its variety of coffee houses and food trucks.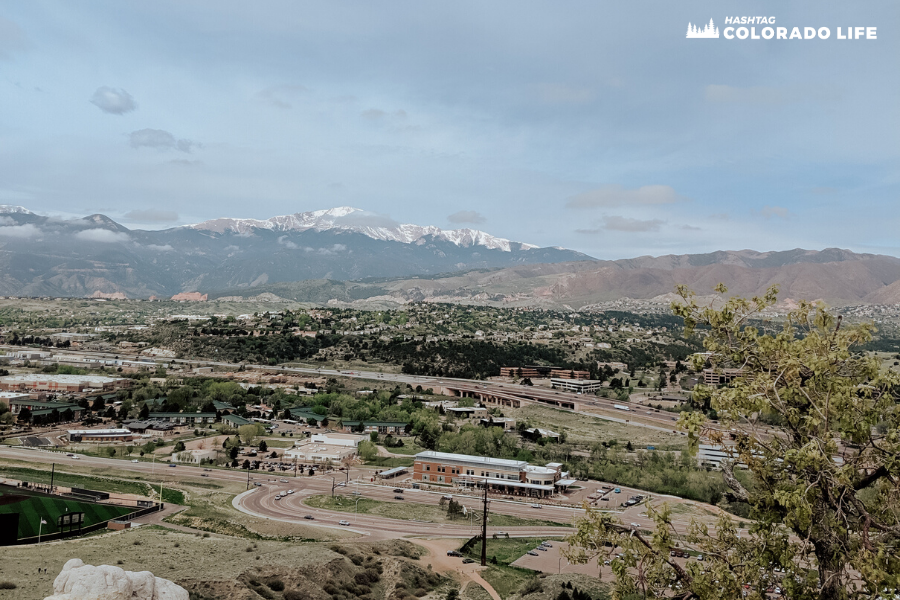 If you enjoy visiting a big city with a small town feel and want to support local Colorado businesses, then Colorado Springs is the destination for you.
There are epic hikes, waterfall attractions, golf courses, and lots of wildlife right in your backyard.
Not to mention that Garden of the Gods is located in the Springs (as mentioned above) as is America's Mountain known as Pikes Peak.
12. Telluride
Topping nearly every list for the best places to visit in Colorado is Telluride, and for good reason.
The town has been voted as the #1 best ski resort in 2019 by USA Today for Pure Awesomeness Factor.
Telluride is an ideal vacation destination no matter what time of, but it's especially magical during the winter.
The city offers plenty of skiing, snowboarding, snowshoeing, and nearly every other winter activity.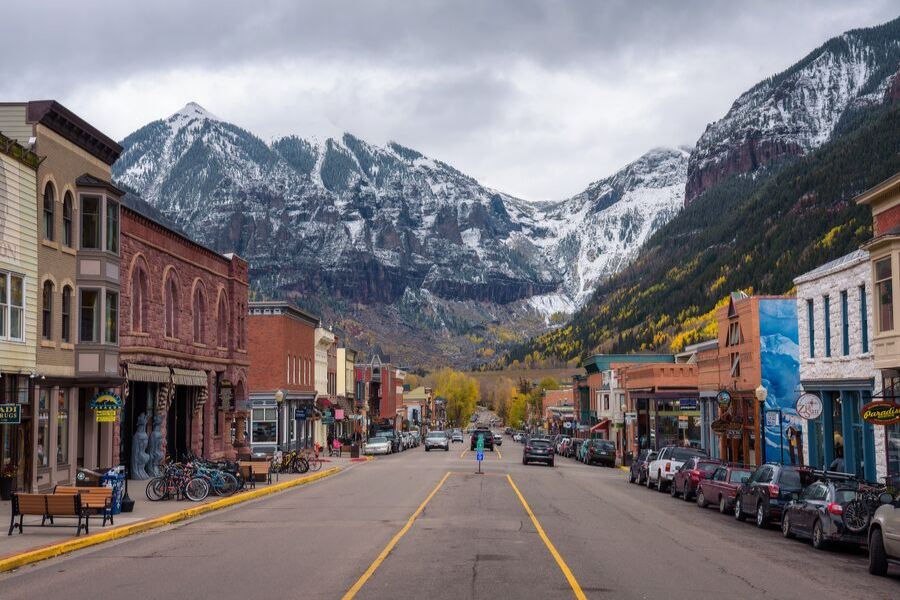 During the summer you will enjoy fishing, camping, rafting, kayaking, hiking and tons more.
Or check out the Cars and Colors festival during the fall if you love history and classic cars.
The Telluride Gondola is popular for the epic mountain views, and more recently, being turned into dining cabins for the winter.
13. Estes Park
Situated in the north central part of Colorado, Estes Park is a fascinating town to visit.
It makes a great day trip escape as it's surrounded by mountains and a national forest. You really feel like you're part of nature here!
Estes Park is often called the gateway to the Rockies because of the proximity to Rocky Mountain National Park.
During early autumn each year Estes Park hosts the famous Elk Fest. This is a free festival with live music, beer garden, 5k run, nature exhibits and lots of elk.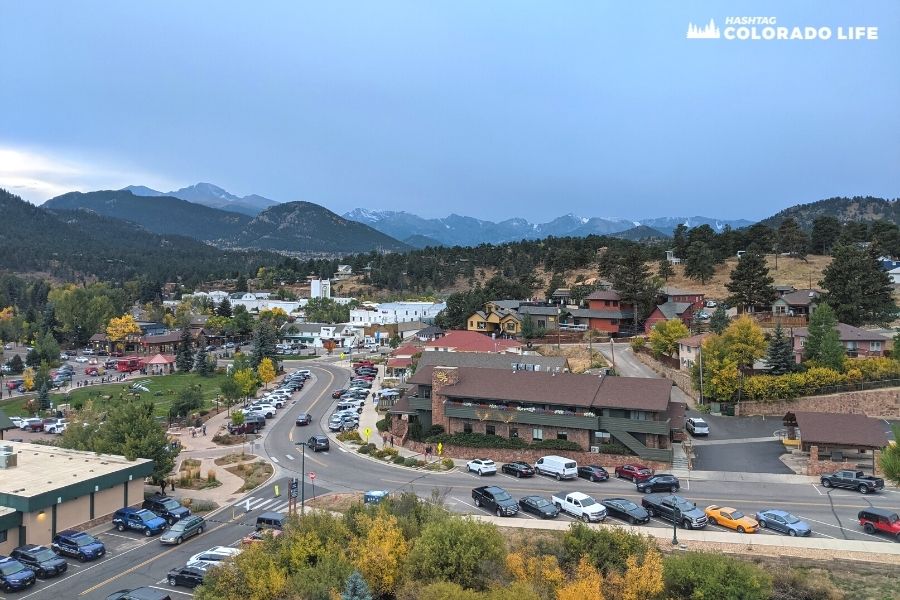 It's a fun activity you can attend on the cheap. Elk Fest is something I loved to see as a kid year after year!
Stephen King's book (and movie) The Shining, was inspired during his stay in the haunted but beautiful, 110 year old Stanley Hotel.
You can take tours at night, or even book a stay at the hotel — if you dare! It's a popular place for ghost hunters and paranormal enthusiasts.
The Big Thompson River is also nearby, making fly fishing a huge draw for trout lovers!
Signing up for 4×4 tours and renting ATVs or snowmobiles are all excellent ways to get outside and explore this city's natural beauty and habitat.
14. Buena Vista
While it may come as a surprise, Buena Vista is one of the best places to visit in Colorado in 2022. 
This small town sits along the Arkansas River and is a popular place for rafting and kayaking in the summer.
There are also several well-known hot springs resorts nearby, including Cottonwood Hot Springs and Mount Princeton Hot Springs.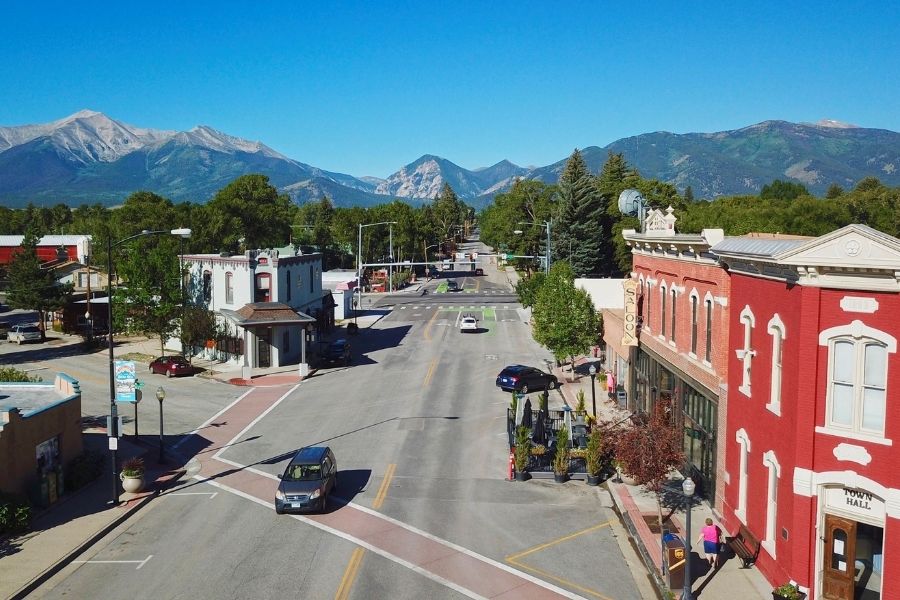 Buena Vista is also conveniently located near the Twin Lakes, the Collegiate Peaks Scenic Byway, and backs up to the San Isabel National Forest. 
There's a lot of fishing, camping, mountain biking, hiking, climbing, swimming, and many more outdoor activities available to do in Buena Vista year-round.
15. Mesa Verde National Park
Colorado is full of history related to the Ancestral Pueblo people who inhabited much of the state thousands of years ago. 
Mesa Verde National Park is home to one of the most dense archaeological sites known as the Cliff Palace. 
These dwellings are incredibly preserved and give us a sense of what life was like for tribes who lived in Colorado.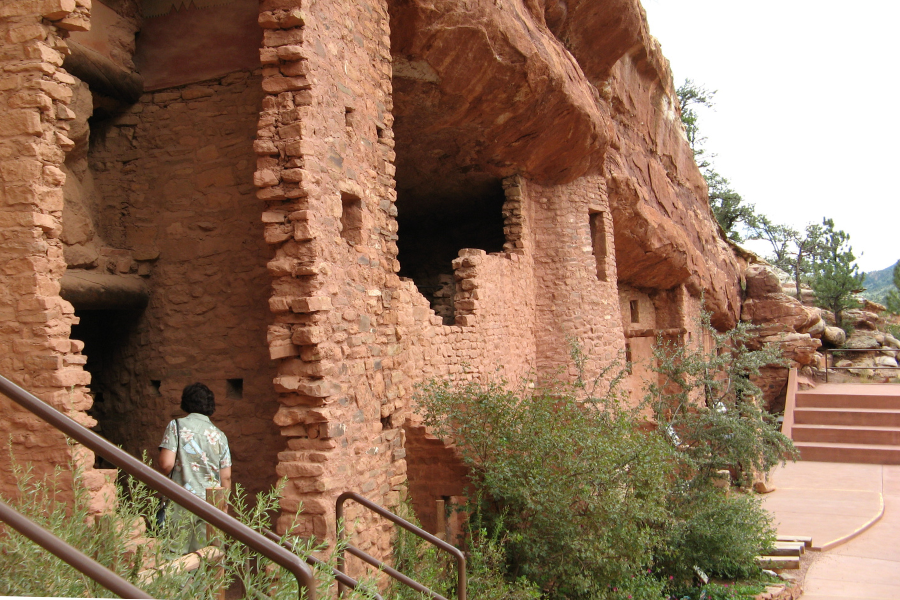 There are several roads and paths nearby that are open to the public for exploring, hiking and rock climbing.
Located near the town of Cortez, Mesa Verde can be reached by road and is about a 45-minute drive. 
If you don't have time to drive to the corner of the state, a smaller replica of Mesa Verde is located at the Cliff Dwellings in Manitou Springs.
16. Cripple Creek
Cripple Creek is one of Colorado's iconic gold and silver-rush towns. It has a really interesting history, with over 20,000 people living there at one time.
The town still looks and feels like what it might have looked like in the late 1800s.
These days it's more of a gambling town now rather than a ghost town, it still has a really interesting history.
One of the fun attractions is the 4-mile train tour of the Cripple Creek Railroad, on an old timey train that you can actually ride.
You'll see the history as you pass the old abandoned mines, making for many great photo opportunities.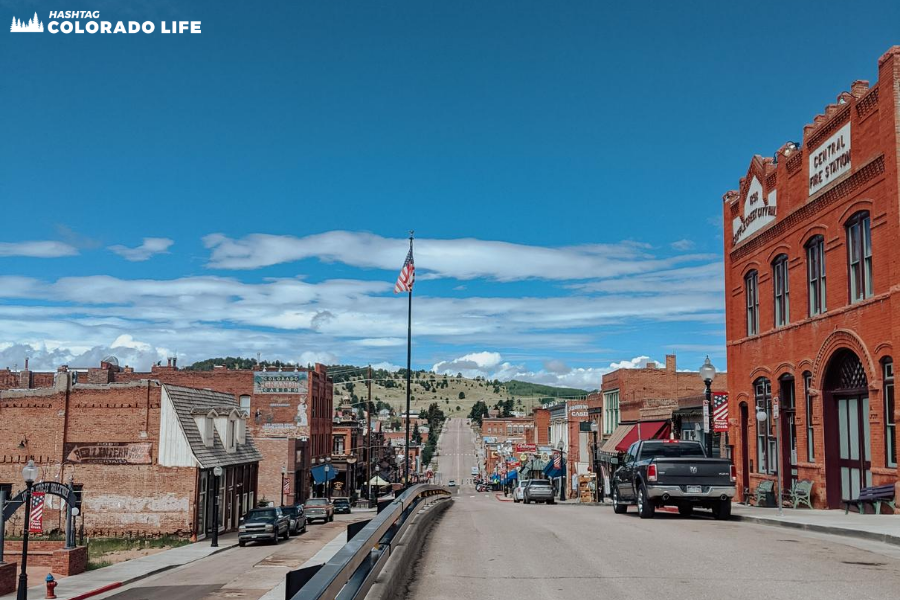 Gambling has been legal in Cripple Creek since the early 90s, so this is a big draw for the people in the area.
Don't think of the glitz and gaudy casinos of Vegas though.
These are more of an 1800s saloon style, as the casinos are often in the old historic section of town. You'll see people dressed up in the whole getup from chaps to six shooters.
It really does bring a place with a ghost town feel to life!
17. Maroon Bells
You can't plan a trip to Colorado without visiting the Maroon Bells. 
Located near Aspen, you've actually probably seen them before, at least in a photo depicting Colorado. 
These two sister-mountain peaks are the most popular shots taken of Colorado. But that's not the only thing that makes the Maroon Bells so great. 
The valley is surrounded by six other fourteeners with gorgeous forests, alpine lakes, and meadows. 
All of which offer exquisite hiking, mountain biking, and backpacking. Fishing and swimming in the lakes are popular during the summer months. 
And during the winter months you can experience the best skiing, snowshoeing, and snowmobiling around. 
The Maroon Bells is truly a year-round outdoor playground. We highly recommend adding it to your list in 2022.
Take a trip this weekend and check out the best places to visit in Colorado for yourself.
All of these beautiful places make great options to visit in the summer or winter, whether it's for a day trip or weekend getaway!