by Ryan Nicholson
|
Last Updated:
April 23, 2019
The content of this website may contain affiliate links and we may be compensated (at no cost to you!). Thank you for your support!
Are you ready to take a day trip? Today, we're sharing our top 5 best places to visit in Colorado. Pack a weekend or overnight bag and jump in the car and go!
But before we talk about the best weekend trips in Colorado, here are some helpful tips for driving, whether you're a newbie or native.
iTunes | Google Play | Stitcher | Spotify
It's road trip time! Let's talk about our top 5 best places to visit in Colorado for either a day trip or a weekend getaway.
1. Royal Gorge Bridge at Cañon City, CO
The Royal Gorge Suspension Bridge outside Canon City is quite a spectacular thing to behold. It's a somewhat terrifying, but amazing experience that should be on everyone's bucket list.
In fact, the number 1 bucket list item for visiting Colorado is the Royal Gorge suspension bridge.
And with good reason, it's the tallest suspension bridge in the U.S. at 1,250 feet at its highest point off the canyon floor. So, if heights is not your cup of tea, you might want to skip this one.
The drive there from Denver or Colorado Springs is actually pretty pleasant. The area is a valley so you're surrounded by mountains that protect the Bridge from harsh weather conditions.
This makes it a great place to visit year round!
The bridge itself can be walked across or you can take the gondola across. With breathtaking views, grand panorama and high elevation, you really get a sense of being on top of the world.
When you buy your ticket, you're encouraged to do what we did — take the gondola over the canyon. This is probably the quickest way to span the canyon gap in order to get the other side.
Many people (myself included) think of the gondolas you take when skiing, where you're maybe a couple dozen feet of the ground. Not so with this gondola!
This one has huge picture windows and is hanging nearly a quarter mile above the Arkansas River below. In other words, your heart will quickly be in your throat and you may start sweating a little bit while crossing the canyon.
You may want to avoid riding the gondola with anyone else who doesn't like heights. 😉
On the other side of the gorge, you can hit up the movie theater and learn quite a bit of interesting history about the construction of the bridge.
There are also food carts, a little petting zoo, a carousel for kids, and other fun activities to experience in the area.
There's also a zipline you can take across the canyon (no thanks). And there's one of those big swings you see at amusement parks that'll swing you back and forth over the edge of the cliff (again, no thanks).
2. Estes Park, CO
Situated in the north central part of Colorado, Estes Park is a fascinating town to visit. It also makes a great day trip escape as it's surrounded by mountains and a national forest — you really feel like you're part of nature.
Estes Park is often called the gateway to the Rockies because of the proximity to Rocky Mountain National Park.
Early autumn each year in Estes Park is the Elk Fest. A free festival with live music, beer garden, 5k run, nature exhibits and shockingly, elk. It's a fun activity you can attend on the cheap. Elk Fest is something I loved to see as a kid year after year!
Stephen King's book (and movie) The Shining, was inspired during his stay in the haunted but beautiful, 110 year old Stanley Hotel. You can take tours at night, or even book a stay at the hotel — if you dare! It's a popular place for ghost hunters and paranormal enthusiasts.
The Big Thompson River is also nearby, making fly fishing a huge draw for trout lovers! Signing up for 4×4 tours and renting ATVs or snowmobiles, are all excellent ways get outside and explore this city's beautiful natural habitat.
3. Rocky Mountain National Park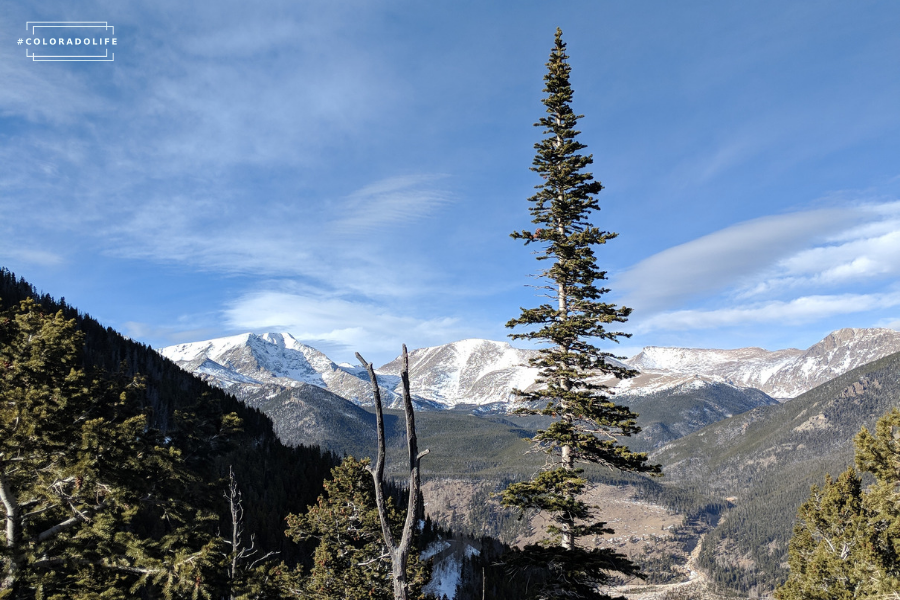 This national park is quite large and can be very rugged. Visiting it anytime of year will yield a completely different, and amazing, experience.
Whether you're just going on a drive, or stopping for a hike, there are limitless areas to see and explore.
Within the park is Trail Ridge Road, which is a paved road that takes up a staggering 12,183 feet, quite a bit above treeline. It will give you unmatched views of the surrounding areas, so you'll want to bring your camera.
Shoot, you can actually see all the way into Wyoming from up here! 🙂
You have to be mindful of nature and wild animals here as it's very rugged. The park's varying habitats give you a wide range of animals, from the more commonly seen deer, moose and elk, to the less commonly seen predators like black bears and cougars.
You can get into the park for a day pass (fees vary) or invest in an annual Rocky Mountain National Park pass.
4. Cripple Creek, CO
Cripple Creek is one of Colorado's iconic gold and silver-rush towns. It has a really interesting history, with over 20,000 people living there at one time. The town still looks and feels like what it might have looked like in the late 1800s.
More of a gambling town now rather than a ghost town, it still has a really interesting history.
One of the fun attractions is the 4-mile train tour of the Cripple Creek Railroad, on an old timey iron horse. You'll see the history as you pass the old abandoned mines, making for many great photo opportunities.
Gambling has been legal in Cripple Creek since the early 90s, so this is a big draw for the people in the area. Don't think of the glitz and gaudy casinos of Vegas though.
These are more of an 1800s saloon style, as the casinos are often in the old historic section of town. You'll see people dressed up in the whole getup from chaps to six shooters.
It really does bring a place with a ghost town feel to life!
5. Breckenridge, CO
Breckenridge, or simply "Breck" as it's known to the locals, is our favorite ski town! The town itself feels quaint and quiet with a quintessential main street you can walk down.
(This is especially pretty around the holidays with the lights twinkling and smells of Christmas.)
The city has lots of local shops and small restaurants, so it doesn't have a feel like it's been taken over by huge grocery-store or restaurant chains.
Just a few miles west of Denver, it's one of the easiest ski towns to drive to for a day trip. And because the close proximity to CU Boulder, Breckenridge has a really cool young vibe, with a really thriving night scene.
The Breckenridge Gondola, also called the BreckConnect, is free to ride up and down all day. But you will need a lift ticket if you want to hit the slopes. The gondola ends at one of the mountain peaks and offers many places to eat with break-taking views.
All of these places make great options to visit in the summer or winter, whether it's for a day trip or weekend getaway!
6. BONUS: Glenwood Springs
We didn't include Glenwood Springs in this previously, because we have an entire podcast episode dedicated to visiting Glenwood Springs! Be sure to give that listen if you plan on taking a trip this weekend.
In fact, we actually visit the mineral hot springs here annually and look forward to it every year. Only a few hours from the main cities along the Front Range, Glenwood Springs is a small town nestled in Glenwood Canyon.
It's popular for the mineral hot springs pools in the area, as well as the Glenwood Caverns Adventure Park, hiking near Hanging Lake, and many other awesome destinations.
Colorado Driving Tips
Have you ever heard of the "Colorado Creep?" As a native of Colorado, this is something I haven't seen in any other place I've lived. (And as a chef I've lived all over!)
So, what is the Colorado Creep? It's when you're wanting to turn left and the light is green but there is oncoming traffic, so you creep out into the middle of the intersection. This will ensure you'll HAVE to make the turn, even if the light changes since you'll be in the middle of the intersection.
It seems pretty unique to Colorado, but other states may do this as well. When I tried doing this in Texas (on Carrie's home turf), she frantically wondered what the heck I was doing.
A Tip for Driving in Snow
For anyone moving to Colorado from warmer climate states where snow is foreign, (I'm looking at you Texas and California!) there is one major driving tip you should know.
Anytime you're driving in the snow, you'll want to put your car into second gear and leave it — this goes for whether you have a 4×4 or not. The engine will keep your car from going too fast and will help slow you down, rather than simply relying on the brakes, which can lead to skidding.
This tactic will also help with getting your car going if you're starting from a dead stop. Putting your car in second gear means it won't have as much torque to spin the tires (like it does in first gear) so doing this will help avoid spinning out or slipping on icy snow.
>> Pro tip: Just because you have the ability to get going in a 4-wheel drive vehicle, does not necessary work when stopping. Four-wheel drive doesn't mean 4-wheel stop!
Windshield Wiper Fluid
Beware of what kind of windshield wiper fluid your car is using! Again, this is more of a tip for someone who's moving to Colorado from a warmer climate state.
The reason that our windshield wiper fluid was frozen, we found out, was because of the type of wiper fluid we were using. Since we lived in a warmer state, like Texas, we had a water-based cleaner with soap for cleaning bugs off the windshield.
But for a colder climate you need an alcohol based wiper fluid to clean the window, so it doesn't freeze when temperatures get really low. We had to pull off every few miles and use water from our water bottles to thaw and clean the windshield.
Be sure to check that you have the right type of wiper fluid in your car before visiting or moving to Colorado in the winter!
Take a trip this weekend and see for yourself.
Ryan Nicholson is a homegrown born and raised Colorado native. Being a rare unicorn to have grown up in CO, he has a unique perspective on the changes here and knows all the hidden spots to get outside in this state. Ryan's a classically French trained chef so he LOVES to try new foods and places to eat. When he's not experimenting in the kitchen or working as a personal chef along the Front Range, he loves to get outdoors and away from it all hiking, camping and backpacking.