Manitou Cliff Dwellings: Colorado's Historic Museum & Preserve
This website may contain affiliate links and we may be compensated (at no cost to you!).
This is one of the few museums that allows visitors to craft their own adventure with a self-guided walking tour.
Have you ever wanted to tour an 800 year-old building and be able to touch everything? The Cliff Dwellings at Manitou Springs allows you to do just that.
Bring your kids and your friends and step back into a real piece of Colorado history.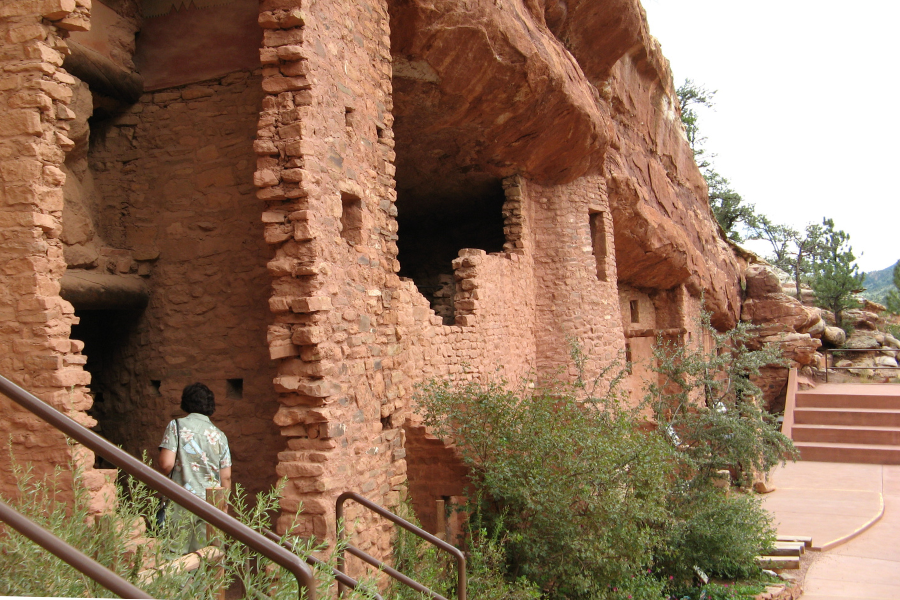 What are the Manitou Cliff Dwellings?
The Manitou Cliff Dwellings are architectural remains and preserved sandstone structures that were created by ancient Puebloan people.
The dwellings on display in Manitou Springs have been relocated from southwestern Colorado.
They are replicas from authentic Anasazi cliff buildings that are over 800 years old.
The American Indian tribes are said to have roamed all of the Four Corners area from 1200 BC to 1300 AD.
And they used these structures as a home base for protection under the sandstone overhang.
Are the Manitou Cliff Dwellings real?
The Manitou Cliff Dwellings Museum has been expertly crafted to preserve the architecture of the Anasazi Culture that lived in this region long ago.
While these structures are not real, they are considered authentic replicas. They were made to resemble the more famous Mesa Verde National Park dwellings.
The dwellings here have been preserved to capture what life was like in generations past. Even though they are considered fake they are still authentic.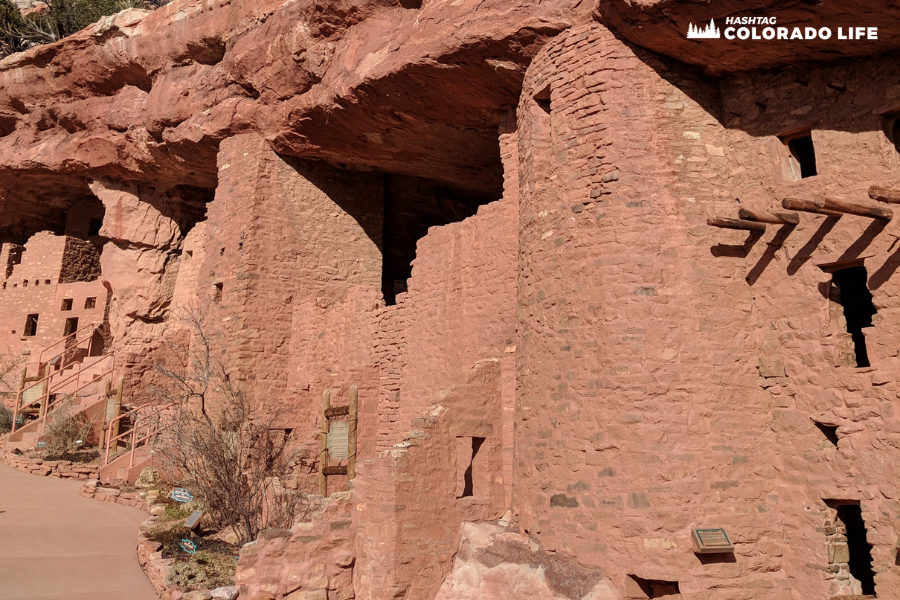 This natural history and archaeological museum was first opened to the public in 1907 as a tourist attraction, making it 114 years old.
What makes this museum unique is that you can actually walk through the buildings and touch everything you see.
Go on a self-guided tour of the cliff buildings, climb up the ladders, and stand in the small rooms.
Then check out the six-room Pueblo-style buildings that actually housed a family of local Native Americans until 1984.
Investigate the traditional clay ovens and learn about how this ancient culture cooked and stored their food.
After exploring the Cliff Dwellings themselves, head over to the gift shop and museum to see ancient pottery tools, weapons, and other historic artifacts.
How to get to the Manitou Cliff Dwellings
The Manitou Cliff Dwellings are located at 10 Cliff Dwellings Road in Manitou Springs at the foot of Pikes Peak.
If you're coming from Colorado Springs it is located right off Highway 24 about 6 miles west of the city.
When driving from Denver, jump on Interstate 25 and take the Highway 24 / Colorado Avenue exit.
The Cliff Dwellings are open year round, weather permitting, typically between 9am-5pm daily.
During the winter months the schedule changes to only being open from 10-4pm seven days a week.
Are the Manitou Cliff Dwellings free?
No, the Manitou Cliff Dwellings are not free as admission costs are $12 for adults (ages 12 and over) and $7.50 for kids (ages 4-11).
Children under the age of 3 and people in wheelchairs get free admission. The cost for seniors (ages 60+) is $9 but anyone over 100 years old gets in free!
Group rates are available for groups of 10 or more, just request info when arriving at the ticket booth.
If you're looking for a discount to save money on tickets, click here for a coupon to save $2 per adult and $0.50 per child up to 4 people.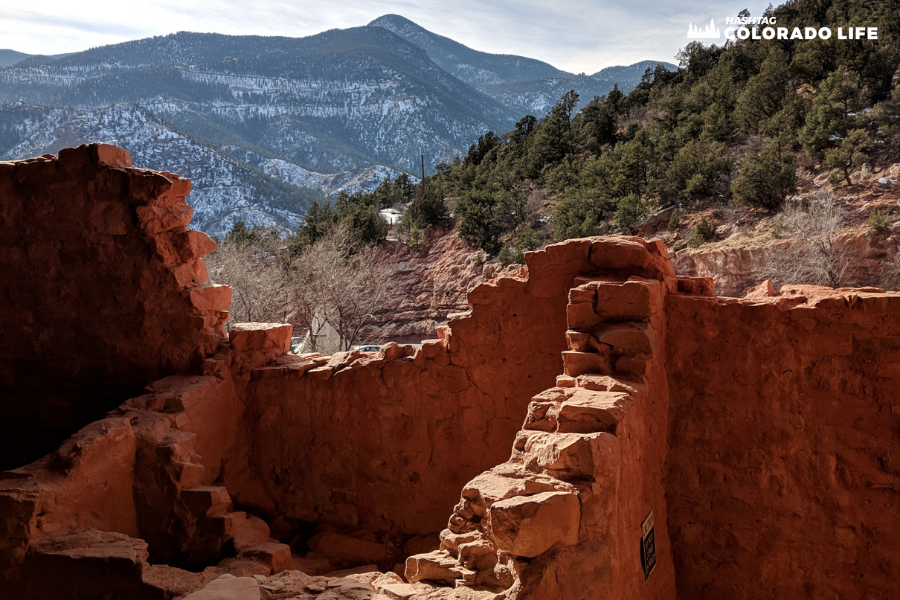 To save even more, consider purchasing a season pass to the Cliff Dwellings Museum.
The cost for a season pass is regular admission price plus an additional $12 for adults and $7.50 for kids. If you want a full year of admission, that IS included for free.
Season passes can be purchased at the Gift Shop as well as receive 10% off gift shop purchases with your season pass card.
Visiting the Manitou Cliff Dwellings Museum
After turning onto Cliff Dwellings Road, you will find plenty of parking spaces along the road leading up to the Museum.
And parking in the designated parking spaces is totally free.
The preserve and museum is made up of 6 different areas for uncovering the local Indian history and exploring.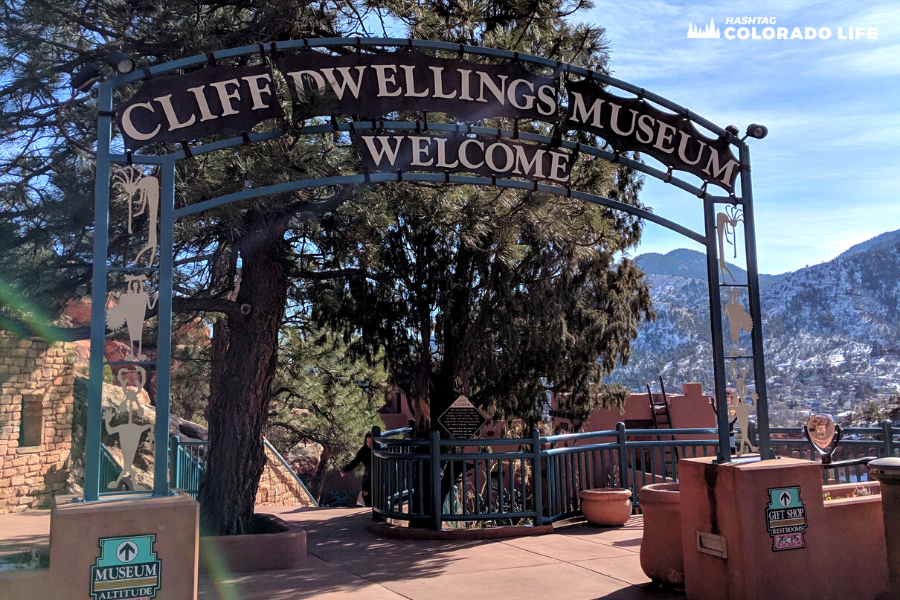 1. Picnic area & snack bar
Once you arrive at the Cliff Dwellings Museum the first spot you come to on the left is the picnic and snack bar area.
Bring your own food and drinks to enjoy, or purchase a yummy treat at the snack bar.
There are tables with umbrellas available to sit and enjoy the views all year round.
2. Upper parking lot
The Upper parking area is directly across from the picnic area and provides parking much closer to the Cliff Dwellings themselves.
Typically these spots are full if the museum is having a busy day.
But the spots here are still free to park if you can find one available.
3. Cliff dwellings
The Cliff Dwellings are the real show stoppers, and can be seen when driving up the museum site.
There are rows of dwelling-style homes and buildings, along with some stairs and railings, that line the cliffs.
As you tour the inside of the structures you will find plaques and signs detailing the history and lifestyle of these ancient people.
Be sure to bring your camera and take photos!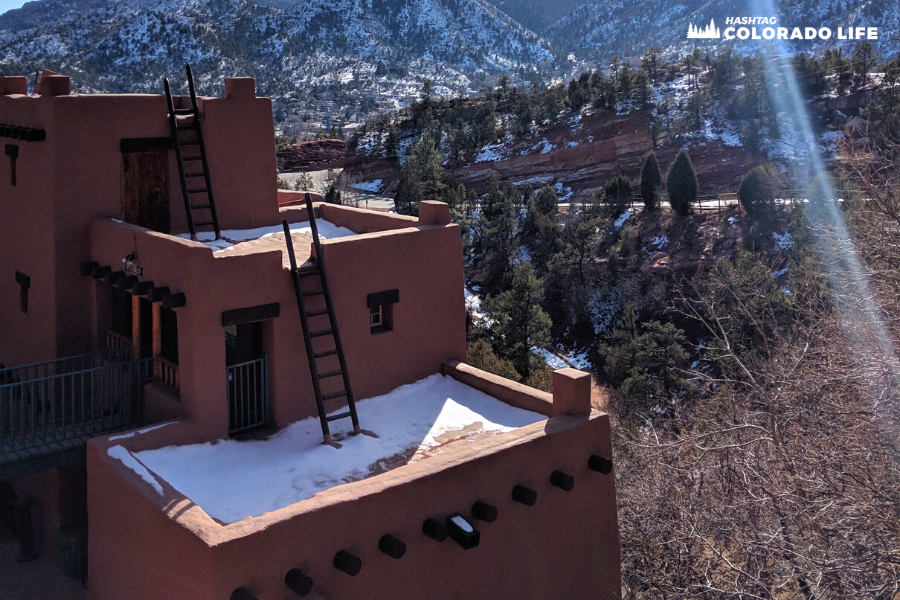 4. Pueblo-style buildings
Across from the cliff dwellings area are several 3-story Pueblo-style homes where Native American families lived until the 1980s.
These buildings were erected at the turn of the century and have been updated or expanded throughout the decades.
Walking through these buildings will give you a real "hands on" sense of what life was like for the indigenous people.
5. Mesa top dwelling
At the entrance to the museum, you will see a sign with a gorgeous overlook to take breathtaking photos.
Near this, is the Mesa top dwelling where you can see real clay ovens and methods for how the natives stored and cooked their food.
6. Museum & gift shop
Walking down to the museum and gift shop area will be your final stop. Here you will find unique souvenirs as well restrooms and a water fountain.
Over the years, the museum has been expanded and now includes many different pieces of pottery, Native-made jewelry, and historic artifacts.
Read about the history of the various types of natives who lived here, and the differences in methods for making mortar and clay to build homes.
What to expect at the Manitou Cliff Dwellings
How long does it take to go through Manitou Cliff Dwellings?
Since the Manitou Cliff Dwellings are open for self-guided walking tours, it's up to you to create your own adventure.
You can stay and explore all afternoon or stop for a quick trip.
However, if you want to explore the entire museum and gift shop area, it will take about 1-2 hours to tour.
The Manitou Cliff Dwellings is the perfect day trip adventure to add to your bucket list or when planning a trip to visit Colorado Springs.
Although these structures were not constructed by Native Americans, they are authentic.
The houses and dwellings were created to preserve the history and lifestyle of this ancient civilization.
So, come and explore the Cliff Canyon area in Manitou Springs and enjoy a small peek back in time.