Skyline Drive Colorado: America's Most Scenic One-Way Road
This website may contain affiliate links and we may be compensated (at no cost to you!).
Skyline Drive Colorado is a historic and narrow road that follows the top of a high razorback ridge near Cañon City.
It is known as one of America's most scenic drives thanks to the 360 degree views that stretch for hundreds of miles.
The road is one-way only as there are no guard rails or markers, just steep drop offs on the cliff face on either side.
Visitors will also find dinosaur fossils and footprints that date all the way back to the Cretaceous Period.
If you're ready to explore this narrow one-way scenic drive and see unmatched Colorado views, then keep reading.
How was Skyline Drive built?
Skyline Drive was built in 1905 by 60 inmates from the local prison in Cañon City.
According to local history, the inmates from the nearby prison, received 10 days off their sentences for every 30 days worked.
Originally the road was named Skyline Boulevard, but became affectionately known as Skyline Drive ever since.
The road officially opened in 1906 but was limited to foot traffic, cyclists, and horse-drawn carriages only.
But by 1907 vehicles were allowed to drive on select weekdays, and motor vehicles have dominated the road to this day.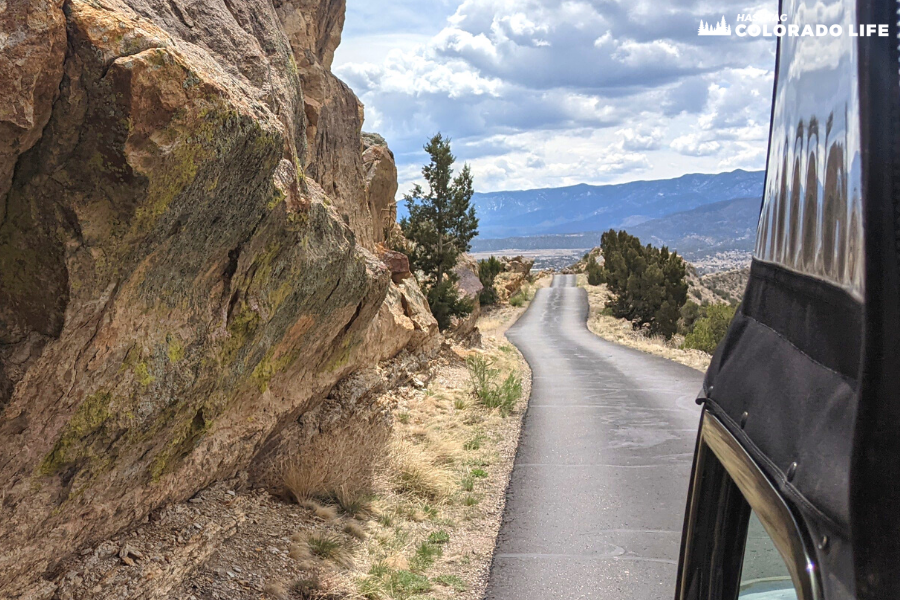 Almost as soon as the road was built it became a popular attraction.
Tourists and photographers came from all over the country, and even as far as New York City to take in the sights.
The scenery at the top of Skyline Drive is unmatched! It offers 360 degree views of the Colorado mountains, Canon City, and stretches as far as the eye can see.
The entrance to Skyline Drive is marked with a unique stone archway that was built in 1932.
It was crafted using native rocks from each of the 48 states in the union (Hawaii and Alaska did not become states until 1959).
How to get to Skyline Drive in Cañon City
Getting to Skyline Drive is pretty easy and only takes a couple of hours, depending on where you are coming from.
To get to this scenic road near the Royal Gorge area, take I-25 south from Boulder, Denver, or Colorado Springs.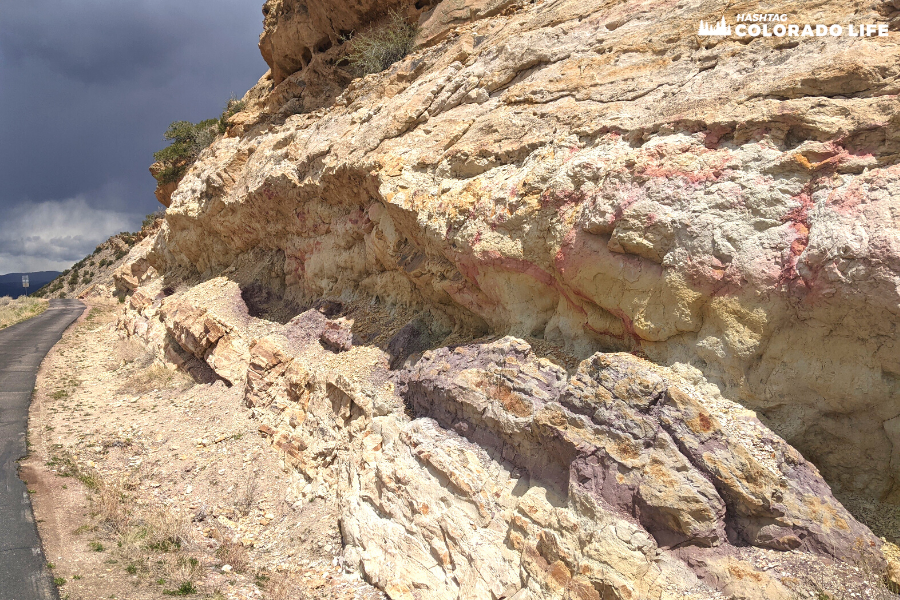 Connect to Highway 115 continuing south until you reach Penrose, Colorado.
From here turn west onto Highway 50 for about 5 miles until you reach Skyline Drive.
The entrance to Skyline Drive is located on the western side of Canon City close to Royal Gorge Mountain Park.
How long is Skyline Drive in Colorado?
Skyline Drive is a single-lane, one-way asphalt road that is 2.6 miles long and sits on the backbone of a Hogback.
This razorback ridge is composed of upturned Dakota sandstone, Morrison mud, and Fountain formations.
Even though the drive doesn't sound like a very long road, the speed limit is 15 mph due to the nature of the street.
Skyline Drive rises about 800 feet in elevation from the surrounding landscape and is not for the faint of heart.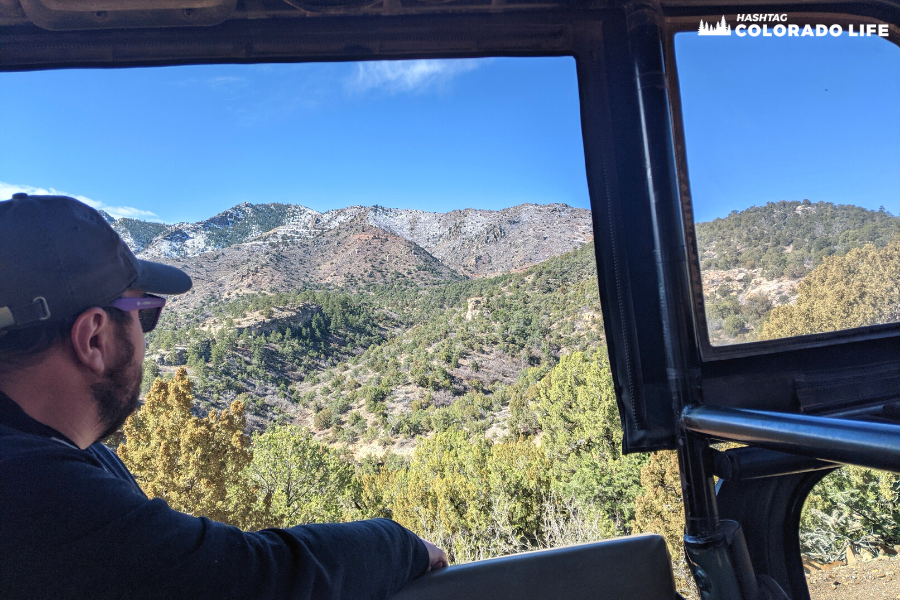 There is no turning around or going back the way you came if you change your mind.
The narrow roadway makes it even more terrifying since there are no guardrails or safety fences separating you from the steep cliff drop offs.
If you don't like heights you may not like driving on Skyline Drive! But if you are somewhat of a daredevil, you will enjoy this one-of-a-kind experience.
There are multiple pull-offs and scenic overlooks where you can stop and get out to take photos or take in the landscape.
See dinosaur tracks on Skyline Drive
After passing the entrance to Skyline Drive be on the lookout for dinosaur footprints and other fossils.
This area is often referred to as a Dinosaur Trackway as you will see side-by-side footprints of Ankylosaurs walking west together.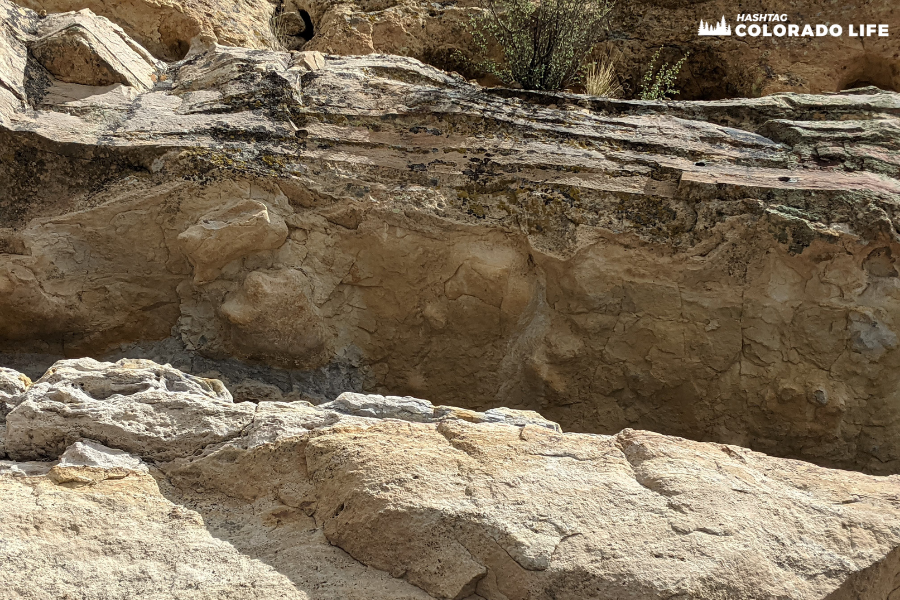 A paleontology student actually discovered the Ankylosaurs footprints in 1999.
Though they were visible for years, the fossil tracks were hidden in plain sight, and remained undiscovered until this time.
You can pinpoint these footprints thanks to the markers and interpretive signs near the pull-offs.
Take the Skyline Drive self-guided tour
A popular way to explore Skyline Drive is via a self-guided tour from Heritage Tours.
Start by downloading the free PDF and reading all about the history of Skyline Drive.
Look through photos of the first parking area, snack shack, and the historic archway.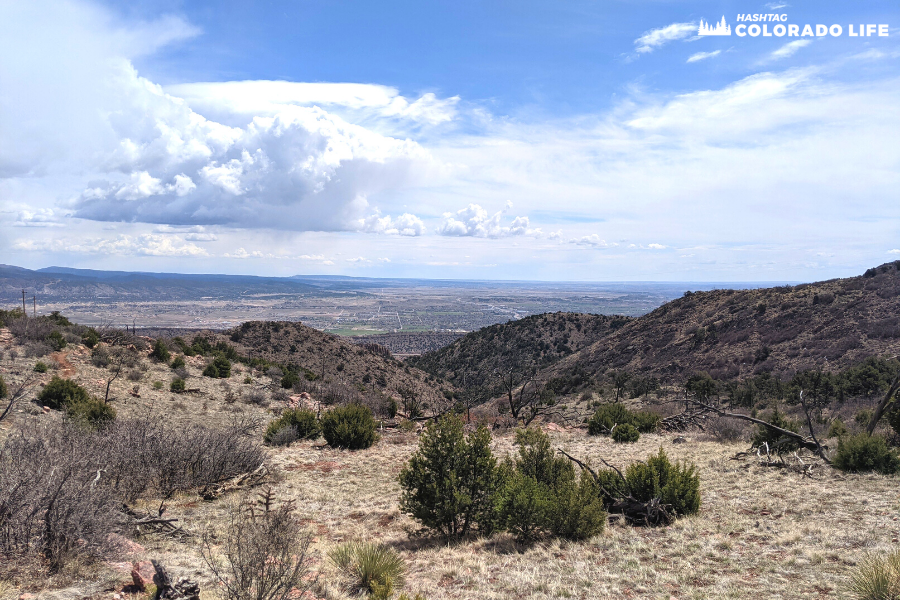 Then choose to drive, hike, or bike up the steep road at your own risk. Extreme caution is recommended when passing pedestrians or going around corners.
Finally, you can plan your trip and learn more via the Fremont County website.
Go on a Jeep tour of Skyline Drive, Colorado
If you want a real lesson in history and the local geology, we recommend booking a Colorado Jeep Tour of the Royal Gorge Area.
The last stop on the tour is Skyline Drive and it's one of the best tour experiences we've ever had.
As you continue driving on Skyline Drive it will eventually wrap around and connect to 5th Street and Historic Downtown Cañon City.
On the way down you will drive by lots of unique rocks that showcase ancient geology and fossils from centuries past.
At the bottom of the road you can stop off to go for a short 1 mile hike on Old Skyline Drive Trail.
Once at the top you will see some of the most epic views in all of Colorado!