11 FREE Things to Do in Breckenridge in the Summer
The content of this website may contain affiliate links and we may be compensated (at no cost to you!). Thank you for your support!
If you're craving a mountain-town feel with resort-quality amenities, Breckenridge, Colorado is the ski town for you.
From historic main street to the Blue River Riverwalk, Breckenridge is a great place to visit anytime of year.
In fact, "Breck" as locals refer to it, is often considered Colorado's favorite local mountain town.
When visiting Breckenridge, we recommend enjoying a Full-Day Mountain Explorer Tour.
While the town is known for the epic skiing at the Breckenridge Ski Resort, there are plenty of non-ski things to do during the snowy months.
We like Breckenridge so much we even included it on our list of our top-rated places to visit.
Where is Breckenridge, Colorado?
Breckenridge is located on the other side of Loveland Pass, west of Denver and Colorado Springs.
It's near other popular Colorado mountain towns like Dillon, Frisco, and Keystone.
And it's pretty easy to get to Breckenridge. Just hop on I-70 west for about an hour and a half from Denver or 2 hours from Colorado Springs.
Or if you're coming from Colorado Springs, you can take Highway 24.
This route takes a little longer, but it carries you over the Continental Divide and Hoosier Pass.
During the winter check the weather forecast and road closures before you travel though.
In the winter, I-70 can shut down when big snow storms roll in.
This especially affects Loveland Pass and the Eisenhower Tunnel where you'll be over 11,000 feet in elevation.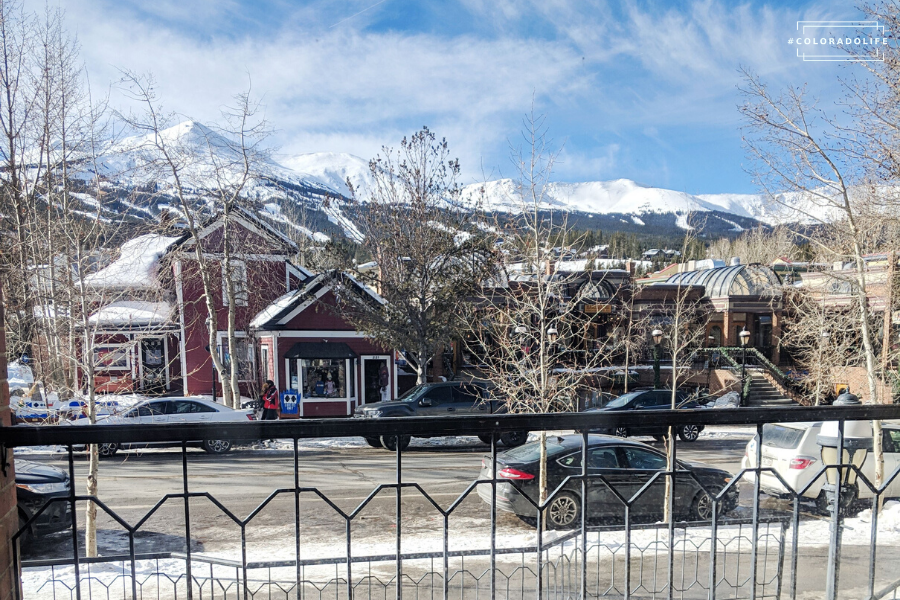 Weather can be particularly volatile and unpredictable at the Pass, so be prepared.
You'll reach the highest point while on your way to Breckenridge, but be prepared for the final destination elevation as well.
Here are our favorite things to do in Breckenridge, Colorado during the summer or winter months.
1. See the Breckenridge Troll
Any time of year, keep your eyes peeled for the Breckenridge Troll.
Created by Danish artist Thomas Dambo from scrap wood and recycled materials, this 15-foot sculpture is named Isak Heartstone.
You will find him at the end of the short but beautiful Trollstigen Trail.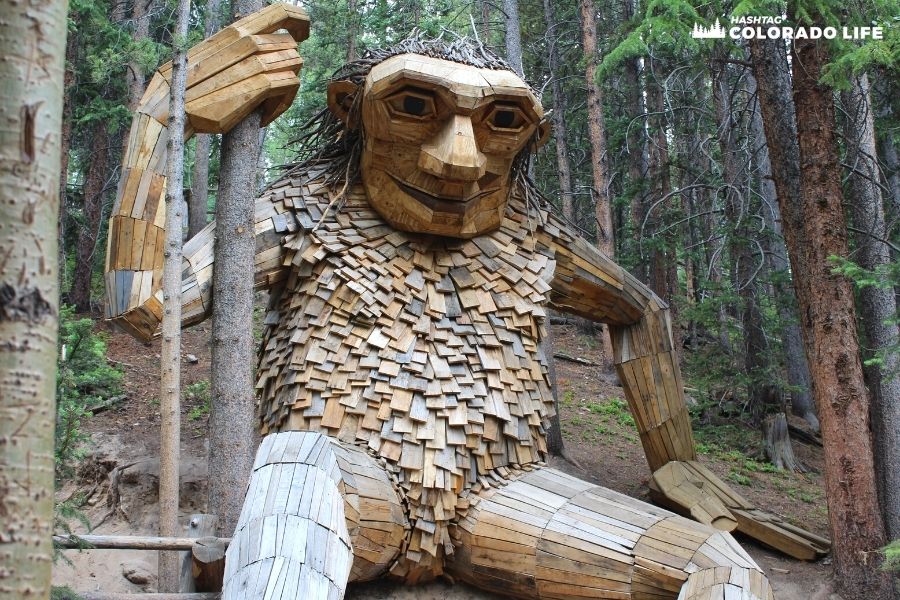 Unlike your typical troll, Isak is approachable and friendly in his home out in nature, and people love to take pictures with him.
When you go for a hike, look out for him!
Plus, this is the perfect activity to bring selfie drones along to capture a magical moment with a 15-foot tall troll in Breck!
2. Ride the Breckenridge Gondola
The Breckenridge Gondola, also called the BreckConnect, is free to ride up and down all day, all year long.
And you don't need a lift ticket or reservations to ride the gondola. It's completely free all year long.
Enjoy views of the stunning Colorado Rocky Mountains at Peak 8 once you arrive at the top.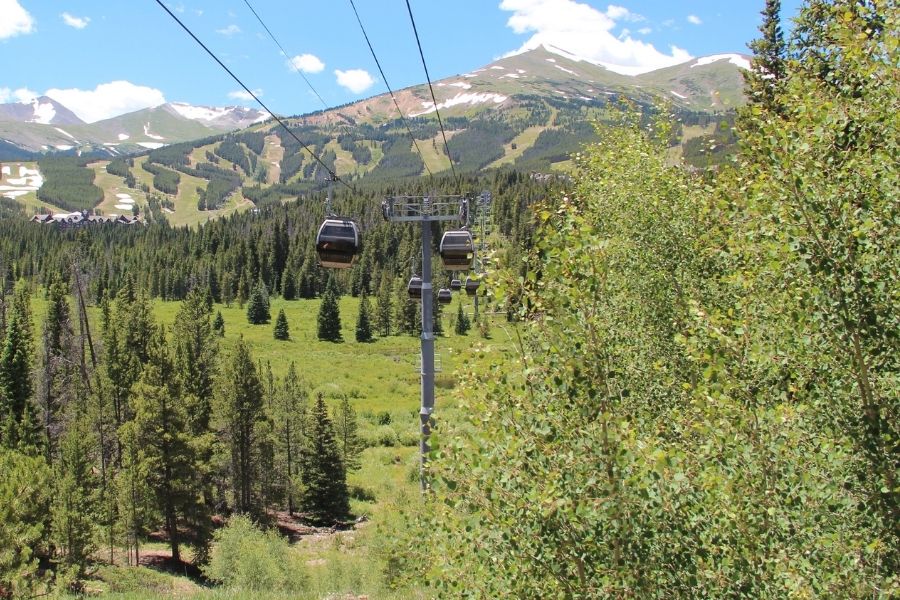 Here you can check out the Epic Discovery center and the Grand Colorado Lodge.
In the summertime, feel free to bring your leashed dog on the gondola as there are lots of hiking trails around the resort.
The BreckConnect also carries bicycles up as well for a small fee in the summer months.
3. Stroll down historic main street
Originally founded as a mining town, Breckenridge is steeped in history, with many historic buildings dating between 1859 and 1942.
The Breckenridge Historic District was formed in the late 1970s in order to preserve the historical elements of the town.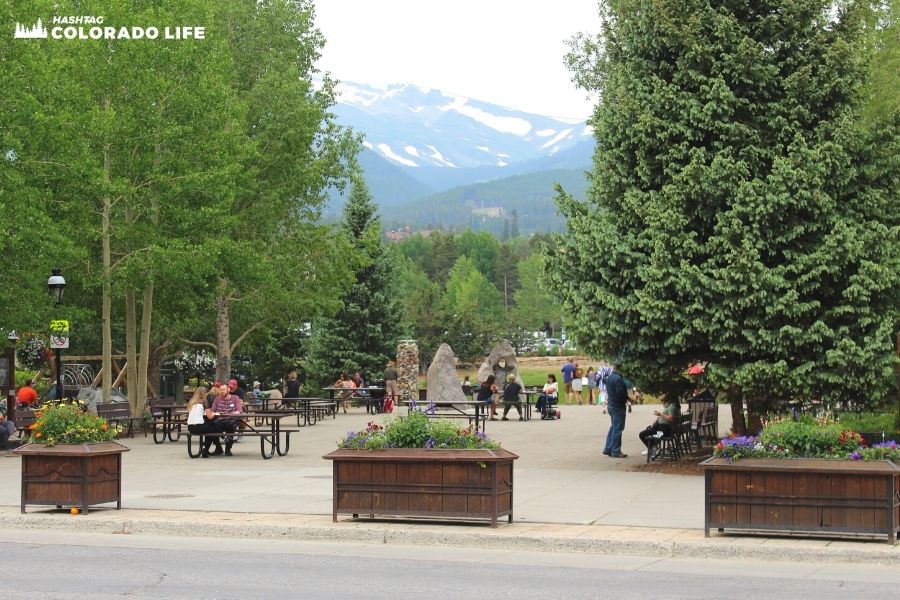 As you walk down South Main Street you'll see many buildings that date back to the gold rush days.
Enjoy a bite to eat from any of the native restaurants and eateries. Do some outdoor shopping, or enjoy art and music from local artists.
4. Go snowshoeing or cross-country skiing
There are two amazing Nordic centers in Breck, the Breckenridge Nordic Center and the Gold Run Nordic Center.
Gold Run is about a short ten minute drive from the Breckenridge Ski Resort.
If you're a snowshoer, cross-country skier or skate skier, you'll find wonderful managed trails at both Nordic centers.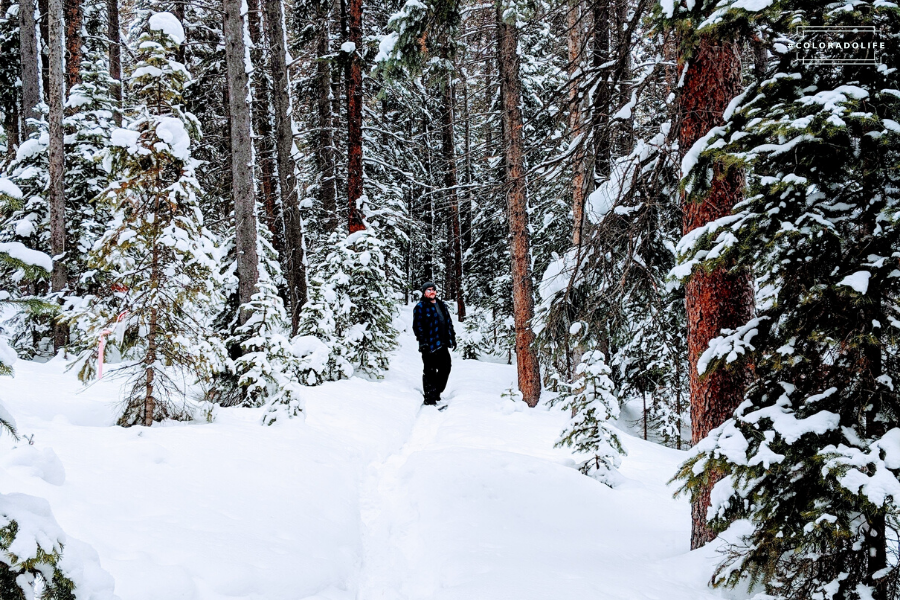 While the Breckenridge Nordic Center has both flatter trails and routes that lead up into the mountains, the Gold Run Nordic Center offers more rolling terrain.
The Gold Run also offers Full Moon Snowshoe tours where you can head out in the snow under the light of a bright full moon.
(If you're visiting around Halloween this is a fun spooky tour!)
5. Attend the Fourth of July celebration
A fun summer event in Breckenridge is not complete without fully celebrating Independence day in a big way
This huge, multi-day, family-friendly Independence Day celebration is hosted annually in Breckenridge every 4th of July.
The whole family will enjoy competitions, live music, art festivals, and other small-town family traditions.
This is a great summer activity and is a very popular attraction when the summer heat kicks in.
For 2021's celebration the National Repertory Orchestra was present and offered a live music show like no other!
6. Enjoy Oktoberfest
Colorado is known for their craft beer, and Breckenridge is no different.
In September, historic downtown Breckenridge becomes a bustling Bavarian beer hall for the three days of Oktoberfest.
This year you can attend the event for free from September 24-26, 2021.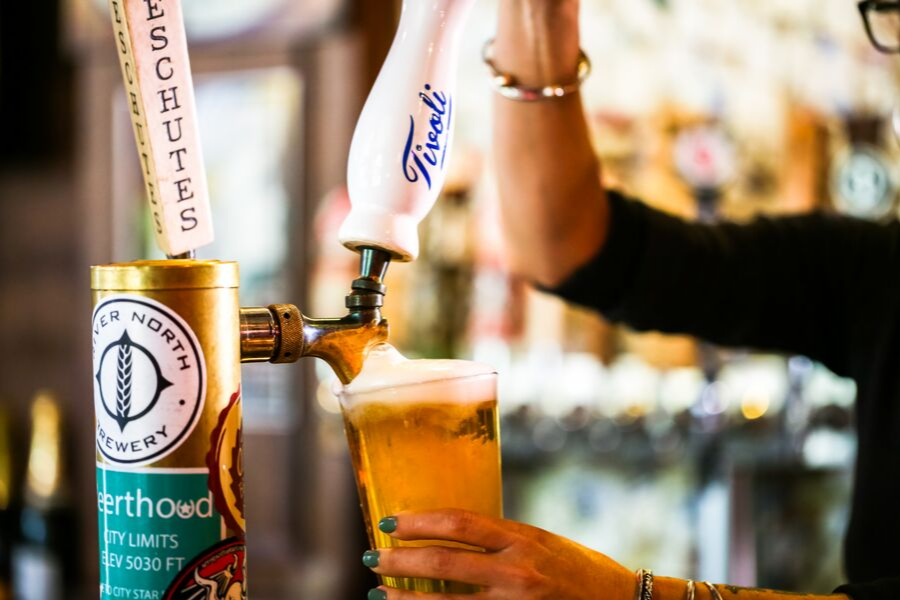 The architecture gives Breck a very authentic German feel, so this festival feels right at home.
Breck has even partnered with many local restaurants and vendors to bring you delicious and authentic food.
You pick up an official Paulaner Muchen beer stein, made in and imported from Germany.
7. Hike or bike the Peaks Trail
Between Breckenridge and Frisco is the 15.3 mile Peaks Trail with stunning scenery, especially during summer and fall.
If you start in Breck the entire trail is all downhill and will take about 4.5 hours walking.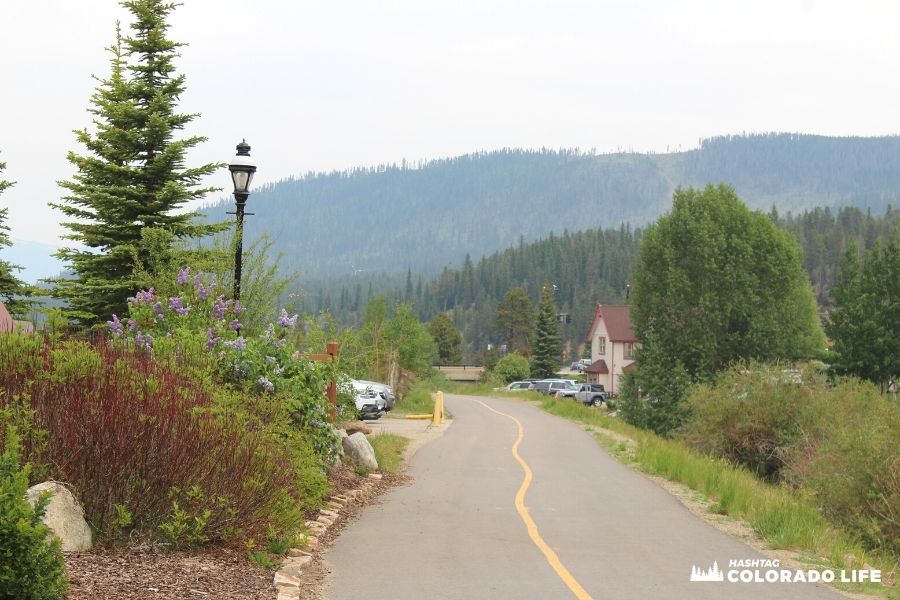 You can also bike this trail during the warmer months, or enjoy some snowshoeing and cross-country skiing in the winter.
There's a free shuttle between Frisco and Breck, so you don't have to hike the trail back unless you want to.
Just take the Breck Free Bus back to town.
8. Ride the Main Street Trolley
A great way to take in the sites and sounds of Breckenridge is to ride the Main Street Trolley.
This free trolley runs every 30 minutes from 9am to 11pm daily.
This historic tour passes many of Breckenridge's most iconic and beloved buildings.
We recommend starting at the Welcome Center near the Riverwalk center and enjoying the journey south on Main Street.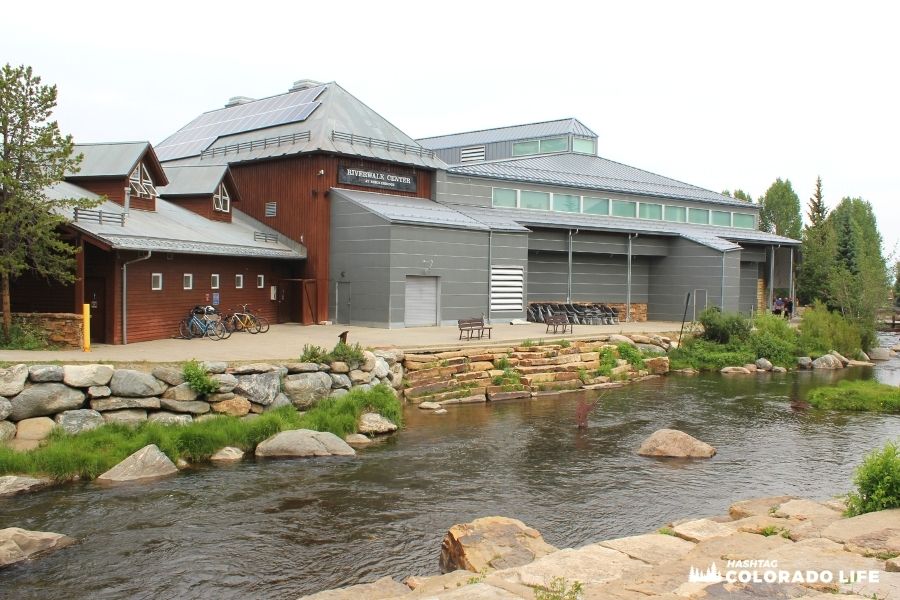 Along the way you'll see lots of historic architecture, statures, and hear stories of Breck's history.
As the tour continues, the trolley turns onto Boreas Pass Road, where you'll pass the Highline Railroad Park & Museum.
This was the original route of the Breckenridge narrow gauge railroad back in the late 1880s and early 1900s.
9. Watch the Lighting of Breckenridge
The first weekend of December marks the transformation of Breckenridge into a magical holiday winterland.
You'll get a chance to meet Santa, participate in a snowman building contest, run in the Race of the Santas, and finish out the evening with the Lighting of Breckenridge.
This is a family-friendly experience for everyone, even pets. Bring your festive Fido for a holiday dog parade.
The event starts on December 4, 2021 and lasts throughout the weekend.
10. See the International Snow Sculpture Championships
After New Years' is the International Snow Sculpture Championships.
The event starts on January 24, 2022 and continues for 6 days until January 30th.
The snow sculpture competition with artists carving and sculpting the aice from January 24-28th. Then viewing the final works of art begins January 28-30th.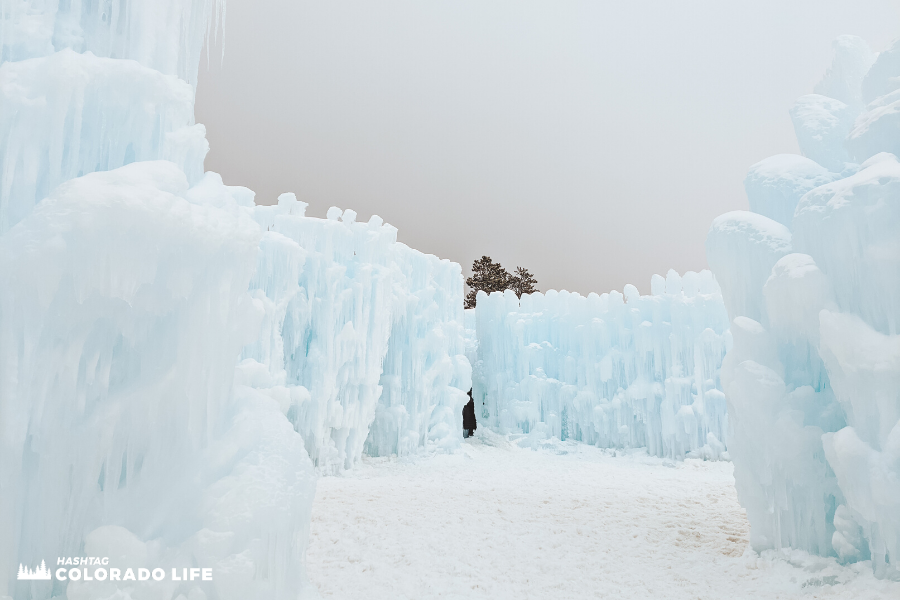 This competition is serious with 16 snow-sculpting teams from around the world!
The final art pieces created during this competition can seem to defy gravity, and they are truly impressive.
The event is completely free and open for public viewing.
11. Walk the Blue River Rec Path
The Blue River Recpath is an 8.8 mile paved path specifically for hiking or biking.
It winds along the Blue River all the way from Frisco to Breckenridge. Or you can even take it to Vail Pass via connection trails.
During the summer hikers can enjoy gorgeous wildflowers and clear running water.
Come autumn the leaves change color into vibrant yellows and orange, making this trail one of the best fall hikes in Colorado.
You can also follow the riverwalk north from the Welcome Center to the Breckenridge Gondola.
From terrain parks and breathtaking mountain views in the summer, to sleigh rides and scenic views in the winter, the town of Breckenridge is the perfect place for a weekend getaway.