25 Fun Things to Do in Breckenridge in the Winter Besides Skiing
This website may contain affiliate links and we may be compensated (at no cost to you!).
If you're craving a mountain-town feel with resort-quality amenities, Breckenridge, Colorado is the ski town for you.
From historic main street to sledding and snow tubing, Breckenridge is a great place to visit anytime of year.
In fact, "Breck" as locals refer to it, is often considered Colorado's favorite local mountain town.
While the town is known for the epic skiing at the Breckenridge Ski Resort, there are plenty of non-ski things to do during the snowy months.
We like Breckenridge so much we even included it on our list of our best places to visit in Colorado.
Here are the best things to do in Breckenridge in the winter that aren't just skiing.
1. Extreme Sledding in Breck
Take your sledding experience up a notch with this Extreme Sledding Excursion in Breckenridge.
Race down the Country Boy Mine sledding hill three times and receive a fun ride back up the mountain each time.
Plus, the ride back is just as fun as the ride down as you'll be transported by a snow cat or monster truck sleigh ride.
Choose between streamlined racing sleds or traditional wood sleds for a fun and fast time down the tubing hill.
The Country Boy Mine's alpine sledding course is just over a half a mile long.
This one-hour sledding experience is great for adult thrill seekers and those who want to level up their snow sledding excursion.
This tour is held at the historic Country Boy Mine which offers many other winter activities in Breckenridge.
2. Snowshoeing Excursion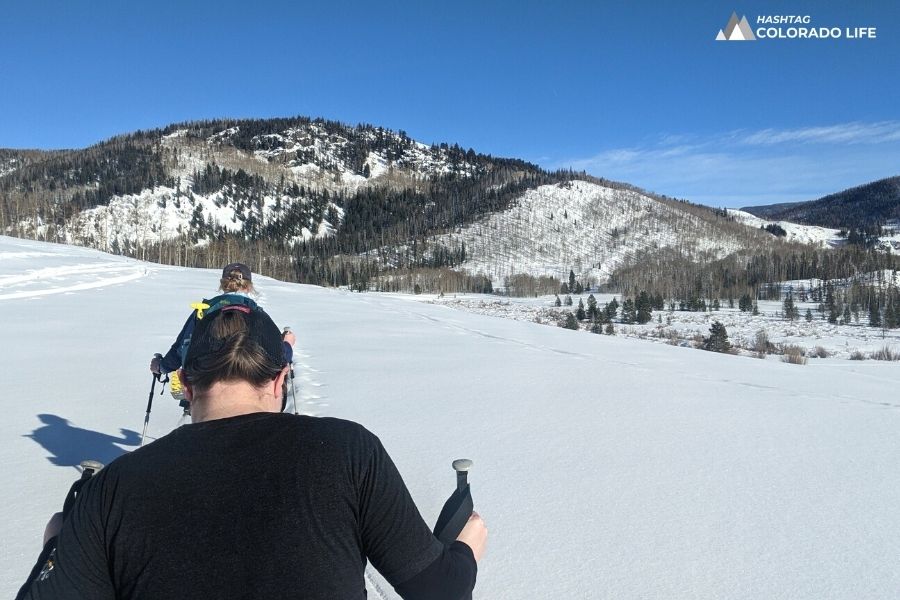 One of our favorite things to do in Breckenridge in the winter is a snowshoeing tour.
This family-centered adventure is perfect for all ages and allows you to get outside even in the cold snow.
Take in the beautiful Colorado scenery along with a friendly tour guide in an award-winning and historic setting.
You and your family will explore a historic mine site and acres of trails in Breckenridge. You and your loved ones could spend all day here!
Choose between a self-guided tour or have an expert guide join you on your snowshoeing adventure. Snowshoe rentals are included with your tour ticket.
Check out their website for more details about this fun snowshoeing tour. Tickets are likely to sell out soon.
3. Mystery Walking Tour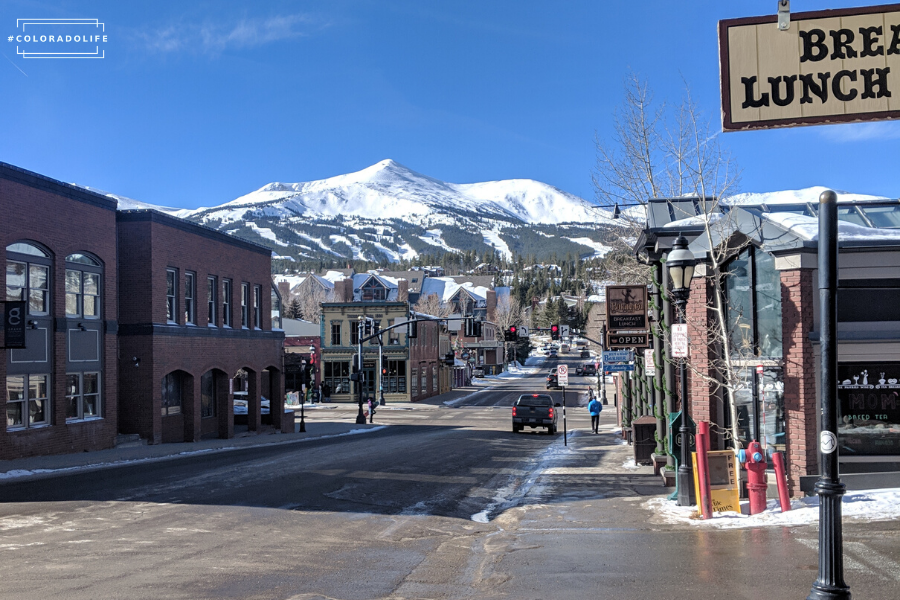 It's no secret that Breckenridge has a long storied past filled with mysteries, gold mining, and criminal deeds.
Learn more about this fun and spooky town by going on a walking tour of Breckenridge.
This 90-minute tour involves the darker side of Breckenridge. An expert guide will let you in on all the mysteries, storytelling, and real-life locations of violent crimes and kidnappings.
This is a fun afternoon activity for kids, adults, small groups, friends, and more.
You and your group will hear all the sordid details of strange but true stories that have been happening in Breck since 1961.
Be sure to bring some comfy walking shoes and dress in layers as you never know what the weather in Breckenridge will be like.
Learn more about this awesome mystery walking tour of Breckenridge for the next time you're in the area.
4. Fat Biking & Distillery Tour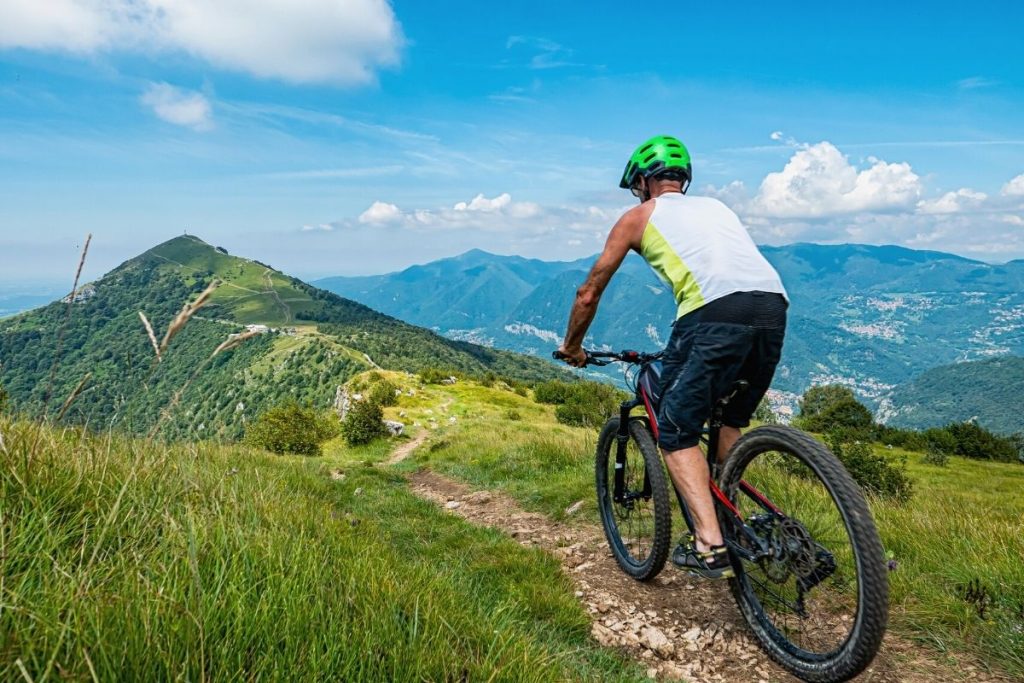 One of the best ways to experience the area that surrounds Breckenridge is on a bike.
And a Fat Biking Tour allows you to feel the freedom of biking pretty much year round, no matter the weather.
A fat bike is a bicycle with ridiculously oversized tires that can be used on any type of terrain. So it's perfect for snow, rain, or generally rocky landscapes.
Imagine a bike ride through the Rockies in early Oct with trees changing color. Or perhaps in the late spring with the mountainside blazed with wildflowers.
Now imagine that exact dream bike ride with a destination that can only match the journey. A fat biking tour combined with a trip to a brewery and distillery.
This Fat Biking & Distillery Tour starts out at Ridden, in the center of downtown Breck. From here it's a 4 mile ride north on the fat bikes through sun or snow.
On your biking tour you'll listen to history, hear stories and learn tidbits about the surrounding areas from this guided tour.
Take in scenery and learn about the animals and habitats around Breck, too.
And at the end of the tour is the Breckenridge Distillery with the Broken Compass Craft Brewery being just a few steps away.
Enjoy tasting some of Colorado's best and freshest beer or sip on smooth Colorado whiskeys.
When your tour is over you'll enjoy a free shuttle back to the starting location.
5. Gold Mine and Panning Tour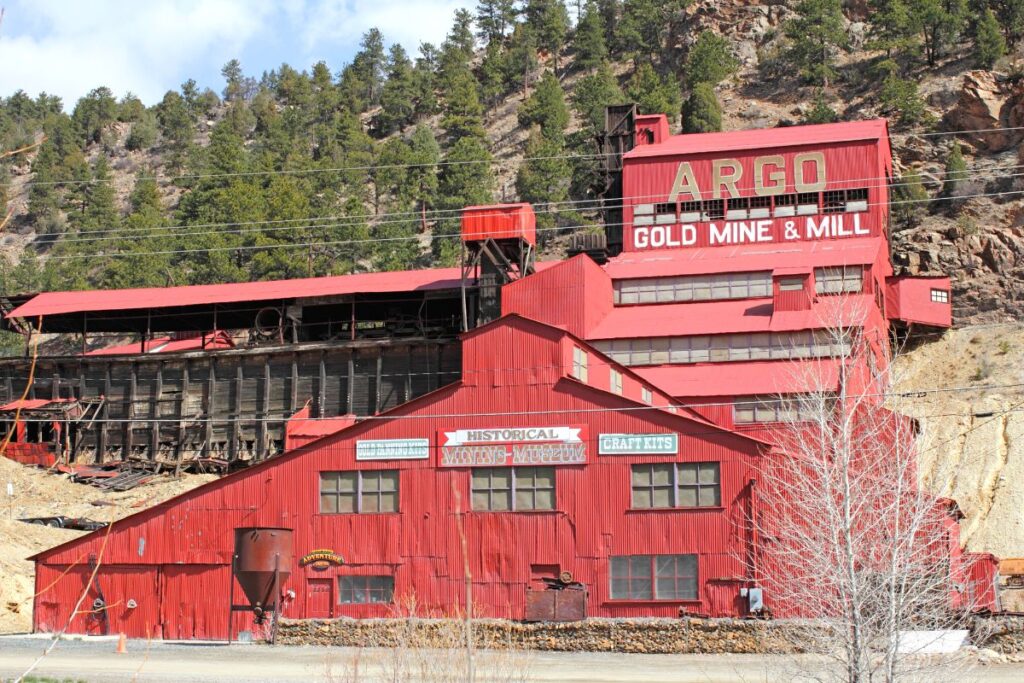 Like many other Colorado town's, Breckenridge has a history of gold mining and fortune seeking.
Go on a historic tour of Breck inside gold mining tunnels and try your hand at gold manning in the river.
Along this tour you'll stop by resident donkeys (called burros) and even slide down an old ore chute.
This is a great activity for kids and adults to learn about how gold panning was done and explore real gold mines.
Walk through these underground tunnels and see historic mining tools and check out vintage exhibits that display how life was like back in the gold rush days.
Stop by the General Store and pose with your friends and family for some lifelike Wild West photos.
A gold mine tour in Breck is an educational way for families to learn about Colorado's colorful history.
6. Breckenridge Scavenger Hunt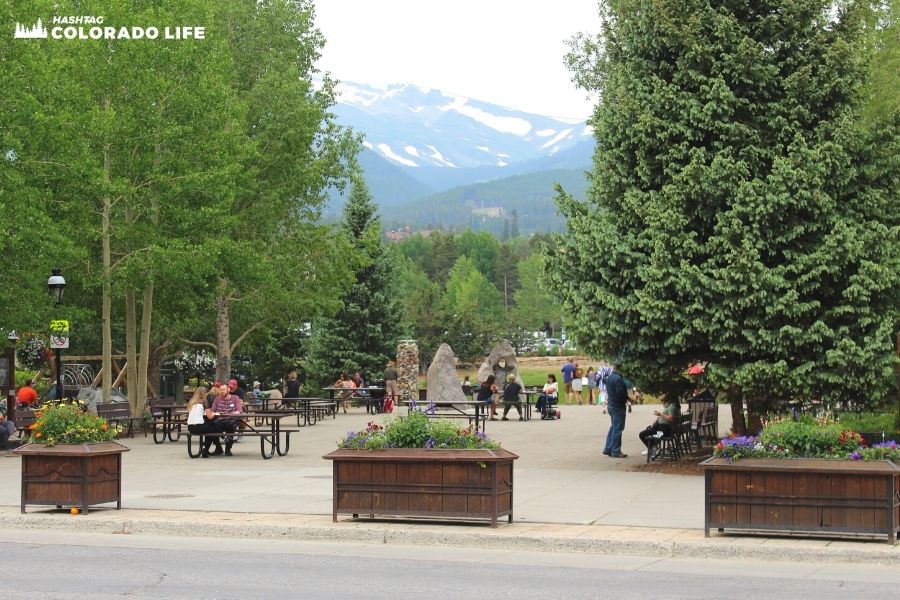 If you're looking for a fun and inexpensive way to tour Breckenridge, check out this interactive Scavenger Hunt.
This 2-hour tour is perfect for small teams, groups, families, and friends to hunt around the city of Breckenridge, Colorado.
You'll solve challenges, answer trivia, snap photos of landmarks, and find hidden treasures.
This scavenger hunt allows you to work at your own pace, take a break for lunch, and restart your hunt on your own schedule.
Everything you need is included with your tour including digital copies of your scavenger hunt photos, which is great for creating new memories.
Walking shoes are recommended along with comfortable clothes so you can experience Breck like never before.
We highly recommend this Scavenger Hunt of Breckenridge next time you're in town, or to simply spice up your weekend.
7. Snow Tubing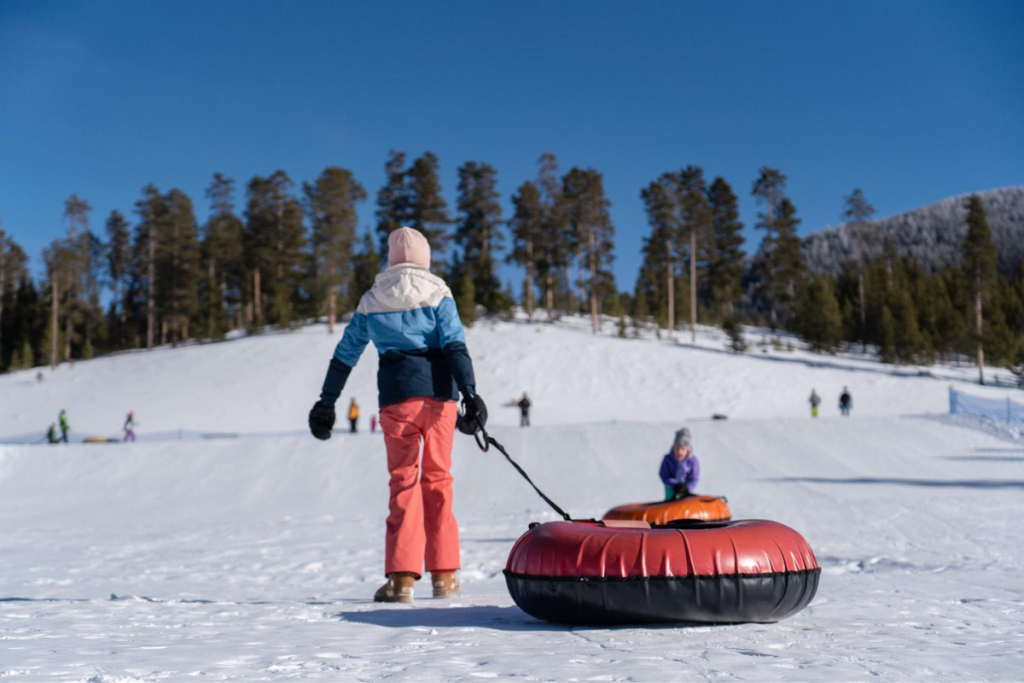 Spots like Carter Park and Country Boy Mine are popular for sledding. But there are several places near Breckenridge for snow tubing during the cold winter months.
Frisco Adventure Park is about 10 miles away and offers an awesome family-fun experience in the snow.
With multiple tubing lanes and a slow-moving conveyor belt back to the top of the mountain, this is our favorite place to tube in the winter.
Or check out the nearby Copper Mountain Tubing Hill or Keystone Adventure Point, both of which are about 20 minutes from Breck.
However, they both offer lots of snow tubing options for a full day of fun, for all ages.
8. Ice Fishing in Dillon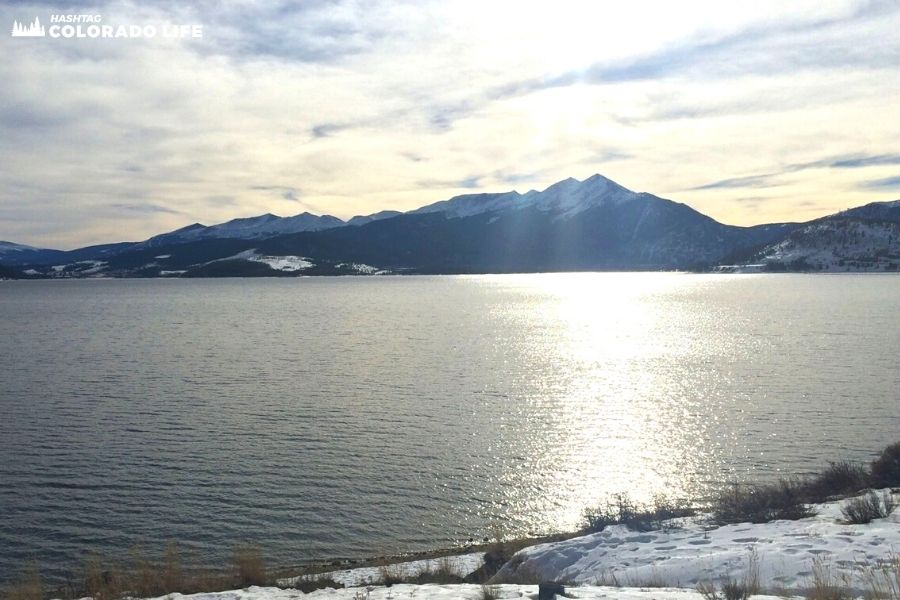 Take a break from skiing in Breckenridge and head out for some ice fishing on nearby Lake Dillon.
This gorgeous mountain lake contains several varieties of trout, kokanee salmon, arctic char and smallmouth bass.
There are many local companies who will help you reserve a warming hut that comes stocked with gear, tackle, bait and heaters.
Ice fishing trips like these are great for families with young kids, or anyone who enjoys fishing year-round.
Don't forget to purchase a one-day fishing license, which can be done from a nearby Walmart, City Market or via online.
Ice fishing on lake Dillon is a great spot for a unique winter activity near Breckenridge.
9. Snowcat Tours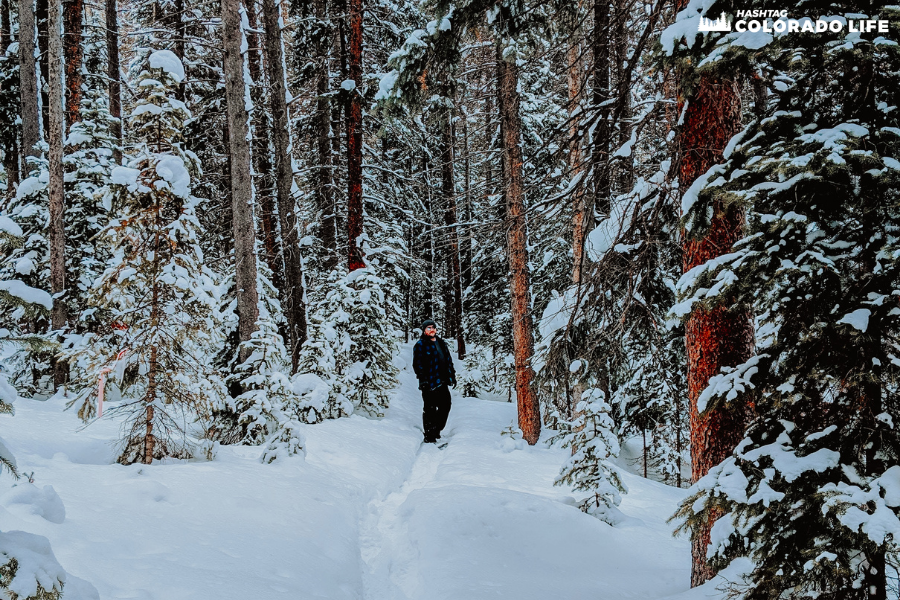 It's no secret that the mountain town of Breckenridge features lots of hiking and biking trails in the summer.
But you can explore these scenic trails in the winter with a Snowcat tour. The Breck Nordic Center provides guided tours through the Rocky Mountains on a snowcat.
Enjoy the gorgeous mountain views from the comfort of a heated cabin with large glass windows, perfect for taking photos.
Along the tour you'll learn about the local history and uncover the geological as well as ecological background of the area.
During the trip, you'll stop at a historic mountain cabin for some hot cocoa. A Breckenridge snowcat tour is a great family activity for all ages and fitness levels.
It's the perfect way to get out onto the trails and without expending too much energy!
10. International Snow Sculpture Championships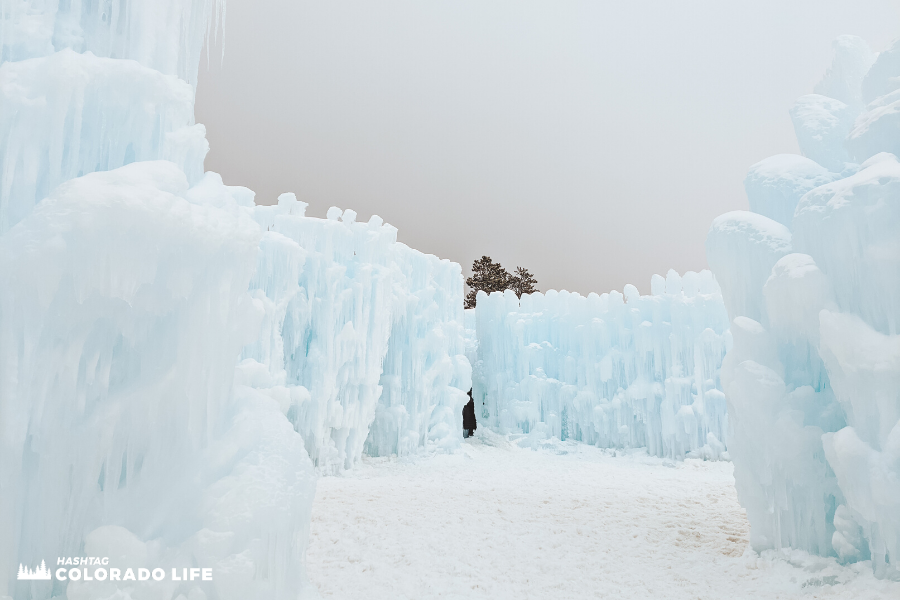 After New Years' is the International Snow Sculpture Championships.
The event starts on January 22, 2024 and continues through January 31, 2024.
The snow sculpture competition with artists carving and sculpting the ice from a few days earlier. Then viewing the final works of art begins January 27-30th.
This competition is serious with 16 snow-sculpting teams from around the world.
The final art pieces created during this competition can seem to defy gravity, and they are truly impressive.
The event is completely free and open for public viewing.
11. The Breckenridge Troll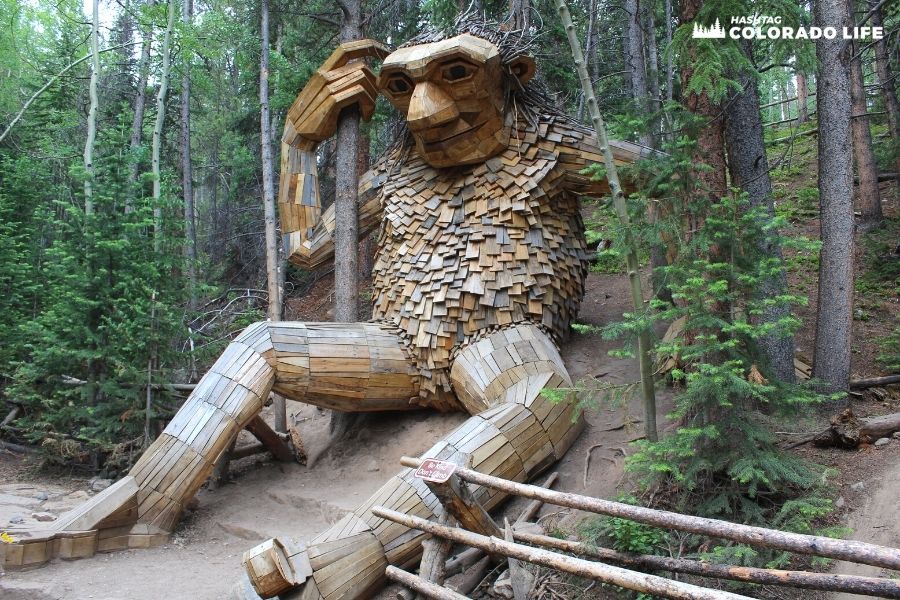 A list of the best things to do in Breckenridge isn't complete without visiting the Breckenridge Troll.
Created by Danish artist Thomas Dambo from scrap wood and recycled materials, this 15-foot sculpture is named Isak Heartstone.
You will find him at the end of the short but beautiful Trollstigen Trail.
Unlike your typical troll, Isak is approachable and friendly in his home out in nature, and people love to take pictures with him.
When you go for a hike, look out for him!
Plus, this is the perfect activity to bring selfie drones along to capture a magical moment with a 15-foot tall troll in Breck.
12. Ice Skating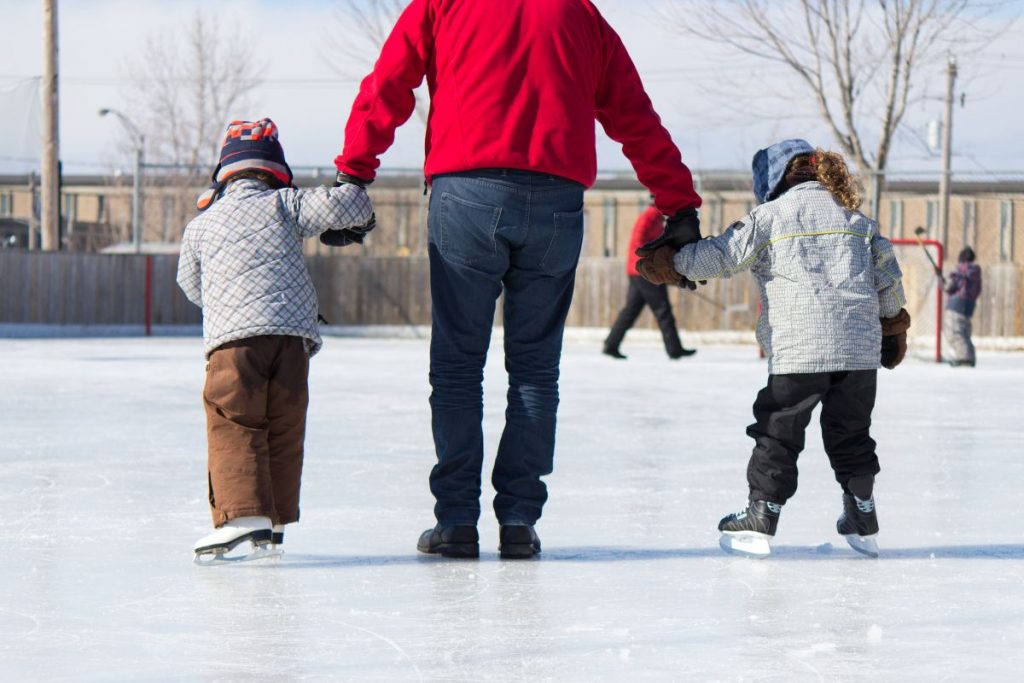 Near the hike to the Breckenridge Troll is the Stephen C. West Ice Arena. There are indoor and outdoor skating rinks available.
So, you can ice skate no matter the weather, on cold snowy days or warm summer nights.
Some of the winter ice skating events at the arena include skating with Santa and Boogie Nights on Fridays.
In addition to themed ice skating, the arena also offers holiday ice shows and other entertainment during the winter.
Ice skating lessons are also available at the arena as well as hockey events and other ice sports.
Check out the Stephen C. West Ice Arena's website for details of upcoming events and ice skating reservations.
13. Breckenridge Ski Resort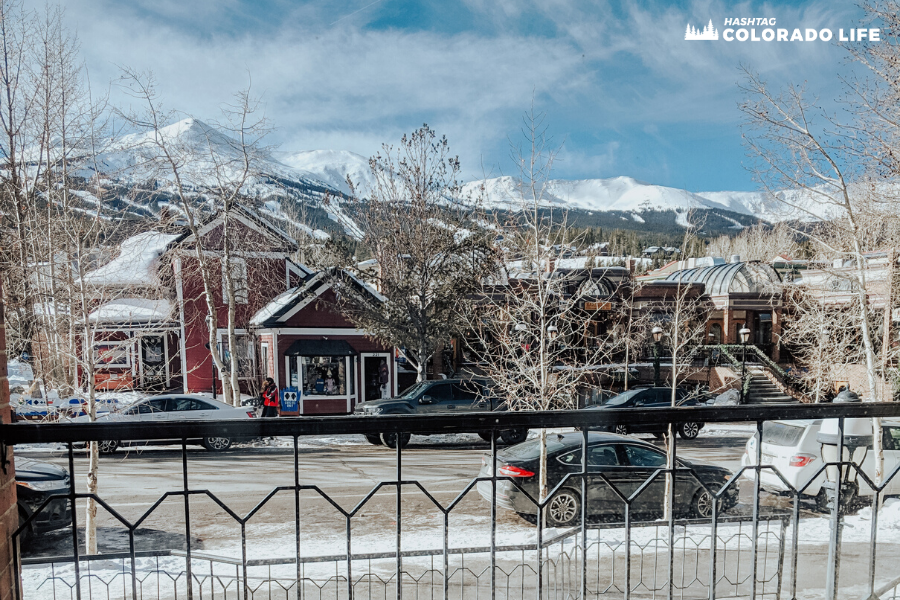 Most people visit a ski town to ski or snowboard on the slopes. And thankfully, Breckenridge has some of the best ski slopes in the state.
But Colorado's ski towns aren't just for colder months! Breck really shines as a place for the whole family in the winter.
Looking at the slopes from the town, it's hard to miss the 5 peaks that dot the horizon.
These snow capped peaks make up the 180 trails and nearly 3,000 acres of winter fun that is Breckenridge.
There is endless skiing and snowboarding available in the winter, and in the summer these trails turn into epic hiking, biking, and exploring.
14. Shopping on Historic Main Street
While you wouldn't typically think of exploring main street as one of the top things to do in Breckenridge, this activity is surprisingly entertaining.
Originally founded as a mining town, Breckenridge is steeped in history, with many historic buildings dating between 1859 and 1942.
The Breckenridge Historic District was formed in the late 1970s in order to preserve the historical elements of the town.
As you walk down South Main Street you'll see many buildings that date back to the gold rush days.
Enjoy a bite to eat from any of the native restaurants and eateries. Do some outdoor shopping, or enjoy art and music from local artists.
15. Breckenridge Distillery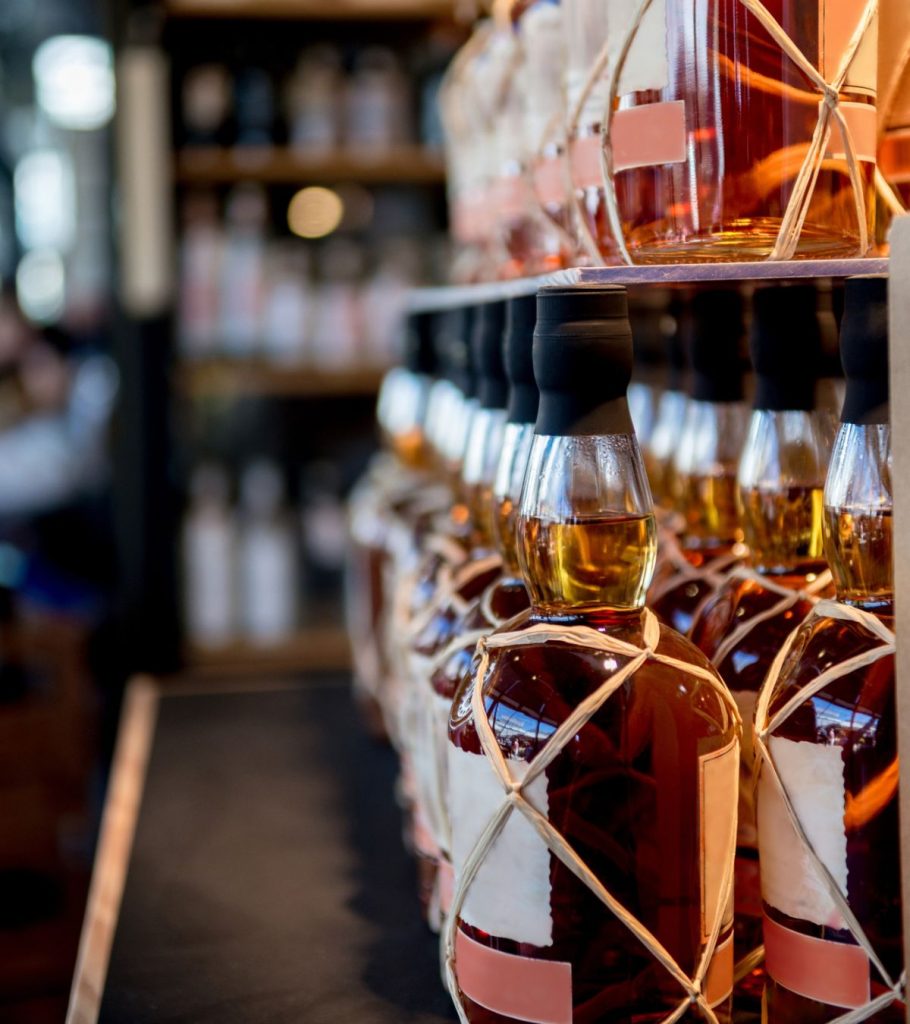 A visit to Breck in the winter isn't complete without a visit to the Breckenridge Distillery.
It is known as the world's highest distillery and produces top-quality spirits like bourbon whiskey and Breckenridge bourbon.
The purity of the distillery drinks is unmatched thanks to blending water directly from Rocky Mountain snowmelt. This gives it a unique taste and experience that's only available in Breckenridge.
The Distillery is full service and offers a tasting room, restaurant and provides tours for those who want a sneak peek of the company.
Tours are available 7 days a week from 11am – 6pm. On the tour, guests are offered a chance to taste a wide array of spirits!
The Breck Distillery Restaurant serves up modern American cuisine with a side of, what else, a Breckenridge drink. Take a bite of their small plates, yummy entrees, or join them for happy hour daily.
16. Cross-country Skiing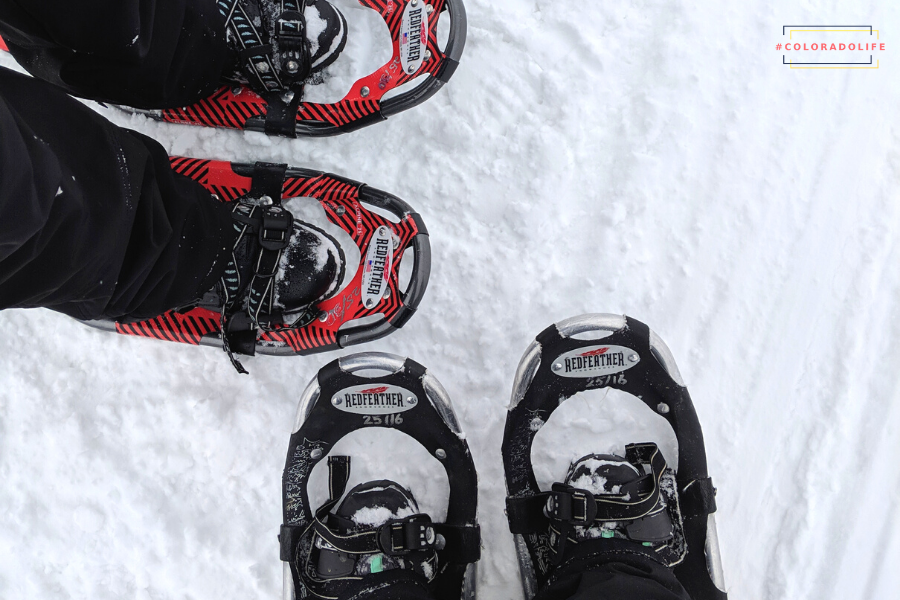 There are two amazing Nordic centers in Breck for cross country skiing, the Breckenridge Nordic Center and the Gold Run Nordic Center.
Gold Run is about a short ten minute drive from the Breckenridge Ski Resort.
If you're a snowshoer, cross-country skier or skate skier, you'll find wonderful managed trails at both Nordic centers.
While the Breckenridge Nordic Center has both flatter trails and routes that lead up into the mountains, the Gold Run Nordic Center offers more rolling terrain.
The Gold Run also offers Full Moon Snowshoe tours where you can head out in the snow under the light of a bright full moon.
17. Winter Horseback Riding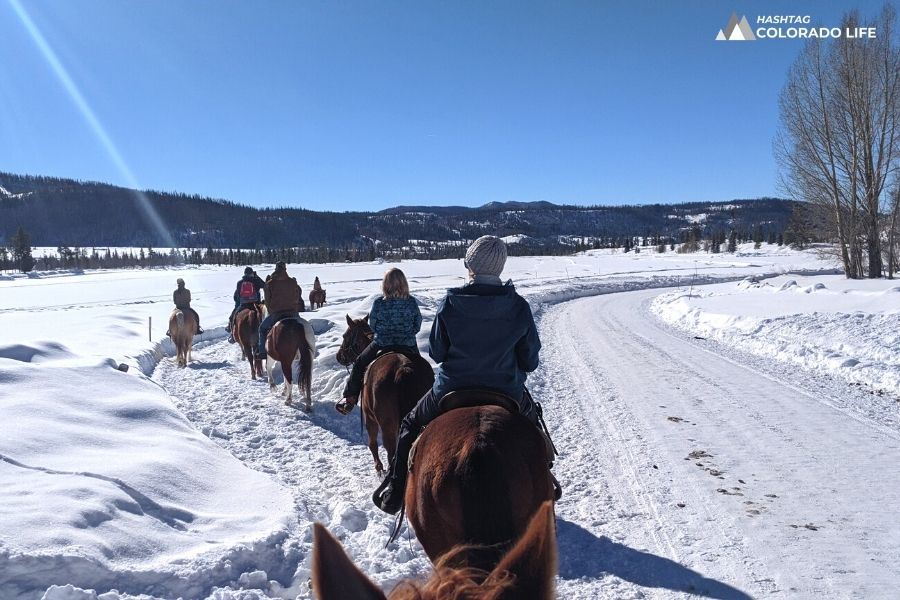 In addition to offering sleigh rides, the Breckenridge Stables also offers horseback riding in both the summer and winter.
Transport yourself to how the Colorado cowboys used to travel the state while on horseback.
It's a fun experience for the family and something that we have done and really enjoyed. Riders of all experience levels will have lots of options for riding in and around Breckenridge.
Choose from trails throughout Breckenridge's expansive trail network or open range rides just north of town.
Winter horseback riding is a totally different experience to riding horses in the summer. But you can enjoy this activity any time of year.
Nearby ranches that also offer horseback riding are the Rusty Spurr Ranch and the American Safari Ranch.
18. The Breckenridge Gondola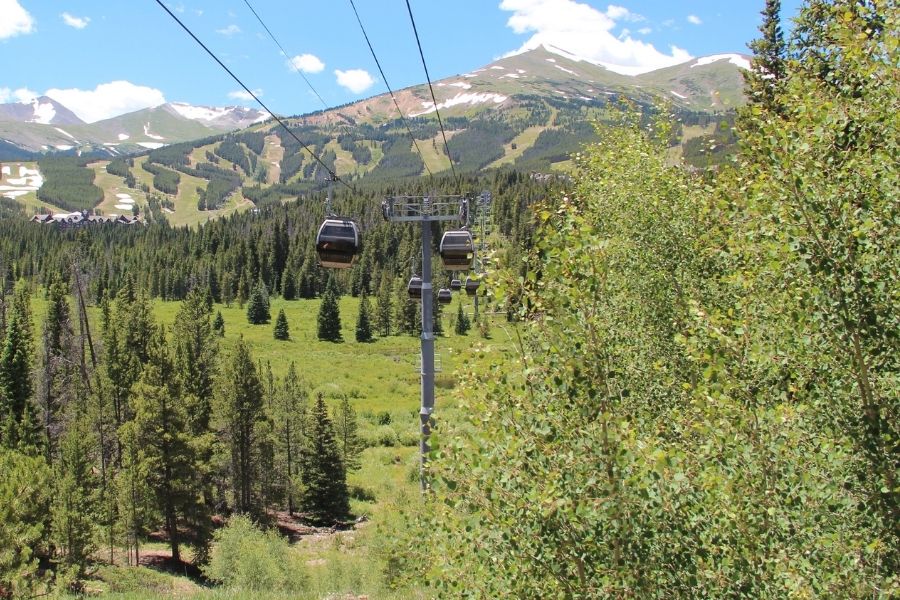 Speaking of the Breckenridge Gondola, also called the BreckConnect, this is a completely free way to ride up and down all day, all year long.
And you don't need a lift ticket or reservations to ride the gondola.
One of the best things to do in Breckenridge in the winter is riding up the BreckConnect Gondola to Peak 7 or Peak 8, which is completely free.
If you have the proper lift ticket, Peak 8 is essentially the hub of the entire park and allows access to anywhere else via the connecting chair lifts.
Here you can check out the Epic Discovery center and the Grand Colorado Lodge.
Obstacle course, minigolf, Goldrunner Coaster, mountain biking and epic hiking are a short list of things to do here in the summer months.
Feel free to bring your leashed dog on the gondola as there are lots of hiking trails around the resort.
The BreckConnect also carries bicycles up as well for a small fee.
In the winter, you will find Breck covered in powder and the slopes buzzing with activity.
19. Barney Ford Victorian House
The Barney Ford Victorian House pays homage to the freed slave that shares its name; Barney Ford.
A man that overcame true adversities in his life, helped make Breckenridge what it is today, and shaped the world into a better place.
The museum contains information about Ford and catalogs his life. From being born into slavery and escaping to Chicago along the Underground Railroad.
The Barney Ford Museum showcases his various entrepreneurial ventures in Chicago and his draw to Colorado where he came to Breck as a miner.
You will also find his failed and successful projects in Denver and Cheyenne, Wyoming.
By 1870, Ford became one of the richest men in Colorado. Because of this, he was able to open a restaurant in Breckenridge and build his stately Victorian home above it.
The Barney Ford House has real life exhibits and lets you step back in time in this Victorian style home.
Homes like these, that later become a museum, seem to really transport you back to the era.
All the authentic artifacts, paintings and portraits, transport you back to that time and really gives a glimpse of what life was like.
20. Ride the Main Street Trolley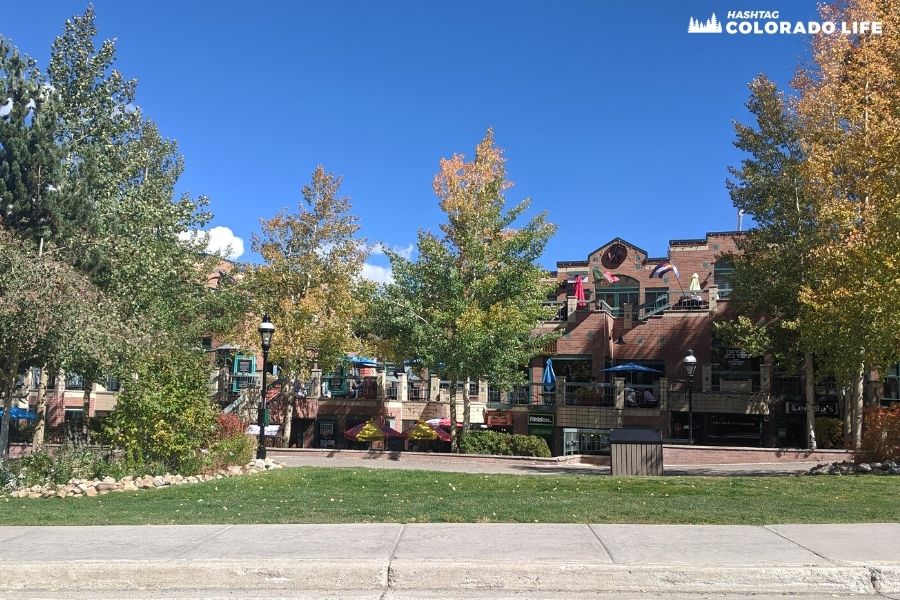 A great way to take in the sites and sounds of Breckenridge is to ride the Main Street Trolley.
This free trolley runs every 30 minutes from 9am to 11pm daily.
This historic tour passes many of Breckenridge's most iconic and beloved buildings.
We recommend starting at the Welcome Center near the Riverwalk center and enjoying the journey south on Main Street.
Along the way you'll see lots of historic architecture, statures, and hear stories of Breck's history.
As the tour continues, the trolley turns onto Boreas Pass Road, where you'll pass the Highline Railroad Park & Museum.
This was the original route of the Breckenridge narrow gauge railroad back in the late 1880s and early 1900s.
21. Lighting of Breckenridge
The first weekend of December marks the transformation of Breckenridge into a magical holiday winter wonderland.
You'll get a chance to meet Santa, participate in a snowman building contest, run in the Race of the Santas, and finish out the evening with the Lighting of Breckenridge.
This is a family-friendly experience for everyone, even pets. Bring your festive Fido for a holiday dog parade.
The event starts on December 2, 2023 and lasts throughout the weekend.
22. Sleigh Rides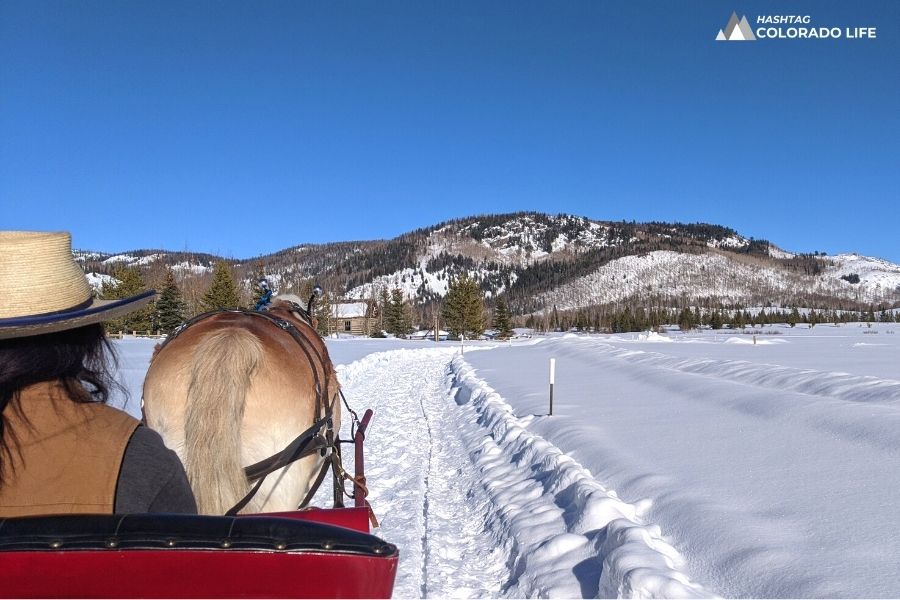 The town of Breck has some of the best sleigh rides in Colorado thanks to the Breckenridge Stables.
Open from November 2023 to April 2024 you can ride one of their custom built mountain sleighs through the snow.
Enjoy a horse-driven sleigh ride through the snowy scenery while wrapped in a warm blanket next to family or friends.
Choose between different scenic daytime sleigh rides or evening dinner rides throughout the winter.
Dinner sleigh rides include a hot, meal served buffet style that includes liver entertainment at the clubhouse.
They offer small sleighs for couples or families, or sleighs large enough to fit up to 28 people!
23. Edwin Carter Museum and Park
To understand the Edwin Carter Museum and Park and why it came to be, it's easiest to start with its namesake; Edwin Carter.
A curious, enigmatic man, Carter came to Breckenridge in 1860 as a miner and originally had relative success at it as well.
But he became distraught by the destruction of the environment caused by mining techniques.
This set him on a mission to collect animal and bird specimens from the area before they were gone.
Preserving animals in the late 1800s meant something else versus how we view it now. Ironically back then, killing the animals and preserving them through taxidermy was what people did.
In 1875, Carter built a cabin in Breck to house and display his collections of 3,000 specimens.
Today, the cabin is now the Edwin Carter Museum and is in excellent condition, even after standing for 125+ years.
On the property there is plenty to read and see about Carter's conservation efforts.
Plan for 30-90 min to walk around, ask questions, hands-on exhibits and learning for kids at this one of a kind museum.
24. Breckenridge Backstage Theatre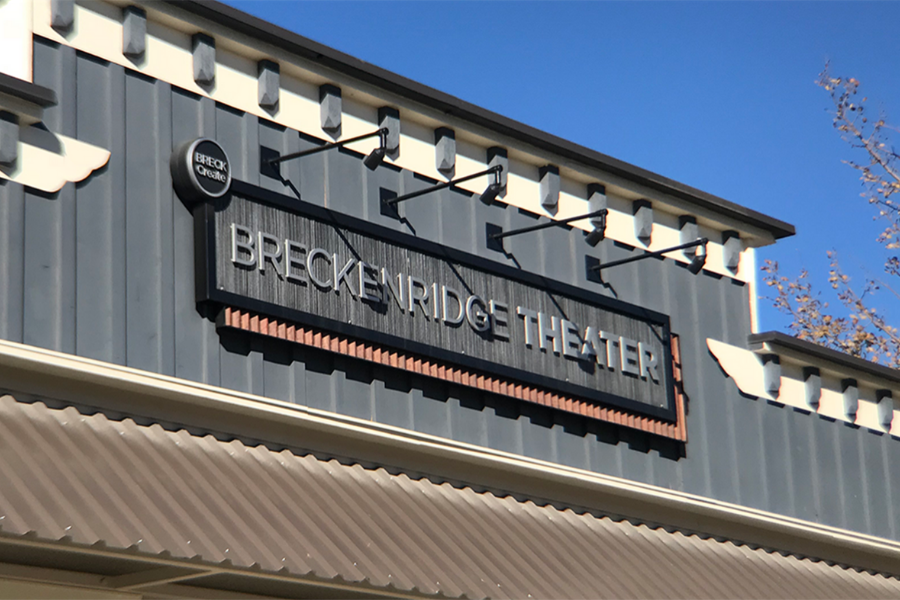 The Breckenridge Backstage Theatre is the oldest year round theater company on the western slope.
Since 1976, BBT has been presented with a number of Colorado Theatre Guild and True West awards.
The Breckenridge Theatre was updated in 2016 and serves as the main space for shows with 137 seats. The theater also uses the 750-seats available at the Riverwalk Theatre as needed.
Annually, the Breckenridge theater produces 5-6 main stage shows, a community production, and a youth production.
Plus, they offer a full set of classes and summer camps for kids ages 3-21.
Even if you are just visiting for a short time to ski, it's worth it to check out a quality production from this theater.
Or if you are living in the area and interested in this, the Breckenridge Backstage Theatre is always looking for new talent and actors to fill out some of their productions.
25. Dog Sledding
If you're looking for a unique winter activity in Breckenridge try dog sledding. This is a great way to get out into Colorado's backcountry and enjoy the cold but serene outdoors.
Pulled by Siberian Huskies, dog sledding in Breck combines history and adventure for a fun family-friendly experience.
The tour is run by a small local company with an expert team of dog sledders. A professional guide will take you on a 6-mile tour along the snow-covered trails of the Swan River Valley.
Guests can switch off mushing the dogs, riding in the sled, or on a small passenger sleigh in front of the huskies.
Enjoy your time riding through the pristine snow through a rest of spruce trees and the Colorado mountains.
Where is Breckenridge, Colorado?
Breckenridge is located on the other side of Loveland Pass, west of Denver and Colorado Springs.
It's near other popular Colorado mountain towns like Dillon, Frisco, and Keystone.
And it's pretty easy to get to Breckenridge. Just hop on I-70 west for about an hour and a half from Denver or 2 hours from Colorado Springs.
Or if you're coming from Colorado Springs, you can take Highway 24.
This route takes a little longer, but it carries you over the Continental Divide and Hoosier Pass.
During the winter check the weather forecast and road closures before you travel though.
In the winter, I-70 can shut down when big snow storms roll in.
This especially affects Loveland Pass and the Eisenhower Tunnel where you'll be over 11,000 feet in elevation.
Weather can be particularly volatile and unpredictable at the Pass, so be prepared.
You'll reach the highest point while on your way to Breckenridge, but be prepared for the final destination elevation as well.
From sleigh rides and scenic views in the winter, the town of Breckenridge is the perfect place for a weekend getaway.
If you're looking for the best things to do in Breckenridge in the winter, we hope this guide gives you some inspiration.