10 Famous Colorado Mountains & Must-See Popular Peaks
This website may contain affiliate links and we may be compensated (at no cost to you!).
Colorado is home to many famous mountains and unique mountain ranges. But when you're a newcomer to the state, it's not easy to identify the differences or locate them.
From mountain towns with easy access to ski areas, to the old main street in a ghost town, these famous mountains can be seen from anywhere in the state.
And many of these mountain ranges, like the San Juans, rank as some of the top destinations in all of North America.
They are definitely worth a visit, and even worth hiking or climbing, if you're into that kind of thing.
Continue reading to learn about these famous Colorado mountains, why they're popular, and how to see the massive grandeur of each one.
How do you define a mountain?
Before we share the most famous Colorado mountains, let's first look at what constitutes a mountain.
According to Webster's Dictionary, a mountain is defined as "a large natural elevation of the earth surface rising more or less abruptly from the surrounding level" or a "large steep hill".
Many experts agree that in order for a "large elevation of earth" to be truly considered a mountain it must rise more than 2,000 feet above the surrounding area.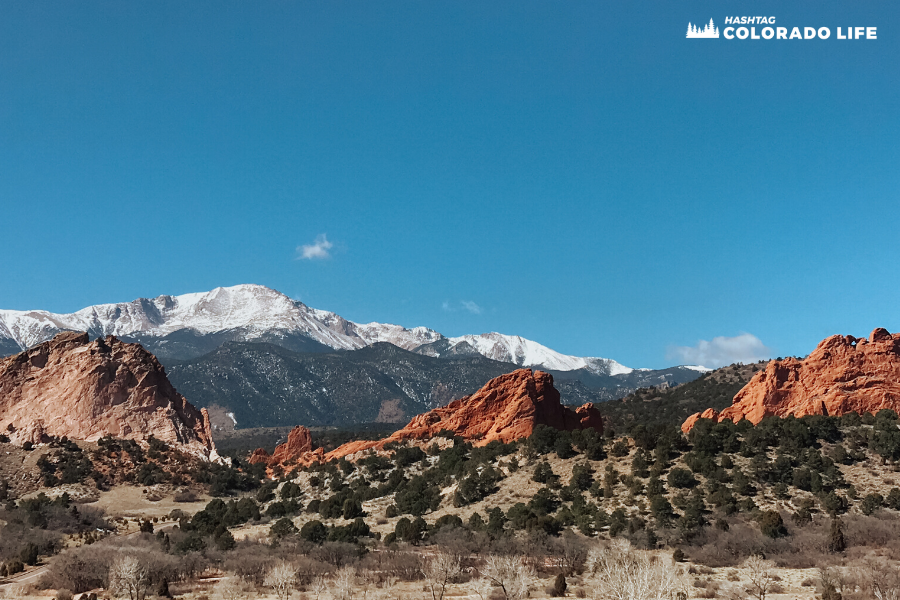 The term mountain could also be a local landmark or custom. For example, in Florida there is "Sugarloaf Mountain" which only rises 312 feet above sea level.
But due to the mostly flat landscape throughout the state, locals have come to call this hill Sugarloaf Mountain.
What is a fourteener?
A fourteener is a mountain that is more than 14,000 feet above sea level. In order for a mountain to be considered a fourteener (14er for short), it must meet the "300-foot rule."
This rule means that for a peak to be considered a standalone peak, and not a subpeak of another mountain, it must have a prominence of 300 feet or more.
This basically means that it can't simply be a long straight ridge that is over 14,000 feet high.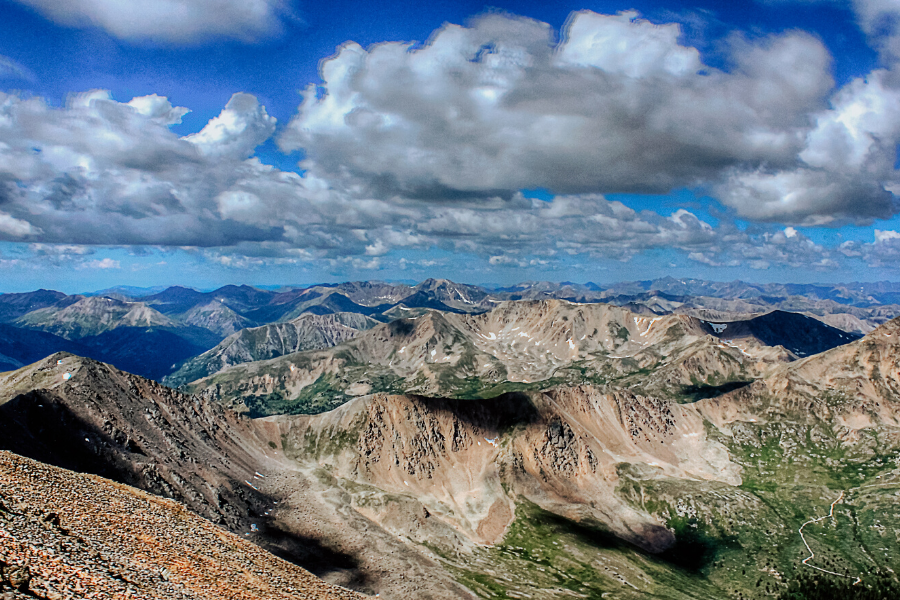 According to the official U.S. Geological Survey, there are 59 points in Colorado that are recognized as reaching an elevation of 14,000 feet or higher.
This includes a peak called "Sunlight Spire," which reaches exactly 14,000 feet and requires a technical class 5 climbing in order to reach the summit.
Fun fact: Sunlight Spire is the only 14,000-foot summit in Colorado that doesn't have an easier class 4 option to reach the top.
How many mountains are in Colorado?
There are between 52-74 mountains in Colorado that are considered fourteeners (depending on who you talk to).
However, there are over 1,000 Colorado mountains that are between 12,000 & 13,000 feet high. And more 10,000 foot mountains than we can coun.!
In total, it is estimated that there are between 4,400 & 5,000 mountain peaks in Colorado.
Which Colorado mountains are the most famous?
For the sake of this post, we are just going to focus on the most notable or famous Colorado mountains.
These are basically the top ones you might want to add to your Colorado bucket list.
1. Pikes Peak
One of the most famous, and most recognizable on our list, is Pikes Peak. It is also known as America's Mountain because it was the inspiration behind our "America the Beautiful" anthem.
Pikes Peak sits at 14,115 feet above sea level and is considered a fourteener.
It is named after Zebulon Pike, who was the first explorer to document his climb of Pikes Peak (although he never made it to the top).
Pikes Peak is located off Highway 24 just west of Colorado Springs, and can be easily seen from the Springs, Manitou Springs and Woodland Park.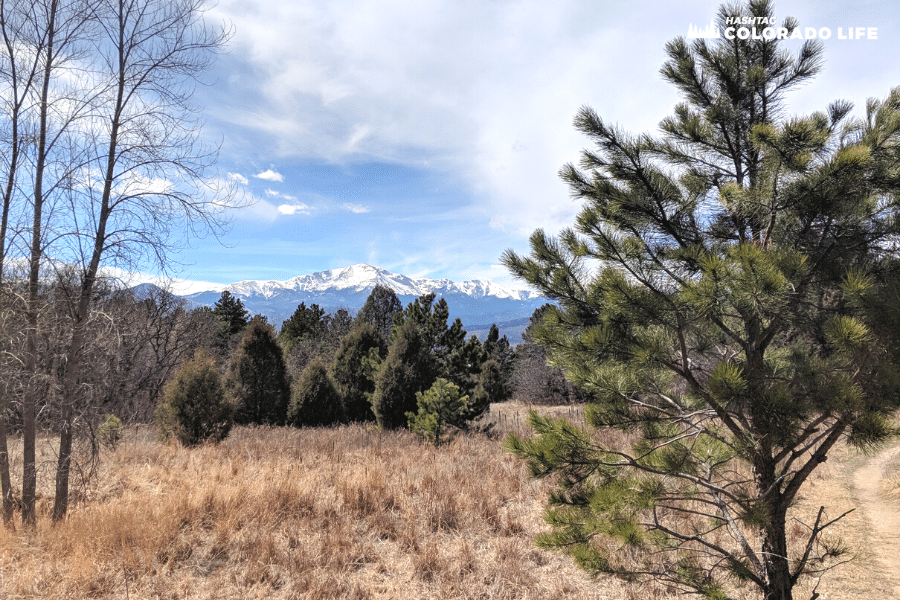 It is also one of three peaks that can be viewed from Denver, including Mt Evans and Longs Peak.
The peak can be accessed via car but is a very winding and narrow road.
During busy summer months, you may be required to take the complimentary shuttle, due to limited parking at the top.
Or you can simply bike or hike up and down the various mountain trails.
Each summer, you can participate in the Pikes Peak Hill Climb, also known as the "Race to the Clouds".
This is an automobile and motorcycle race to the top that has taken place since 1916.
The track measures 12.5 miles and has over 156 turns. It climbs 4,720 ft from the start at Mile 7 on Pikes Peak Highway, to the finish at the summit of 14,115 feet.
2. The Maroon Bells
The Maroon Bells are said to be the most photographed peaks in the Rocky Mountains.
Have you ever seen a generic picture of Colorado's mountains? This is mostly likely a photo of Maroon Bells.
Maroon Valley consists of two sister peaks, Maroon Peak and North Maroon peak, situated in the middle of a beautiful reflective lake.
They were actually named for their bell-like shapes and reddish color. And both peaks are fourteeners towering over 14,000 feet.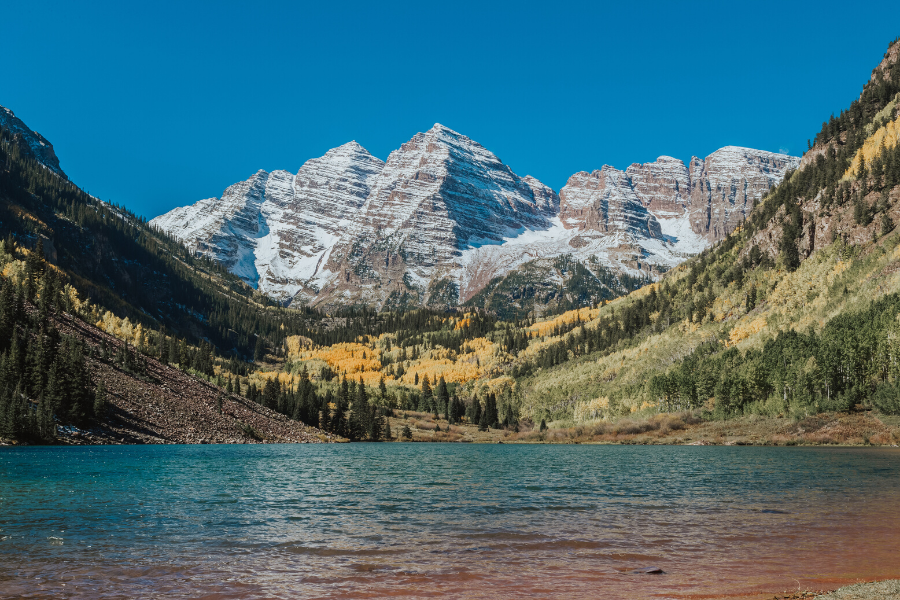 The Maroon Bells is located in White River National Forest, about 12 miles from Aspen, Colorado.
These two mountains can be accessed by driving, via bus or taking the shuttle, then hiking a bit into Maroon Valley.
In the summertime a shuttle from Aspen Highlands runs from 9am-5pm.
As far as things to do, you can go for a hike or a bike ride along any of the six scenic trails, or enjoy some camping at various camping sites available.
During the winter you can snowshoe, snowmobile or cross-country ski Maroon Creek Road to get to the valley.
Our favorite time to visit here is late spring to early summer where you are surrounded by fields of blooming wildflowers.
3. Mount Crested Butte
Mostly known by its super pointed shape, Mount Crested Butte sits at 12,162 feet high.
It is located in the iconic mountain town of Crested Butte, just north of Gunnison National Forest.
The mountain is home to the Crested Butte Mountain Resort that offers summer activities and a great place for skiing in the winter.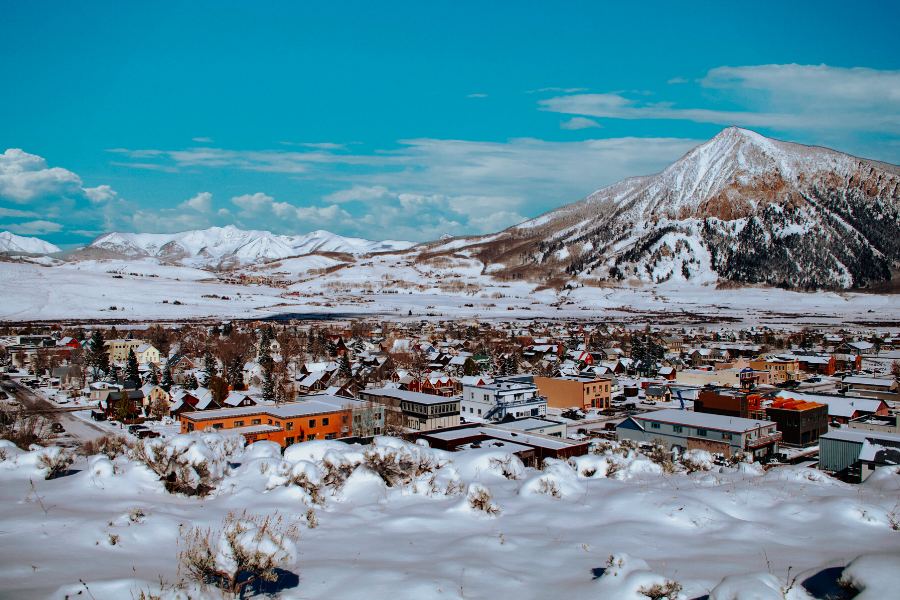 The Crested Butte Ski Area is a favorite of locals and tourists alike.
Mount Crested Butte is home to lots of wildlife and is far less crowded than other mountain destinations due to its more secluded location.
In the summer we recommend checking out the wildflower festival or enjoy skiing at the resort during the winter.
4. Longs Peak
Longs Peak is another one of Colorado's famous fourteeners and reaches 14,259 feet high.
It is known as being the highest point in Boulder County and is the only 14er in Rocky Mountain National Park.
Longs Peak is located about 9 miles south of Estes Park, just southwest of Loveland, Colorado.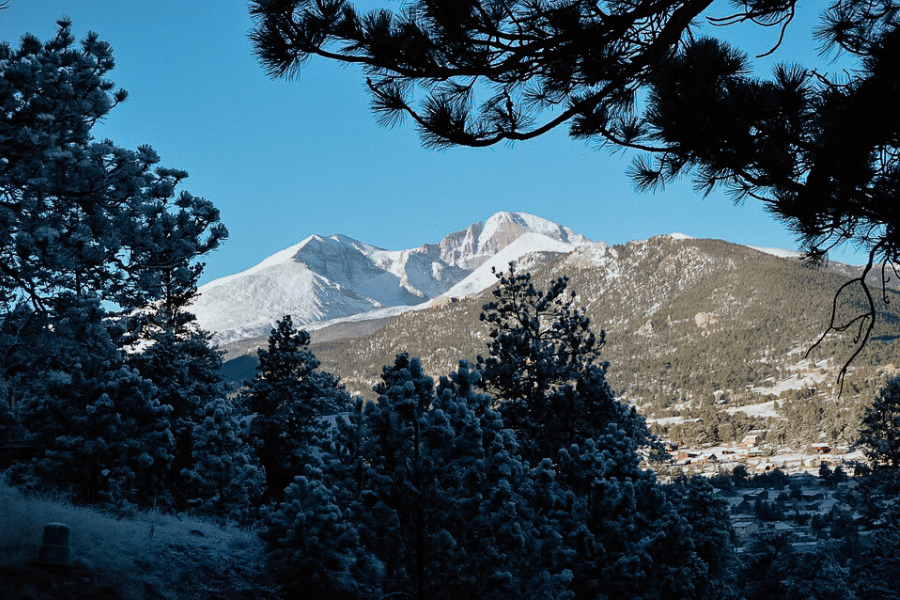 As mentioned, it is one of the three 14ers you can see from many locations along the Front Range.
The hike up the summit, called Keyhole Route, is a long 14.5 miles roundtrip and is a very risky climb even for experienced hikers.
If you want a less intense hike, check out the 2.8-mile Mills Lake trail which has amazing views of Longs Peak from different angles.
5. Mount Evans
Next up on our list of famous Colorado mountains is Mount Evans, which stands at 14,271 feet high.
If you ever wanted to drive over a mountain, Mount Evans makes this possible thanks to the Mount Evans Scenic Byway.
The Mount Evans Scenic Byway is known as the highest paved road in the United States.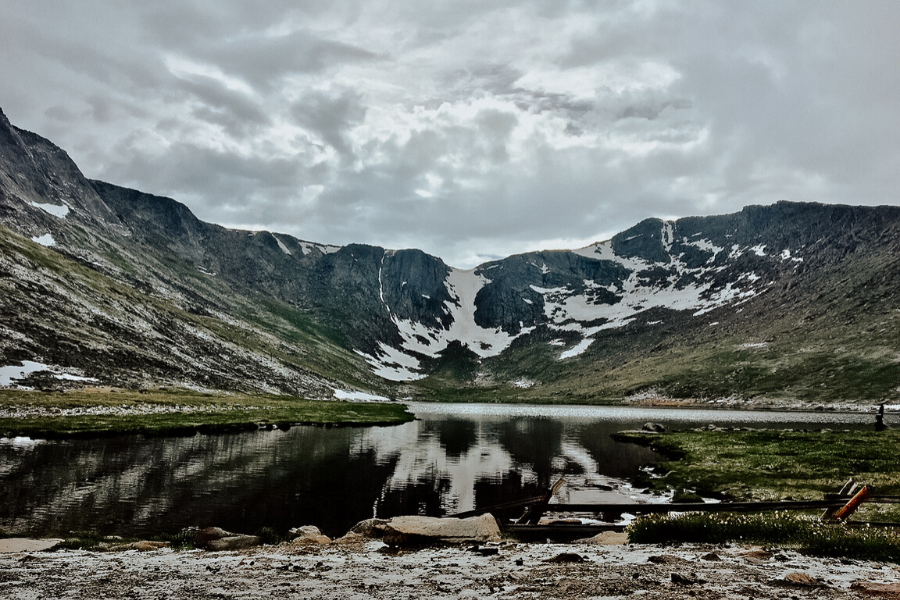 The peak is located near the mountain town of Idaho Springs, just 60 miles west of Denver on Interstate 70.
Just continue along Mt. Evans Road, past Echo Lake, to reach the mountain.
Mount Evans is a frequently visited and hiked mountain due to being close to the Denver metro area.
But you can still expect to see black bears, mountain lions, bighorn sheep and white-tailed deer.
6. Mount Elbert
Mount Elbert is the tallest mountain in Colorado at 14,440 feet high! And it is on the list of the top twenty-highest peaks in the lower 48 States.
The hike to the summit is a 4.5 mile trail with an elevation gain of more than 4,500 feet along the way (not for the faint of heart!).
Still, compared to the other mountains on our list Mount Elbert gets the nickname as the "gentle giant" since many of the climbing routes are much less intense.
One of the best ways to see the peak is from the window of the Leadville Colorado & Southern Railroad, which weaves its way through the mountains for a calming 2.5 hours train ride.
Mount Elbert is located in the San Isabel National Forest southwest of Leadville, Colorado and Twin Lakes.
What is the difference between a mountain and a mountain range?
This is a fairly common question, especially if you just moved to Colorado or are a newcomer to the state.
Colorado is full of many mountains and several large mountain ranges. What are the differences?
A mountain range is a series of mountains that are connected to each other over a large stretch of land.
A range can also be known as a mountain system, mountain belt, or a hill range.
Conversely, a mountain is a singular large rock and often stands alone from other mountains in the area.
Note: Many other famous Colorado mountains are actually ski resorts, like Copper mountain and Silverton Mountain.
This is why we did not list them here as they are visited frequently each year and are very well known.
What are the major mountain ranges in Colorado?
With the above answer in mind, let's move on to some famous Colorado mountain ranges that you don't want to miss.
7. The San Juan Mountains
The San Juan Mountains are the single largest mountain range in all of Colorado.
They can be seen when driving thru southwest Colorado anywhere along the Front Range. And on a clear day you can even see them from Colorado Springs!
The San Juan Mountain range connects cities like Durango and Silverton.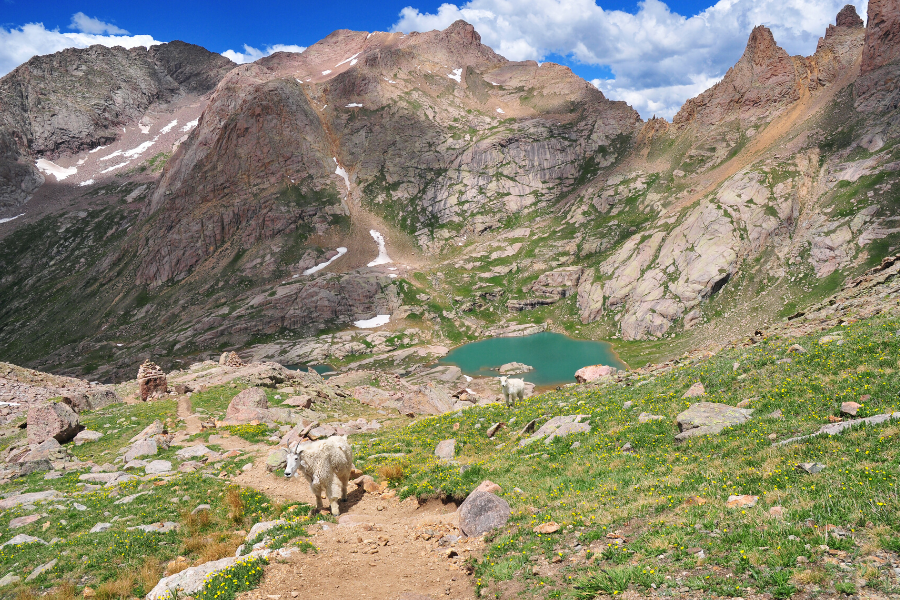 It is part of the San Juan Skyway Scenic Byway which forms a 233-mile loop in the southwest part of the state.
The peaks in the San Juan Mountains are notoriously steep, so be prepared when hiking, biking or climbing them.
And these peaks have a long history of mining as they were explored and panned for gold and silver in the early 1900s.
8. The Spanish Peaks
The Spanish Peaks are a pair of mountains located in southwestern Colorado. They are often called the "breast shaped hills" or the "breasts of the earth".
West Spanish Peak reaches 13,626 feet high and is the easternmost mountain that's over 13,000 feet in the United States.
The sister mountain, East Spanish Peak is right next to it and reaches 12,683 feet high.
The Spanish Peaks became a national Natural Landmark in 1976 and are an important landmark of the Sante Fe Trail, which stretches from Missouri to New Mexico.
The most popular trails with views of the Spanish Peaks include the Hogback Nature Trail, which is an easy two mile hike in Lathrop State Park, and La Veta Loop Trail which is an easy-to-moderate 3 mile hike.
The peaks can be seen (on very clear days) from Colorado Springs or Alamosa and all the way down to Raton, New Mexico.
9. Continental Divide
Known as the Great Divide, the Continental Divide essentially separates the Pacific Ocean from the Atlantic Ocean.
It stretches from Canada all the way down to the gulf of Mexico and beyond.
The Rocky Mountain Range forms a significant part of the Continental Divide in Colorado and New Mexico.
Hike over the Divide via the Continental Divide Scenic Trail which spans over 3,100 miles of hiking, backpacking and camping.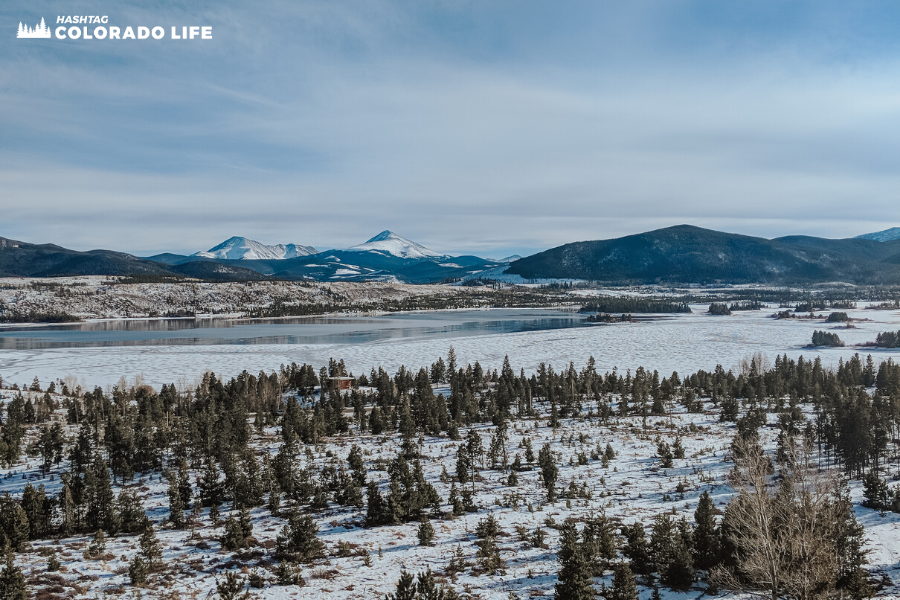 Or drive over Trail Ridge Road and get out to view the Divide from a distance and take photos.
Fun fact: the Trail Ridge Road is the highest continuous paved road in the United States.
Or skip the I-70 traffic and drive through Loveland Pass to take in the gorgeous views of the Continental Divide.
Loveland Pass is a series of twisting and winding roads that meets up with the Divide at 11,900 feet.
10. Sangre de Cristo Mountains
To wrap up our list we have the Sangre de Cristo Mountains, which are the southernmost range of the Rocky Mountains and contain several 14,000 foot peaks.
Sangre de Cristo is Spanish for "blood of Christ" and they received their name from the reddish color that is very bright during sunrise and sunset.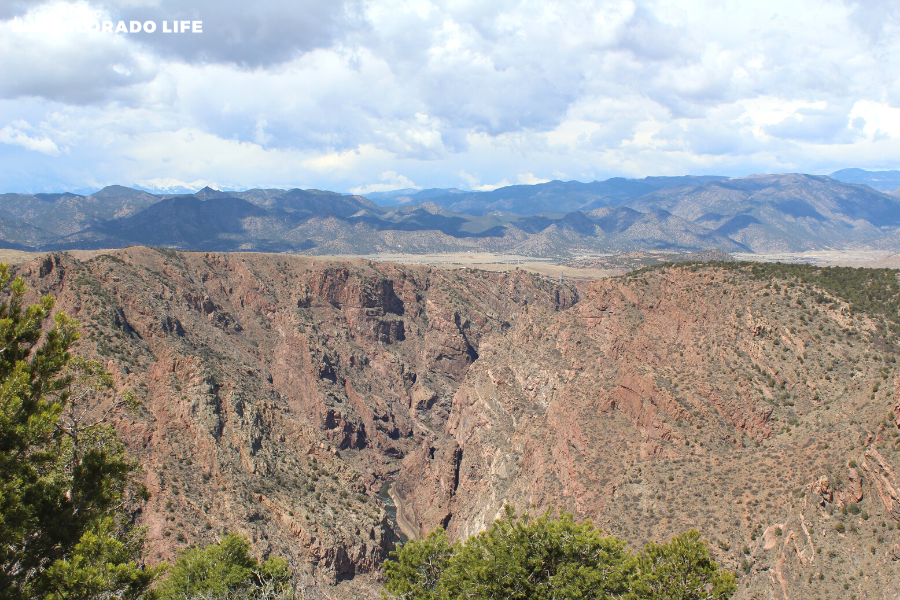 These mountains stretch 225 miles from Salida, Colorado to Santa Fe, New Mexico and are one of the longest ranges in the world.
They are home to some of the best rock climbing, downhill skiing and whitewater rafting, with hundreds of miles of trails for biking and hiking.
How to find the Colorado mountains
One of our favorite ways to see the vastness of the Colorado mountains are the scenic overlooks near Divide, Colorado.
As you make your way into the mountains via I-70 pull off at one of these stops and take in the breathtaking views (and even take pictures).
At one of the locations there are signs that details the history of the peaks and local trails nearby.
This outing makes for a fun and completely free getaway destination!