7 Must-Visit Spots in Scenic Southern Colorado & How to Get There
This website may contain affiliate links and we may be compensated (at no cost to you!).
Colorado may be known for its amazing ski resorts, but there are many other fascinating and historic places in the state that are a must-visit.
We recently planned a day trip from Colorado Springs to explore some of the best hidden gems that southern Colorado has to offer.
Our recent southern Colorado road trip was made possible thanks to Rocky Mountain Executive Transport. We highly recommend them for your next road trip or day trip excursion.
Join us as we share our exclusive Colorado road trip itinerary to help you customize your next day trip excursion.
If there's one tip to share when planning for this southern Colorado road trip it's to wear comfortable shoes and bring your camera.
These southern Colorado attractions include some of the most scenic and gorgeous destinations in the state.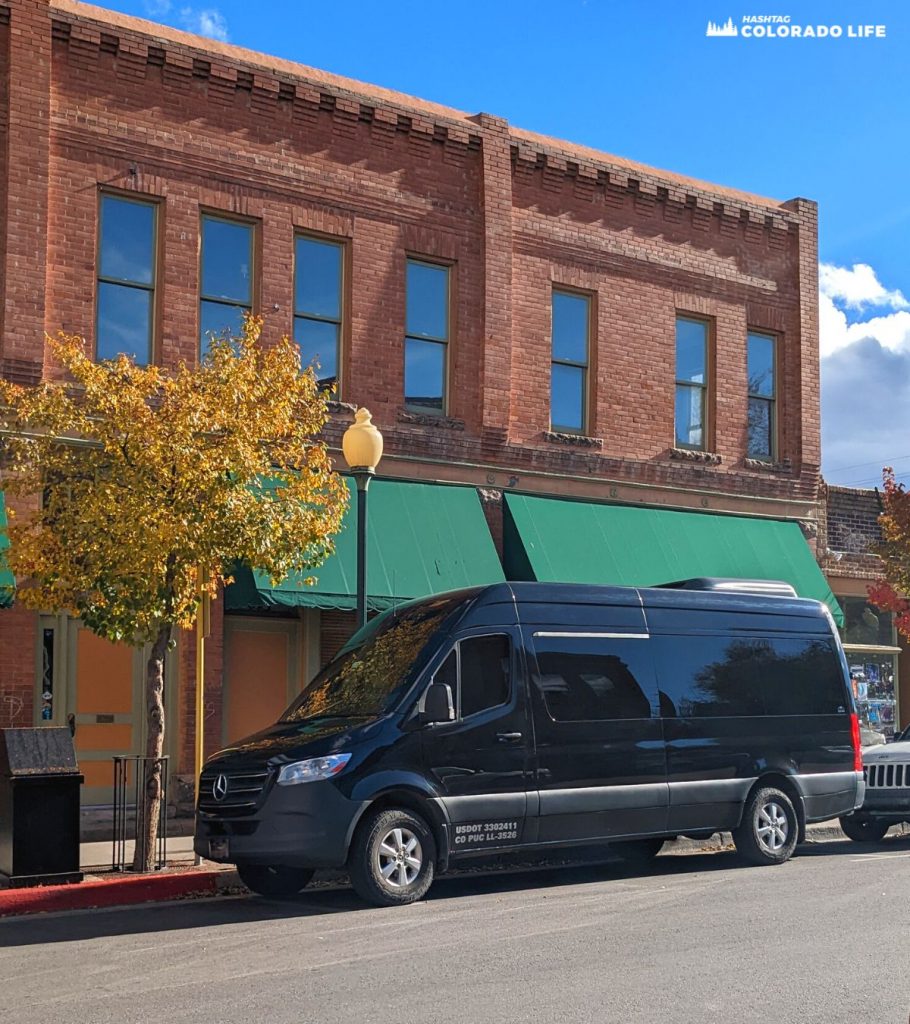 1. Cañon City
As we start our southern Colorado road trip, we're heading south on Highway 115 towards Penrose.
The first stop on our list of things to do is Canon City which is well known for the Royal Gorge Bridge & Park.
Buy a ticket to the Royal Gorge Bridge and be prepared for one of the most heart-pounding experiences of your life.
Whether you cross the bridge on foot, or take the glass-bottom gondola, crossing the canyon floor is nothing short of stunning.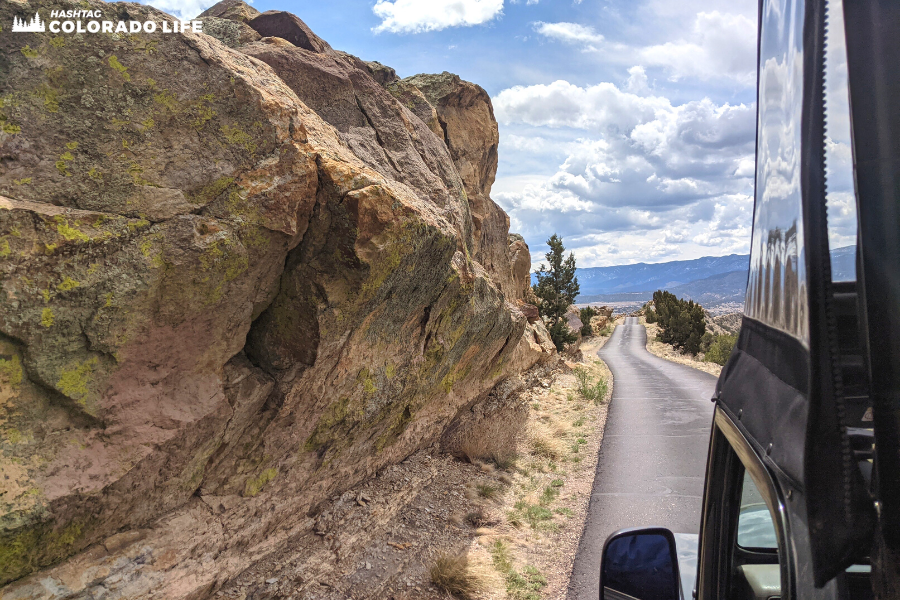 Skyline Drive is another must-visit destination before leaving Canon City. Experience it at the start of your trip or to end it with a drive while the sun sets over the mountains.
This narrow one-lane road travels along the top of a high razorback ridge. It has steep drop-offs and both sides with no guardrails.
Skyline Drive gives you a sense of what it would be like to travel in the early 1900s and is one of America's most scenic drives.
2. Downtown Salida
As we continue our southern Colorado road trip, one town that is a must-visit is Salida.
With a population of less than 6,000 residents, Salida is a small town with so many things to do it feels bigger than it is.
Thanks to an abundance of boutiques, art galleries, and local restaurants, there is always something to see.
Stop for some delicious coffee at Brown Dog Coffee, which is only available in two Colorado towns.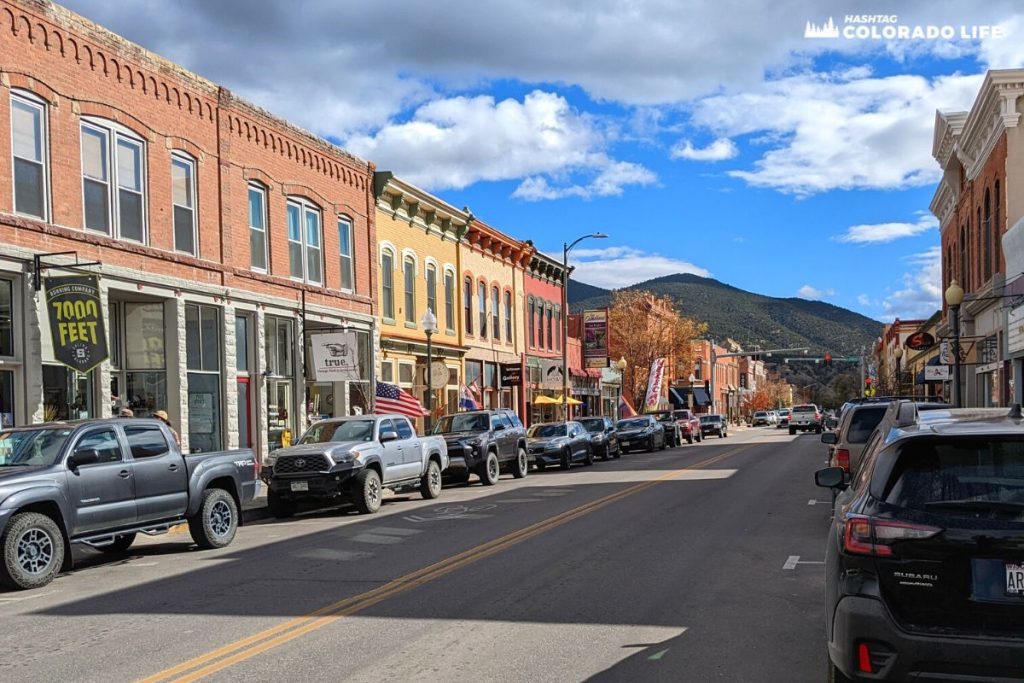 Visit the Mixing Bowl Kitchen Store in downtown Salida for gourmet kitchenware and cooking accessories. As a chef, you know we had to stop here!
Eat at one of the local restaurants like Currents, Amicas Pizza, or Boathouse Cantina which sits along the Arkansas River.
Or shop local artists and boutiques like Howl Mercantile to find that special gift or painting.
Then end the day with a stroll in Riverside Park and take in the beautiful scenery along the Riverwalk.
As far as lodging in Salida, there are several great places to stay from traditional hotels to cozy AirBnBs. There are also several unique bed & breakfast spots that are local favorites.
When planning your southern Colorado road trip, we recommend staying in Salida for an entire afternoon if possible!
3. Collegiate Peaks Scenic Byway
After your adventures in Salida, it's time to jump onto Highway 285 and head north towards Nathrop, Colorado.
Our next stop is going to be the Mount Princeton Hot Springs and then onto Buena Vista.
However, the drive along the U.S. Route 285 is gorgeous and absolutely can not be missed. This highway is known as the Collegiate Peaks Scenic Byway.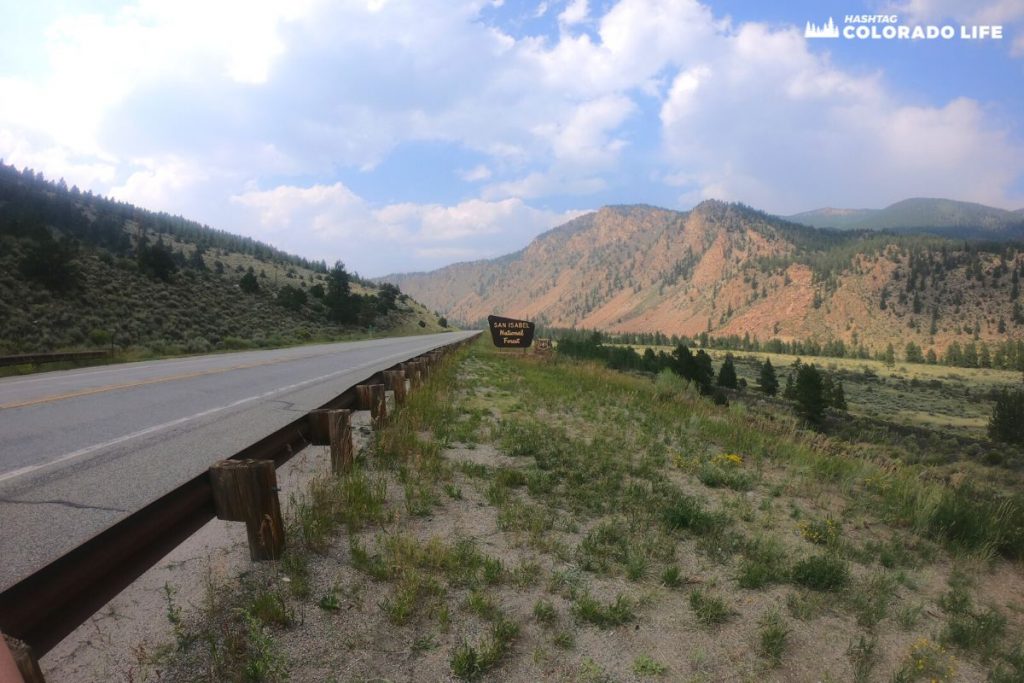 And the Colorado mountain ranges featured here include peaks such as Mt. Princeton, Mt. Yale, Mt. Harvard, and Mt. Antero.
The scenic 57-mile byway runs north through the San Isabel National Forest, taking you to the Continental Divide and all the way to Denver.
4. Browns Canyon National Monument
A fun detour along the same highway is Browns Canyon National Monument, which is one of nine national monuments in Colorado.
The land is made up of 21,500 acres of beautiful rivers, canyons and forests. It is maintained by the Bureau of Land Management, or BLM.
Enjoy a backcountry hike along the northern section of the monument. In the summer, the Arkansas River makes for excellent white water rafting, kayaking, and swimming.
Anglers will also love the world-class fishing that is available thanks to an abundance of rainbow trout and brown trout.
Camping all year long is made possible because of six sites along the water, operated by the Arkansas Headwaters Recreation Area.
Then explore the canyons in the winter for some fun snowshoeing or cross-country skiing.
Browns Canyon National Monument is an epic outdoor destination for families looking for fun day trips and weekend excursions.
5. Mount Princeton Hot Springs
Getting back onto the road heading north, our next stop is Mount Princeton Hot Springs.
If you want to relax in the mineral hot springs water that bubbles naturally out of the ground you're going to love this destination.
Located in Nathrop, Colorado along Chalk Creek, Mount Princeton Hot Springs is named for the nearby peak of the same name.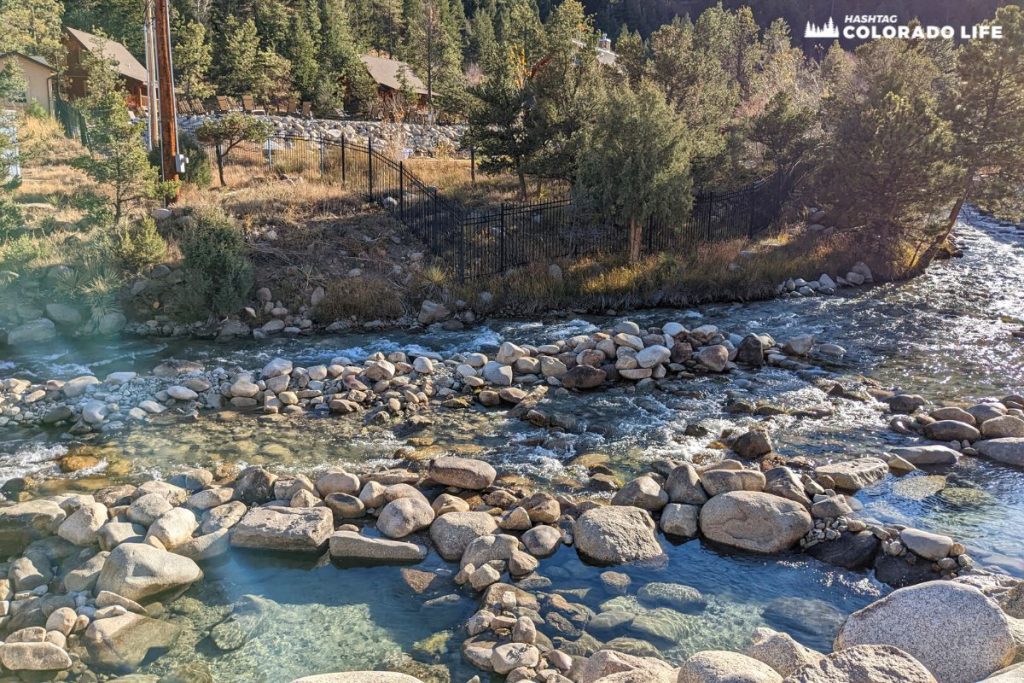 Unlike other hot springs in Colorado, Mt Princeton Hot Springs offers both a resort-like experience and rustic way to soak in the warm waters.
Pay for a day pass and enjoy both the hot springs pools as well as the custom-made pools inside the nearby Chalk Creek.
Or pay for a night's stay and get access to all of the hot springs pools and creekside water for free for the next 24 hours.
6. St. Elmo
If you're interested in exploring more of the area, down the road past Mount Princeton Hot Springs you'll come to the ghost town of St. Elmo.
Even though St. Elmo is mostly abandoned; it's not completely without residents.
Visitors to this ghost town have said that it feels like stepping onto the set of an old-time movie.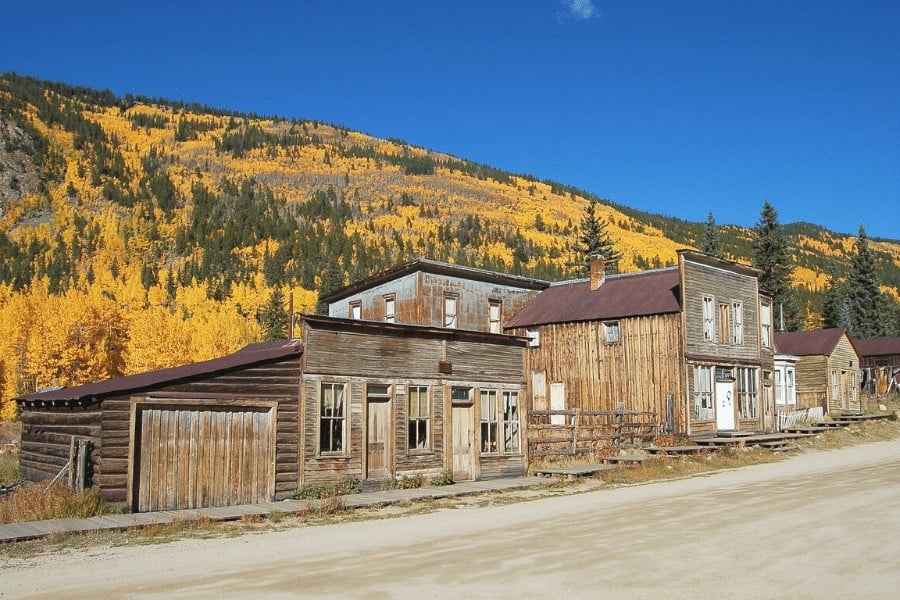 In addition to the remains of an old saloon, courthouse, jail and mercantile, there are several private homes that still exist. Plus, you can stop for a snack or drink at the well-preserved St. Elmo General Store.
Although the town of Saint Elmo is full of history and buildings from long ago, beware that it's also said to be haunted.
Visit for the day and go for a hike nearby, or rent one of the cabins nearby and spend a night in this haunted ghost town.
7. Buena Vista
The last stop on our southern Colorado road trip is the beautiful town of Buena Vista.
The area is known as a public land paradise thanks to being located in Chaffee County.
In the summer, the Arkansas River gives way for fun water activities like fishing and kayaking.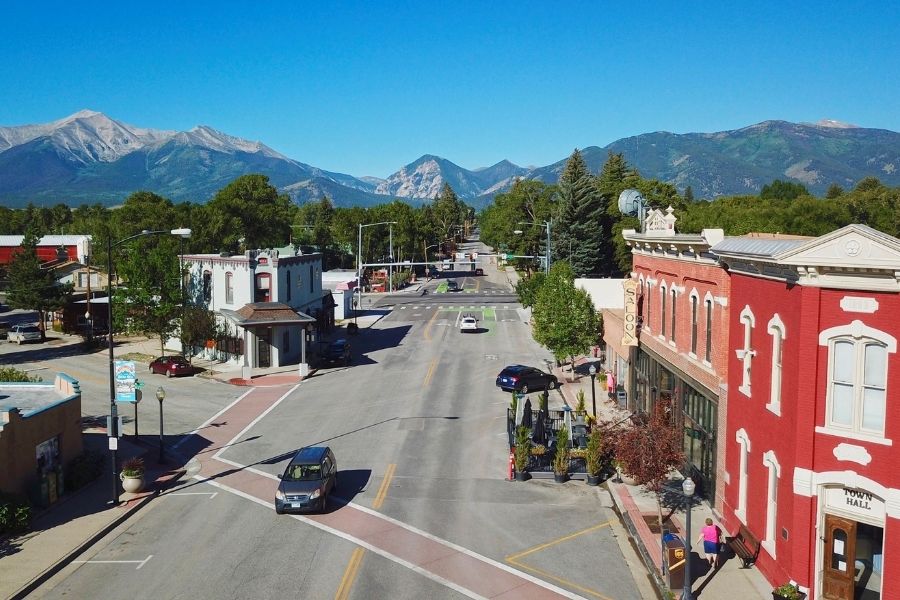 The historic downtown area offers several art galleries, unique Colorado gifts, boutique shops, and specialty stores.
Grab a bite to eat House Rock Kitchen which offers delicious fare for any dietary needs, including paleo diets.
Or stop by Elkhorn Pizzeria which has some of the best pizza we've ever eaten. But get your order in early as they sometimes sell completely out of ingredients.
End your evening with a stroll around McPhelemy Park, which is located in the heart of the city and features a small pond.
Another hot springs destination that's near Buena Vista is the Cottonwood Hot Springs Inn & Spa.
At the end of a long road trip day you can spend time in a distraction-free zone, releasing all of your stress in the hot springs pools.
Cottonwood Hot Springs does not allow phones, TVs or Wifi in an effort to help you truly unplug.
If you choose to stay in Buena Vista for the night, we recommend the Vista Court Cabins which are clean and cozy.
The grounds are well-kept and a great place for entertaining friends and family.
If you're planning a southern Colorado road trip, we hope this list helps you craft the perfect itinerary.
And if you want to travel in style, check out Rocky Mountain Executive Transport for your airport vacation, concert, or day trip adventure.
We can't say enough good things about this local transportation company who helped make this one of the best road trips from Colorado Springs.