by Carrie Nicholson
|
Last Updated:
June 20, 2021
The content of this website may contain affiliate links and we may be compensated (at no cost to you!). Thank you for your support!
What are the best hot springs in Colorado? The state is home to many beautiful, luxurious, and healing springs.
And there are so many to choose from it can be hard to narrow it down.
When the water is naturally heated by the earth, these geothermal pools are just as fun to enjoy in the summer as in the winter!
As locals, we know the best picks and natural hot springs for you to visit this year. Or check out this guide for the best hot springs near Denver.
In this guide, we'll help you find the perfect pool to relax and enjoy the natural healing waters of Colorado.
iTunes | Google Play | Stitcher | Spotify
1. Glenwood Hot Springs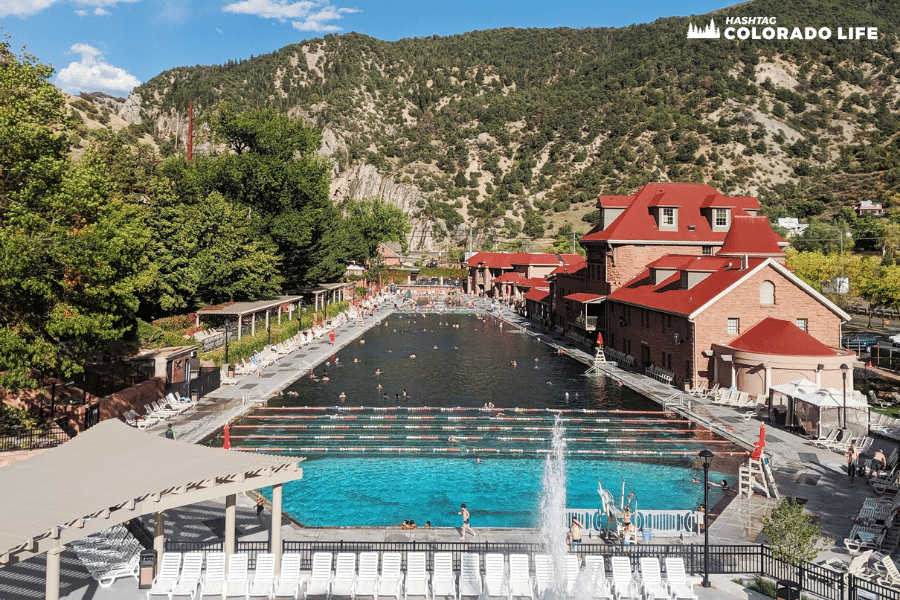 Since 1888, Glenwood Springs has been a popular spot for visitors to rest and rejuvenate in the hot springs nearby.
For over 130 years, this historic resort has built a strong tradition of soothing mineral waters.
It boasts being the world's largest natural hot springs pool.
In addition to the large mineral pool, Glenwood Hot Springs also features a spa, athletic club, a resort boutique, dining, and 107 rooms in the lodge.
And the resort is conveniently located within walking distance of downtown.
These springs are an ideal destination for enjoying all that Glenwood Springs, Colorado has to offer.
Where is Glenwood Hot Springs located?
The Glenwood Hot Springs Resort is located at 401 N River St, Glenwood Springs, CO 81601.
When traveling from Denver, you'll head west on I-70. Take exit 116 toward Ski Areas/Sunlight Mtn/Snowmass/Aspen.
Turn right on CO-82 E, then right onto N River St. Continue on N River St. to Glenwood Hot Springs Resort.
What to expect when visiting Glenwood Springs
The massive mineral pool at Glenwood Springs is kept at a balmy 92 degrees year round.
This hot springs prides itself on being a family-friendly destination. It features a seasonal Sopris Splash Zone and the Shoshone Chutes lazy river in the summertime.
The Grand Fountain is a kid-friendly water feature by day, spectacular light-and-water show by night!
Day rates are available for kids under 12, teens / adults, with lower rates after 8pm and during off-peak seasons.
Babies under 2 are always free. Cabana rentals are available seasonally, and cabana rental rates do not include pool admission.
Parking is free for guests and day-use visitors, and RVs and campers can be accommodated in Lot A. Only Lots C and E provide disability-accessible parking spaces.
Glenwood Hot Springs Resort is a pet-free facility, and only service animals are permitted on site.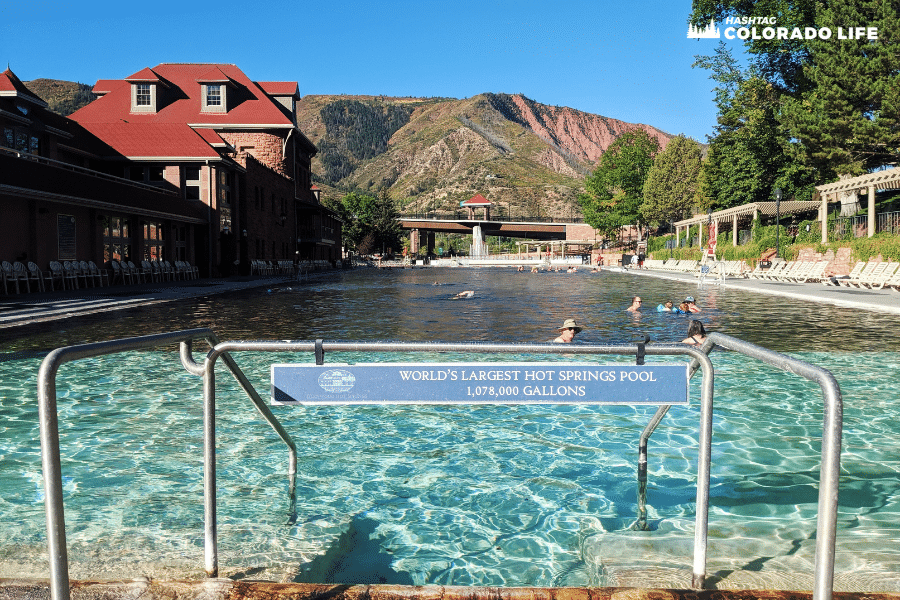 Where to stay in Glenwood Springs
Your best price for pool use is to stay in the Glenwood Hot Springs Lodge.
Unlimited pool access is included for all guests with every reservation and breakfast at the Grab and Go poolside grill is included as well.
Deluxe rooms, connecting rooms, and suites are available. Wheel-chair accessible King rooms are available upon request.
Other popular hotel options include Hotel Colorado, a historic and upscale destination at any time of year.
Featuring beautiful rooms from the affordable to the exceptionally luxurious and fine dining on site, the Hotel Colorado is a gorgeous location for your stay.
This hotel is pet-friendly, for up to two 75-pound dogs, for a fee.
Another great option where you can stay-and-play is Hotel Glenwood Springs.
At Hotel Glenwood Springs, you can enjoy the mineral-rich waters inside the only indoor water park in the city!
Take a ride down the indoor water slide, splash around in the spacious pool, or take the kids for a dip in the shallow wading pool.
Dine on-site at the Pizza Cave, or step outside and play at Glenwood Caverns Adventure Park, America's only mountaintop theme park.
2. Strawberry Park Natural Hot Springs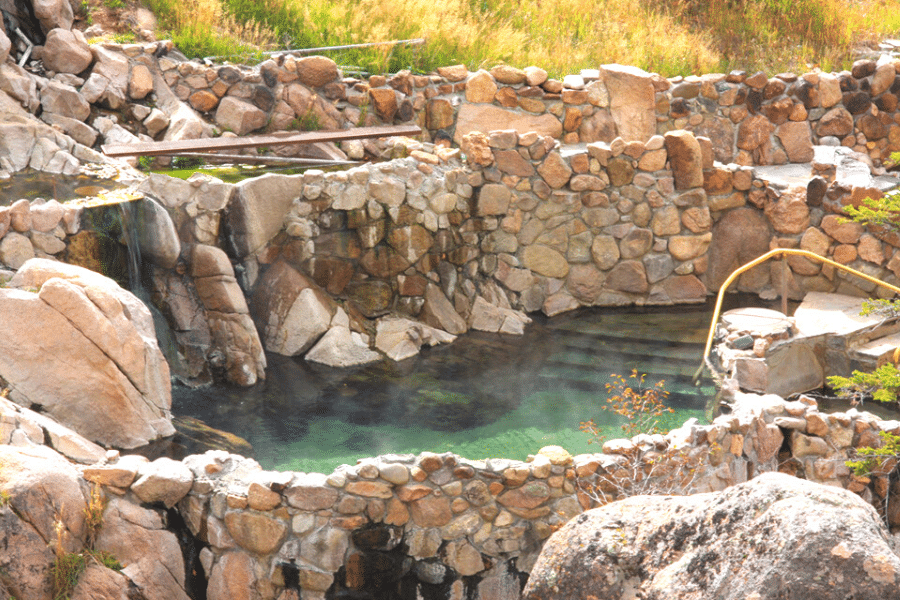 The Strawberry Park Hot Springs offers the perfect combination of rustic Colorado adventure and natural hot springs rejuvenation.
The outdoor pools are open year round and are beautifully constructed to maintain a feeling of supreme natural beauty (nearly) untouched by man.
They offer a limited number of rustic cabins and lodging options.
Or during summer months you can visit and stay in a wagon or tent site alongside the creek.
Strawberry Park aims to keep an unplugged and authentic environment. Outlets for phone charging and other electric amenities are not available almost anywhere in the park.
However, massage services are available at Strawberry Park. In addition to standard table massages, you can also experience the hydrotherapeutic experience of a Watsu massage.
Watsu massage involves massage, stretching, and acupressure while floating in water.
Where is Strawberry Hot Springs located?
Strawberry Hot Springs are located in Steamboat Springs at 44200 Co Rd 36, Steamboat Springs, CO 80487.
When arriving from Denver, head west on I-70 toward Grand Junction. Then take exit 205 to merge onto CO-9 N/Blue River Pkwy toward Silverthorne.
Continue 37 miles, then turn left on US-40 W/Park Ave.
Drive 51 miles, then continue onto Co Rd 36. Continue on Co Rd 36 to Strawberry Park Natural Hot Springs.
From Fort Collins, follow signs for US-287/Laramie/CO-14/Poudre Canyon. Follow US-287, then turn left onto CO-14 W. Continue to follow CO-14 W, then turn right onto US-40 W.
Continue onto Co Rd 36, then continue 5 miles to Strawberry Park Natural Hot Springs.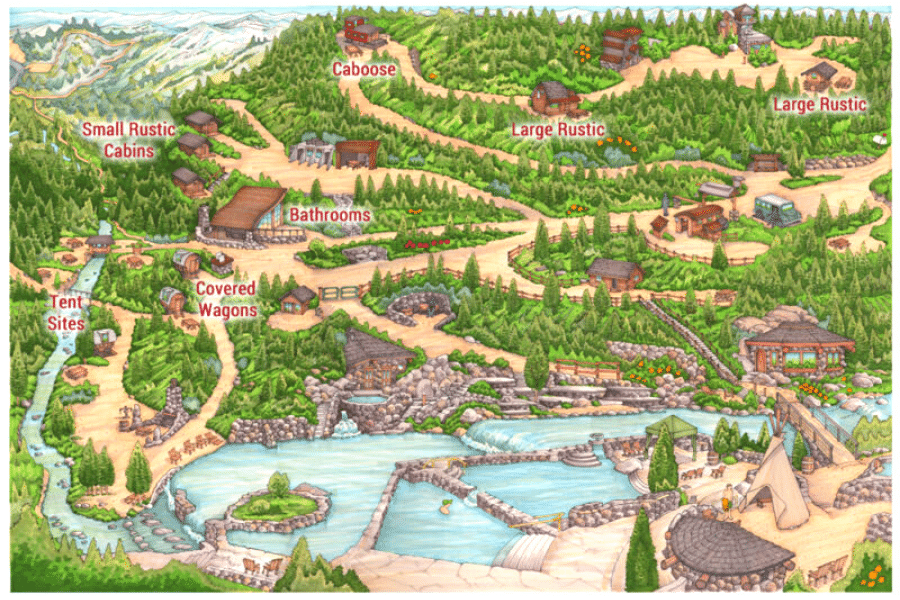 What to expect when visiting Strawberry Park Hot Springs
All the pools at Strawberry Park are kept around 102 degrees and may not be safe for use by small children or pregnant women.
Consult a physician and use caution if high temperatures may be risky for you.
Pool admittance is $20 per person for all ages, which includes one entry. They accept cash or check only and no credit cards are accepted.
No pets are allowed on site.
RVs, trailers, and campers are not permitted to park in the parking lot. And trailers like this may not be safe to drive up the largely unpaved road to access the Springs.
Lighting is limited at night to maintain the natural atmosphere, so use caution after dark.
Shuttles by Sweet Pea Tours or The Hot Springs Shuttle are available from the city of Steamboat Springs to the Strawberry Park Hot Springs.
These shuttles may be helpful during winter months when 4-wheel drive vehicles are required, or at least chains or snow tires if you don't have a 4-wheel drive vehicle.
Where to stay at Strawberry Hot Springs
If you can schedule your visit 90 to 120 days in advance, you can stay in a train caboose, a rustic cabin, a wagon, or on a tent site.
Wagon and tent reservations must be requested by mail only.
You'll have more options for where to stay in the nearby city of Steamboat Springs, where you'll find a range of hotel options at every price point.
3. Hot Sulphur Springs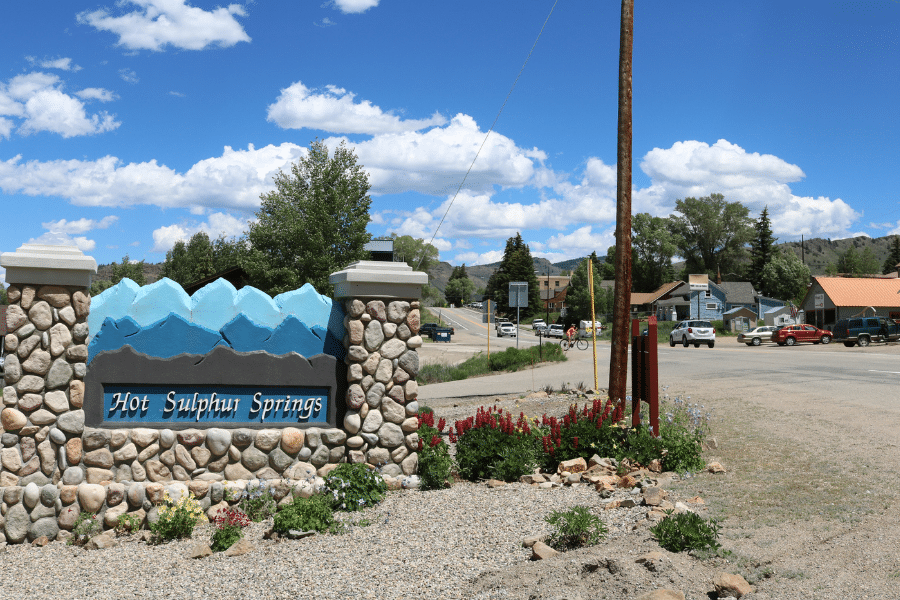 The area of Hot Sulphur Springs has a long and rich history.
The Ute and Arapaho Indians referred to the springs that line the canyon along the upper Colorado River as "big medicine."
When white trappers and hunters found the springs in the early 1800s, Hot Sulphur Springs became a popular tourist destination.
Today, the 22 hot springs and pools are open for visitors to soak and relax in the healing waters.
The pools range between 95 and 112 degrees, and there are multiple indoor and outdoor pools to enjoy.
Where is Hot Sulphur Springs located?
Hot Sulphur Springs is located at 5609 Spring Rd, Hot Sulphur Springs, CO 80451.
From Denver, take I-70 W to Silverthorne. Then take exit 205 from I-70 W to join CO-9 N/Blue River Pkwy.
Follow CO-9 for 36 miles, then turn right on Tyler Ave, right on Eagle Ave, then left on 13th St.
Continue on 13th St for 16 miles as it turns right and becomes US-40 E. Turn left onto Park St then left onto Spring Rd.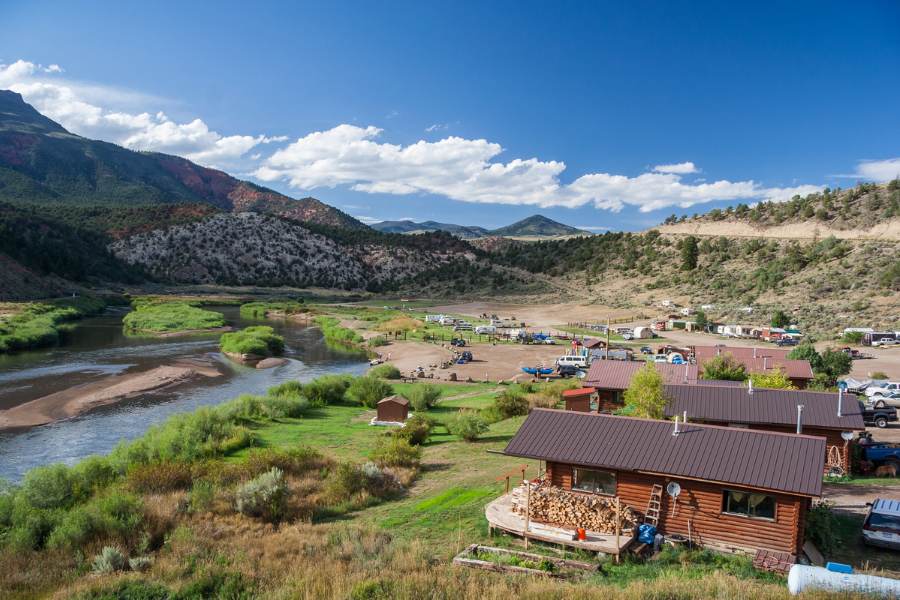 What to expect when visiting Hot Sulphur Springs
Due to the natural unfiltered mineral-laden water, many of the pools are cloudy.
These springs are appropriately named, you'll definitely smell the sulphur in these waters!
This is a dog-friendly resort, so ask about your pet when making your reservation.
As with all springs, small children and pregnant women should consult a physician. Use caution when sitting in the pools.
Where to stay at the Hot Sulphur Springs
There are rooms available on site at Hot Sulphur Springs, though not much can be found on their website.
Some other options include the Canyon Motel, a modest and affordable hotel within walking distance of the Springs.
Or stay at the Ute Trail Motel, a 1950's-style single story drive-up motel that retains its mid century charm.
4. Mount Princeton Hot Springs
Since 1879, Mount Princeton Hot Springs has been a popular springs destination in Colorado.
This family-friendly resort is most notable for being an odorless hot springs. And because of this, it's a super fun spot for those who have never experienced hot springs before.
With tons of amenities, you'll have lots to do and enjoy during your stay here.
Enjoy the historic bath house and creekside hot springs, take a dip in the infinity pool, or take a ride down the 400 foot water slide!
Adults and teens over 16 can enjoy the spa and club, and the infinity pool is available for private rental.
Take advantage of yoga and fitness classes and dine at the Mary Murphy Steakhouse or grab a fresh juice at the Juice Bar.
Where is Mount Princeton Hot Springs located?
Mt Princeton Hot Springs can be found at 15870 Co Rd 162, Nathrop, CO 81236.
When driving from Denver, take US-285 S. Follow US Hwy 285 S for 95 miles, then continue onto Co Rd 162/Chalk Creek Dr in Nathrop. The Springs will be on the left.
From Colorado Springs, take US-24 W/W Hwy 24 to Co Rd 162/Chalk Creek Dr in Nathrop. Continue onto Co Rd 162/Chalk Creek Dr. The Springs will be on the left.
What to expect when visiting Mt Princeton Hot Springs
This is a family-friendly resort and ideal for those with kids of all ages.
There is a family relaxation pool, located near the upper pools and water slide, which features a zero-entry point at one end.
Kids under 14 and seniors over 62 get discounted entry to the pool. Buy a day pass for the pool or save when you stay at the resort.
Where to stay at Mount Princeton Hot Springs
Your most affordable option is to stay at the Mount Princeton Resort, as 2 days of hot springs access are included with your overnight stay.
You also get 10% off spa treatments, complimentary water fitness classes, and complimentary access to mountain bikes and fat bikes with your stay.
Bikes are seasonal, and available first come, first served.
There are multiple lodging options to help make your visit perfect for your entire crew.
Stay creekside in one of the newly updated suites, in a cabin, in one of two drive-up motel style guesthouses, or in the lodge!
5. Pagosa Hot Springs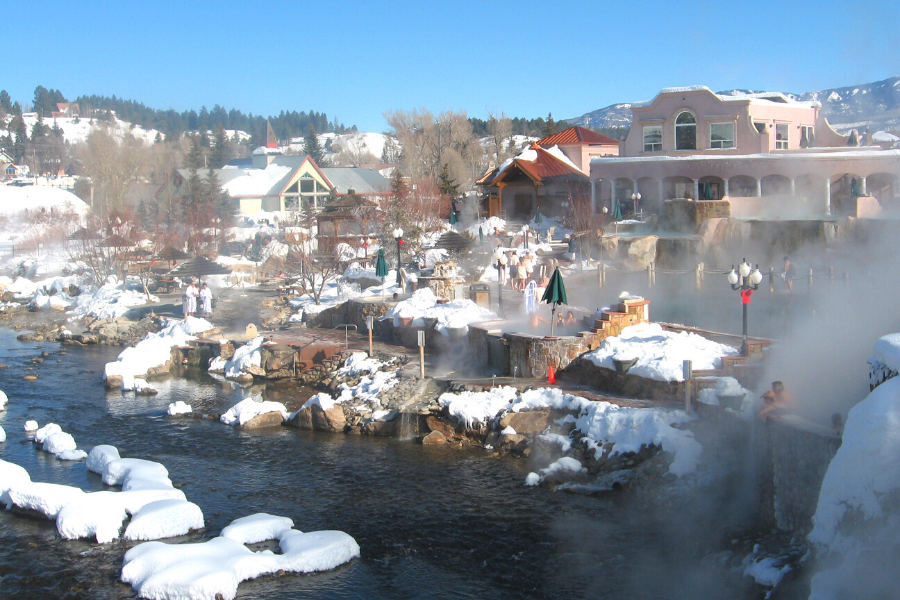 The Springs Resort and Spa in Pagosa Springs is a gorgeous destination to enjoy the healing effects of mineral springs.
U.S. Army physicians in the 1860s concluded that the waters of Pagosa are the most wonderful and beneficial that have ever been discovered.
Besides the health benefits of a soak in these hot springs, there's plenty to enjoy during your visit to Pagosa.
The springs are situated along the banks of the San Juan River, providing an incredibly tranquil atmosphere and sound for your visit.
Relax in one of 22 pools, the large Blue Lagoon or Golden Pond pools, or sit back in the steam of the bathhouse.
Enjoy meals at the Barefoot Grille, grab a snack at the Canteen, or pick up a cup of coffee or tea in the Cafe.
Where is Pagosa Hot Springs located?
Located in southern Colorado near the New Mexico border, the Pagosa Hot Springs address is 323 Hot Springs Blvd Pagosa Springs, CO 81147.
From Denver, take US Hwy 285 S. Continue on US-285 S for 110 miles, then turn left onto US-50 E/US Hwy 285 S for another 40 miles.
Continue on US Hwy 285 S, then turn right onto CO-112 W. After 13 miles, turn right onto US-160 W/Grand Ave.
Continue on US-160 W/Grand Ave for a total of 58 miles, then turn left onto Hot Springs Blvd.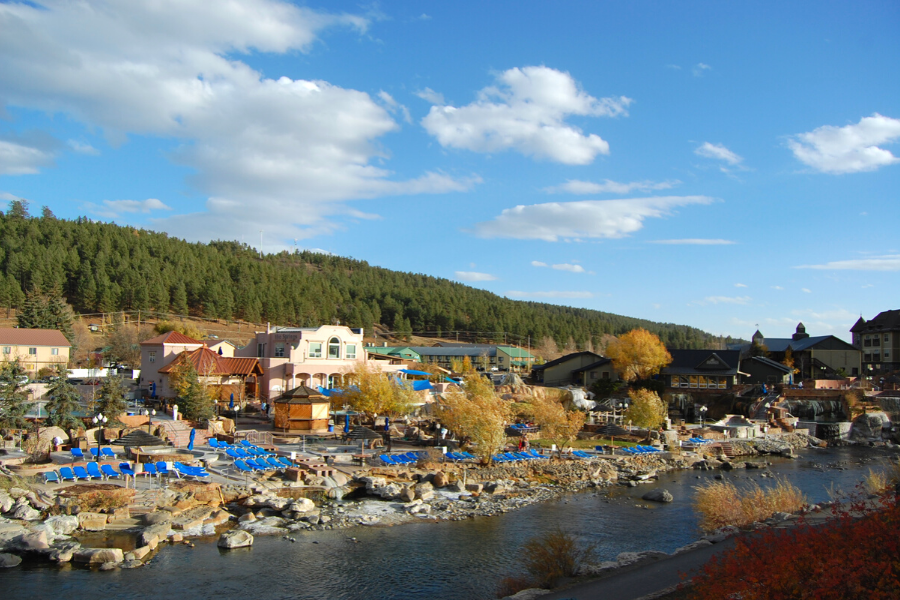 What to expect when visiting Pagosa Springs?
General admission includes access to 19 geothermal pools, and there are discounts for children. Unlimited same-day re-entry is an additional fee.
Adults 18 and over can upgrade to the Relaxation Terrace. For this you can enjoy all the pools plus 5 adults-only pools and unlimited same-day re-entry is included.
For longer visits, ask about a long-term pass, and seniors, military/first responders. Locals can get additional discounts too!
Guests at the resorts can enjoy fitness activities like yoga, aqua yoga, and hiking in the San Juan Forest.
Where to stay at Pagosa Springs
For the best savings, we recommend staying in the Pagosa Springs lodge.
These high-end luxury rooms are well appointed with amenities and feature beautiful views and comfortable spaces.
The lodge is Colorado's first LEED (Leadership in Energy and Environmental Design) Gold certified luxury hotel.
This is due to the geothermal heating that warms both the pools and the resort buildings.
Pets are not permitted in all rooms, so be sure to ask when you book.
Adult hotel guests receive complimentary Relaxation Terrace packages with 24-hour access to all hot-springs pools included with your reservation.
6. Ouray Hot Springs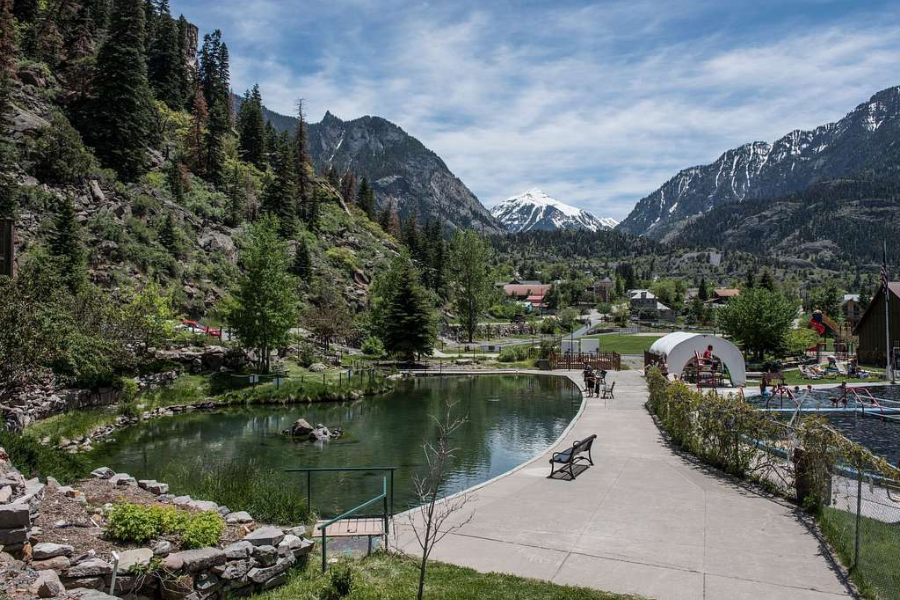 Nestled among the mountains, in the "Switzerland of America," Ouray Hot Springs is an ideal soaking spa destination for the whole family!
This outdoor, year-round pool features:
2 water slides
an adults-only area
a challenge and climbing wall in the activity pool
8 lanes in the lap pool
These springs are extra special because they are sulphur-free, which makes the waters smell more pleasant.
The city of Ouray is located along a large geological lift, and the pressure and heat created then formed clean and odorless hot springs.
Where is Ouray Hot Springs located?
As the name suggests, Ouray Hot Springs is located at 1220 Main St Ouray, CO 81427.
When driving from Colorado Springs, take CO-115 S. Continue 32 miles, then turn right to merge onto US-50 W toward Canon City.
Continue on US-50 W for 231 miles to Montrose. In Montrose, head south and merge onto US-550 S/S Townsend Ave. Continue on US-550 S for 35 miles to the Springs.
What to expect when visiting Ouray Hot Springs
The Ouray Hot Springs is a family-friendly pool and spa, and is open 7 days a week, all year long.
Locals can pick up a punch pass for 10 or 20 visits, or become a member for a season, or all year.
Daily rates are affordable and kids under 4 years old are always free.
Seniors can become "Polar Bears" and visit the Ouray hot springs before regular opening for water aerobics classes.
The Picnic Basket Snack Shop is open daily and offers a variety of snack and lunch foods, including nachos and ice cream.
You can also rent floaties for $5/day in the snack shop. And no alcohol or animals are permitted on site.
Admission is good for the full day, with unlimited entries and reentries.
Ouray Hot Springs prides itself on being a family-friendly facility, so be respectful of little eyes when selecting your bathing suit.
Unlike many other hot springs, the pools at Ouray are chlorinated to help keep them clean. While you may not smell sulphur, you most likely will smell the chlorine.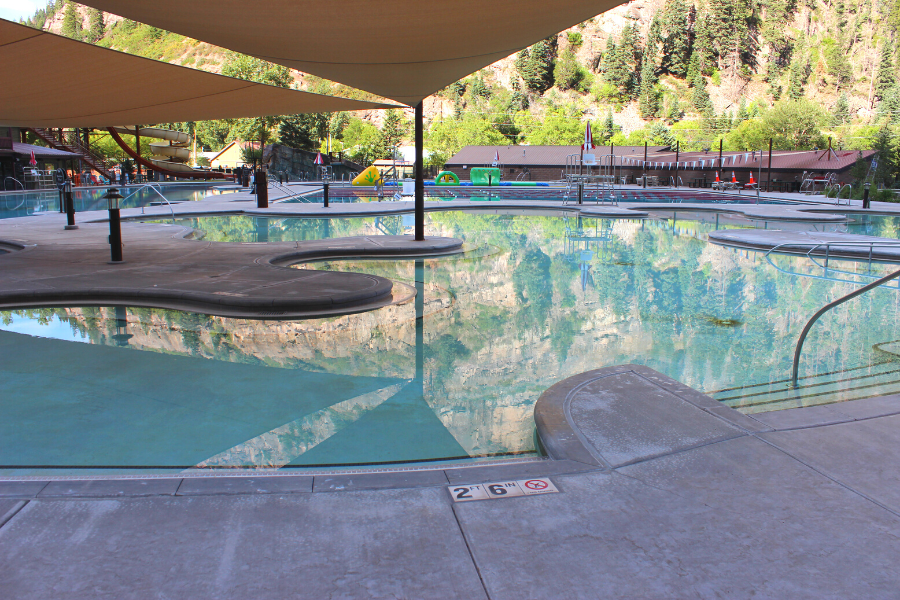 Where to stay at Ouray Hot Springs
As the Ouray Hot Springs is not a resort, you will have to look to the city of Ouray to find a place to stay the night.
For a sweet condo within walking distance of the springs, check out the Ouray Hot Springs Condos.
The three separate condos can accommodate groups of multiple sizes. Plus, they feature amenities like a full kitchen, laundry, and dining spaces in each condo.
For campers, RVers, and those with trailers in tow, pull up and stay at Ouray Riverside Resort.
With spaces available for tent campers and RVs as well as cabin rentals and inn suites, you'll find comfortable lodging for everyone here.
Get a bite to eat at the cafe and steakhouse, rent a Jeep and tour the hills of Ouray, and get your washing done at the laundromat.
7. Dunton Hot Springs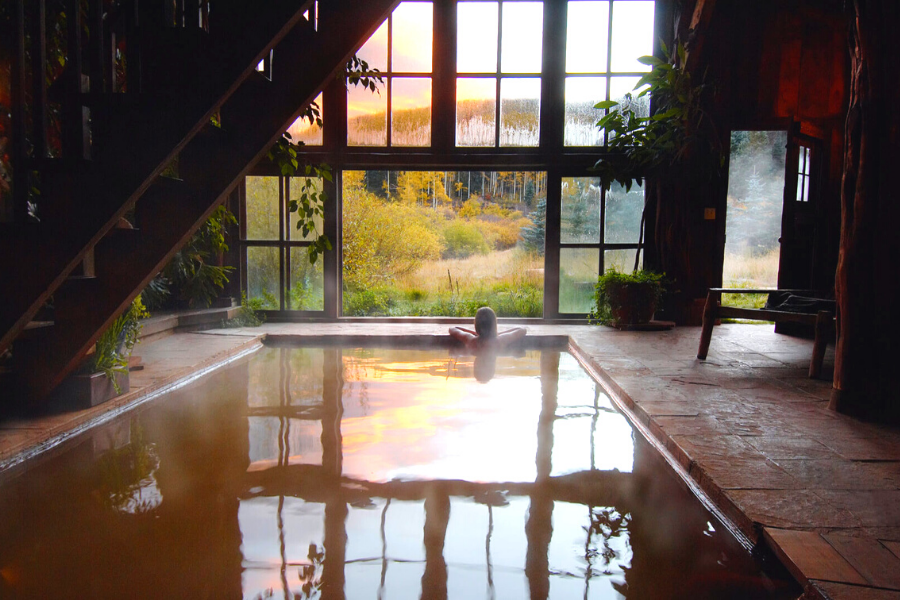 If you love ghost towns, Colorado history, and the luxurious restoration of a hot springs resort, you'll love Dunton Hot Springs.
This resort is by far the most all-inclusive and exclusive destination on this list.
You will experience all that the San Juan Mountains have to offer without sacrificing any of the modern comforts.
This old ghost town will come alive when you dine in the saloon, rest easy in the bathhouse, and retire for the night in your own private cabin.
Whether you visit during the summer months or the dead of winter, there are plenty of outdoor activities to enjoy in Dunton.
Where is Dunton Hot Springs located?
Dunton Hot Springs Resort is located at 52068 Road 38 Dolores, CO 81323.
When traveling from Colorado Springs, take CO-115 S. Continue 32 miles, then turn right to merge onto US-50 W toward Canon City.
Continue on US-50 W for 231 miles to Montrose. In Montrose, head south and merge onto US-550 S/S Townsend Ave.
Continue on US-550 S for 25 miles to CO-62 W/State Hwy 62/Sherman St for 25 miles to CO-145 N.
After this, you'll follow several numbered service roads, heading south until you reach Dunton Hot Springs.
What to expect when visiting Dunton Hot Springs
This high-end resort caters to adults with money to spend on an all-inclusive visit, and all room rates assume two adult guests.
Some guest rooms do accommodate larger parties, and fees for additional adults or children ages 4-21 may apply.
The bathhouse is not open to visitors who are not guests of the resort.
And while the hefty daily price tag may surprise you, reservations include:
food
beverages (including all alcohol except the Reserve List)
bathhouse access
all activities during your stay
While not all the buildings in Dunton are original, several of the cabins as well as the saloon and bathhouse are restored original buildings.
You may pay a pretty penny, but you'll have a rare chance to eat, sleep, and play in some real Colorado mining history.
The best hot springs in Colorado
There's nothing quite like the rest and relaxation of a dip in the mineral-rich springs of Colorado.
We hope this guide has helped you find your perfect destination for the hot springs trip of your dreams!
Carrie Smith Nicholson is one of the co-founders of Hashtag Colorado Life. After living in Texas for her whole life she moved to Colorado 5 years ago. As a travel blogger and entrepreneur for the past 10 years, her writing has been featured on NBC News, HuffPost Live, Glamour Magazine, Inc Magazine and many other media outlets. When she's not writing about new travel locations, she enjoys spending time outdoors hiking, camping in her NuCamp teardrop trailer, and trying new foods. You can follow her outdoor adventures on Instagram, @hashtagcoloradolife.