Hiking in Colorado: 17 Best Hikes in Colorado with Scenic Trails
This website may contain affiliate links and we may be compensated (at no cost to you!).
Narrowing down a list of the best hikes in Colorado is no easy task.
There are literally hundreds of hiking destinations and bucket list trails near pretty much every city in Colorado.
From springtime hiking to winter trails and every season in between, there is never a shortage of places to hike.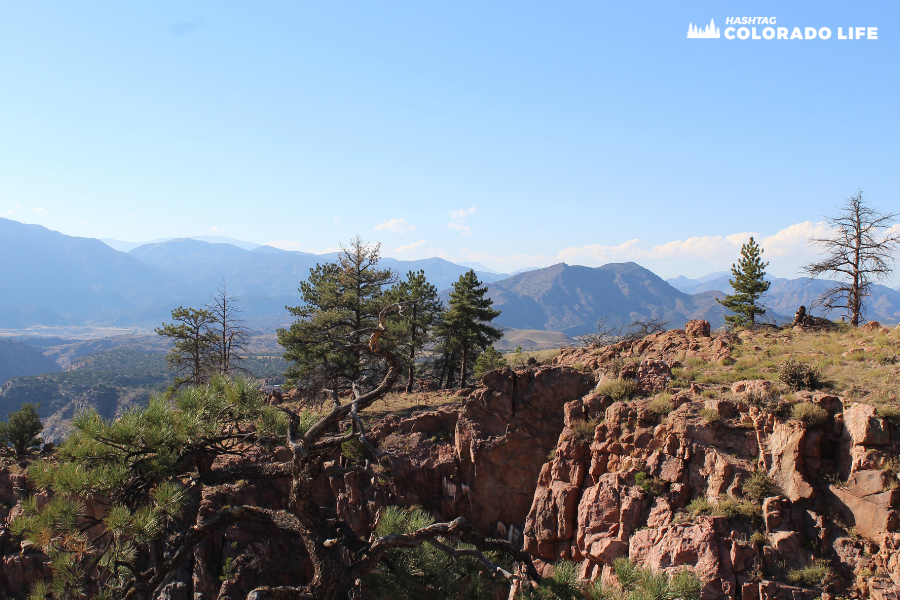 You can enjoy the great outdoors, see some gorgeous blue lakes, and spend time hiking in this beautiful state.
There are endless hiking spots, trails and open spaces available in Colorado! You can't really go wrong with any of them.
Even if you're just pulling off on a side road, you're bound to find a trail that goes into the woods or up the mountain.
Here are the best trails for hiking in Colorado and how to experience each one to the fullest.
1. Red Rocks and Morrison Slide Trail, Red Rocks Park
Red Rocks Park near Morrison, Colorado is known for the famous concert venue known as Red Rocks Amphitheater.
Whether visiting in the day time or at night, Red Rocks Park and Amphitheater is a beautiful place to sightsee but also to hike.
Watch the sun rise and set the stones aglow, or stay late and see the city of Denver sparkle to life.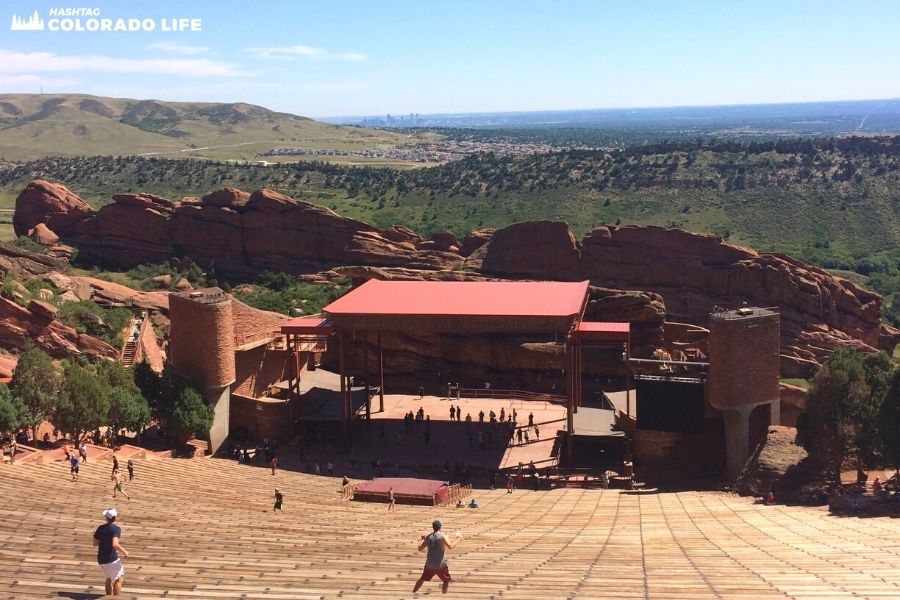 Red Rocks Park has 868 acres of sandstone, rolling hills and meadows that feature stunning views and geological marvels.
The park is situated at 6,450 feet and represents the intersection between the Great Plains and the Rocky Mountains.
With only a handful of hiking trails in the area, my favorite is the Red Rocks and Morrison Slide Trail.
These trails form a 3-mile loop that features carved sandstone and towering red rocks for which the park is named.
This hike is moderately difficult and takes about 1.5 hours to complete. Along the way you'll see epic views of Denver on one side and the Rocky Mountains on the other.
Be sure to bring your camera!
Difficulty: moderate
2. Crystal Mill Trail, Marble
Just outside the sparsely populated town of Marble, Colorado sits the historic Crystal Mill.
Built in 1892 this mill sits in the middle of the pine forests and operated as a "powerhouse". It contained a turbine that was driven by the nearby Crystal River.
The hike to Crystal Mill is a moderately challenging 8-9 mile hike that can take 3-4 hours to reach the destination.
Or if you have an off-road vehicle with 4-wheel drive you can drive right up the mill's location.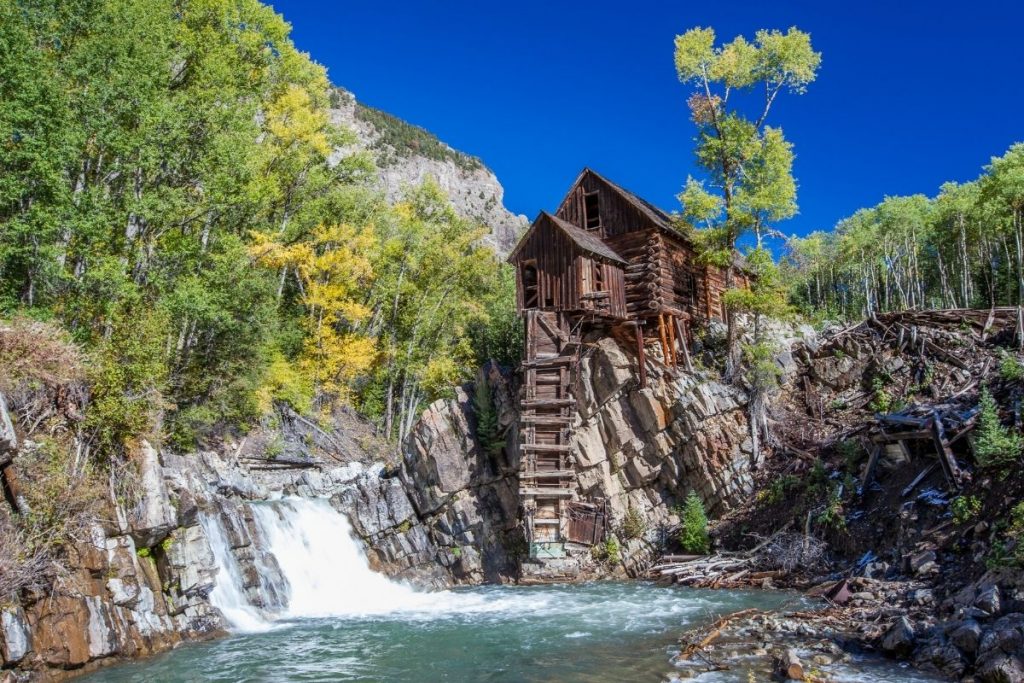 The Crystal Mill sits high atop the rushing river, surrounded by lush, rich forest, with the near-perfect background of the surrounding mountains.
It is a popular hike for tourists and photographers looking to capture a little bit of nature's serenity.
When you arrive, you'll find that there are basically two main areas from which to see and photograph the mill.
The most popular location is to the right of the mill from the cliffside vantage point. This spot is fairly small and can only fit three to four people at a time.
Difficulty: hard
3. Perkins Central Garden Trail, Garden of the Gods
This magnificent natural wonder is a National Natural Landmark and is most well-known as one of Colorado's most photographed views.
Plus, the park is completely free to visit & explore nearly all year round.
The Perkins Central Garden Trail is a 1.5 mile paved trail that is an easy route that's relatively flat and takes about 26 minutes to complete.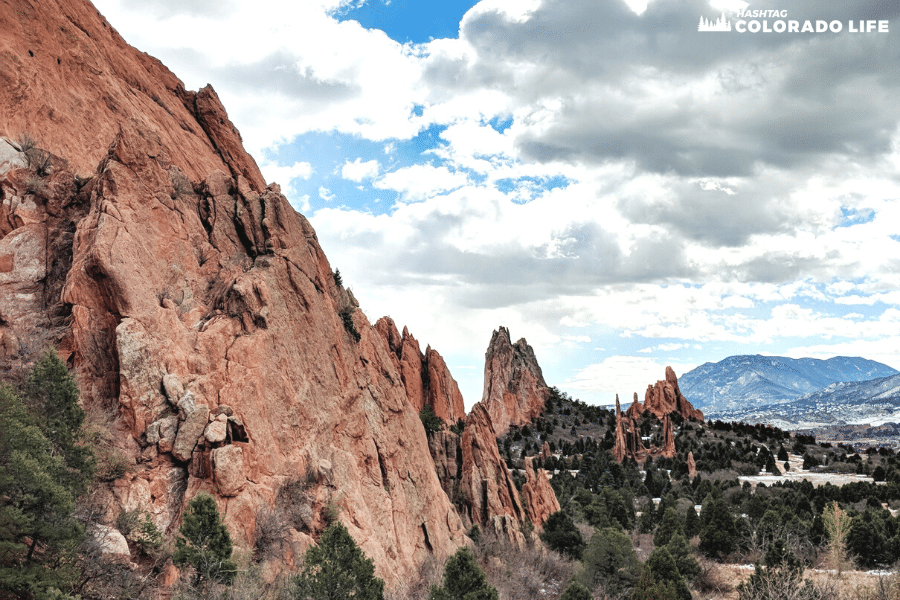 Due to the paved trails and well-maintained paths the hike is kid-friendly, wheelchair friendly, and stroller friendly.
Designated parking for this trail is located at the Main Parking Lot with accessibility spaces and restrooms near the trail.
And don't forget to stop at the Garden of the Gods Visitor & Nature Center to grab an iconic photo.
The towering red rock sandstone formations rise up before the mountainous backdrop of the famous Pikes Peak and all along the Front Range.
Difficulty: very easy
4. Emerald Lake Trail, Rocky Mountain National Park
Rocky Mountain National Park is an expansive and rugged wilderness with more than 250 hiking and biking trails.
Located near Estes Park, Colorado there are limitless areas to see and explore here. Visiting it at certain times of the year will yield a completely different, and amazing, experience.
And one of the most famous Colorado hiking trails in Rocky Mountain National Park is the Emerald Lake Trail.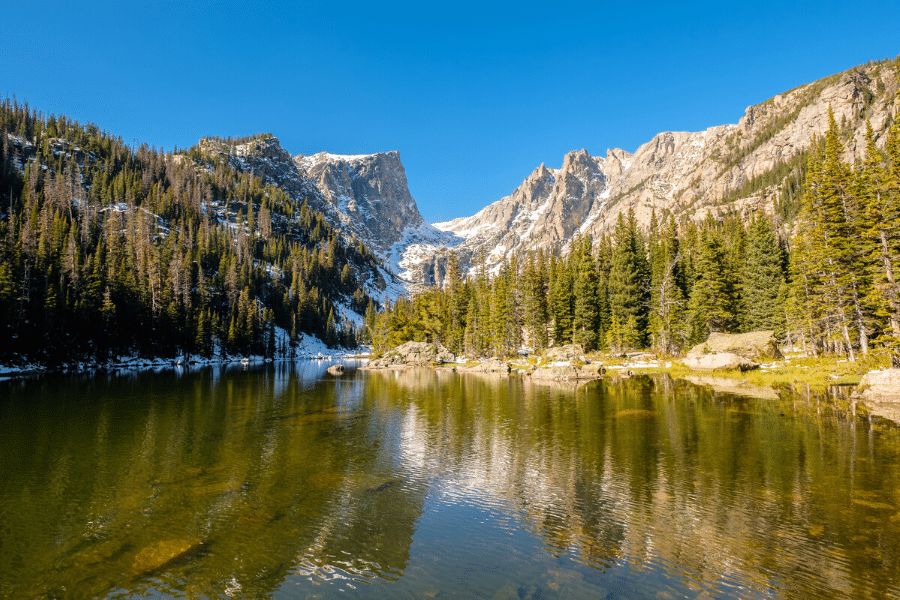 With only a moderate level of difficulty this trail is nice for active families or those who aren't used to the altitude yet.
This 3.2 mile hike goes out-and-back for about an hour and a half and is easy to follow thanks to the marked trails.
The path passes a series of crystal clear alpine lakes with the smallest of the pools being Nymph Lake. Then it's onto Dream Lake which is one of the most beautiful lakes in all of Colorado.
Depending on the time of year, hiking the Emerald Lake Trail means seeing epic views of the Rocky Mountains, wildflowers, and even some wildlife.
In the summer it's perfect for hiking and mountain biking, and during the winter this trail is a great spot for snowshoeing.
To get into the park you will have to buy a day pass (fees vary) or you can invest in an annual Rocky Mountain National Park pass.
Difficulty: moderate
5. Hidden & Star Dune Loop, Great Sand Dunes National Park
Another epic place to hike in Colorado is the Great Sand Dunes National Park. Located near Alamosa, the hike to the Star Dune is a personal favorite.
The Star Dune is over 700 feet tall and is currently tied with the Hidden Dune (it's neighbor!) as the two tallest dunes in North America.
The hike up the Hidden & Star Dune Loop is 8-miles long and is considered a challenging hike that takes about 3.5 hours to complete.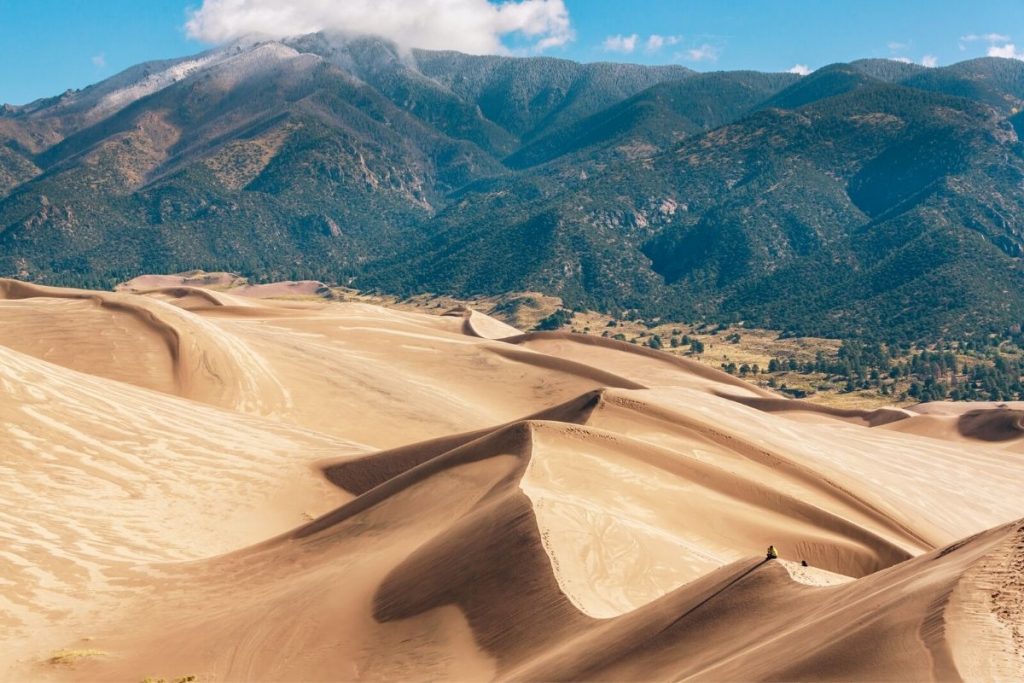 There is a fee to enter the National Park as well as annual passes that are available for purchase via the national park website.
It's quite unique to see a miniature Sahara desert pressed up against iconic Colorado mountains.
And the Sand Dunes exist here because long ago there was a lake that covered almost the entire San Luis Valley (where the dunes are). But the lake suddenly disappeared and all that was left was lots and lots of sand!
Difficulty: hard
6. Maroon Bells Lake Scenic Loop Trail, Aspen
In the Elk Mountains, the two peaks and crystal clear waters of the Maroon Lake form a picturesque destination known as the Maroon Bells.
Regarded as one of the most classic hiking spots in Colorado, the area can be reached via the Maroon Lake Scenic Loop Trail.
This iconic 1.9 mile loop surrounds the Maroon Bells Lake, showing off scenic landscapes including alpine waters, wildflowers and plenty of wildlife.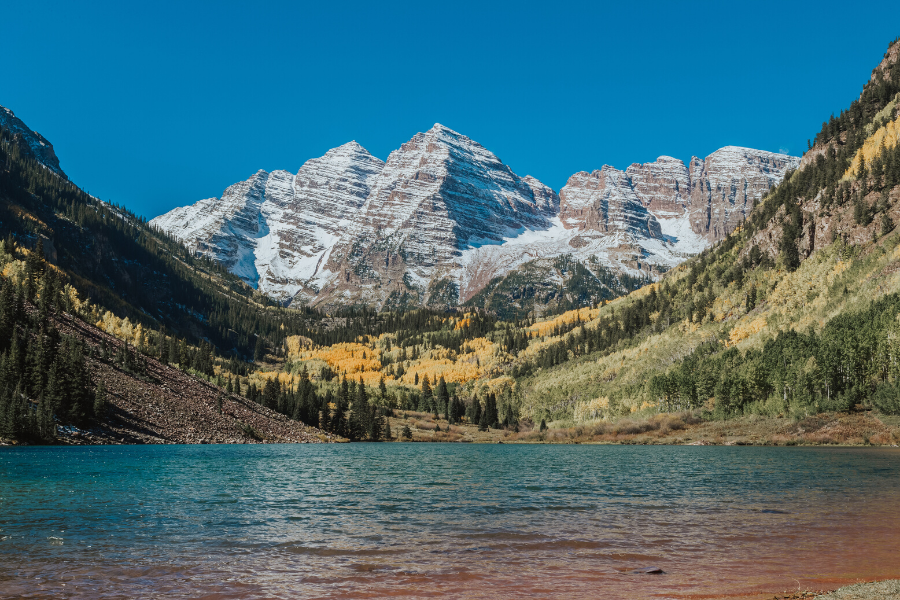 If you've seen photos of Colorado, you have likely seen a pic of Maroon Bells. In fact, Maroon Bells is one of the most photographed locations in Colorado.
Because of the popularity of this destination, access is limited during high-traffic seasons like summer and fall.
And reservations are required to visit the Maroon Bells. I recommend visiting on a weekday if possible to reduce congestion.
The Maroon Bells wilderness area is located about 10 miles outside Aspen, Colorado.
Difficulty: moderate
7. First and Second Flatirons Loop, Boulder
Chautauqua Park in Boulder is absolutely amazing and is a must-visit when crafting your list of the best hikes in Colorado!
When you see a photo of Boulder, Colorado you are most likely seeing a picture of the Flatirons at Chautauqua Park.
The First and Second Flatirons Loop is widely considered one of the best hiking trails in Boulder.
With views of the Flatirons and lots of trails and paths to take, this hike is one of a kind.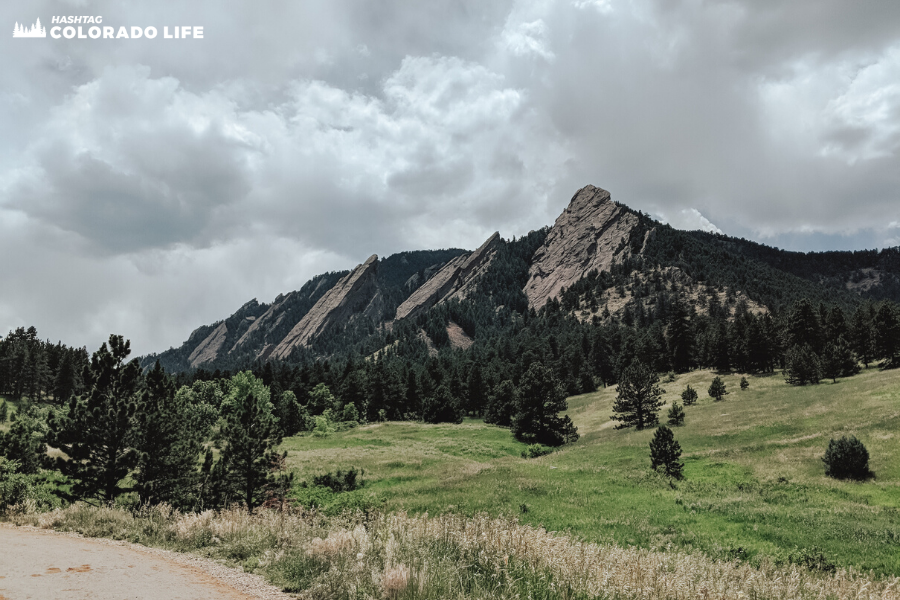 The trail is rated moderate with some areas being rather difficult and gains more than 1,400 feet in elevation.
In other words, it's not for the faint of heart! However, the incredible views of the city of Boulder and the Front Range stretch on for miles and miles.
You can choose from lesser known trails that are a bit more difficult, or easier but more trafficked paths.
If you want to hike other trails in the area, there are 10 trailheads accessible from Chautauqua Park, all with varying views of the iconic Flatirons and ranging in difficulty from easy to strenuous.
But not all trails permit dogs, and the trails that do allow dogs require that they be leashed.
The trail's close proximity to town makes Chautauqua Park easy to access, but for the same reason it's often very busy.
To find parking in the lot, consider visiting during the off-season or on a weekday. Otherwise, parking is available in nearby neighborhoods.
Difficulty: moderate
8. Warner Point Nature Trail, Black Canyon of the Gunnison National Park
About 5 hours from Denver is one of the least visited National Parks called, Black Canyon of the Gunnison.
But for Colorado locals it's considered a hidden gem that's less crowded and none-the-less stunning.
Black Canyon of the Gunnison is typically visited by extreme athletes who enjoy rock climbing the sheer cliffs or pro kayakers taking on the Colorado River.
However, even everyday hikers can enjoy the beauty of the area thanks to the Warner Point Nature Trail.
This easy 1.5 mile hike goes out-and-back for about a 45-minute hike.
It gains little elevation and meanders along the rim of the towering canyons below. The Warner Point Nature Trail offers panoramic views of both the inner canyons and surrounding mountain ranges.
To enter the Black Canyon of the Gunnison a National Park pass is recommended (for an annual fee) or you can purchase a day pass to access the area.
During the snowy winter months there are seasonal closures so be sure to check the national park's website for more info.
Difficulty: easy
9. Hanging Lake Trail, Glenwood Canyon
Hanging Lake Trail is arguably the most scenic hike in all of Colorado. This 1.5 mile trail has an elevation gain of nearly 1,200 and requires a bit of climbing and traversing rocky terrain.
On this hike, you'll cross a series of wooden bridges then take a short trail extension to see Spouting Rock, a waterfall gushing through the rock face.
As you continue on the hike you'll see a short handrail section that will lead you to Hanging Lake.
It's hard to miss thanks to multiple waterfalls that trickle into the aquamarine pool, creating a breathtaking scene.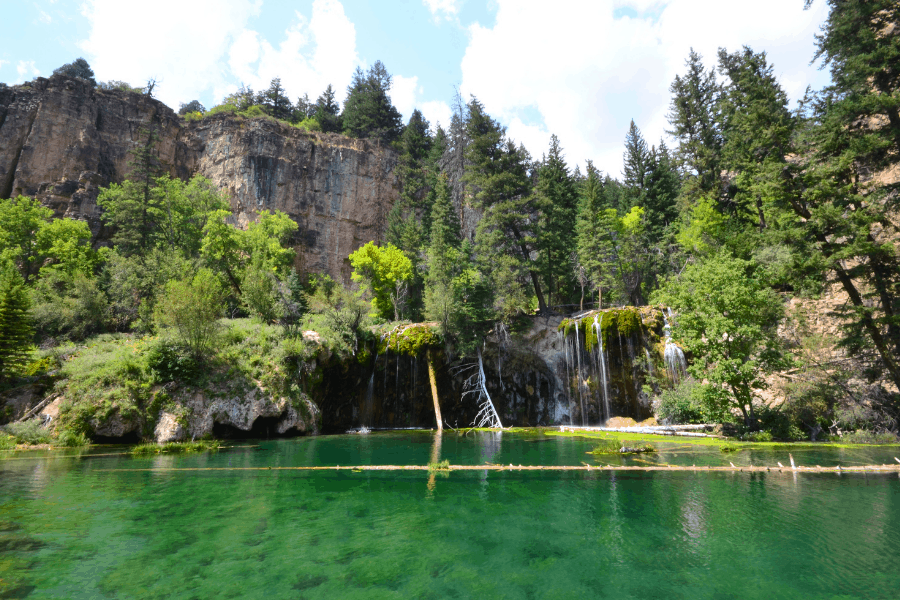 To the south of Hanging Lake, you'll see gorgeous views of Glenwood Canyon, which is one of the most beautiful drives along I-70 (and my personal favorite).
Depending on the time of year, access to Hanging Lake may be closed to the public due to damage from wildfires or mudslides.
However the state of Colorado is constantly in the process of preserving Hanging Lake and the Glenwood Springs area.
Set alongside the Colorado River, the roadside pull-offs and rest stops in Glenwood Canyon are like nothing else you have seen. I can't recommend this hike enough.
Difficulty: moderate to hard
10. Seven Bridges Trail, North Cheyenne Canon Park
North Cheyenne Canon is a very rugged hiking destination with access to gorgeous windy roads through the mountains.
A popular trail in this area is Seven Bridges Trail which is a 3.8 mile trail that is moderately difficult.
It features a waterfall and breathtaking views of the city below.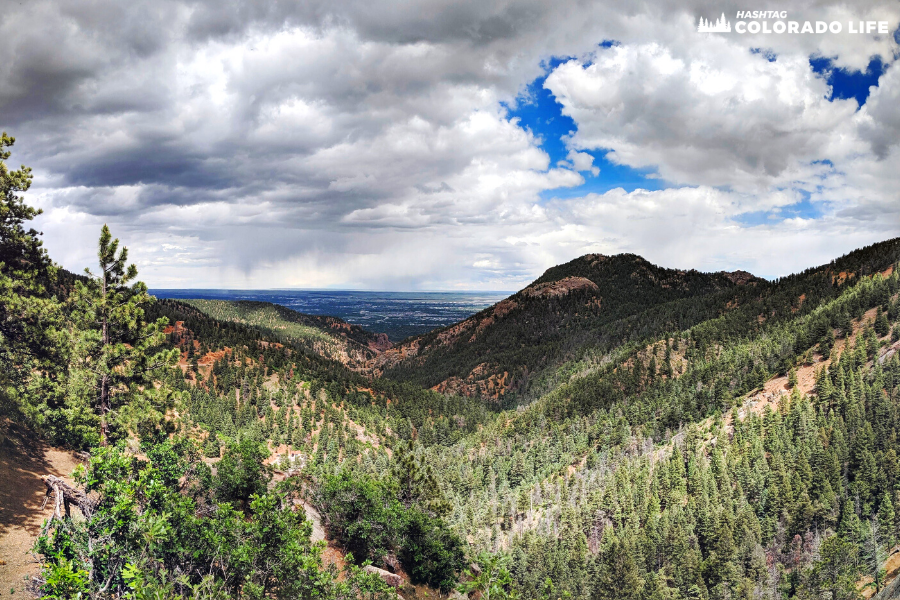 Some areas tend to get a little bit steep so the best times to visit are between March and November.
Located near Colorado Springs, North Cheyenne Canon Park offers many of the trails on the side of the mountain.
So, practice safety, and don't hike this area if you're afraid of heights.
One of the easier hikes in the area is Mount Cutler Trail, which is a 1.7 mile hike that is good for all skill levels.
Difficulty: easy to moderate
11. The Manitou Incline, Manitou Springs
If you're looking for an intense hike to test your physical abilities, then the Manitou Incline is the hike for you.
The Incline at Manitou Springs is one of the most challenging hikes on this list.
Located near Colorado Springs this intense hike will test your physical abilities so you may want to train before going on this hike.
In fact, most people train for months before climbing this trail, so hike with caution.
The Incline has over 2,700 steps with a 2,000 foot elevation gain that is less than one mile straight up the mountain.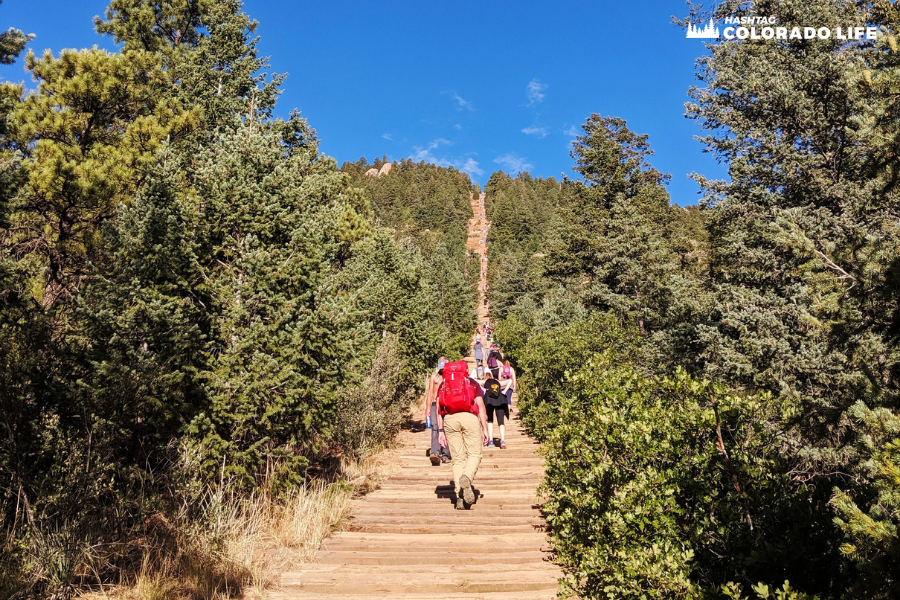 The views from the top of the mountain are unmatched, and the hike down the mountain is equally picturesque.
The main way to climb down the Manitou Incline is via the Barr Trail which is a 12.5 mile trail.
It intersects from Pikes Peak to Manitou Springs and is a very difficult hike that takes about 2.5 hours to descend.
Hiking the Manitou Incline is extremely hard and should only be attempted if you are in good physical shape.
We do not recommend this hike for dogs or families with small children.
If you start hiking the Incline trail and feel that you can not finish the hike to the summit, there is a "bale out point" about halfway.
Here you can catch the Barr Trail and continue heading down to the bottom of the mountain.
Difficulty: extremely hard
12. Sloan's Lake Park, Denver
If you live in the city of Denver Sloan's Lake is the perfect little getaway for a scenic walk.
Located right in the middle of the city, Sloan's Lake is over 177 acres and is the city's second largest park.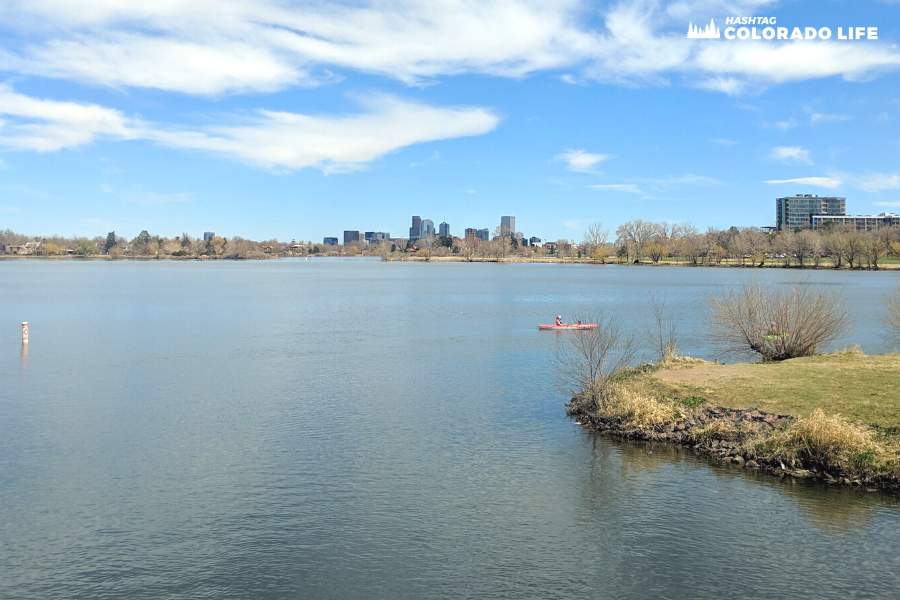 The walking and biking path around the lake is just over 2.5 miles one-way.
It offers picturesque views of downtown Denver in one direction, and the Rocky Mountains from the other direction.
Since this is a city park there are nice facilities nearby including two playgrounds, picnic areas, tennis courts, restrooms and more.
Difficulty: easy
13. Ute Valley Park Loop Trail, Colorado Springs
Ute Valley Park is another one of our absolutely favorite hiking spots in Colorado!
And within the park is the Ute Valley Park Loop Trail. It's nestled in the center of the city but still very secluded and quiet.
The trail is a loop that is nearly 4 miles long that starts and ends at the parking lot.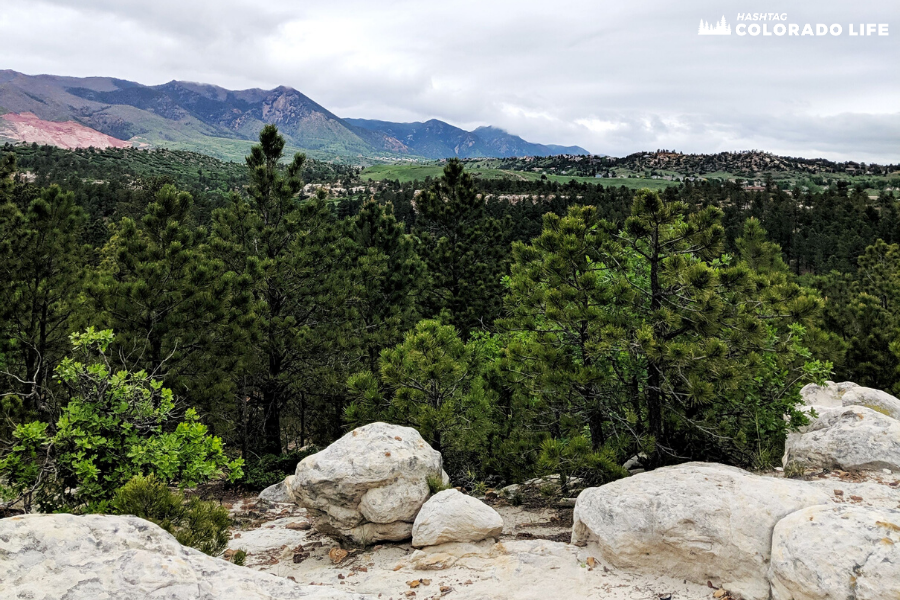 It features a gorgeous overlook, a small creek, plus lots of birds and wildlife that are native to the area.
The path is moderate with some relatively easy climbs, and is considered good for many skill levels.
Dogs are also able to use the trail but must be kept on a leash.
Once near the top of the climb you'll be able to see the entire city of Colorado Springs and surrounding areas for miles.
Difficulty: easy to moderate
14. The Trollstigen Trail, Breckenridge
Even though the Trollstigen Trail in Breckenridge is less than a mile long, it's still considered a true Colorado gem.
Why? Because at the end of the trail is something you never expect; a 15-foot tall Troll made out of recycled wood and scraps.
This sculpture was custom made in 2018 and was named Isak Heartstone. He permanently lives in Breckenridge on his own custom trail, called the Trollstigen Trail.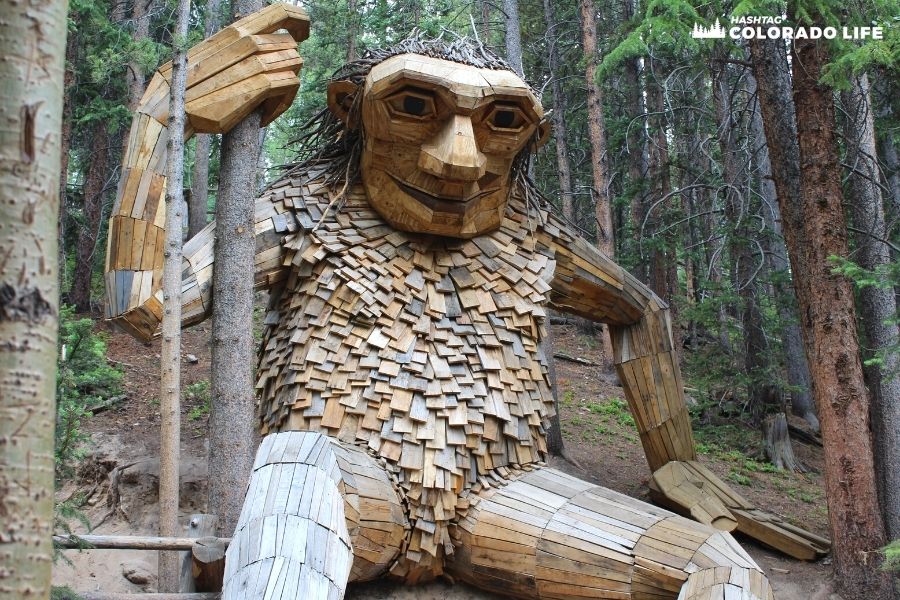 The path starts right at the parking lot and is about a half mile loop getting there and back to see the Troll.
The trail is flat and paved by elevated wooden planks or stone pavers making the hike very easy and accessible by any skill level, even small children and pets.
It's hard to miss Isak himself at the end of the trail. I mean, afterall he is a 15ft tall troll.
Once you are there, feel free to stop, pose and take pictures with him. Plus, visiting the Breck Troll is easy and completely free all year long.
Check out our guide to the Breckenridge Troll for more info.
Difficulty: very easy
15. Garden of the Gods Loop Trail, Colorado Springs
Garden of the Gods tops many bucket lists and hiking guides in Colorado for good reason.
It has over 12 designated trails in the park, so we had to add another one that is very popular!
You could fill a few hours or a whole weekend just exploring the many trails, wandering the visitor's center, and dining on site.
It truly is an epic destination for being one of the most picturesque and photographed places in the state.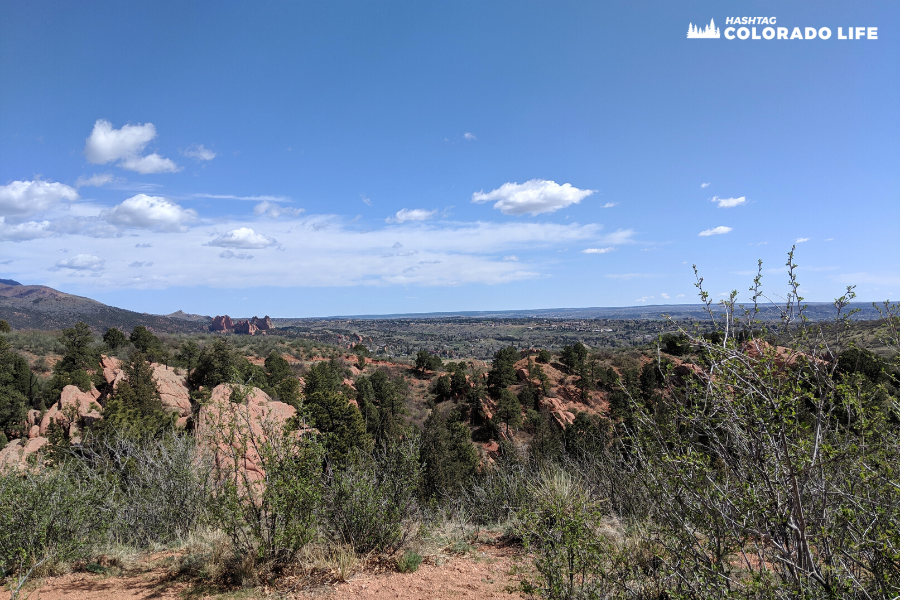 And Garden of the Gods Loop Trail will take your breath away.
Whether you are a first-time visitor or are a native to Colorado, this hiking spot is fairly easy.
The Loop can be customized for how long you want to walk and can be as long as 4 miles in length.
It crosses over other popular paths like Palmer Trail and Scotsman Trail so you can explore the garden at your own pace.
Difficulty: easy
16. Timberline Falls Hike, Rocky Mountain National Park
There are so many trails to explore in Rocky Mountain National Park that we had to add one more!
One of the best places for hiking in Colorado is Timberline Falls.
The trailhead is located on Bear Lake Road about 8 miles from Highway 36.
Due to the popularity of this trail in peak tourist season, you may want to consider parking and taking the free shuttle to the trailhead.
The entire trail is about a 9 mile-long loop that features Sky Pond and lots of bird watching.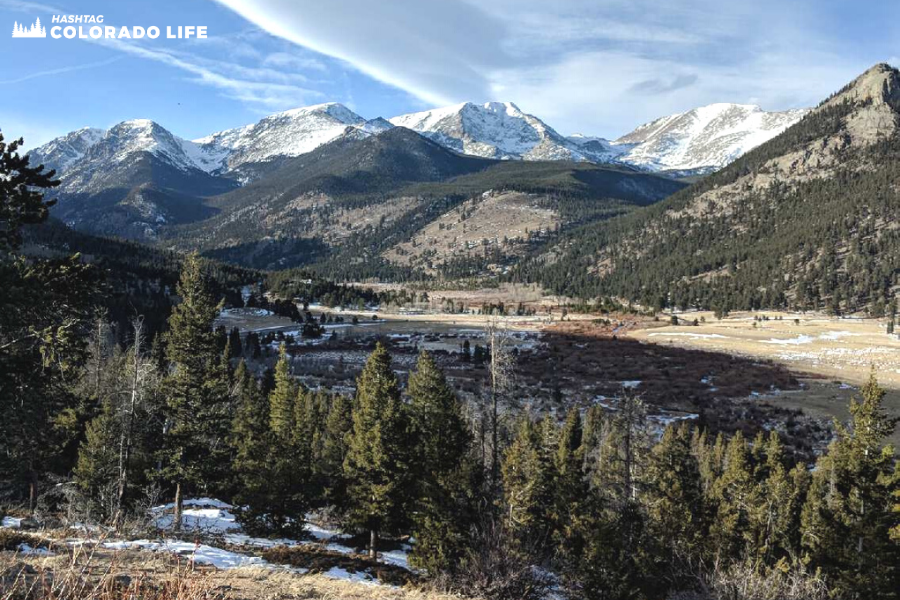 The hike is moderate to difficult so you may not want to hike this with small children or if you are not at this fitness level.
It's also important to know that you may be limited to which trails you can hike on depending on the time of year.
Rocky Mountain National Park is a very wild place, and there are lots of animals that you'll probably cross paths with.
Stay out of the animals' way and practice smart safety tips.
17. The Colorado Trail
For anyone who likes thru-hikes, check out the Colorado Trail.
It's over 567 miles through the entire state, from Denver to Durango.
This is for more advanced hikers and backpackers who want to challenge themselves to an outdoor adventure.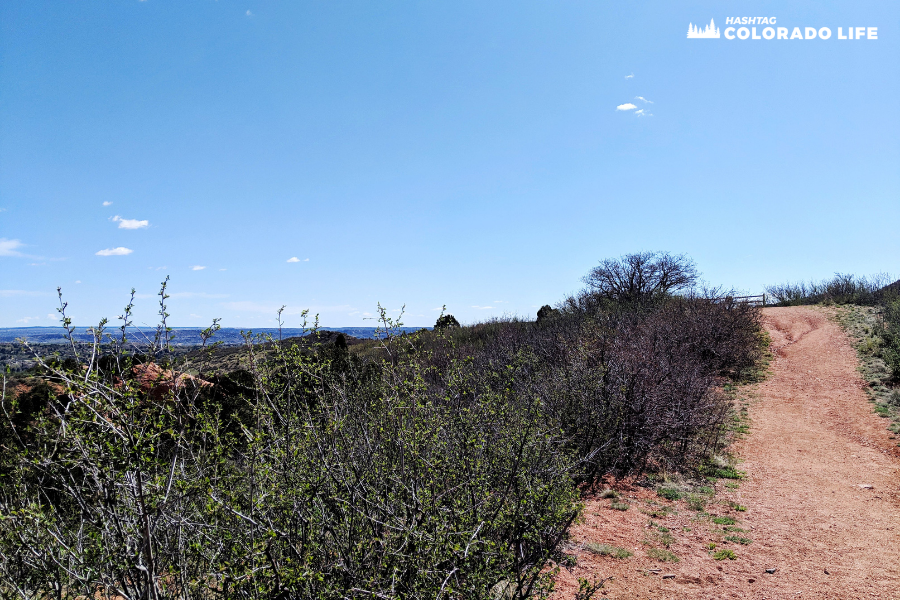 Some honorable mentions for best hikes in Colorado are also the Grand Junction and Salida areas.
They offer a wide array of trails and outdoor activities for the southern areas of the state.
Beware when hiking on any trails in the mountains, specifically in Vail or Breckenridge, as the restrooms can be pretty awful.
Difficulty: moderate to hard
5 tips for safe hiking in Colorado
Before heading out on a hike in Colorado, there are few important things you should know.
Here are some tips for safe hiking outdoors, anytime of year.
1. Verify current weather conditions
Check current trail conditions and weather before going out on your hike.
The Colorado weather can change rapidly, because the altitude changes what the weather will be.
Know what the weather is projected to be and bring lots of layers, even if it's the summer or spring time.
We've had massive snow storms blow in even during months like April or May.
2. Follow the signs
Stay on the trail and don't go into the restricted boundary areas.
Colorado is constantly trying to protect nature and the wildlife so a path you took last year may be closed off for preservation.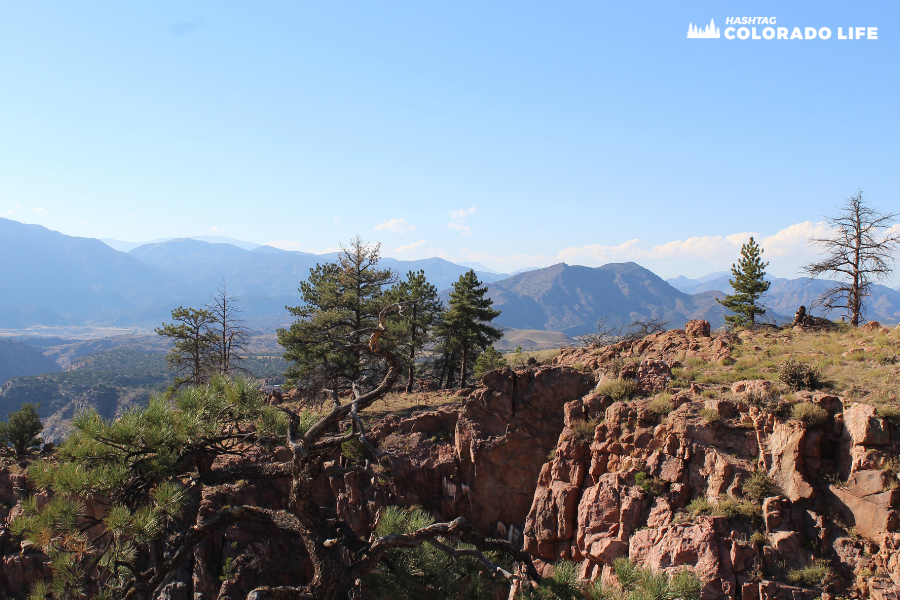 3. Keep wildlife wild
Do not approach wildlife, they can get scared and hurt you, or even kill you.
Bring plenty of water and snacks, especially in the summer when the dry air is even drier and hotter.
It's easy to get dehydrated and experience a heat stroke.
4. Pay attention to your body
Take care of your body if you're visiting Colorado and are not used to the altitude.
Altitude sickness is a real thing and it can dramatically hamper the amount of oxygen your body is taking in.
5. Take breaks and go slow
Get a lot of rest and take it easy with your first bit of physical exertion when arriving in Colorado.
We recommend avoiding a major hike within a day or two of visiting the state.
If you plan on hiking at high elevations during the winter months, you should expect the trails to be covered with snow and ice.
Wear the proper shoes and layer your clothing to stay warm.
Colorado's weather can be very warm and very cold all in the same day, especially as you ascend and descend on the mountains.
10 essential items for every hike
Here is a quick checklist of the top 10 essential items you need for every hike.
Map
Compass
First-aid Supplies
Firestarter
Matches
Sunglasses & Sunscreen
Headlamp & Flashlight
Knife
Extra Food
Extra Clothing
Check out the top hiking essentials kit on Amazon.