by Ryan Nicholson
|
Last Updated:
May 7, 2020
The content of this website may contain affiliate links and we may be compensated (at no cost to you!). Thank you for your support!
Want to know the best hikes in Colorado? We're sharing hiking hacks and how to discover new trails.
You'll also learn some important safety tips and what you need to know in order to prepare for an outdoor adventure.
We have an extra special podcast episode to go along with this since we're interviewing one of our friends and Colorado natives!
This week we're really excited to be joined by Michelle Jackson! She is the creator of the website and podcast, Square State, where she shares the good and bad, about life in Colorado.
She is also a personal friend of ours and someone who knows the state of Colorado very well.
One thing that Michelle mentions several times in her interview is the fact that all types of people are welcome to Colorado — especially people of color!
No matter what your race, you can enjoy the great outdoors and spend time hiking in this beautiful state. Let's dive in!
iTunes | Google Play | Stitcher | Spotify
What are the top outdoor programs for kids?
If you have an adventurous child, there are many outdoor adventure programs available in this fun state.
The YMCA offers awesome activities like horseback riding for day trips, or sleepaway camps like:
Depending on the time of year, there are lots of different activities during the summer as well as in the off-season. And the YMCA is a great place to start.
Please note that the Colorado Outward Bound program is a bit more intense as you're involved in wilderness training and staying outdoors for several weeks.
What are the best hikes in Colorado?
There are endless hiking spots, trails and open spaces available in Colorado! You can't really go wrong with any of them.

Even if you're just pulling off on a side road, you're bound to find a trail that goes into the woods or up the mountain.

We've mentioned this in a previous episode, but one of our all-time favorite places for getting outdoors is the Rocky Mountain National Park. There are so many trails to explore in this vast National Park.

It's important to keep in mind that you may be limited to which trails you can go on depending on the time of year.

Rocky Mountain National Park is a very wild place, and there are lots of animals that you'll probably cross paths with. Stay out of the animals way and practice smart safety tips.
1. Chautauqua Park
Chautauqua Park in Boulder is absolutely amazing and makes our list of the best hikes in Colorado for good reason!
With views of the Flat Irons and lots of trails and paths to take, this hike is one of a kind.
You can choose from lesser known trails that are a bit more difficult, or easier but more trafficked paths.
If you don't have a car, it's easy to take the bus from Union Station in Denver and get off on Broadway and Baseline, and walk over to the park.
Or you can get off on the University stop and walk over to start your hike.
2. Sunshine Canyon
Sunshine Canyon is easily accessible from anywhere in the Boulder valley. During the spring and summer this trail is one of the best wildlife and wildflower hikes near Boulder.
The hike is moderately difficult but does not get a lot of foot traffic. And you won't believe the views when you get the top!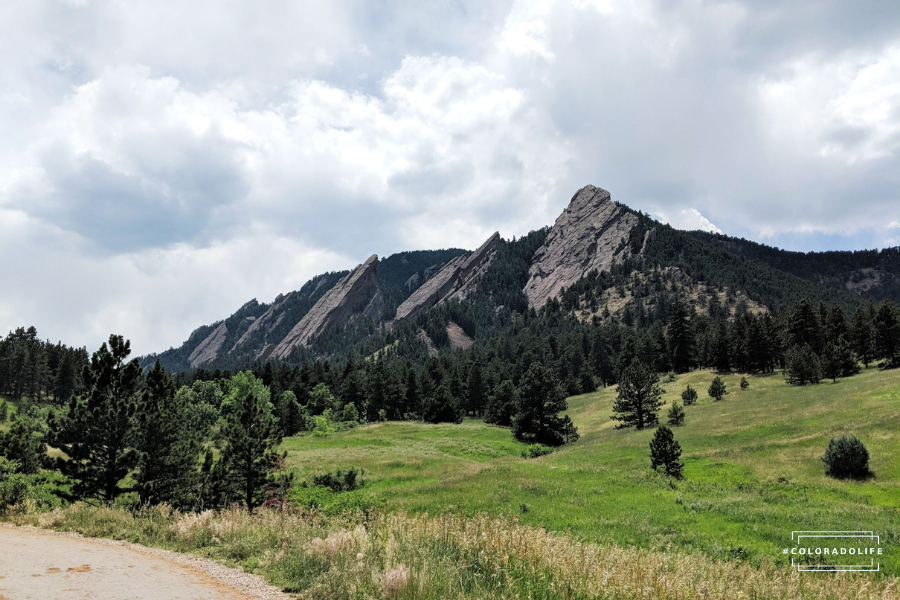 3. North Cheyenne Cañon
North Cheyenne Canon is a very rugged place with access to gorgeous windy roads through the mountains. Located near Colorado Springs, many of the trails are on the side of the mountain.
So, practice safety, and don't hike this area if you're afraid of heights.
4. Ute Valley Park
Ute Valley Park is another one of our absolutely favorite hiking spots! It's nestled in the center of the city but still very secluded and quiet.
Once near the top of the climb you'll be able to see the entire Colorado Springs city and surrounding areas for miles.
5. Chatfield Botanic Gardens
Chatfield Botanic Gardens is an all-time favorite walking place of Michelle's. It's less intense with flatter areas to walk around versus hiking up the side of a mountain.
Some of the pathways make space for dirt bikes, so beware of that. But the wildflowers are absolutely breathtaking during the spring and summertime.
During the fall there are all kinds of dry grasses and birds nesting in the fields.
6. Sloan's Lake in Denver
If you live in the city of Denver, Sloan's Lake is the perfect little getaway. Located right in the middle of the city, Sloan's Lake is over 177 acres and is the city's second largest park.
The walking and biking path around the lake is just over 2.5 miles one-way. It offers picturesque views of downtown Denver in one direction, and the Rocky Mountains from the other direction.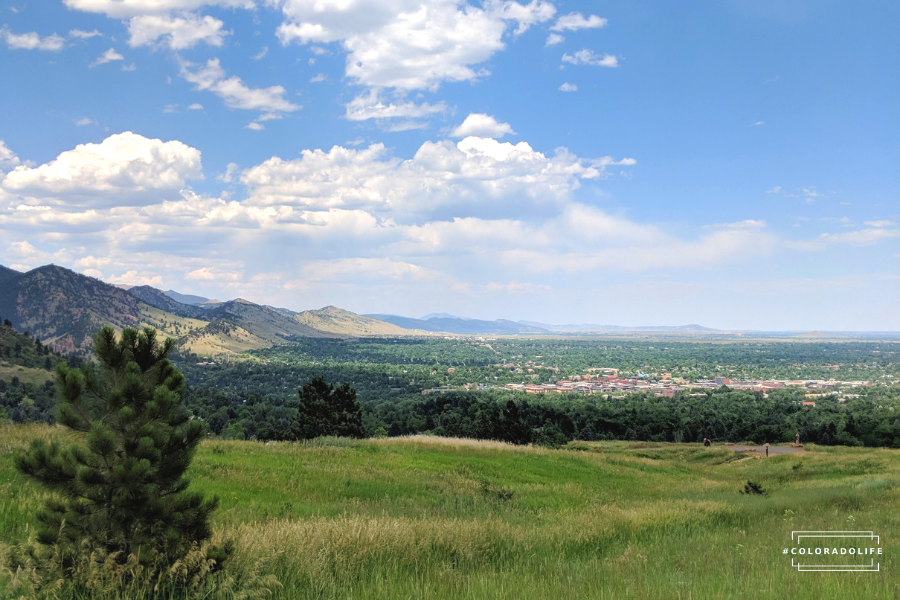 7. Colorado Trail
For anyone who likes thru-hikes, check out the Colorado Trail. It's over 567 miles through the entire state, from Denver to Durango.
This is for more advanced hikers and backpackers who want to challenge themselves to an outdoor adventure.
Some honorable mentions for best hikes in Colorado are also the Grand Junction and Salida areas. They offer a wide array of trails and outdoor activities for the southern areas of the state.
Beware when hiking on any trails in the mountains, specifically in Vail or Breckenridge, as the restrooms can be pretty awful.
How do you find the best hiking trails to explore?
If you recently moved to Colorado, or are looking for new places to explore, here are a few tips for connecting with other hikers and finding new trails.
Michelle shares some of her favorite hiking groups and we highlight a free app we know you'll love.
Hiking groups: Trails and Ales
Trails and Ales is a very large and active hiking group throughout the state of Colorado — it's not just specific to the Denver area. In fact, they usually arrange between 2-5 hikes per week, so you'll never run out of trails to explore.
The group puts together regular hiking trails as well as some new ones, so you'll never get bored either! They do offer options for carpooling, in case you don't have a car or want to save some money.
Just make sure you pitch in for fuel costs as that's only fair!
Hiking groups: Rising Routes
Rising Routes is a great hiking group for everyone! It offers a very diverse community of hikers with various levels of hiking abilities. They also coordinate camping tours and other outdoor events.
Hiking groups: Black Girls Hike Global
Black Girls Hike Global is another ethnically diverse group of hikers. While they want to encourage black women to get outside, the group is open to all kinds of women.
It's important to note that if you're a serious hiker these excursion are community hikes, so you'll be hiking with the main group.
You can always pull away with the more serious hikers and join the rest of the group later if you're looking for a tougher trail.
Hiking groups: Outdoor Afro
Outdoor Afro is "where black people and nature meet". This group is for more serious hikers who enjoy a good challenge.
They focus on people of color and individuals who enjoy hiking with diverse groups. Some of the best hikes Michelle has ever been on have been with Outdoor Afro!
Try the AllTrails App
The AllTrails app is a completely free app that makes finding and exploring new hikes a breeze. The app comes with detailed maps for specific hikes and ranks the level of difficulty for each trail.
It provides directions for finding the trailhead as well as crowdsources reviews from fellow hikers so you know exactly what you're getting.
The app works for hikes and trails all over the United States, not just within Colorado.
5 tips for safe hiking in Colorado
1. Verify current weather conditions
Check current trail conditions and weather before going out on your hike. The Colorado weather can change rapidly, because the altitude changes what the weather will be.
Understand what the weather is projected to be and bring lots of layers, even if it's the summer or spring time.
We've had massive snow storms blow in even during months like April or May.
2. Follow the signs
Stay on the trail and don't go into the restricted boundary areas. Colorado is constantly trying to protect nature and the wildlife so a path you took last year may be closed off for preservation.
3. Keep wildlife wild
Do not approach wildlife, they can get scared and hurt you, or even kill you. Be sure to bring plenty of water and snacks, especially in the summer when the dry air is even drier and hotter.
It's easy to get dehydrated and experience a heat stroke.
4. Pay attention to your body
Take care of your body if you're visiting Colorado and are not used to the altitude. Altitude sickness is a real thing and it can dramatically hamper the amount of oxygen your body is taking in.
5. Take breaks and go slow
Get a lot of rest and take it easy with your first bit of physical exertion when arriving in Colorado. We recommend avoiding a major hike within a day or two of visiting the state.
If you plan on hiking at high elevations during the winter months, you should expect the trails to be covered with snow and ice. Wear the proper shoes and layer your clothing to stay warm.
Colorado's weather can be very warm and very cold all in the same day, especially as you ascend and descend on the mountains.
Checklist: 10 essential items you need for every hike
Later in the episode, Michelle mentions the top 10 essential items you need for every hike. Here's a quick checklist!
Map
Compass
First-aid Supplies
Firestarter
Matches
Sunglasses & Sunscreen
Headlamp & Flashlight
Knife
Extra Food
Extra Clothing
Check out the top hiking essentials kit on Amazon.
Hiking tip of the week
Colorado officially became part of the United States on August 1, 1876. On this day every year, there are free activities available to celebrate "Colorado Day".
The Colorado Parks and Wildlife centers wave the entrance fees to all state parks, as well as offering other discounts and special events. So, mark your calendars for August 1st every year!
We hope these tips help you find the best hikes in Colorado. Now, get outside and have fun on your next hiking adventure!
Ryan Nicholson is a homegrown born and raised Colorado native. Being a rare unicorn to have grown up in CO, he has a unique perspective on the changes here and knows all the hidden spots to get outside in this state. Ryan's a classically French trained chef so he LOVES to try new foods and places to eat. When he's not experimenting in the kitchen or working as a personal chef along the Front Range, he loves to get outdoors and away from it all hiking, camping and backpacking.