by Ryan Nicholson
|
Last Updated:
October 13, 2020
The content of this website may contain affiliate links and we may be compensated (at no cost to you!). Thank you for your support!
Narrowing down a list of the best hikes in Colorado to ten or less is no easy task.
There are literally hundreds of hiking destinations and bucket list trails in pretty much every city in Colorado.
From springtime hiking to winter trails and every season in between, there is never a shortage of places to hike.
You can enjoy the great outdoors and spend time hiking in this beautiful state.
iTunes | Google Play | Stitcher | Spotify
Best day hikes in Colorado
There are endless hiking spots, trails and open spaces available in Colorado! You can't really go wrong with any of them.
Even if you're just pulling off on a side road, you're bound to find a trail that goes into the woods or up the mountain.
Here are the best scenic hikes in Colorado and how to experience each one.
1. Garden of the Gods Loop Trail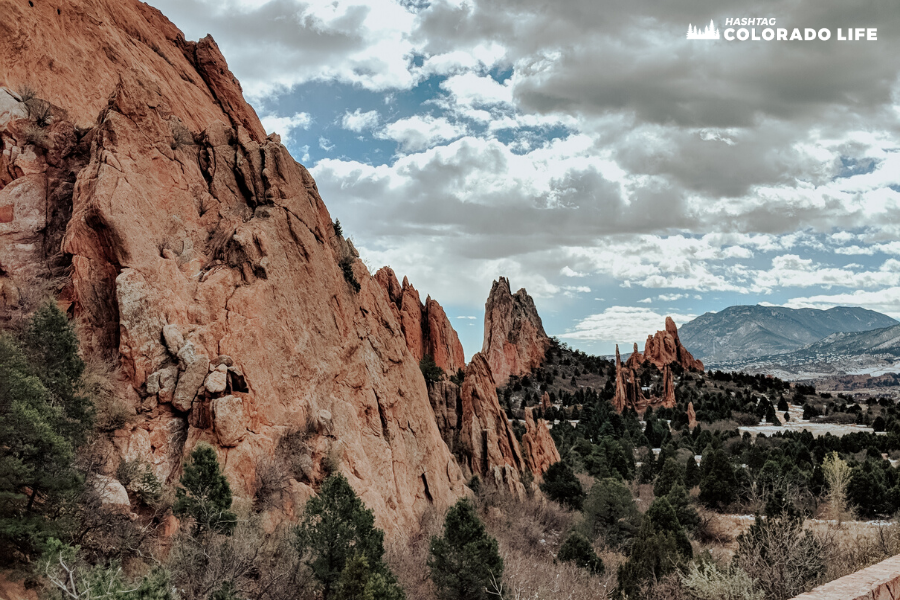 Difficulty: easy
Garden of the Gods tops many bucket lists and hiking guides in Colorado for good reason.
It truly is an epic destination for being one of the most picturesque and photographed places in the state.
And Garden of the Gods Loop Trail will take your breath away.
Whether you are a first-time visitor or are a native to Colorado, this hiking spot is fairly easy.
The Loop can be customized for how long you want to walk and can be as long as 4 miles in length.
It crosses over other popular paths like Palmer Trail and Scotsman Trail so you can explore the garden at your own pace.
2. Timberline Falls Hike in Rocky Mountain National Park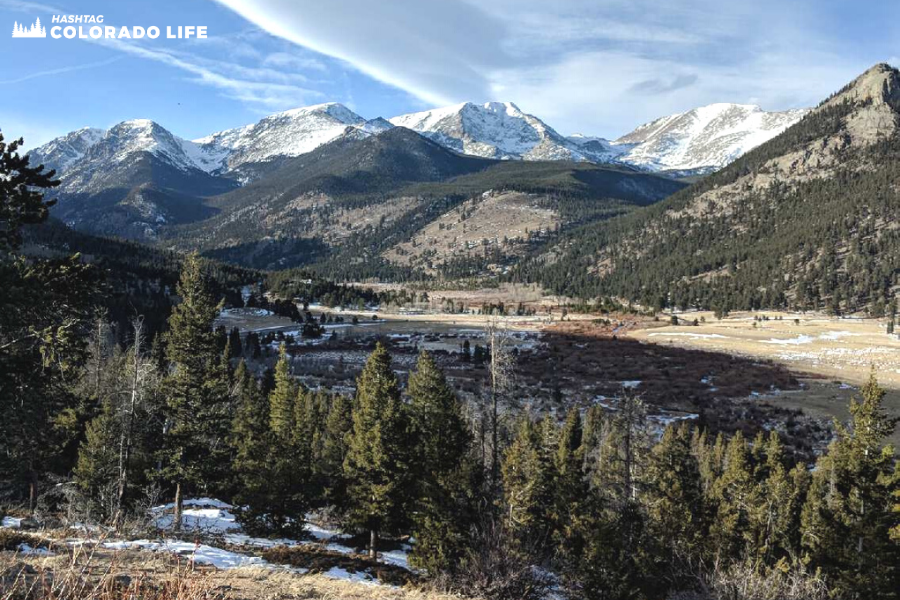 Difficulty: hard
There are so many trails to explore in Rocky Mountain National Park but one of the best is the hike to Timberline Falls.
The trailhead is located on Bear Lake Road about 8 miles from Highway 36.
Due to the popularity of this trail in peak tourist season, you may want to consider parking and taking the free shuttle to the trailhead.
The entire trail is about a 9 mile-long loop that features Sky Pond and lots of bird watching.
The hike is moderate to difficult so you may not want to hike this with small children or if you are not at this fitness level.
It's also important to know that you may be limited to which trails you can hike on depending on the time of year.
Rocky Mountain National Park is a very wild place, and there are lots of animals that you'll probably cross paths with.
Stay out of the animals' way and practice smart safety tips.
3. Chautauqua Trail at Boulder Flatirons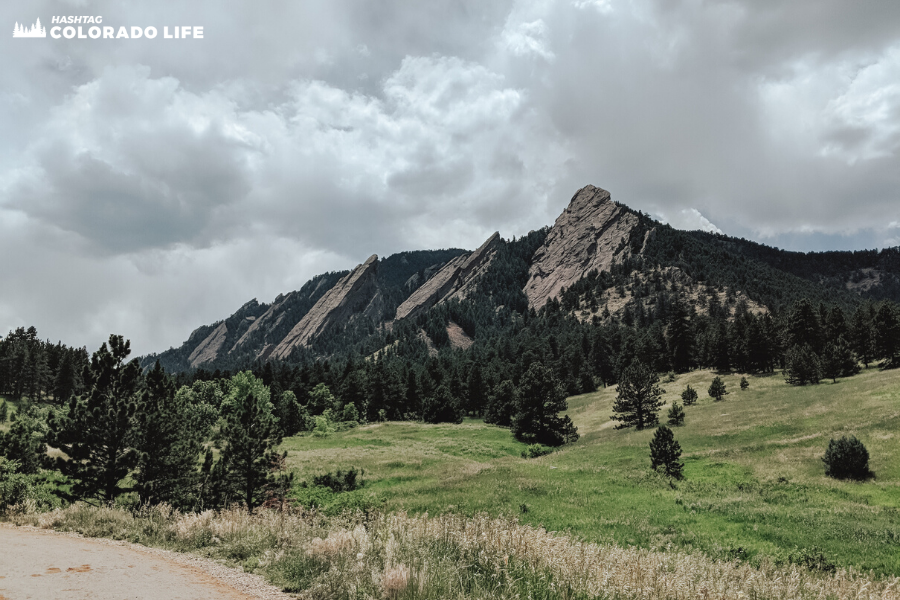 Difficulty: Moderate
Chautauqua Park in Boulder is absolutely amazing and is a must-visit when crafting your list of the best hikes in Colorado!
With views of the Flatirons and lots of trails and paths to take, this hike is one of a kind. And the good news is that dogs are allowed as long as they are leashed.
You can choose from lesser known trails that are a bit more difficult, or easier but more trafficked paths.
Chautauqua Trail is a moderately difficult hike that goes out and back for 1.2 miles.
The views of the park are gorgeous and showcase the magnificence of the Flatirons near the Front Range.
To reach the Flatirons, it's easy to take the bus from Union Station in Denver and get off on Broadway and Baseline, and walk over to the park.
Or you can get off on the University stop and walk over to start your hike.
4. Seven Bridges Trail at North Cheyenne Cañon Park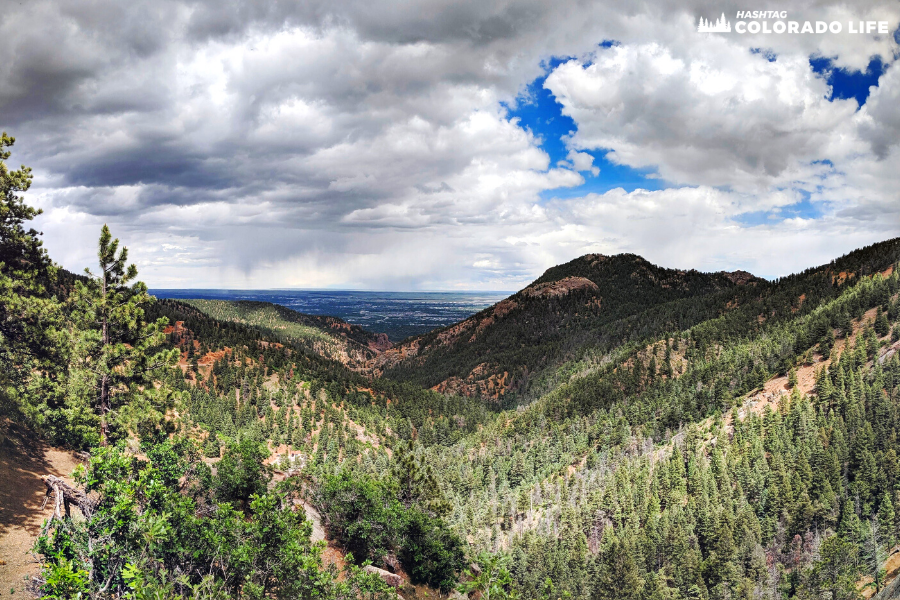 Difficulty: easy to moderate
North Cheyenne Canon is a very rugged hiking destination with access to gorgeous windy roads through the mountains.
A popular hike in this area is Seven Bridges Trail which is a 3.8 mile trail that is moderately difficult.
It features a waterfall and breathtaking views of the city below. Some areas tend to get a little bit steep so the best times to visit are between March and November.
Located near Colorado Springs, North Cheyenne Canon Park offers many of the trails on the side of the mountain.
So, practice safety, and don't hike this area if you're afraid of heights.
One of the easier hikes in the area is Mount Cutler Trail, which is a 1.7 mile hike that is good for all skill levels.
5. The Manitou Incline
Difficulty: extremely hard
If you're looking for an intense hike to test your physical abilities, then the Manitou Incline is the hike for you.
Located in Manitou Springs this is one of the most challenging hikes in all of Colorado.
The Incline has over 2,700 steps with a 2,000 foot elevation gain that is less than one mile straight up the mountain.
Most people train for months before climbing this trail, so hike with caution.
The views from the top of the mountain are like none other, and the hike down the mountain is equally picturesque.
The Barr Trail is a 12.5 mile trail that intersects from Pikes Peak to Manitou Springs and is a very difficult hike.
It is the best hike to climb Pikes Peak as well as the main way to climb down the Manitou Incline.
6. Sloan's Lake Park in Denver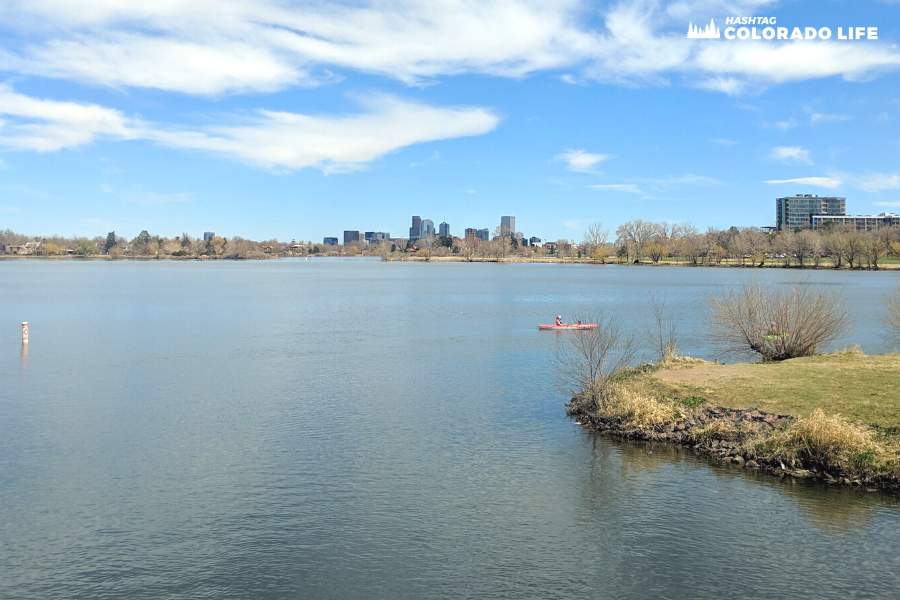 Difficulty: easy
If you live in the city of Denver, Sloan's Lake is the perfect little getaway for a scenic walk.
Located right in the middle of the city, Sloan's Lake is over 177 acres and is the city's second largest park.
The walking and biking path around the lake is just over 2.5 miles one-way.
It offers picturesque views of downtown Denver in one direction, and the Rocky Mountains from the other direction.
Since this is a city park there are nice facilities nearby including two playgrounds, picnic areas, tennis courts, restrooms and more.
7. The Colorado Trail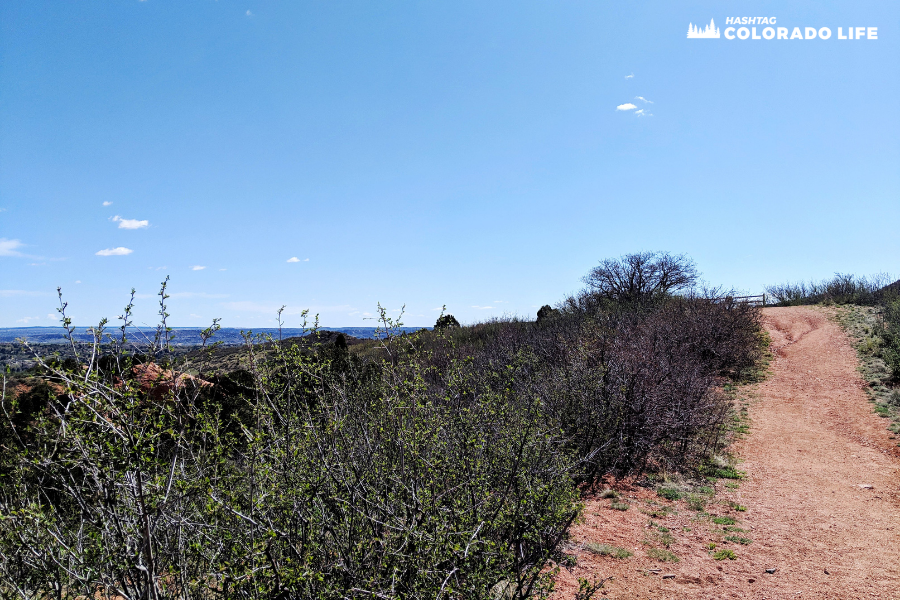 Difficulty: moderate to hard
For anyone who likes thru-hikes, check out the Colorado Trail.
It's over 567 miles through the entire state, from Denver to Durango.
This is for more advanced hikers and backpackers who want to challenge themselves to an outdoor adventure.
Some honorable mentions for best hikes in Colorado are also the Grand Junction and Salida areas.
They offer a wide array of trails and outdoor activities for the southern areas of the state.
Beware when hiking on any trails in the mountains, specifically in Vail or Breckenridge, as the restrooms can be pretty awful.
Checklist: 10 essential items for every hike
Here is a quick checklist of the top 10 essential items you need for every hike.
Map
Compass
First-aid Supplies
Firestarter
Matches
Sunglasses & Sunscreen
Headlamp & Flashlight
Knife
Extra Food
Extra Clothing
Check out the top hiking essentials kit on Amazon.
Hiking tip of the week
Colorado officially became part of the United States on August 1, 1876. On this day every year, there are free activities available to celebrate "Colorado Day".
The Colorado Parks and Wildlife centers wave the entrance fees to all state parks, as well as offering other discounts and special events. So, mark your calendars for August 1st every year!
We hope these tips help you find the best hikes in Colorado. Now, get outside and have fun on your next hiking adventure!
Ryan Nicholson is a homegrown born and raised Colorado native. Being a rare unicorn to have grown up in CO, he has a unique perspective on the changes here and knows all the hidden spots to get outside in this state. Ryan's a classically French trained chef so he LOVES to try new foods and places to eat. When he's not experimenting in the kitchen or working as a personal chef along the Front Range, he loves to get outdoors and away from it all hiking, camping and backpacking.