21 Best Things to Do in Woodland Park: From a Colorado Local
The content of this website may contain affiliate links and we may be compensated (at no cost to you!). Thank you for your support!
Planning a visit to Woodland Park? In this guide you will find 21 unique things to do and local places to discover in this Colorado mountain town.
As both a native and newcomer to the state, we have visited Woodland Park dozens of times. The town is actually a best-kept secret that locals love to visit often.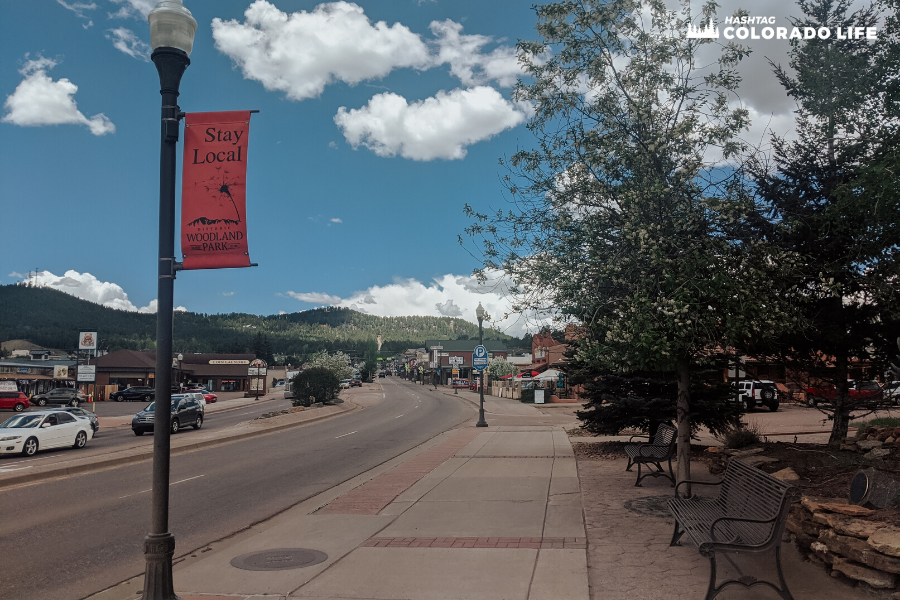 We share our favorite local spots for indoor and outdoor entertainment.
Try some delicious food, discover local artists, and explore all of what Woodland Park has to offer.
Where is Woodland Park, Colorado?
Woodland Park is located 18 miles west of Colorado Springs in Colorado.
It resides in Teller County, and is centrally located thanks to its proximity to larger cities like The Springs and Denver.
It is actually considered a suburb of Colorado Springs due to the growth and expansion of each city getting closer to each other.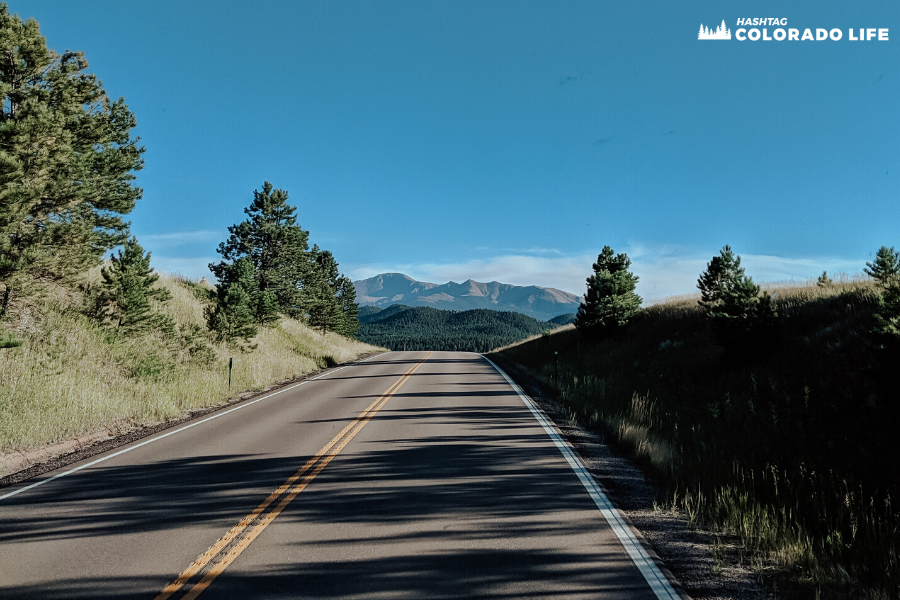 Is Woodland Park, Colorado a good place to live?
For many the answer is yes, Woodland Park, Colorado is a good place to live!
It is listed as one of the best places to retire in Colorado due to the rural setting, job market, outdoor activities, and secluded mountain lifestyle.
Residents have access to some amazing local restaurants and very few chains, giving the town an authentic mountain feel.
The community is very close, but not too close with privacy available.
Housing prices can be a bit expensive due to living in a Colorado mountain town, but that is to be expected.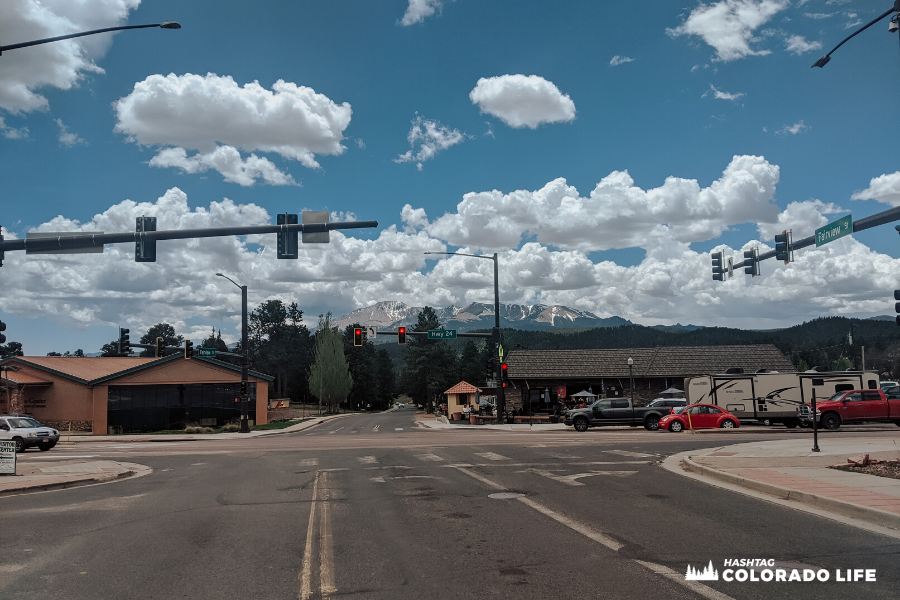 According to Zillow, the average home value in Woodland Park is $398,977 as of March 2021.
Thanks to Pike National Forest in its backyard, there are lots of open space, trails to hike, and places to camp nearby.
The climate and weather is mild during the summers and cold during winters.
On average, the city gets 18 inches of rain annually and about 89 inches of snow per year.
21 best things to do in Woodland Park
Even though Woodland Park, Colorado is a small town, there are actually quite a few unique things to do in the area.
Check out our list of 19 popular things to do and discover around Woodland Park. These are favorites of both visitors and locals!
For a full list of local happenings, check out the Woodland Park Chamber Calendar of Events.
1. Annual Mountain Arts Festival
The Mountain Arts Festival comes to Woodland Park every year. It offers the opportunity to buy art from local artists, painters, and even jewelry makers.
Check out unique pieces from wood carvers or photo displays from photographers.
Local vendors have delicious food you can try and tasty samples.
The festival is outdoors and typically opens the first weekend of August each year.
2. Rocky Mountain Dinosaur Resource Center
A lesser-known but pretty popular attraction in Woodland Park is the Rocky Mountain Dinosaur Resource Center.
This museum was rated #2 for the best dinosaur exhibits in the United States by Travel Channel.
This fossil museum has exhibits featuring more than 30 dinosaur fossils, all kinds of marine reptiles, and prehistoric fish.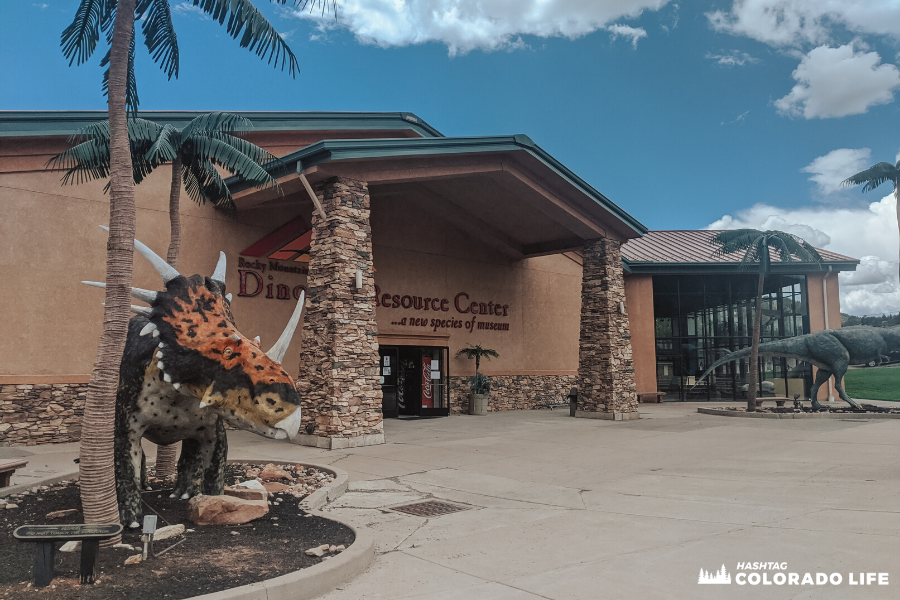 The Children's Learning Center is an interactive hot spot for kids, and adults who are kids at heart.
Take a look inside the Paleontology Lab, a fossil preparation lab where scientists restore and assemble fossils.
The museum is open year round, 7 days a week from 9am-6pm on weekdays and 10am-5pm on weekends.
3. Friday Farmers Market
Founded in 1990, Woodland Park hosts an award-winning Friday Farmers Market featuring local produce and food.
It was actually named the best market in Colorado by Delish.com.
Unlike other farmers markets in the area, they have both summer and winter markets open that cater to what's in season.
We enjoy buying their delicious Colorado peaches in bulk in the summer to eat or freeze for fall cobblers and pies!
4. Antler Alley
The Antler Archway is located in the heart of the Woodland Park downtown area, right off the main highway through the town.
The archway, made out of real antlers, was originally placed there by a member of the town who owned an antler shop next door.
But over time they deteriorated and started falling down, which was obviously dangerous!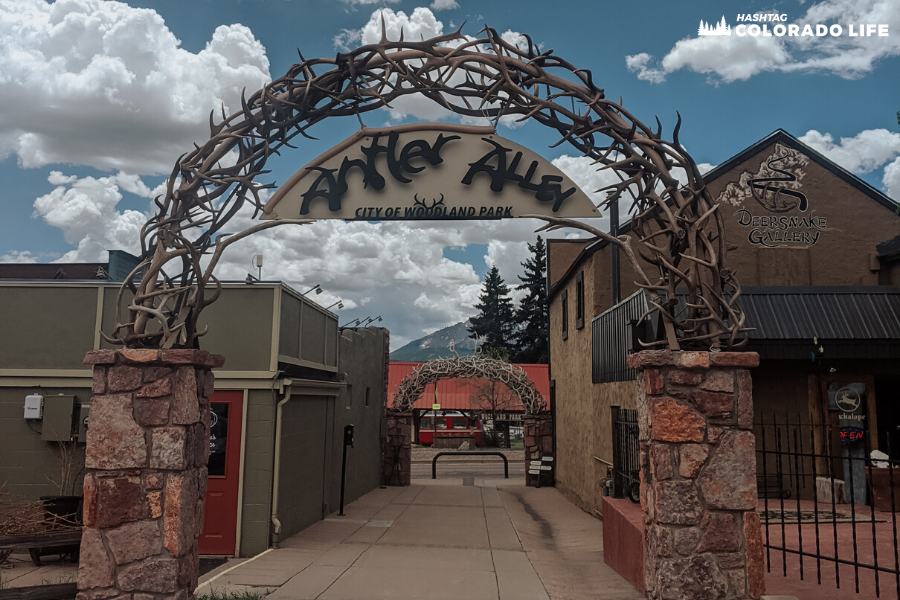 So, in 2016 the Historical Restoration Committee took on the restoration project and hired an "antler artist" to make them what they are today.
They even built a second archway, turning it into Antler Alley. It's a great place to take pictures with Pikes Peak in the background.
And during the holidays and at night it features a beautiful multi-colored lights display.
5. Colorado Wolf & Wildlife Center
If you enjoy learning about wolves, check out the Colorado Wolf and Wildlife Center. It's a nonprofit center for wolves and wild canines like coyotes and foxes.
It offers a private sanctuary with large wooded enclosures for the canines to run around and enjoy nature.
Tours typically take about an hour and you get to learn about the history and stories of each animal and their habitat.
Reservations are highly recommended especially during peak seasons.
If you want to get up-close-and-personal with the wolves you can pay an additional fee for a one-on-one wolf experience.
Plus, get your photo taken with them!
Full moon tours and special event reservations are also available.
6. Florissant Fossil Beds National Monument
Another unique attraction in the Woodland Park area is the Florissant Fossil Beds.
This National Monument resides in Teller County, Colorado and is about a 20-minute drive from Woodland Park.
Florissant actually comes from a French word meaning "flowering" which reflects the area's rich fossil deposits.
The monument features preserved insects, plants, and petrified redwood stumps that can get up to 14 feet wide.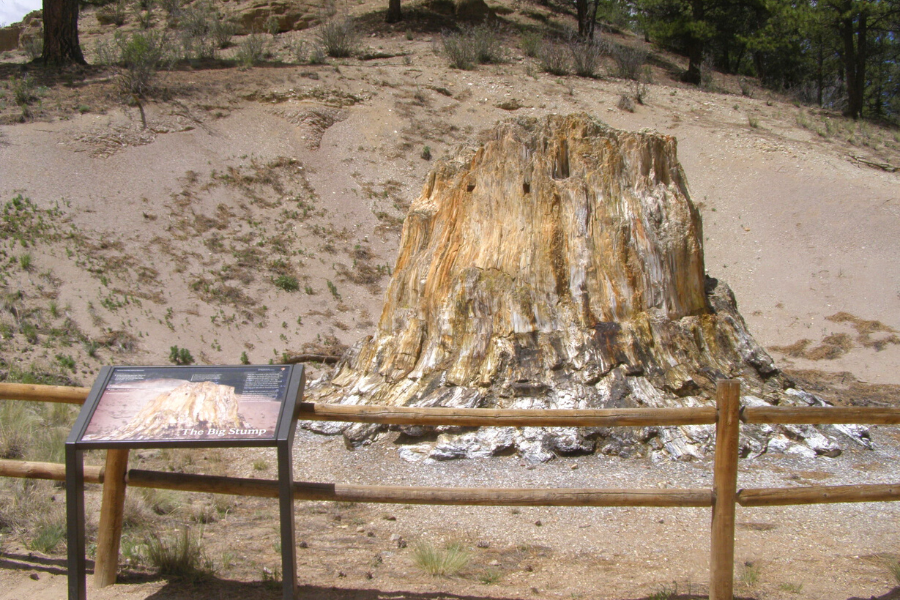 It is believed that the Fossil Beds used to be an ancient lake, making the fossils well preserved because of the volcanic ash from a nearby volcanic field.
It is still an ongoing site for paleontological activity and investigations.
In 2019 the park celebrated its 50th anniversary.
And is now undergoing an expansion to include more hiking trails and areas for visitors to discover.
7. Pike National Forest
Pike National Forest was first designated as a National Forest back in 1906 and covers more than one million acres of land.
It is home to lots of wildlife like elk, white-tailed deer, bighorn sheep, black bear, mountain lion, bobcats and much more.
The Forest provides a multitude of recreational activities like fishing, boating, camping, hiking and picnicking.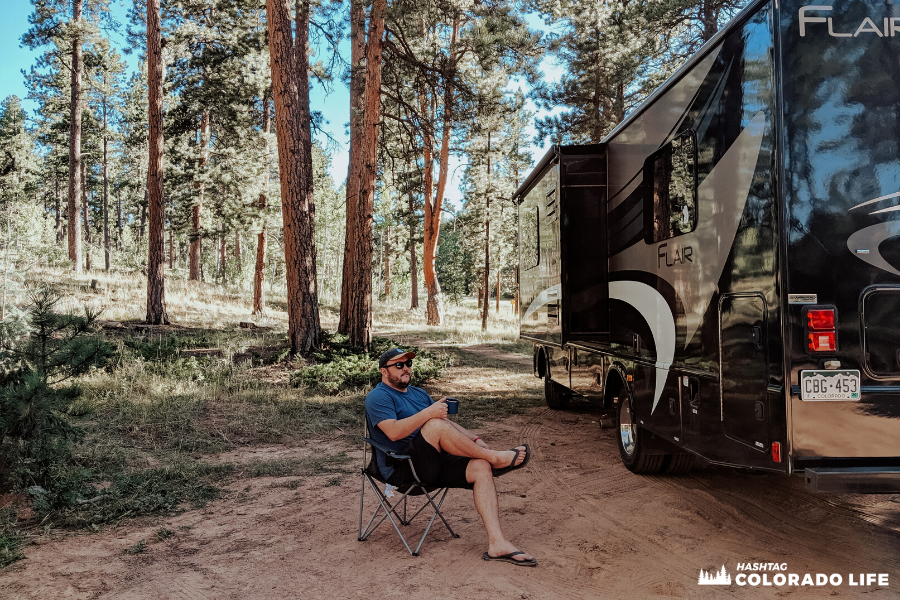 You can also ride out to explore the trails and rugged terrain on ATVs like dirt bikes or four-wheelers.
Or hike 1.3 miles up the recreational trial to the Devil's Head Lookout Tower, which is the last operational lookout along the Front Range.
8. Rampart Reservoir
Located inside Pike National Forest, Rampart Reservoir is just 4 miles east of Woodland Park.
This large body of water is accessed via Rampart Range Road.
The road and area is very secluded and can be steep and narrow, making it difficult for larger trailers, campers or boats.
The Reservoir supplies much of the drinking water for the city of Colorado Springs.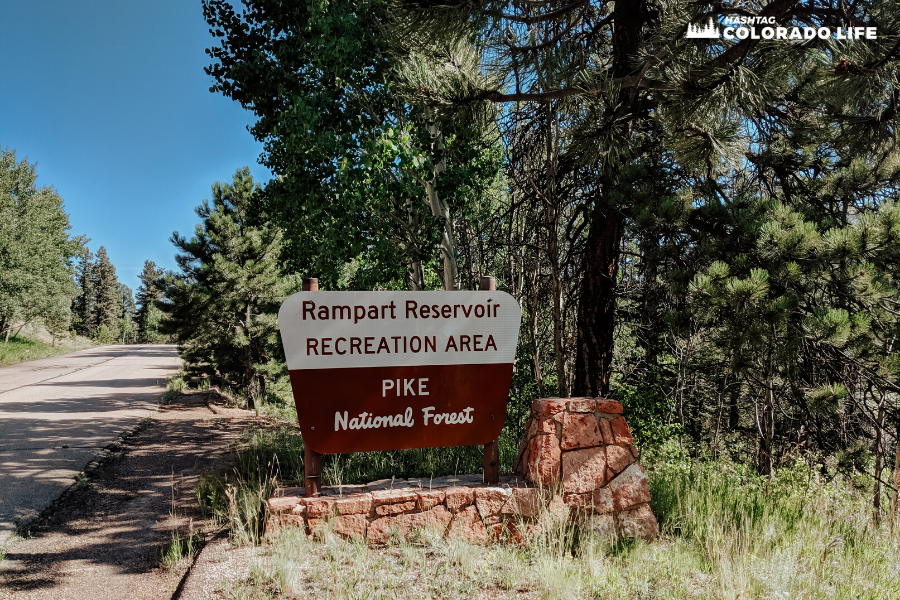 It is mainly used for camping, boating, hiking trails, mountain biking and fishing.
In fact, we have camped out here with our teardrop trailer overnight, and even had a black bear visit our campsite.
9. Centennial Trail
If you want to visit Woodland Park for the day, check out Centennial Trail for a fun hike.
This fairly easy and nice paved biking and hiking trail goes through Woodland Park for about 1.5 miles.
It then follows the highway for more than 8 miles and ends up at Manitou Lake where you can enjoy a nice break or stop for a picnic.
It is a really beautiful trail in the spring and summer when the meadows are full of wildflowers and budding trees.
And it makes a great day trip adventure for getting outdoors.
10. Red Rocks Trail
One of the lesser-known trails in the area is called Red Rocks Trail, and is a trail we frequently hike.
It is a 3 mile loop that is an easy-to-moderate hike.
It is also known as Pancake Rocks Trail due to the large red sandstone rock formations in the area.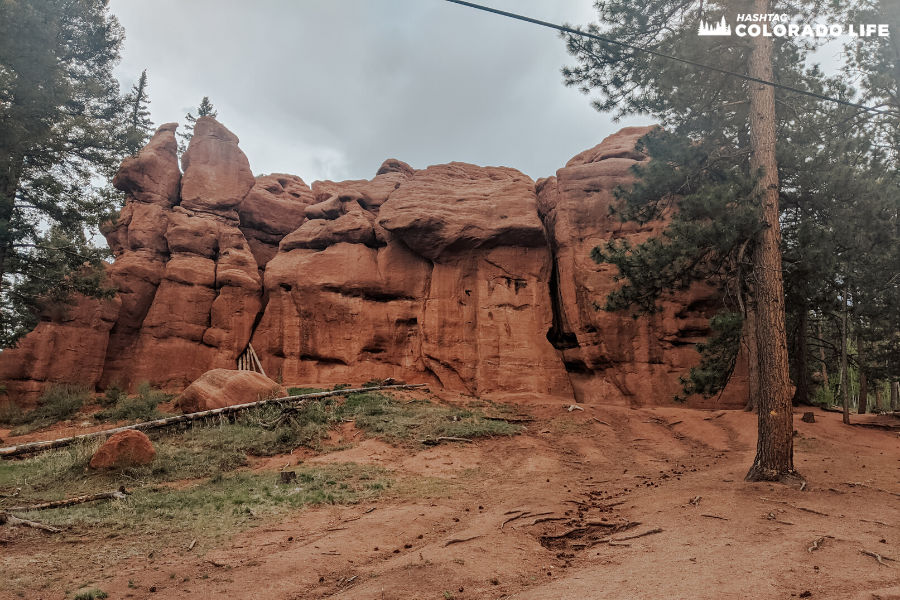 The trailhead is pretty close to Woodland Park and is right off State Hwy 67.
Just turn when you see the Red Rocks Campground.
11. Manitou Lake
As mentioned, Manitou Lake is conveniently located within a very short drive of Woodland Park, Colorado.
It's a nice, flat 5-acre reservoir that offers fishing and hiking year-round.
Picnic sites are available with tables and fire grates for enjoying food while exploring the lake and surrounding hills.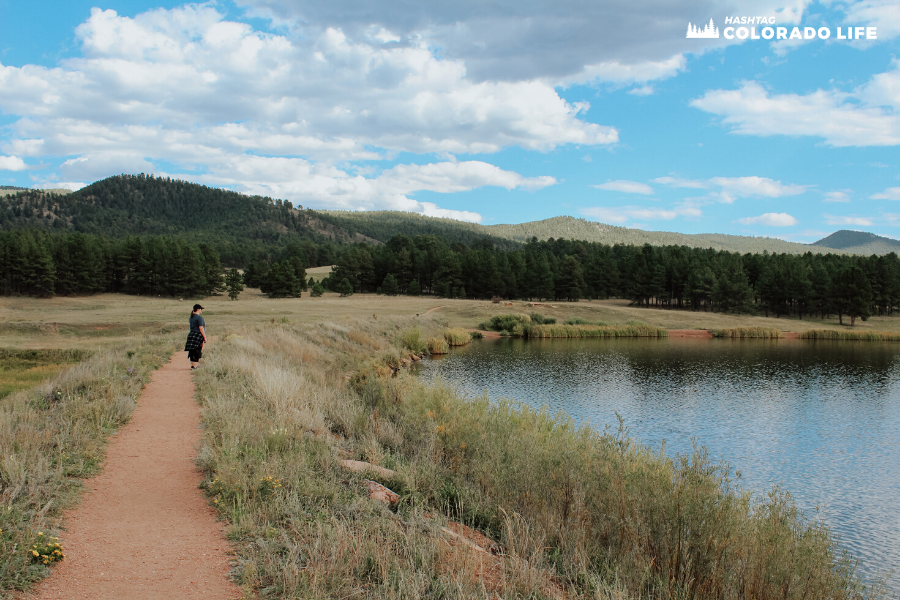 Manitou Lake is especially great for bird watching enthusiasts or for nature lovers, because of the lagoon area on one side of the lake.
Or take a walk on the Manitou Park Lake Trail which is an easy 2.4 mile loop around the lake, with beautiful views of the local mountains.
12. Mueller State Park
Popular for wildlife and bird watching, Mueller State Park boasts over 5,100 acres of open mountain spaces with native grasslands, pine trees and aspens.
It has over 50 scenic hiking trails with tons of campsites and cabins for glamping.
You can even camp out with your horses near the stalls and ride on horseback throughout the trails.
In the winter it's a great place for snowshoeing, sledding, mountain biking and cross country skiing.
13. Eleven Mile Canyon Reservoir & State Park
Eleven Mile Canyon Reservoir and State Park is a very popular place for lots of outdoor activities, including really good fishing.
The lake is abundant with rainbow trout, cutthroat pike and many other species of fish. Avid fishers can enjoy ice-fishing in the winter.
The water makes a great afternoon for canoeing, paddleboarding or kayaking.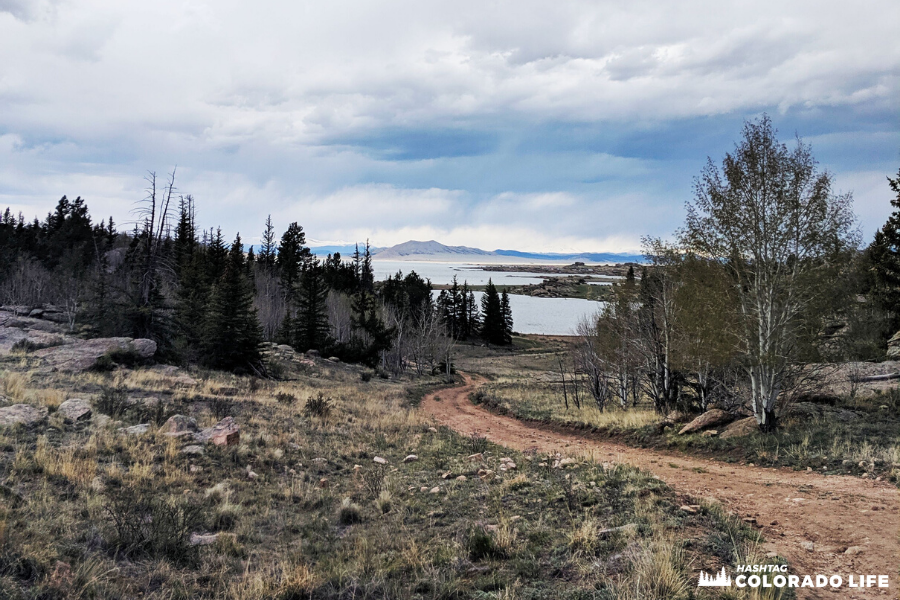 There is a nice variety of birds for watching and waterfowl available for hunting ducks each fall.
The park has nearly 5 miles of hiking and biking trails as well as over 300 campsites for tents or RVs.
The views in the area are pretty breathtaking, especially from campsites within the Canyon.
If you haven't camped or hiked here, it's a must-see.
14. Donut Mill
A Colorado favorite since 1983, The Donut Mill is a local staple.
Every time we visit Woodland Park or are driving through this ski town, we stop here for a yummy pastry or two.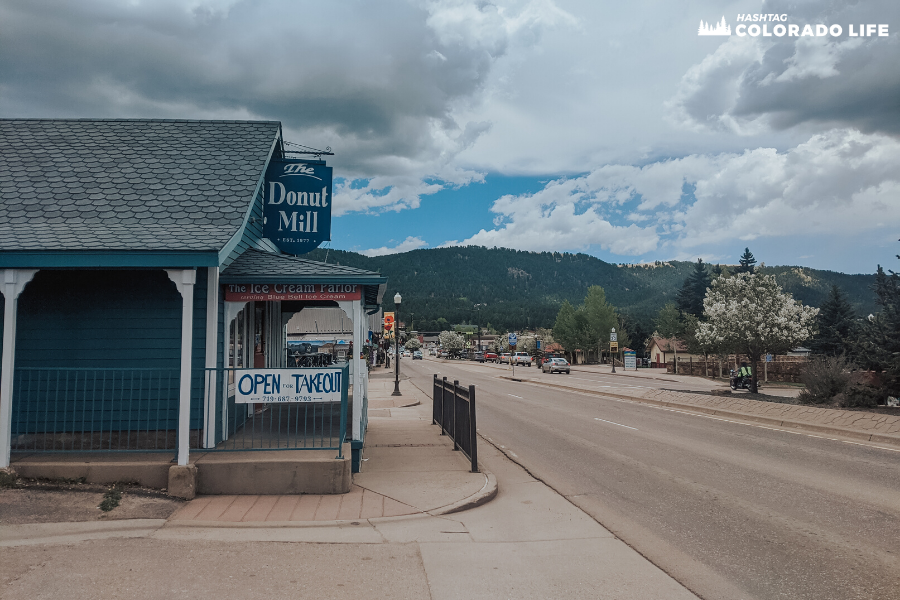 Right on Highway 24 going through the town, you'll know them by their bright blue roof.
On their menu you will find hubcap-sized streusels, bear claws, and homemade cinnamon rolls.
We recommend checking out their award-winning biscuits and gravy too!
15. Swiss Chalet
Swill Chalet has been serving lunch and dinner in Woodland Park since 1962. The building has a bavarian feel with a "Swiss Alps" vibe.
It offers gorgeous views of historic Pikes Peak!
The restaurant serves fine continental classic cuisine like steak, seafood, fondue and even escargot (if you are into that sort of thing!).
It is located on Highway 24 in Woodland Park and is not easy to miss.
16. Cafe Leo
Cafe Leo serves up signature coffee, breakfast and lunch items on their menu every day.
They are known for their NYC equivalent bagels, yummy sandwiches, and $3 homemade pop tarts.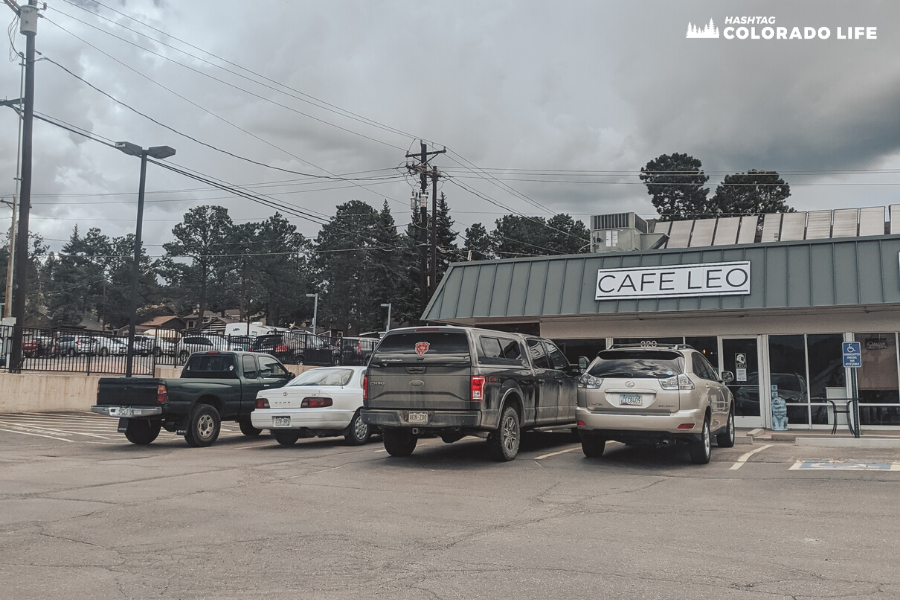 If you are gluten free, they have lots of yummy options available as well.
With good portion sizes at budget-friendly prices Cafe Leo is one of our favorites.
17. Historic Ute Inn
If you are looking for a local dive that's open for lunch and dinner, check out the Historic Ute Inn.
This mountain bar and grill has been open since 1942 and serves smoked meats and delicious burgers.
The food is likened to home cooking with creative combinations.
And if you have a chance to try their carrot cake, take it, as it's usually sold out.
18. BierWerks Brewery
We couldn't round out our local recommendations without mentioning a great small-town microbrewery called, BierWerks Brewery.
As you might guess, they offer German-style lagers and ales, and hoppy brews.
They also serve gluten-free beer in bottles so there is a beer for everyone.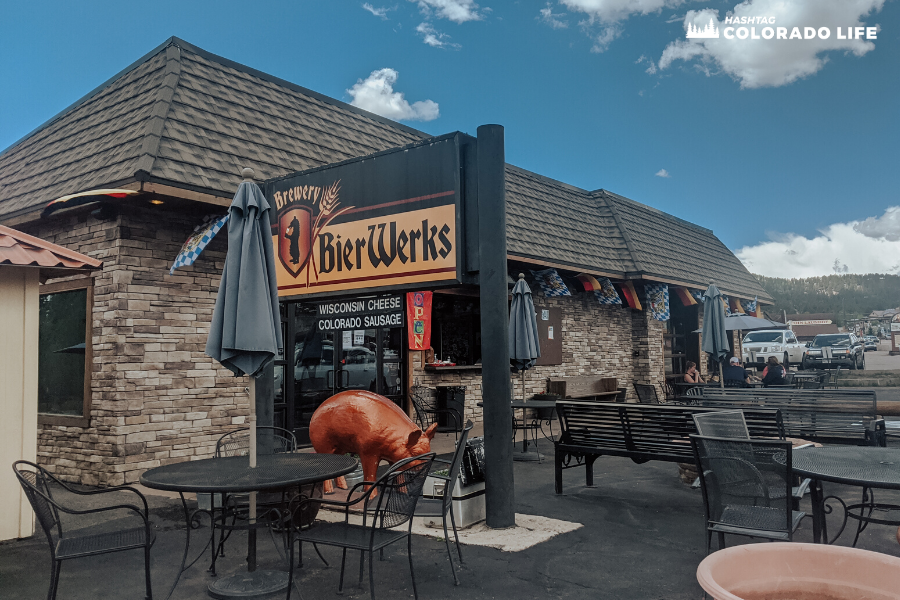 On the menu you will find (Colorado-made!) sausages, bratwurst, Wisconsin cheeses, pretzels, and salami available all year.
And during the summer the menu also offers wood-fired pizza and smoked BBQ.
19. Pikes Peak Resort
Pikes Peak Resort is located inside Pike National Forest and is a 160-acre mountain ranch.
It has luxury log cabins perfect for romantic getaways with full kitchens, high speed internet, fireplaces, and hot tubs.
What makes it even better is that it's set in the mountains with the famous Pikes Peak in the background.
The secluded landscape is home to lots of nature and wildlife like deer, chipmunks, hawks, bears, foxes and more.
20. Pikes Peak Paradise Bed & Breakfast
Pikes Peak Paradise Bed & Breakfast is a perfect place to stay for a special occasion, like a honeymoon, anniversary or other retreat getaway.
Just a few minutes from Woodland park and surrounded by views of Pikes Peak and the National Forest, the rooms have private hot tubs, fireplaces, decks and over 1,000 DVDs.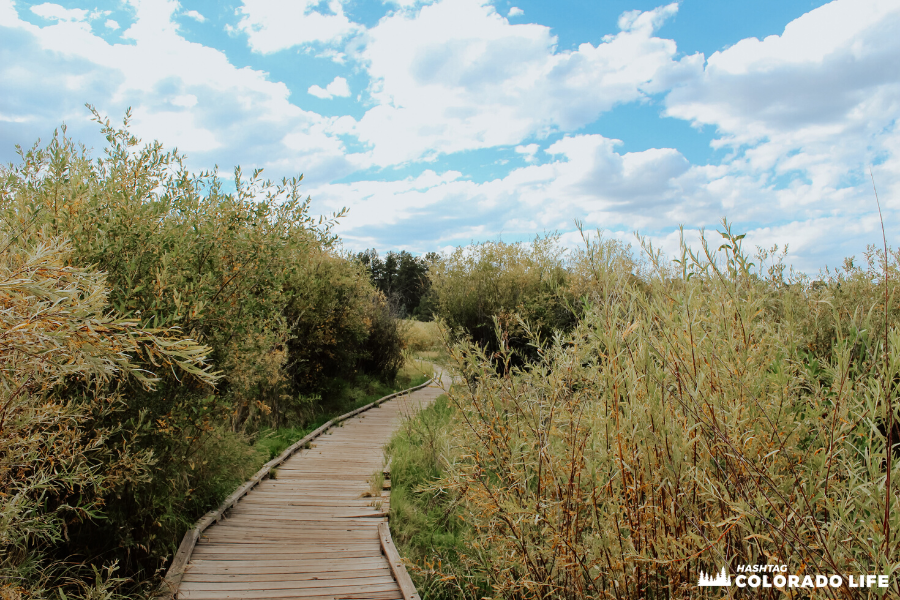 Gourmet breakfast, snacks and drinks are served daily from 8-10am with four hours of complimentary beer or wine with dessert every evening.
You can also order room service packages and have food delivered right to your room.
21. Eagle Fire Lodge & Cabins
Located in downtown Woodland Park, Eagle Fire Lodge & Cabins is a boutique property with cabins, standard rooms, and luxury suites with full kitchens.
And most rooms are dog-friendly!
It is about a mile from the Rocky Mountain Resource Center and is within walking distance to local restaurants and bars.
This boutique property offers beautiful views of nature and the local forest nearby thanks to a 6,000 square foot outdoor patio.
The patio also features a fire pit, hot tub and BBQ grills.
What is the history of Woodland Park?
Woodland Park is known as the "City above the Clouds" because it is 8,465 feet above sea level.
While the town is considered small, with about 8,300 residents in 2020, it boasts incredible views of Pikes Peak from nearly all angles.
The city was established in the 1890's and was named for the abundance of trees near the town's original site.
It is surrounded by spectacular views of Pikes Peak mountain and over one-million acres of Pike National Forest.
There is a wide variety of things to do and places to discover both indoors and out.
It is a local hot spot for summer festivals and outdoor events, mostly due to the fact that the weather is so mild during the summertime.
Many of the things you can do in Woodland Park, Colorado are very cheap or free.
Check out the free Woodland Music Series concerts, or the popular Friday Farmers Market.
We hope you find this guide to Woodland Park helpful when planning your Colorado adventures.
If there is a place we missed or if you have questions, connect with us over on Instagram, @hashtagcoloradolife.