Colorado Jeep Tours: Scenic 4×4 Off-Roading in Cañon City
This website may contain affiliate links and we may be compensated (at no cost to you!).
A Colorado jeep tour makes the perfect weekend activity for couples, families, and even dog owners.
If you have been thinking about going on a Colorado jeep tour, or want to visit the Royal Gorge Bridge for free, then keep reading.
We recently had the chance to book a jeep tour in Cañon City and it was one of the most memorable experiences we've had in Colorado.
In this guide, we're sharing our personal experience and what you need to know about booking a Colorado jeep tour and what to expect.
Disclaimer: We worked with the Colorado Jeep Tour team in exchange for a free half-day jeep tour experience. Everything in this guide is our honest experience and showcases our personal opinions.
An authentic Colorado jeep tour
When we talk about Colorado jeep tours we are excited to feature the awesome folks at ColoradoJeepTours.com.
The company is locally built and owned by Will Colon, who is a fourth generation resident of Canon City.
He started the company with one jeep and was the first tour guide. He has built everything from the ground up!
These days he has a handful of customized and well-maintained jeeps, and employs about a dozen people.
The main office is located in the Royal Gorge Region at 2315 East Main Street in Cañon City, Colorado.
If you're coming from Colorado Springs, it's about an hour drive south via Highway 115 to Highway 50.
Types of off-road tours
Jeep tours are the perfect Colorado day trip experience!
Make a fun adventure out of touring in a jeep and visiting the Royal Gorge Bridge all in one day.
Yep, your Colorado Jeep Tour includes a free ticket to visit the Royal Gorge Bridge ($29 value).
When we did the jeep tour in April, we booked the Royal Gorge Bridge Loop Half Day tour.
Tickets come with complimentary Royal Gorge Bridge access, and it's the only tour in the state that is allowed to drive across the bridge!
Grab your tickets by heading to the Royal Gorge Bridge information desk. Then, let them know the name registered that is registered for the Colorado Jeep Tours.
Another popular tour package is the Gold Belt Full Day Tour, which tours historic towns like Victor, Cripple Creek, the Garden Park Fossil area, and other spectacular sites.
You can even combine both the Royal Gorge & Red Canyon Half Days into an all day excursion trip.
This full tour takes about 7.5 hours to complete and comes with a mid-day lunch.
Or make a weekend trip out of it and pick a custom jeep tour package.
Packages include combinations of jeep tours, water rafting, train rides, zip lining, wine tours, and more!
Winter jeep tours are also a thing, if you dare!
It may sound cold but the jeeps are outfitted with roll-down canvas with plastic windows to protect riders from cold, snow, and rain.
And the inside of the jeeps are nicely heated, while clean blankets are provided so you stay cozy and warm.
Choosing a jeep tour guide
As mentioned, Colorado Jeep Tours has about a dozen tour guides for various tours they offer.
For the jeep tours, all of the guides generally drive the same route for that tour and share similar information.
But they do it with their own flair, of course.
And some guides, like our guide Tom, spend additional hours reading and researching the history of the area to offer an even more authentic experience.
Tom also happened to be a retired Colorado Park Ranger, so he had a wealth of knowledge.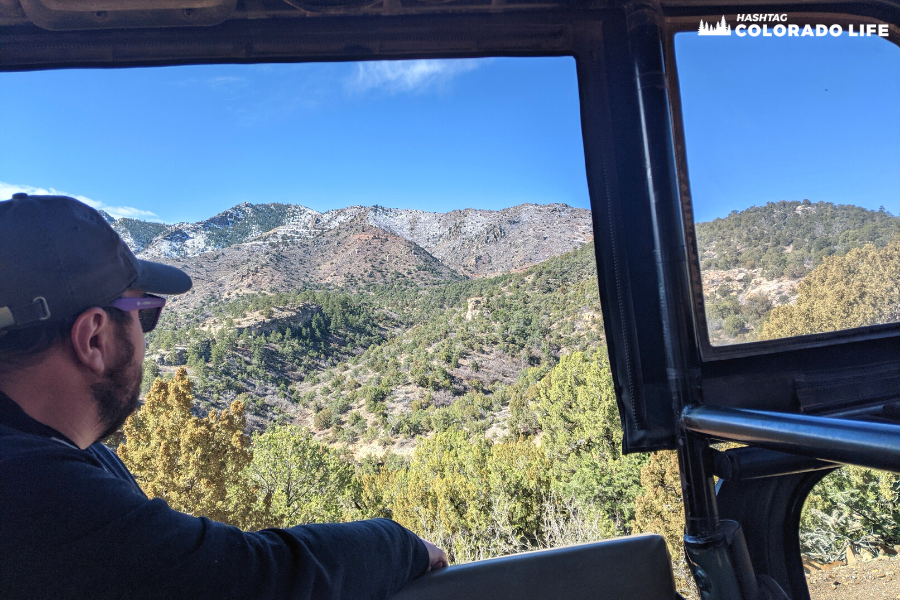 He not only talked about the local flora and fauna, but the natural history of the state itself.
He took the time to pull off the trail and allow us to get out and examine old marine fossils embedded in the rocks.
When booking, you will be randomly assigned a tour guide, or you can request to ride with a specific guide if they are available.
What will you see on a jeep tour?
Our jeep tour was roughly 3.5 hours long and started at 8:30am on a Friday.
It had just rained the previous night so some of the roads were a little bit wet and slippery.
But Tom, our guide, was a very experienced driver and our jeep was outfitted with 4-wheel drive.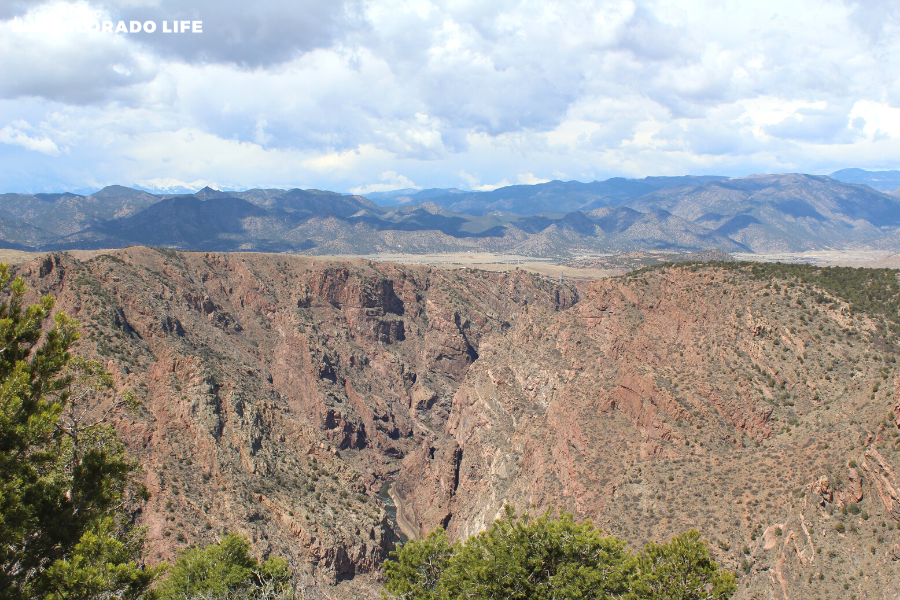 1. Local wildlife and fauna
Then we drove into the Royal Gorge area, and continued winding in-and-out of the Bureau of Land Management acreage.
These lands are BLM-owned acres within Colorado that are well-maintained but available for free public use.
Every once in a while, Tom would stop the jeep and showcase some native plants or trees, historic fossils, talk about certain mountains, or point out local wildlife.
The rolling hills and mountainous terrain are perfect homes for unique plant life, wildlife like mule deer, mountain lions, and elusive birds.
We actually saw about 50 deer along our drive, and Tom mentioned he has seen a mountain lion or two on his drives.
2. Historical sites
The tour started off in Canon City with stops at local historical sites and noteworthy locations.
Throughout the drive Tom had a microphone headset on that broadcast his voice throughout the jeep, so it was easy to hear him.
He shared the history of the area, some interesting tidbits, and an update on a local fire that had burned through about 300 acres recently.
3. Royal Gorge Bridge
There are several star attractions on this jeep tour, but one of them has to be the Royal Gorge Bridge.
The highest suspension bridge in the world sits at near 1,000 feet above the canyon floor.
Crossing the bridge to get the other side is not for the faint of heart! Most visitors can cross the bridge on foot, via the Zip Line, or by taking the glass-bottom Gondola.
But if you want to drive across, you will have to be part of this jeep tour experience. Why?
Because Colorado Jeep Tours is the ONLY tour company that has access to the bridge and park via this route (aside from maintenance vehicles).
I have been to the Royal Gorge Bridge many times in my life but the changes they have made lately have been improvements.
The wildfire that ravaged the area in June, 2013 destroyed almost all the structures. So, the tourist attraction had to be almost completely rebuilt!
The Visitor Center is brand new and state of the art and offers some awesome views of the bridge and surrounding landscape.
This was also a nice place to get out, take a quick break, get some water, and have access to real bathrooms.
4. Native American & war history
A lot of Colorado's history is intertwined with Native Americans, so we learned a lot about their past lives.
Native Americans as well as war veterans are buried in the mountains and graveyards near Canon City.
Even as Colorado natives, there was so much we didn't know and that we learned during this trip.
We also stopped at an overlook point where we could see a large portion of the Sangre De Cristo mountains for miles and miles.
5. Dinosaur fossils
There were several checkpoints, including our stop at Skyline Drive, where we viewed real dinosaur fossils and footprints.
At some checkpoints he had to get out of the jeep to open a gate to get private access for Colorado Jeep Tours only.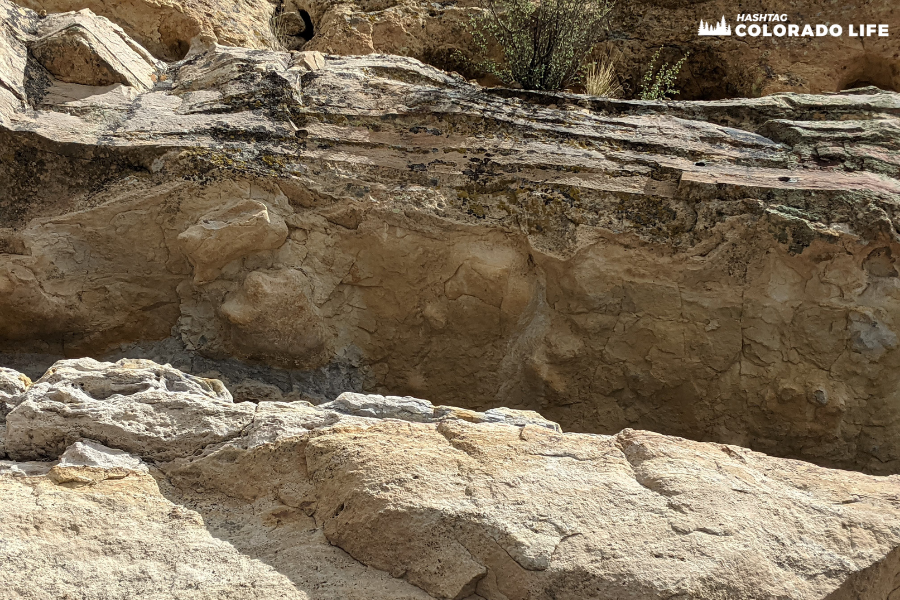 Throughout the trip, we were able to get out, walk around, take photos, and view the fossils, soil, and other attractions more closely.
Overall, our trip was educational, entertaining, and breathtaking all at the same time!
6. Skyline Drive
One of the last stops on our tour was to drive up the famous Skyline Drive.
This historic road sits about 9 miles west of Canon City with direct access from Highway 50.
The narrow one-way road follows the top of Razorback Ridge and rises about 800 feet in elevation from the surrounding terrain.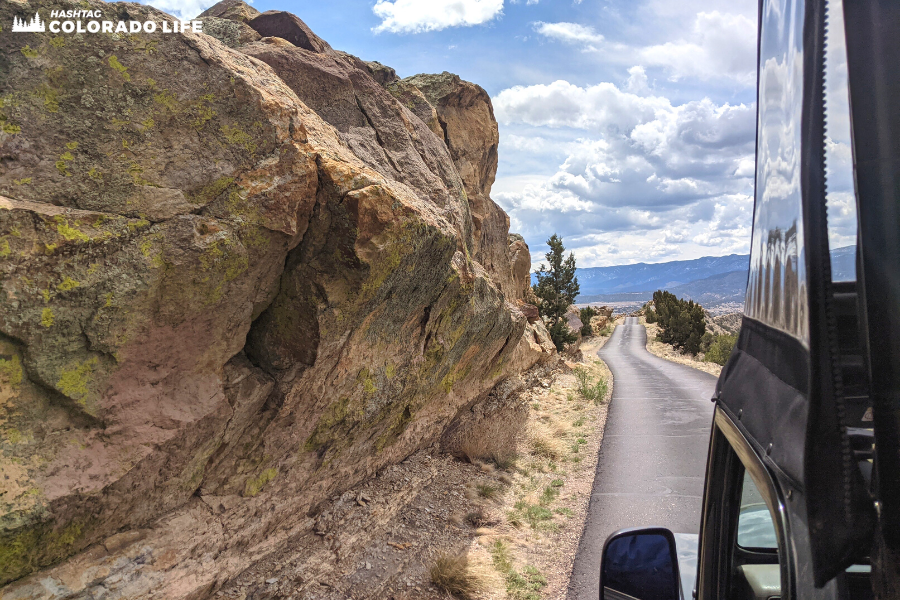 There are no guardrails, fences, or any type of safety railings. It's just you, the jeep, and the quick drop-offs on either side.
Skyline Drive continues for 2.6 miles with views that overlook the city and valleys on either side.
It's quite a hair-raising experience but you always feel safe in the jeep.
Are jeep tours safe?
For the most part, yes, the tours are safe and injury-free! But this is an off-road jeep tour so there are no guarantees.
The tours are obviously done outside so you may experience a bumpy ride, unpredictable weather, off-road terrain, snow, mud, and wind.
And due to uneven and rocky terrain the jeeps may also experience flat tires or minor mechanical issues. But we had no problem at all.
You can rest assured knowing that the jeeps are very well-maintained and the guides do a full inspection before driving them out on tour.
The guides also carry two-way radios with them at all times. And they are CPR certified and trained to handle any emergencies.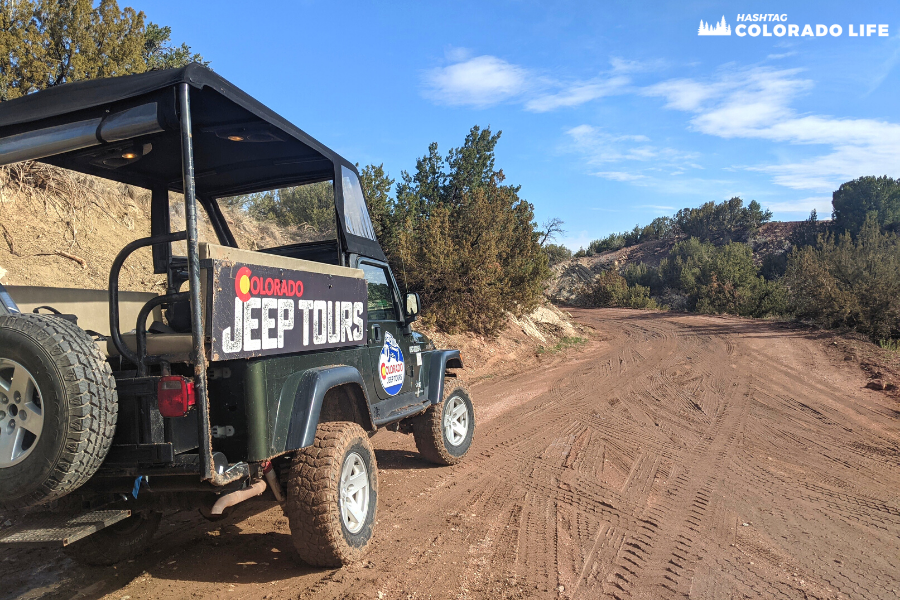 If you have problems or didn't enjoy your tour for one of these reasons, just call the Colorado Jeep Tour office.
The staff is very friendly and will be happy to help out how they can.
They truly want this to be the best experience for you and your family!
One layer of protection comes in the waivers that must be signed before the jeep tour will commence.
Once your booking is confirmed, digital copies of the waivers will be emailed to you for virtual signature.
If they are not signed digitally, you will be requested to sign before jumping into the tour.
Hours of operation
The great thing about Colorado Jeep Tours, specifically, is that they are open all year round, in all weather conditions.
Most jeep tours start daily at 8:30am or 12:30pm and will run between 3 hours to 7.5 hours depending on the tour you choose.
And some of their most popular tours happen in the middle of Colorado's winter season.
But, of course, spring, summer and fall jeep tours are also in high demand and offer some of the most breathtaking sites and stops!
What to expect on a Colorado Jeep Tour
When booking your tour, you will likely have to check in about 30 minutes prior to start time.
Check-ins for morning tours are at 8:00am for an 8:30am start time, while afternoon check-ins are at noon, for a 12:30pm start.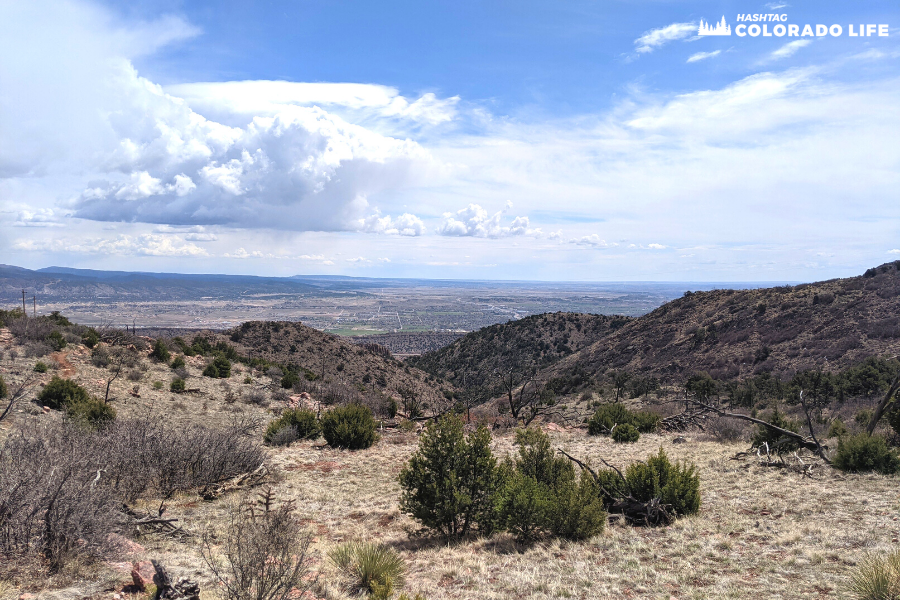 When is the best time to go on a jeep tour?
It is recommended to book a morning jeep tour if possible. This way you won't get stuck in an afternoon rainstorm, which can happen a lot with Colorado's unpredictable weather.
The jeeps are custom outfitted using standard Jeep Wranglers with either a manual or automatic transmission.
All the Jeep Wranglers come with 4×4 traction and can seamlessly change to 4-wheel drive as needed.
The back and sides are all open, with a covered ceiling that offers protection and shade from the elements.
During the winter the back and side window panels can be rolled down and zipped for coverage from the cold, wind, or snow.
The standard jeeps have bench seating so they sit about 6 adults comfortably, or more if you have small kids.
Are there bathroom breaks on the tours?
Yes! The jeep tours make scheduled stops at places like the Royal Gorge Bridge where you can get out for 10 minutes to see the sites.
Bathrooms and snack counters are available here for you to take a break and refuel.
However, if you are on a longer full day tour, bathrooms are not always readily available.
You are literally out in the Colorado mountains and wilderness!
If you drink a lot of fluids (which, you should!) you may have to stop and take a nature pee. Especially if you have young kids!
Are dogs allowed on the tours?
Yes, most dogs are allowed on the jeep tours but there are restrictions pertaining to the size, health, and temperament of the dog.
It's best to contact the Colorado Jeep Tours office to verify the type of dog you plan on bringing with you.
There may be a fee to bring your dog along and a separate Dog Waiver will need to be signed in advance.
Dogs are NOT allowed with some of the combo tour packages, so make sure you inquire about this before booking.
Some partners, such as the Holy Cross Abbey Winery (for wine tasting), allow dogs on the grounds but not in the buildings.
What to wear on a jeep tour (and what to bring)
A large majority of visitors who book these Canon City tours come from warm states like Florida and California.
They are often unprepared for the fast-changing Colorado weather. But you don't have to be!
We recommend dressing in lots of layered clothing that's easy to change out.
As the day warms up, you may want to take a few layers off. Or as the days grow colder you can put on more layers to stay warm.
It just depends on what the weather is currently. Even in the winter, Colorado can have hot sunny days with little cloud coverage.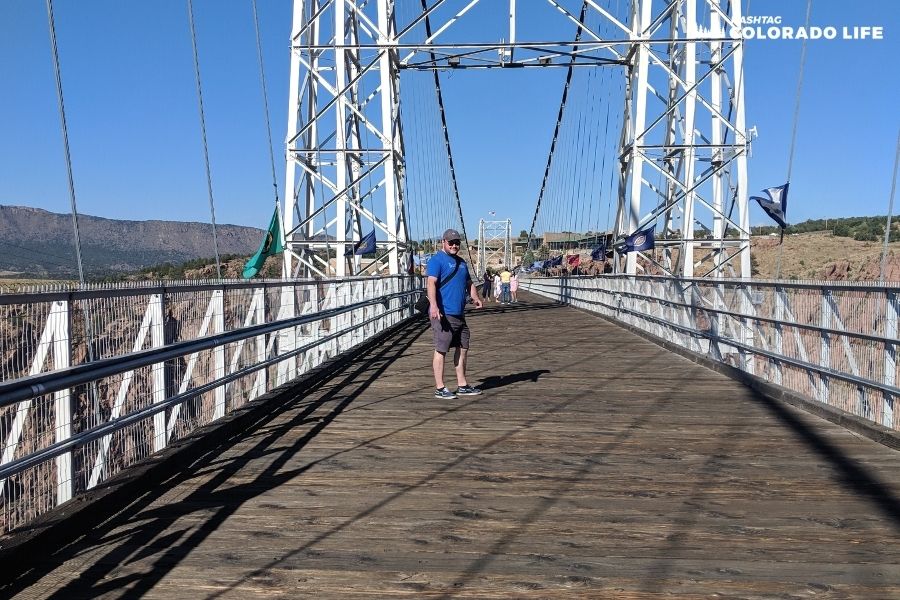 In the summer it can get very cool in the shade, especially if it gets windy or rainy in the afternoons.
The mountains make the weather unpredictable, so it's best to come prepared.
Bring lots of water, snacks, hats, sunglasses, and sunscreen.
Yep, even in the winter or overcast weather, you can still get sunburned from the sides of the jeep or the direction of the sun.
Wind-breaker jackets or coats with hoods are also recommended to help with any wind or cold air.
You may also want to bring an extra blanket or two (although Colorado Jeep Tours does provide extra blankets in their jeeps).
Booking a Colorado Jeep Tour
After having experienced a Colorado Jeep Tour for the first time, would we book again?
YES. Without a doubt our experience with Will and his team was amazing and very seamless.
In fact, we DID have to reschedule our jeep tour due to the fact that it was still snowing in March.
But the rebooking didn't require anything on our part except to confirm the new dates with Will. It was a 3 minute phone conversation and done!
We are already planning another tour in the fall and want to experience the Gold Belt Tour next.
In the summer we are checking out the train and rafting tours as well. There are so many options available and we learned so much on this trip.
The views were unmatched and the local geology was like nothing else we've seen.
We can't recommend Colorado Jeep Tours enough as one of the best weekend activities or day trip adventures.
To get more information, be sure to check out their website at ColoradoJeepTours.com.
And tell them that Hashtag Colorado Life sent you! :)