9 Best Jeep Tours in Colorado to Book in 2023 [by a Local]
This website may contain affiliate links and we may be compensated (at no cost to you!).
Whether it's in the summer or winter, there's no better time to enjoy a Jeep tour in Colorado than right now.
It's an interesting way to get off the beaten path and explore some of Colorado's most breathtaking scenery.
Not to mention the state has some of the most scenic roads and rich western history.
Let's dive into the best Jeep tours in Colorado to book in 2023, as ranked by a local couple who lives in Colorado.
What are the top Colorado Jeep tours?
✔️ Pikes Peak Jeep Tour: Best for epic sightseeing
✔️ Royal Gorge Region Jeep Tour: Best for canyon & gorge views
✔️ Garden of the Gods Jeep Tour: Best for kids & families
The best Jeep tours in Colorado listed, and many more, are mentioned below with more information about each one.
Keep reading to find out which excursion is the best one for you and your group.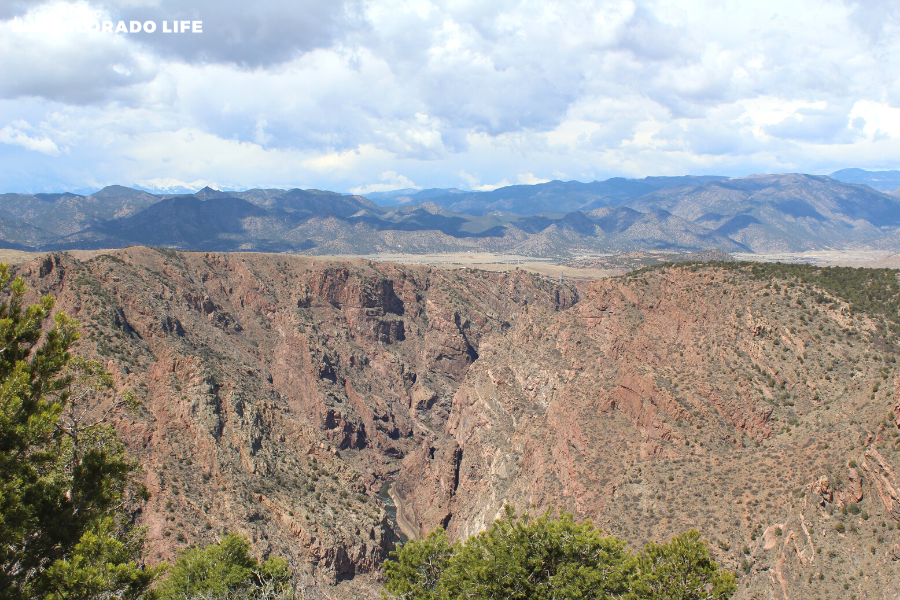 For an epic tour, rain or shine, a this Pikes Peak Jeep Tour is an excellent choice.
A must-do trip up America's Mountain, you'll experience breathtaking views of the valley below and the sensation of being at 14,000+ feet in elevation.
This air conditioned and heated vehicle offers a comfortable ride up to the summit of Pikes Peak, with stunning views of the Rocky Mountains.
Join an expert driver and knowledgeable guide who will take care of everything. That way you don't have to worry about driving up this massive fourteener.
Along the way, you'll learn about the history of the area and stop at various locations to take in the scenery.
As the inspiration behind the famous song "America the Beautiful" Pikes Peak offers some of the most epic sights on this 3-4 hour tour.
In addition to the summit of the mountain, you'll pass by:
✔️ Pikes Peak Summit House
✔️ Glen Cove
✔️ Crystal Creek Reservoir
✔️ Bottomless Pit
✔️ Pikes Peak Highway
In just a few hours, you could be at the top of Pikes Peak and see why this is one of the most scenic places to visit in all of Colorado.
Bring comfortable clothes and shoes, as well as a camera to capture the stunning views.
This Pikes Peak Jeep tour also includes free bottled water and refreshments so you'll stay energized the whole time.
If you're looking for a short drive from Colorado Springs, consider this Half-Day Jeep tour of the Royal Gorge near Cañon City.
In fact, as a local couple this is one of the top Jeep tours that we've been on.
You'll start with a brief ride through Canon City before being transported to the top of Skyline Drive, where you'll see real dinosaur fossils.
The best part? This local tour includes a free ticket to the amazing Royal Gorge Bridge & Park, a $30 value.
For the price of a Jeep tour, you will drive near the rim of the famous Royal Gorge and explore the entire Royal Gorge region.
Plus, you'll drive across the famous Royal Gorge Bridge, the highest suspension bridge in North America.
This Royal Gorge Jeep Tour is an excellent option as it includes a ticket across the bridge and complimentary snacks and water.
In addition, this tour includes stops at:
✔️ Royal Gorge Bridge Ticket
Afterward, you and your family can spend the rest of the day enjoying all that the Royal Gorge Park has to offer.
If you want a full-day experience or other options like this Gold Belt Full-Day Tour with customizable add-ons, there is something for everyone.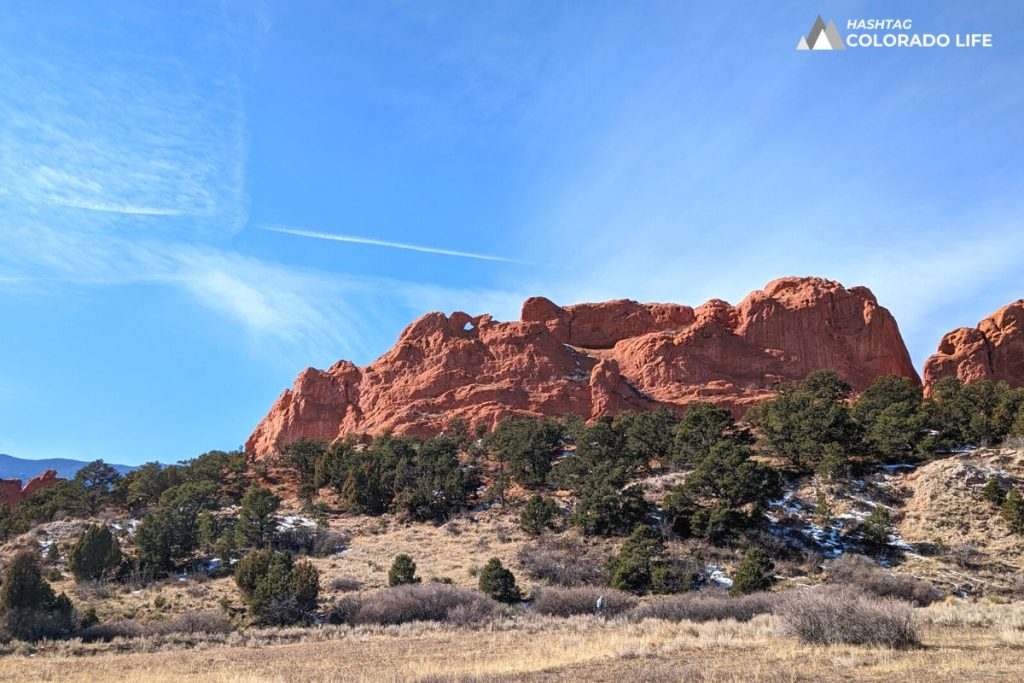 Explore the Foothills and Garden of the Gods on one of the finest Jeep tours in Colorado.
Take in the awe-inspiring natural landmarks in a fully-outfitted Jeep Wrangler, complete with thick cushion seats and complimentary blankets.
For 2.5 hours an expert local guide will regale you with fascinating historical and geological information about the Colorado Springs region.
For added comfort, dress in layers and wear closed-toe shoes, depending on the weather.
Don't forget to bring your camera because these open-air Jeeps offer unobstructed photo opportunities.
This popular Jeep tour of Garden of the Gods is a top pick for good reason.
Not only will you have the opportunity to see the famous Garden of the Gods, but you'll also visit other fantastic stops as well.
In addition, you'll be provided with free water and snacks for a comfortable ride, ensuring that you're fueled up for the adventure.
And if your plans change, you can cancel your reservation free of charge up to 24 hours in advance.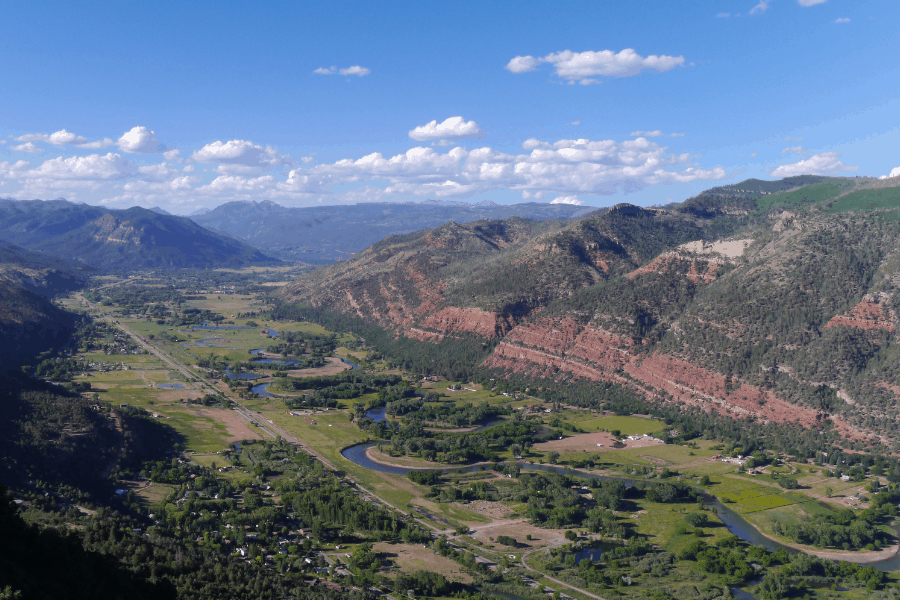 Located about 6.5 hours south of Denver, near the city of Durango on the way to Cortez, is La Plata Canyon which offers this incredible Jeep tour.
With lush greenery and wild flowers in the summer, or bold and bright colors in the fall, this 4-hour Jeep tour is like no other tour on this list.
Discover the stunning mountainous landscape with an experienced guide at the wheel. Choose between morning or afternoon departures from Durango, where the tour office is located.
As you board the open-top Jeep, get ready to explore the glacier-carved canyon with its U-shaped landscape, surrounded by towering peaks.
Enjoy breathtaking views throughout the drive and keep an eye out for wildlife. You'll traverse the rugged Jeep trails past small waterfalls and mountain rivers.
In addition to the gorgeous scenery on this Durango Jeep tour, you'll also enjoy:
✔️ Glacier-carved canyons
✔️ 19th Century mining town
Climb to the alpine meadows and witness some of the most vibrant Colorado wildflowers. Then it's on to visiting La Plata City, an abandoned mining town established in 1875.
Observe the remnants of old mining claims and discover the rich history of the area.
At Kennebec Pass, located at an impressive 12,000 feet above sea level, marvel at the majestic views of Cortez and Telluride.
Experience a bird's-eye perspective of spruce forests, mountain peaks, and river valleys.
After your time at the pass, follow the Jeep roads out of La Plata Canyon, and return to the original departure point to conclude the tour.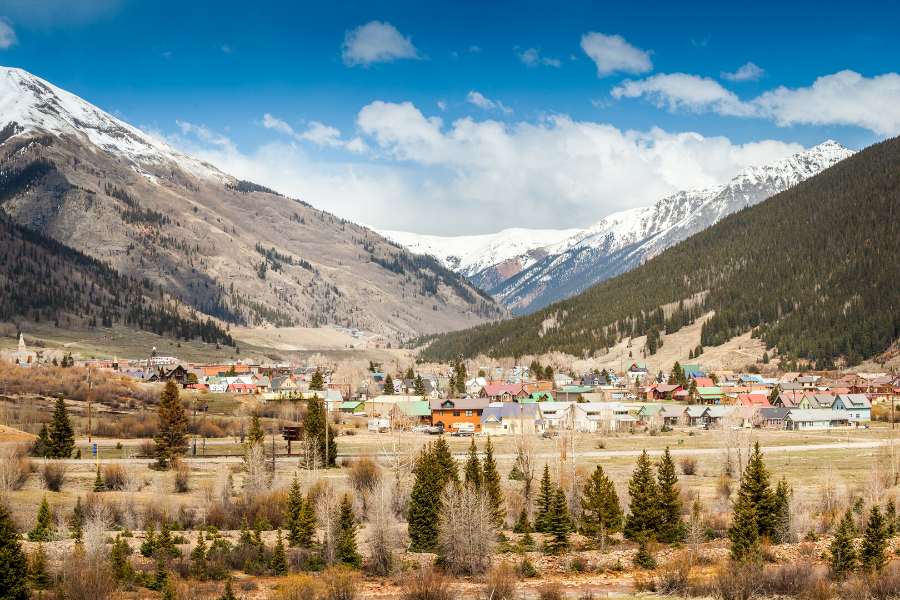 Get ready for an adventure to uncover the beauty of Silverton's majestic mountain landscapes with a twist.
Board a 4×4 Jeep and explore the infamous ghost town of Animas Forks with a knowledgeable guide.
Discover hard-to-reach areas that offer breathtaking views and a glimpse into the area's rich history.
Meet your guide in Silverton for an exciting journey into nature and get ready to listen to ghost town stories and tales of the Wild West.
Navigate through scenic trails with ease and reach iconic locations that are only accessible by Jeep.
Immerse yourself in the mining rush history as you explore the ancient mountains and learn from a local expert.
A Silverton ghost town Jeep tour also includes:
✔️ Experienced tour guide
Explore the remnants of Animas Forks, one of many Colorado ghost towns in the state, and find out about the town's unfortunate demise.
Marvel at the incredible mountain views that can only be experienced through Jeeping.
Escape the city and immerse yourself in the picturesque surroundings of Silverton, Colorado on this fascinating excursion.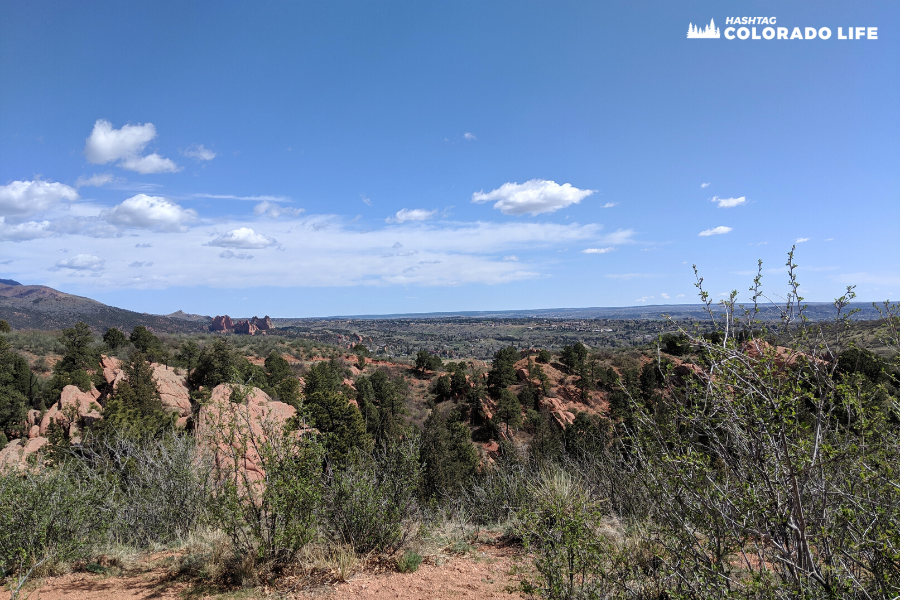 Prepare yourself to explore the secluded backcountry and high country on this Old West 4×4 Jeep Tour.
With a knowledgeable guide leading the way, you'll traverse through open fields and dense forests.
During this 3-hour excursion you'll discover the geology and history of Colorado and the nearby region.
The tour includes stops at popular landmarks and showcases all the rugged beauty that the Colorado Rockies have to offer.
This tour is the perfect way to explore the natural landscape around Colorado Springs, including remote backcountry locations.
✔️ Pikes Peak National Forest
Get off the Jeep and capture some stunning photos while admiring the breathtaking views of Pikes Peak National Forest.
During the tour, enjoy complimentary light snacks, drinks, and cozy blankets.
Don't miss out on this adventure as this Old West High Country 4×4 Jeep Tour sells out quickly during the summer season.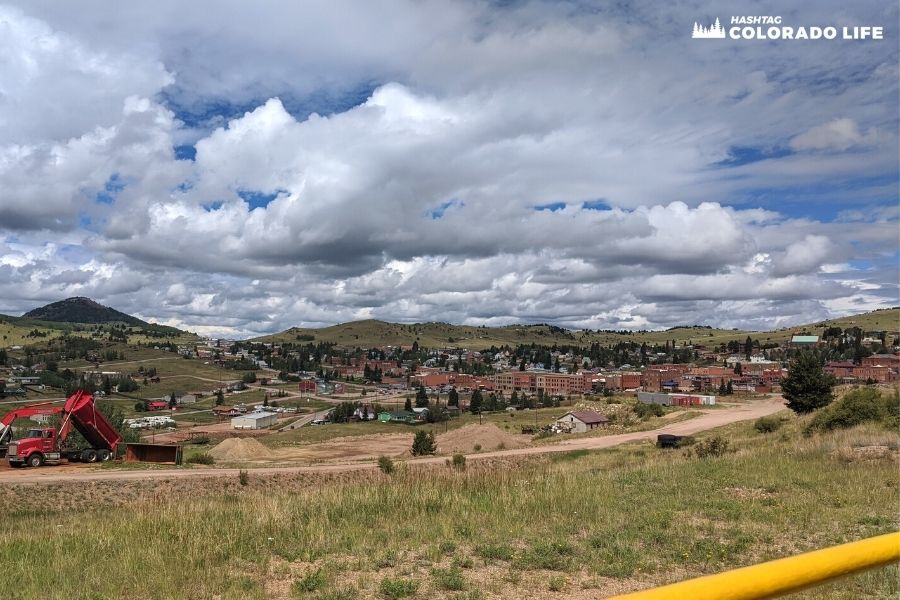 Every year, we make sure to visit the small yet historic town of Cripple Creek.
It offers a glimpse into gold rush stories, gambling, and picturesque views. And this Cripple Creek Backcountry Jeep tour is the perfect way to explore the area.
The tour departs from Manitou Springs and takes you on a scenic drive up Ute Pass. You'll continue passing through the charming mountain town of Woodland Park along the way.
The drive south towards the districts of Cripple Creek takes about an hour from Colorado Springs. And it offers distant views of the Sawatch Mountain Range as you cross Tenderfoot Pass.
Then, as you arrive in the small town of Cripple Creek, you'll be greeted with stunning views of the Sangre de Cristo Mountains.
This tour covers many miles of historic small mountain towns and offers epic sights, including:
✔️ Sangre de Cristo Mountains
After exploring Cripple Creek and covering 13 miles of dirt roads, the tour heads back towards Colorado Springs.
But not before making a stop at the historic town of Victor. Here, you can discover some of the historic abandoned gold and silver mines.
The tour starts at 8am and lasts for about 3.5 hours, including snacks and bottled water throughout the day.
There's so much to do and see on this Cripple Creek Backcountry Jeep tour, you won't be disappointed.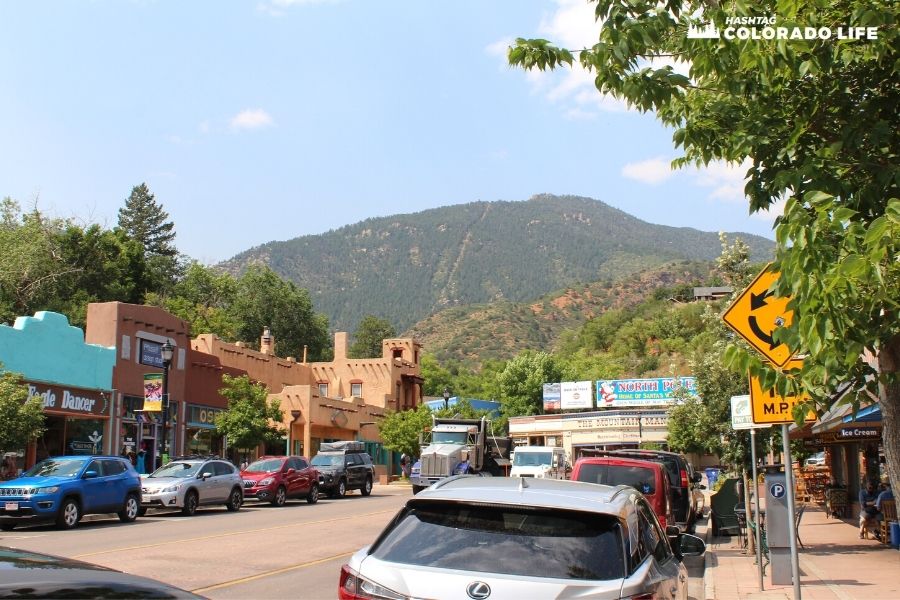 This 2-3 hour Manitou Springs and Old Stage Road Jeep tour is a must-do when visiting Colorado.
Embark on a journey with a knowledgeable local guide with the first stop being the iconic Garden of the Gods Park. Here you'll pause at popular points of interest for incredible photo opportunities.
Next, discover the unique and charming town of Manitou Springs. Get ready to taste natural mineral spring water or enjoy some old-school fun at the Penny Arcade.
Afterwards, you'll continue driving through the historic Old Colorado City, a historic neighborhood.
You'll be able to shop at local boutiques and stores, and try some of the best restaurants in town for a delicious bite to eat.
What's included with this Manitou Springs Jeep tour?
This Jeep tour offers a comprehensive view of the entire region's beauty and history.
Not only does it include stops in Manitou Springs, but you'll also stop at:
✔️ Garden of the Gods Park
✔️ Foothills & Pikes Peak
Along the way, your guide will share interesting stories, history, and folklore, making for a memorable and educational experience.
Experience the breathtaking views and natural beauty of Colorado in comfort and style with a Jeep tour of Manitou Springs and more.
9. Estes Park Jeep Tour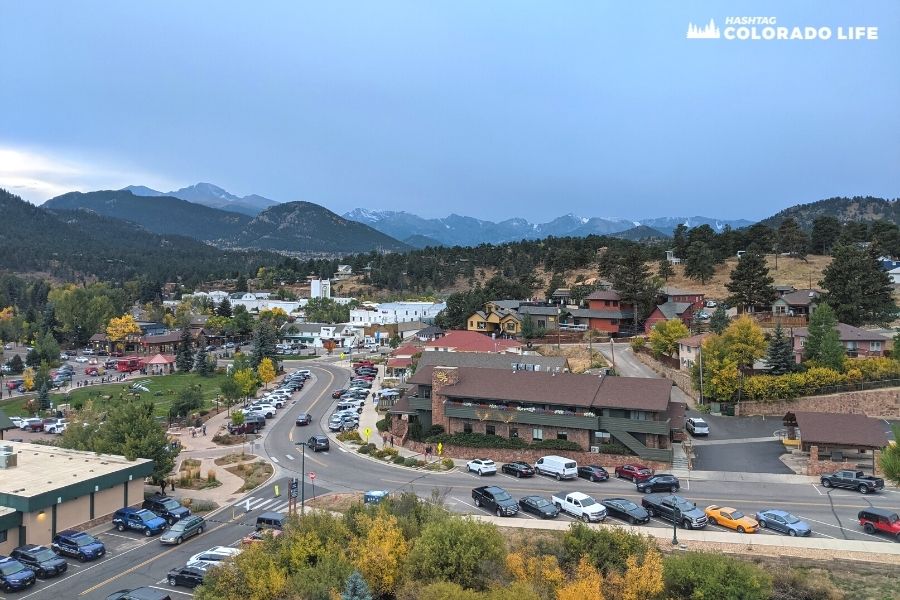 It's no secret that the town of Estes Park is one of our favorite places to visit for a weekend getaway. And there's no better way to explore the area than on a Jeep tour.
Estes Park Jeep tours offer an adventurous and unique way to explore the stunning natural beauty of Colorado's Rocky Mountains.
You'll be able to experience the rugged mountain landscapes, crystal-clear alpine lakes, and abundant wildlife.
But you'll have an advantage thanks to the guidance of a knowledgeable and experienced tour guide.
Why choose an Estes Park Jeep tour?
The tours are available in a variety of durations and levels of difficulty. Ranging from easy and family-friendly to more challenging and remote adventures.
✔️ Rocky Mountain Winter Safari
✔️ Off Road 4×4 Adventure
One popular tour takes you through the majestic wonders of Rocky Mountain National Park.
With an elevation starting at over 7,800 feet, this excursion offers breathtaking panoramic views of the surrounding peaks and valleys.
During the tour, you might even be able to spot a variety of wildlife, including elk, bighorn sheep, marmots, and even the occasional moose.
Listen in to the informative commentary about the area's history, geology, and wildlife, making your tour both educational and exciting.
Should you book Jeep tours in Colorado?
As a local couple, we always thoroughly enjoy our Jeep tour excursions. We highly recommend them, in both winter and summertime.
Overall, Jeep tours in Colorado offer a thrilling and memorable way to explore the Rocky Mountains. It's a unique way to connect with the natural beauty of Colorado.
These informative Jeep tours include everything from backcountry excursions and wine tasting to private tours. There is something for everyone!
If you're looking for informative off-road Jeep tours in Colorado or a custom half day Jeep tour adventure, this guide has it all.
Enjoy a half-day or full-day outing exploring the unique backcountry, scenic beauty, and rich history of Colorado.
A Colorado jeep tour makes the perfect weekend activity for couples, families, and even dog owners.
If you have been thinking about going on a Colorado jeep tour, or want to visit the Royal Gorge Bridge for free, then keep reading.
We recently had the chance to book a jeep tour in Cañon City and it was one of the most memorable experiences we've had in Colorado.
Our experience taking a Colorado Jeep tour
Now that you know the top Colorado Jeep tours to take, here's our personal experience with taking a Jeep tour.
We share what you need to know about booking a Colorado jeep tour and what to expect.
Disclaimer: We worked with the ColoradoJeepTours.com team in exchange for a free half-day jeep tour experience. Everything in this guide is our honest experience and showcases our personal opinions.
The company is locally built and owned by Will Colon, who is a fourth generation resident of Canon City.
He started the company with one Jeep and was the first tour guide. He has built everything from the ground up!
These days he has a handful of customized and well-maintained Jeeps, and employs about a dozen people.
The main office is located in the Royal Gorge Region at 2315 East Main Street in Cañon City, Colorado.
Types of Off-road tours in Colorado
Jeep tours are the perfect Colorado day trip experience! And there are many different types of off-road tours in the state.
Here are the most common types of off-road tours in Colorado:
4WD (4×4 truck or car)
ATV (all-terrain vehicle)
UTV (utility terrain vehicle)
When we did the jeep tour in April, we booked the Royal Gorge Bridge Loop Half Day tour.
Tickets come with complimentary Royal Gorge Bridge access, and it's the only tour in the state that is allowed to drive across the bridge!
Then just grab your tickets by heading to the Royal Gorge Bridge information desk.
Another popular tour package is the Gold Belt Full Day Tour, which tours historic towns like Victor, Cripple Creek, the Garden Park Fossil area, and other spectacular sites.
You can even combine both the Royal Gorge & Red Canyon Half Days into an all day excursion trip.
This full tour takes about 7.5 hours to complete and comes with a mid-day lunch.
Or make a weekend trip out of it and pick a custom Jeep tour package. Packages include combinations of Jeep tours, water rafting, train rides, zip lining, wine tours, and more!
Winter jeep tours are also a thing, if you dare! It may sound cold but the Jeeps are outfitted with roll-down canvas with plastic windows to protect riders from cold, snow, and rain.
And the inside of the Jeeps are nicely heated, while clean blankets are provided so you stay cozy and warm.
Choosing a Jeep tour guide
As mentioned, a Colorado Jeep tour always comes with an expert, local guide for various tours and locations.
All of the guides generally drive the same route for that tour and share similar information. But they do it with their own flair, of course!
And some guides, like our guide Tom, spend additional hours reading and researching the history of the area to offer an even more authentic experience.
Tom also happened to be a retired Colorado Park Ranger, so he had a wealth of knowledge.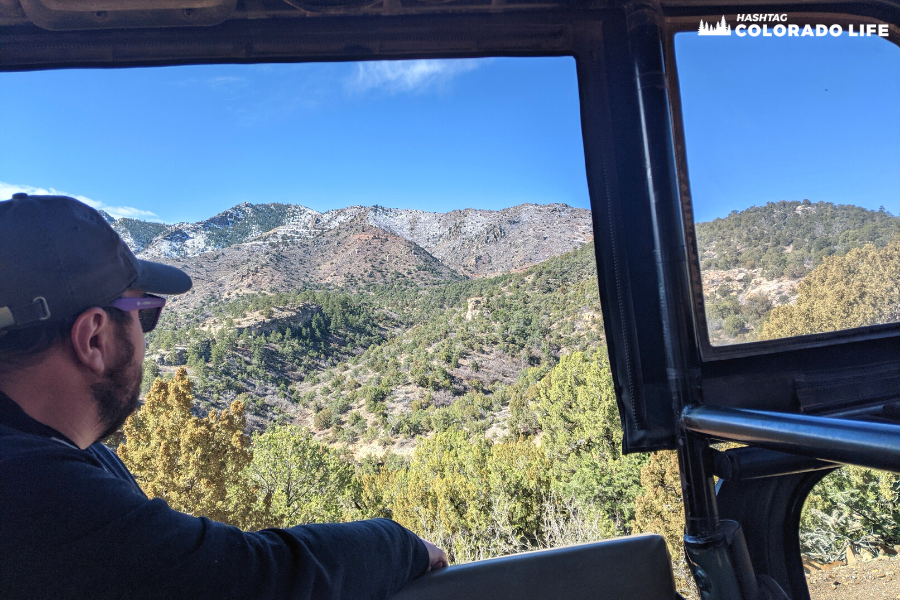 He not only talked about the local flora and fauna, but the natural history of the state itself.
He took the time to pull off the trail and allow us to get out and examine old marine fossils embedded in the rocks.
When booking, you will be randomly assigned a tour guide, or you can request to ride with a specific guide if they are available.
What will you see on a Colorado Jeep tour?
Our Jeep tour was roughly 3.5 hours long and started at 8:30am on a Friday. It had just rained the previous night so some of the roads were a little bit wet and slippery.
But Tom, our guide, was a very experienced driver and our jeep was outfitted with 4-wheel drive.
Here is what we saw and experienced on our Colorado Jeep tour.
1. Local wildlife and fauna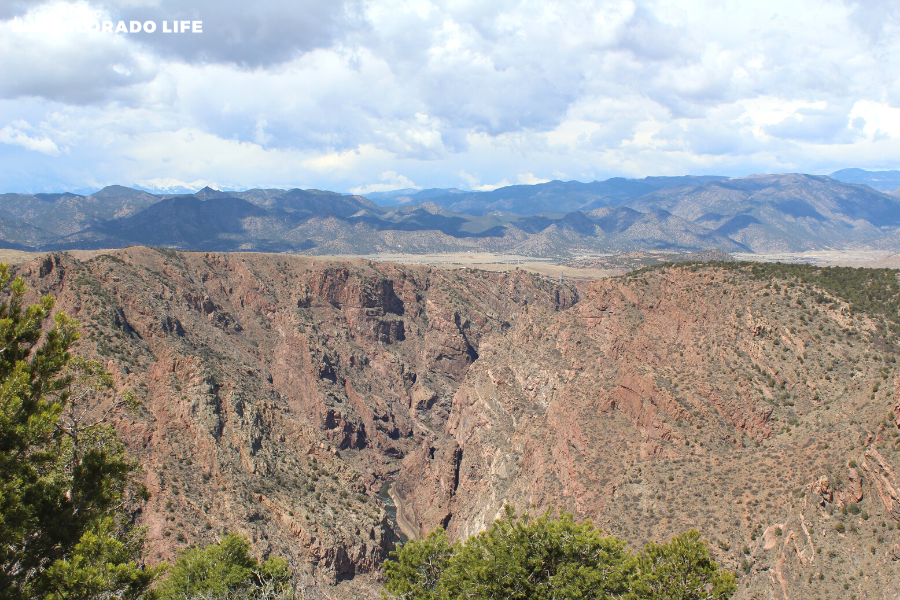 We drove into the Royal Gorge area, and continued winding in-and-out of the Bureau of Land Management acreage.
These lands are BLM-owned acres within Colorado that are well-maintained but available for free public use.
Every once in a while, Tom would stop the jeep and showcase some native plants or trees, historic fossils, talk about certain mountains, or point out local wildlife.
The rolling hills and mountainous terrain are perfect homes for unique plant life, wildlife like mule deer, mountain lions, and elusive birds.
We actually saw about 50 deer along our drive, and Tom mentioned he has seen a mountain lion or two on his drives.
2. Historical sites
The tour started off in Canon City with stops at local historical sites and noteworthy locations.
Throughout the drive Tom had a microphone headset on that broadcast his voice throughout the jeep, so it was easy to hear him.
He shared the history of the area, some interesting tidbits, and an update on a local fire that had burned through about 300 acres recently.
3. Royal Gorge Bridge
There are several star attractions on this Royal Gorge Jeep tour, but one of them has to be the Royal Gorge Bridge.
The highest suspension bridge in the world sits at near 1,000 feet above the canyon floor.
Crossing the bridge to get the other side is not for the faint of heart! Most visitors can cross the bridge on foot, via the Zip Line, or by taking the glass-bottom Gondola.
But if you want to drive across, you will have to be part of this jeep tour experience. Why?
Please note that, this Colorado Jeep tour is the ONLY tour company that has access to the bridge and park via this route (aside from maintenance vehicles).
I have been to the Royal Gorge Bridge many times in my life but the changes they have made lately have been improvements.
The wildfire that ravaged the area in June, 2013 destroyed almost all the structures. So, the tourist attraction had to be almost completely rebuilt!
The Visitor Center is brand new and state of the art and offers some awesome views of the bridge and surrounding landscape.
This was also a nice place to get out, take a quick break, get some water, and have access to real bathrooms.
4. Native American & war history
A lot of Colorado's history is intertwined with Native Americans, so we learned a lot about their past lives.
Native Americans as well as war veterans are buried in the mountains and graveyards near Canon City.
Even as Colorado natives, there was so much we didn't know and that we learned during this trip.
We also stopped at an overlook point where we could see a large portion of the Sangre De Cristo mountains for miles and miles.
5. Dinosaur fossils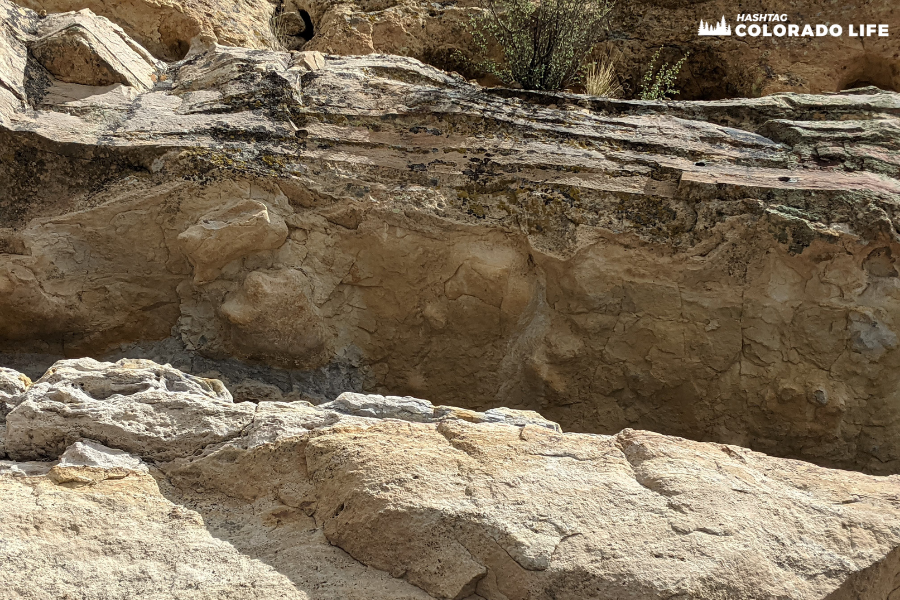 There were several checkpoints, including our stop at Skyline Drive, where we viewed real dinosaur fossils and footprints.
At some checkpoints he had to get out of the jeep to open a gate to get private access for Colorado Jeep Tours only.
Throughout the trip, we were able to get out, walk around, take photos, and view the fossils, soil, and other attractions more closely.
Overall, our trip was educational, entertaining, and breathtaking all at the same time!
6. Skyline Drive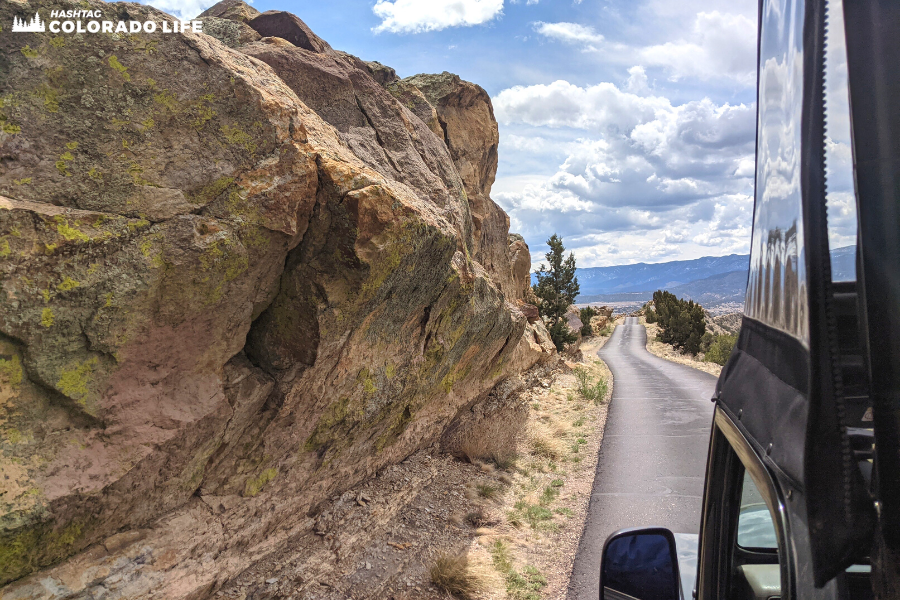 One of the last stops on our the Colorado Jeep tour that we booked was to drive up the famous Skyline Drive.
This historic road sits about 9 miles west of Canon City with direct access from Highway 50.
The narrow one-way road follows the top of Razorback Ridge and rises about 800 feet in elevation from the surrounding terrain.
There are no guardrails, fences, or any type of safety railings. It's just you, the jeep, and the quick drop-offs on either side.
Skyline Drive continues for 2.6 miles with views that overlook the city and valleys on either side.
It's quite a hair-raising experience but you always feel safe in the Jeep.
Are Colorado Jeep tours safe?
For the most part, yes, the tours are safe and injury-free! But this is an off-road Jeep tour so there are no guarantees.
The tours are obviously done outside so you may experience a bumpy ride, unpredictable weather, off-road terrain, snow, mud, and wind.
And due to uneven and rocky terrain the vehicles may also experience flat tires or minor mechanical issues. But we had no problem at all on our Jeep tour.
You can rest assured knowing that the off-road vehicles are very well-maintained and the guides do a full inspection before driving them out on tour.
The guides also carry two-way radios with them at all times. And they are CPR certified and trained to handle any emergencies.
Do you need to sign a waiver to ride in a Jeep?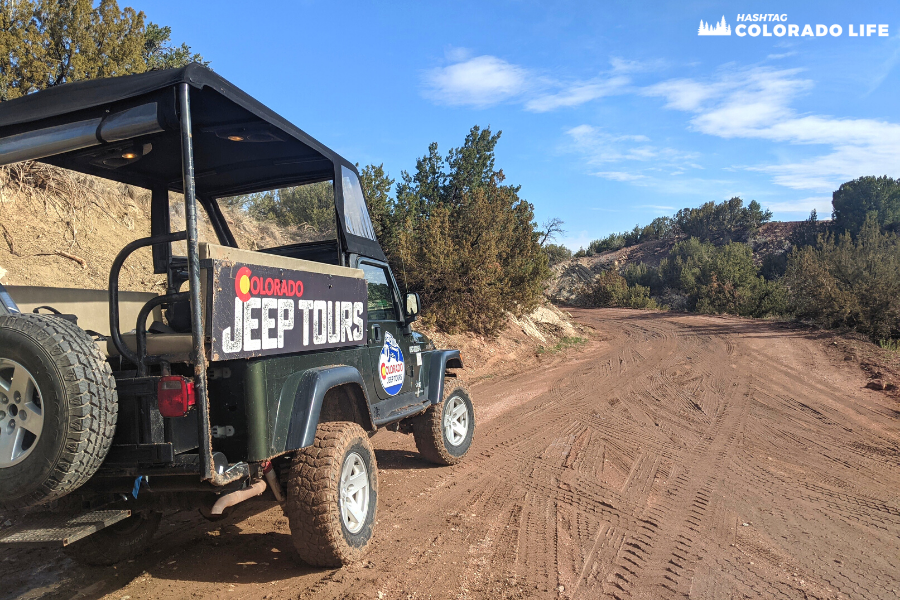 If you have problems or didn't enjoy your tour for one of these reasons, just call Jeep tour office where you booked the tour from.
The staff is usually very friendly and will be happy to help out how they can. They truly want this to be the best experience for you and your family!
One layer of protection comes in the waivers that must be signed before the Jeep tour will commence.
Once your booking is confirmed, digital copies of the waivers will be emailed to you for virtual signature.
If they are not signed digitally, you will be requested to sign before jumping into the tour.
What time does a Jeep tour start?
The great thing about Colorado Jeep Tours, specifically, is that they are open all year round, in all weather conditions.
Most jeep tours start daily at 8:30am or 12:30pm and will run between 3 hours to 7.5 hours depending on the tour you choose.
And some of their most popular tours happen in the middle of Colorado's winter season.
But, of course, spring, summer and fall jeep tours are also in high demand and offer some of the most breathtaking sites and stops!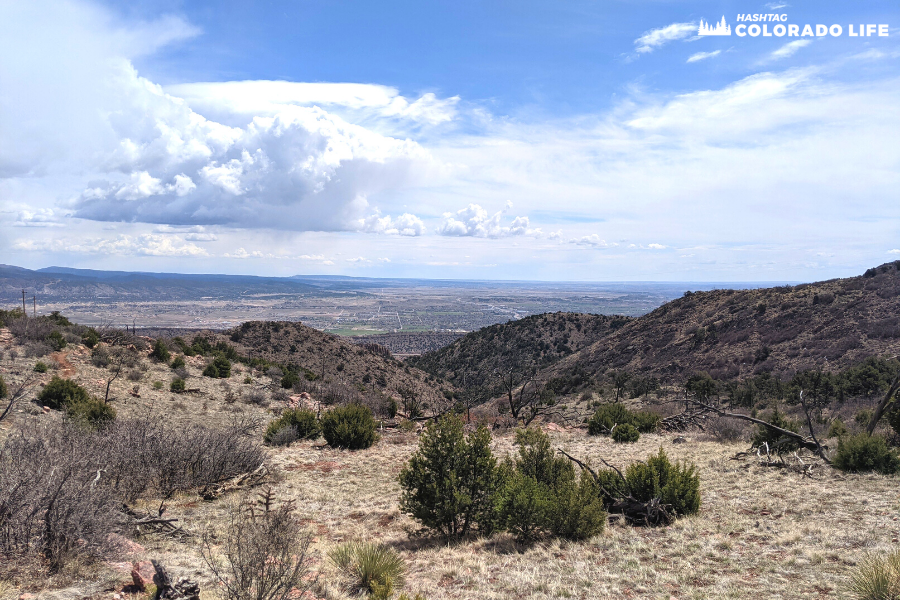 When booking your tour, you will likely have to check in about 30 minutes prior to start time.
Check-ins for morning tours are at 8:00am for an 8:30am start time, while afternoon check-ins are at noon, for a 12:30pm start.
When is the best time to go on a Jeep tour in Colorado?
It is recommended to book a morning jeep tour if possible. This way you won't get stuck in an afternoon rainstorm, which can happen a lot with Colorado's unpredictable weather.
The jeeps are custom outfitted using standard Jeep Wranglers with either a manual or automatic transmission.
All the Jeep Wranglers come with 4×4 traction and can seamlessly change to 4-wheel drive as needed.
The back and sides are all open, with a covered ceiling that offers protection and shade from the elements.
During the winter the back and side window panels can be rolled down and zipped for coverage from the cold, wind, or snow.
The standard jeeps have bench seating so they sit about 6 adults comfortably, or more if you have small kids.
Are there bathroom breaks on Jeep tours?
Yes! The jeep tours make scheduled stops at places like the Royal Gorge Bridge where you can get out for 10 minutes to see the sites.
Bathrooms and snack counters are available here for you to take a break and refuel.
However, if you are on a longer full day tour, bathrooms are not always readily available.
You are literally out in the Colorado mountains and wilderness!
If you drink a lot of fluids (which, you should!) you may have to stop and take a nature pee. Especially if you have young kids!
Are dogs allowed on Colorado Jeep tours?
Yes, most dogs are allowed on the jeep tours but there are restrictions pertaining to the size, health, and temperament of the dog.
It's best to contact the Colorado Jeep Tours office to verify the type of dog you plan on bringing with you.
There may be a fee to bring your dog along and a separate Dog Waiver will need to be signed in advance.
Dogs are NOT allowed with some of the combo tour packages, so make sure you inquire about this before booking.
Some partners, such as the Holy Cross Abbey Winery (for wine tasting), allow dogs on the grounds but not in the buildings.
What to wear on a Colorado Jeep tour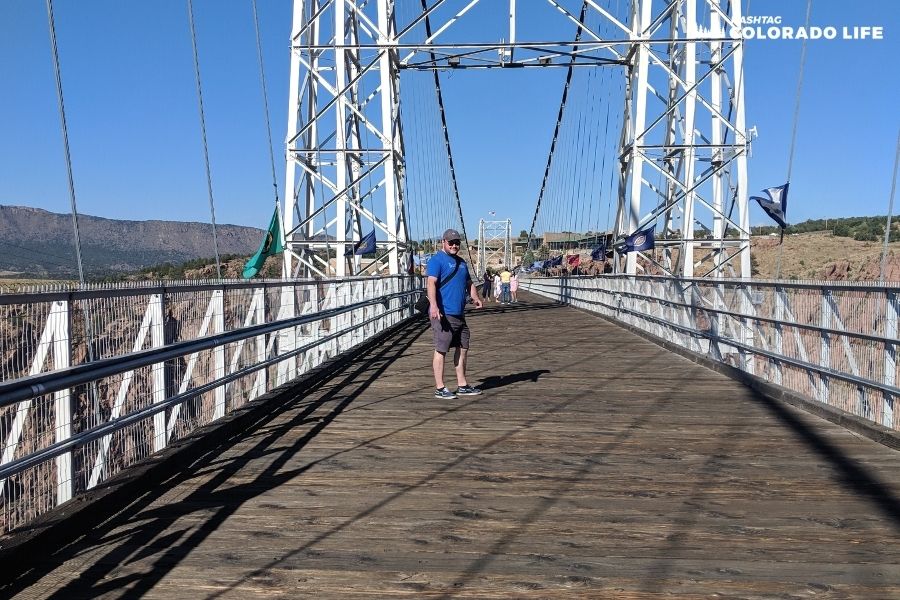 A large majority of visitors who book these Canon City tours come from warm states like Florida and California.
They are often unprepared for the fast-changing Colorado weather. But you don't have to be!
We recommend dressing in lots of layered clothing that's easy to change out.
As the day warms up, you may want to take a few layers off. Or as the days grow colder you can put on more layers to stay warm.
It just depends on what the weather is currently. Even in the winter, Colorado can have hot sunny days with little cloud coverage.
In the summer it can get very cool in the shade, especially if it gets windy or rainy in the afternoons.
The mountains make the weather unpredictable, so it's best to come prepared.
What to bring on a Jeep tour in Colorado
Bring lots of water, snacks, hats, sunglasses, and sunscreen.
Yep, even in the winter or overcast weather, you can still get sunburned from the sides of the jeep or the direction of the sun.
Wind-breaker jackets or coats with hoods are also recommended to help with any wind or cold air.
You may also want to bring an extra blanket or two (although Colorado Jeep Tours does provide extra blankets in their jeeps).
Do we recommend booking a Colorado Jeep tour?
After having experienced a Colorado Jeep tour for the first time, would we book again?
YES. Without a doubt our experience with Will and his team was amazing and very seamless.
In fact, we DID have to reschedule our jeep tour due to the fact that it was still snowing in March.
But the rebooking didn't require anything on our part except to confirm the new dates with Will. It was a 3 minute phone conversation and done!
We are already planning another tour in the fall and want to experience the Gold Belt Tour next.
In the summer we are checking out the train and rafting tours as well. There are so many options available and we learned so much on this trip.
The views were unmatched and the local geology was like nothing else we've seen.
We can't recommend Colorado Jeep Tours enough as one of the best weekend activities or day trip adventures.