13 Abandoned Ghost Towns in Colorado and How to Get There
This website may contain affiliate links and we may be compensated (at no cost to you!).
Nothing is more fun than spooking adventures and exploring ghost towns in Colorado!
Colorado has a long and storied history of rough riders and rebels who started towns in the Rockies, and many sought the treasures hidden in these mountains: gold and silver.
Our wild west state has seen its share of boom towns and financial busts, and reportedly has as many as 1,500 ghost towns around the state.
More conservative estimates put that number closer to 600.
Either way, with enough exploration, you're sure to find your share of abandoned buildings, derelict mine shafts, and ghost towns in Colorado.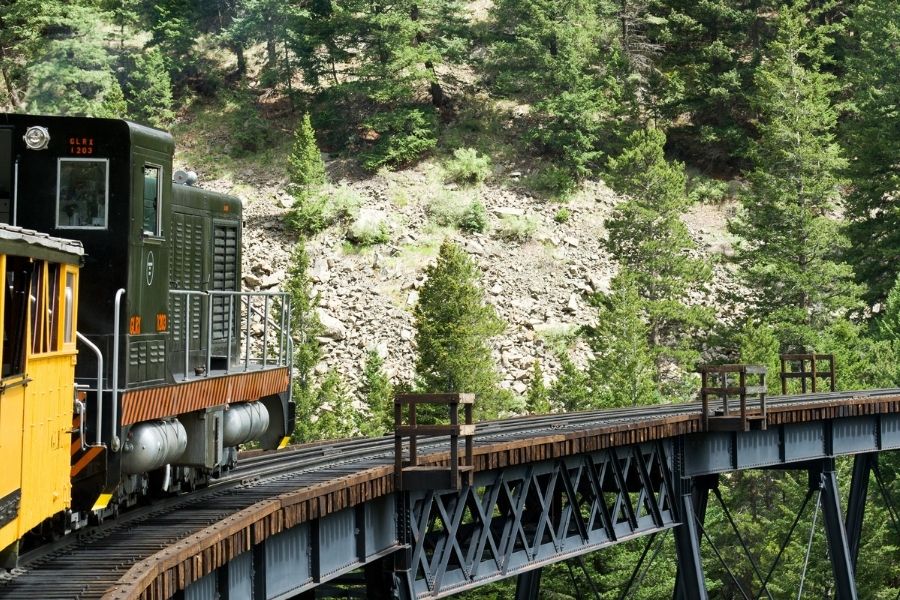 There's no better way to explore some of Colorado's Old West Gold Rush towns than on this private tour through the Rockies.
This 6-hour private driving tour includes time to visit and explore some of the most historic and haunted ghost towns in the state.
You and your group will visit mountain towns including:
Golden
Central City
Georgetown
Idaho Springs
Nederland
Not to mention, many other popular destinations including the Pearl Street Mall in Boulder.
You'll even have the opportunity to ride on the scenic Georgetown Loop Railroad, all included with your ticket.
This ghost town tour of the Rockies includes private transportation and pickup, as well as time for a hiking tour.
For this next section, we're including ghost towns in northern Colorado that are near Denver and Boulder.
While most former mining towns around Denver went on to be major cities, some Colorado ghost towns still can be found outside the metro area.
2. Teller City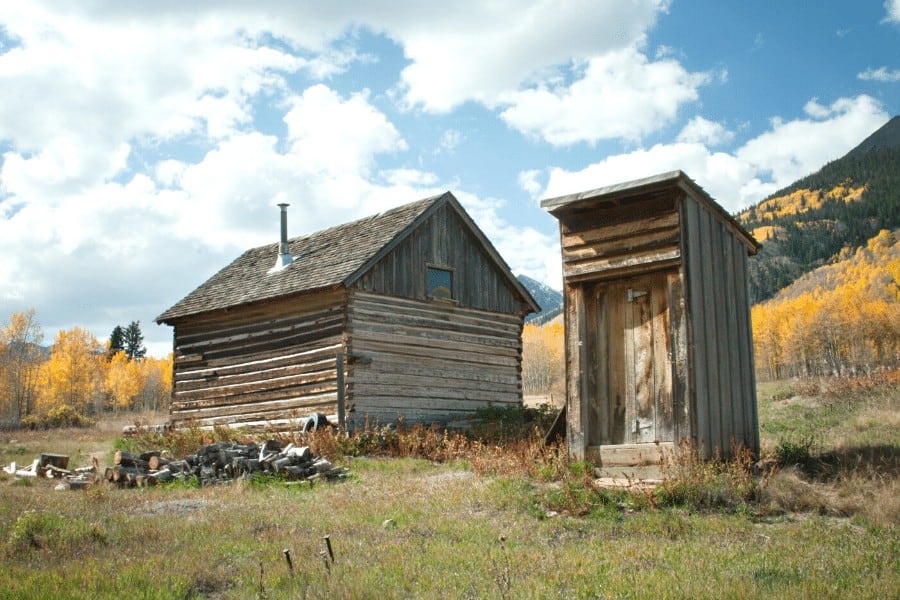 Silver was discovered southwest of Gould, Colorado, near Walden back in 1879. And just a few years later the town of Teller City was booming!
At one time, it had as many as 1,500 residents. But these days Teller City has zero residents.
In addition to the reported 27 saloons, there was a hotel called the Yates House Hotel which had 40 rooms.
However, silver lost value just a few years later, and by 1902 Teller City was a ghost town.
Located in Roosevelt National Forest, a popular camping destination, Teller City makes a fun and spooky stop for a daytrip or mid-day activity.
Most of the town's historic buildings are scattered around the woods, so bring your boots and trek around for an hour to two!
How to get to Teller City:
If you want to camp or hike near Teller City, here is how to get there. Access Teller City from Rand via Highway 125 or from Gould via Highway 14.
From downtown Gould, take County Road 21 for Roosevelt National Forest access, and follow signs for Teller City.
This ten-mile dirt road is best traversed with a high-clearance 4×4 vehicle.
3. Arrow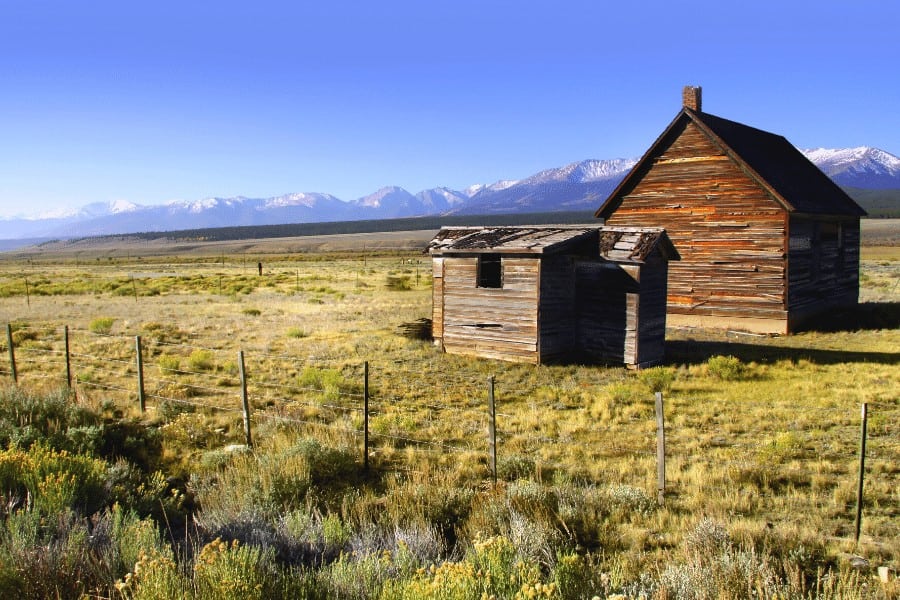 Close to the Winter Park ski area and tucked in at the top of Rollins Pass is the town of Arrow.
First called Arrowhead, then Arrow, and now a ghost town. Arrow is the only town on this list that was not made popular for mining in the mountains.
Originally founded as a railroad and lumber camp, Arrow was a thriving town of thousands of residents until it burned to the ground in 1920.
These days you can still see where the town was located thanks to the old railroad beds.
If you've got a metal detector, bring it along! Many coins from the period and other metal artifacts can be found in the area.
How to get to Arrow:
Arrow is on property currently owned by Rendezvous Colorado, so make a stop in their sales office in Winter Park before heading out.
To get there, take US-40 through Winter Park and take the exit for Forest Road 80.
Head north on Forest Road 80, also called Corona Pass Road, and continue going right to stay on USFS 80 til you arrive in the town.
4. Dearfield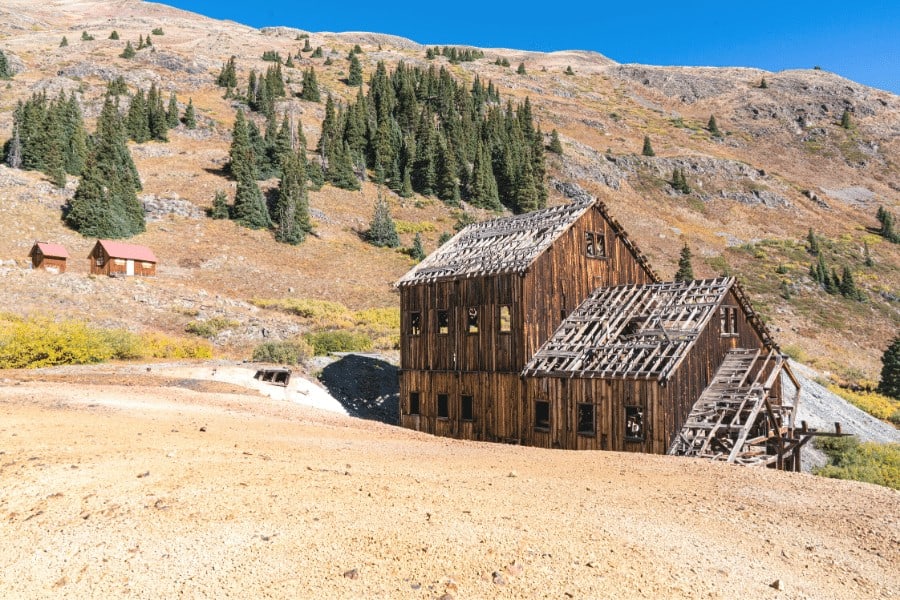 One of the most unique ghost towns in Colorado is Dearfield. This mining town was founded as an all-black settlement by Boulder entrepreneur Oliver T. Jackson in 1910.
Dearfield's claim to fame is that it was one of the only Black and African-American settlements in Colorado in the early 1900s.
Though the first few years were rough, there were as many as 700 residents in Dearfield by 1921.
The town continued to grow until the Great Depression caused agriculture to suffer and the town shrank through the 1940s.
Today, you can still see what remains of the town's diner, gas station, and founder Jackson's home.
Denver's Black American West Museum worked to preserve the town in the late 1990s. Dearfield is now a Colorado Registered Historic Landmark.
How to get to Dearfield:
From Greeley, head south on Highway 85 to Garden City. Then head east on Highway 34 for 24 miles to get to Dearfield.
Next on the list are ghost towns in central Colorado that are near smaller towns like Buena Vista and Aspen.
These scenic ghost towns in Colorado can be found near popular skiing destinations so you can spend a day skiing and then explore the old gold rush history.
5. Saint Elmo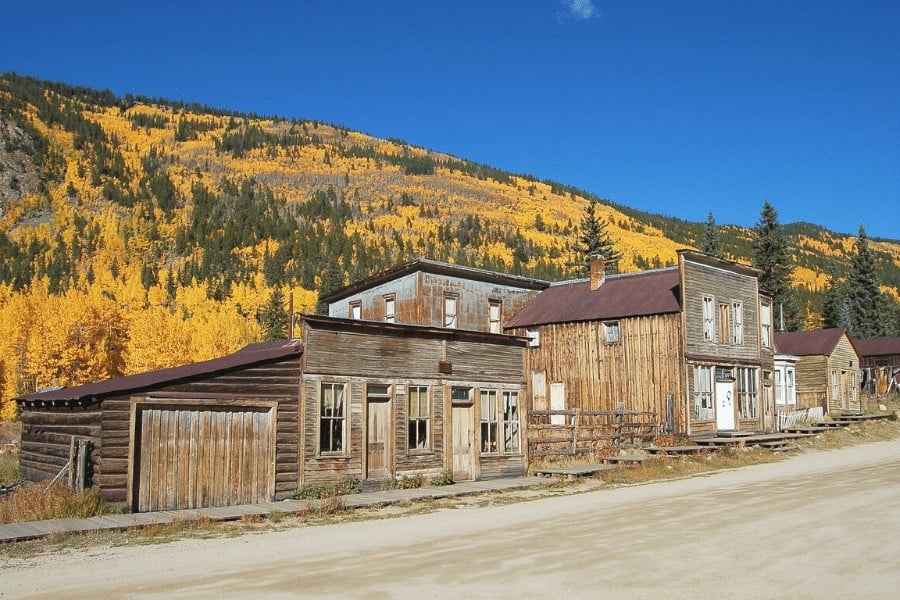 Of all the ghost towns on our list, St. Elmo is one of the best preserved and most easily accessed. It's located just a few miles west of Mount Princeton Hot Springs Resort.
Of the 43 buildings that remain in Chalk Creek Canyon, you will find a saloon, courthouse and jail, mercantile, and many private homes.
Visitors have said that walking down the main street feels like stepping onto the set of an old movie. And in true ghost town fashion, Saint Elmo is said to be haunted.
Gold and silver brought miners to what was then called Forrest City in 1880. By 1881, Saint Elmo was an incorporated city of about 2,000 (mostly male) residents.
St. Elmo boasted many saloons and dance halls, as you might expect from a rowdy miner town of men!
After train services to Chalk Creek Canyon stopped in 1926, the population dwindled and by the 1950s the town was abandoned.
Today, this Colorado ghost town is not quite empty!
Stop by the St. Elmo General Store for souvenirs, antiques, and a snack or soda. You can also rent the 3-person cabin and spend a night in the ghost town!
Or spend the weekend in St. Elmo by booking a room at the Ghost Town Guest House, a bed and breakfast!
This quaint B&B serves up breakfast, lunch, and dinner, and is an ideal hub for your ghost town and hiking explorations.
How to get to St. Elmo:
Take Highway 24 south from Buena Vista and look for Country Road 162. It is on your right, just after you pass Nathrop.
Then take Co Rd 162 for 19 miles to Saint Elmo. And there's plenty to discover near St. Elmo too.
Bring your hiking boots and stop by Mt. Princeton Hot Springs, Agnes Vaille Falls (a short hike will take you to the falls), the ruins of Hancock and Mary Murphey Mine.
4X4 drivers can take Tincup Pass to explore the ghost towns of Pitkin, Tincup, and Ohio City.
6. Vicksburg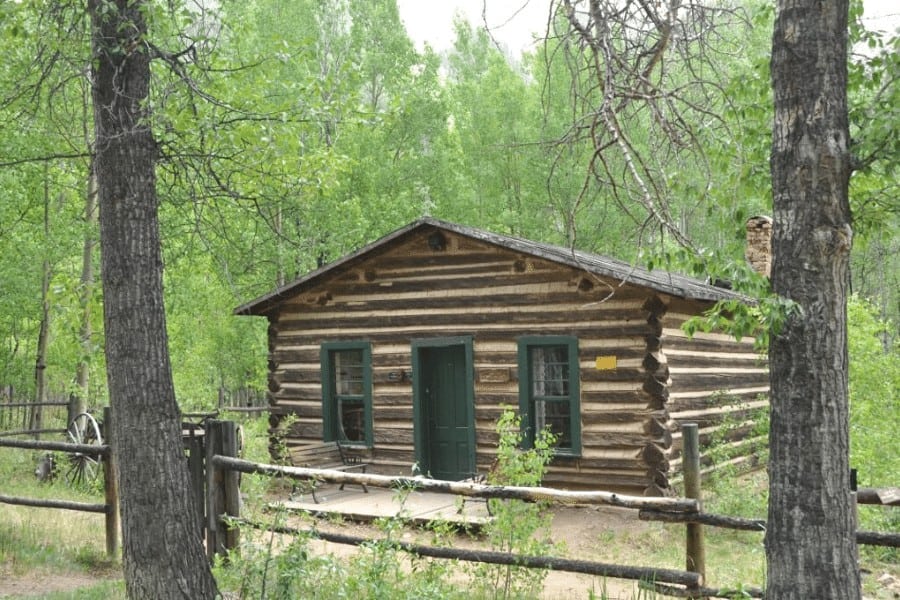 Another well-preserved ghost town in Colorado is Vicksburg. It's about an hour and 45 minutes from Aspen.
The town of Vicksburg started to grow in the 1860s and 70s when prospectors were flocking to the canyon area in search of gold, silver, and lead.
Vick Keller, who the town is named after, owned the general store. And at one time, as many as 700 people lived in Vicksburg.
The town became big enough to have its own blacksmith, school house, two hotels and two saloons!
While this town is a ghost town by definition, it is not totally without life. Most of these buildings have been continually occupied since they were built, and are in great condition.
The most notable buildings to check out are the cabins and a small museum that are still standing.
The ghost town of Vicksburg still has some buildings that have even been nicely restored to preserve the history.
How to get to Vicksburg:
Take highway 24 north from Buena Vista, or if you're coming from Leadville head south, until you reach County Road 390/Clear Creek Reservoir.
Take CR 390 past the lake, and it's 9 miles to Vicksburg. Continue another 3 miles to nearby Winfield, another ghost town, where the 2WD portion of the road ends.
You can get plenty of adventuring under your belt here by continuing on to one of the 4 other ghost towns nearby: Winfield, and two smaller towns, Rockdale and Beaver City.
7. Independence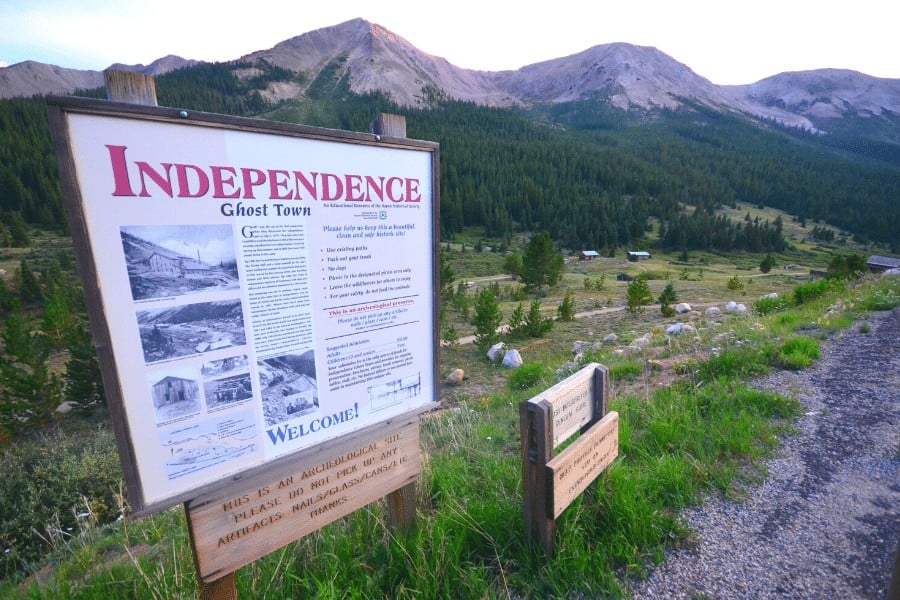 This ghost town is well-preserved but is only accessible during certain months of the year. Independence is located 16 miles east of Aspen.
And at 11,000 feet in elevation, October through May sees many, many feet of snow and makes the town inaccessible during these months.
Independence was originally founded in 1879 as Beldon tent camp, and over the years, this town has had many names.
But when the miners struck gold, the name "Independence" was the one that stuck. Between 1881 and 1882, over $190,000 in gold was mined.
The following year, however, only $2,000 worth of gold was mined. This town that once swelled to over 1,500 residents soon lost population to larger, milder, Aspen.
After an epic blizzard in 1899, all but one resident were driven out, and by 1912, Independence was a ghost town.
Today, you can walk among the remaining buildings, including the general store, stable, houses, and the Farwell Stamp Mill where the mined metals were processed.
Some buildings are little more than a facade and a foundation, so take care as you go near the more dilapidated structures or venture inside.
How to get to Independence:
Head south on highway 82 from Aspen for about 16 miles. Independence is located along part of the seasonal Independence Pass, so plan your trip according.
And always check the weather before you take off.
If you're coming from the other direction, Independence is about four miles west of the summit.
8. Ashcroft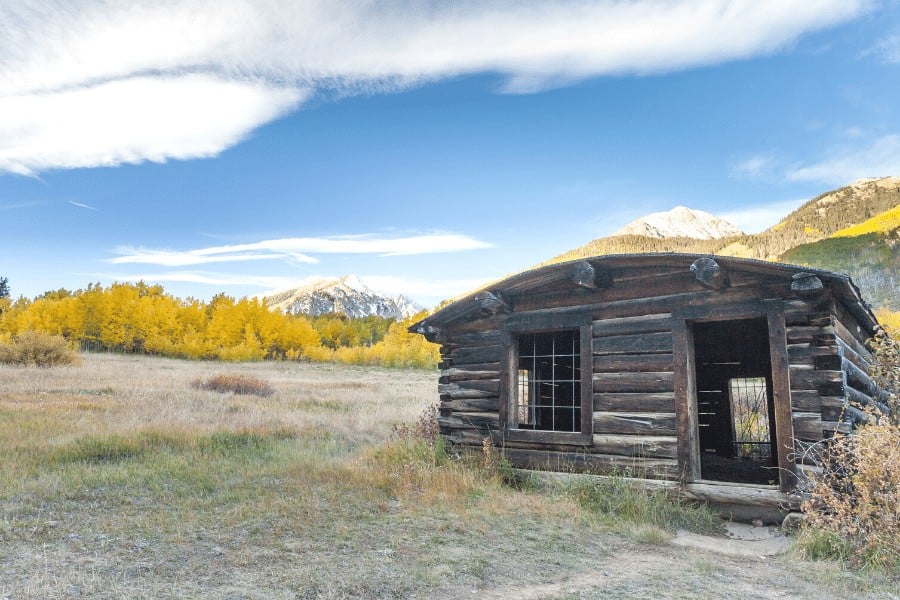 Now on the National Register of Historic Places, the town of Ashcroft is one of the biggest cities in Colorado to become a ghost town.
Once home to nearly 2,500 people, Ashcroft was once a bustling city boasting 6 hotels and 20 saloons.
Founded in 1880 following the discovery of silver in the area, Ashcroft was actually bigger than nearby Aspen and closer to the railroad in Crested Butte.
But the mines dried up in 1885 just as a rich strike was discovered in Aspen.
These days Ashcroft is maintained by the Aspen Historical Society.
Now, the roads of Ashcroft have returned to the wild and the remaining wooden structures make up a plenty ghostly main street.
Many of the buildings are in quite good condition, and are very photogenic in this rugged mountain setting, so bring a camera!
How to get to Ashcroft:
Out of Aspen, take Highway 82 west. At the traffic circle, take the 3rd exit onto Castle Creek Road and continue for eleven miles to the town-site of Ashcroft.
Finally, we're ending the list with some ghost towns in south Colorado that are near towns like Silverton and Telluride.
If you are looking for some abandon ghost towns in Colorado, there are some southern gems near the Continental Divide.
9. Animas Forks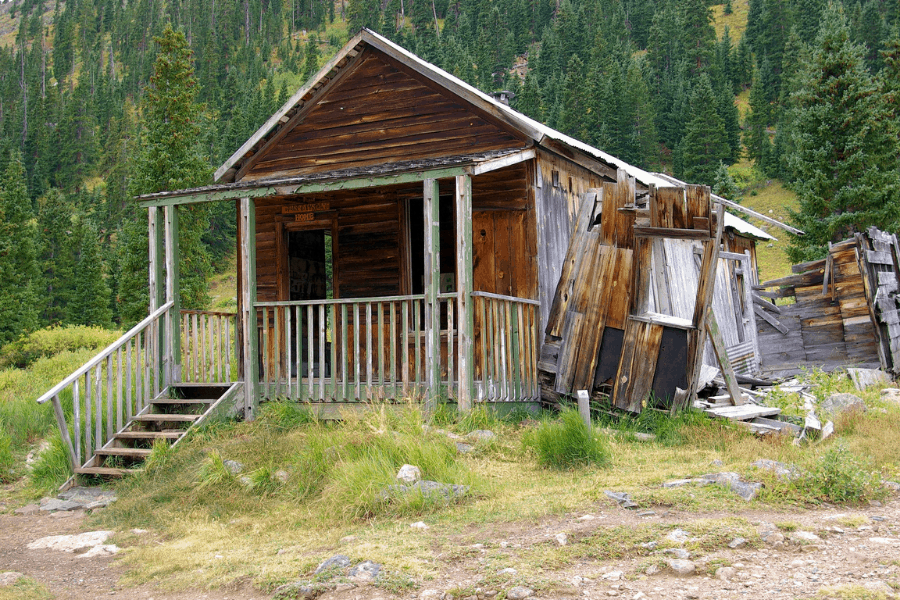 At 11,200 feet high in the San Juan Mountains is the ghost town of Animas Forks. It's located about 12 miles northeastern of Silverton, Colorado.
Founded in 1873 where three nearby rivers met (including the Animas River), this town was first called Three Forks of the Animas.
By 1876, Animas Forks was a thriving mining city.
At this time the town had a hotel, a saloon, a post office, and a general store. And by 1883 there were about 450 residents.
There was even a local paper called the Animas Forks Pioneer!
Though mining brought plenty of people to Animas Forks, the harsh conditions of winter at 11,000+ feet altitude made winter living nearly impossible.
In 1884, a 23-day-long blizzard covered the town with so much snow, those who were in town had to travel from building to building by snow tunnel.
After this, most residents left the harsh winter environment in favor of Silverton. By the 1910s, the population was dwindling and Animas Forks was a ghost by the 1920s.
Today, several of the original buildings in Animas Forks are still standing along the Alpine Loop Scenic Byway.
Due to the high altitude and rough terrain, the best way to explore the region is by Jeep or other high-clearance 4×4.
In summer months, 2-wheel drive cars with good clearance may be able to make it from Silverton to Animas Forks.
But the road beyond Animas Forks through Engineer Pass to Lake City is 4-wheel drive only.
Interpretive brochures and maps of the area are provided in the parking area. Take care when walking inside or near these fragile old buildings!
How to get to Animas Fork:
From Silverton, take County Road 2 for about 12 miles until you reach Animas Forks Ghost Town.
If you're coming from Ouray, take US 550 for 4 miles south to Co Rd 18 and go left for 4.3 miles.
Continue onto Co Rd 17 for 2.7 miles, then onto Co Rd 2 for 2 more miles into town.
Always check the weather conditions and condition of your vehicle before you go exploring.
Vehicles can get stuck in some sticky situations, so exercise caution and don't be one who needs a rescue!
10. Alta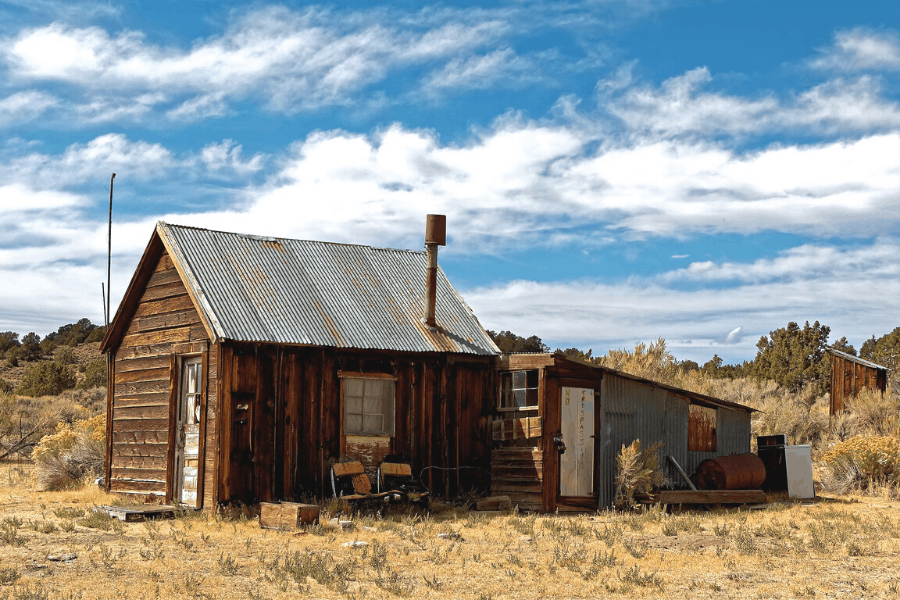 Between Telluride and Rico is the small ghost town of Alta, Colorado. With an elevation of 11,800 feet high this mining town was home to a few hundred people.
And from 1877 to 1948, it was a hub for mining activity in the area and originally known as the Gold King area.
When World War II almost brought the town back to life the town's population began shrinking until the 1940s.
Then, the mill burned down in 1948 sealing this town's fate to become a ghost city.
Most remarkable, Alta was the first place to use Nikola Tesla's AC transmission system.
Switching to electricity saved the mines a lot of effort, as the 4-mile pack mule route to get coal was no longer needed.
A power plant was built in Alta and the whole town once ran on electricity.
The remains of several original buildings and fences are still standing today. And you can tour what remains of the town during the warmer months from May to October.
While 2WD vehicles may be able to make the trek, 4x4s are recommended, especially if you want to continue on to Alta Lakes.
How to get to Alta:
Follow W 145 Spur Hwy/CO-145 west out of Telluride, and at the traffic circle, take the 2nd exit for CO 145 S.
Turn left onto Alta Lakes Road, about 6 miles south of Telluride, and continue for about 4 miles into Alta.
11. Carson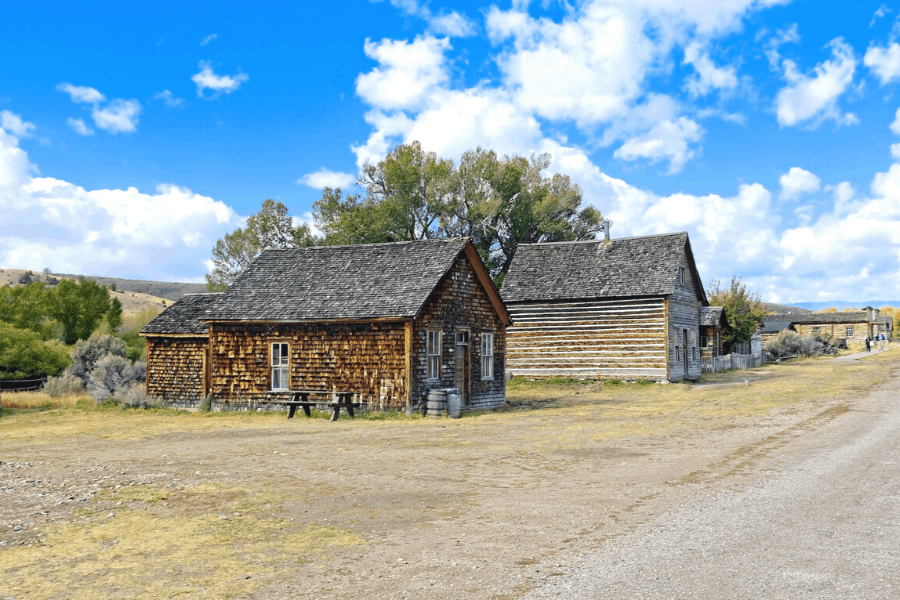 High-altitude mining brought hundreds to the city of Carson, but rough winters along the Continental Divide eventually sent them packing.
Carson is almost directly situated on the Continental Divide. And due to its location the town is the hardest to access but also one of the best preserved ghost towns in Colorado.
It's always been hard to get to, which made getting resources for mining (and bringing home what was found!) very tough.
Carson was built at 11,600 feet in 1889 and had a wagon road to Lake City. Gold and silver were both mined in Carson. And at one time, the town had as many as 500 residents.
But the unforgiving landscape eventually drove away even the toughest old miners. Then, after the turn of the century Carson had become a ghost town.
These days, you'll need a 4×4 vehicle to visit what remains of the buildings. The town of Carson is located on private property but the owners allow visitors.
Once in town, you can walk among the surprisingly well-preserved buildings nestled among the trees where the town once thrived.
How to get to Carson:
Unless you're prepared to make like a miner and get a donkey, 4 wheel drive is a requirement to reach Carson.
To get there from Lake City, take the Silver Thread Byway, Highway 149, Co Rd 30 (the Alpine Loop). Then follow Wager Gulch trail to Carson.
Note: Don't confuse Carson with Old Carson, another mining city on the Pacific side of the Divide. Old Carson is probably older, and was built south of the mountain.
12. Russell Gulch
Like most ghost towns on this list, Russell Gulch was founded on the back of the Colorado gold rush near Idaho Springs. The town would live and die with the booms and busts of the gold rush.
When gold was found in Russell Gulch, in June of 1859, it took only three short months before nearly 900 men moved into the valley and mining operations began.
By 1860, the town had swelled to 2,500 residents and brick buildings started popping up, many of which still stand to this day.
By 1930, the population had shriveled to a mere 75 residents. When there was a moratorium against gold mining during WWII, it was the final nail in the coffin for Russell Gulch.
Nowadays, Russell Gulch is a picturesque ghost town with many of the old structures peppered throughout the landscape.
The most notable thing about this defunct old town now is the frisbee golf course that runs right through the ghost town.
Which lands it high in the running for one of the most beautiful disc golf courses in the world.
How to get to Russell Gulch:
There are two main ways to get to Russell Gulch.
The first way is safe for nearly any vehicle as it's a paved road from I-70. Take exit 243 to Central City Parkway then left onto Lake Gulch Road.
Go a short distance till you reach Virginia Canyon Road, take a left. Continue on until you reach a fork in the road.
Follow this to the left onto Upper Russell Gulch Road and follow this until you reach Russell Gulch.
The second way to Russell Gulch is from Idaho Springs and should only be tried in the warmer months and if you have a 4WD vehicle.
The street's official name is Virginia Canyon Road. But it is more commonly (and aptly) referred to as Oh My God Road.
You'll head north, up the mountain and down into Russell Gulch for about 5 miles before spotting the town.
13. Crystal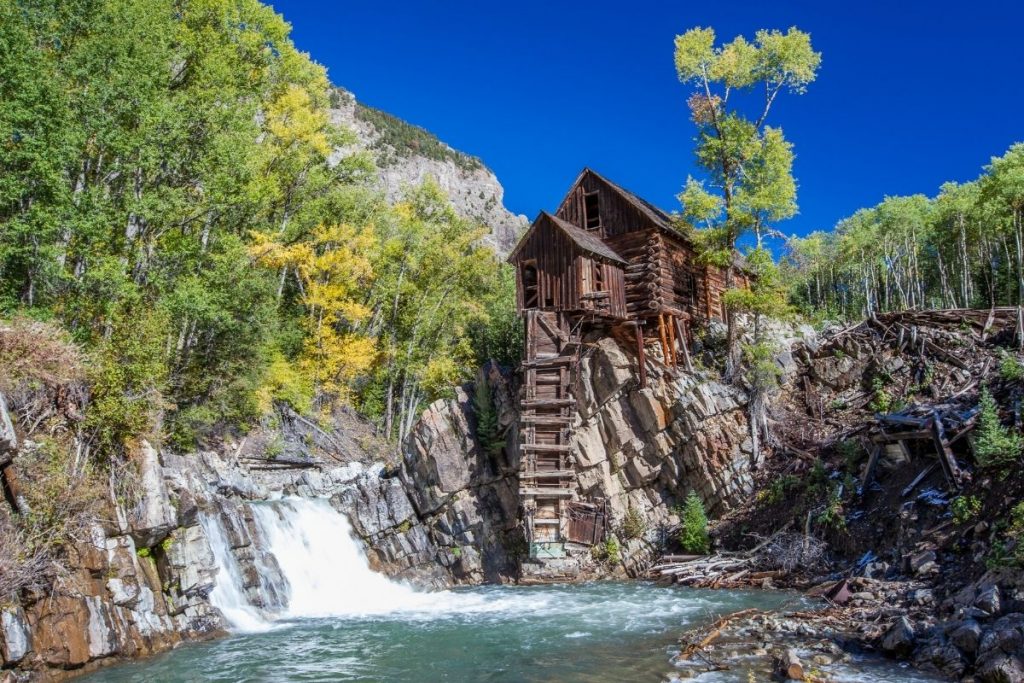 The town of Crystal, Colorado was named for the Crystal River that runs through the center of town.
It was established for mining camps in 1881 after discoveries of silver and gold in the surrounding mountains.
In order to access the land for mining, thousands of acres were set on fire. To this day, the fires have altered the growth of trees and vegetation in the area.
After the town built a supply power mill using the water from the Crystal River production of silver and iron mining continued to decline. And by 1915 the town's population dried up and dwindled completely.
Today, Crystal is mostly abandoned and is only home to a few residents during the summer months.
In 1985, the owner of Crystal deeded the land and ownership of the town to the government of Gunnison County where it remains free to explore.
How to get to Crystal, Colorado:
The main way to get to Crystal is via the town of Marble, Colorado, which is also near the iconic Crystal Mill.
Jump onto Interstate 70 and head west into the mountains as if you're going to Aspen. Turn onto Highway 82 south and drive until you come to Carbondale. Here you'll connect to Highway 133 and continue driving south until you come to Marble, Colorado.
The drive to Crystal and the famous Crystal Mill is rough, unpaved and requires a 4-wheel drive vehicle to access. Or you can hike for several hours on foot.
However, once you arrive at Crystal spend some time exploring the abandoned structures and rustic architectures. It's a quintessential Colorado ghost town that is very photogenic.
2023 UPDATE: The Crystal Mill is now closed to the public indefinitely and isn't expected to reopen any time soon.
What defines a Ghost Town?
A ghost town is any city, town, or village that has been deserted and is no longer occupied.
Towns may become ghost towns after the industries that once supported the population dries up or slowly dies away.
Some ghost towns are created after natural or man-made disasters like floods, fires, or government intervention (especially in towns with uncontrolled lawlessness!).
A key feature of a ghost town is that the structures and buildings of the town remain intact to be seen by visitors.
While most ghost towns are left to eventually fall down completely, to be a ghost town there must be something left at the site.
Over the years, hundreds of cities were founded in Colorado. And many were created to support mining efforts.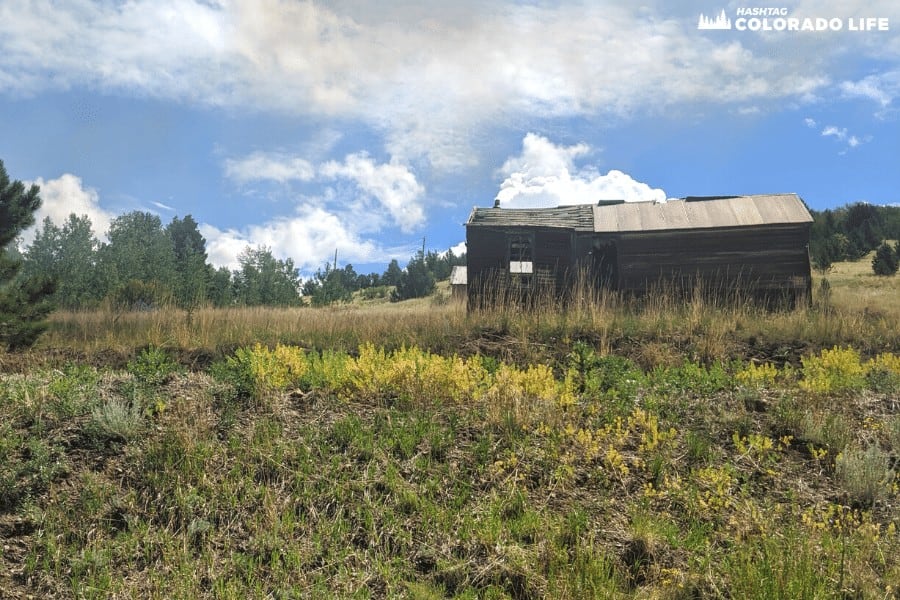 Some mining towns, like Boulder, Denver, Aspen, Durango, and Telluride, become bigger cities even after the mining boom has passed.
But others, like Cripple Creek, couldn't sustain their populations when the prospecting failed, or the nation's economy moved on to other industries.
And so Colorado is left with the dwindling remains of a wild west heritage that ended more than a lifetime ago.
On this list, we've found the best ghost towns in Colorado we think you just can't miss!
Top tips for visiting a ghost town
If you are planning a visit to a Colorado ghost town, here are some tips to make your trip epic.
Prepare for going off road
Most ghost towns are located in very rural areas and are accessible via dirt or gravel roads.
And because most ghost towns became ghosts well before wide-spread use of concrete sidewalks, most of the pathways and trails in town will be dirt.
As you walk through these mostly-abandoned areas, take care to leave no trace. Stick to any established walking paths to protect the wildlife and any private property.
Beware of remote locations
While some ghost towns are a short distance from larger cities, all ghost towns are ghost for a reason.
Use caution when planning a trip into the backwoods where cell service may be limited or nonexistent, roads can be treacherous, and few other visitors will be headed your way.
Always check the weather and road conditions, especially in the mountains!
Be gentle and leave no trace
Most ghost towns are totally unoccupied and unmaintained. That means it's up to us to leave no trace.
This way we can continue to enjoy the experience and learn about history at these iconic Colorado locations.
Any garbage you bring must be packed out. Pick up any trash or debris you might find along your way.
Treat the buildings with respect! Don't destroy them or carry away parts of them.
Leave nothing but footprints and take nothing but pictures so others can enjoy these ghost towns too!
Be responsible about pets and potties
As these are mostly unmonitored sites, there are no bathroom facilities at these destinations.
Some locations do not allow dogs while others do not have policies about them, so be responsible pet owners.
Wildlife in the area may be surprised by your dog. Pick up after your pet and be polite if you meet other visitors along the way.