7 Best Mountain Towns in Colorado to Visit All Year Long
The content of this website may contain affiliate links and we may be compensated (at no cost to you!). Thank you for your support!
Enjoying Colorado is not complete without exploring one of the many amazing mountain towns. Each town has a unique vibe, and offers a wide range of fun things to do all year long.
These Colorado mountain towns allow you to do more than just skiing and snowboarding.
So, if you are planning a ski trip, check out our podcast about the best ski towns in Colorado.
Many of these places mentioned are just a few hours drive from major Front Range cities like Denver and Colorado Springs.
Here is our list of the 7 best mountain towns, including ones we've visited and ones that are on our Colorado bucket list.
iTunes | Google Play | Stitcher | Spotify
1. Frisco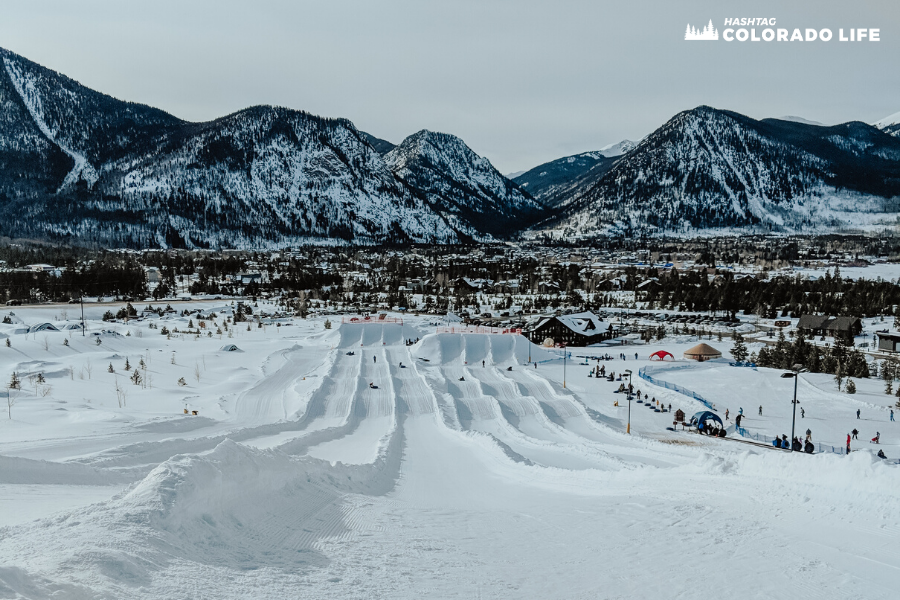 If you are coming from Denver, you'll pass through the town of Frisco!
It's on your way to many popular skiing destinations like Copper Mountain, Breckenridge, Keystone Ski Resort, or Vail Mountain Resort.
But the fact is, Frisco can be a destination all on its own! It is well worth making the stop if you want to avoid the crowds and still soak up some mountain goodness.
Outer Range Brewing Co.
The Outer Range Brewing Co. is a popular favorite and was even featured in our resource on the Colorado craft beer scene.
If you're visiting during the winter, we highly recommend grabbing a pint to enjoy at the mountain yurt!
BYO food, because Outer Range serves up nothing but their delicious rotating menu of IPAs, stouts, and ales.
Frisco Adventure Park
The Frisco Adventure Park is a perfect getaway for families with kids, or those with limited time or experience skiing, to get out and enjoy the snow.
When our family was visiting from out of state, we didn't have a full day to commit to skiing but we hit up the Frisco Adventure Park for some snow tubing.
It's a great adventure to do for the day!
5th Ave Grille
When visiting Frisco, be to stop at the 5th Ave Grille. The food is delicious and still budget-friendly!
Serving lunch and dinner daily, you'll find elevated food made from wholesome ingredients in a comfortable atmosphere.
We recommend their curry chicken soup daily special. It is the perfect thing to warm up with after a chilly day outside!
Frisco Bay Marina
The Frisco Bay Marina on the Dillon Reservoir was recently renovated and is a great spot to enjoy a picnic, or rent a boat in the summertime.
If you visit in the winter you can enjoy hikes and beautiful scenery around Lake Dillon.
Just make sure you bundle up because the strong wind that comes off the lake is very cold!
2. Silverthorne / Dillon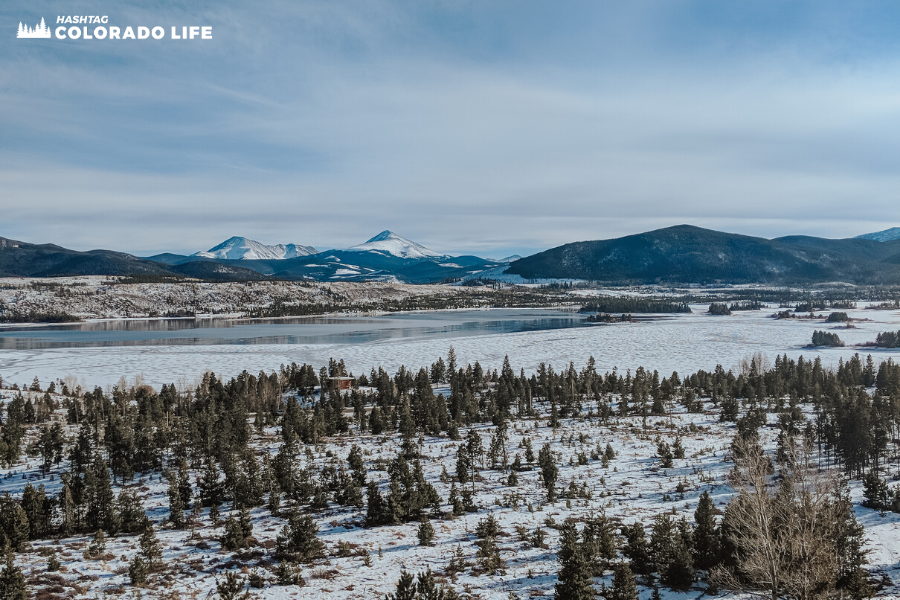 When you exit at 205 off I-70 you'll find the towns of Silverthorne and Dillion. While Frisco is south on the Dillon Reservoir, these two towns are further north.
Due to their location on the way to big ski resort towns, the combined area of Silverthorne / Dillion is a great place to stop and shop!
The views are incredible and the town is small but has lots of things to do.
Outlets at Silverthorne
The Outlets at Silverthorne is an expansive outdoor mall with tons of options.
It is the perfect place to eat and shop for all the people on your list (at any time of year!).
The Outlets are divided into three "villages," which are quite removed from each other. So, be sure to plan your visit to make sure you find exactly what you're looking for.
Dillon Ice Castles
We previously shared an in-depth guide about the Dillon Ice Castles, and they are definitely worth a second mention. The experience is truly a fairytale wonderland!
The Ice Castles are a very popular attraction in January and February each year.
If you are planning to visit, come on a weekday or earlier in the day to avoid the crowds.
First Fridays in Silverthorne
On the first Friday of every month, the city of Silverthorne gives locals and visitors alike a reason to come together.
This is when everyone celebrates all the arts, culture, and community in this gorgeous mountain town.
At Silverthorne First Fridays you can check out local galleries, sample food from local restaurants, enjoy music, and have some fun.
Every Friday has a different main focus — like a sledding competition, or burning a snowman to signify the coming of spring!
3. Telluride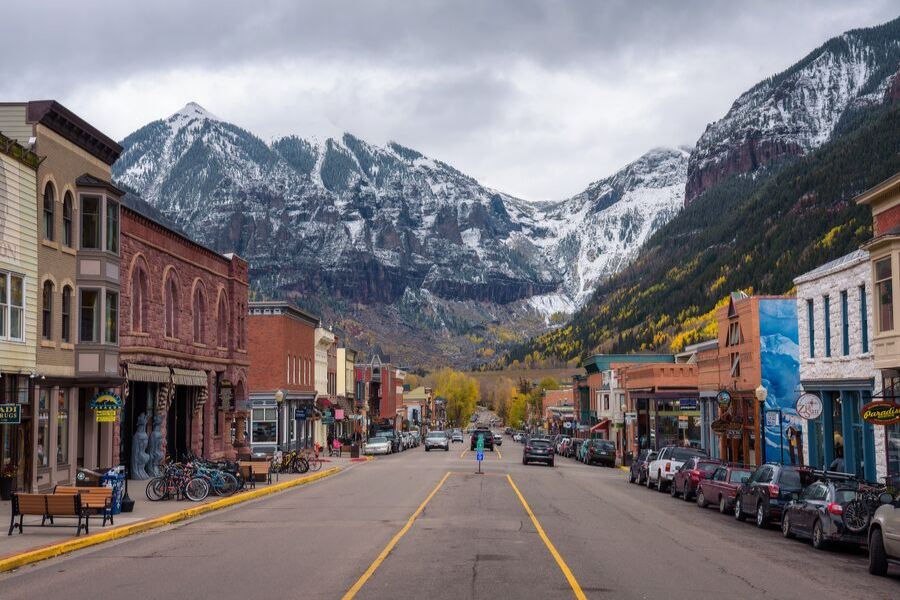 Telluride is a must-visit mountain town that should be on everyone's Colorado bucket list.
There is a beautiful historic district full of shops, restaurants and historic buildings.
And Top Chef Colorado, the 15th season of Bravo's hit show Top Chef, filmed their finale episode in Telluride.
That's just one of the reasons why we love visiting Telluride!
Alpino Vino
Located at Telluride Ski Resort is the restaurant Alpino Vino.
In addition to being a fabulous, upscale restaurant, and the site where one of the Top Chef Colorado competitions took place.
Alpino Vino's claim to fame is that they are North America's highest restaurant, coming in at a staggering 12,000 feet of elevation!
Fun fact: At higher altitudes, the temperature to boil water is lower. At 12,000 feet, water will boil at just 189 degrees, instead of the normal 212 at sea level.
We bet that makes cooking and baking at Alpino Vino especially challenging!
Telluride Gondola
Take a free gondola ride from Telluride to the town of Mountain Village. It's the first and only free public transport of this kind in the United States.
On this 13-minute ride, you'll climb over 1,700 feet in elevation to arrive at the station at the top. Get out, go for a hike, and enjoy the beautiful mountainside!
Bridal Veil Falls
Bridal Veil Falls is the tallest free-falling waterfall in Colorado. And it's located just east of Telluride!
This waterfall is 365 tall, and during the summer is a great hiking destination.
In winter, you can drive out on Forest Service Road 648 until the pavement ends and get a great view of this spectacular falls!
Telluride Festival of Cars and Colors
If you're visiting in the fall, Telluride is also home to the Telluride Festival of Cars and Colors, which we talked about in our guide about the best fall activities.
This class car, aviation, and vintage motorcycle event is a must-see!
The beautiful backdrop of the San Juan Mountains in their full fall foliage regalia make an epic spot for this outdoor festival.
4. Silverton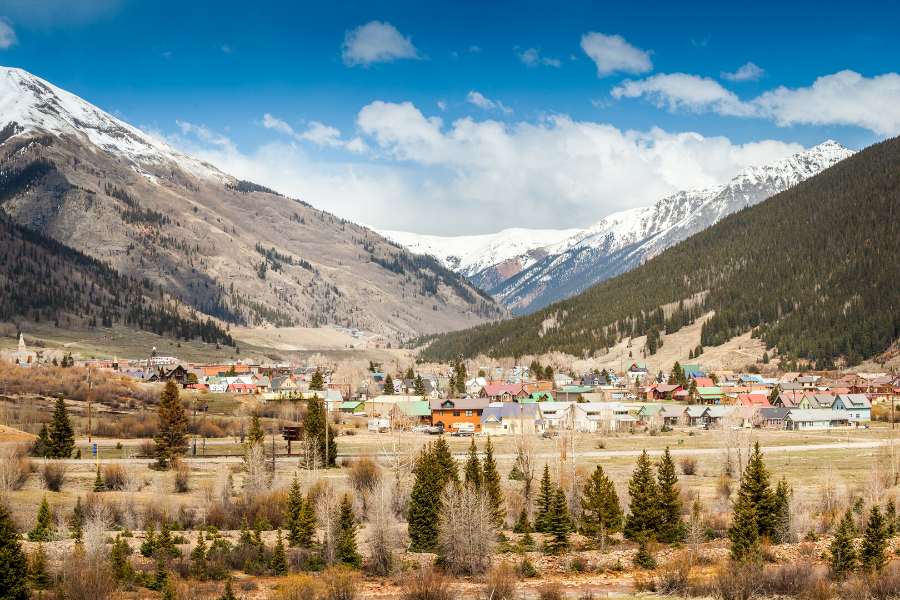 Did you know that Silverton, Colorado is considered a National Historic Landmark?
The city is part of the San Juan Skyway Scenic Byway which forms a 233-mile loop in the southwest part of the state.
It connects the city of Silverton to Ouray via the Million Dollar Highway.
Secluded in nature
Not to be confused with Silverthorne, mentioned above, Silverton is located deep in the San Juan Mountains.
It is one of the more secluded mountain towns that you can visit here in Colorado.
How secluded?
Well, the average total snowfall is over 400 inches annually. And that's more than the number of daily visitors to Silverton!
With only 600 permanent residents, Silverton has a thriving little downtown area, full of shops, boutiques, and restaurants.
Silverton Mountain
Silverton is lively and busy during the summer, especially around their all-day 4th of July celebration.
It has also become an increasingly popular winter destination for snow sports.
It can get pretty hopping on weekends in the winter when Silverton Mountain opens, so we recommend planning a weekday visit if possible.
You'll skip the crowds, but not a single bit of the beautiful scenery!
5. Durango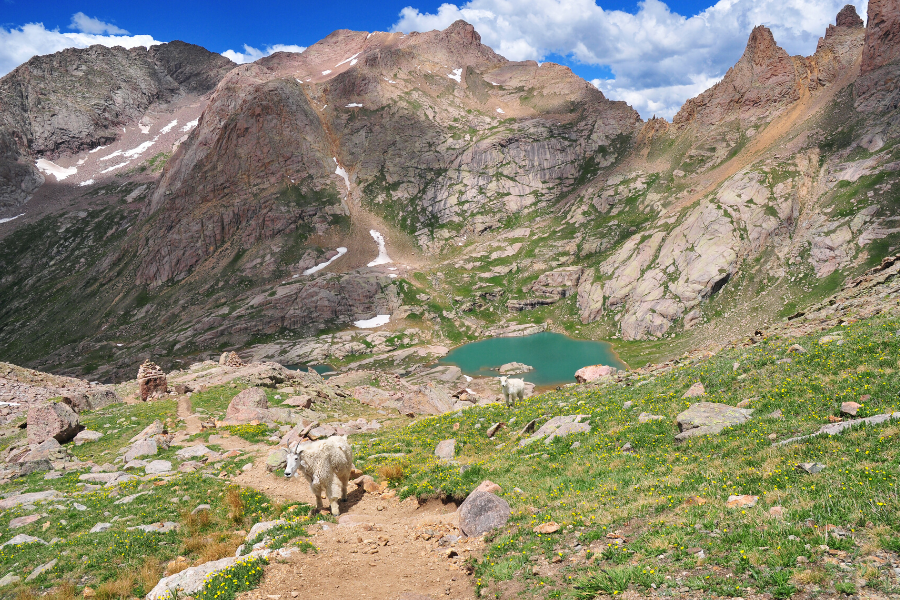 Near Silverton is the city of Durango, the largest city in the San Juan Skyway Scenic Byway.
The city has a perfect combination of historical sites and natural attractions. In this old-west mountain mining town you will feel like you are stepping back in time!
Mesa Verde National Park
Visit the nearby Mesa Verde National Park. |You can explore the history of the Pueblo people who lived in this area as recently as 700 years ago.
This national park preserves over 5,000 archeological sites, and is a beautiful and interesting place to visit even during winter.
Stay in one of the many cozy bed & breakfasts or rustic alpine cabins in Durango during your visit.
Four Corners Monument
Durango is also situated a short drive from the Four Corners Monument. This is the spot where New Mexico, Arizona, Utah, and Colorado meet.
The Monument is officially owned by the Navajo Nation. You've probably seen pictures of tourists laid out on the exact four corners spot, with an arm or a leg in each state!
Durango and Silverton Narrow Gauge Railroad
By far, one of the most popular attractions to Durango, is the Durango and Silverton Narrow Gauge Railroad.
The railroad began as a way to haul gold and silver ore from the San Juan Mountains. This historic train route has been in operation now for over 130 years!
Trains depart from Durango daily to make the 2+ hour ride to Silverton before returning to Durango.
And around Christmas, you can even ride on the Polar Express!
6. Woodland Park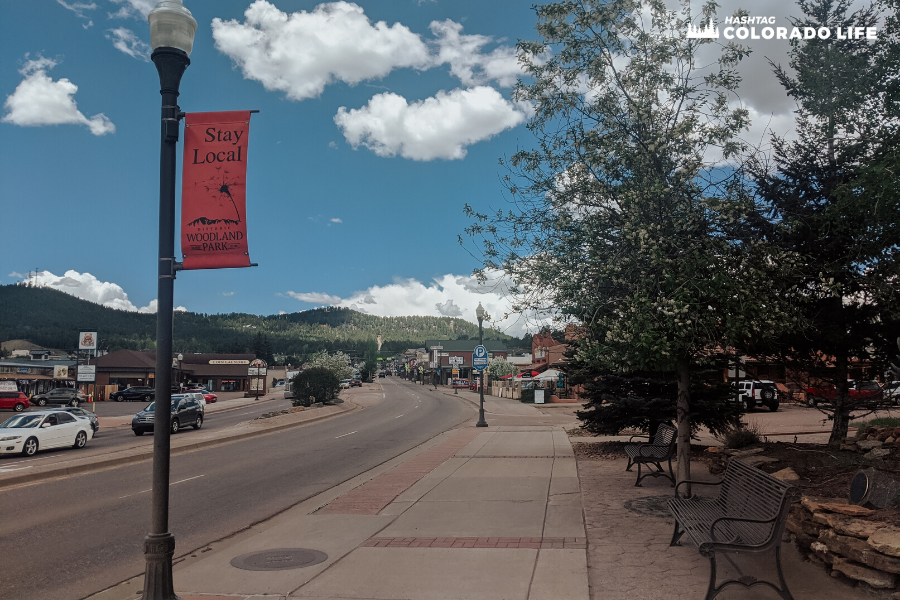 Just a quick 30 minute drive from downtown Colorado Springs is the city of Woodland Park.
This "city above the clouds" is beginning to feel more like a suburb of Colorado Springs than a tourist town.
But you'll still feel like you're miles away from the ordinary in this charming and small mountain town.
Sitting in the shadow of Pikes Peak, you'll really get a sense of just how huge this mountain is from here.
And for locals who grew up seeing Pikes Peak every day, it can be weird to see the mountain from this angle. You might not recognize it!
Rampart Reservoir
With many hiking trails to choose from, Pike National Forest is a popular summer destination that is also home to Rampart Reservoir.
It's a beautiful place to visit in the summer or winter. And the reservoir is the largest body of water in El Paso County and covers 500-acres.
Plus, the nearby Pike National Forest boasts over 1.1 million acres and contains 5 fourteeners. A fourteener is a mountains that reaches more than 14,000 feet in elevation at their peaks!
11 Mile Canyon Recreation Area
Find an unexpected paradise in the 11 Mile Canyon Recreation Area.
Head west out of Woodland Park along highway 24 to the Lake George area to find this popular destination for hiking, boating, RVing, and fishing on the reservoir.
The Swiss Chalet
The Swiss Chalet in Woodland Park offers fine continental classic cuisine. Which is a fancy way of saying that they serve up a fantastic steak and some fresh and delicious seafood!
They are closed on Mondays and are closed between lunch and dinner service from 2 pm to 5 pm, so plan your visit appropriately.
The Historic Ute Inn
Not in the mood for a fancy, fine-dining experience? You can grab some great grub at the Historic Ute Inn in Woodland Park.
Founded in 1942, this mountain bar and grill has nothing but seriously upscale home cooking. Stop in for lunch or dinner, or lift a pint during happy hour!
BierWerks Brewery
If you're looking for a great microbrewery, look no further than BierWerks Brewery!
On the menu, you'll find primarily German style lagers and ales, as well as a few more hoppy brews.
In typical Deutschland fashion, you'll also find (Colorado-made!) sausages, Wisconsin cheeses, warm pretzels, and salami available all year to pair with your pint.
The Donut Mill
A Colorado favorite since 1983, The Donut Mill is a must-try for any donut enthusiast.
You'll know them by their bright blue roof and hubcap-sized streusels, bear claws, and cinnamon rolls.
Our resident Texas transplant heard that the biscuits and gravy were award-winning.
(And while we are becoming a bit skeptical of the many, many 'award-winning' biscuits and gravy that seem to be on every menu Carrie can attest that these are delicious!)
7. Estes Park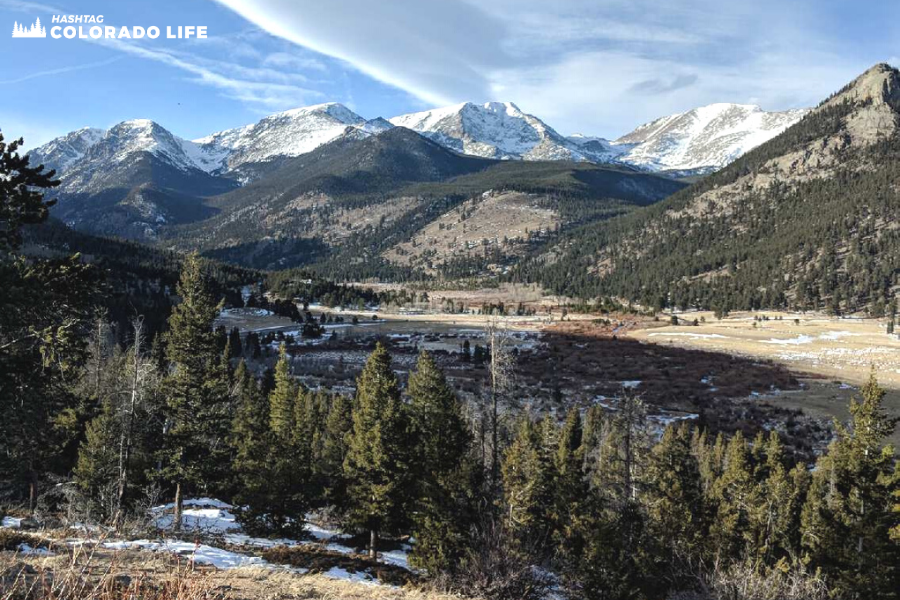 About 70 miles northwest of Denver is the town of Estes Park, often called the gateway to Rocky Mountain National Park.
Estes Park is located near the eastern entrance to the national park, as well as close to Roosevelt National Forest.
You'll find plenty of warm and winter weather activities to enjoy in this wilderness landscape.
Due to the staggeringly beautiful views of the Rockies and abundant opportunities to get out into the backcountry, Estes Park is the most visited mountain town in Colorado.
Peak season is July through September, but you'll find plenty to do and see all year round.
Proximity to these outdoor spaces is not the only thing that makes Estes Park feel a bit wild. There is a ton of wildlife in and around the city!
Bear, elk, mountain lions, and moose are commonly sighted in the Estes Park area.
And the elk are well known to wander the streets and golf courses.
Elk Fest in Estes Park
Toward the end of September, Elk Fest in Estes Park is a one-of-a-kind opportunity to get up close and personal with the thousands of elk that rut in Estes Park every year.
Don't touch the wildlife! But we promise, you'll see (and hear!) plenty from the elk during this fun outdoor festival.
Even if you miss the event, the elk themselves don't use calendars.
They will be roaming around looking for mates throughout much of the fall and early winter season.
Riverwalk
The Big Thompson River and Fall River both wind their way through downtown Estes Park, creating a beautiful visual and sound experience for visitors.
In this lovely setting, the Riverwalk is a wonderful way to enjoy the balance between man and nature.
Walk along the river and stop into the many shops, restaurants, and breweries downtown.
If you have a must-see Colorado mountain town that we missed, hit us up on Instagram at @hashtagcoloradolife.
We love hearing from our readers and listeners, and putting the spotlight on the many wonderful towns that Colorado has to offer.