by Ryan Nicholson
|
Last Updated:
October 10, 2020
The content of this website may contain affiliate links and we may be compensated (at no cost to you!). Thank you for your support!
Colorado is known for its world-famous ski seasons — and with good reason. Many of the state's cities have been named the best travel destinations in the world.
And it's always a big celebration in the state when ski season starts.
We're sharing some epic secrets for planning your next ski trip in the best Colorado resorts without breaking the bank.
Whether you're visiting from out of town, or you've lived in Colorado your whole life, these tips will help you make the most out of a ski trip in the Rockies.
2020 update: Due to the pandemic, some of the ski season dates and events have been altered to accommodate social distancing. The state of Colorado has also mandated that masks be worn in public (we recommend these colorful Hoorag face masks). Read on to find out more information.
iTunes | Google Play | Stitcher | Spotify
Where to ski in Colorado
Every resort has something special to offer. Some have high-quality, world-famous travel destination ski runs and some are smaller, more family-friendly, and more affordable.
Fun fact: Unlike some states like Utah, all the resorts in Colorado allow snowboarders.
If you're skiing solo for the day or making a multi-day trip with the whole crew, each ski resort will be able to offer you something different.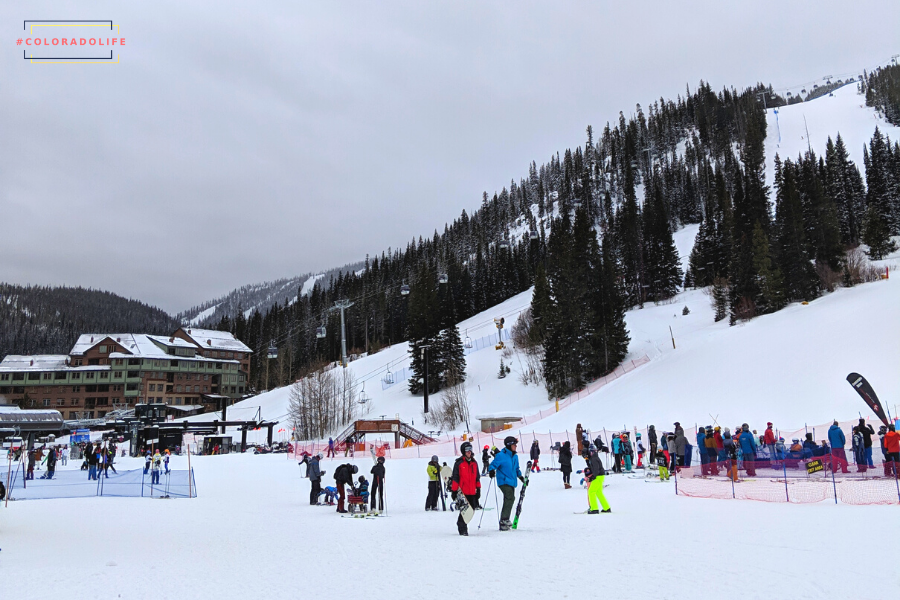 Breckenridge: Colorado local's love it
It's true that local Colorado natives often go to Breckenridge to ski and enjoy the winter months. And there's plenty to love about Breckenridge, from the small-town feel to the amazing trails and ski slopes.
Vail or Aspen: Top tourist destinations
Meanwhile, out of towners may want to hit up the most iconic and internationally known resorts like Vail Ski Resort or the Aspen Snowmass to get the full Colorado experience.
The skiing is epic and the resorts are posh. But these options may be a bit more expensive because they get so many visitors.
Winter Park or Steamboat Springs: Family and kid-friendly
If your crew is made up of kids and you're looking for family-friendly ski resorts, check out Winter Park Resort and Steamboat Resort.
These areas are a bit more budget-friendly and have tons of additional activities available aside from skiing or snowboarding.
Go on a ski tour
Got a lot of time and want to soak up everything Colorado has to offer? Many resorts are within an hours' distance of each other, so it would be a quick trip to mountain hop from one resort to another.
If you want to really learn what you like and don't like about a ski experience, a "ski tour" can be a great way to explore lots of different slopes!
When does ski season start?
Ski season starts when Mother Nature decides, so there's no official "start date" for ski season.
Usually, ski season starts at the beginning of November and goes through April — and sometimes even into May or June.
At the time of this writing, a snow storm has already hit the Front Range with many mountain cities getting tons of snow.
Because the weather conditions are different on each mountain, every resort will open on a different day.
It can be a bit of a race to see which resort will start their season next, and many resorts brag about how early they will be open.
Keystone Resort is almost always at the front of the pack, and is known to be the first resort to open, as early as October! (In 2019, they started their season on October 12th.)
Early ski season pros and cons
One thing to bear in mind about an early season opening is the amount of manufactured snow that covers large portions of the slopes.
The trails and mountains are groomed with snow crawlers and plows, if not enough real snow has fallen yet.
If you're looking for real snow, you may be disappointed. On the other hand, most (if not all) the runs that are open so early will be the "greens."
Greens? Were talking about the level of difficulty for each ski trail (not golf). If you're not a regular skier, here's a quick rundown on the lingo!
Greens are easy ski routes
Blues are rated as medium or moderate difficulty
Black diamonds or double black diamonds are expert or extremely difficult routes
So, choose your ski routes accordingly!
And don't forget to pack these must-have ski essentials.
Avoid peak ski season and national holidays
Peak ski season is the most popular time for skiing, which is between late December and mid-March.
During this time of year, you'll find bigger crowds and usually higher prices.
Within the peak season, some days are particularly busy.
The days between Christmas and New Years', Martin Luther King Day (January 18th, 2021), and President's Day (February 15th, 2021) are some of the busiest days on the slopes.
Many people from Colorado and nearby states will have these days off. Any extended weekend will be busy with people getting a long weekend of skiing in.
School spring breaks will also be popular times for families to hit the slopes. Not all schools have spring break at the same time so avoiding spring breaks can be a bit hit or miss.
If you're an adult looking to avoid gaggles of waist-high skiers, we recommend avoiding the slopes through most of March.
You might expect that lift tickets and other expenses will be higher during peak season, but there are lots of other things that may be higher too.
Prices may be higher off the slopes for accommodations, food, or entertainment in mountain towns where peak season skiers are staying, eating, and playing.
Visit less crowded ski slopes
If you want to avoid the crowds at more popular ski destinations, here are a few things to consider.
The closer a ski resort is to a major city, the larger the crowds will usually be. Especially when people travel from out of state or out of the country to ski in Colorado, they typically don't want to spend their vacation driving.
If you're willing to go a little further, you can spare yourself rubbing elbows with too many other skiers.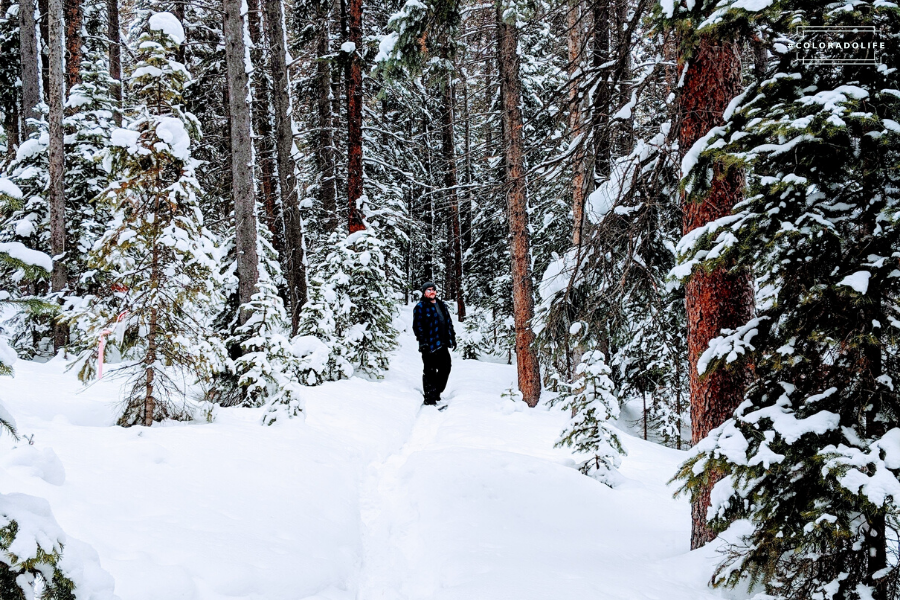 When is the best time to ski in Colorado?
If you have the ability to avoid the holidays we've mentioned, and if it's possible to ski on a weekday, you'll hit peak powder with fewer crowds.
If hitting the powder is not the only appeal of a visit to these mountain resorts, consider booking your visit during "shoulder season."
Shoulder season is very early in the season or very late in the season when snow is not guaranteed and may be more manufactured.
This can be a great time to soak up the fun these mountain towns have to offer without the crowds and the high price tag.
Know off-peak seasons
Late November through the holidays in December is often considered the "early off-season". And the "late off-season" can run from mid- to late March through the end of the season (usually in May).
Sometimes, seasons can run extra long or rather short. In fact, as we write this in 2020, many of the resorts season ended a bit earlier between mid to late April.
But in 2018, Breckenridge was open through the 4th of July!
Basically, if it is fall or spring and NOT officially winter, consider it an off season or shoulder season.
Choose the right time to go skiing
Colorado is the most popular state in the nation to visit for skiing and is a world renowned skiing destination.
Day or weekend trips, as well as weeklong trips are popular, so you may not be able to snag incredible deals for these packages.
But a weekday trip can still save you a ton of money.
If you're willing to travel a bit further afield than the most popular tourist destinations, you'll find less traffic, lower food and accommodation costs, and smaller crowds in general.
A weekday ski trip will usually have lower costs of ski or snowboard lessons too!
Ryan Nicholson is a homegrown born and raised Colorado native. Being a rare unicorn to have grown up in CO, he has a unique perspective on the changes here and knows all the hidden spots to get outside in this state. Ryan's a classically French trained chef so he LOVES to try new foods and places to eat. When he's not experimenting in the kitchen or working as a personal chef along the Front Range, he loves to get outdoors and away from it all hiking, camping and backpacking.