Penny Arcade in Manitou Springs: Vintage Games & Amusement
This website may contain affiliate links and we may be compensated (at no cost to you!).
From vintage pinball machines to shooting galleries, the Penny Arcade in Manitou Springs is a magical walk back in time for everyone.
This indoor/outdoor arcade features over 400 vintage games and outdoor rides, 20 different pinball machines (both new and old) and 30 different racing games.
There is something for all ages with dozens of classic pinball machines that are a throwback to their generation.
Such representations like the Beatles, Star Trek, or Street Fighter pinball machines were super popular in their era.
Some games even date back to the 1930's with at least one game that is over 100 years old!
And the penny arcade is (mostly) true to its name with plenty of games indeed costing only a penny. But there are many more that cost anywhere from 5¢ up to $1.50.
If the original game cost a penny, then that's what you pay. Or if the original price was $0.10 you only pay a dime!
If you're planning a visit to the Penny Arcade Manitou Springs, or Arcade Amusements as it's officially called, here's how to make the most out of your trip.
Visiting the Penny Arcade in Manitou Springs
If you're looking for a long-lost arcade game you haven't played in years, you will love the Penny Arcade in Manitou Springs.
1. Playing on kid-friendly outdoor rides
The main arcade area is located in downtown Manitou Springs, just off the main street.
It consists of 8 buildings as well as a covered outdoor area that holds most of the coin operated rides, which protects them (and you) from the elements.
The outdoor area mostly features rides and coin-operated outdoor games for young kids. These include small carousels, airplanes, animal rides, cartoon characters, and more.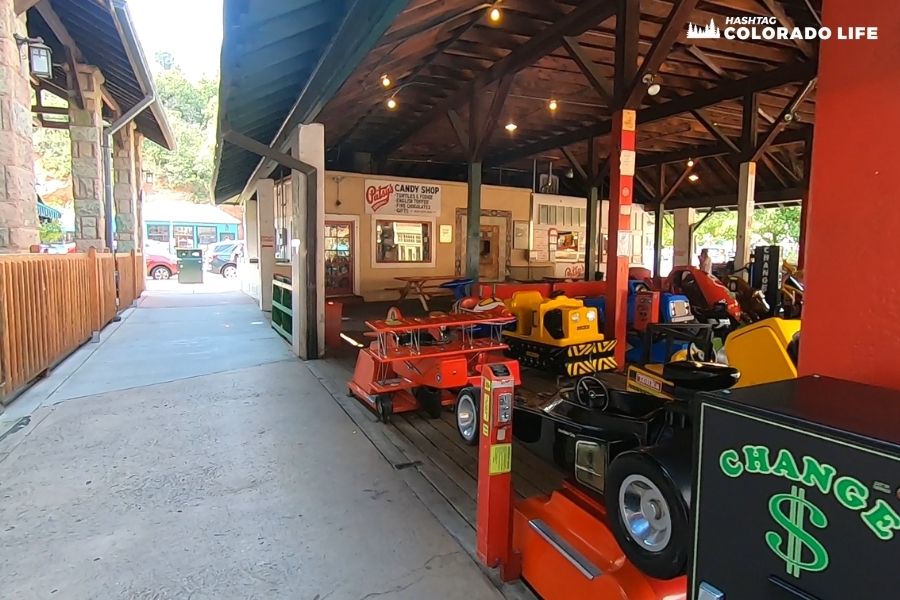 And with Patsy's Candy & Gift Shop offering the kind of typical carnival food you would expect at a theme park, it only adds to the overall experience.
From cotton candy and salt water taffy to big pretzels and popcorn. Eating the food really drives the whole experience home for me.
2. Letting loose on vintage indoor games
The indoor games are the most popular as you find vintage pistol and shooting games, racing games, and more.
The main building itself has been around for decades. It features vintage charm with creaky wooden floors and narrow walkways.
It really gives you that feel of old arcades on the Boardwalk you would see on the piers back east or in Southern California.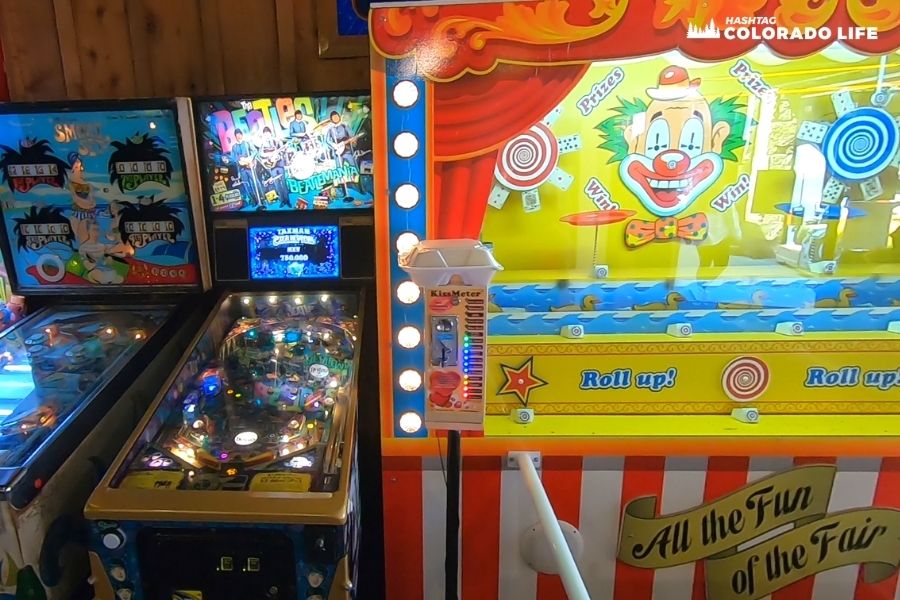 As you weave in-and-out of the 8 different buildings, you will find a variety of arcade games.
Some buildings feature pool tables or air hockey, pinball machines, and even those mega retro throw-backs like Pac-Man or Space Invaders.
Plus, there's an entire building dedicated to skeeball and another room exclusively for horse games.
Horse games you ask? Yes.
Start your gamibling addiction at a young age by betting on the mechanical horse race! (Bookey to threaten your kneecaps at non-payment is an additional charge. JK)
3. Spending cash & coins
The games at the Manitou Springs Penny Arcade require coins to play, so be sure to bring your cash.
But if you didn't, there are ATMs scattered throughout the arcade area and there are also change machines that will spit out quarters in exchange for bills.
For the games that take dimes, nickels and pennies there are employees that walk around with coin dispenser belts.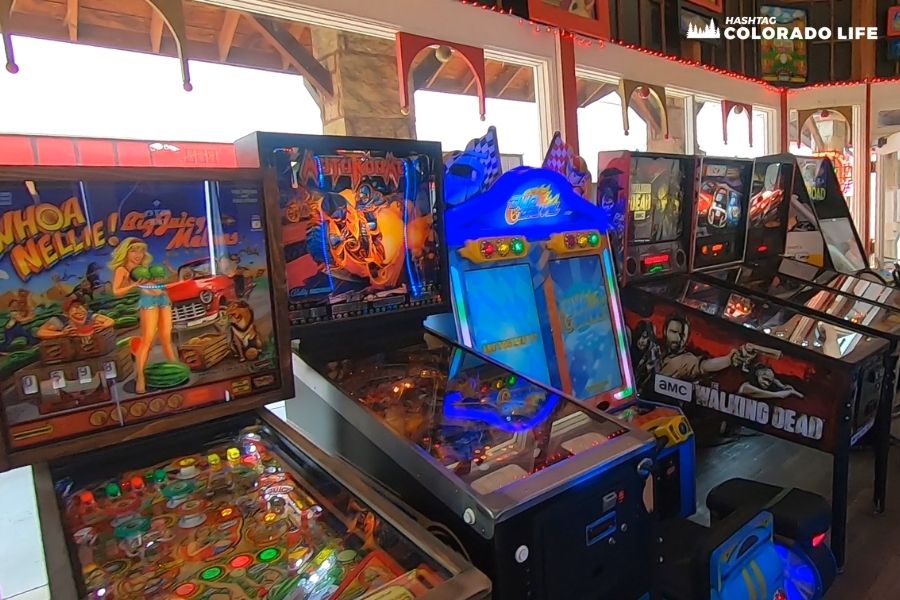 They look like what you would see on carhops back in the day and will exchange your money for smaller, less common currencies.
No need to run back to the car and raid the coin tray for a few nickels and dimes.
4. Earning tickets & getting prizes
Many of the arcade games allow you to earn tickets for playing or winning games.
One of the easiest ways to earn tickets is to play skeeball. Which is one of my favorites and is certainly one of the more popular games they have.
Despite there being 10 skeeball tracks to play on, it's easy to find them all taken on the arcade's busier days.
Inside the Skeeball building is where you can cash in your winning tickets for toys or prizes.
Or watch children go ballistic when they realize their 50 tickets is not enough for the 4,000 piece lego set they had their heart set on.
Once you have a certain number of tickets from winnings, cash them in for toys, stuffed animals, candy, or other items.
Penny Arcade opening hours
The Penny Arcade hours vary depending on the season. During the summer this amusement zone is open from 10am to 10-11pm.
During the winter months the arcade is open regardless of weather conditions, unless mandated by the town or state.
So you can visit the Penny Arcade in rain, shine or snow pretty much any time of year.
The winter operating hours are between 11am – 5pm with the machines being turned off overnight.
The history of the Manitou Springs Penny Arcade
The Penny Arcade in Manitou Springs has been in the same family for 85 years. The original owner started with just 1 building full of vintage video games.
Over the years it has grown and expanded. These days, it's owned by the original owner's son who now manages all 8 buildings.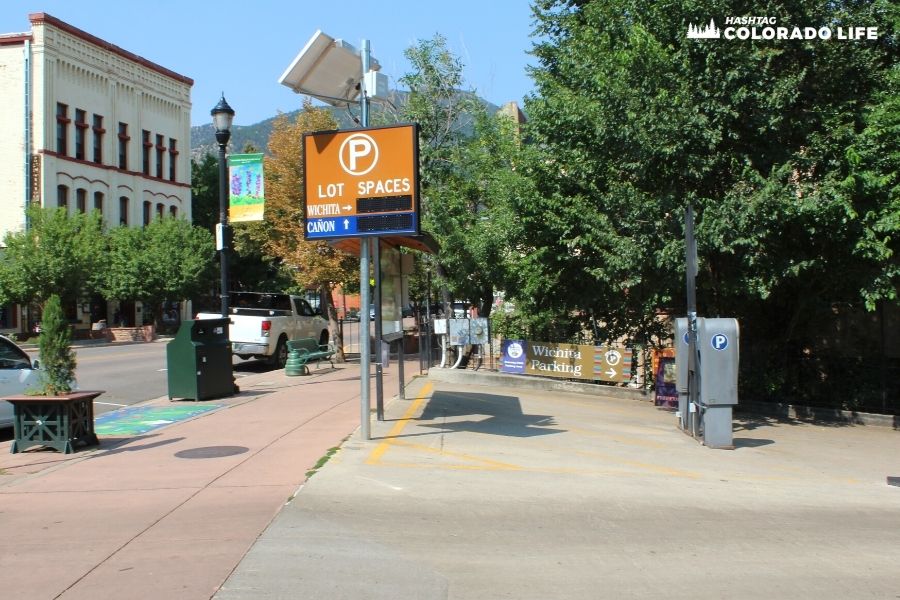 The Penny Arcade is a staple in the downtown Manitou Springs area and brings in thousands of tourists every week.
Where is the Penny Arcade in Manitou Springs?
Located at 930 Manitou Avenue in Manitou Springs, Colorado, the arcade is honestly hard to miss.
It sits right in the center of Manitou Springs proper surrounded by local stores, shops, and restaurants.
Being that Manitou is basically a suburb of Colorado Springs, it's pretty easy to get to the arcade.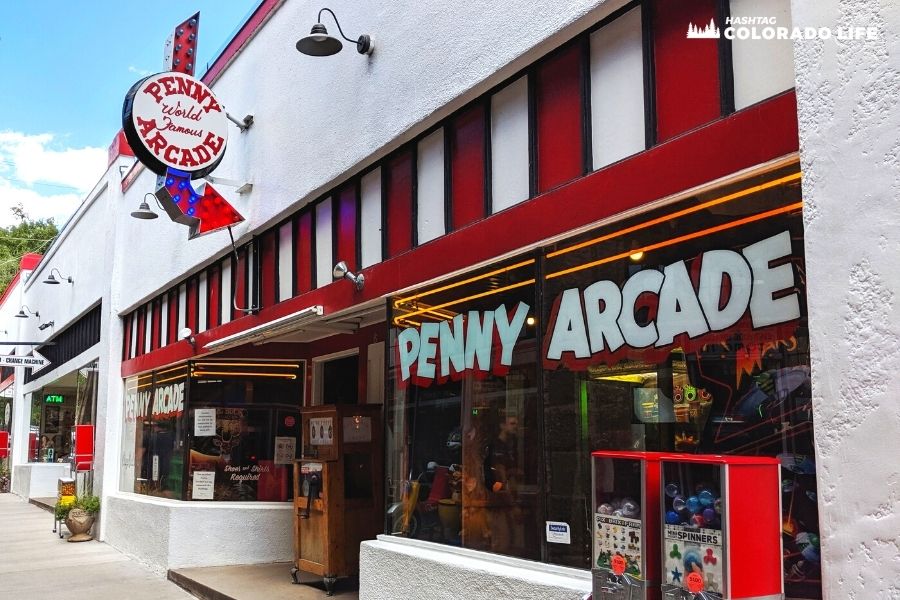 Just hop on Highway 24 heading west and follow the signs. You'll actually pass right by Manitou Springs and the exit will be on the right.

Manitou Springs is a pretty busy tourist destination so the parking is almost all exclusively pay-to-park.
And as the town is nestled in the foothills of Pikes Peak, there isn't a lot of room for public parking.
Be sure to bring your walking shoes and be prepared to feed the meter in the same way you are paying to play the games.
The most convenient place to park is in the Wichita Parking lot located on the right side of the road as you drive into town.

And at $1 for every hour of parking, or just $5 all day, the price isn't too bad for such an awesome destination.
If you're looking for a long-lost arcade game you haven't played in years, or a unique vintage outdoor ride, you will love the Penny Arcade in Manitou Springs.