by Ryan Nicholson
|
Last Updated:
August 31, 2020
The content of this website may contain affiliate links and we may be compensated (at no cost to you!). Thank you for your support!
When is the best time to see the fall colors in Colorado? There is a super short window of opportunity, so you don't have a lot of time.
Once the leaves start changing be ready to head into the mountains for the best fall drives in Colorado.
We really enjoy the autumn season. It's that special time of year when the trees change and leaves turn bright colors.
But as a local, you can't be too surprised to wake up to see a dusting of snow! You have to move fast if you want to see the fall foliage in Colorado.
iTunes | Google Play | Stitcher | Spotify
Factors that determine when trees change color
Chlorophyll makes leaves green, but when certain weather triggers happen, the trees stop making chlorophyll so the other pigments in the leaves are revealed!
If it's too rainy, too cold, or too windy, it can affect the colors that are revealed and the exact timing of the change.
With the altitude that we have in Colorado the weather and climate can change drastically, which greatly affects when the fall leaves change.
If you don't drive out to see the leaves changing, you might miss it altogether.
Warning: it often snows in October in Colorado (especially at higher elevations), so if you see your friends posting beautiful fall foliage pics, don't wait until the weekend — jump in the car for a fall drive today!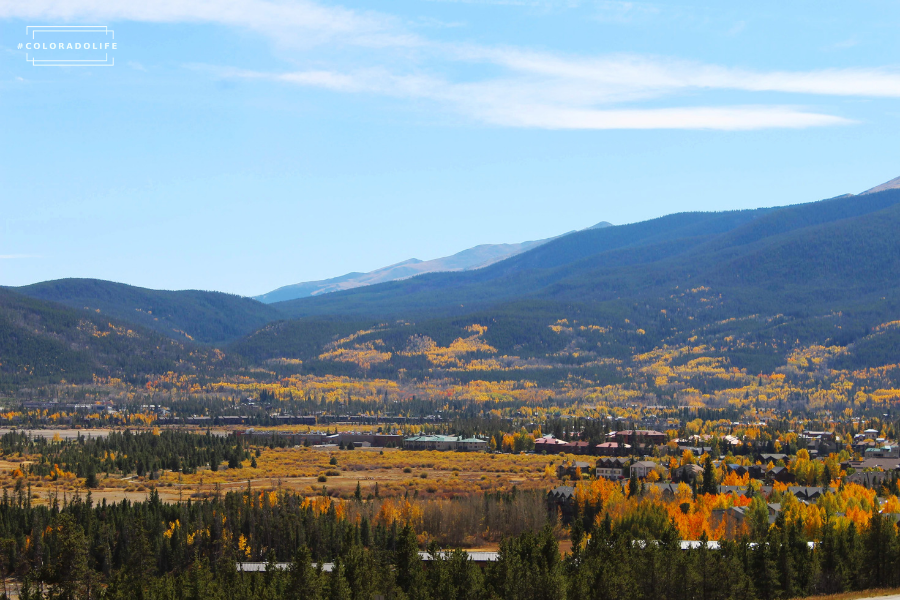 When is the best time of year to see fall colors in Colorado?
Fall in Colorado can come and go quickly. Check out this interactive map to see when the fall foliage changes nationwide.
Unlike in many other places, fall is a very swift transition from summer to winter.
In fact, we've left a town while it still felt like summer and come back a few weeks later to a full blown winter.
The trees change color about three weeks before the lower elevation parts of Colorado do. If you're planning a trip to the mountains, it's better to go early than too late!
In our experience, it's best to aim for the end of September or the first week or two of October. This will be your best shot for nice colors and some late-season hiking and camping.
But to be frank, there's no way to predict exactly when the leaves will turn because there are so many factors that can affect the changing of the seasons.
In the five years that we've lived in Colorado, every fall has been different.
How to prepare for mountain drives and road trips
If you're prone to car sickness, be prepared when you head out for lots of mountain driving.
Many of the fall mountain drives we enjoy and recommended are narrow, two-lane highways with switchbacks and significant elevation ups and downs.
Here are our best tips for fighting motion sickness while enjoying your mountain tour.
Sit in the front seat and look forward
Drink plenty of water (isn't this the solution for everything?)
Avoid reading books or maps while on the road
Keep your head up and don't check your phone too often
If you're really feeling sick, take some motion sickness pills
Take frequent breaks at the many scenic pull outs and overlooks along your route
Keep an eye out for wildlife at this time of year. Many animals will be out-and-about to fatten up for winter. They will be soaking up the last of the summer harvest.
We love seeing the deer with their furry winter coats during this season!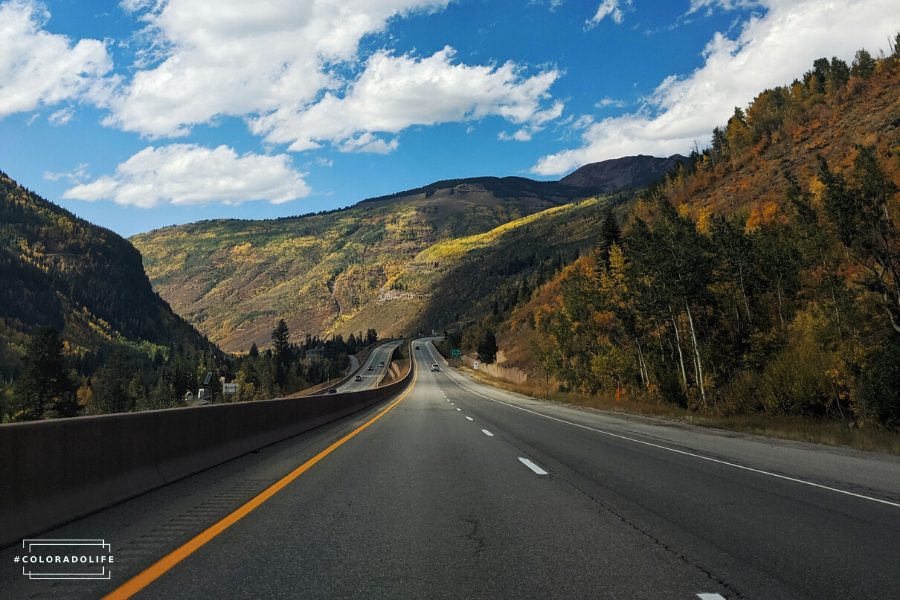 Best fall drives in Colorado to see colors
The mountains nearly always have scenic drives and beautiful overlooks to stop and take in the view.
You pretty much can't go wrong with any kind of road trip through a canyon or drive to your favorite Colorado mountain town.
Here are some of our favorite mountain drives for seeing fall colors in Colorado.
1. Highway 6 from Golden to Idaho Springs
We really enjoy the drive on highway 6 from Golden to Idaho Springs. This route takes you east from Golden through the Clear Creek Canyon. (Or go west from Idaho Springs to Golden!)
The first time we took this route, we got stuck behind a very slow-going semi. On a two-lane highway with winding curves, there was definitely no passing that truck!
But as we entered the canyon, we were so grateful for the slower pace because it allowed us to really enjoy the beautiful colors and amazing views throughout the canyon.
We know, you'll enjoy it too.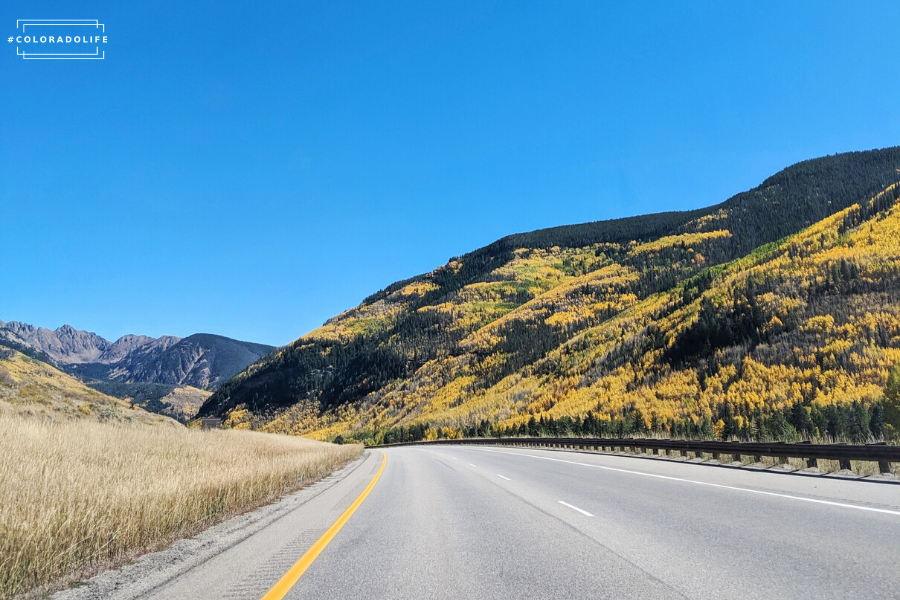 2. Highway 24 west from Woodland Park to Hartsel
Highway 24 from Colorado Springs through Woodland Park is a less trafficked mountain drive but still super scenic for fall.
In fact, you'll even drive through a valley called South Park (where the TV show fictitiously takes place).
You'll be driving through the mountains, then all of a sudden, you'll arrive on this flat plain, high in the Rocky Mountains!
The valley covers about 1000 square miles, and can sometimes feel like you're not moving forward at all. It's a very big flat area and it can be a real surprise because you're up so high in the mountains!
When you arrive in Hartsel, you can either turn south and stay on highway 24 to Buena Vista, Colorado or head north on Colorado 9 North to Fairplay and Alma.
Stop in at the city of Alma, Colorado
Alma, Colorado is a notable stop on your mountain travels because at 10,578 ft in elevation, Alma is North America's highest incorporated municipality.
Founded in 1873 as a mining town, Alma now has 275 permanent residents.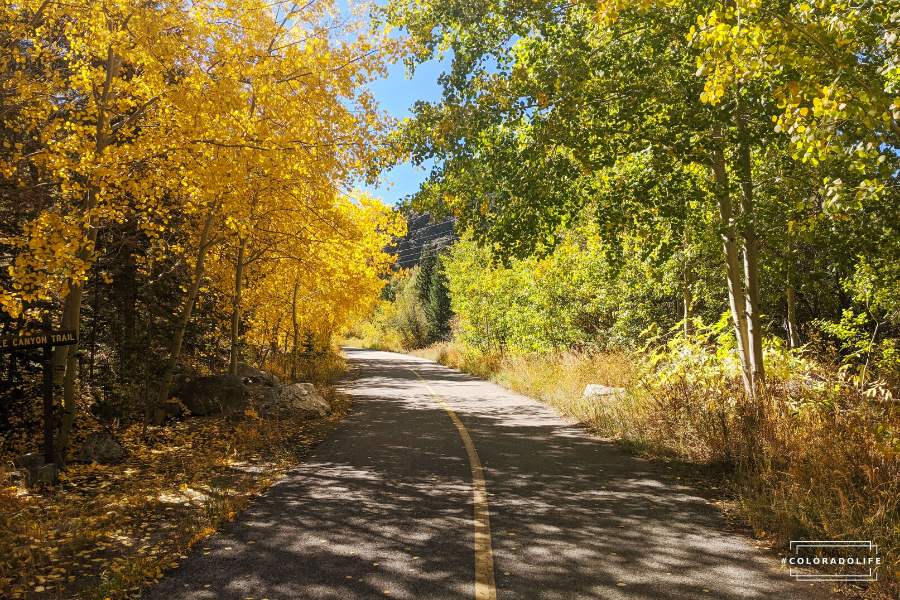 3. Hoosier Pass between Alma and Breckenridge
We love the drive along Hoosier Pass from Alma to Breckenridge!
In fact, we take this route every year when we drive through Breckenridge and Frisco on our way to Glenwood Springs (which we talk about in our Glenwood Springs weekend guide).
Like many of our recommended drives, this highway is only two lanes and can be crowded on weekends. If you can, we recommend traveling on a weekday to avoid traffic.
As you continue through Hoosier Pass, you'll notice a significant difference between the southern (Alma) side of the pass and the northern (Breckenridge) side.
In Alma, the weather is drier and winters get much less snow than the shadow-covered north side of the pass.
Breckenridge sees much more snow fall in the winter, and is much wetter and colder in general.
Hoosier Pass is a very high pass and is located along the Continental Divide. As you head down from the pass into the Frisco and Breckenridge area, be prepared for many switchbacks and tighter turns as you descend.
Note: this pass is not for the faint of heart, but the views are truly incredible so it's definitely worth it.
4. Eisenhower Tunnel on the way to Glenwood Canyon
The Eisenhower Tunnel on Interstate 70, east of Denver, is a really fun attraction as you make your way out of the mountain towns nearby.
The tunnel is at 11,158 feet in elevation, which makes it one of the highest vehicular tunnels in the world and the highest point in the Interstate Highway System.
It's also the longest mountain tunnel clocking in at 1.7 miles long! 
As you continue on I-70, you'll eventually hit the Glenwood Canyon. This is a very beautiful drive, and you'll drive along the canyon on the layered highway.
The drivers going the other way are below you, which gives you a great view of the Colorado River.
It's a steep canyon and very pretty, with little surprise patches of Aspens growing along your route.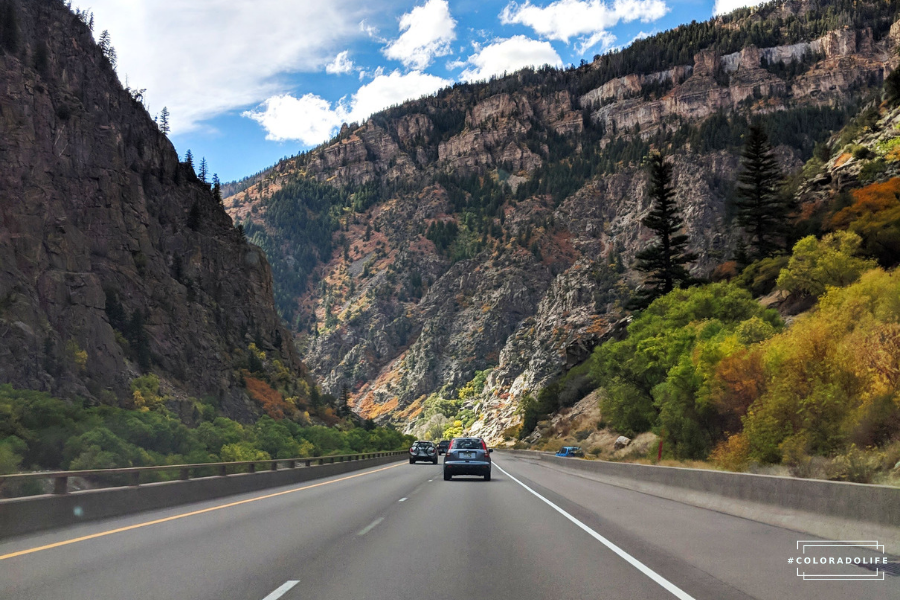 5. The Peak to Peak Highway starting in Estes Park
We enjoy taking the Peak to Peak Highway in the fall when the leaves change, or when there's an early fall snow. You'll also drive through some really popular mountain towns along the way!
The highway starts in Estes Park which is the gateway to Rocky Mountain National Park, so you already know it's going to be beautiful.
You'll then wind your way into Nederland and Black Hawk and end when the highway joins Interstate 70.
It's a beautiful fall drive with lots of bright oranges and yellows, and you'll most likely see a dusting of white snow on the tops of mountains too. It's a lovely contrast and a very classic Colorado fall sight.
6. Independence Pass near Aspen
This mountain pass travels over the Continental Divide between Leadville and Aspen. The highway used to be the main pass before the Eisenhower tunnel was completed in the 1970s.
The summit at the divide is 12,095 feet, and the pass itself is about 32 miles long. It twists its way through acres of Aspen trees along the Roaring Fork River.
This route is a steep, narrow, and winding road with some pretty tight turns, making for a beautiful ride.
This road is seasonal, and closes in the winter, but no matter when you're traveling, be sure to check the weather.
At over 12,000 feet in elevation, things can change quickly and make conditions unexpectedly risky.
7. The San Juan Scenic Skyway
The San Juan Scenic Skyway is a beautiful 200+ mile loop that'll take you through many of the towns we've mentioned in previous podcast episodes — towns like Ouray, Telluride, Durango, and Cortez.
There are also quite a few hot springs along this route too, so pack a bathing suit. The hot springs are man-made, managed pools that contain the water and keep it at a safe temperature to swim in.
There are also resorts along the way if you want to stay the night and enjoy the hot springs before continuing along your journey!
8. Collegiate Peaks Scenic Byway
The Collegiate Peaks Scenic Byway was named because the peaks along this route are all named after prestigious learning institutions.
In total, you'll see 10 of Colorado's famous 14ers (mountains reaching 14,000 feet in elevation at their peaks), including Mt. Oxford, Mt. Harvard, Mt. Yale, Mt. Princeton, and Mt. Columbia!
You'll travel through the cities of Buena Vista and Salida, two very pretty and very iconic Colorado mountain towns.
And if you make this trek in the springtime, Buena Vista is a great place to visit to see the wildflowers!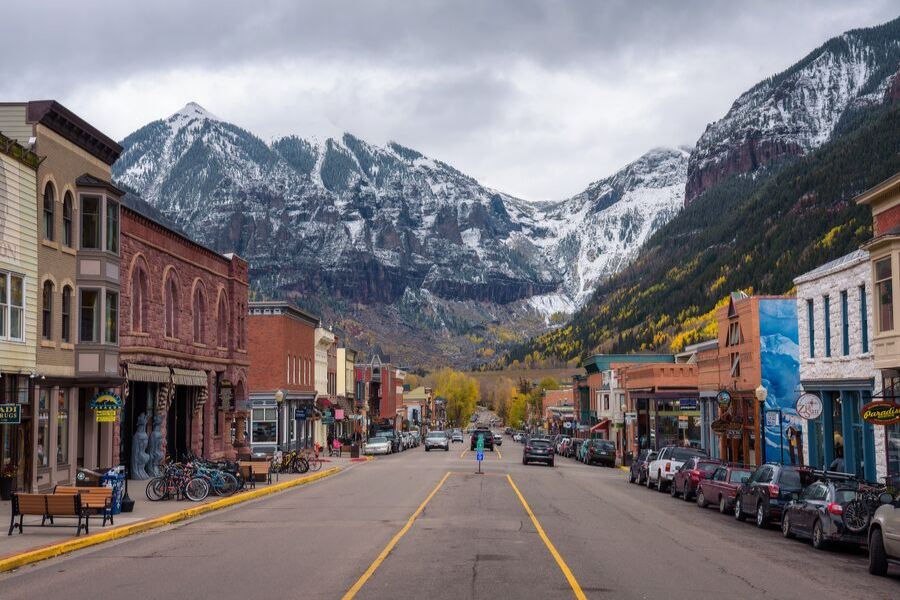 Bonus: Save $600+ with the Discovery Pass
And as you drive through the Collegiate Peaks Scenic Byway, be sure to check out the Discovery Pass!
This digital pass includes 47 local, small businesses that offer over $600 of savings and tons of other freebies for eating, drinking, lodging, shopping, and entertainment in Salida and Buena Vista!
You'll get savings like 2 for 1 entrees, accommodation specials, free beer tastings, $5 off menu items, and so much more.
And the best part?
The pass only costs $25, but when you use code TAKE10CO, you can get the pass for just $15. The Discovery Pass is a great way to explore everything that these mountain towns have to offer!
There's a lot to see and do in Colorado in the fall, so get out there and soak up all that autumn glory in our beautiful state!
Ryan Nicholson is a homegrown born and raised Colorado native. Being a rare unicorn to have grown up in CO, he has a unique perspective on the changes here and knows all the hidden spots to get outside in this state. Ryan's a classically French trained chef so he LOVES to try new foods and places to eat. When he's not experimenting in the kitchen or working as a personal chef along the Front Range, he loves to get outdoors and away from it all hiking, camping and backpacking.