9 Best Fall Drives in Colorado to See Mountain Autumn Colors
This website may contain affiliate links and we may be compensated (at no cost to you!).
The mountains nearly always have scenic drives and beautiful overlooks to stop and take in the view.
As a Colorado couple, this is our favorite time of year to drive through pretty mountain towns and along scenic highways in the state.
You pretty much can't go wrong with any kind of road trip through a canyon or drive this time of year.
Here are some of the best fall drives in Colorado for seeing gorgeous autumn foliage and colors changing.
1. Gold Belt Fall Foliage Drive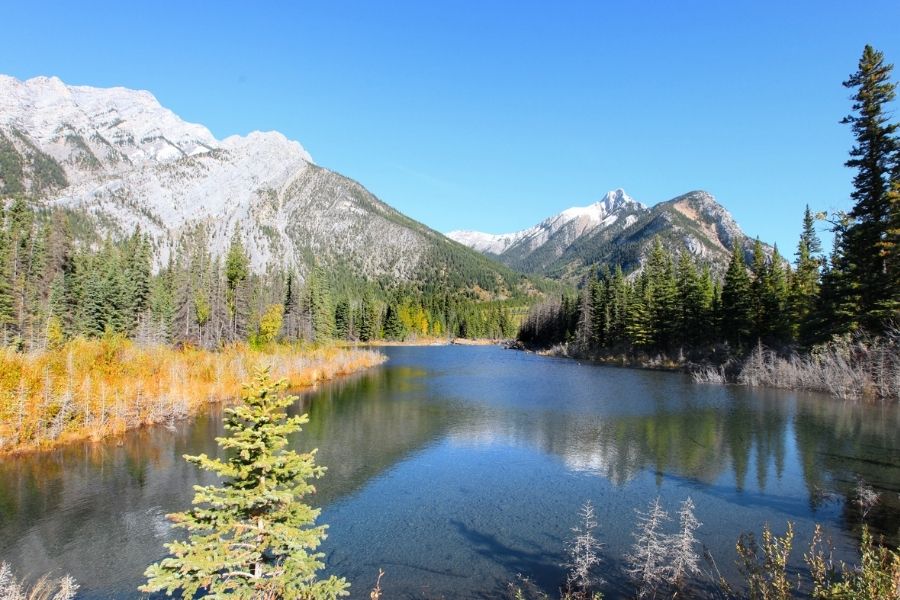 Every fall the Colorado Jeep Company opens up this amazing Gold Belt Jeep Tour, which is one of their most popular excursions.
This fall foliage jeep tour is one of the most scenic tours in all of the state.
The drive begins in Canon City and winds in and out of historic mining towns like Cripple Creek and Victor.
This full-day you will climb 5,000 above the city so you can witness some of the most breath-taking views that Colorado has to offer this time of year.
Don't forget your camera as this is one of the best fall drives you don't want to miss grabbing a photo or two.
Led by a local guide, who is very knowledgeable and entertaining, you'll go off the beaten track in a 4×4 Jeep.
A yummy lunch is included with your booking and this is a great excursion for the whole family.
Learn more about this epic fall foliage jeep touring the famous Gold Belt in Colorado.
2. Highway 6 from Golden to Idaho Springs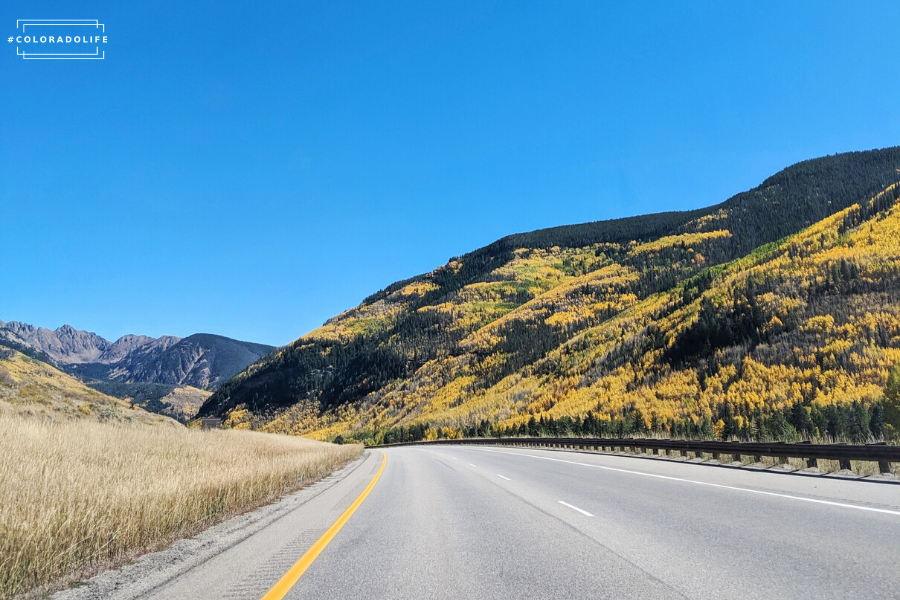 We really enjoy the drive on highway 6 from Golden to Idaho Springs. This route takes you east from Golden through the Clear Creek Canyon.
The first time we took this route, we got stuck behind a very slow-going semi. On a two-lane highway with winding curves, there was definitely no passing that truck!
But as we entered the canyon, we were so grateful for the slower pace because it allowed us to really enjoy the beautiful colors and amazing views throughout the canyon.
We hope you'll enjoy it too.
3. Highway 24 west from Woodland Park to Hartsel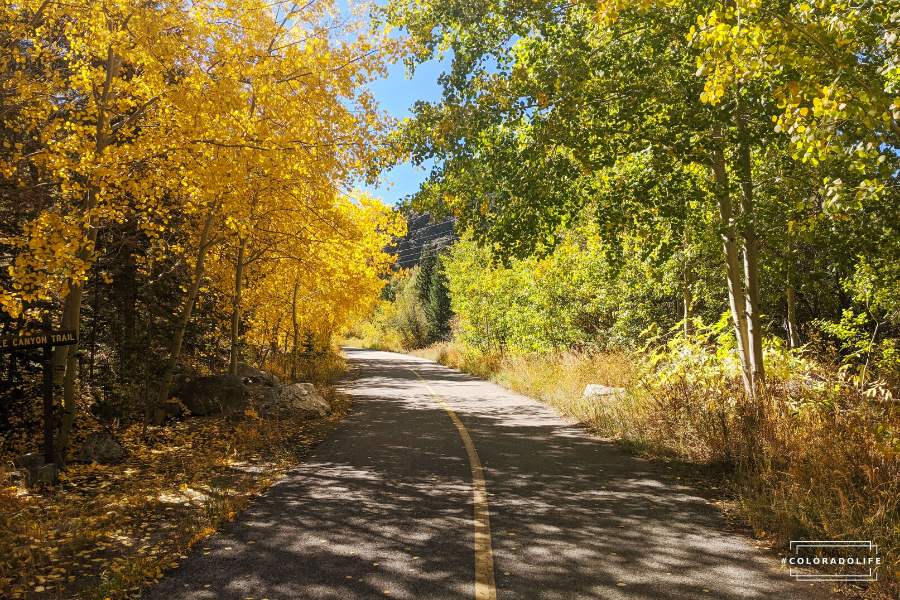 Highway 24 from Colorado Springs through Woodland Park is a less trafficked mountain drive but still super scenic for fall.
In fact, you'll even drive through a valley called South Park (where the TV show fictitiously takes place).
You'll be driving through the mountains, then all of a sudden, you'll arrive on this flat plain, high in the Rocky Mountains.
The valley covers about 1000 square miles, and can sometimes feel like you're not moving forward at all.
It's a very big flat area and it can be a real surprise because you're up so high in the mountains.
When you arrive in Hartsel, you can either turn south and stay on highway 24 to Buena Vista, Colorado or head north on Colorado 9 North to Fairplay and Alma.
Stop in at the city of Alma, Colorado
Alma, Colorado is a notable stop on your fall drive because at 10,578 ft in elevation, Alma is North America's highest incorporated municipality.
Founded in 1873 as a mining town, Alma now has 275 permanent residents.
4. Hoosier Pass between Alma and Breckenridge
We love the drive along Hoosier Pass from Alma to Breckenridge! In fact, we take this route every year when we drive through Breckenridge and Frisco on our way to Glenwood Springs.
Like many of our recommended drives, this highway is only two lanes and can be crowded on weekends.
If you can, we recommend traveling on a weekday to avoid the heavy traffic along I-70.
As you continue through Hoosier Pass, you'll notice a significant difference between the southern (Alma) side of the pass and the northern (Breckenridge) side.
In Alma, the weather is drier and winters get much less snow than the shadow-covered north side of the pass.
Breckenridge sees much more snow in the winter, and is much wetter and colder in general.
Hoosier Pass is a very high pass and is located along the Continental Divide.
As you head down from the pass into the Frisco and Breckenridge area, be prepared for many switchbacks and tighter turns as you descend.
Note: this pass is not for the faint of heart, but the views are truly incredible so it's definitely worth it.
5. Eisenhower Tunnel on the way to Glenwood Canyon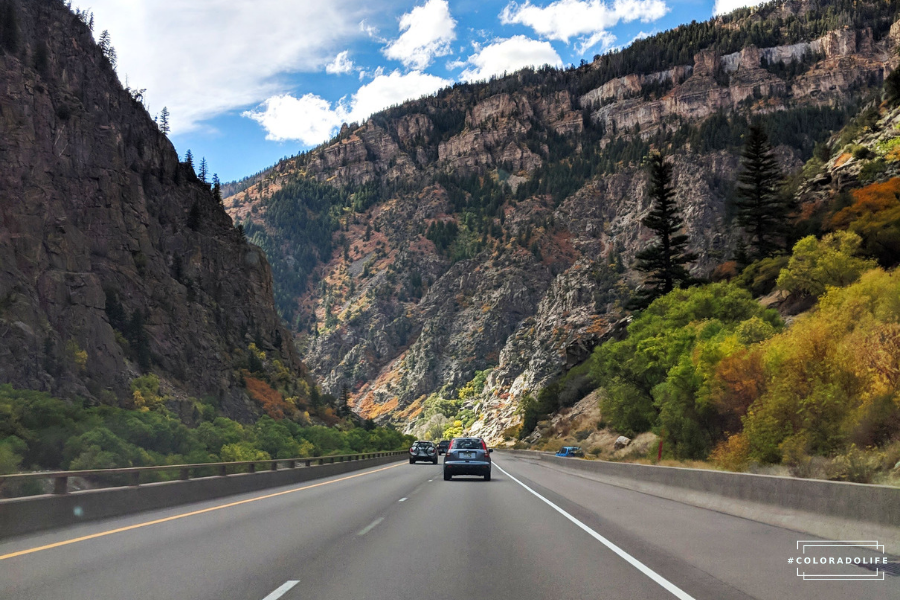 The Eisenhower Tunnel on Interstate 70, east of Denver, is a really fun attraction as you make your way out of the mountain towns nearby.
The tunnel is at 11,158 feet in elevation, which makes it one of the highest vehicular tunnels in the world and the highest point in the Interstate Highway System.
It's also the longest mountain tunnel clocking in at 1.7 miles long.
As you continue on I-70, you'll eventually hit the Glenwood Canyon. This is a very beautiful drive, and you'll drive along the canyon on the layered highway.
The drivers going the other way are below you, which gives you a great view of the Colorado River.
It's a steep canyon and very pretty, with little surprise patches of Aspens growing along your route.
6. The Peak to Peak Highway starting in Estes Park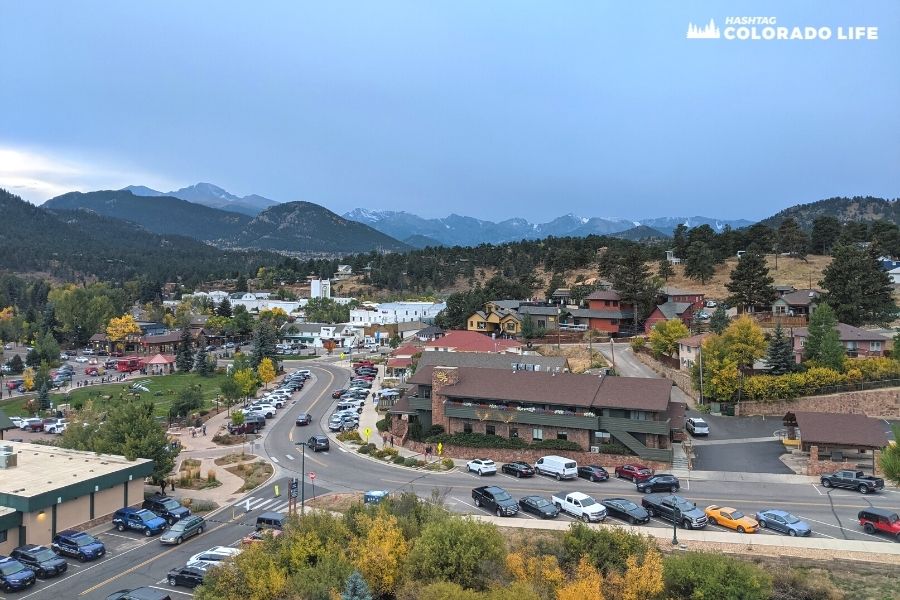 We enjoy taking the Peak to Peak Highway in the fall when the leaves change, or when there's an early fall snow.
You'll also drive through some really popular mountain towns along the way!
The highway starts in Estes Park which is the gateway to Rocky Mountain National Park, so you already know it's going to be beautiful.
You'll then wind your way into Nederland and Black Hawk and end when the highway joins Interstate 70.
The Peak to Peak Scenic Byway is a beautiful fall drive with lots of bright oranges and yellows.
Along the way, you'll most likely see a dusting of white snow on the tops of mountains too. It's a lovely contrast and a very classic Colorado fall sight.
7. Independence Pass near Aspen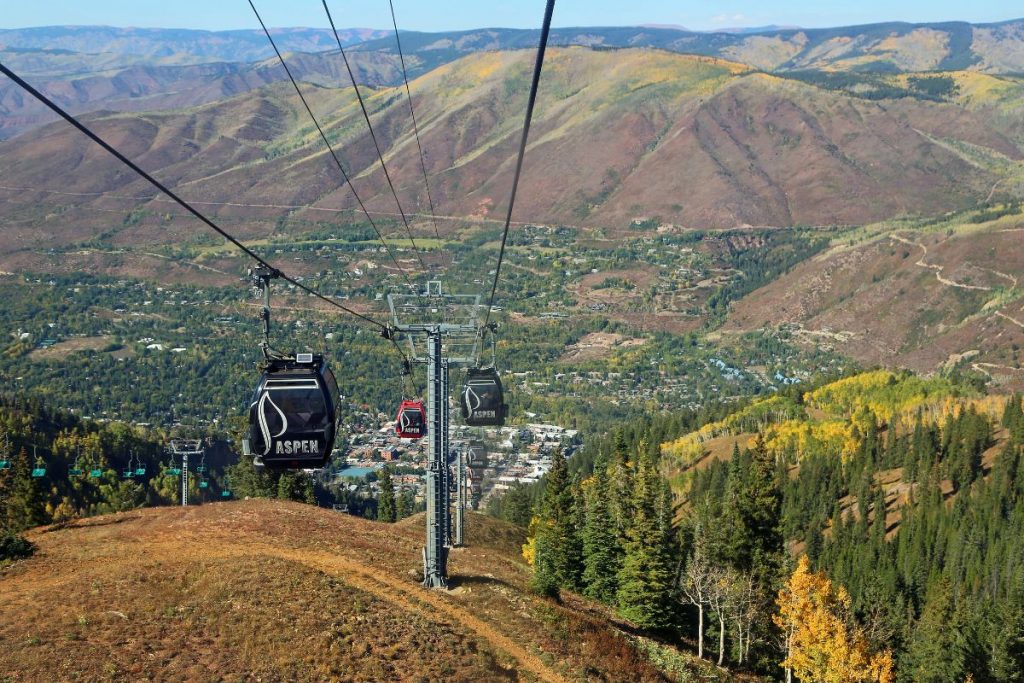 This mountain pass travels over the Continental Divide between Leadville and Aspen.
The highway used to be the main pass before the Eisenhower Tunnel was completed in the 1970s.
The summit at the divide is 12,095 feet, and the pass itself is about 32 miles long. It twists its way through acres of Aspen trees along the Roaring Fork River.
This route is a steep, narrow, and winding road with some pretty tight turns, making for a beautiful ride.
This road is seasonal, and closes in the winter, but no matter when you're traveling, be sure to check the weather.
At over 12,000 feet in elevation, things can change quickly and make conditions unexpectedly risky.
8. The San Juan Scenic Skyway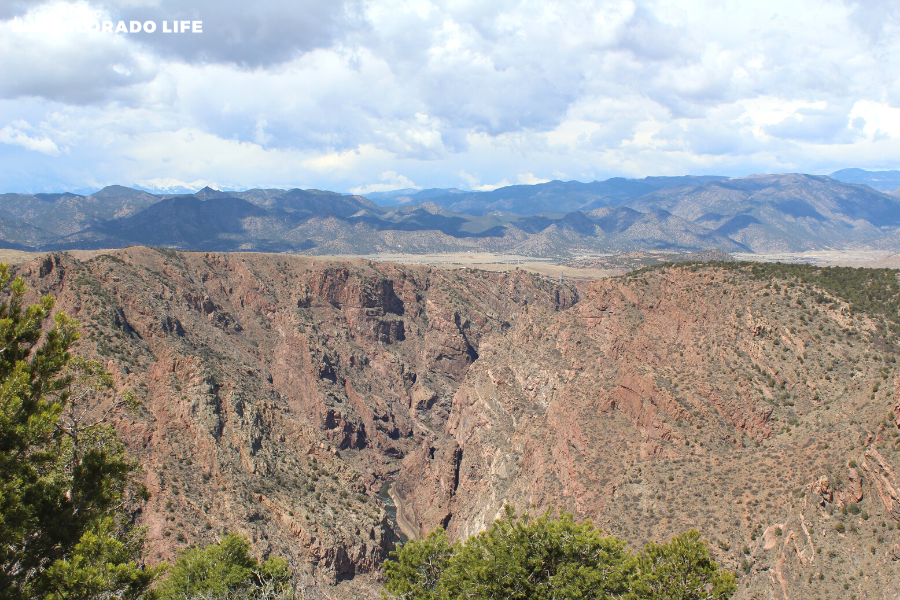 The San Juan Scenic Skyway is a beautiful 200+ mile loop that'll take you through many mountain towns like Ouray, Telluride, Durango, and Cortez.
There are also quite a few hot springs along this route too, so pack a bathing suit.
The hot springs are man-made, managed pools that contain the water and keep it at a safe temperature to swim in.
There are also resorts along the San Juan Skyway if you want to stay the night and enjoy the hot springs before continuing along your journey.
9. Collegiate Peaks Scenic Byway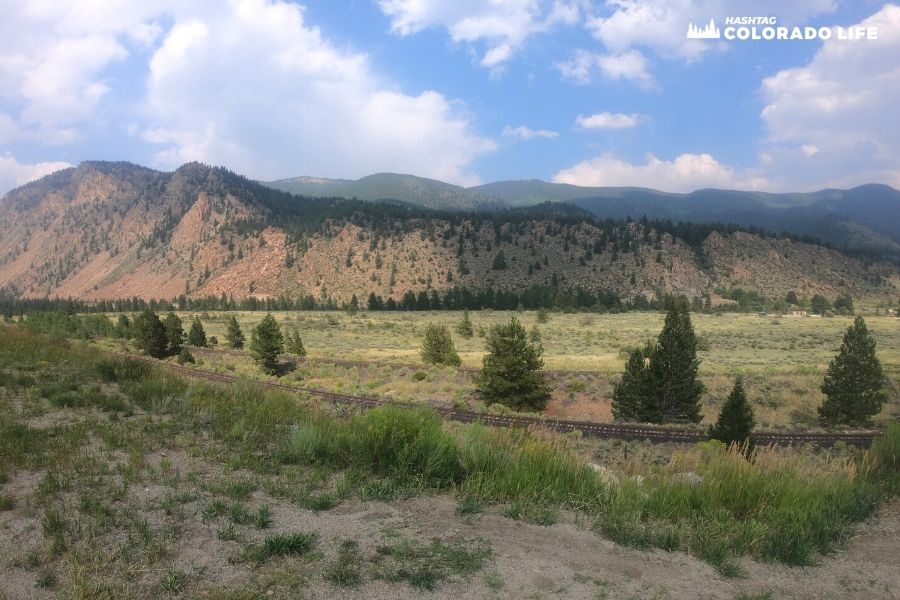 The Collegiate Peaks Scenic Byway was named because the peaks along this route are all named after prestigious learning institutions.
In total, you'll see 10 of Colorado's famous 14ers (mountains reaching 14,000 feet in elevation at their peaks), including Mt. Oxford, Mt. Harvard, Mt. Yale, Mt. Princeton, and Mt. Columbia.
You'll travel through the cities of Buena Vista and Salida, two very pretty and very iconic Colorado mountain towns.
And if you make this trek in the springtime, Buena Vista is a great place to visit to hike and see wildflowers.
Bonus tip: Save $600+ with the Discovery Pass
And as you drive through the Collegiate Peaks Scenic Byway, be sure to check out the Discovery Pass.
This digital pass includes 47 local, small businesses that offer over $600 of savings and tons of other freebies for eating, drinking, lodging, shopping, and entertainment in Salida and Buena Vista.
You'll get savings like 2 for 1 entrees, accommodation specials, free beer tastings, $5 off menu items, and so much more.
And the best part? The pass only costs $25, but when you use code TAKE10CO, you can get the pass for just $15.
The Discovery Pass is a great way to explore everything that these mountain towns have to offer!
There's a lot to do and see on a Colorado mountain drive in the fall, so get out there and soak up all that autumn glory in our beautiful state!