10 Colorado Springs Food Trucks that Locals Love
This website may contain affiliate links and we may be compensated (at no cost to you!).
In this post we share the best food trucks in Colorado Springs and why locals love them.
You will discover some of the best eats, menu items, and where to find them each week.
If you are looking to support local food vendors while trying some unique and delicious eats, a food truck is a great choice.
Here are the top 10 food trucks in Colorado Springs that we love as locals and where to find them.
Plus, we share our top recommendations for what to order off each menu.
1. Piglatin Food Truck
The Piglatin food truck is known for their Latin American menu with a unique but delicious Caribbean flair.
The food truck has become so popular that they actually opened up a stand-alone restaurant at the corner of Dublin & Union in Colorado Springs.
The restaurant, Piglatin Cocina offers online ordering, patio seating and curbside pickup.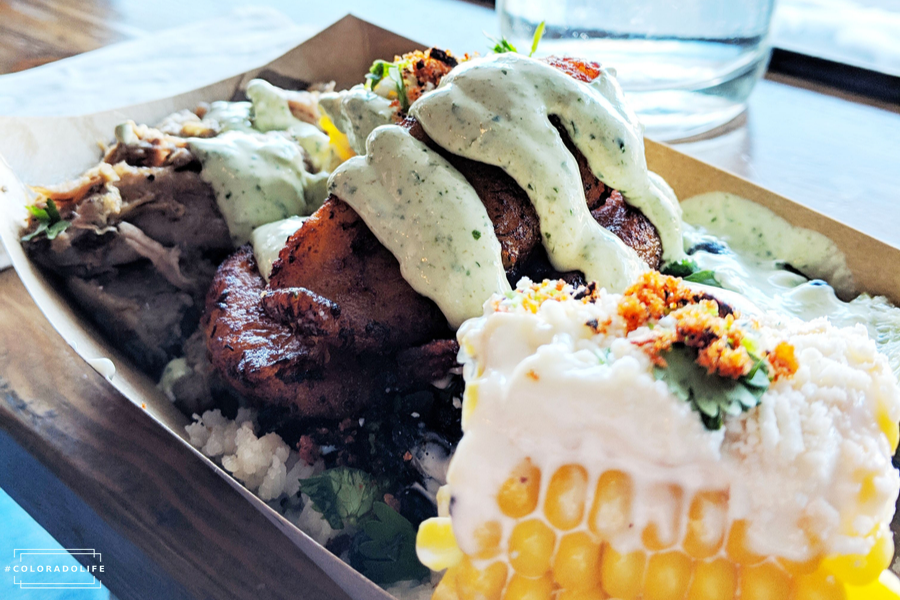 Some of the main dishes we recommend are the Piglatin Plate or Kimchi Quesadillas. But their menu does change seasonally so you will likely find something yummy all year long.
You can check out their weekly food truck schedule by following the Pig Latin Truck Facebook page.
2. Lucy I'm Home Food Truck
This food truck has a quirky name with inspiration found from the "I Love Lucy" TV show.
The Lucy I'm Home food truck serves up delicious cuban food with tons of flavor — all with a side of plantain chips.
The main dish we really enjoy is the Cubano, which is an old fashioned goodie. It is one of the most amazing sandwiches we have ever eaten (and we have eaten food all over the country!).
They also serve roasted pork sandwiches and cuban hot dogs, which are also crowd favorites. Typically, you can find the Lucy I'm Home food truck located at 390 N. Circle in Colorado Springs.
Or follow them on the Lucy I'm Home Facebook page for updates and hours of operation.
3. Killik's Kitchen (Ono Foods) Truck
Originally named Ono Foods, Killik's Kitchen delivers fresh and authentic Hawaiian comfort food.
And as someone who lived in Hawaii I crave this kind of food often.
We recommend asking about their daily specials as those are always fresh and delicious.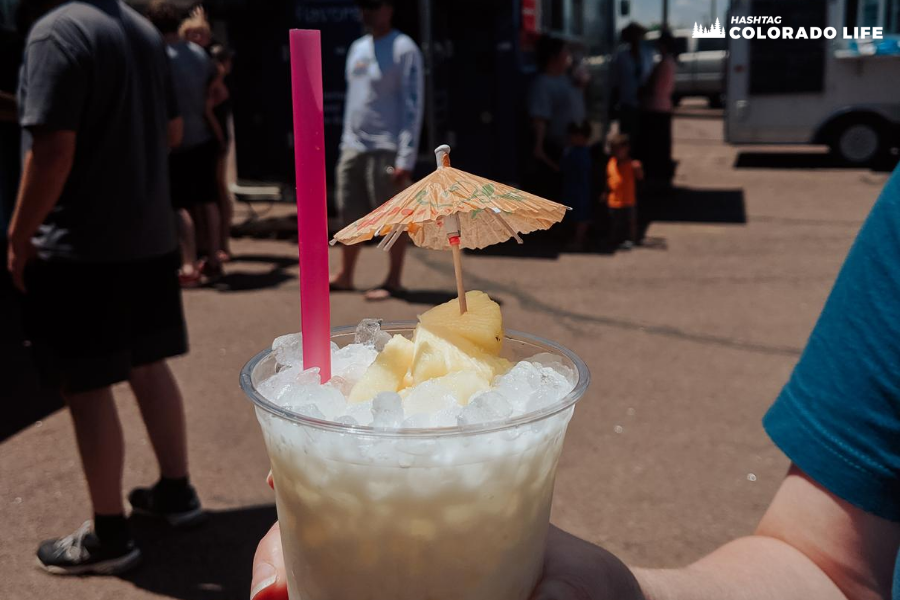 Their menu can change depending on ingredients that are in season or available locally, but we enjoy the Loco Moco, the Teriyaki Burger and the Chicken Katsu.
And of course, don't forget about grabbing a Spam Musubi and seasonal fruit drinks.
They post their weekly schedule on the Killik's Kitchen Facebook page as well as on Instagram @killikskitchen.
4. Mondal's K2 Cuisine
The K2 Cuisine food truck (now called Mondal's) was named after the owners, and Chef K serves up American comfort food with an Indian dish or two.
All of the food is really good and full of flavor, but we prefer their Indian dishes. Check out the Indian burger or the Chef special of the day!
They also like to team up with local breweries so you may b e able to get some spicy food and wash it down with a cold beer.
Follow them on the Mondal's info page to see their weekly menu.
5. Chef Bob's Lobstah Trap Food Truck
Chef Bob's Lobstah Trap food truck serves up North Atlantic lobsters using a signature recipe that's made fresh every day.
For this reason, the wait at the Lobstah truck can be awhile as the chef prefers to make smaller batches in order to keep everything fresh.
The Lobster rolls are on point and made with 1 ¼ pound of lobster on a butter-griddled New England style bun.
We also recommend the lobster mac & cheese and the New England Clam Chowder.
Check out the Lobstah Trap website and click on the "where to find us" tab to locate the truck.
6. Go Fish Food Truck
The Go Fish food truck is another one of our favorites and is owned by Colorado Springs natives.
The food that's served is obviously yummy seafood like, fish and chips, fish tacos, and shrimp po'boys. We especially like their homemade tartar sauce!
Head over to the Go Fish Food website and click the "Find Us" tab on the homepage to locate where the truck is each week.
7. Scratch Mobile Kitchen
You can scratch your itch for comfort food thanks to the Scratch Mobile Kitchen food truck.
Their menu includes elevated comfort food like pork belly sandwiches and homemade beef burgers.
A lot of their sauces and salsas are completely homemade and very good.
And when you're craving the ultimate treat, order the pork belly fries which are a southern version of poutine.
Connect with Scratch Mobile Kitchen on their website to sign up for the newsletter and get updates about their weekly schedule.
8. Pizzarte Traditional Italiano Food Truck
Pizza would be nothing without a really good crust, and this truck has probably the best pizza crust we have ever had.
Founded by an Italian immigrants from Velletri, Italy and Naples.
They are passionate about providing authentic Italian pizza the way it was made in "The Old Country".
The pizza from Pizzarte is perfectly thin, crispy and flavorful thanks to a woodfire oven inside the food truck.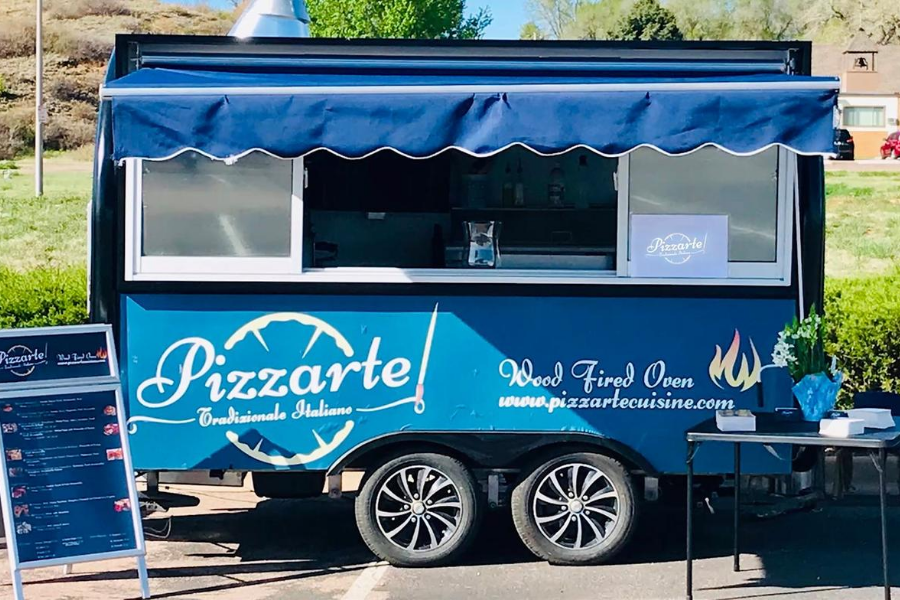 This makes the perfect vessel for all the fresh and tasty toppings they offer.
You can expect pizzas to be very simple with few toppings, great sauce and perfect amount of cheese.
Our favorite was the Pomodorini with spicy cherry tomatoes, cheese and sauce. Simple but will still blow your mind with flavor!
Check out the Pizzarte Traditional Italiano Facebook page for the latest updates. They post often with their new menu items and locations to find the food truck.
9. Smokin J's BBQ
Smokin J's BBQ food truck has been in business since April 2014 and owned by pitmaster / owner Justin Ware.
Everything is made from scratch and smoked with Applewood to help give the meat a unique, smoky flavor.
Their menu includes pulled pork sandwiches, ribs, sausage, chicken and all of their sides are homemade.
The chipotle-guava barbecue sauce is like nothing else!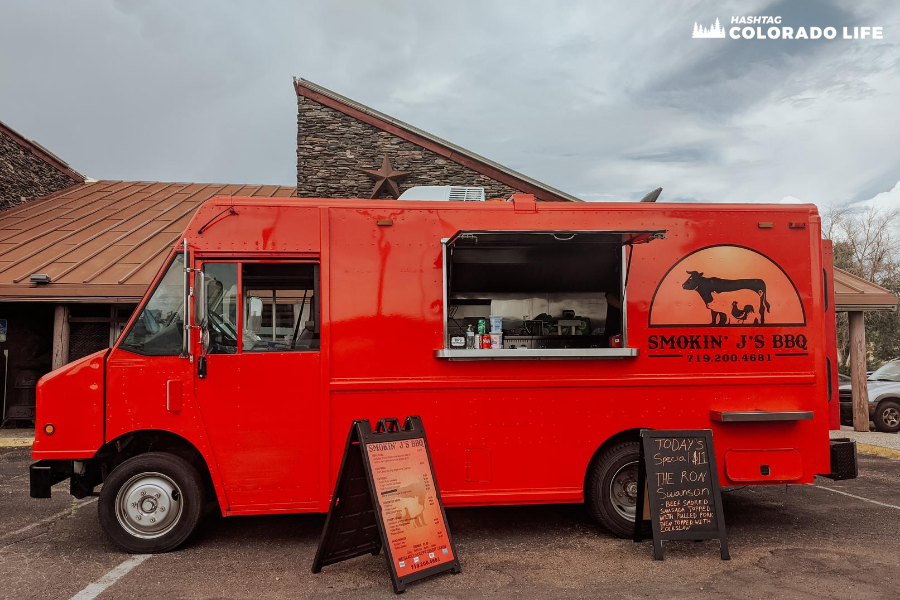 One daily special that we really enjoyed was the appropriately named, "Ron Swanson". It is a sausage covered in pulled pork and coleslaw in a hot dog bun.
Locating this truck can be tricky as they don't keep their website or social media accounts updated.
However, they are usually in the same locations as other food trucks in the city.
Learn more about them on the Smokin J's BBQ website.
10. Roll Up Food Truck
The Roll Up food truck specializes in Mexican-American fusion cuisine with lots of food delivered in a rolled up fashion.
They are mainly known for their twist on egg rolls with Spanish and Asian flavors. The Roll Up food truck serves brunch items like Bacon Breakfast Burritos and a Breakfast Burger.
This particular truck is open a lot earlier than other food trucks and can be eaten for breakfast starting as early as 9am daily.
You can check out their menu online and get updates via the Roll Up food truck Facebook page.
How to find food trucks in Colorado Springs
As mentioned, there are several easy ways to locate your favorite food truck any day of the week.
Social media
Most food trucks use social media platforms like Instagram or Facebook to share regular updates about their schedules and menus.
Search for a specific food truck on social media and give them a "Like" or a follow to stay updated.
You will get updates for upcoming festivals, weekly events and rallies, as well as yummy looking photos of their food.
Website schedule
In addition, many food truck businesses have websites with the schedules listed. Some of them even include maps with real-time locations!
You will also find links to their ever-changing menus, discounts, special events and the opportunity to sign up for their food truck newsletter.
Where's the Food Truck app
Where's the Food Truck? (WTF) is a completely free app that helps you locate the best food trucks in your city using real-time GPS.
It's available on iPhone or Android and can be downloaded for free. Then just pull it up on your mobile device.
You can locate a food truck by what's nearby, search by style or cuisine, or browse by specific food truck names.
In addition, you can receive special discounts and get notified about upcoming events or festivals. The app is also great for booking a food truck for personal events or catering needs.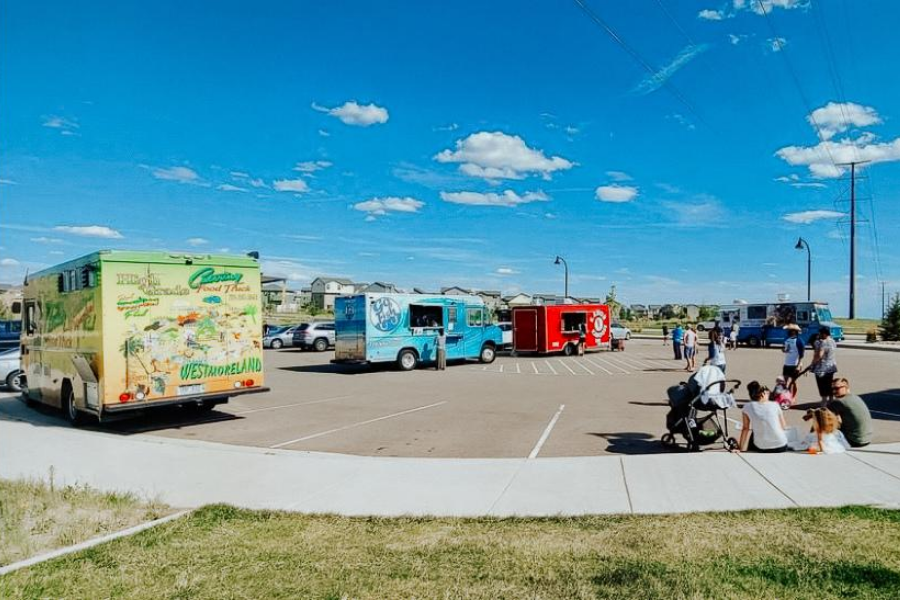 Weekly gatherings and popular food truck events
During peak food truck season in The Springs, here are some of the popular food truck events and places where trucks gather.
Saturdays at the Square
Located in the Fountain/Widefield area, just south of Colorado Springs is Saturdays at the Square.
This food truck gathering is open from 12-4pm every Saturday in the summertime.
Check out their Facebook page for more details.
719 Hump Day Food Truck Rally
The 719 Hump Day Food Truck Rally happens every Wednesday from 11am-8pm.
Locations often change so be sure to check the local paper or news for more details.
Recently, due to the pandemic the Rally has been hosted right outside of the Copperhead Road Bar on Academy Blvd.
Food Truck Tuesdays
In the summer, you can find your favorite food trucks at the Colorado Springs Pioneers Museum in downtown Colorado Springs.
Food Truck Tuesdays starts in May and runs until the end of October every Tuesday from 11am-3pm.
Note: Recently, the Market at Spring Creek has been hosting Food Truck Fridays from 11am-6pm on certain weekdays.
Black Forest Brewery
As mentioned, a lot of food trucks in Colorado Springs like to team up with local breweries to serve food and brews.
The Black Forest Brewery hosts many different food trucks each week, including the BF Chew-Chew Gastrotruck which is a Food Network Champion.
Check out the Black Forest Brewing Facebook page for exact details and menu options.