21 Top-Rated Things to Do in Glenwood Springs This Summer
This website may contain affiliate links and we may be compensated (at no cost to you!).
Guess where the world's largest mineral hot springs pool is located? Glenwood Springs! It produces over 3.5 million gallons of water a day.
And it's on our bucket list as one of our favorite spots to visit in the state of Colorado.
In fact, every October we book a couple's trip to Glenwood Springs for our annual hot springs soak. And we love every minute of this awesome city!
In this guide, I'm sharing the top places to stay in the area along with tips for saving money when planning your visit.
As a local chef, I'm also sharing the best restaurants and our favorite activities when we're not soaking in the mineral water.
If you haven't been to a hot spring with its famous healing waters, you need to plan a trip right now.
Here are the best things to do in Glenwood Springs for fun and relaxation that we enjoy doing every year.
1. Glenwood Canyon Half-Day Float
If you're looking for a fun day of adventure right outside the city of Glenwood Springs, check out this Scenic Half-Day Float.
The Colorado River is one of the country's most popular sports for whitewater rafting. It's made even more magical by being located inside the stunning Glenwood Canyon.
This 2.5-hour rafting trip is led by an expert Colorado guide who's with you the entire way down the river.
All safety instruction and equipment is included:
Helmets
Lifejackets
Wet suits
River booties
Paddles
Splash gear
Plus, you and your crew will get hotel pickup and drop-off included via a free shuttle.
After a short stint rafting through the Shoshone section of the Colorado River you and your group will be treated to 2+ hours of relaxation.
Float along the canyon, check out the scenic views, and enjoy occasional swimming.
If you change your mind you can cancel with at least 24-hours notice without paying any fees.
2. Glenwood Springs Scavenger Hunt
Take a fun tour of the city on this 2-hour Glenwood Springs Scavenger Hunt.
See the sights, stop by noteworthy landmarks, and solve challenging clues with your group.
Discover the history behind some of Glenwood Springs' historic attractions like Everett Grocery and McCoy-Armory Building.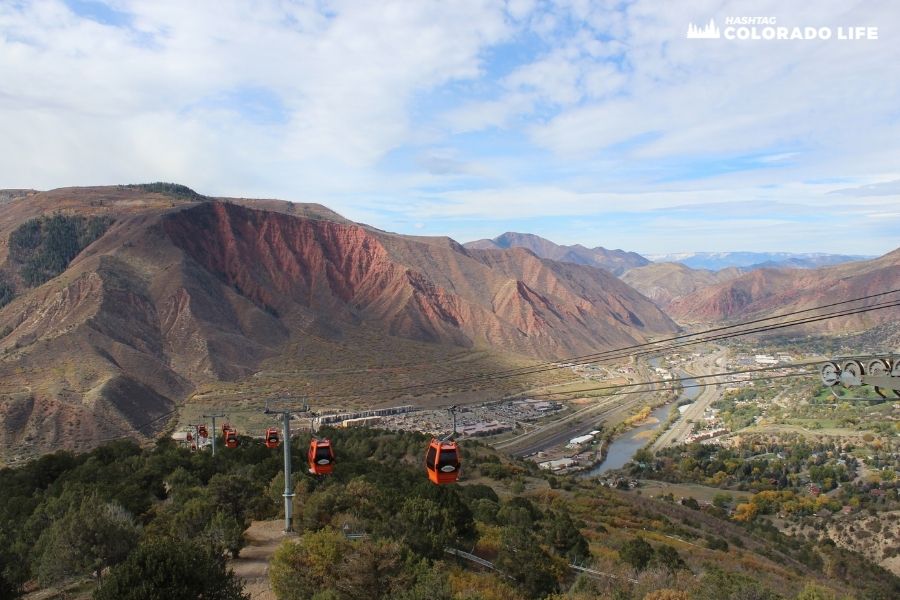 The unique scavenger hunt experience is great for kids and families, as well as special events.
The mobile scavenger hunt allows you to go at your own pace with pauses or breaks and restarts throughout the day.
Book this scavenger hunt for your next bachelor party or team building excursion while seeing all that Glenwood Springs has to offer.
It's the perfect way to learn about the city and see the sights!
3. Glenwood Springs ATV Experience
If exploring the Glenwood Springs Canyon from the river isn't your thing, check out this small-group ATV Experience.
Join an expert ATV guide on a thrilling adventure though 6,000 acres of private land near Glenwood Springs.
Surround yourself with views of the Colorado mountains, clear river, and rolling hills.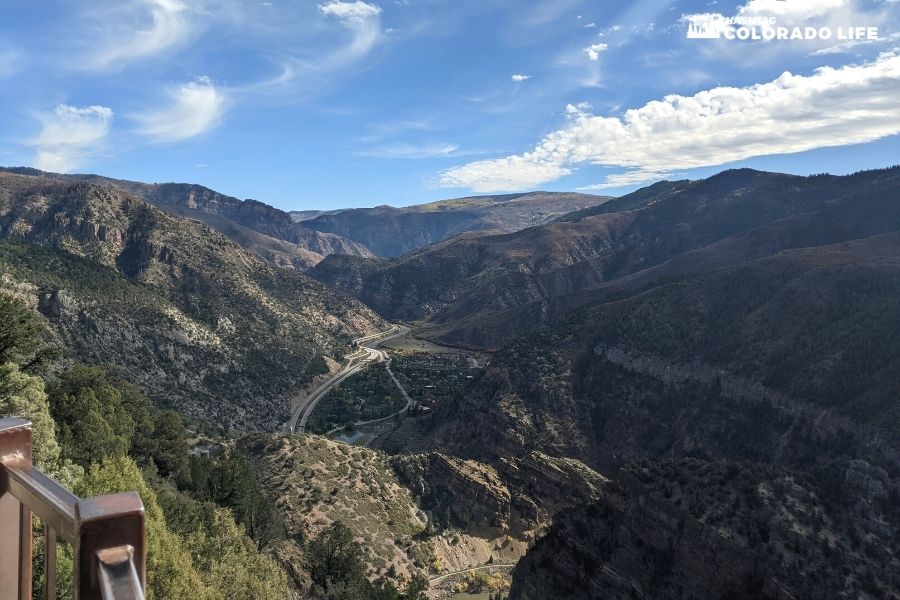 This tour is perfect for both beginner and experienced riders, as your guide will be with you the entire time.
You and your family will feel safe after a short safety tutorial of how to ride and operate an ATV. Plus, ATV helmets and goggles are included for further protection.
For a full refund, you can cancel or reschedule at least 24 hours prior to the tour's start time.
4. Drive through Glenwood Canyon
Why do I keep recommending things to do in Glenwood Canyon?
Well, its beauty and majestic views are just that spectacular. You don't want to miss a day out exploring this gorgeous scenery.
The Canyon sits about two hours west of Denver on I-70, right on the Colorado River in the Roaring Fork Valley.
Because the town is in a valley, it's protected from extreme winters and allows you to experience the outdoor lifestyle year round.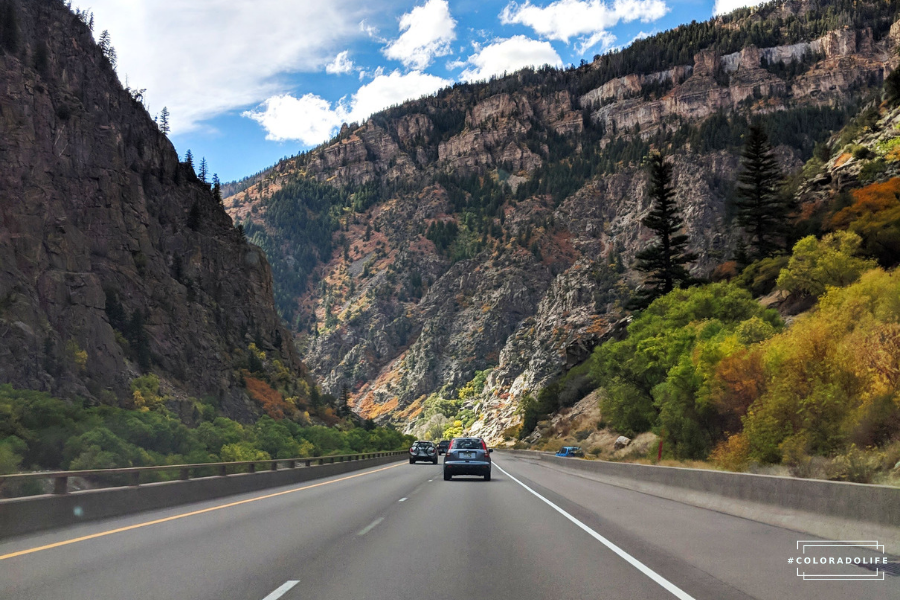 Still, you'll have to pass through Eisenhower Tunnel to get to Glenwood Springs. And during the winter this can be a little scary and take a bit longer to travel, especially if there's a lot of traffic.
Coming from Denver, you pass through many small and iconic towns like Vail along the way.
But our favorite part about our yearly drive is definitely experiencing Glenwood Canyon.
Surrounded by mountains on either side and the Colorado River below, it is a breathtaking winding road through the mountains.
5. Hanging Lake
Like the name implies, Hanging Lake hangs on the edge of a mountain.
The lake's crystal clear water is fed by waterfalls coming from snow-melt up the mountain.
Hanging Lake Trail is a yearly hike my family and I would take each fall when visiting Glenwood Springs. In fact, it's one of the most beautiful lakes in all of Colorado.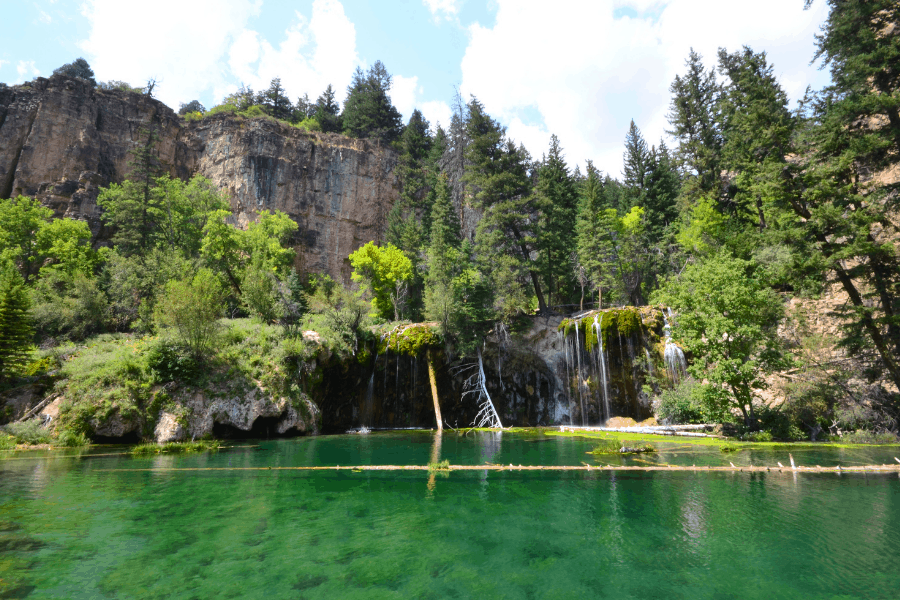 The hike to Hanging Lake can be treacherous, but is absolutely worth it. If you want to visit Hanging Lake, you'll need a permit.
After being closed to the public for a few years, Hanging Lake is finally open to visitors.
6. Glenwood Hot Springs Pool
Throughout history, Glenwood Springs has been known for the various health benefits that soaking in the hot mineral springs often gives.
From drinking to bathing in the soaking pools, there are loads of health benefits that can be extracted from the water.
In fact, my grandfather would visit the Glenwood Springs Hot Springs Pool and soak in the mineral hot water.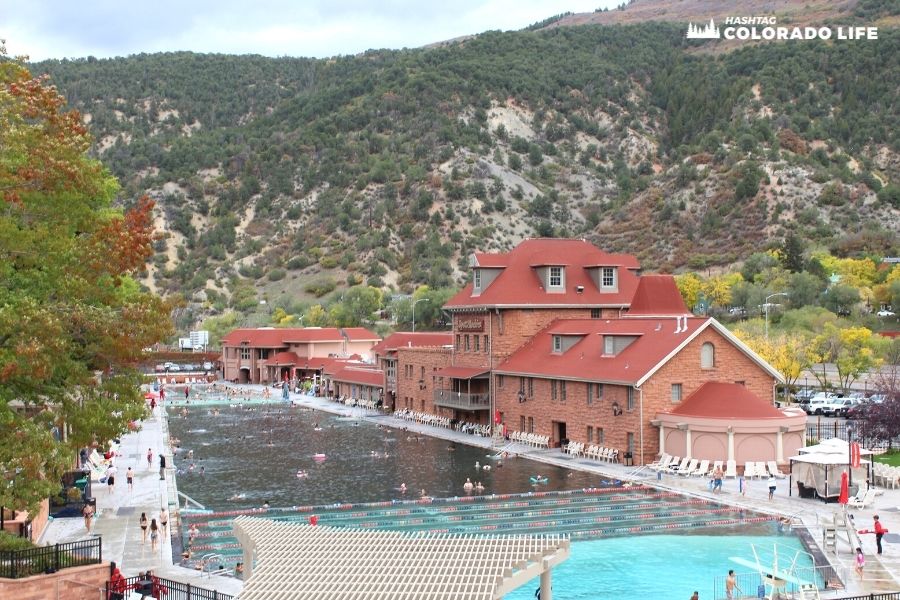 The large spring pool is 405 feet long and 100 feet wide at the widest point. It contains 1,078,000 gallons of water, and is kept at about 90° F / 32° C.
It features a diving area and exercise lap lanes!
The therapy pool or the hot tub, is much smaller at 100 feet long and contains 91,000 gallons of water.
It is kept at a temperature of about 104° F / 40° C and is amazing for soothing sore muscles and other body aches.
Over 3.5 million gallons of water rises out of the ground each day. This hot spring water is captured and mixed with fresh water from the two nearby rivers to fill the largest natural hot springs pool in the world.
7. Glenwood Canyon Brewpub
A staple in Glenwood Springs for more than 25+ years, Glenwood Canyon Brewpub holds some of the most accolades of any brewpub in the state.
The brewpub was built within the historic Hotel Denver on the banks of the Colorado River.
It's just a stone's throw from the Glenwood Springs Train Depot with its Medieval inspired towers.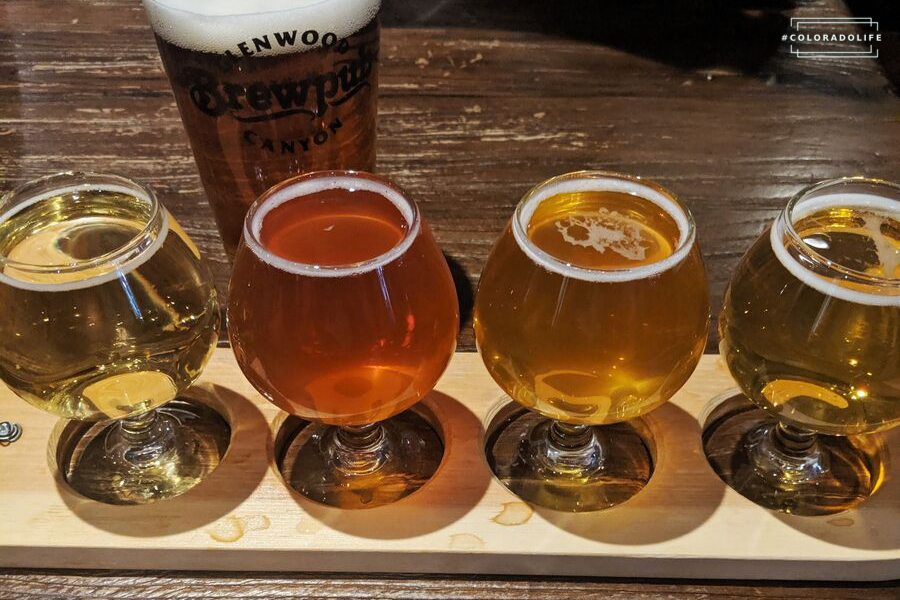 The beer is what really shines at this brewpub (as it should) with a selection of 12 brews on tap at any point.
They have a few beers they keep on tap year-round but otherwise have a rotating menu of 45+ house-made brews, including:
Ales
Stouts
Porters
Lagers
Wheats
Reds
IPAs
All of their beer is brewed up during their respective seasons or festivals.
And the Glenwood Canyon Brewpub knows that not everyone is a beer drinker so they also offer an extensive list of wines, spirits, hand-made cocktails, ciders and house-made root beer.
Their food menu is just as distinguished as their beer menu. They offer eats that tie right back into their brews like IPA Sriracha glazed wings, ale-battered fish and chips, or IPA BBQ pulled pork.
It's seriously delicious food and drinks!
8. Historic Hotel Colorado
Hotel Colorado is also a great place to stay in Glenwood Springs, although it's a bit pricey.
It was built in the late 1800's and has a lot of the history still preserved in their walk-through museum.
It's like staying in a piece of history!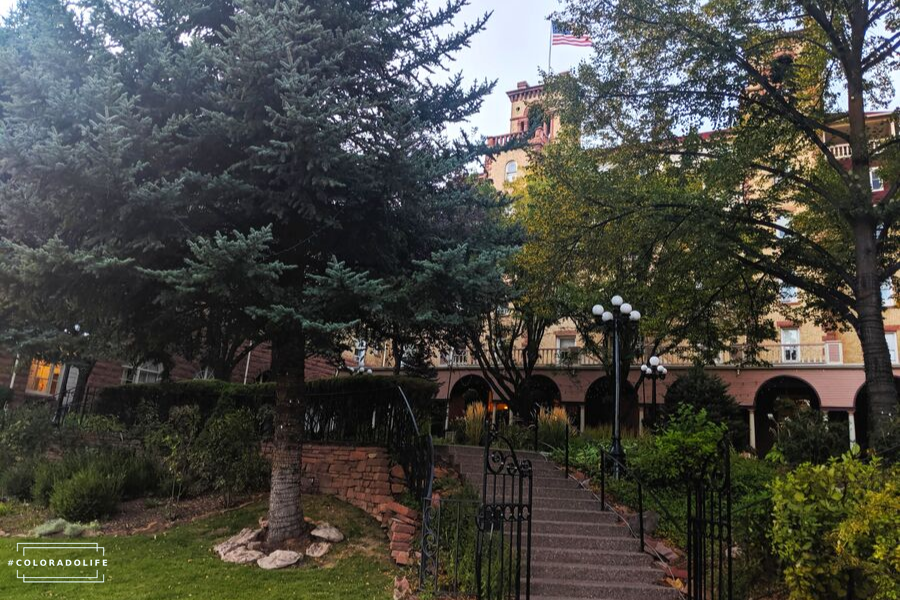 Inside, you'll be able to see the pictures of where the original hot springs pool was located in the late 1800s. This was before they moved it to the location it is now.
Hotel Colorado is also one of the most haunted places in the state due to its reputation for strange happenings and ghostly sightings.
During the time of World War II, more than 500 wounded soldiers stayed and were treated at the hotel.
9. Rio Grande Trail
If you're into hiking or cycling, check out the Rio Grande Trail. This paved path runs 42 miles all the way to Aspen, Colorado and back.
It follows the Roaring Fork River and is an easy path for all skill levels and ages.
The trail is a nice challenge for anyone looking for an extended outdoor adventure whether it's hiking or biking.
Along the Rio Grande Trail you'll see Mount Sopris in the distance as well as old historic ranch buildings and wide open meadows full of herds of elk.
10. Glenwood Caverns Adventure Park
The Glenwood Caverns Adventure Park is another one of the top things to do in Glenwood Springs.
It is home to the highest elevation roller coaster in the country! It's full of great rides for kids and adults who love heights and going fast.
You can also take a ride up the Glenwood Gondola and see gorgeous views of the Rocky Mountains for miles and miles.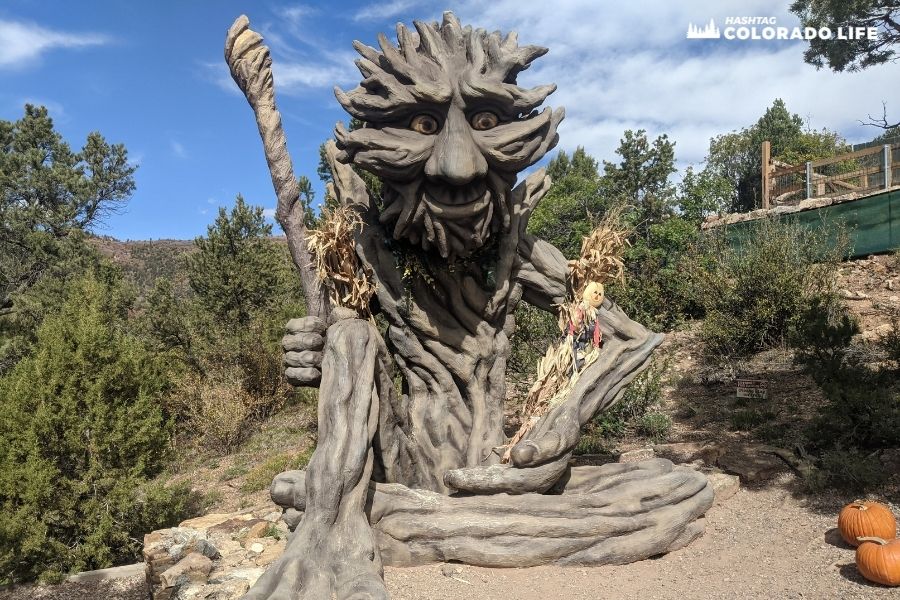 We enjoyed the Glenwood Gondola so much that it's an attraction worth seeing on its own.
The Glenwood Springs Adventure Park is also home to the Glenwood Troll named Halvor Flowstone. Similar to the Breckenridge Troll you can visit and take photos with the troll.
Or you can pay for the gondola & cave tours bundle to explore some of the best caves in Colorado.
Kids and adults can enjoy so many of the activities and attractions at the amusement park all day!
11. Juicy Lucy's Steakhouse
Juicy Lucy's steakhouse is one of our favorite eateries in Glenwood Springs that we revisit every year.
It's located across the bridge from the Glenwood Hot Springs Lodge and is surrounded by beautiful architecture and local Colorado breweries.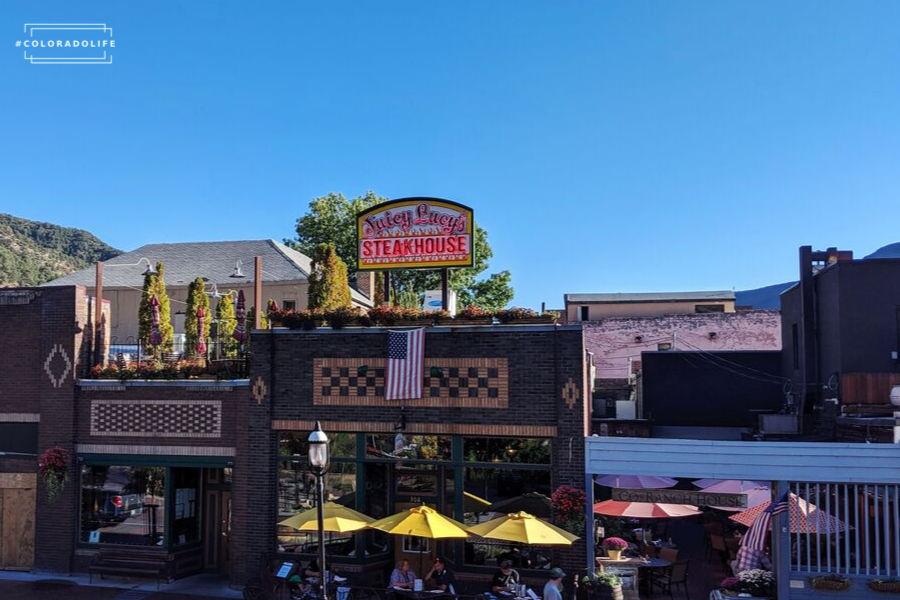 The place lives up to its name with a cozy, old saloon steakhouse feel and very generous portions.
It's the perfect spot for a date night out, or a fun place for the entire family to enjoy.
As the name would suggest, the steaks are cooked to perfection and the daily specials are always worth ordering.
12. Glenwood Hot Springs Lodge
When looking at the best places to stay in Glenwood Springs, we always stay at the Glenwood Hot Springs Lodge.
As a couple who stays here every year, we can personally vouch for how comfy and clean this hotel is.
Guests can stay at the Glenwood Hot Springs Resort, which is across the street from the pool and spa.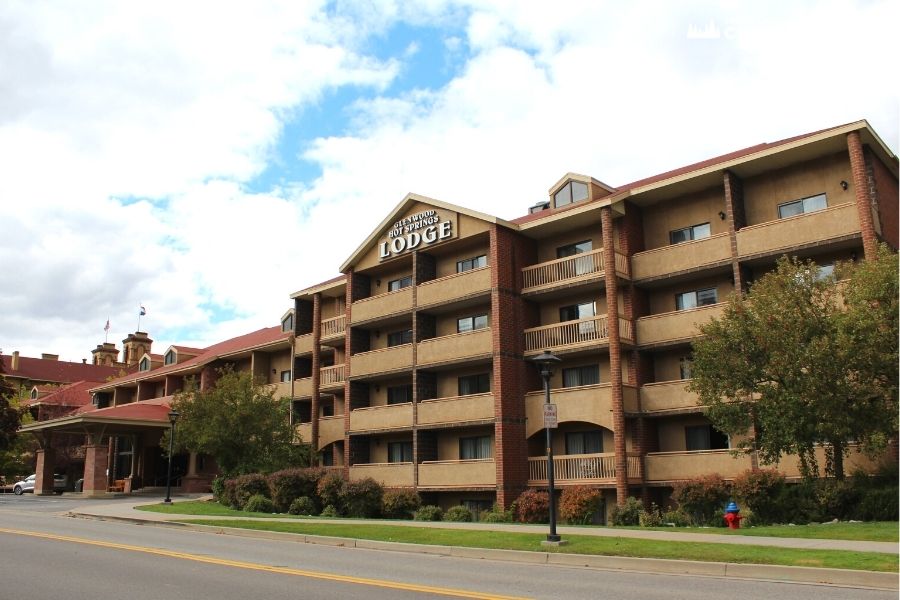 The hotel is connected to the hot springs pool across the street, attached to the spa and kiddie pool.
And you can save money when booking and staying at the resort.
They offer a Stay-and-Save bundle that includes parking, breakfast every morning, and unlimited visits to the hot springs mineral pools.
To gain access to the hot springs pool can cost anywhere from $14-31 per pass, depending on the time of year you visit.
But you can get discounts if you go in April and May before Memorial Day. The Glenwood Hot Springs calls this their "value season" and you can save about $6 off adult entry!
This is where you get free, unlimited entry into the pool, along with a free hot breakfast.
Not only that, you will get a free parking pass to the Lodge parking lot behind the hotel.
So, it usually makes a lot of sense to bundle your stay at the Lodge if you're planning to swim in the hot springs pool!
Note: you can also stay at the Hotel Colorado or Hotel Denver and get packages that include pool access.
We highly recommend booking your stay at the Hot Springs Lodge Resort when visiting Glenwood Springs.
13. Grizzly Creek Trail
Every year when we visit Glenwood Springs, we like to hike the Grizzly Creek Trail.
It's an easy to moderate hike that goes on for about 6 miles. It's perfect for small groups, families, kids and even dogs.
It follows the path along the Grizzly Creek in the heart of Glenwood Canyon. And the views are amazing!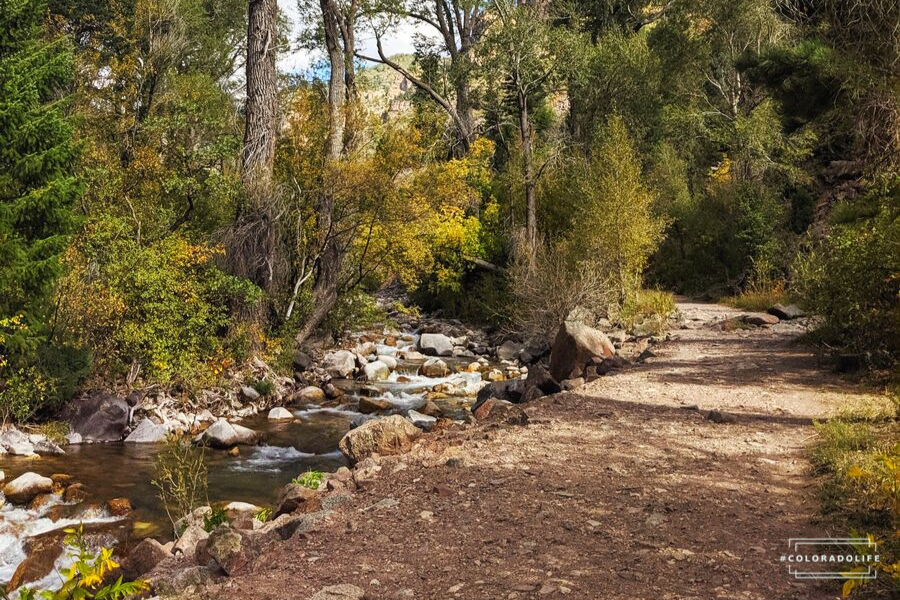 The path ends up at Alpine Lake, which is a great camping and photo spot near No Name, Colorado.
Plus, you can hike and explore here most of the year from spring to summer and even winter.
We enjoy hiking here in fall as the leaves are changing color and it makes for a gorgeous scenic hike.
14. Colorado Ranch House
Across the bridge from the Hot Springs Lodge in downtown Glenwood Springs is another super yummy restaurant called Colorado Ranch House.
The decor and food is western-inspired with some of the best game you'll ever eat.
They serve locally sourced beef and Rocky Mountain Trout, as well as local beer.
This is actually considered one of Glenwood Springs' hidden gems! And a favorite spot of ours to eat at during our visits.
The dining room is small but cozy and comfortable. Or you can enjoy a bite to eat outside on their patio located on Restaurant Row.
15. Doc Holliday's grave
Another piece of history you may be interested in near Glenwood Springs is Doc Holliday's grave.
He was involved in the famous shootout at the O.K. Corral in 1881. And he is said to be buried in Linwood Cemetery overlooking the city.
No one is sure if Doc is actually buried there or if it's just a tombstone, but it's still a cool site to behold.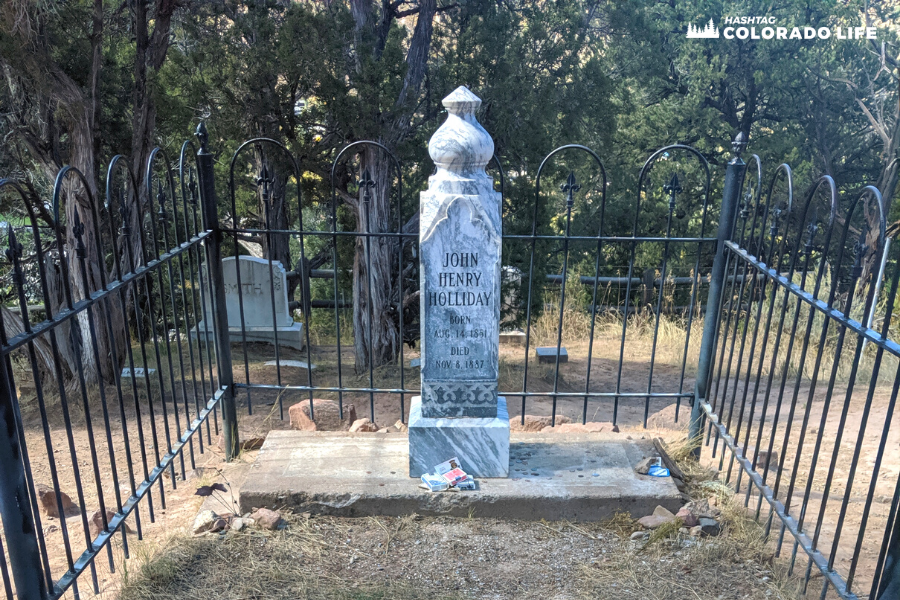 The hike up to Doc Holliday's grave is a short but very steep one, especially if you're not used to the altitude.
Free parking is available on the street and the hike is also free, so this is a very fun activity that doesn't cost any money.
Apparently, there's a guy who likes to dress up as Doc Holliday and scare the local residents.
16. Yampah Vapor caves
The Yampah Vapor Caves are the only known vapor caves in all of North America.
They were used by the Native Ute Indians for centuries as a sacred place of healing and rejuvenation. In fact, the word "yampah" translates into "big medicine" in the Ute language.
And to this day, the Vapor Caves, and the nearby Glenwood Hot Springs (that share the same water source), are still renowned for their healing properties.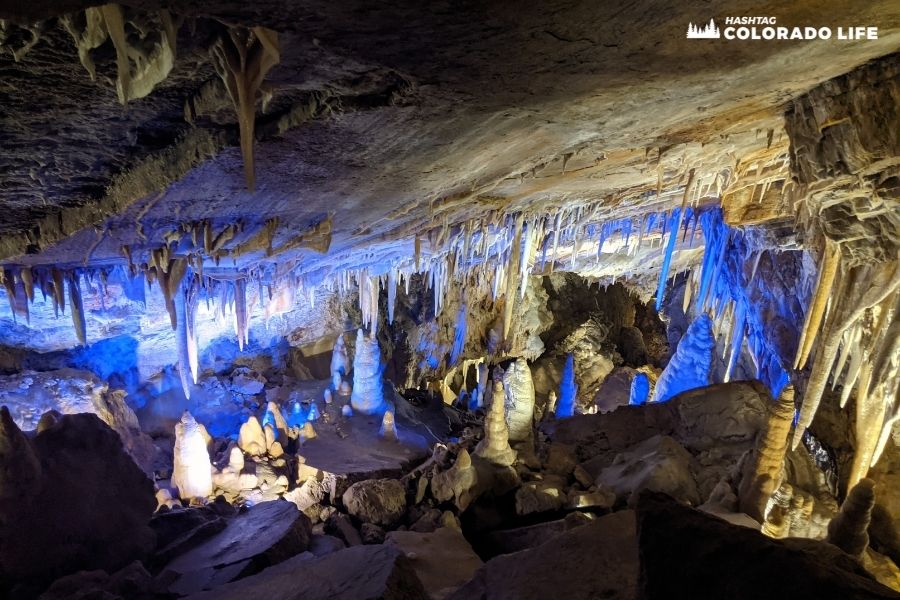 In the three adjoining rock chambers that make up the Yampah Vapor Caves flows very hot, 125° water and creates a natural, geothermal steam bath.
A feeling for well-being pervades you as you descend down the corridor into the caves where you can relax on slab marble benches.
Breathe in the 110° vapor-filled air and feel the stress drip off you, literally.
The Vapor Caves might be the real claim to fame here, but Yampah Spa offers other health and beauty treatments like: massages, facials, herbal body treatments and private natural mineral baths.
The Vapor Caves are open year round (except certain holidays) and require a reservation. However, they are literally down the street from Glenwood Hot Spring and an easy walk to.
17. Sweet ColoraDOUGH Bakery
There are lots of local places to eat in Glenwood Springs. Which ones are the best?
If you're looking for a delicious lunchtime eatery, you'll want to check out the Sweet ColoraDOUGH cafe and bakery.
This local place is family-owned and serves freshly made donuts, cakes, sandwiches, croissants and other baked goods.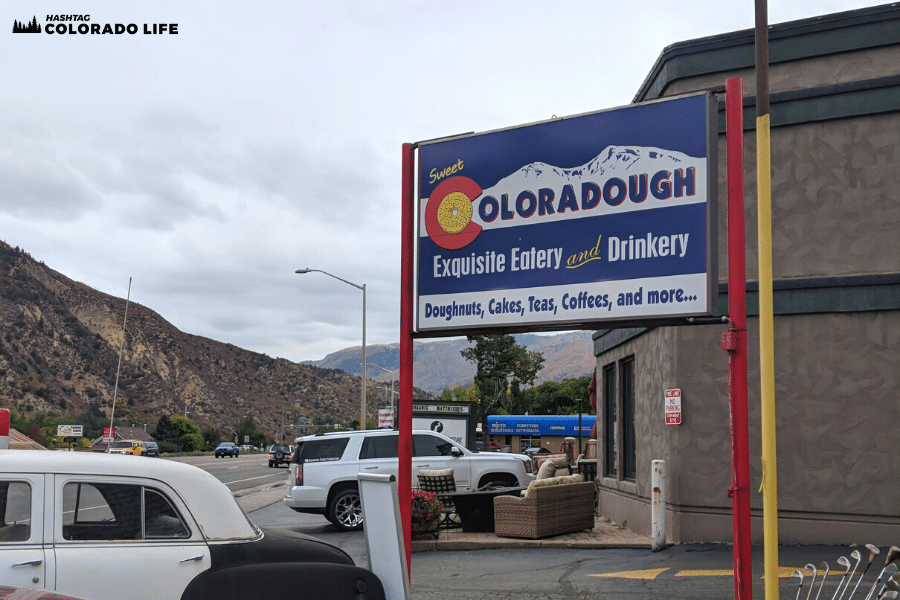 If you want something a bit stronger, they serve a great cup of coffee! Or you can walk upstairs and enjoy what the bar has to offer.
They were even named 2018's Best Doughnuts in Colorado by Travel + Leisure Magazine.
18. Iron Mountain Hot Springs
If you're looking for an alternative hot springs near Glenwood Springs that may be a bit less busy, check out Iron Mountain Hot Springs.
The hot Sulphur Springs is inside some of the caves in the canyon and is a very relaxing experience.
The individual pools are small and perfect for groups or couples to soak in the warm waters.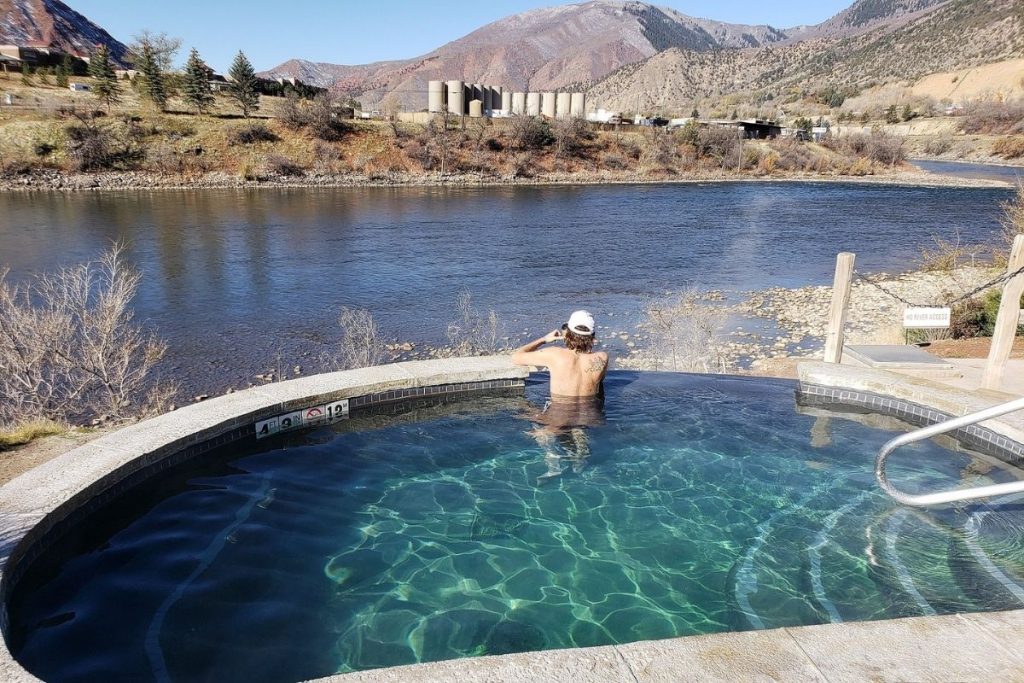 Plus, the views of the city and Glenwood Canyon are nothing short of spectacular.
There is also a freshwater family pool, jetted spas and a bathhouse that you can enjoy at Iron Mountain Hot Springs.
Still, nothing beats the original Glenwood Springs pool for a place to soak up the natural minerals coming right out of the earth.
19. Chomp's Deli
If you like a good sandwich (which I very much do!) then check out the sandwiches at Chomp's Deli.
Run by a local Glenwood Springs resident, this place has won several awards for the hometown's best and freshest sandwiches.
They have a wide variety of options for everyone, even vegetarians. And the best part is that they don't put nuts or grapes in their chicken salad.
Chomp's Delicatessen is located on 6th street near the Hot Springs Lodge and Pool.
It's the perfect place to grab a bite to eat on your way to these other things to do in Glenwood Springs.
20. Sunlight Mountain Resort
Sunlight Mountain Resort sits in the backyard of Glenwood Springs. It's a mere 25 miles south and is the go-to ski area for the entire Roaring Fork Valley.
Sunlight Mountain is only around 1/5th the size of Vail's ski slopes, but has a surprisingly wide variety of terrain for all skill levels.
Full of easy beginners trails, cruiser runs and a good selection of steep chutes make up this northeast-facing ski slope.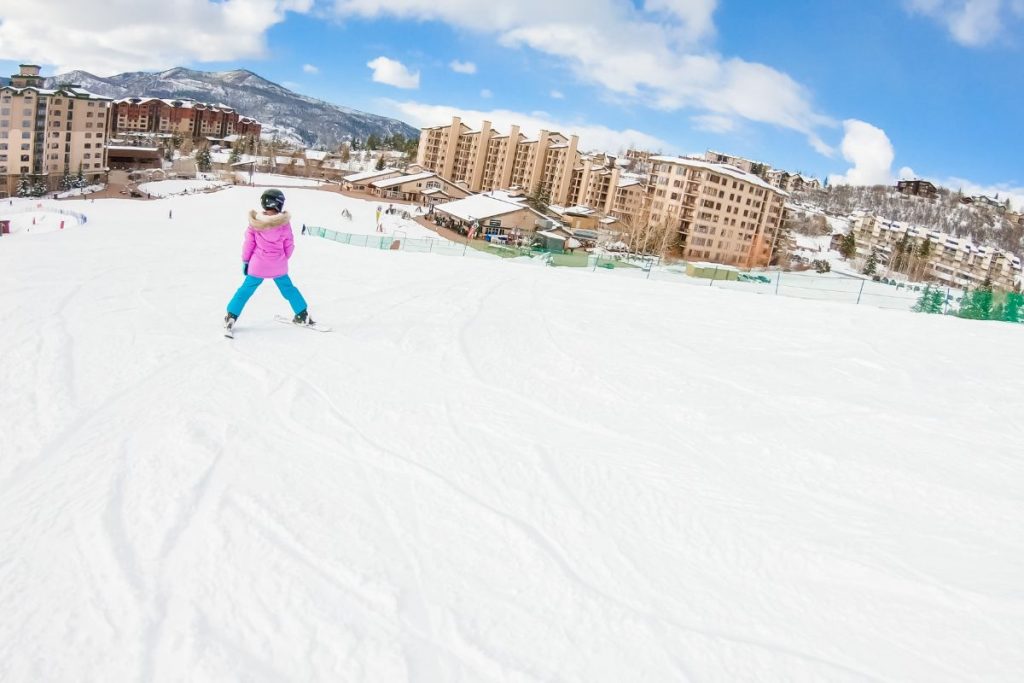 And with the resort being one of the smallest ski areas in all of Colorado, it means it is one of the least busy.
In fact, one of the Sunlight Mountains' (true) claims is that you never have to wait in line and fresh powder lasts for days without crowds.
Now one of the best parts about Sunlight Mountain Resort might be the close proximity to both Carbondale and Glenwood Springs. Towns which are both well known for their natural hot springs.
This added to the fact that Aspen and Snowmass, two larger ski resorts, are only about an hour south of the city, makes Glenwood Springs a great place to book a stay
Skiing all day and soaking in a warm natural hot spring doesn't sound too bad either.
Imagine a long day on the slopes and being able to soothe away any aches or pains in the warm therapeutic waters of a hot spring.
21. Scenic Rest Area
If you have some extra time, be sure to stop on the side of the road in Glenwood Canyon at one of the most beautiful rest areas you'll ever see!
Take a break to stretch your legs on the No Name exit and grab some beautiful photos of your vacation.
Autumn is one of the best times of the year to see gorgeous colors, drive along scenic Glenwood Canyon, and soak up the hot water in the cooler weather.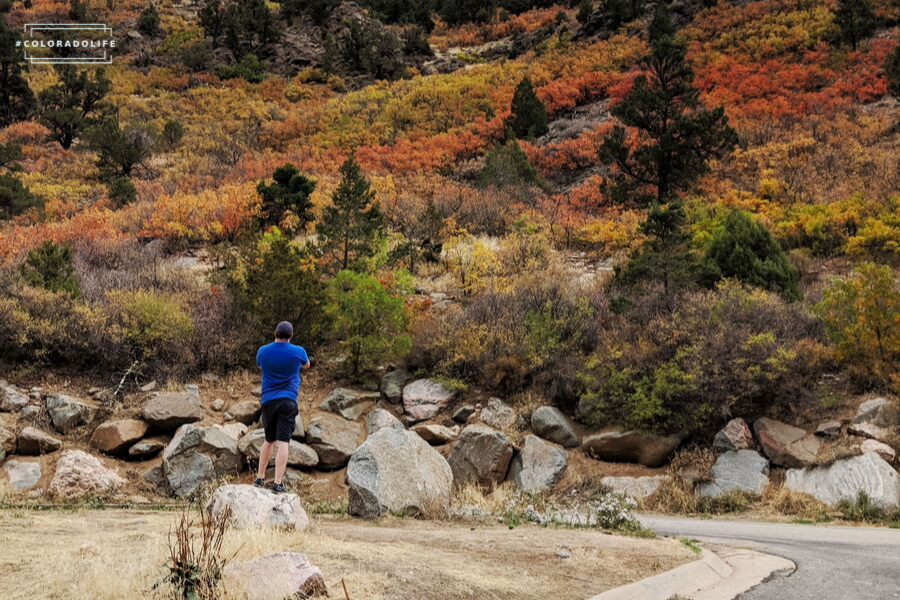 Our favorite time of year to soak in the hot mineral springs is during October or November.
This is when it's just starting to get cold outside but it's not the busy season.
We've even been in the water when it's snowing outside and it makes for a hot, sauna-type experience.
And if you want to try something else, the Amtrak train goes from Denver's Union Station to Glenwood Springs.
It takes about 6 hours but you get the same beautiful views without having to do any of the driving.
The best things to do in Glenwood Springs
The city of Glenwood Springs has a historic, small town feel with all the modern things you'd find in a larger city.
In fact, Glenwood Springs was picked as the fifth best place to live in 2015 by Outside Magazine.
When you think of Colorado, your mind probably goes to mountain activities like skiing.
But in Glenwood Springs it's all about the hot springs and sunbathing poolside!
We've found that pretty much anything you choose to eat, or do, in the area is an excellent experience.
We hope you enjoy your visit to the hot springs in Glenwood Springs.