18 Amazing Things to Do in Glenwood Springs, CO This Year
The content of this website may contain affiliate links and we may be compensated (at no cost to you!). Thank you for your support!
Guess where the world's largest mineral hot springs pool is located? Glenwood Springs! It produces over 3.5 million gallons of water a day.
And it's on our bucket list as one of our favorite spots to visit in the state of Colorado.
We're sharing the top places to stay in the area along with tips for saving money when planning your visit.
We discuss our favorite activities when we're not soaking in the mineral water.
If you haven't been to a hot springs and its famous healing waters, here are 18 things do to in Glenwood Springs that will help you relax.
1. Drive through Glenwood Canyon
About two hours west of Denver on I-70, Glenwood Springs sits right on the Colorado River in the Roaring Fork Valley.
Because the town is in a valley, it's protected from extreme winters and allows you to experience the outdoor lifestyle year round.
Still, you'll have to pass through Eisenhower Tunnel to get to Glenwood Springs. And during the winter this can be a little scary and take a bit longer to travel, especially if there's a lot of traffic.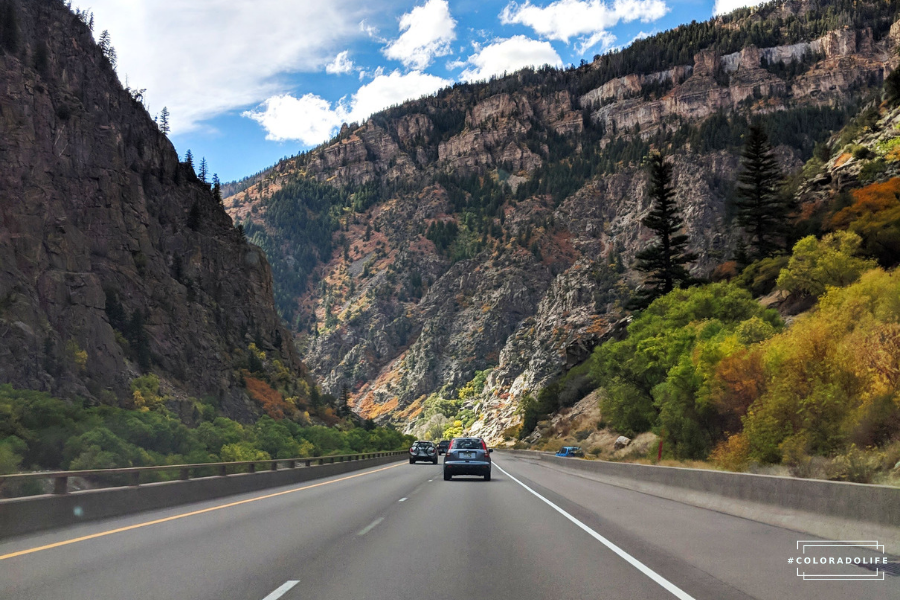 Coming from Denver, you pass through many small and iconic towns like Vail along the way.
But our favorite part about the drive is going through Glenwood Canyon.
Surrounded by mountains on either side and the Colorado River below, it is a breathtaking winding road through the mountains.
2. Stop at a Scenic Rest Area
If you have some extra time, be sure to stop on the side of the road at a rest stop. They are some of the most beautiful rest areas you'll ever see — no joke!
And if you want to try something else, the Amtrak train goes from Denver's Union Station to Glenwood Springs.
It takes about 6 hours but you get the same beautiful views without having to do any of the driving.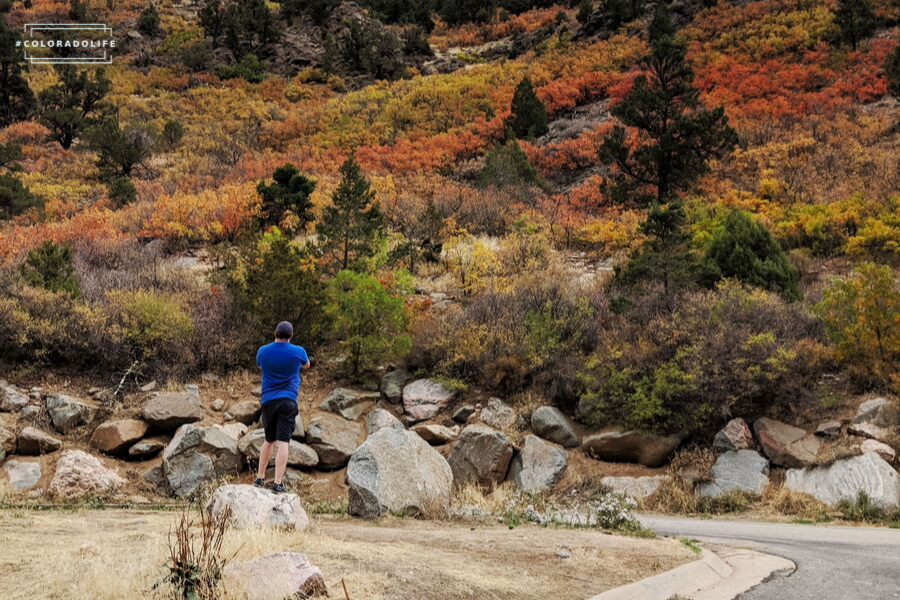 3. Hike up to Hanging Lake
Like the name implies, Hanging Lake is hanging on the edge of a mountains.
The lake's crystal clear water is fed by waterfalls coming from snow-melt up the mountain.
It's a yearly hike my family and I would take each fall when visiting Glenwood Springs. In fact, it's one of the most beautiful lakes in all of Colorado!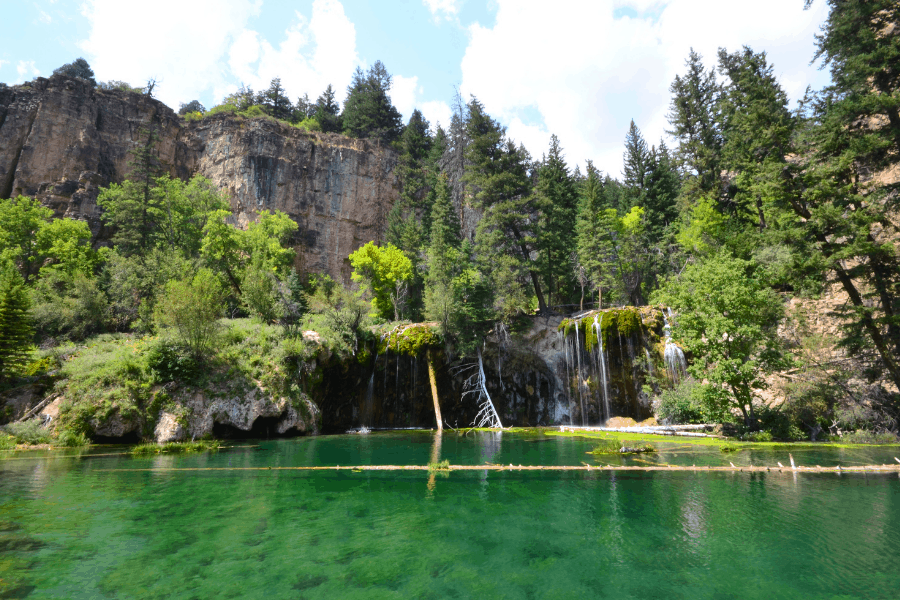 The hike to Hanging Lake can be treacherous, but is absolutely worth it. If you want to visit Hanging Lake, you'll need a permit.
They are now restricting access to the lake and the hike up, in order to protect the fragile ecosystem in the area.
4. Explore the history of Glenwood Springs
The city has a historic, small town feel with all the modern things you'd find in a larger city.
In fact, Glenwood Springs was picked as the fifth best place to live in 2015 by Outside Magazine.
Over 3.5 million gallons of water rises out of the ground each day.
This is then captured and mixed with fresh water from the two nearby rivers to fill the largest natural hot springs pool in the world.
Aspen and Snowmass, two large ski resorts, are about an hour south of Glenwood Springs.
Because of this, Glenwood Springs a great place to book a stay to avoid some of the higher prices of ski towns.
Skiing all day and soaking in a warm natural hot spring doesn't sound too bad either.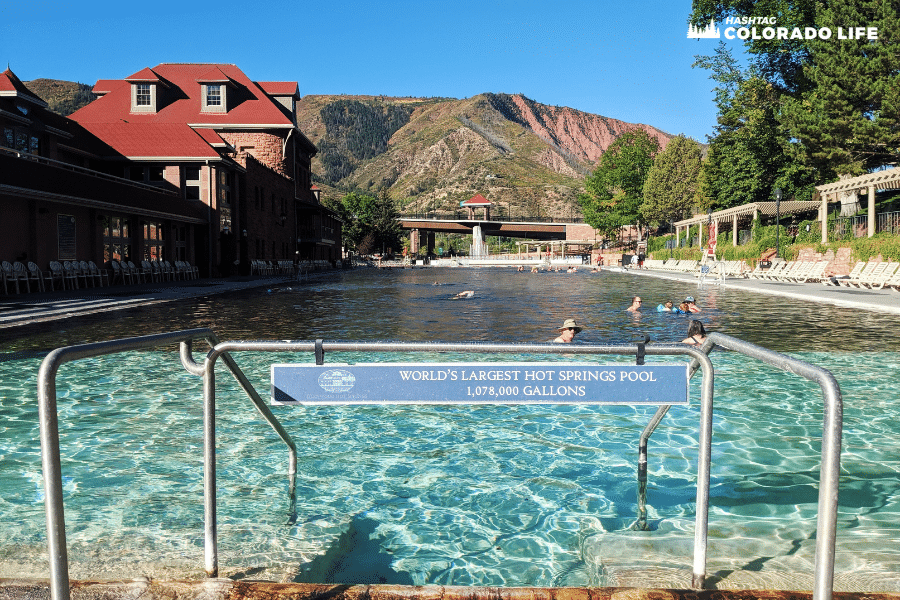 According to their website, the large springs pool is 405 feet long and 100 feet wide at the widest point.
It contains 1,078,000 gallons of water, and is kept at about 90° F / 32° C.
It features a diving area and exercise lap lanes!
The therapy pool or the hot tub, is much smaller at 100 feet long and contains 91,000 gallons of water.
It is kept at a temperature of about 104° F / 40° C and is amazing for soothing sore muscles and other body aches.
5. Enjoy the health benefits of the hot springs
Throughout history, Glenwood Springs has been known for the various health benefits that soaking in the hot mineral springs often gives people.
From drinking to bathing in the water, there are loads of health benefits that can be extracted from the water.
In fact, my grandfather would visit the Glenwood Springs Hot Springs Pool and soak in the mineral hot water.
It would relieve his arthritis pain and relax his muscles to the point where he could finally close his fists.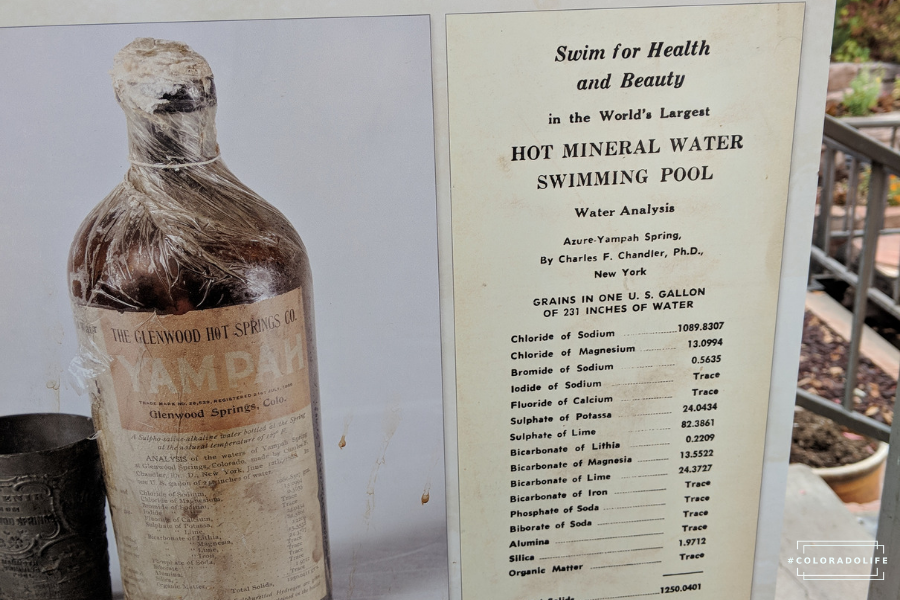 6. Stay at the Glenwood Hot Springs Lodge
Where are the best places to stay in Glenwood Springs?
When looking at the best places to stay in Glenwood Springs, here are some of our top recommendations.
These are actually places we've stayed in and can personally vouch for.
We recommend booking your stay at the Hot Springs Lodge Resort.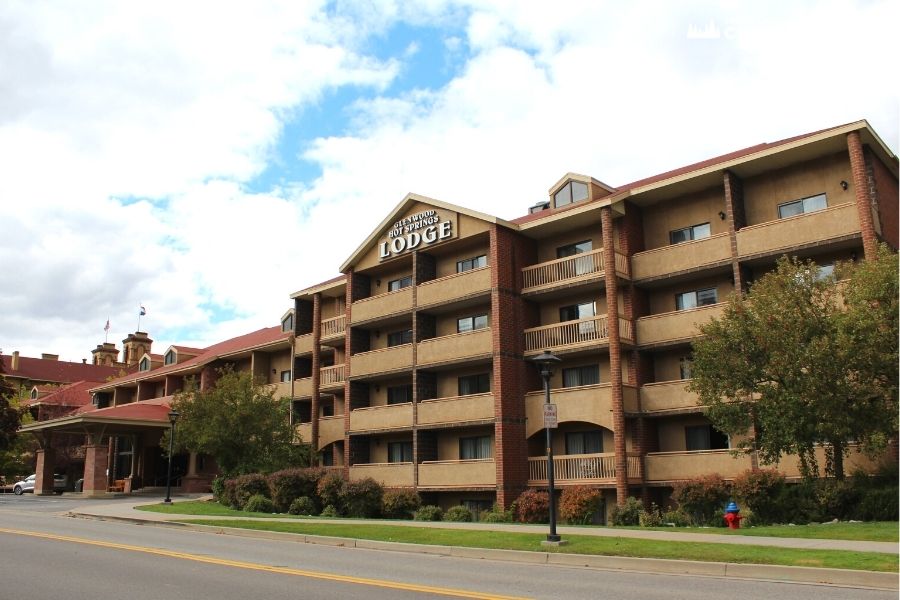 This is the lodge that's connected to the hot springs pool across the street, attached to the spa and kiddie pool.
And you can save money when booking and staying at this lodge resort.
They offer a Stay and Save bundle that includes parking, breakfast every morning, and unlimited visits to the hot springs mineral pools.
7. Visit the historic Hotel Colorado
Hotel Colorado is also a great place to stay in Glenwood Springs, although it's a bit pricier.
It was built in the late 1800's and has a lot of the history still preserved in their walk-through museum.
It's like staying in a piece of history!
And you'll be able to see the pictures of where the original hot springs pool was located at in the late 1800s before they moved it to the location it is now.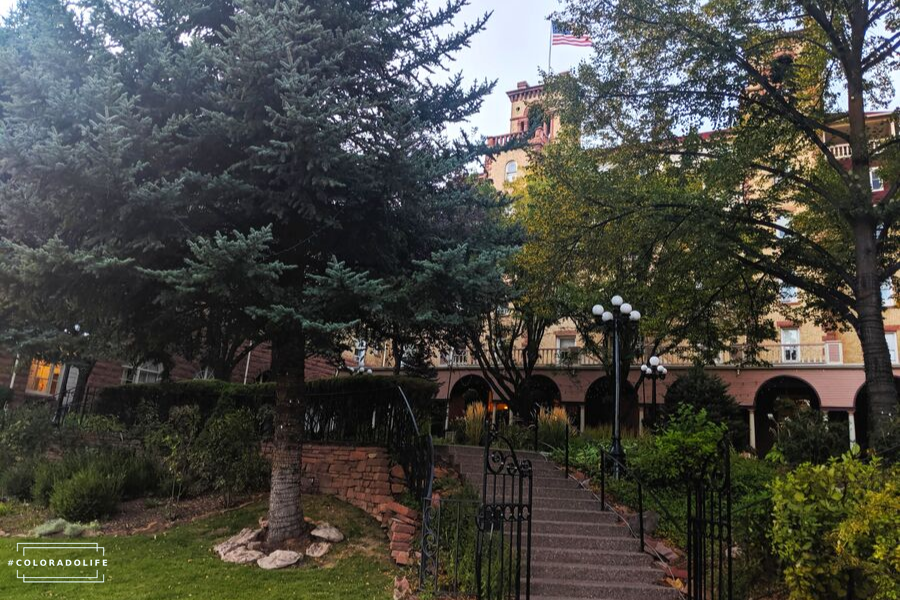 8. Relax in the Glenwood hot springs pool
How much does it cost to get into the hot springs pool?
To gain access to the hot springs pool can cost anywhere from $14-31 per pass, depending on the time of year you visit.
You can get discounts if you go in April and May before Memorial Day.
The Glenwood Hot Springs calls this their "value season" and you can save about $6 off adult entry!
Guests can stay at the Glenwood Hot Springs Resort, which is across the street from the pool and spa.
This is where you get free, unlimited entry into the pool, along with a free hot breakfast.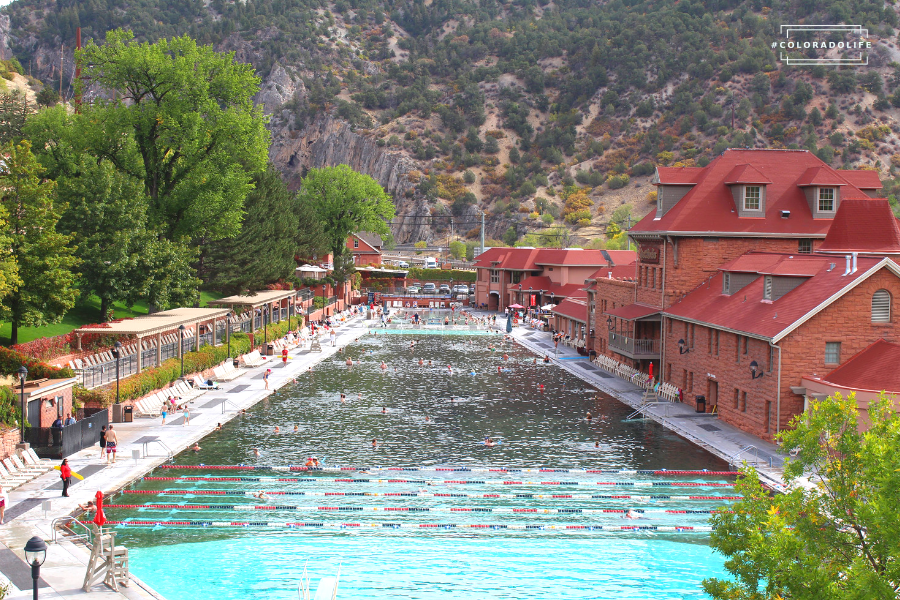 Not only that, you will get a free parking pass to the Lodge parking lot behind the hotel.
So, it usually makes a lot of sense to bundle your stay at the Resort!
Note: you can also stay at the Hotel Colorado or Hotel Denver and get packages that include pool access.
9. Visit Glenwood hot springs all year long
Our favorite time of year to soak in the hot mineral springs is during October or November.
This is when it's just starting to get cold outside but it's not the busy season.
We've even been in the water when it's snowing outside and it makes for a hot, sauna-type experience.
It's wonderful!
The summertime is a popular time because they have the main pool open, along with the water slides, the diving board, and the kiddie pool.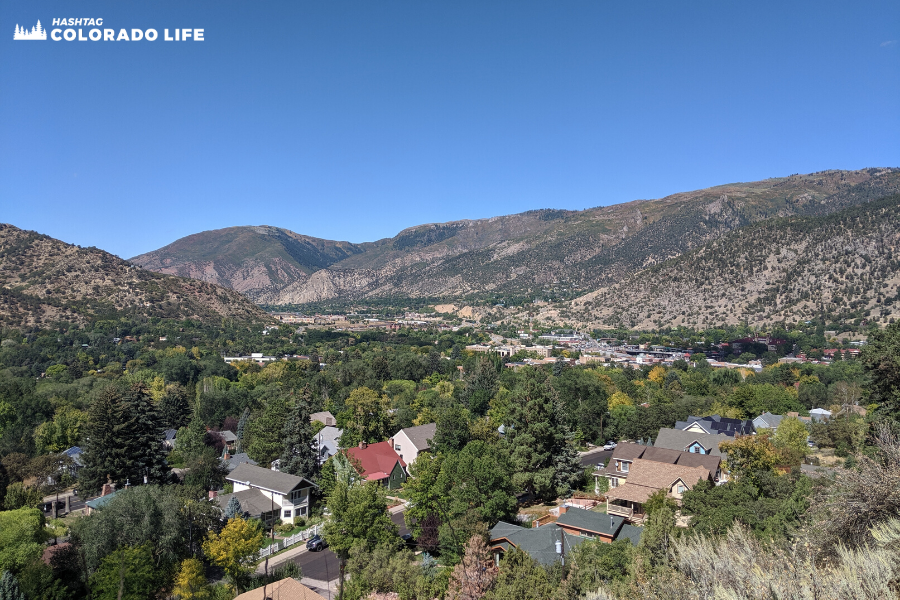 It's the perfect summer vacation getaway for families and kids.
But be warned, the pool is still 90-something degrees all year round. So, it may not give you that refreshing cooling experience you're looking for.
What are the top things to do in Glenwood Springs?
Aside from lounging in the hot springs all day, here are some other top things to do while in Glenwood Springs, Colorado.
10. Bike or walk the Rio Grande Trail
If you're into hiking or cycling, check out the Rio Grande Trail. It runs 42 miles all the way to Aspen, Colorado and back.
It's a nice challenge for anyone looking for an extended outdoor adventure.
11. Hike the Grizzly Creek Trail
Every year when we visit Glenwood Springs, we like to hike the Grizzly Creek Trail.
It's an easy to moderate hike that goes on for about 6 miles.
It follows the path along the Grizzly Creek in the heart of Glenwood Canyon. The views are amazing!
The path ends up at Alpine Lake, which is a great camping and photo spot near No Name, Colorado.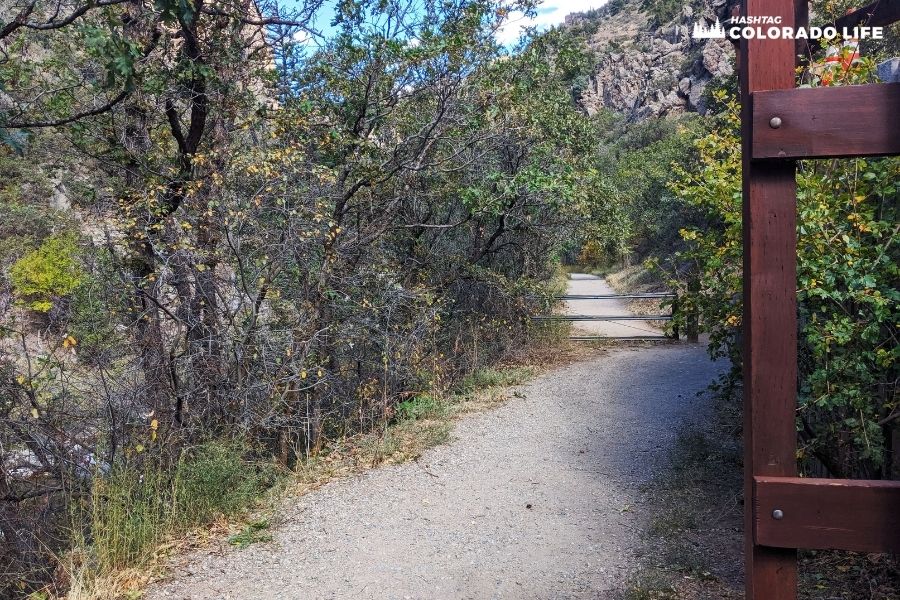 12. Go to Glenwood Caverns Adventure Park
The Glenwood Caverns Adventure Park is home to the highest elevation roller coaster in the country.
It's a great ride for kids and adults who love heights and going fast on rides.
You can also take a ride up the Glenwood Gondola and see gorgeous views of the Rocky Mountains for miles and miles.
The Glenwood Springs Adventure Park is also home to the Glenwood Troll named Halvor Flowstone.
Similar to the Breckenridge Troll you can visit and take photos with the troll.
Or you can pay for the gondola + caves bundles to explore some of the best caves in Colorado. Kids and adults can enjoy the rest of the amusement park all day!
13. See Doc Holliday's grave
Another piece of history you may be interested in is visiting Doc Holliday's grave.
He was involved in the famous shootout at the O.K. Corral.
They're not sure if he's actually buried there or if it's just a tombstone, but it's still a cool site to behold.
Apparently, there's a guy who likes to dress up as Doc Holliday and scare the local residents.
14. Soak in the Iron Mountain Hot Springs
If you're looking for an alternative hot springs in the area that may be a bit less busy, check out Iron Mountain Hot Springs nearby.
The hot Sulphur Springs is inside some of the caves in the canyon and is also a very relaxing experience.
Still, nothing beats the original Glenwood Springs pool for a place to soak up the natural minerals coming right out of the earth.
15. Eat at the Sweet ColoraDOUGH Bakery
Where are the best places to eat in Glenwood Springs?
There are lots of local places to eat in Glenwood Springs. Which ones are the best?
If you're looking for a delicious lunchtime eatery, you'll want to check out the Sweet ColoraDOUGH cafe and bakery.
This local place is family-owned and serves freshly made donuts, cakes, sandwiches, croissants and other baked goods.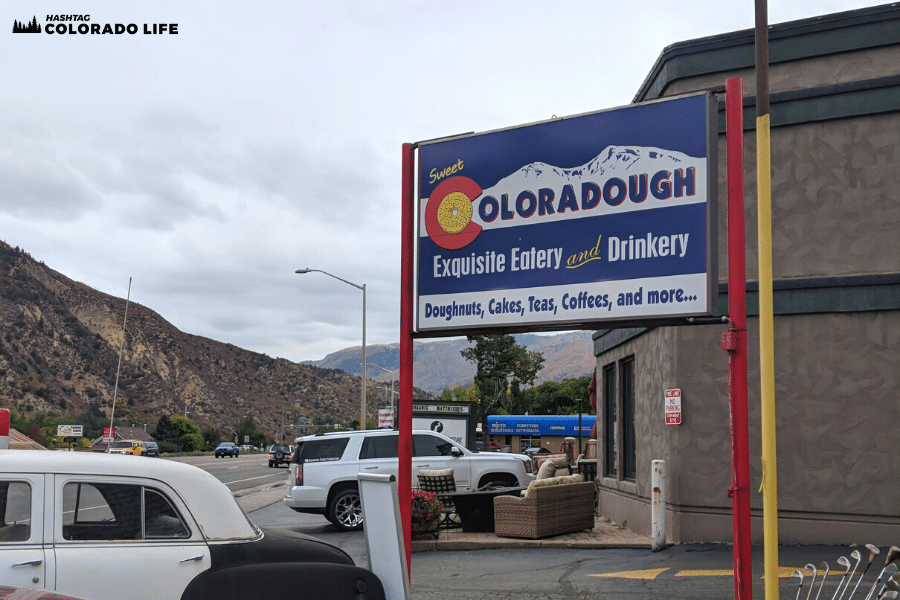 If you want something a bit stronger, they serve a great cup of coffee! Or you can walk upstairs and enjoy what the bar has to offer.
They were even named 2018's Best Doughnuts in Colorado by Travel + Leisure Magazine.
16. Go on a date at the Colorado Ranch House
Across the bridge from the Hot Springs Lodge in downtown Glenwood Springs is a super yummy restaurant called, Colorado Ranch House.
The decor and food is western-inspired with some of the best game you'll ever eat.
They serve locally sourced beef and Rocky Mountain Trout, as well as local beer.
This is actually considered one of Glenwood Springs' hidden gems!
17. Have your fill at Juicy Lucy's Steakhouse
Juicy Lucy's steakhouse is another favorite eatery in Glenwood Springs that we revisit every year.
It's located across the bridge from the Hot Springs Lodge and is surrounded by beautiful architecture and local Colorado breweries.
The place lives up to its name with a cozy, old saloon steakhouse feel and very generous portions.
It's the perfect spot for a date night out, or a fun place for the entire family to enjoy.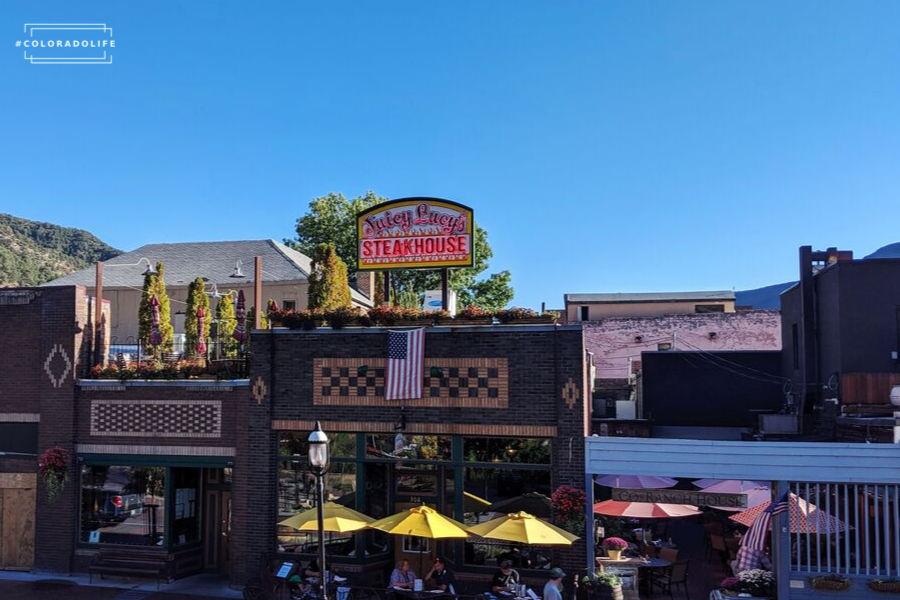 18. Keep it casual at Chomp's Deli
If you like a good sandwich (which I very much do!) then check out the sandwiches at Chomp's Deli.
Run by a local Glenwood Springs resident, this place has won several awards for the hometown's best and freshest sandwiches.
They have a wide variety of options for everyone — even vegetarian.
And the best part is that they don't put nuts or grapes in their chicken salad. 😀
———
When you think of Colorado, your mind probably goes to mountain activities like skiing.
But in Glenwood Springs it's all about the hot springs and sunbathing poolside!
We've found that pretty much anything you choose to eat, or do, in the area is an excellent experience!
We hope you enjoy your visit to the hot springs in Glenwood Springs.