The Best Garden of the Gods Tours With 5-Star Reviews
The content of this website may contain affiliate links and we may be compensated (at no cost to you!). Thank you for your support!
Garden of the Gods is often considered the country's number one best city park, especially for tours. And to some it's not even a park at all. 
This epic landscape of lush grasslands, native wildlife, and stunning red rocks, is like no other park you've ever visited.
The marvelous green valleys are only surpassed by the grandeur of the towering red rock formations.
And the best way to see Garden of the Gods is by booking a private tour. You'll uncover unique geology, learn the history of the wild west, and understand what makes this place so sacred.
If you are looking for the best Garden of the Gods tour for seeing spectacular sights then check out these five-star reviews.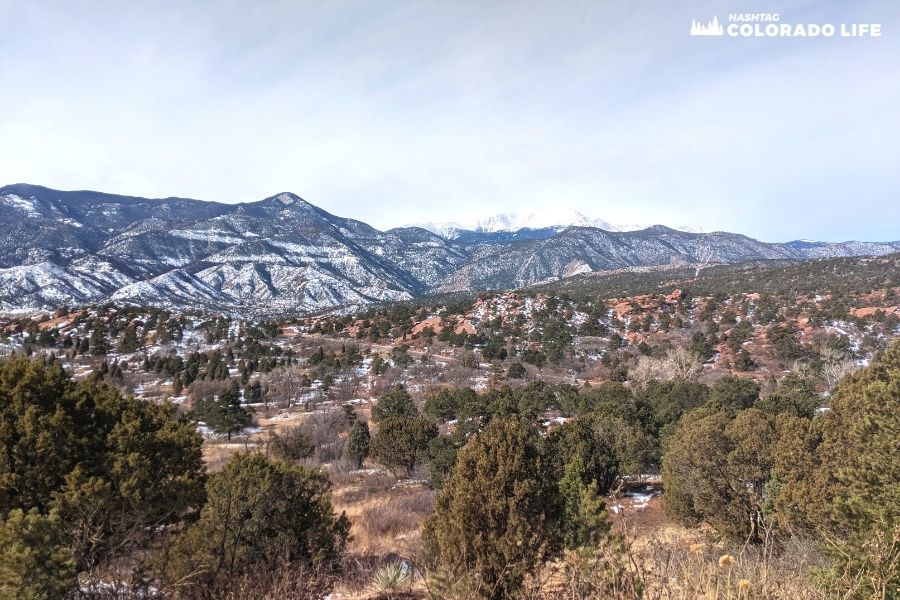 1. Foothills & Garden of the Gods Jeep Tour
The Pikes Peak region features epic sights and historic adventures, many of which we have shared on this blog. And touring Garden of the Gods is just the beginning.
One of the best ways to take in the breathtaking views of the area is by booking a Garden of the Gods Jeep Tour. 
Enjoy a custom 4×4 tour to take in the natural beauty of the Rocky Mountains, learn the history of the old west, and snap photos of the Colorado Springs valley.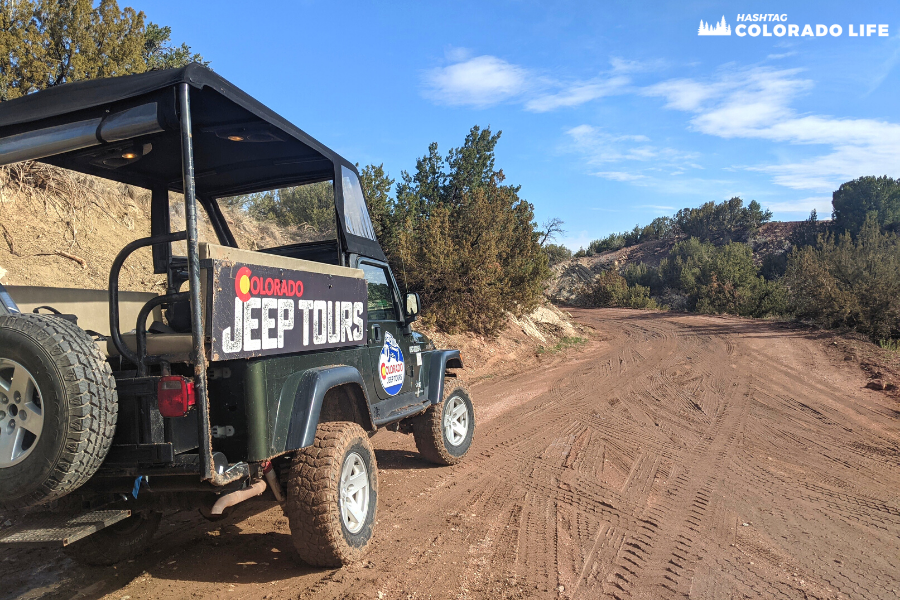 And of course, you'll be able to tour the spectacular views and red rock formations of Garden of the Gods.
During this 2.5 hour tour, the jeep will make stops at the foothills of Pikes Peak, including:
Plus many more attractions. 
As you ride along in the jeep, about 70% of the drive will be on paved roads with the other 30% will be on dirt roads.
This jeep tour is available year-round and pretty much in any weather, rain or shine. 
Included with your Garden of the Gods Jeep Tour for free:
Bottle water
Sodas
Snacks
Wool blankets
We recommend bringing warm clothes or dressing in layers due to Colorado's unpredictable climate. Sunscreen and sunglasses are also a must as they are not provided while in the jeep.
As you book your trip, read more about how to prepare for your next jeep tour.
2. Garden of the Gods Hiking Tour
If you've never been to Garden of the Gods before a private hiking tour can be the perfect introduction.
Join a knowledgeable hiking guide for a private tour of the area's massive landscape including native plants, red rocks, and local wildlife. 
Your 2-hour journey starts at the main Garden of the Gods entrance with your photo being taken.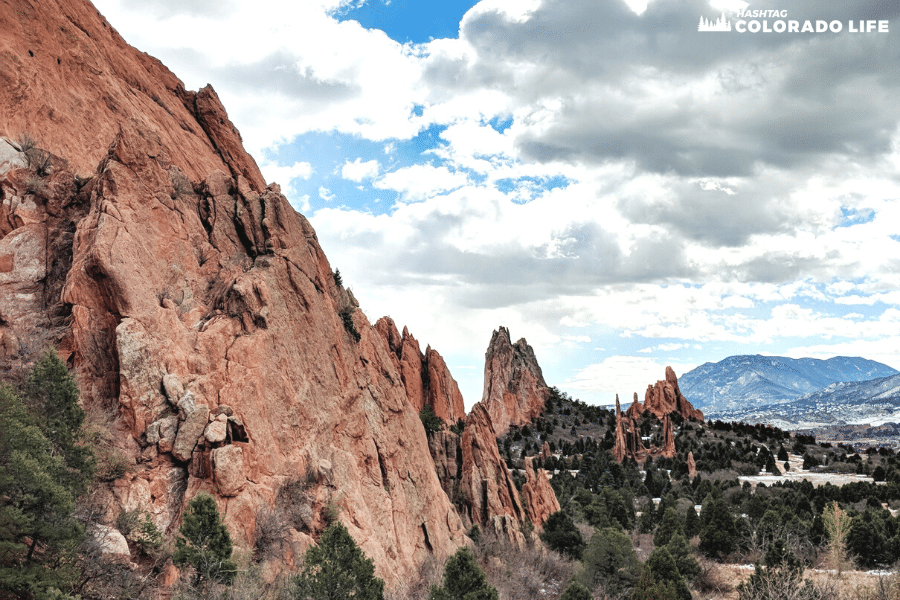 What other time will you have to capture this picturesque landscape as the backdrop?! It's a once-in-a-lifetime experience.
From here it's an easy hike to the Central Park area and onto lesser-known trails.
As you continue hiking, on some paved and unpaved trails, your tour guide will talk about the local history and geology of the park. 
The history of Garden of the Gods is quite fascinating and includes local plants, Native Americans, and sacred traditions.
This private hiking tour is an easy hike between 2-3 miles long. It's suitable for all ages and any ability level, and perfect for families and kids. 
Plus, the great thing about this hiking tour is that dogs are welcomed as long as they are on a leash.
Be sure to wear comfortable hiking shoes and bring any extra food or water you might need along the journey. 
And as usual we recommend bringing sunscreen and sunglasses to protect yourself from the hot Colorado sunshine.
3. Garden of the Gods Segway Tour
Don't want to be stuck in a jeep? Get out on foot and explore geologic formations, winding roads, and beautiful wildlife by booking a Garden of the Gods Segway Tour.
If you've never been on a Segway adventure it's a fun and unique experience you'll never forget. 
Don't worry, the Segway tour guide will teach you how to use a Segway before the tour starts. You'll also be given a helmet and other safety equipment included with your trip.
Slowly drive along the paved roads inside Garden of the Gods and experience gorgeous sights and sounds of nature, wildlife, and rock formations.
This tour makes stops at scenic destinations like the Park Overlook, Kissing Camels, and Praying Hands.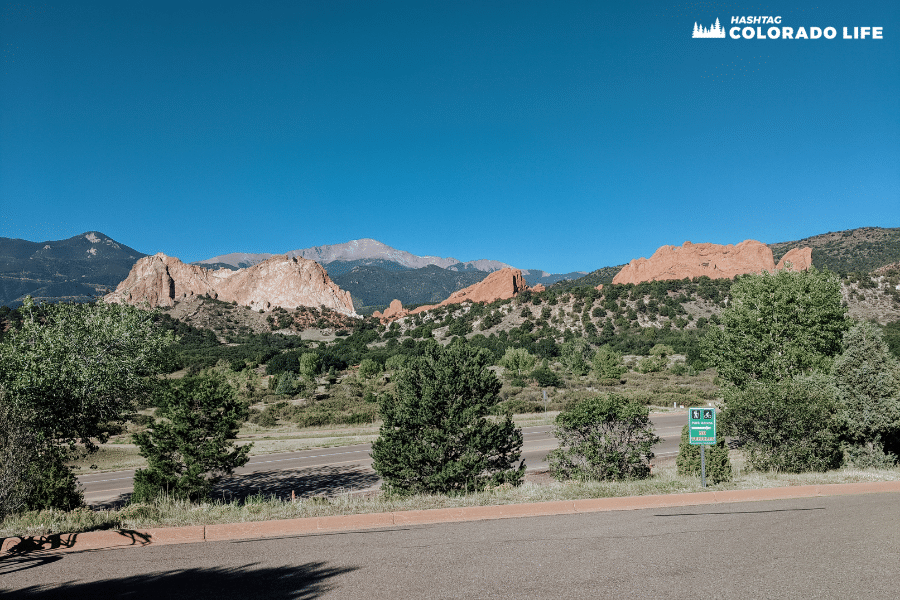 Listen in as your tour guide shares the history of this beautiful park as well as tales of the old wild west for 1.5 hours. 
Plus, learn about the local foliage, fauna, and wildlife that inhabits the park's 1,367 acres.
Please note that a Garden of the Gods Segway Tour is more suitable for teenagers and adults. This tour does not allow children under 12 years or women who are pregnant.
It's recommended to dress in layers and wear comfortable, close-toed shoes while on the Segway. 
And bring lots of water and sunscreen to stay hydrated and protected throughout the day.
4. Rock Climbing at Garden of the Gods
If you're a more active and ambitious traveler, we highly recommend booking a private Rock Climbing Tour at Garden of the Gods. 
This 4-hour long tour is ideal for individuals who want to get their hands dirty and work hard to be rewarded with epic mountain views.
A rock climbing tour is perfect for anyone hoping to avoid the crowded walking trails or popular Visitor Center.
Get outside and experience spectacular views and the marvelous environment that this National Historic Landmark has to offer.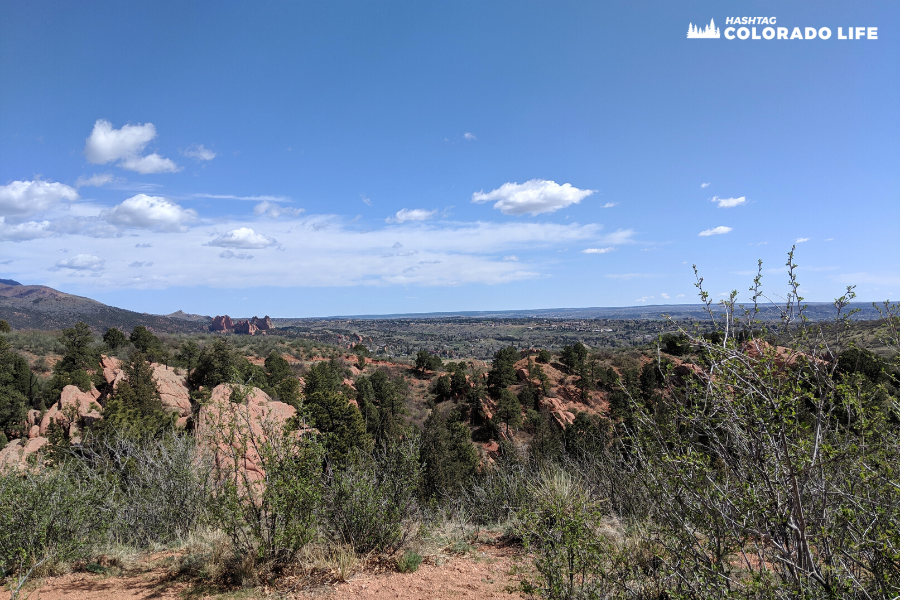 Whether you're a beginner or intermediate rock climber, this experience is perfect for you.
Get ready to learn basic rock climbing techniques geared at protecting these historic rock formations. Plus, find out how to tie secure knots and descend gently and safely.
Included with your ticket is all the equipment you will need plus a professional and experienced guide to help you along the way.
We recommend wearing comfortable clothing that can be layered easily, as well as comfortable walking shoes. 
This Garden of the Gods Rock Climbing tour starts at 8am so be prepared for changing weather throughout the day.
5. Garden of the Gods E-Bike Tour
If you're not interested in a Jeep tour of Garden of the Gods, or riding around on Segways, then you might like an electric bike tour.
Explore the stunning views and scenic stops at Garden of the Gods Park with a pedal and throttle-assisted e-bike.
This means you can relax and enjoy the tour instead of working to pedal a manual bike. An electric bike tour is perfect for kids and adults of all skill levels.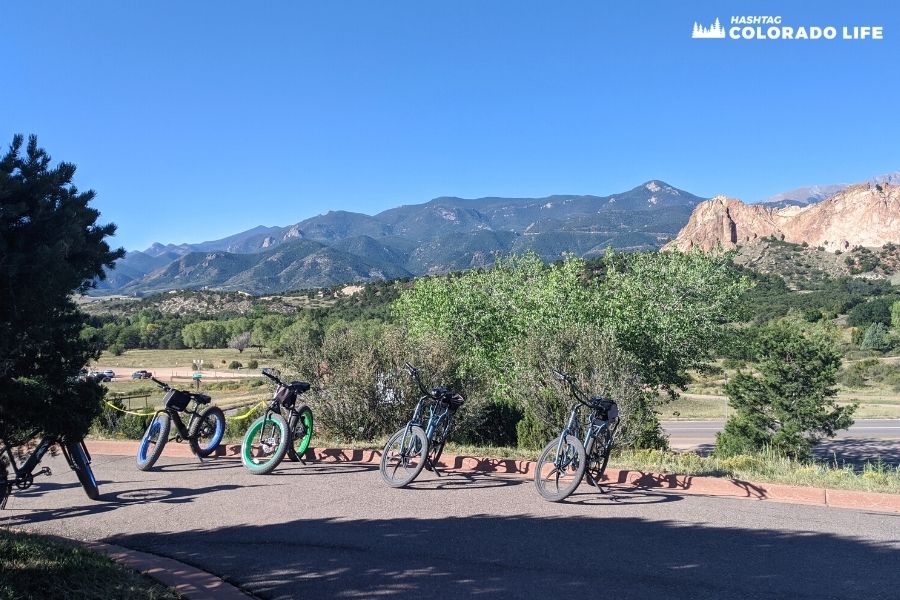 Take in the spectacular views at Rock Ledge Ranch and Balanced Rock. Then stop at the Nature Center for a free museum tour.
After a quick safety training with a local guide you'll learn to easily operate your very own e-bike.
Included with this 2.5 hour tour is your personal electric bike along with water, snacks, helmet, and other safety equipment.
Click here to learn more about this Garden of the Gods E-bike Tour.
6. Full-Day Pikes Peaks Region Tour
Coming from Denver, this Full-Day Pikes Peak Region tour offers the opportunity to see iconic Colorado scenery.
All while being located in the state's second largest urban area. 
Kicking off the tour at the Capital's Union Station, you will head south past the Palmer Divide and into Colorado Springs to explore the Pikes Peak region. 
The journey really begins when you get to the Pikes Peak Highway and start the ascent to the top of America's Mountain. 
Be as inspired as Kathrine Lee Bates was at the landscape and wildlife around you on your way to 14,110 feet above the clouds. From the top of Pikes Peak, take in the 360 degree views from all sides.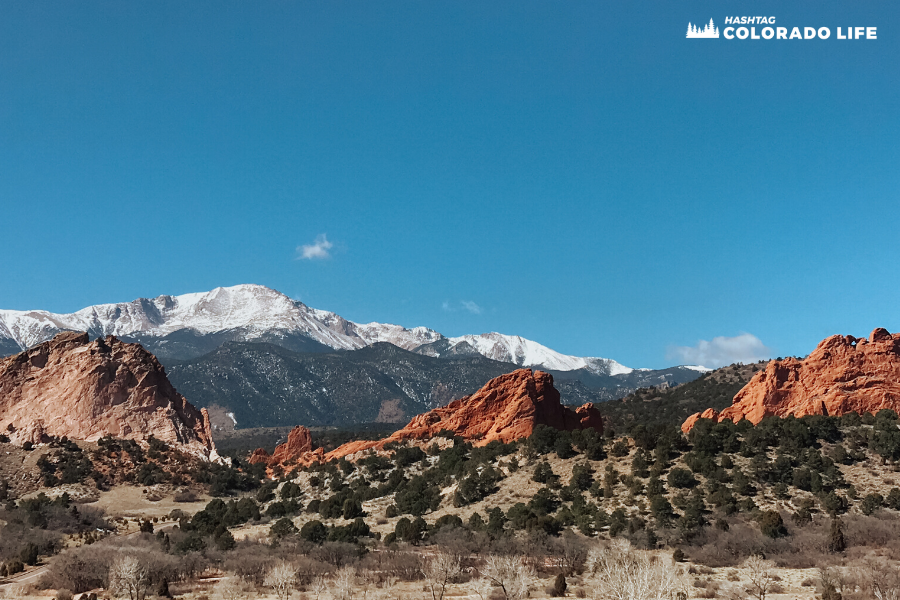 Next, travel back down to the foot of the mountains and visit the mountain town of historic Manitou Springs.
In this Victorian town, you will spend time eating, shopping or having fun in the historic Penny Arcade. Or try one of the many bubbly natural mineral springs in the area that give the town its name.
The final destination of the trip will be into Garden of the Gods Park where you can explore some of Colorado's natural history. Take an easy walk through ancient and colossal rock formations on one of the many trails.
And keep an eye out for the abundant wildlife that calls this area home. 
Stop at the Visitor and Nature Center to learn about the extended history of the rocks and for a quick tour of the museum's exhibits. 
Afterwards, take a break for a bite to eat or ice cream treat at the Garden of the Gods Trading Post.
This 9-hour tour of the natural wonders of Colorado is well worth the time to explore some of the state's most scenic and iconic destinations. 
7. Garden of the Gods Trolley Tour
A personal favorite of ours for touring Garden of the Gods is the 1909 Trolley Tour. 
This open-air trolley will take you back in time for more than 100 years, when the park first became part of Colorado Springs.
Stay entertained with local stories thanks to a knowledgeable and friendly tour guide, all while learning about the history of the park.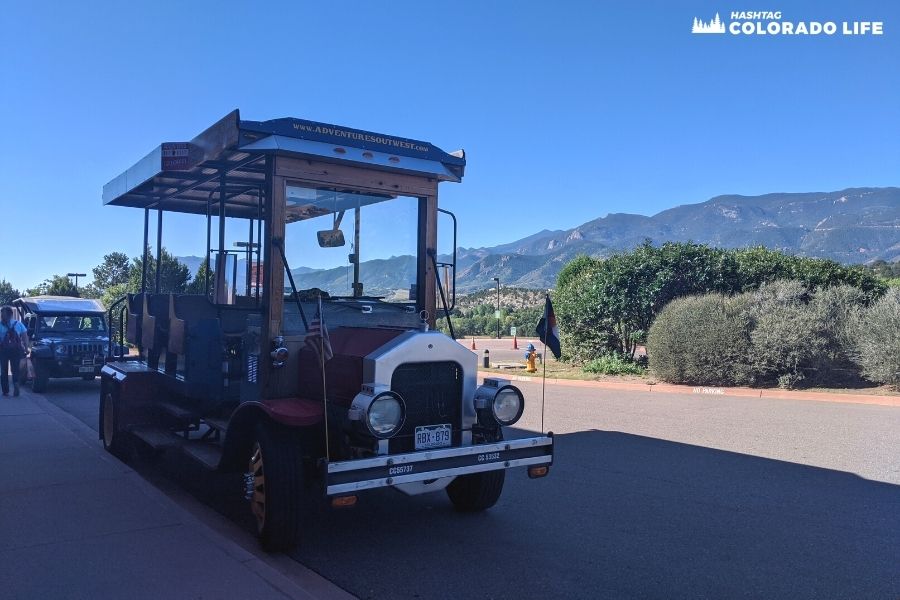 This 45-minute tour is perfect for beginners or locals who don't have a lot of time or money for a longer tour of Garden of the Gods.
Just hop into one of the 14 seats available on this custom 1909 trolley. Then enjoy the fantastic sights with stops at popular formations like Balanced Rock.
Tickets are relatively affordable at just $17 per person and can be purchased at the activity desk inside the Garden of the Gods Visitor Center.
From epic photo opportunities to an amazing scenic drive through Garden of the Gods, a tour is a great way to take in the beautiful scenery that Colorado has to offer.
We hope these spectacular Garden of the Gods tours help you create unforgettable memories while visiting Colorado Springs.