25 Best Restaurants in Boulder to Try Right Now
This website may contain affiliate links and we may be compensated (at no cost to you!).
Want to know the best restaurants in Boulder? As a local who used to live here, I know the local hot spots and favorite restaurants to try.
Not only that, but I'm a classically trained chef and like trying new foods and eating fresh, local produce.
I love trying new food and eating at a variety of different restaurants.
In this guide, you will discover the best places to eat in Boulder along with my top picks for bars, breweries, and even ice cream shops.
As a chef I often get asked what the best restaurants in Boulder are, so that's what I'm sharing today.
Whether it's for a casual night out or a weekend date night, these are local favorites and must-try eats in Boulder.
1. Hapa Sushi
Seafood and sushi lovers, rejoice! Hawaiian-Japanese fusion restaurant, Hapa Sushi, will satisfy even the most distinguished of sushi-eaters.
Sushi is one of my favorite things to eat, and I've eaten a lot of it. In fact, I have lived in Hawaii and Seattle, where you get some of the freshest sushi.
And Hapa Sushi (as well as Bamboo Sushi in Denver) offer deliciously unique and perfectly prepared rolls and sashimi.
They have a kid-friendly menu for picky eaters and offer gluten free options for those with dietary restrictions.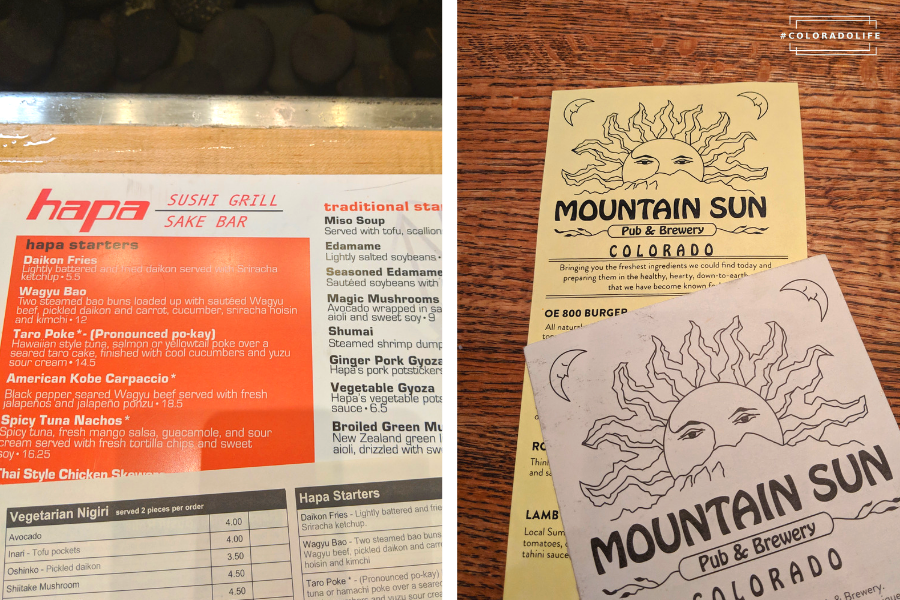 Hapa Sushi is so popular they even have locations in Denver near Cherry Creek and LoDo.
Even if you don't love sushi, their Wagyu Bao or Hawaiian Sliders will delight you. I order them every time I eat at Hapa, it's just that good!
2. Mountain Sun
Another popular restaurant in Boulder that's located on Pearl Street is Mountain Sun.
I like to meet up with friends here since it's a bar with a louder, more energetic atmosphere.
At Mountain Sun you can drink some beer and have some good bar food.
You will die for the mountain of unbelievable nachos! It's stacked so high with chips, cheese, and other fixings that you can share with the group.
All of Mountain Sun's food is the perfect accompaniment to any drink.
One thing to know though, Mountain Sun is cash only!
3. Santo
If you love brunch, then I highly recommend heading to Santo, located in northwest Boulder.
Serving brunch on Saturdays and Sundays, this is Top Chef winner Hosea Rosenberg's homage to northern New Mexican.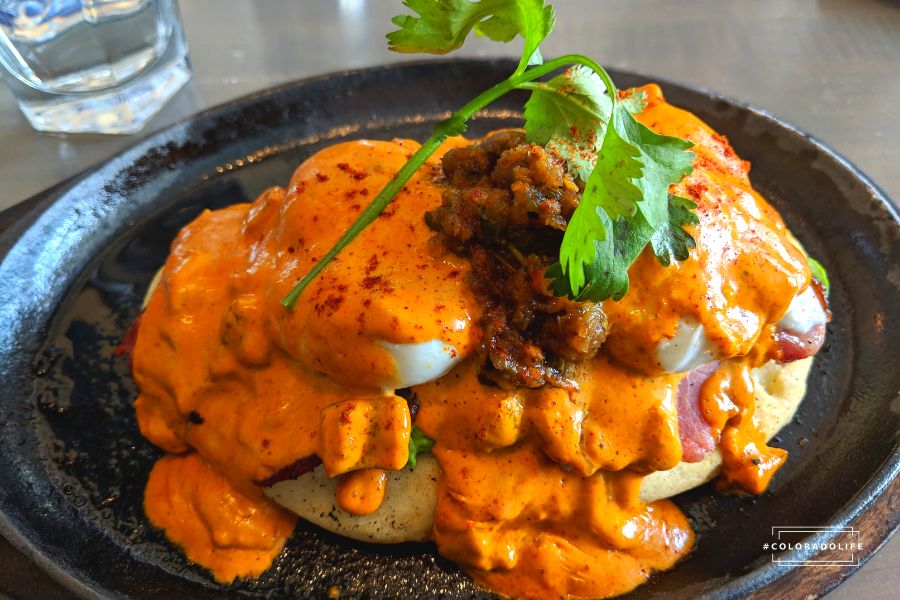 The dishes we enjoy when eating here are the Fry Bread Benedict and the Green Chile-Cheddar Biscuit. Yes, please!
Nearly every dish is served with locally sourced fresh or dried chilis. You can order green chilis, red chilis or both which are known as "Christmas-style".
4. The Sink
A list of the best restaurants in Boulder isn't complete without mentioning The Sink. Located near Colorado University, The Sink is an absolute must-try!
The restaurant serves up exceptional food you would expect to see at a dive bar; big burgers, fresh sandwiches, and "ugly crust" pizzas.
And with a vast choice of brews to wash it down, The Sink has been doing it right for nearly 100 years.
Sitting atop University Hill, The Sink is a prime location for a night out in Boulder.
Generations of students have passed through the campus but no one skips out on eating at this hallowed restaurant.
Plus, celebrities and even a president or two have visited The Sink and left their mark on the walls or ceiling.
Great food, great drinks, great prices, a visual storied history literally written on the walls. There isn't much more you can love about this place.
5. Rayback Collective
If you're looking for a real Boulder eating experience, bike your way to the Rayback Collective.
Yep, when we lived in Boulder we would walk or ride bikes to the Rayback Collective located on Valmont Road.
This super casual, semi-outdoors, pet-friendly space with a rotation of food trucks to try from and yard games to play.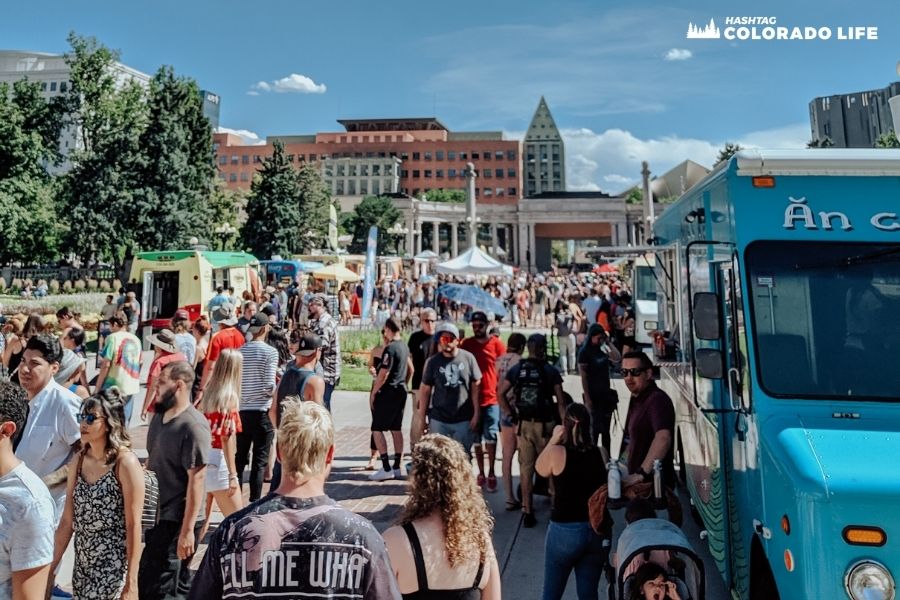 This food park and outdoor concert hall is family-friendly and perfect for private events.
This place is awesome even in the winter, and features a made-from-scratch hot chocolate cart.
Rayback Collective is a great place to hang out for the evening and grab a drink and play some games.
6. Oak at Fourteenth
For a finer dining experience, you absolutely have to try Oak at Fourteenth.
They are doing unique things with food and experimenting with an ever-changing menu.
Only open for dinner service in the evenings from 5:30pm-10pm, the atmosphere at Oak and experience is like nothing else.
Owner Bryan Dayton has a passion for drinks and mixology. He used to manage Colorado's acclaimed Frasca Food & Wine and has an extensive knowledge of drinks and food.
At Oak you'll receive great service, and it's an excellent place to visit with loved ones or out-of-towners.
7. SALT
At SALT in Boulder their mission is sustainability above all else.
Their thought is that the shortest distance from the farm to the table is the best way food can be served.
And with the added benefit of buying local, SALT gives the opportunity for patrons to support neighbors and friends in the community.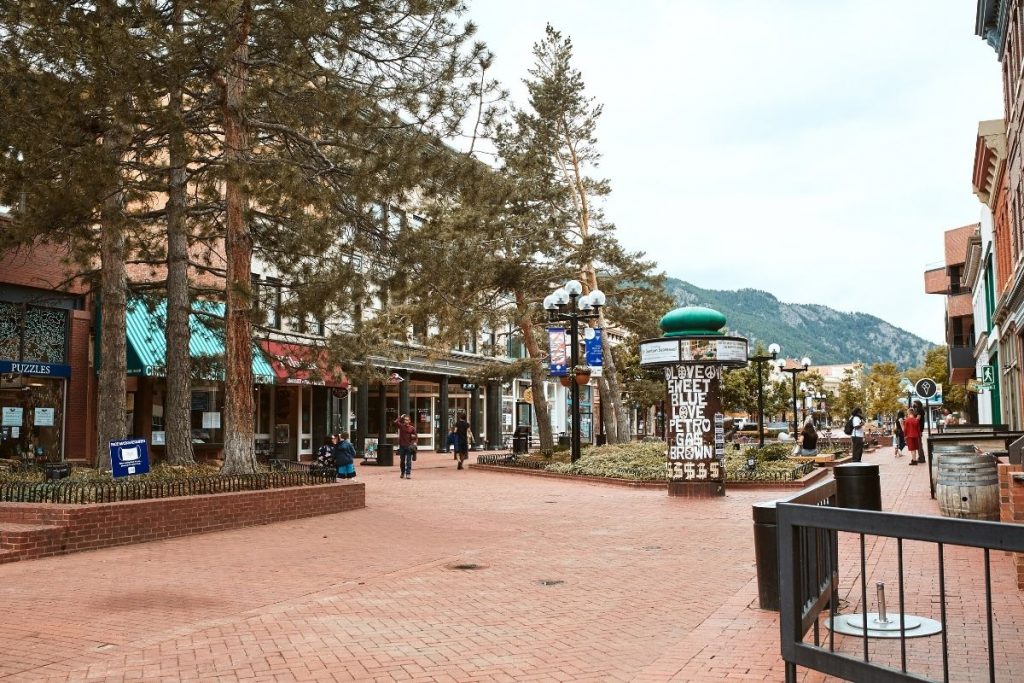 Combining all of these ingredients together adds up to unique, healthy and delicious menu creations.
Few things are better than sitting along Pearl Street and watching the world go by in a warm, rustic and inviting dining room.
With an inspired American approach, a rotating and seasonal menu, SALT displays a lot of what the culinary scene in Colorado has to offer.
8. Lucile's Creole Cafe
Very close to Pearl Street but a little off the beaten path you'll find Lucile's Creole Cafe. This cafe is a small and cozy place, but it features one of the best omelets I have ever had.
If you've been to New Orleans, you'll find your happy place in the authentic beignets at Lucile's.
They are open seven days a week serving breakfast and lunch, with indoor and outdoor dining rooms.
And not just any food is on the menu, it's all about authentic creole and cajun food that's sure to satisfy any palette.
Lucile's Creole Cafe has become so popular they now have locations in Fort Collins, Longmont, and Denver.
9. BlackBelly Market
You can't miss Hosea Rosenberg's other Boulder staple, Blackbelly Market.
Instead of serving brunch like his other restaurant, Santo, Blackbelly strives to serve only the freshest and best hand-picked ingredients.
This restaurant is also the premier catering and events company serving private events, weddings, pirates, and even celebrity chef experiences.
Inside Blackbelly you'll find a butcher shop with some of the highest quality meats from nearby Colorado farms and ranches.
This restaurant is so highly rated that I added it to our overall list of the best restaurants in all of Colorado.
10. The Flagstaff House
Flagstaff House sits perched on the side of a mountain with expansive views east and the entire city of Boulder laid out below.
But the Flagstaff House isn't just a restaurant, it's an experience.
With some of the best food you can find in the entire state and served in one of the most picturesque venues.
Here you will find an ever changing menu of classic French dishes that are crafted with care.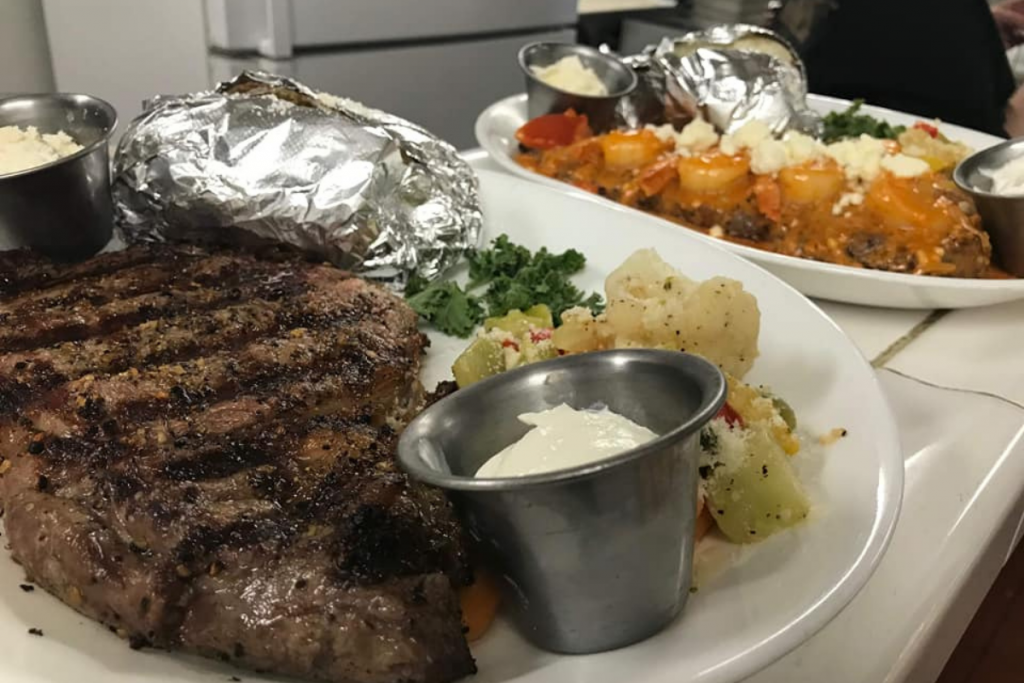 And Flagstaff uses only the finest ingredients and most fresh produce from purveyors.
Flagstaff House was created with a finer dining approach in mind. It also requires a specific dress code in order to dine at the restaurant.
But it's proved successful by being a staple in Boulder for more than 50 years. Here's to another 50!
11. Pasta Jay's
Pasta Jay's is an iconic Boulder Italian restaurant, and a great place to stop in for lunch or dinner.
Established in 1988, Pasta Jay's has been a favorite of Boulderites for more than 30 years.
On their menu you'll find classic pasta dishes, antipasta, fresh salads, and homemade garlic bread served hot.
Pasta Jay's also caters large or small events, with large portions that are sure to please anyone.
The restaurant is open for lunch and dinner service from 11am-11pm daily.
In addition to Pasta Jay's in Boulder they have another location in Moab, Utah.
12. Frasca Food and Wine
Located on Boulder's ever popular Pearl Street, Frasca Food & Wine serves Northern Italian inspired cuisine with a matching wine list.
The atmosphere and the vibe of Frasca is a unique and welcoming experience.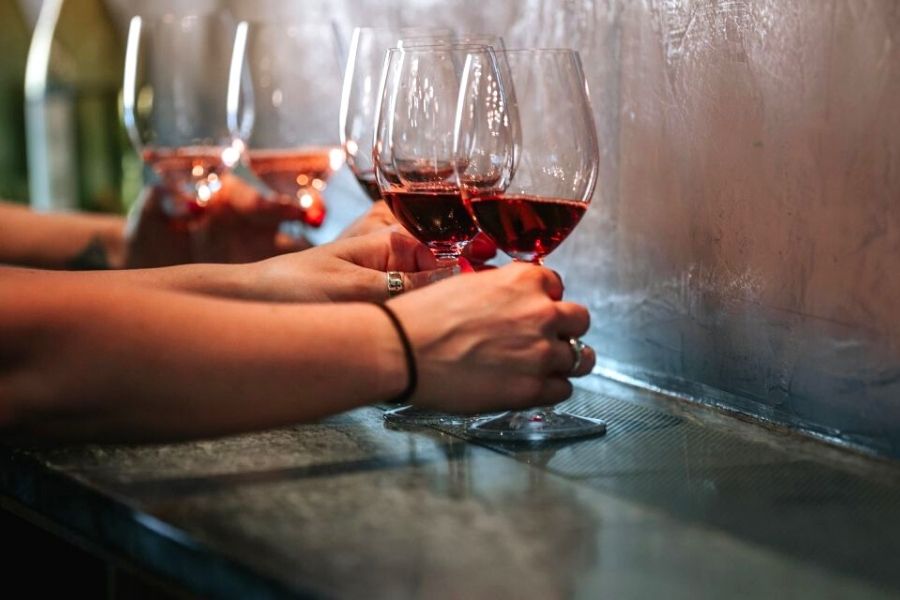 Their goal is to make it a destination for a friendly, informal gathering place to share a bottle of wine with friends and neighbors.
A staple in Boulder since 2004, Frasca has been the recipient of many awards for their food, wine and service.
And it's obvious why when you eat here! The warm atmosphere invites feelings of home and hearth, but with outstanding food and service.
13. Tangerine
Grab some innovative takes on traditional morning fare at Tangerine. My wife and I enjoy brunch food, can you tell?!
But really, at Tangerine you'll enjoy a breakfast or brunch worth waking up for.
Tangerine is actually located in north Boulder across the street from our old apartment complex.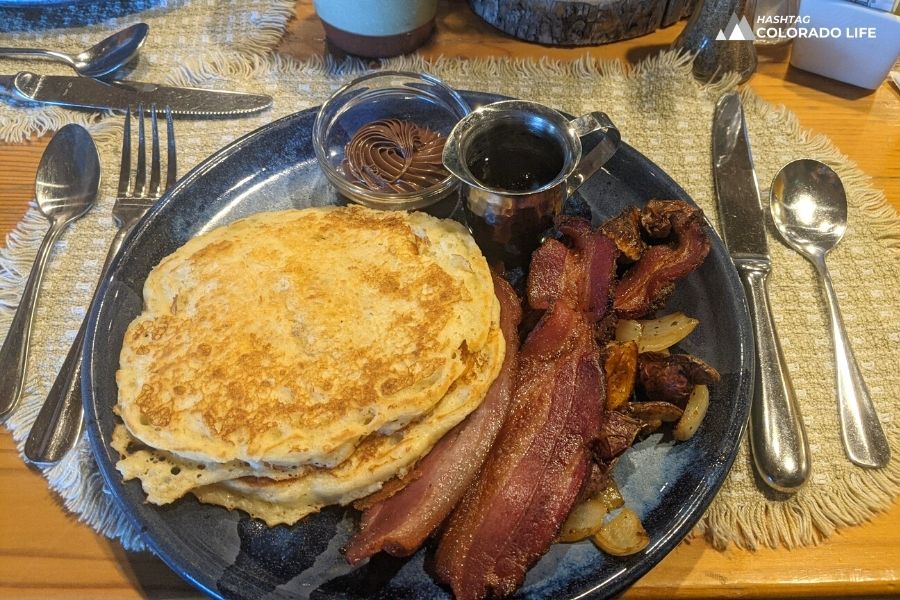 The menu at Tangerine focuses on quality ingredients that are fresh and delicious. Plus, they offer vegetarian and gluten-free options.
Everything, yep everything on the menu (except for cheeses and breads) is made from scratch. And you can literally taste the difference!
Tangerine now has multiple locations including restaurants in Lafayette and Longmont.
14. Bramble and Hare
Bramble and Hare and its sister restaurant Black Cat Bistro are only parts to a greater whole. They are both well oiled machines promoting farm to table directly.
In fact, the chef and owners get nearly all their product from the Black Cat Farm, which is a 425-acre certified organic farm just outside the city. And it supplies food to its sister restaurant.
At Bramble and Hare, the menu is a prix fixe, which means a series of courses served for a total fixed price.
That also means the menu is ever changing and can be different from day to day.
However, with the restaurant getting its food nearly exclusively from its own farm, it means what is served is nearly as fresh as it can be.
This style of menu really showcases what Colorado Front Range flavors mean.
15. Moe's Bagels
While Moe's Bagels is known for their bagels, it's their house-made cream cheese that has locals coming back for more.
Be sure to stop by before they close, which is around 3pm every day, or else you might miss out on the best bagel flavors.
Grab a bagel and a tub of cream cheese to take with you as you continue through Boulder.
If you can't visit the Moe's Bagels in Boulder, they have another location in downtown Denver on 16th Street.
16. Sweet Cow Ice Cream
If you visit Boulder in the summertime, you'll love cooling off with a sweet scoop of Sweet Cow Ice Cream.
They have some very out-of-the-ordinary ice creams, including all kinds of cereal themed ice creams.
But you have to check in with them monthly since their menu rotates frequently.
I recommend the dutch chocolate, oatmeal cooking or peanut butter Captain Crunch when they're on the menu.
Sweet Cow is a long-standing favorite of ours and they have multiple locations in Boulder and Denver as well.
17. Little Tibet
While you'll find many great restaurants from all over the world on Pearl Street, you can't miss the authentic Asian restaurants the area offers.
Our favorites include Buddha Thai, and a great Tibetan restaurant called Little Tibet.
They offer daily lunch and dinner specials, or you can get you food to go.
Try their delicious dumplings or curry dishes, and be sure to order their homemade Tibetan bread.
This restaurant lives up to the hype of serving up the best Tibetian and Indian food in Colorado.
If you've never tried Tibetan food before, you'll be surprised and delighted by Little Tibet.
18. Alpine Modern Cafe
Continuing to move away from downtown Boulder, Alpine Modern Cafe is located near Chautauqua Park.
This cafe is a stunning place to reward yourself with a fresh cup of coffee or a yummy sandwich.
The indoor seating is cozy but bright, and there's plenty of outdoor seating to enjoy being surrounded by nature.
You can even bring a laptop and make use of their coworking space, which is what Carrie used to do when we lived in Boulder.
Alpine Modern Cafe is part of the Alpine Modern x Dwell quarterly magazine.
19. Snooze Eatery
Snooze Eatery serves up the best pancakes and eggs benedict for brunch every day.
For real Hollandaise sauce is something I keep coming back for more. Grab a donut-flavored pancake or a pineapple upside down pancake.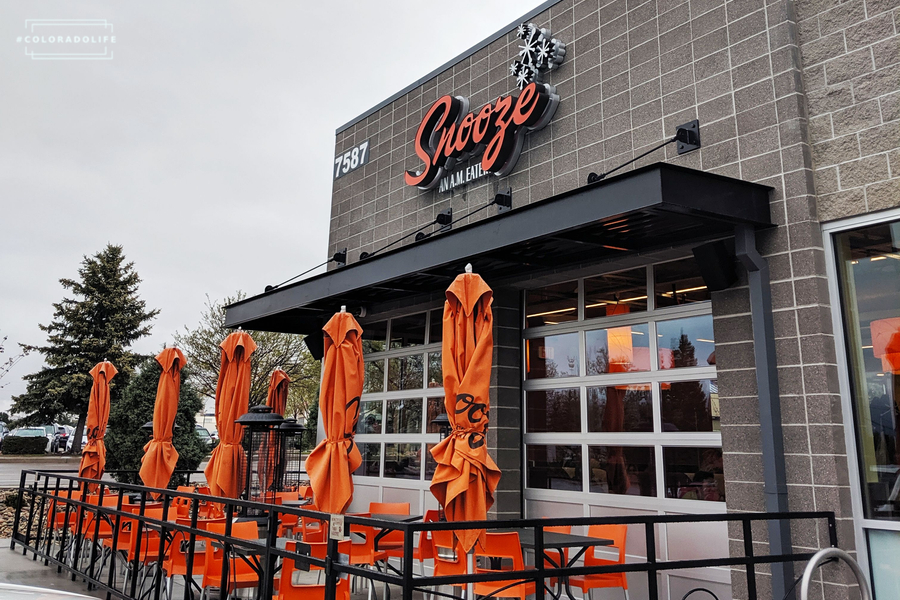 Or order a custom breakfast drink while enjoying a relaxing Sunday brunch with friends.
Their coffees and lattes are also handmade to hit the spot.
There is usually a wait to get a table at Snooze but it will be well worth the wait.
On weekends, we have waited for a table up to an hour, so it helps to get there early.
20. Snarf's Sandwiches
If you're looking for a very hipster college sandwich shop, check out Snarf's Sandwiches.
The sandwich combinations may be a bit unusual, but are definitely worth a stop. I recommend the Cubano, which is a local favorite.
Try the Corned beef and swiss, or grab a vegetarian option which is also yummy.
Snarf's has a great vibe, and their sandwiches really are delicious.
Plus, with several locations in Colorado, Texas, and Missouri you can't go wrong with Snarf's Sandwiches.
The Boulder location of Snarf's is located in the Table Mesa Shopping Center.
21. Bartaco
Lobster in a taco? Yes, please. Bartaco is an interesting fusion place where you can find just about every kind of food served in a taco!
From Caribbean to Asian, you'll love every option Bartaco has to offer.
And for an extra twist, the meal is served family style so you can sample many varieties of tacos.
Bartaco is not exclusive to Boulder and you may have eaten at one of their other restaurants in 12 different states.
Still, this restaurant is a fun experience with friends or family and there is literally something for every palette on the menu.
22. Bohemian Biergarten
As it is a college town, Boulder has a hopping night scene. There is lots to do, so check out some of our favorite late night hang outs.
Visit the Bohemian Biergarten to explore lots and lots of beers on tap!
This Czech-founded gastro-pub will bring a little Old World Europe aesthetic to your evening. And did I mention lots of beer? 🙂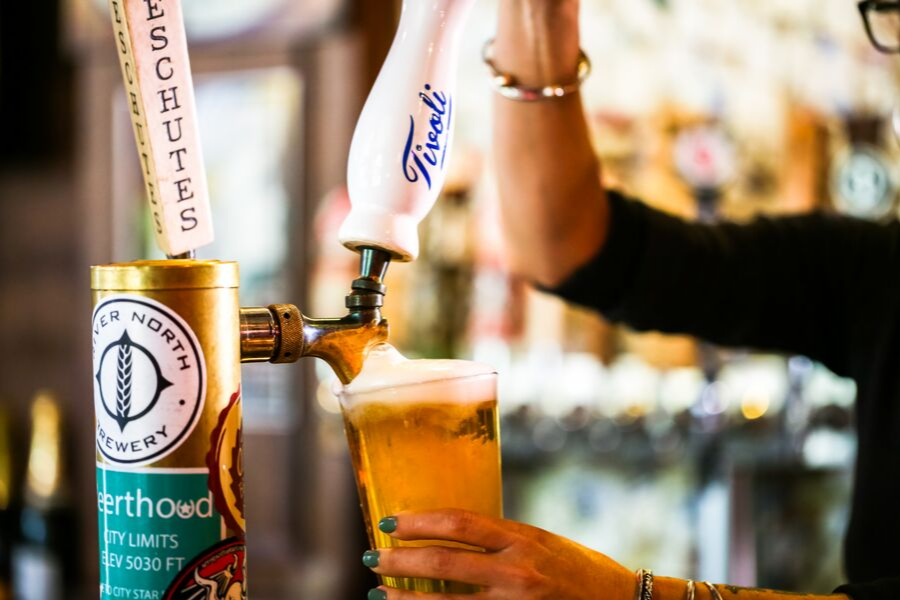 Their food does not disappoint though. From salads to sandwiches, entrees and deserts, the Bohemian Biergarten knows food and drinks.
If you're looking for an indulgent late-night dessert, get a brownie a la mode. Yum!
For another really unique bar, be sure to stop by Oskar Blues (which also has a location in Colorado Springs).
23. Gelato Boy
In the summer especially, we are suckers for activities that cater to staying cool and eating ice cream!
Locals love Gelato Boy. Gelato Boy invites all the gelato boys, girls, and everyone else to come as you are and leave a little happier.
We have to say, we agree. Located on Pearl Street, Gelato Boy serves up all american flavors with an italian twist.
A popular ice cream flavor is the gooey buttercake and caramel which is a little salty and sweet. YUM!
If gelato isn't your thing, Ben & Jerry's enthusiasts will love stopping into the Pearl St. and Broadway Ben & Jerry's shop.
It can be a bit crowded, but hey, it's Ben & Jerry's.
24. Falafel King
Those looking for a great Mediterranean food will love Falafel King for a delicious gyro or falafel sandwich.
A mixture of unique Mediterranean flavors and local ingredients, Falafel King is fresh, healthy, and delicious.
Grab a seat at one of the many outdoor tables on Pearl Street, and take some time to absorb the culture.
Order online for delivery or pickup. Or if you're in Denver, hit up the Falafel King located on Colorado Boulevard.
25. License No.1
License No. 1 is located beneath the historic Hotel Boulderado, which is a destination all its own.
License No. 1 got its name because it was the first bar in town to get a legal license to serve up liquor after the Prohibition, hence the name.
It's got a moody, speakeasy feel for those looking for a more intimate evening.
And every Sunday night is open mic night, which starts at 6:30pm.
Inside Hotel Boulderado you'll also find Spruce Farm & Fresh and the Corner Bar for some mouth-watering eats.
That's all for the best restaurants in Boulder to try today. I hope you found some awesome places to add to your itinerary.