22 Best Things to Do in Colorado in the Summer to Keep Cool
The content of this website may contain affiliate links and we may be compensated (at no cost to you!). Thank you for your support!
Looking for the best things to do in Colorado this summer? As a local, I understand how short summertime can be before the cold months start rolling in.
Which is why I like to take advantage of the many indoor and outdoor activities Colorado has to offer.
From outdoor water adventures to indoor museums, there are plenty of ways to cool down when the hot Colorado sun comes out.
There isn't a lot of humidity here and the sun can get very hot, which makes things very dry.
So, it helps to have a plan for staying cool and finding some shade.
Here are some of my favorite places to visit and things to do in Colorado in the summer to keep cool as a local.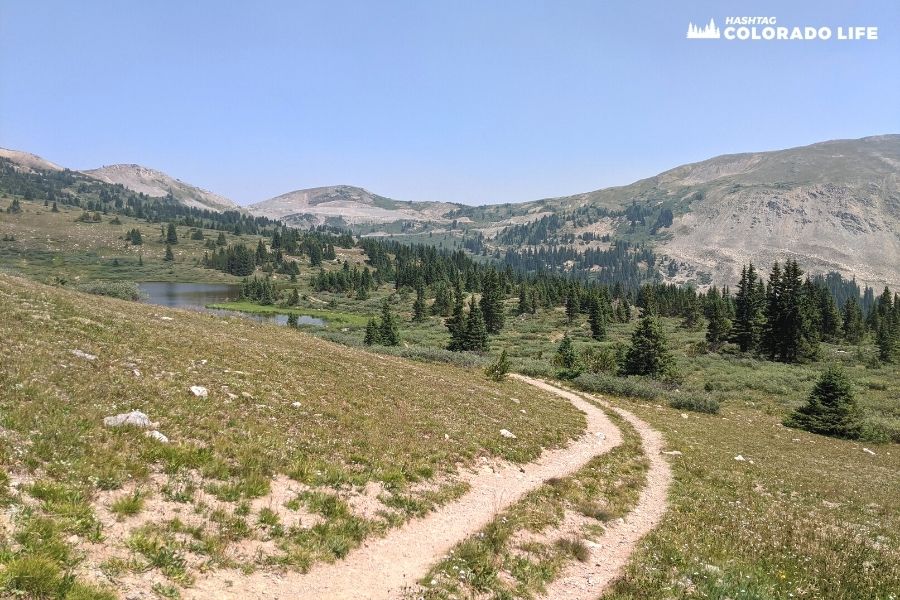 1. Denver CityPASS
Before starting your summer vacation in Colorado, I recommend buying a Denver CityPASS.
Pricing starts at just $39 for 3 attractions and you could save up to 42% on top deals!
Packages include these top attractions:
Downtown Aquarium Denver (normally $24.99)
Denver Museum of Nature & Science (normally $19.95)
Denver Botanic Gardens (normally $15)
Children's Museum of Denver at Marsico Campus (normally $13-15)
Wings Over the Rockies Air & Space Museum (normally $18.95)
Denver Art Museum (normally $13-18)
History Colorado Center (normally $14)
Total retail price for all museums: $118.89
Total cost for Denver CityPASS: $39-54
Tickets are valid one year from the purchase to date and must be activated to use.
Beginning on the first day of use you can use your Denver CityPASS ticket for 7 consecutive days at any of the museums or attractions listed.
This is a great option if you're visiting Denver for the day or planning a week-long trip!
2. Denver Museum of Nature and Science
The Denver Museum of Nature and Science is one of the best places to visit in Colorado in the summer.
This museum is included in the top Denver CityPASS attractions for summer!
Here, you can explore a prehistoric journey of the evolution of life on earth (including dinosaur skeletons and fossils!).
Explore the "wildlife halls" that feature dioramas displaying many extinct and still-living creatures.
Or check out the more "recent" history in exhibits, such as the Egyptian and Leonardo Di Vinci exhibits.
Some exhibits, like the Leonardo Di Vinci exhibit, are traveling exhibits and may only be in town for a limited time.
While others, like the Egyptian exhibit, are around all year. (There are even two authentic mummies right here in Denver!)
In fact, there are even hidden secrets throughout the museum!
One diorama painter hid elves in his exhibits, and if you look carefully at the IMAX lobby entrance, there are many Star Wars items hidden in the walls.
The Denver Museum of Nature and Science is also one of the top ways to watch a gorgeous Denver sunset in the evenings.
3. Boulder Reservoir
On a hot Colorado summer day, you can't miss the Boulder Reservoir.
It's located just 15 minutes north of Boulder and allows for a nice reprieve from the Colorado summer heat.
The Reservoir is open for swimming, kayaking, canoeing, paddle boarding, or sail boating. Or you can bring a picnic lunch and enjoy the sandy shoreline.
If you don't own any of the equipment listed above you can rent them for a day-use fee. Large pavilions and picnic areas are available to rent for private parties.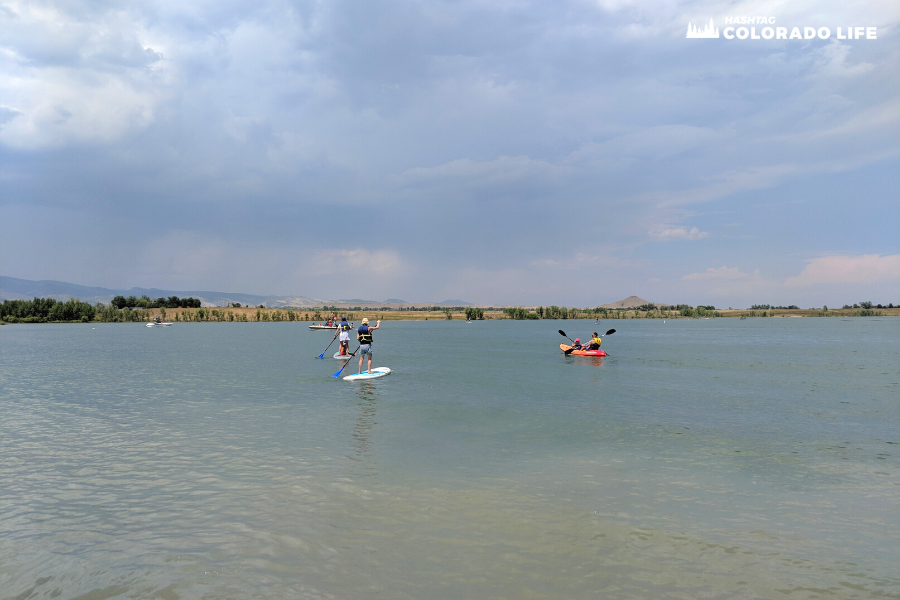 This year, the Boulder Reservoir is open from April 1, 2022 through Labor Day, September 5, 2022.
It is a super popular summer destination for both locals and visitors. There are usually lots of people and it's often crowded on nice, warm days.
Still, it is well worth the small entrance fee of just $5-$11 per walker, runner, or cyclist. (Additional fees apply for boat permits.)
4. Sloan's Lake Park
Sloan's Lake Park is a cool oasis in the middle of downtown Denver. There are so many summer activities and things to do here.
Visitors can enjoy boating, fishing, picnicking, hiking, tennis, basketball, and even bird watching.
Then, go for a 2.6 mile stroll around the lake on Sloan's Lake Loop which is used for walking, running, and biking.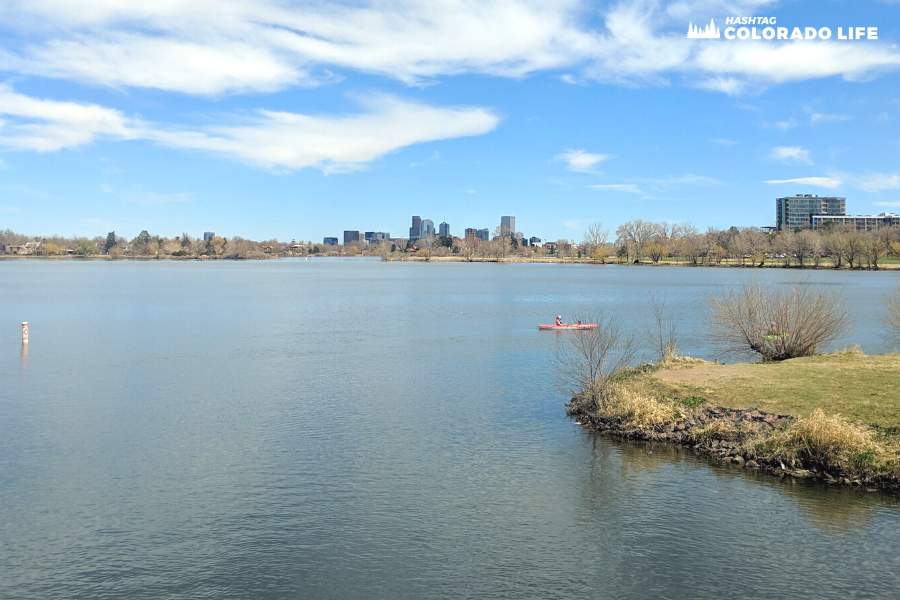 And the best part is that all of the activities you can do at Sloan's Lake are completely free.
Parking is free and so are events like the Colorado Dragon Boat Festival.
And if that's not enough, Sloan's Lake is located near the Edgewater Public Market along with tons of restaurants in Denver, bars, nightlife, and other local eats.
5. Sweet Cow Ice Cream
If you're like us, your favorite way to beat the summer heat is with some delicious, frozen ice cream.
Stop by Sweet Cow Ice Cream for some simply moolicious ice cream!
They serve up some of the most unique and authentic ice cream flavors anywhere. Our favorites include, Lucky Charms, The Big Lebowski, and Ozo Coffee.
The flavors are all seasonal, so they come and go frequently. You'll never get bored and can try a new flavor on every visit.
With locations in Denver and Boulder, you'll be delighted by their rotating menu of ice creams to choose from.
And if you're hosting a party here in Colorado, consider renting the Sweet Cow truck to serve up some delicious ice cream for your guests.
6. Ouray, Colorado
If you are looking for a way to cool down without getting wet, then head for the hills! The higher you go up in altitude, the cooler the temperature will be.
Fun fact: For every 1,000 feet you gain in elevation, the temperature cools by 3.3 degrees Fahrenheit.
Ouray, Colorado is deep in the San Juan mountains and totally surrounded by huge mountain peaks.
Because of its location and gorgeous scenery, Ouray is known as the Switzerland of America. The city has also classified itself as the "Outdoor Recreation Capital of Colorado".
The views and things to do here are pretty much unmatched, so you will always find epic places to explore.
Take a drive along the scenic San Juan Skyway or hike up to see the Cascade Falls or Box Canyon Falls.
If you're into Colorado ghost towns and abandoned buildings, Animas Forks is also nearby and ready for exploring.
You can even enjoy the hot springs year-round (though maybe not if you're looking to avoid the heat!).
7. Colorado Rivers
One of the best ways to enjoy Colorado summers is to explore the many rivers and streams that the state offers.
Drop into the characteristically blue waters of the Blue River for some fishing in north central Colorado, north of Vail.
Check out the Arkansas River (which feeds the Pueblo Reservoir mentioned below!) for great rafting and fly fishing.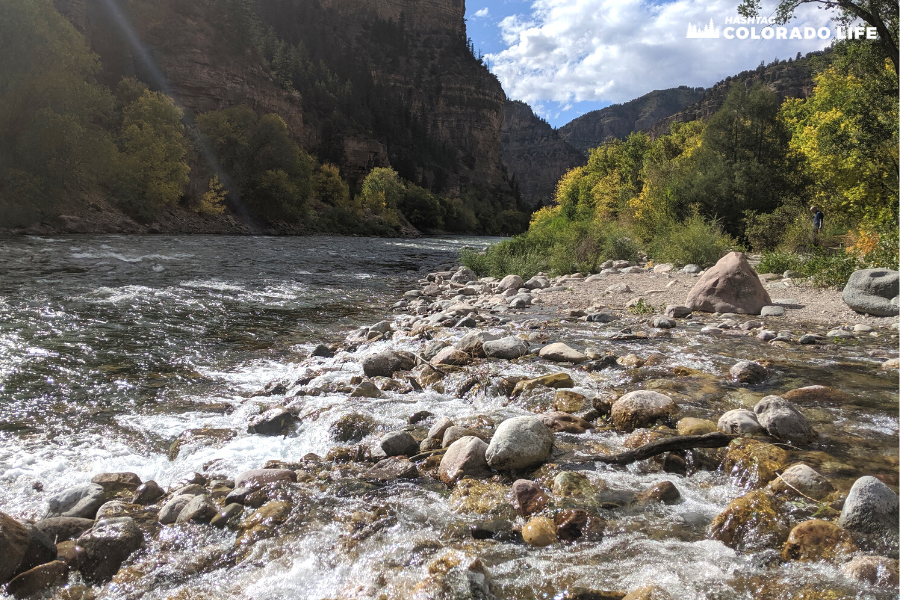 Is Colorado state named after the Colorado River? Or is the river named after the state? You can ponder this quandary while drifting down the Colorado River.
And yes, it's the same Colorado River that carved out the Grand Canyon down in Arizona!
Up in Winter Park, Colorado summertime visitors to this popular ski destination enjoy awesome fishing along the Fraser River. This is your best location for fly fishing, in our opinion!
8. Denver Art Museum
Art enthusiasts and architecture lovers alike will love the Denver Art Museum.
This museum is included in the top Denver CityPASS attractions for summer fun in Colorado!
Known for its collection of Native American art, the Denver Art Museum hosts a diverse collection of 70,000 works from across the centuries and across the world.
The main building itself has very unique architecture and was inspired by the nearby Rocky Mountains.
There are no right angles, and none of the planes (aka, walls) run parallel or perpendicular to each other.
So, every room you visit will have very unusual shapes because the building itself is not square. It's like the building is an art piece too!
The museum often features seasonal exhibits and sometimes has one-of-a-kind exhibits, like the Claude Monet: The Truth of Nature.
9. Telluride, Colorado
Visit Telluride, Colorado in southwest Colorado for a true mountain town experience.
Summertime highs are around the upper 70s to low 80s, with overnight temps in the 50s.
Telluride is a great town for hiking, beautiful scenery, and is completely surrounded by 14,000 foot peaks.
You won't find too many big crowds in Telluride, but you will find some amazing restaurants.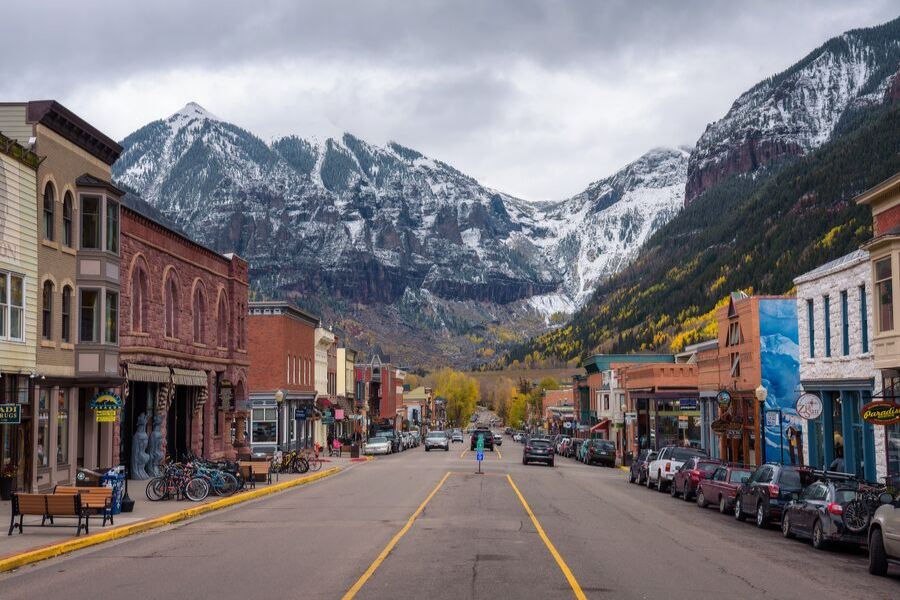 In fact, it was the finale destination for season 15 Top Chef: Colorado, so you know the food scene is amazing!
It is also home to the Telluride Bluegrass Festival every June, which is a 4-day long musical event with food, drinks, and dancing.
Or check out the Telluride Festival of Cars and Colors which is hosted in September each year.
10. Manitou Lake
Manitou Park Lake is located just 7 miles north of Woodland Park on Highway 67. It is open from May 21, 2021 to September 20, 2021.
The lake is a 5-acre reservoir and the park is considered a recreation area. It's a nice summer getaway for the whole family that's not too busy with tourists.
The main activities available here are fishing, boating (non-motorized), and hiking the Manitou Park Lake Trail which borders the entire lake.
The trail is a 2.4 mile loop that is very easy and mostly flat, so it's perfect for all skill levels. Swimming is not available at Manitou Lake.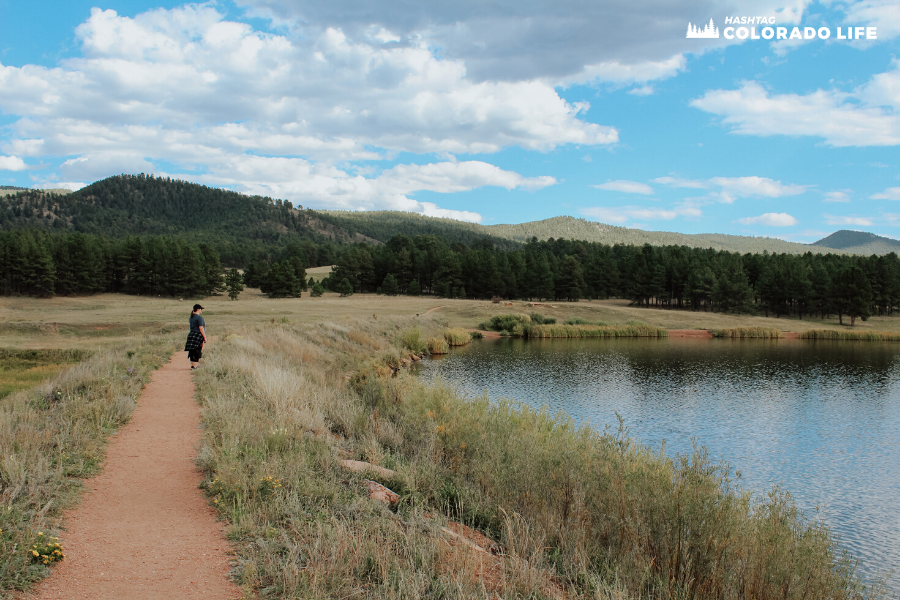 One thing to note is there is not a lot of shade available on the trail or on the lake. In order to escape the heat, we recommend checking out the picnic areas or the Manitou Lake Pavilion.
You can expect to pay a $7 per vehicle day-use fee to access the Manitou Lake picnic area.
Or you can get an annual pass that includes the Manitou Lake, Rampart Reservoir, and 11-Mile Canyon areas.
11. Crested Butte, Colorado
For flower enthusiasts we highly recommend visiting the wildflower capitol of Colorado in Crested Butte, Colorado!
It's a beautiful town with many indigenous trees and flowers to see. Plus, Crested Butte Mountain & Resort is one of the best ski resorts in Colorado.
If you're into the wildflower scene, you won't want to miss the Crested Butte Wildflower Festival which is hosted every July.
There's more to do here than just look at flowers, so plan to visit for a day or a weekend and explore this lovely little town.
12. Colorado Custard Company
Visitors to Manitou Springs will love Colorado Custard Company's thick, creamy custard!
We have mentioned this heavenly stuff in a previous post, but we can't pass up another opportunity to sing the praises of custard.
It's richer, creamier, and not quite as cold as regular ice cream. Due to the higher amount of egg yolks and the slower churn, which adds much less air to the final product.
You can even buy your custard in bulk to take with you to eat anytime!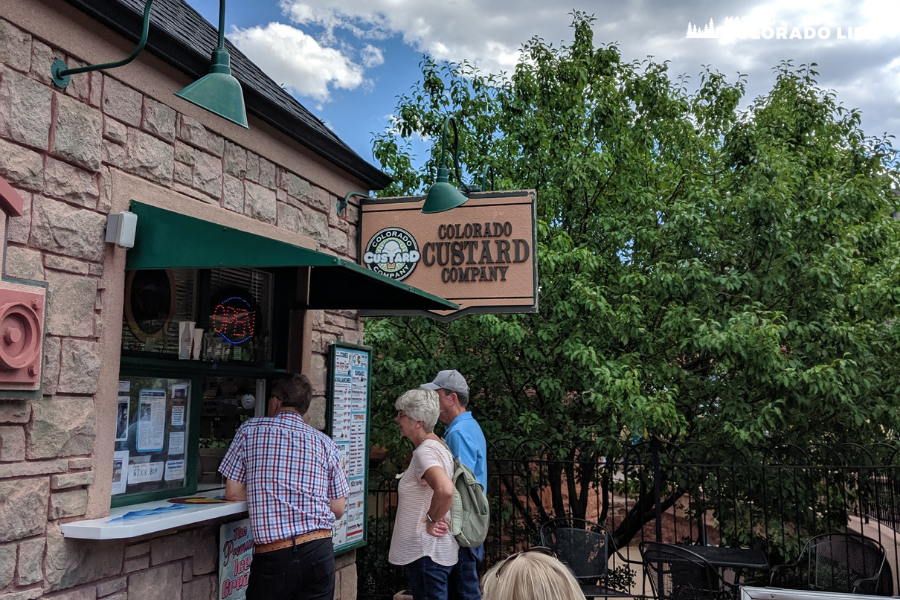 So, be sure to head out to Manitou Springs and bring home your own tub of that incredible custard.
While this is not a Colorado-specific brand, we feel that a list of the best ice cream in Colorado would be one short if we didn't mention Pinkberry.
Stop by the Glendale location to grab your bowl of frozen Greek yogurt topped with fruit and other delicious things.
13. CU Museum of Natural History
As we mentioned in our guide to visiting Boulder, Colorado, the city is host to the Colorado University which has three different museums for your viewing pleasure.
Check out the CU Museum of Natural History which is home to huge insect and fossil collections.
Or visit the CU Heritage Center and the stunning architecture gallery there.
Then stop by the CU Art Museum, which contains a diverse collection of items encompassing over 10,000 years of human history.
The best part is, all three of these museums are free to the public, and only ask that visitors consider making the suggested donation.
14. Lake Dillon Reservoir
Further east and up the mountain side is Lake Dillon Reservoir near the cities of Frisco and Silverthorne.
Here you'll find the world's highest deep-water marina, and over 25 miles of shoreline.
Boating is very welcome at Lake Dillon, and rentals are available at the Dillon Marina. Bring a sweater!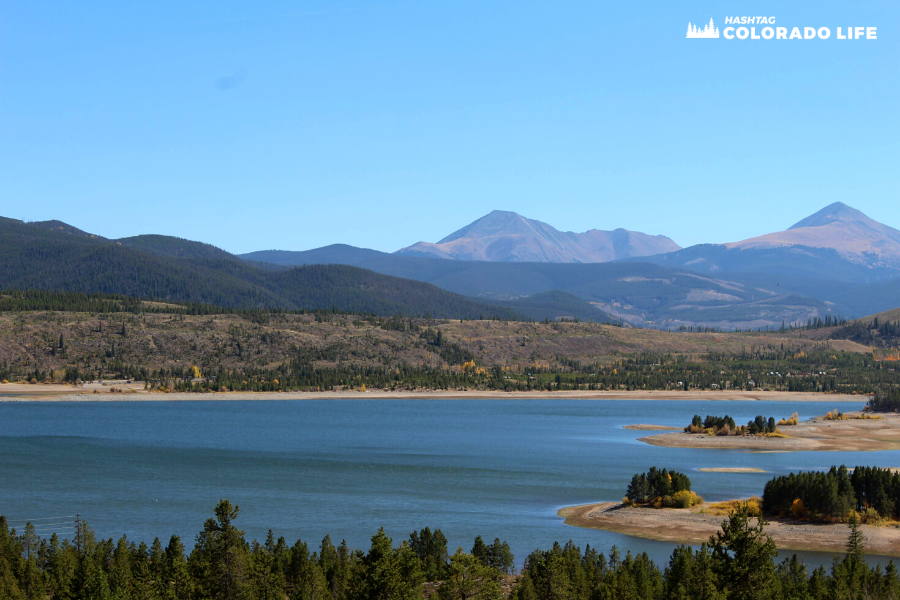 Even in the heat of summer, it can get surprisingly chilly on the Reservoir since the lake is filled from runoff from the mountain snow melting.
During the winter, Lake Dillon hosts the epic Dillon Ice Castles, which is a magical ice adventure you don't want to miss.
15. Grand Lake
In north-central Colorado, head up into the mountains to Grand Lake.
It is the western gateway to Rocky Mountain National Park, and is Colorado's deepest and largest naturally occurring lake.
You can hike, bike, or ATV in the area, or enjoy your time on the water boating, sailing, or fishing.
Grand Lake is beautifully picturesque, so this is a wonderful place to stop and visit.
Fun fact: As Grand Lake is a naturally occurring lake, you'll find many of our native species of fish populating the lake, including our state fish, the rainbow trout.
16. Silverton, Colorado
Take the train from Durango to the southwest Colorado town of Silverton. Here, temperatures are always cool with July highs reaching only the low 70s.
In the winter, Silverton regularly gets up to 150 inches of snow every year. And when you visit, you'll feel like you've taken a step back in time!
It's a very cute town, where the largest building is the local church and it seems that everyone has a white picket fence in their yard.
Visit a real old-west mining village with years and years of history. And the Durango-Silverton train makes a stop in Silverton which is a great experience for kids and adults.
17. Milkroll Creamery
In Denver, be sure to check out Milkroll Creamery on East Colfax Avenue in Denver.
They serve up Thai-style rolled ice cream, with fun Asian flavors and toppings like matcha and lychee.
If you've never watched Thai ice cream rolls created before, you'll be in for a treat (and not just because of the ice cream!).
They pour the liquid ice cream base onto an "anti-griddle" which freezes the base into ice cream very quickly.
Imagine a big pancake griddle that is super cold instead of hot.
Then, they use metal scrapers to shave the ice cream off of the anti-griddle, forming these tight rolls of ice cream.
Each roll is stacked vertically in your bowl and topped with all kinds of delicious things.
The whole process of rolling, topping, and serving your ice cream may take up to 10 minutes. But you will be very entertained and it is well worth the wait.
18. Pueblo Reservoir
South of Colorado Springs is the hot, hot city of Pueblo which is home to the Pueblo Reservoir.
Bring a tent and stay the night as the reservoir features campsites and fire pits as well as the usual picnic amenities.
The Pueblo Reservoir is a favorite for anyone in southern Colorado who enjoys water sports.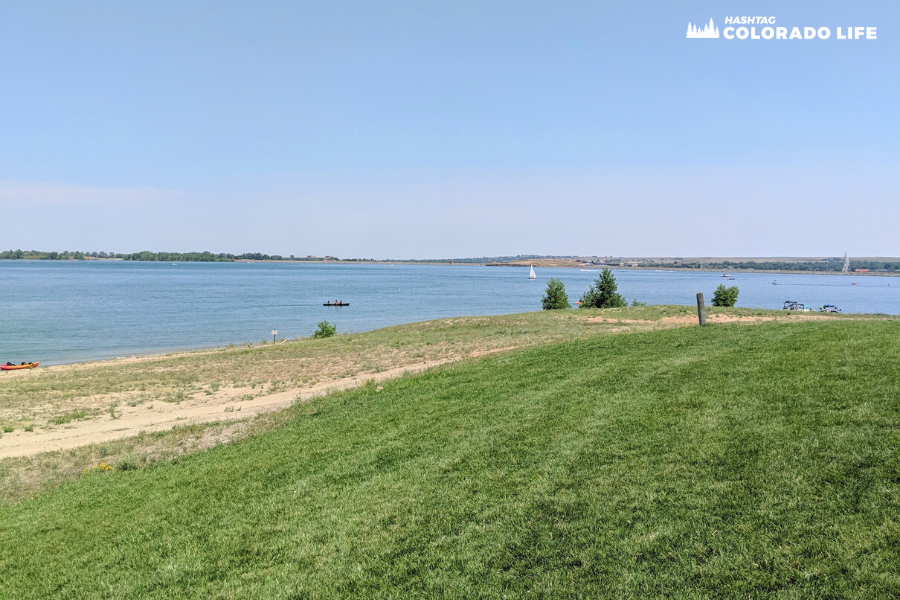 Bring your boat to frolic on the water, or let the kids run wild on the playgrounds.
This is the largest reservoir on our list, with lots of hidden places to get away from the crowds so you can enjoy your own little slice of the Pueblo Reservoir!
19. Creede, Colorado
For a real walk through history we recommend a visit to Creede, Colorado.
Known as the last silver mining boom town in the state, the downtown area still features many of the 1890s buildings built when mining was alive and well.
The features of the mining operations are well preserved here. So, you can walk around town and see the actual mines.
Framed by the towering cliffs that surround the town, Creede is a picturesque place to escape on a summer day.
20. Boulder Creek
Grab your innertube, your kayak, (or whatever floats your boat!) and dip your toes in Boulder Creek in Boulder.
Picnic opportunities are available at Eben G. Fine Park at the base of the mountains.
Tube season is from May to August, depending on the snow melt. Expect faster flows and colder water in May and June, and a more mellow float later in the summer.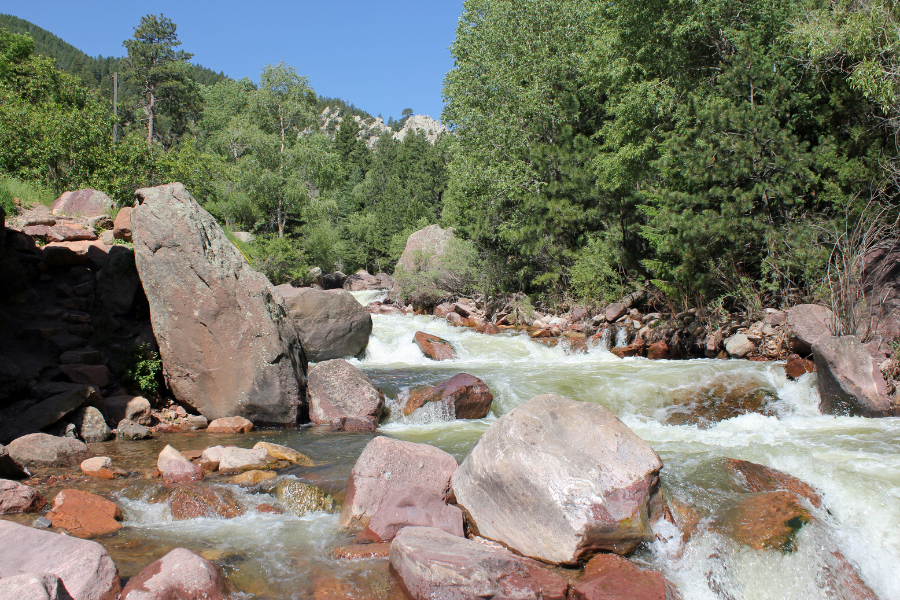 Fun fact: Keep your eyes peeled in July because you may just visit on Tube to Work Day.
On Friday, July 15, 2022 local employees don their regular work gear, plus life jackets and wetsuits, for the world's best traffic jam. Only in Boulder!
Boulder boasts many fantastic museums and small town stores. You won't have to drive far to get to that sweet air conditioning.
We recommend checking out the Boulder Bookstore on Pearl Street, or any of the small coffee shops that line this popular street.
21. Golden History Museum and Park
Just east of Denver in the town of Golden, you can visit the Golden History Museum and Park.
Check out cabins from the 1800s, a historical one-room schoolhouse, and a flock of heirloom chickens at the History Park.
In the museum, you can learn about Golden's unique history and epic timeline of events. This is an extra great place to visit!
And hey, since you're in Golden anyway, over 21 visitors may also enjoy a tour through the Coors Brewery.
Just $5 for Colorado residents and $10 for out-of-towners, the full tour includes three 8 ounce beers and a commemorative glass. Cheers!
22. May Natural History Museum
In Colorado Springs, visit the May Natural History Museum, otherwise known as the Colorado Springs Bug Museum.
This museum contains the largest private collection of insects, including a beautiful collection of butterfly specimens.
It's the world's largest private insect collection with over 7,000 beautiful bugs like butterflies, moths, spiders, beetles, and even scorpions.
The museum is a favorite among kids as it's both creepy and beautiful at the same time.
Colorado summer activities & safety tips
Before planning your visit to Colorado in the summer, please remember to take care of yourself.
As we have mentioned in the past, the square state is at high altitude so you may experience some altitude sickness upon arriving.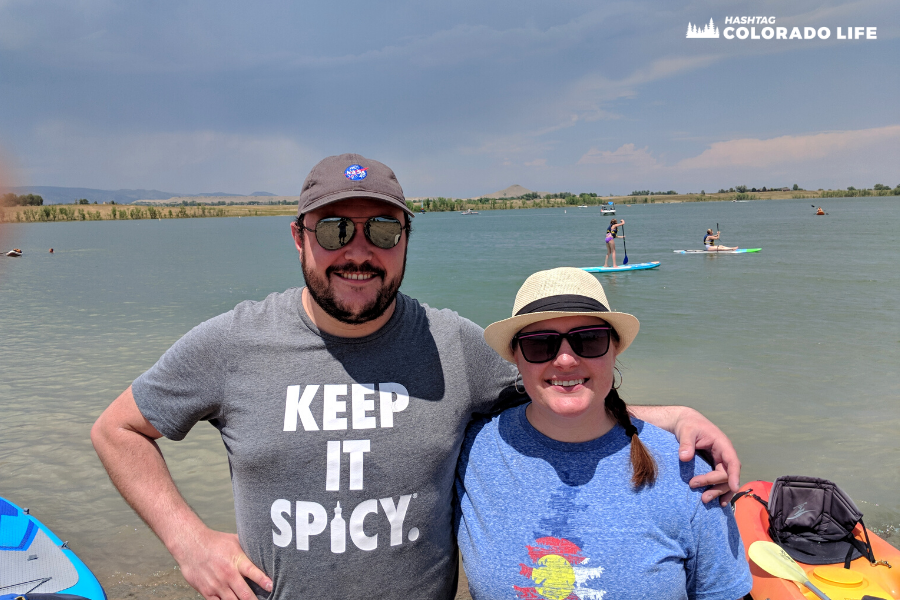 Remember to wear sunscreen, as the thinner air provides less protection from the sun's harsh rays. You may get a sunburn faster here than you would at lower elevation.
Watch out for the dry heat!
Since the air is very dry, you may not notice that you are getting more dehydrated than normal.
Be sure to bring plenty of water and snacks to keep yourself well-fueled for all your adventures.
Be on the lookout for symptoms of heat exhaustion, such as heavy sweating, paleness, muscle cramps, tiredness, weakness, dizziness, headache, nausea or fainting.
Get out of the sun to somewhere cooler, drink water slowly, and contact local medical services if your symptoms don't improve.
We hope you have enjoyed this guide to some of the best places to visit in Colorado in the summer.
And don't forget to grab your Denver CityPASS ticket for huge summer savings!