17 Best Day Trips From Denver That Are Local Favorites
This website may contain affiliate links and we may be compensated (at no cost to you!).
In this guide we're sharing the best day trips from Denver that you can visit right now. These destinations offer a wide range of things to do.
You will enjoy hiking epic trails, sampling natural glacial hot springs, touring a gold rush town, swimming or fishing in the lake, and crossing the highest suspension bridge.
Planning your next day trip is easy and doesn't have to cost a lot of money.
In fact, these day trips offer completely free things to do with lots of history and one-of-a-kind opportunities.
Whether you're a fun-loving couple looking for your next adventure, or want a kid-friendly getaway in the mountains, this guide is for you.
All of the day trips from Denver listed below are within just a few hours drive of the city.
1. Rocky Mountain National Park
You can't experience the full potential of what Colorado is really like without visiting Rocky Mountain National Park.
This rustic wilderness is full of peaks, valleys, lush forests, glacial lakes, and over 300 miles of hiking trails.
You're likely to see lots of wildlife too, from black bears to elk and moose or even a bald eagle or two. It's truly an untouched paradise for outdoor lovers!
In less than 2 hours you can escape city life and enjoy day trips from Denver that showcase how rugged Colorado really is.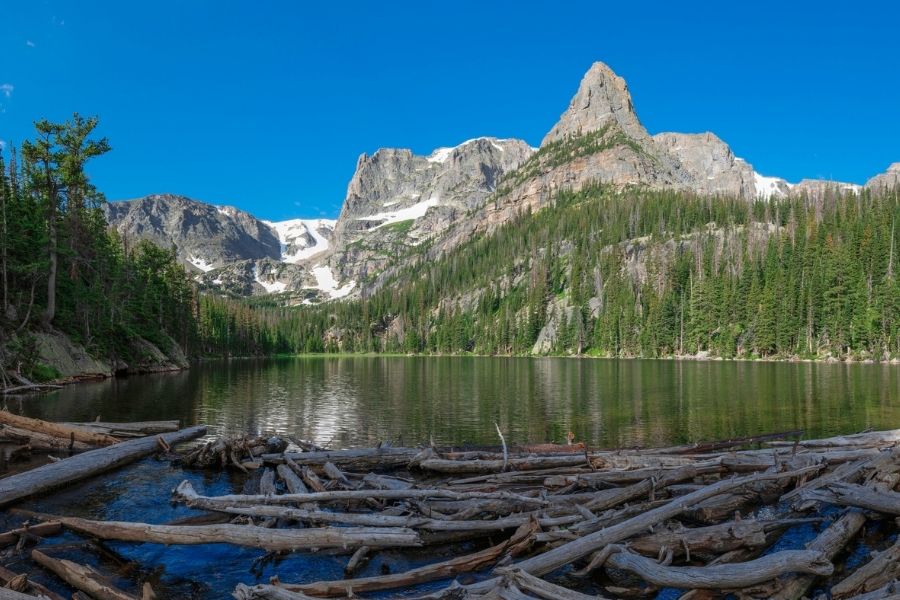 Start your tour in the morning at Union Station and head out for a full day trip adventure.
Join a local guide as you drive through Boulder and onto Estes Park, passing iconic destinations like The Stanley Hotel.
In the summer you'll drive up Trail Ridge Road, the highest continuous paved road in America.
Included with your day trip are entrance and reservations fees for Rocky Mountain National Park as well as water refills, private vehicle, and an expert guide.
Distance from Denver: 66 miles
Time from Denver: 1 hour 20 minutes
2. Breckenridge
Breckenridge is a popular day trip from Denver for good reason (and it's one of our favorites too). Join a local guide for the Ultimate Breckenridge Mountain Town experience.
In addition to enjoying lunch and shopping in Breckenridge, this tour starts in Denver and has stops at Red Rocks Amphitheater and the Continental Divide.
You'll pass by the historic town of Georgetown and cross over Loveland Pass and then onto Sapphire Point Overlook.
But the real adventure begins when you get to explore the town of Breckenridge.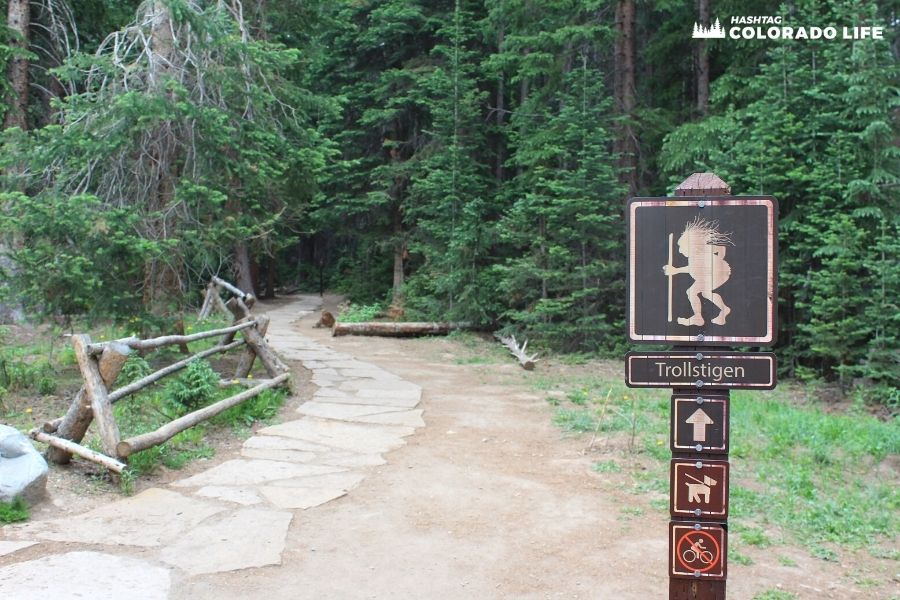 Head to the free Breckenridge Gondola for a fun ride up the mountainside. Or hike to see Isak, the beloved Breckenridge Troll.
All of the stops along this day trip are perfect photo opportunities to ensure you have long lasting memories. Plus, snacks, drinks and a private passenger van are all included in the price.
On the way back to Denver you'll pass through Eisenhower Tunnel, the longest, highest passenger car tunnel in the world.
And with more than one hundred 5-star reviews, we think you'll love this day trip tour from Denver.
Distance from Denver: 81 miles
Time from Denver: 1 hour 35 minutes
3. Idaho Springs
In less than 1 hour from Denver you and your loved ones can enjoy glacier hiking and geothermal cave pools in Idaho Springs.
Idaho Springs is a small town that's full of history thanks to several gold mines in the area. But it's also popular for the Indian Hot Springs which is one of the best hot springs near Denver.
Venture out for a day by starting at St. Mary's Glacier for a fun 1.5 mile hike that ends with breathtaking panoramic views.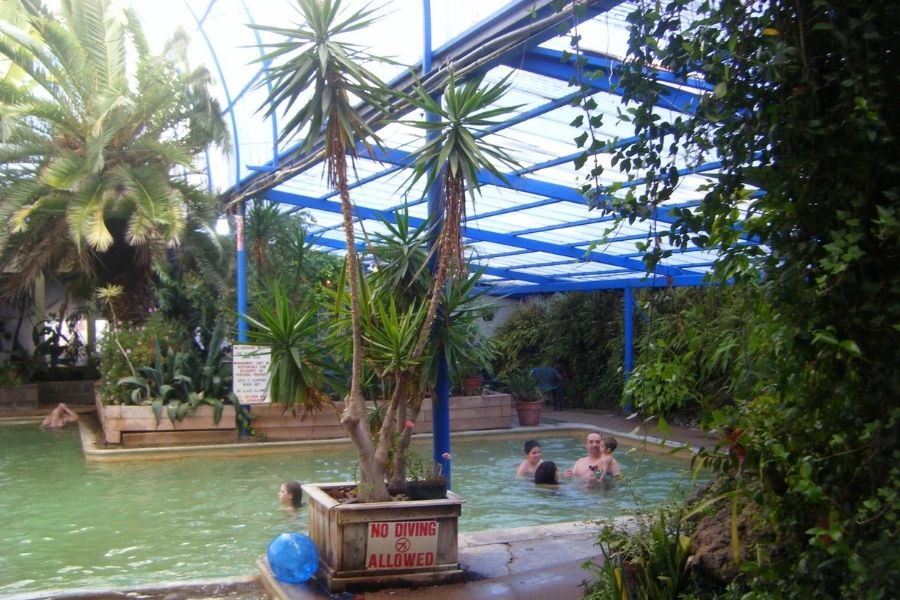 Then it's onto the famous Indian Hot Springs caves and walk-in hot tubs full of naturally hot mineral water. After a cold glacier hike a hot soak in the mineral waters will soothe any aches and pains.
Then, before heading back to Denver you'll stop for lunch to eat your fill at Beau Jo's Pizza that serves famous Colorado style pizza.
All parking fees, water, snacks, admission to the hot springs, equipment, and transportation are free and included with your tour.
A tour of Idaho Springs and Indian Hot Springs is an easy getaway at barely an hour away from the Mile High City.
Distance from Denver: 44 miles
Time from Denver: 57 minutes
4. Red Rocks Amphitheater Foothills
Explore the iconic Red Rocks Amphitheater along with Lookout Mountain on this epic Denver Foothills Tour.
Since Red Rocks is located in Morrison, Colorado, less than 20 minutes from Denver, it's the perfect activity for a half-day trip.
Or make it a full day trip by visiting additional destinations like Lookout Mountain and the scenic Lariat Loop. Along this tour you'll start at Denver Union Station and hit seven different stops.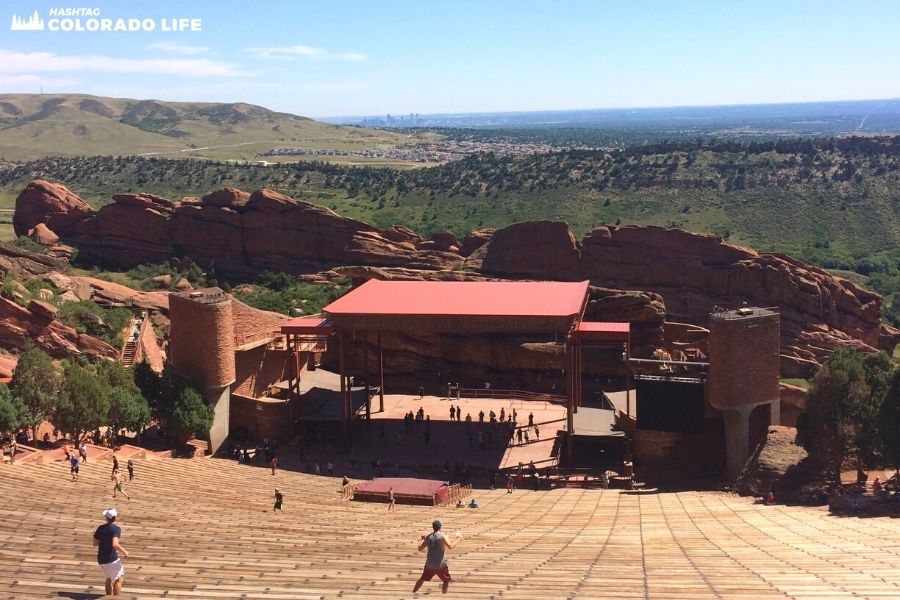 Some of the destinations include Buffalo Bill Grave and Museum, as well as Evergreen, Colorado for some delicious coffee.
Transportation to each location is included with the price as well as water refills and an expert local guide.
This 4-hour tour is perfect for anyone who wants a quick getaway from crowds that doesn't last all day. It's great for small groups or couple tours!
Distance from Denver: 17 miles
Time from Denver: 26 minutes
5. Garden of the Gods & Pikes Peak
You can't plan a day trip from Denver without including a stop at Garden of Gods and Pikes Peak in Colorado Springs! These destinations are two of Colorado's most majestic places to visit.
In fact, this tour has more than 450+ 5-star reviews so you know it's going to be a memorable trip.
Enjoy a drive up to the top of Pikes Peak, which is the mountain that inspired the song "America the Beautiful". Then have lunch and time for shopping in the historic small town of Manitou Springs.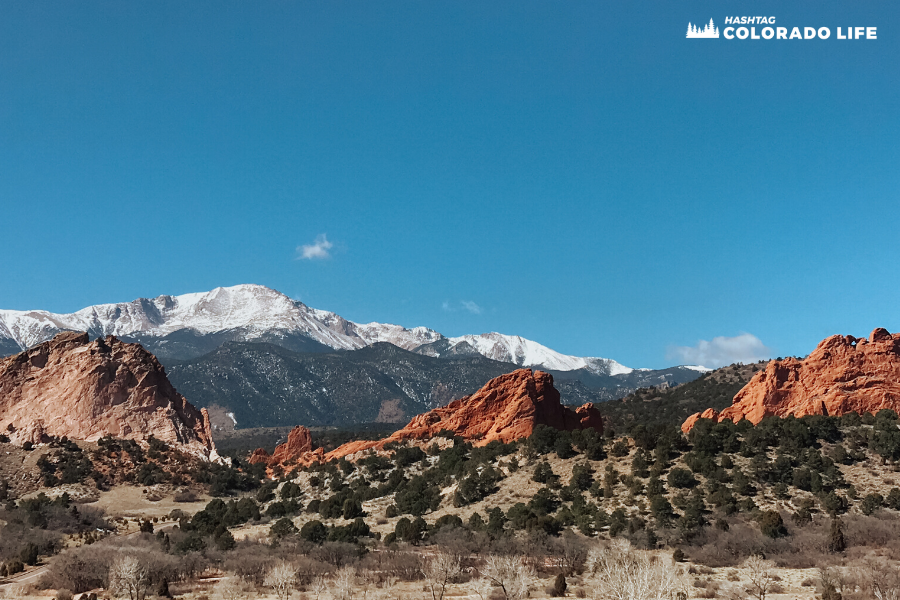 After lunch it's a beautiful tour through Garden of the Gods to learn about the history of the area.
Be sure to bring your camera because this day trip adventure offers epic photos you'll want to remember for a long time.
Included with your tour is the cost of transportation, fuel, park admission and bottled water. You may want to bring extra snacks and comfortable walking shoes for the day.
Distance from Denver: 70 miles
Time from Denver: 1 hour 33 minutes
6. Estes Park
The town of Estes Park borders the gorgeous landscape of Rocky Mountain National Park. Both are a must-visit on a day trip from Denver as they offer tons of things to do and to see.
This 8-hour tour starts in Denver and includes a spacious air-conditioned and heated vehicle. You'll drive through Boulder and onto the quaint town of Estes Park.
The drive alone is a picturesque adventure worth the trip. Along the way you may see lots of wildlife as well as a clear glacial lake inside RMNP.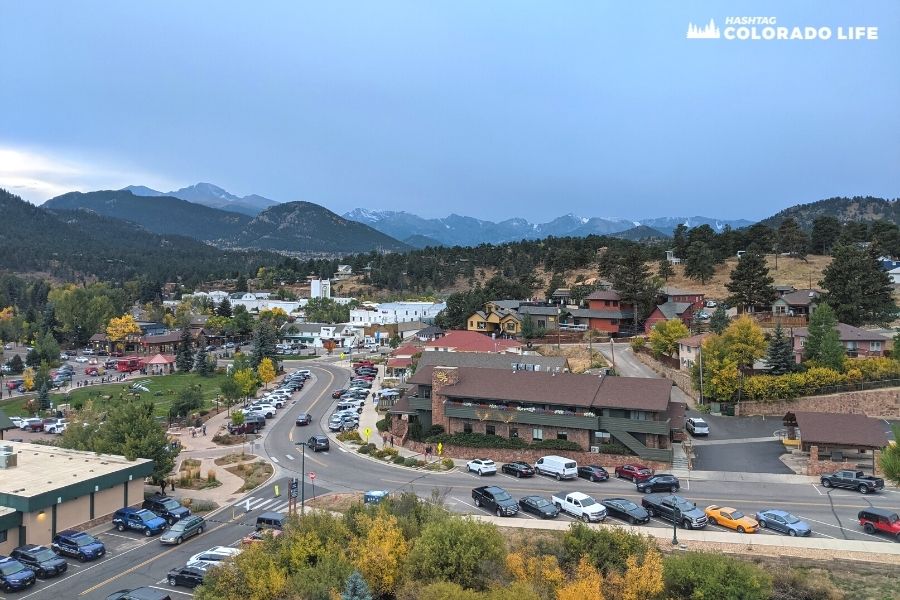 Stops along your trip will include the University of Colorado at Boulder, Beaver Meadows Visitor Center, Sprague Lake, Horseshoe Park, and downtown Estes Park.
Plus, this tour has more than one-hundred 5-star reviews so you know it's going to be an awesome experience.
Distance from Denver: 66 miles
Time from Denver: 1 hour 28 minutes
7. Fort Collins
The city of Fort Collins is consistently ranked as one of the best places to live in the country.
Fort Collins is home to Colorado State University but over the past decades it's proven itself to be much more than just a college town.
It takes a little over an hour's drive from Denver heading north on I-25. Once you arrive, you may want to stay for more than just the day, as there are so many awesome things to do in Fort Collins.
The city is considered a true paradise for beer lovers, and produced about 70% of the state's craft beer. Fort Collins is packed with about 25 local breweries, many of which offer tasting rooms and tours.
For outdoor lovers don't miss a day out kayaking, boating, or fishing on the Horsetooth Reservoir. The Reservoir is a popular destination in the summer as a beautiful spot to cool off and soak up the sunshine.
Distance from Denver: 65 miles
Time from Denver: 1 hour 11 minutes
8. Central City (Black Hawk)
Many historic mountain towns in Colorado have turned their gold rush days into casinos and historic hotels.
A visit to Black Hawk from Denver will seem like you're stepping back in time.
This Vegas-style destination in Central City features a luxurious experience with high-end casinos, historic buildings, and mining tours.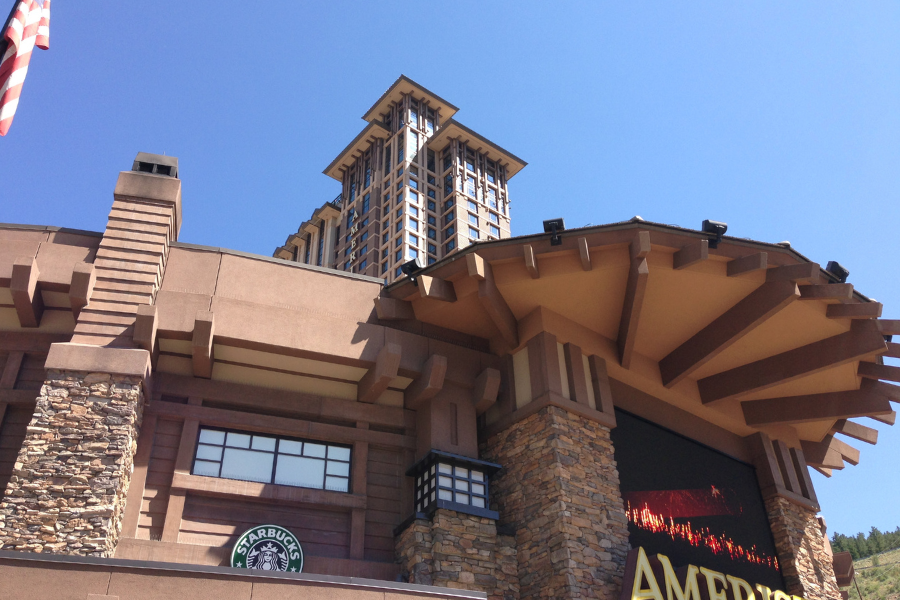 Enjoy a stroll down Central City's main street for unique shopping and delicious dining. Or visit the Opera House to learn about the history of the surrounding area.
You might come for the Black Hawk casinos but you'll stay for the beautiful scenery, historic mines, and great shopping nearby.
Distance from Denver: 38 miles
Time from Denver: 48 minutes
9. Roxborough State Park
Roxborough State Park is a short drive from the Mile High City but offers some of the best hiking trails and incredible photo shoots.
There are several amazing lookout points that offer stunning views of vistas and red rock formations around the Park. You will likely even see some wildlife along your hike so keep an eye out.
In the summer the Roxborough State Park is covered in wildflowers which make for ideal photos and dramatic views of the towering red rocks.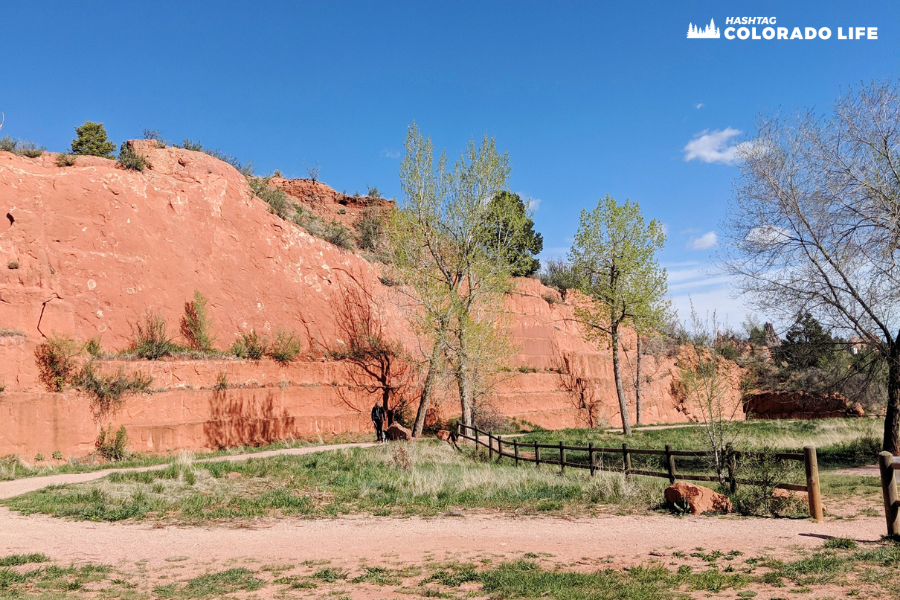 To enter the Park there is a fee of $10 per vehicle and you must follow the hiking rules to "leave no trace".
If you're looking for a place to grab a bite to eat and recharge after your hike, near the Roxborough State Park is the small town of Morrison. The town's cute mainstreet is full of yummy food and drinks.
Distance from Denver: 26 miles
Time from Denver: 44 minutes
10. Georgetown
Another great place to visit on a day trip from Denver is Georgetown, which is located right off I-25.
If you're a history buff you'll love immersing yourself in the region's gold mining history. Or take a train ride on the Georgetown Loop Railroad to Silver Plum, where most of the miners lived.
Downtown Georgetown features local shops and unique dining for a small-town experience you'll love.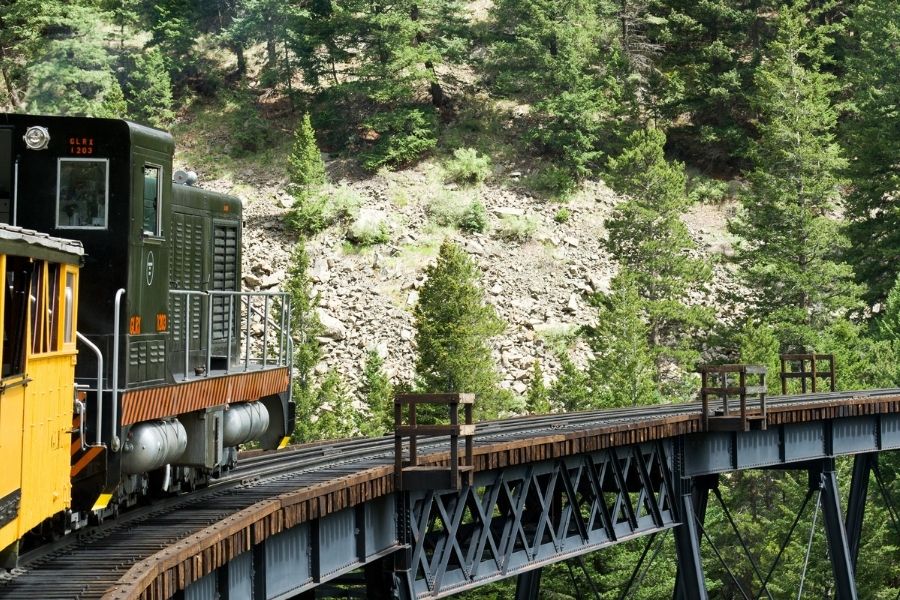 There are several pull-offs for scenic overlooks near Georgetown where you might see some Bighorn Sheep or other wildlife.
Or go for a day hike or enjoy mountain biking at Guanella Pass and see some spectacular views along the way.
Georgetown Lake is a well known fishing destination that also features ice fishing in the winter.
Distance from Denver: 45 miles
Time from Denver: 51 minutes
11. Glenwood Springs
We've mentioned how much we love the city of Glenwood Springs a lot on this blog and our YouTube channel. A day trip from Denver to Glenwood Springs is a must, anytime of year.
On your drive from the big city you'll see epic mountain views as you pass through White River National Forest and Glenwood Canyon.
Upon arriving in Glenwood Springs you can choose to soak in the largest natural hot springs pool.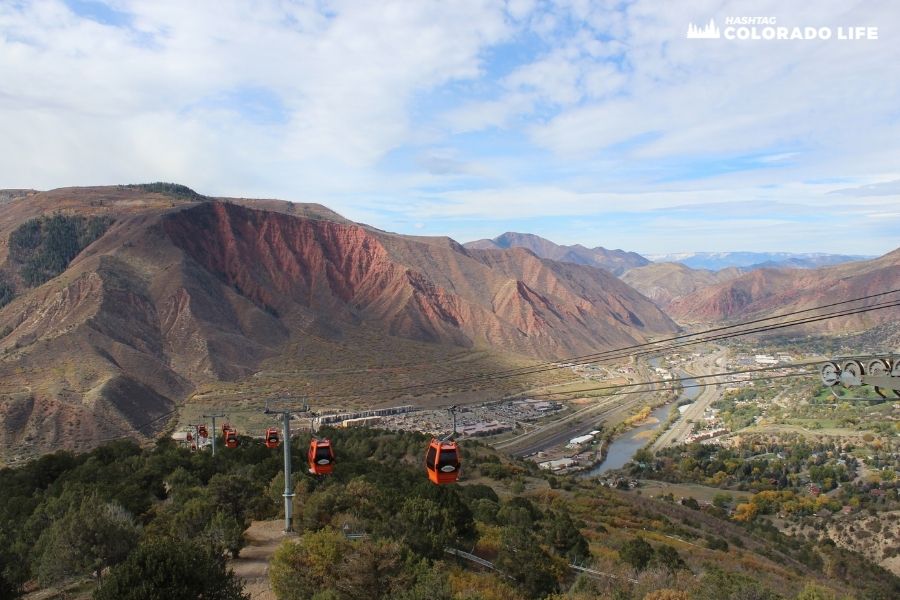 Or spend a day exploring the mountainside caves at the Glenwood Caverns Adventure Park. Be sure to check out Halvor, the friendly Glenwood Troll.
Downtown Glenwood Springs has some of our favorite restaurants in the state. The Glenwood Canyon Brewpub which has received the most accolades of any brewpub in the state!
Distance from Denver: 157 miles
Time from Denver: 2 hours 36 minutes
12. Mount Evans & Evergreen
One of Colorado's highest fourteeners is Mount Evans, and makes an epic day trip from Denver.
Be prepared for a full-day of adventure that takes you along the Continental Divide and through some of the state's most historic mining towns.
Tourists will stop for 20 minutes in Evergreen for some delicious coffee. Then it's onto Mount Evans and the Mount Evans Scenic Byway. For lunch you'll stop at Echo Lake Park for a free bite to eat.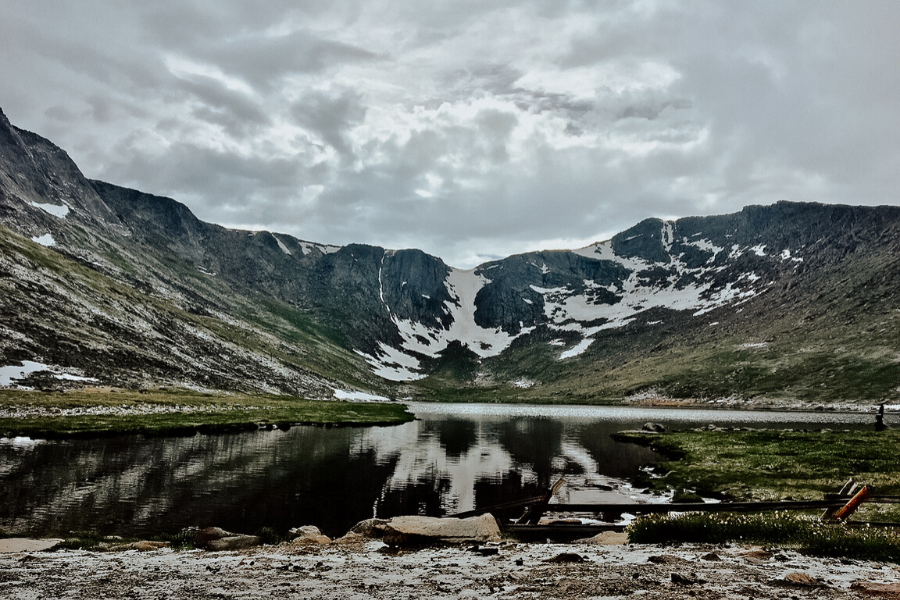 In the afternoon there are several more iconic stops ending with some time to shop or grab a beer in the small town of Idaho Springs.
Keep your eyes open and your camera handy for some of the best views in the state.
A free lunch with water, transportation, and an expert guide are included with this tour. Click here to learn more and book your tour today.
Distance from Denver: 56 miles
Time from Denver: 1 hour 36 minutes
13. Chautauqua Park
Chautauqua Park is located in Boulder, Colorado and is about a 45 minute drive from downtown Denver (depending on traffic).
This gorgeous outdoor setting famously showcases the Flatirons with more than 26 acres of trails and open space to explore. And since we lived in Boulder for 3 years it is one of our favorite spots for taking a day trip from Denver.
There are endless things to do and explore at Chautauqua. The area offers 10 hiking trails with views of the Flatirons.
Stop by the Ranger Cottage for a trail map, grab a snack, and plan your hike.
We recommend following the Chautauqua Trail to the Overlook if you want to see breathtaking views of the city below.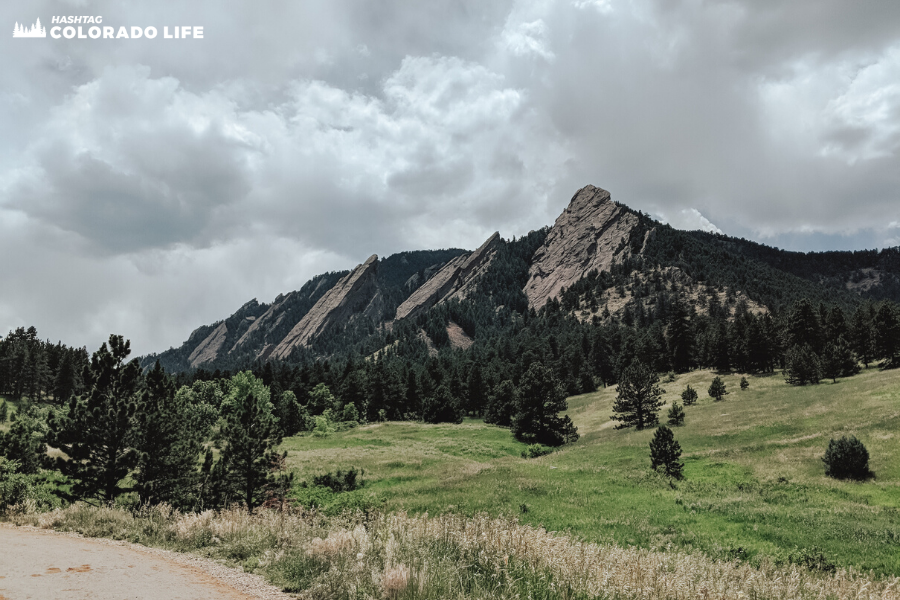 Or for an easier hike with the same views, follow Baseline Trail from the entrance then cut across and go back down Chautauqua Trail Overlook.
Or go on a self-guided history tour with 9 stops and 4 interpretive panels. Take your kids to have fun in the playground and picnic area while enjoying nature.
Shop the General Store for a cup of coffee or tea, and indulge in some homemade ice cream. Or stock up on supplies like sunscreen and bug spray.
Chautauqua Park makes a great day trip from Denver! You can get out of the city and enjoy the escape to nature in just under an hour drive.
There is no fee to enter or hike Chautauqua Park. And it's free to drive if you take a direct bus from Union Station in Denver to Boulder.
Distance from Denver: 28 miles
Time from Denver: 45 minutes
14. Manitou Springs
Manitou Springs is a quirky town located just 6 miles east of Colorado Springs. The town has a 1960s vibe even though many of the old 1900s buildings and homes are still standing.
One of the main draws to Manitou Springs are the natural springs that bubble up out of the ground.
In fact, there are 8 different natural springs that can be found by doing a free mineral springs walking tour.
Each spring has a different taste and smell due to being filled with different kinds of minerals. And the springs are cold, not hot like most other natural springs in Colorado.
Be sure to bring a refillable bottle since you can grab a sip of the spring water for free!
Check out this downloadable map to create your own walking tour of each mineral springs.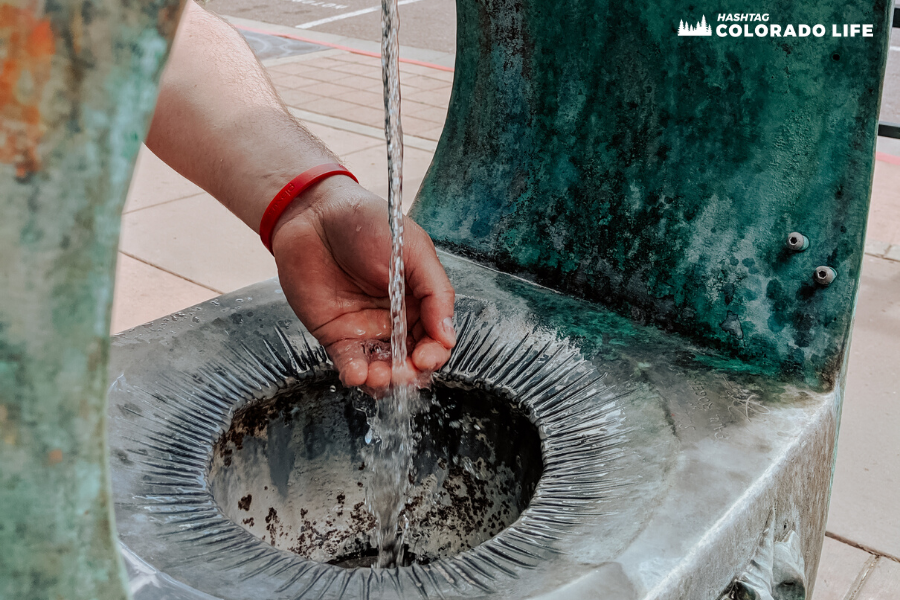 While you're checking out the mineral springs walking tour, we recommend stopping by the Manitou Penny Arcade.
This old school style arcade will likely bring back a lot of memories from your childhood.
Enjoy the pinball machines, skeeball, pool tables, and air hockey machines for just a few pennies up to quarters.
Another place that will bring you back to your childhood days is Patsy's Chocolates and Gifts.
This candy shop has been here since 1903 and sells gourmet popcorn, salt-water taffy, old fashioned chocolates, and delicious candy.
Finally, go on a ghost tour of The Cliff House or the Miramont Castle. These incredible castles were built in the 1890s and have tons of history and spooky stories to share.
Book a room at The Cliff House where each one is decorated in the style of the 1800s. Or simply enjoy a self-guided tour of the inside of the castle for free.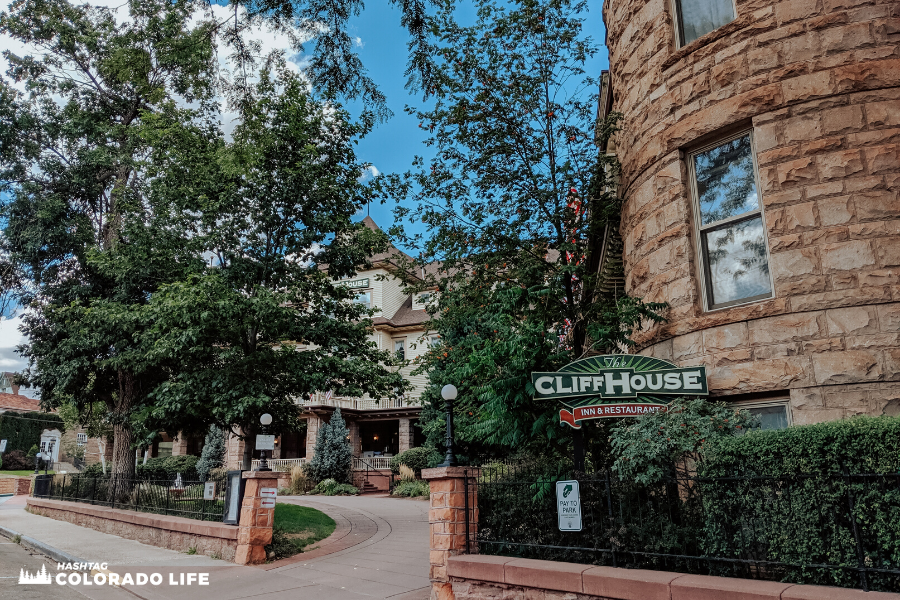 The Miramont Castle is part of the Manitou Springs Historical Society and is open for tours and tea time in the Queen's Parlour Tea Room.
Active Duty Military personal or Fire Fighters can tour the castle for free with ID. All others will have to pay admission price for tickets and the tour lasts for about 45 minutes.
Distance from Denver: 76 miles
Time from Denver: 1.5 hours
15. Cripple Creek
If you like gold rush and gambling stories then you're going to like visiting Cripple Creek, Colorado.
The town is located near the backside of the base of Pikes Peak. And the quickest route from Denver to Cripple Creek is to take Interstate 25 to Highway 24.
On the way into town, stop by at The Heritage Visitors Center that overlooks the area below.
The museum is completely free to tour and features interactive exhibits with historic displays of what life was like back in the early 1900s.
After the museum, park and explore the downtown area of shops, restaurants, and casinos along East Bennett Avenue.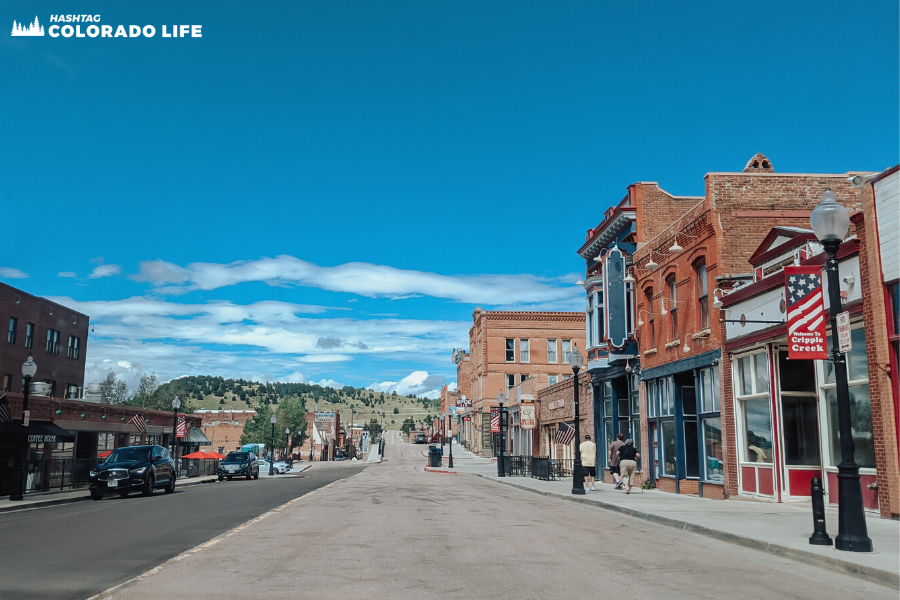 Many of the buildings are still standing from the town's beginnings, with ornate architecture and decorations. The city is also adorned with beautiful art murals decorated by local artists.
The Old Homestead House Museum is another local favorite with quite an interesting history behind it.
Originally built in 1896, this is one of the most historic parlour houses in Cripple Creek. The museum is open 7 days a week from 12-4pm daily.
And while there is a cost to enter the fee is relatively budget-friendly costing $7 for adults and $3 for kids.
Distance from Denver: 115 miles
Time from Denver: 2 hours
16. Royal Gorge Bridge
If you're looking for an epic Colorado destination to visit, then add the Royal Gorge Bridge to your list of best day trips from Denver.
The Royal Gorge Bridge & Park is located in Canon City and is the tallest suspension bridge in the United States.
It is also home to the highest Zip Line and the world's scariest Skycoaster if you're into that sort of thing.
Admission to the park is not free and can be a bit pricey depending on the activities you choose to do.
However, you can drive to the Royal Gorge and take in views of the Bridge from the parking lot.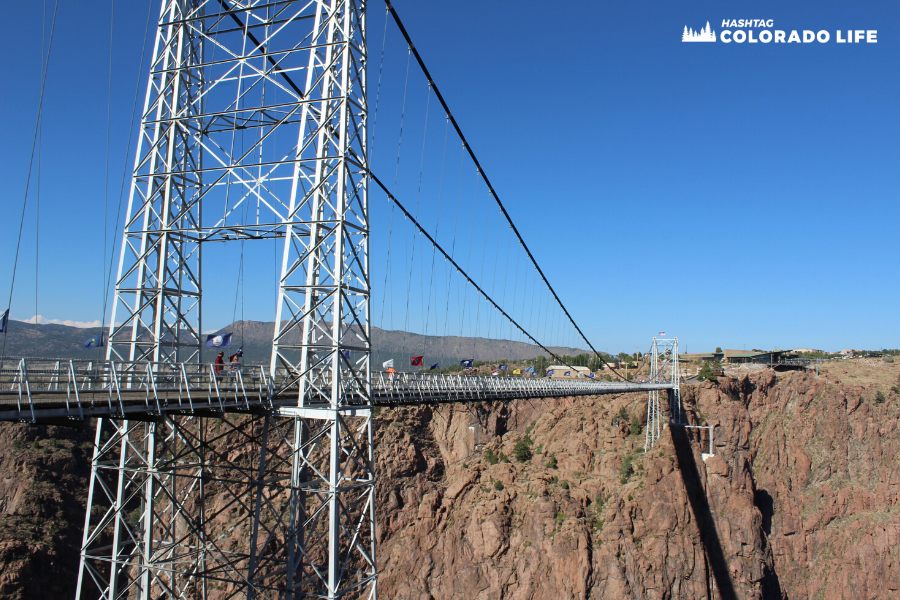 Or hike the Royal Gorge Overlook Loop or Arkansas River Canyon Rim Trail for free, both of which are located on the way to the Park.
The area is in a valley so you're surrounded by mountains, making it a magical adventure no matter what time of year you visit.
The views in the area are spectacular and offer a memorable experience when hiking or rock climbing.
Distance from Denver: 130 miles
Time from Denver: 2.5 hours
17. Lake Granby
Located on the Colorado River about 5 miles northeast of the city of Granby is Lake Granby.
Lake Granby is considered the third largest body of water in the state covering over 7,200 surface acres!
In addition to it's two sister lakes, Grand Lake and Shadow Mountain Lake, Granby Lake offers over 150 miles of shoreline for camping, fishing and hiking.
The area is surrounded by the Arapaho National Forest and Recreation Area, which has tons of things to do if you want to be out in nature.
Enjoy hiking, swimming, camping, boating, fishing, and all of the exploring that the six designated wildernesses offer nearby.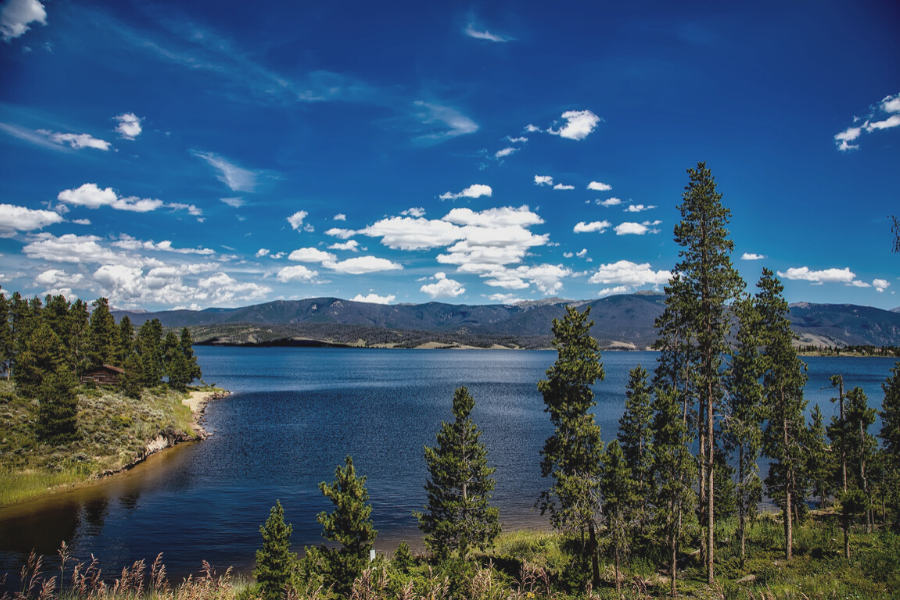 Big game hunting, game bird, and waterfowl hunting is allowed at certain areas near Granby and within the forest.
A visit to the lake make a perfect day trip from Denver during the summertime as it offers a nice reprieve from the hot summer days.
Or enjoy snowmobiling or snowshoeing on many of the snowmobile trails during the winter months.
Many of the areas and hiking trails near Lake Granby are free to enter and explore.
However, if you want to visit the designated Recreation Areas there is a $5 daily rec fee you'll have to pay.
Distance from Denver: 95 miles
Time from Denver: 2 hours
These are just a few of the awesome ways you can enjoy some fun day trips from Denver during the week or on a long weekend.
Go for the day or take your time to enjoy all the amazing things that these Colorado destinations have to offer.