by Carrie Nicholson
|
Last Updated:
February 2, 2021
The content of this website may contain affiliate links and we may be compensated (at no cost to you!). Thank you for your support!
In this guide we're sharing the best day trips from Denver that you can visit for free (or mostly free!).
These destinations offer a wide range of things to do.
You will enjoy hiking epic trails, sampling natural glacial hot springs, touring a gold rush town, swimming or fishing in the lake, and crossing the highest suspension bridge.
Planning your next day trip is easy and doesn't have to cost a lot of money.
In fact, these day trips offer completely free things to do with lots of history and one-of-a-kind opportunities.
Whether you're a fun-loving couple looking for your next adventure, or want a kid-friendly getaway in the mountains, this guide is for you.
All of the day trips from Denver listed below are within about a 2 hour drive from the city.
1. Chautauqua Park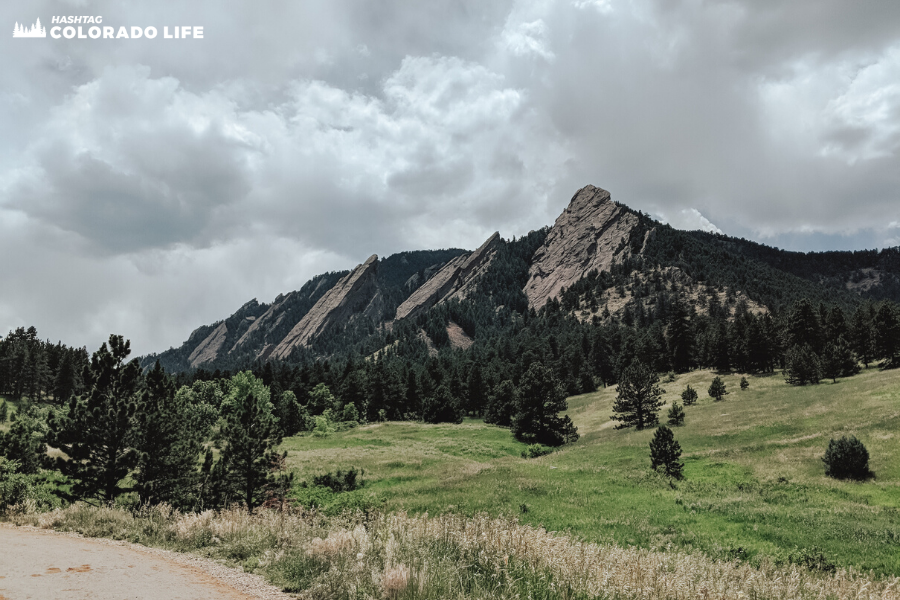 Chautauqua Park is located in Boulder, Colorado and is about a 45 minute drive from downtown Denver (depending on traffic).
This gorgeous outdoor setting famously showcases the Flatirons with more than 26 acres of trails and open space to explore.
And since we lived in Boulder for 3 years it is one of our favorite spots for taking a day trip from Denver.
There are endless things to do and explore at Chautauqua. The area offers 10 hiking trails with views of the Flatirons.
Stop by the Ranger Cottage for a trail map, grab a snack, and plan your hike.
We recommend following the Chautauqua Trail to the Overlook if you want to see breathtaking views of the city below.
Or for an easier hike with the same views, follow Baseline Trail from the entrance then cut across and go back down Chautauqua Trail Overlook.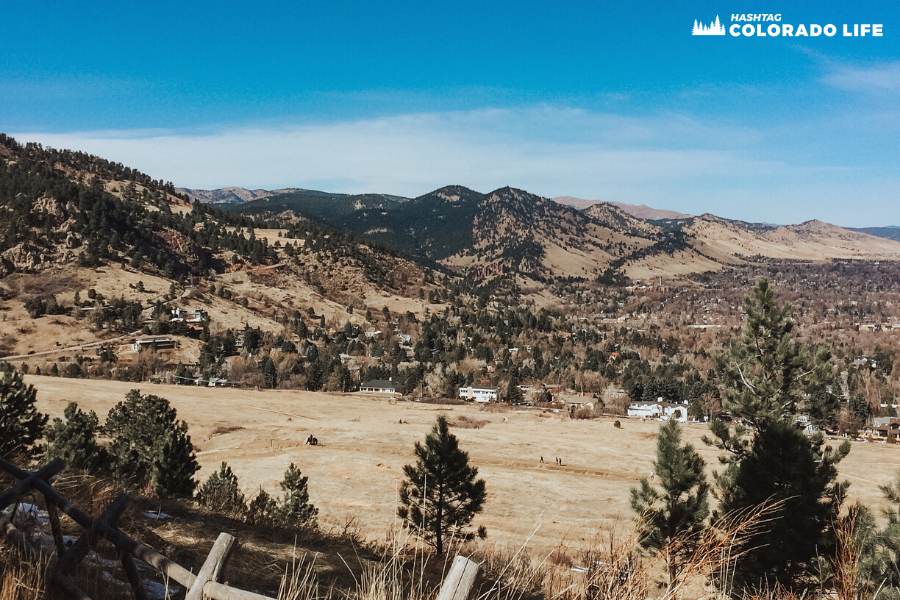 Or go on a self-guided history tour with 9 stops and 4 interpretive panels. Take your kids to have fun in the playground and picnic area while enjoying nature.
Shop the General Store for a cup of coffee or tea, and indulge in some homemade ice cream. Or stock up on supplies like sunscreen and bug spray.
Chautauqua Park makes a great day trip from Denver! You can get out of the city and enjoy the escape to nature in just under an hour drive.
There is no fee to enter or hike Chautauqua Park. And it's free to drive if you take a direct bus from Union Station in Denver to Boulder!
So, this destination is a completely free day trip adventure.
Distance from Denver: 28 miles
Time from Denver: 45 minutes
2. Manitou Springs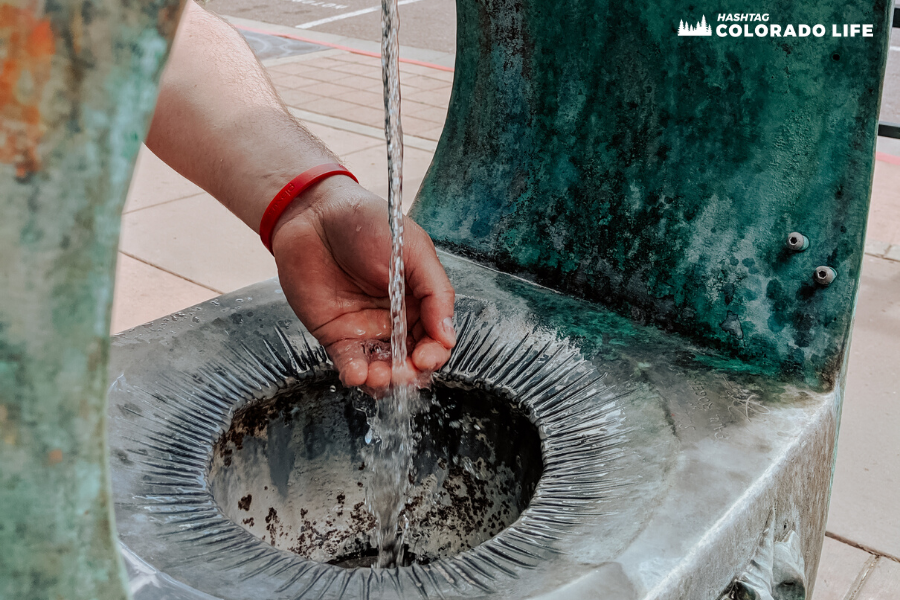 Manitou Springs is a quirky town located just 6 miles east of Colorado Springs.
The town has a 1960s vibe even though many of the old 1900s buildings and homes are still standing.
One of the main draws to Manitou Springs are the natural springs that bubble up out of the ground.
In fact, there are 8 different natural springs that can be found by doing a free walking tour through the city.
Each spring has a different taste and smell due to being filled with different kinds of minerals.
And the springs are cold, not hot like most other natural springs in Colorado.
Be sure to bring a refillable bottle since you can grab a sip of the spring water for free!
Check out this downloadable map to create your own walking tour of each mineral springs.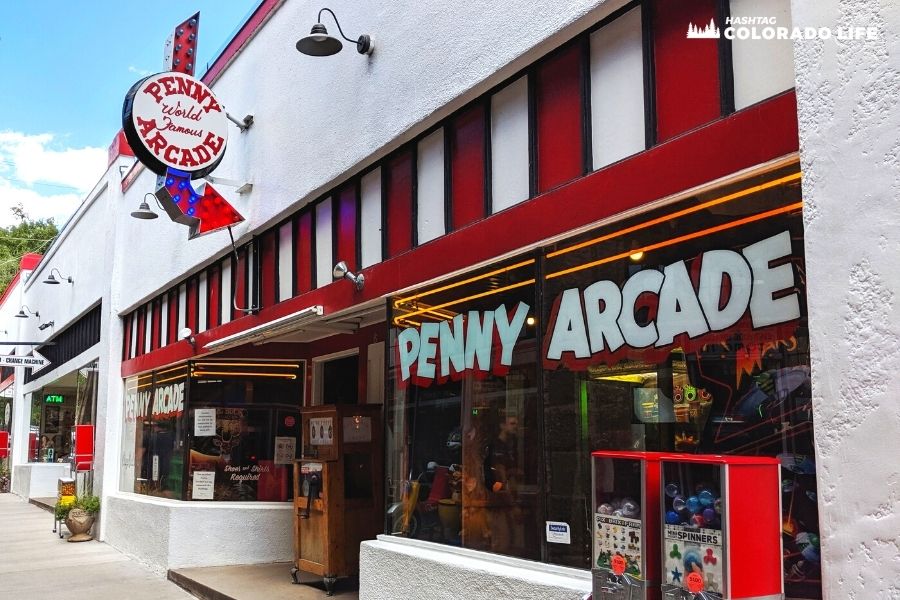 While you're checking out the mineral springs walking tour, we recommend stopping by the Manitou Penny Arcade.
This old school style arcade will likely bring back a lot of memories from your childhood.
Enjoy the pinball machines, skeeball, pool tables, and air hockey machines for just a few pennies up to quarters.
Another place that will bring you back to your childhood days is Patsy's Chocolates and Gifts.
This candy shop has been here since 1903 and sells gourmet popcorn, salt-water taffy, old fashioned chocolates, and delicious candy.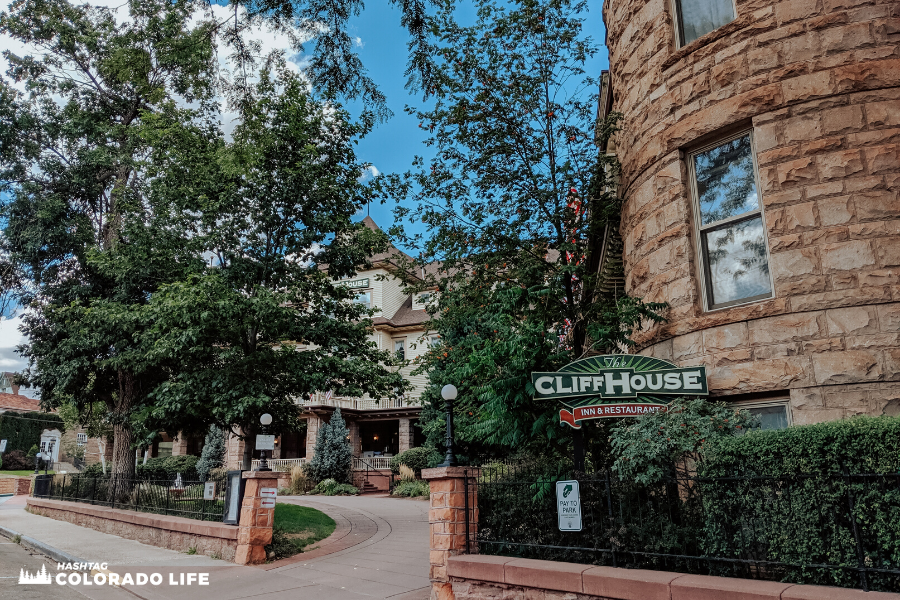 Finally, go on a ghost tour of The Cliff House or the Miramont Castle.
These incredible castles were built in the 1890s and have tons of history and spooky stories to share.
Book a room at The Cliff House where each one is decorated in the style of the 1800s.
Or simply enjoy a self-guided tour of the inside of the castle for free!
The Miramont Castle is part of the Manitou Springs Historical Society and is open for tours and tea time in the Queen's Parlour Tea Room.
Active Duty Military personal or Fire Fighters can tour the castle for free with ID.
All others will have to pay admission price for tickets and the tour lasts for about 45 minutes.
Distance from Denver: 76 miles
Time from Denver: 1.5 hours
3. Cripple Creek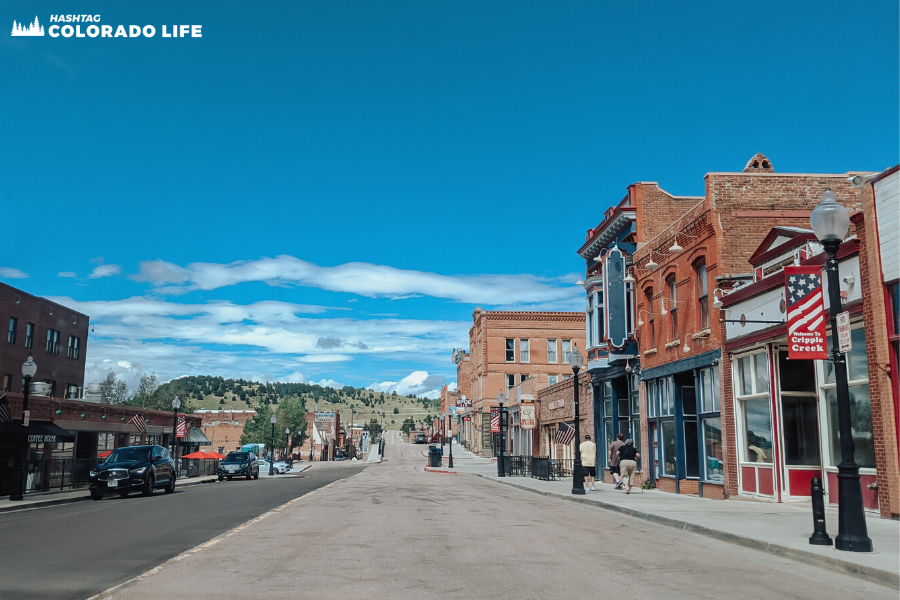 If you like gold rush and gambling stories then you're going to like visiting Cripple Creek, Colorado.
The town is located near the backside of the base of Pikes Peak.
And the quickest route from Denver to Cripple Creek is to take Interstate 25 to Highway 24.
On the way into town, stop by at The Heritage Visitors Center that overlooks the area below.
The museum is completely free to tour and features interactive exhibits with historic displays of what life was like back in the early 1900s.
After the museum, park and explore the downtown area of shops, restaurants, and casinos along East Bennett Avenue.
Many of the buildings are still standing from the town's beginnings, with ornate architecture and decorations.
The city is also adorned with beautiful art murals decorated by local artists.
While touring downtown, check out the Cripple Creek Candy Store which sells delicious flavors of homemade fudge and custom truffles.
We also recommend trying the peanut brittle or homemade peanut butter cups!
The Old Homestead House Museum is another local favorite with quite an interesting history behind it.
Originally built in 1896, this is one of the most historic parlour houses in Cripple Creek. The museum is open 7 days a week from 12-4pm daily.
And while there is a cost to enter the fee is relatively budget-friendly costing $7 for adults and $3 for kids.
Distance from Denver: 115 miles
Time from Denver: 2 hours
4. Royal Gorge Bridge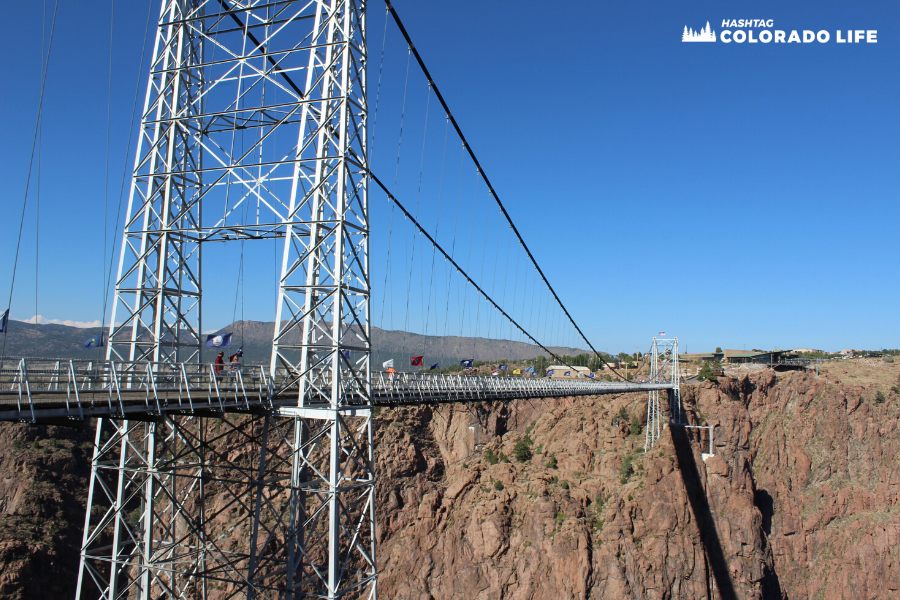 If you're looking for an epic Colorado destination to visit, then add the Royal Gorge Bridge to your list of best day trips from Denver.
The Royal Gorge Bridge & Park is located in Canon City and is the tallest suspension bridge in the United States.
It is also home to the highest Zip Line and the world's scariest Skycoaster if you're into that sort of thing.
Admission to the park is not free and can be a bit pricey depending on the activities you choose to do.
However, you can drive to the Royal Gorge and take in views of the Bridge from the parking lot.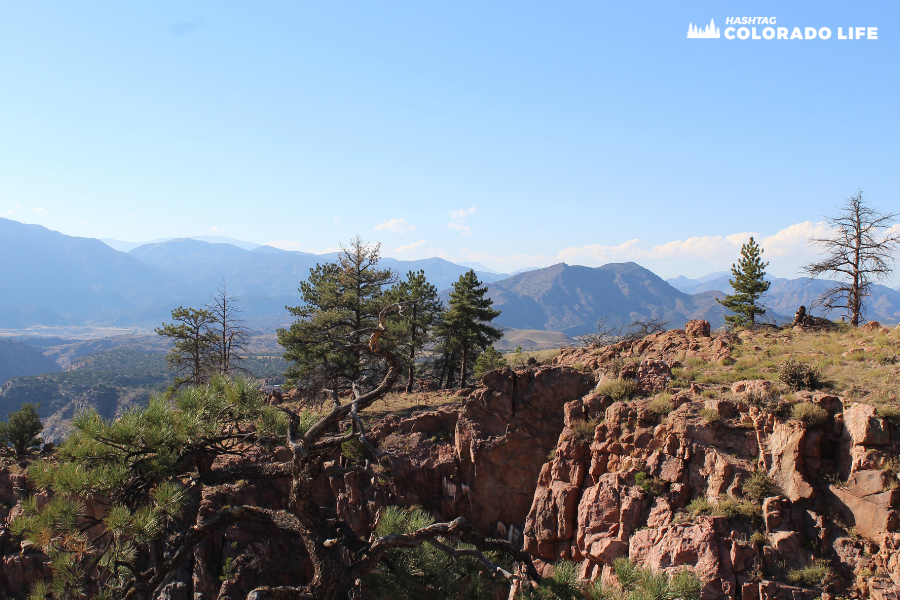 Or hike the Royal Gorge Overlook Loop or Arkansas River Canyon Rim Trail for free, both of which are located on the way to the Park.
The area is in a valley so you're surrounded by mountains, making it a magical adventure no matter what time of year you visit.
The views in the area are spectacular and offer a memorable experience when hiking or rock climbing.
Distance from Denver: 130 miles
Time from Denver: 2.5 hours
5. Lake Granby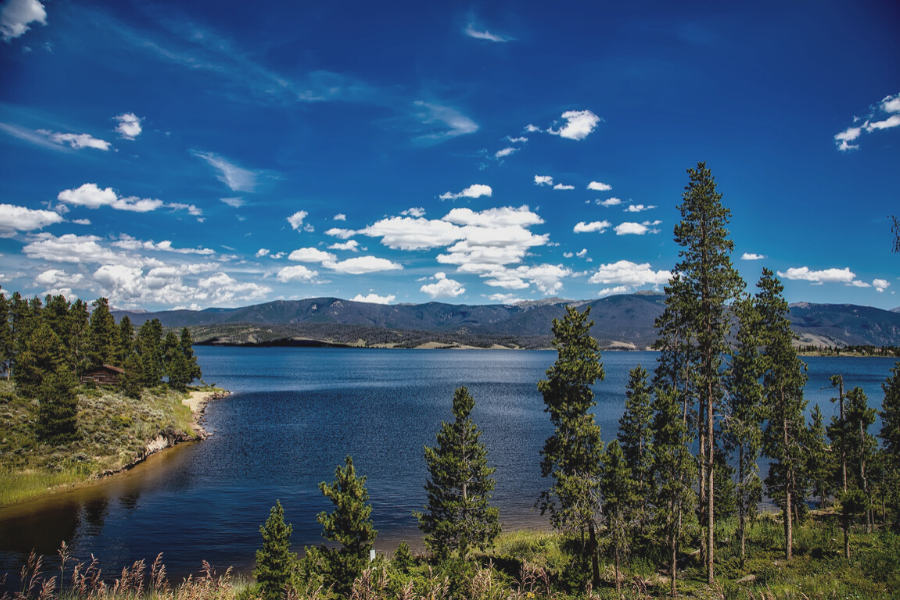 Located on the Colorado River about 5 miles northeast of the city of Granby is Lake Granby.
Lake Granby is considered the third largest body of water in the state covering over 7,200 surface acres!
In addition to it's two sister lakes, Grand Lake and Shadow Mountain Lake, Granby Lake offers over 150 miles of shoreline for camping, fishing and hiking.
The area is surrounded by the Arapaho National Forest and Recreation Area, which has tons of things to do if you want to be out in nature.
Enjoy hiking, swimming, camping, boating, fishing, and all of the exploring that the six designated wildernesses offer nearby.
Big game hunting, game bird, and waterfowl hunting is allowed at certain areas near Granby and within the forest.
A visit to the lake make a perfect day trip from Denver during the summertime as it offers a nice reprieve from the hot summer days.
Or enjoy snowmobiling or snowshoeing on many of the snowmobile trails during the winter months.
Many of the areas and hiking trails near Lake Granby are free to enter and explore.
However, if you want to visit the designated Recreation Areas there is a $5 daily rec fee you'll have to pay.
Distance from Denver: 95 miles
Time from Denver: 2 hours
These are just a few of the awesome ways you can enjoy some fun day trips from Denver during the week or on a long weekend.
Go for the day or take your time to enjoy all the amazing things that these Colorado destinations have to offer.
Carrie Smith Nicholson is one of the co-founders of Hashtag Colorado Life. After living in Texas for her whole life she moved to Colorado 5 years ago. As a travel blogger and entrepreneur for the past 10 years, her writing has been featured on NBC News, HuffPost Live, Glamour Magazine, Inc Magazine and many other media outlets. When she's not writing about new travel locations, she enjoys spending time outdoors hiking, camping in her NuCamp teardrop trailer, and trying new foods. You can follow her outdoor adventures on Instagram, @hashtagcoloradolife.