10 Best Day Hikes and Hiking Trails in Colorado Springs
This website may contain affiliate links and we may be compensated (at no cost to you!).
When it comes to hiking Colorado Springs or planning a day hike near the city, there are endless options.
As a native of Colorado Springs, I can personally attest to the fact that exploring the outdoors here never gets boring.
In this guide I'm sharing my top 10 picks for hiking in Colorado Springs and sharing some of my favorite hiking trails.
The hiking destinations mentioned below are ones that are loved by Colorado locals and are not very touristy.
And all of these parks and hiking trails are free to visit and have free parking.
Now, get out there and enjoy a fun day hike near Colorado Springs!
1. Ute Valley Park
Difficulty: easy to moderate
Like many other parks in Colorado Springs, Ute Valley Park is a favorite among locals.
It is located at 1645 Vindicator Drive in northwest Colorado Springs.
The park consists of 338 acres of wooded areas, open spaces, rock formations, and multi-use trails.
There are 20 different trails available for walking, running, biking, and exploring. Although, not all of them are marked.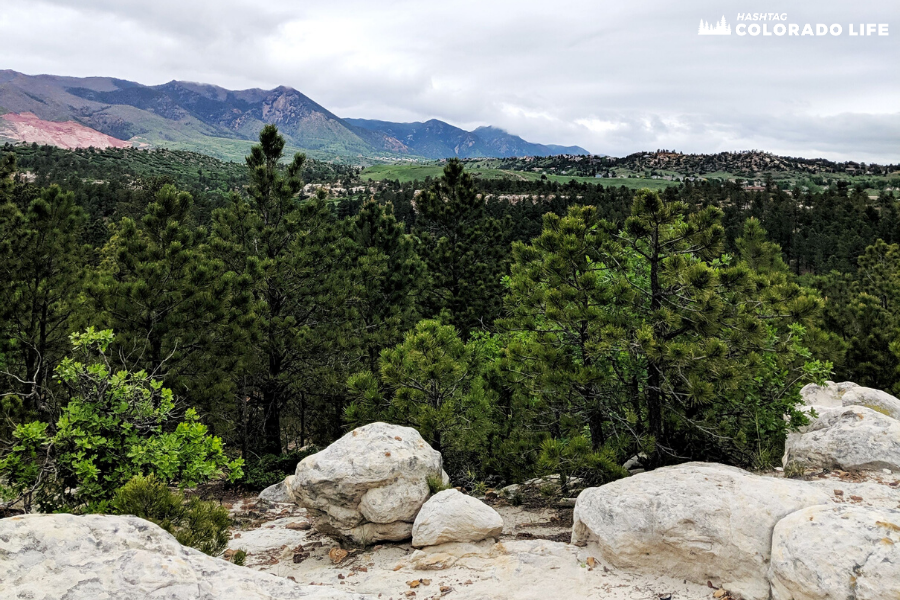 The most popular trail, called Ute Valley Park Loop Trail, features fantastic views of the city as well as the Rocky Mountains.
The trail requires only an easy to moderate level of skill. And it is a perfect destination for small kids or families visiting from out of town.
The trail starts and ends at the north entrance parking lot and continues on for about 3.4 miles.
Dogs are welcome in Ute Valley Park as long as they are leashed.
Carrie and I enjoy hiking in Ute Valley Park so much that we typically visit every month or so!
2. Red Rock Canyon Open Space
Difficulty: easy to moderate
If you're looking for a wide open space with gorgeous views and historic geology, then check out Red Rock Canyon Open Space.
This park is made up of 1,474 acres of wooded and mountainous terrain near Manitou Springs, Colorado.
It is located at 3550 West High Street just west of downtown Colorado Springs.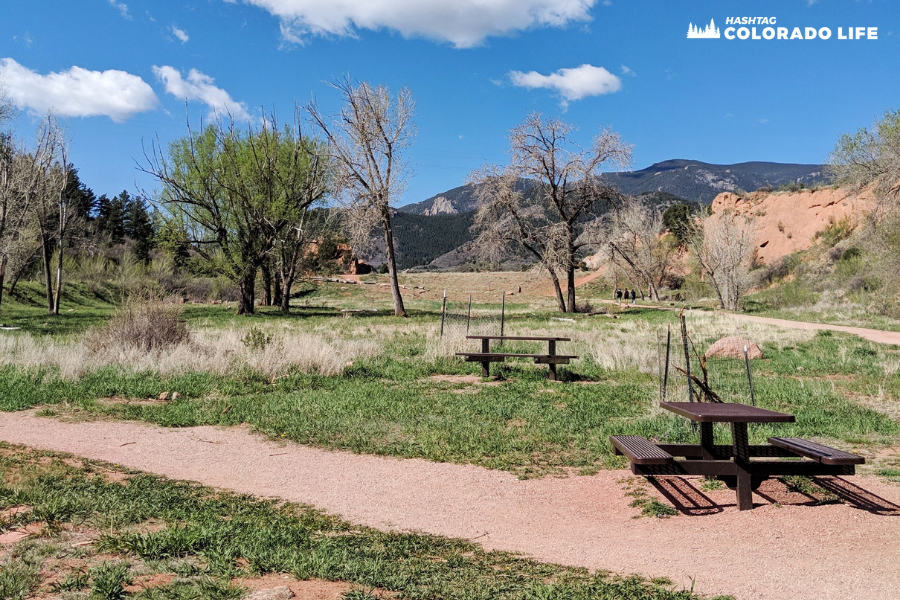 Much like Ute Valley Park, it's a local favorite and not one that a lot of tourists know about.
There are 3 main parking lots with plenty of space for cars to park, even on busy weekend days.
Dogs are allowed on the trails and can even run off-leash in the dog park and Upper Dog Loop Trail.
This is also a great destination for kids and families!
There are 11 trails to explore, an enclosed bathroom during the summer, and several picnic areas.
One of the main trails is also an accessible hiking trail.
Red Rock Canyon Trail is a white ADA-accessible trail and designed for anyone with disabilities.
3. North Cheyenne Cañon
Difficulty: moderate to hard
North Cheyenne Canon Park features 1,600 acres and is home to unique wildlife, two visitor centers, high cliffs, and rustic wooded areas.
It is located at 2120 South Cheyenne Canyon Road just southwest of Colorado Springs.
It offers 56 hiking trails for walking, running, biking, and horseback riding. And the views are absolutely unmatched.
With 360 degree views you can look out over the expansive landscape for miles.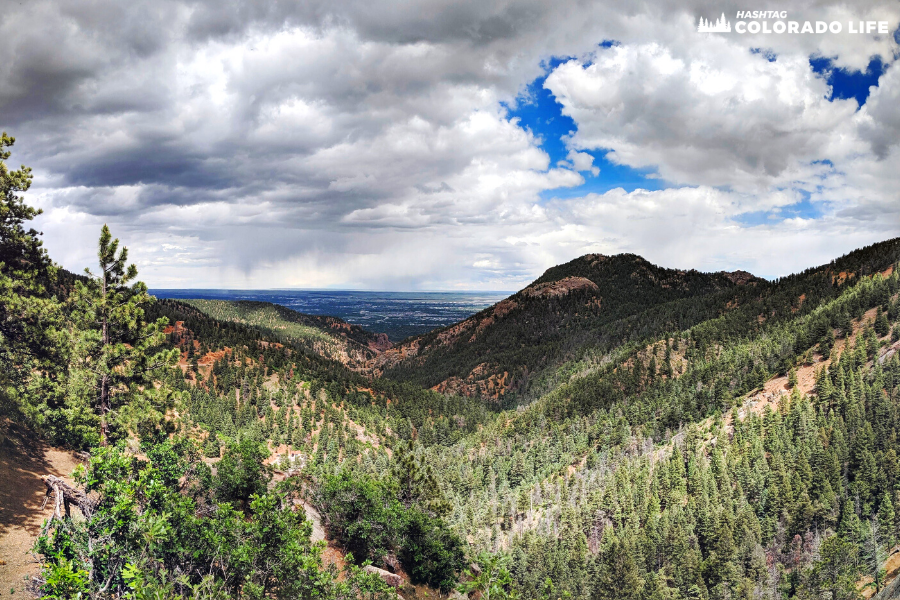 It's no wonder North Cheyenne Cañon Park is a popular destination for tourists. It sees more than 450,000 visitors each year!
Dogs are allowed here too, so bring your families or furry friends and enjoy the adventure!
This is a perfect getaway for out-of-towners as well as locals and can be enjoyed pretty much all year round.
4. Pulpit Rock Park
Difficulty: easy to moderate
Pulpit Rock Park is an oasis in the middle of Colorado Springs and covers 584 acres.
It is located inside Austin Bluffs Open Space at 6411 North Nevada Avenue, northeast of Colorado Springs.
It is easily seen and accessed from Interstate 25 no matter which direction you are driving.
There are dozens of trails, both marked and unmarked, that covers the entire Pulpit Rock area and open space nearby.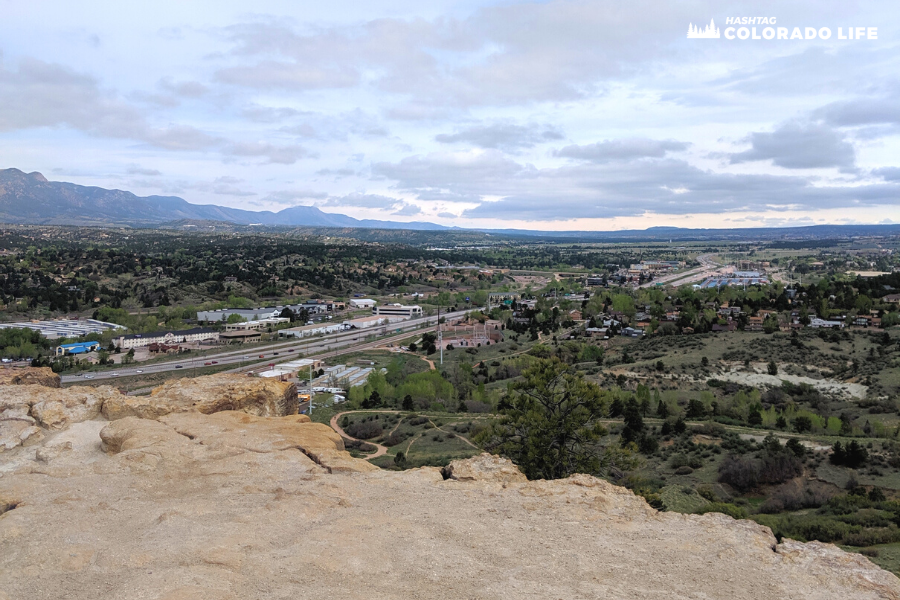 Due to its sheer size and offbeat location, Pulpit rock is much less crowded than other hiking destinations in the Springs.
There are many paths to reach the top, but we recommend hiking the Pulpit Rock Trail Loop.
This is a 4.2 mile trail that starts and ends at the main parking lot on North Nevada Avenue.
Once you reach the top, you will be at 6,621 feet in elevation which is one of the highest hikes on this list.
And on a clear weather day you can even see the Spanish Peaks from the top!
5. Paint Mines Interpretive Park
Difficulty: easy
If you're looking for a unique day hike near Colorado Springs, we highly recommend the Paint Mines Interpretive Park.
This destination is located one mile south of Calhan, Colorado and covers over 750 acres of prairies and grasslands.
The area is rich in geological history and architecture as well as wildflowers, birds, and small wildlife.
What makes the Paint Mines so unique is the Hoodoo formations that have formed over thousands of years.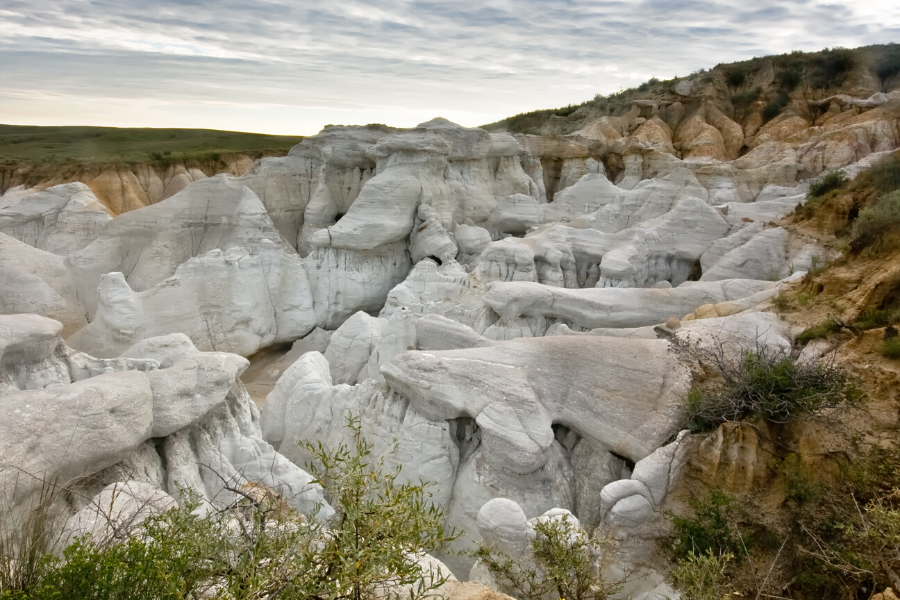 The elements and weather have eroded the landscape to create colorful ravines and unique paths.
We recommend hiking the Paint Mines Trail which is a 3.5 mile loop that is pretty easy and only has a few small inclines.
Historical signs are placed throughout the Paint Mines so you can learn about the history, animals, birds, and local fauna.
Please note that bikes, motorized vehicles, dogs and other domesticated animals are not allowed in the park.
6. Blodgett Peak Open Space
Difficulty: moderate to hard
If you're seeking a challenging hike near Colorado Springs then you're in luck with Blodgett Peak.
The entire area consists of Blodgett Peak Mountain and Blodgett Peak Open Space and makes up 238 acres along the Rampart Range.
The main trailhead is located at 3786 West Woodman Road, northwest of downtown Colorado Springs.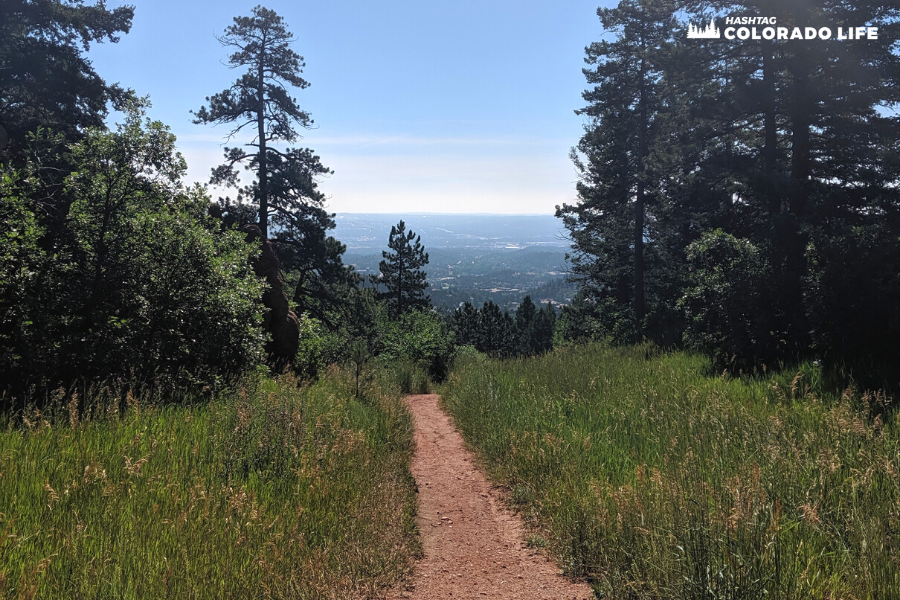 There are several main trails that move back and forth throughout the Open Space area.
But Blodgett Peak Trailhead will lead you to the top of the mountain, if you dare!
This 3.2 mile hike ascends from the base of the mountain to the top and is very hard to climb.
It is only recommended to hike Blodgett Peak when in decent physical shape and if you have the proper gear.
Still, the views are unmatched and it offers 360 degree angles of the mountains, cityscape, and Colorado skies.
7. Austin Bluffs Open Space
Difficulty level: easy
As mentioned, Austin Bluffs Open Space is connected to Pulpit Rock Park.
Together they create 584 acres and approximately 10 miles of trails inside the Colorado Springs city limits.
The park is situated at 6411 North Nevada Avenue, near the north border of the University of Colorado at the Colorado Springs campus.
Many of the trails are paved or covered in gravel but are not necessarily marked.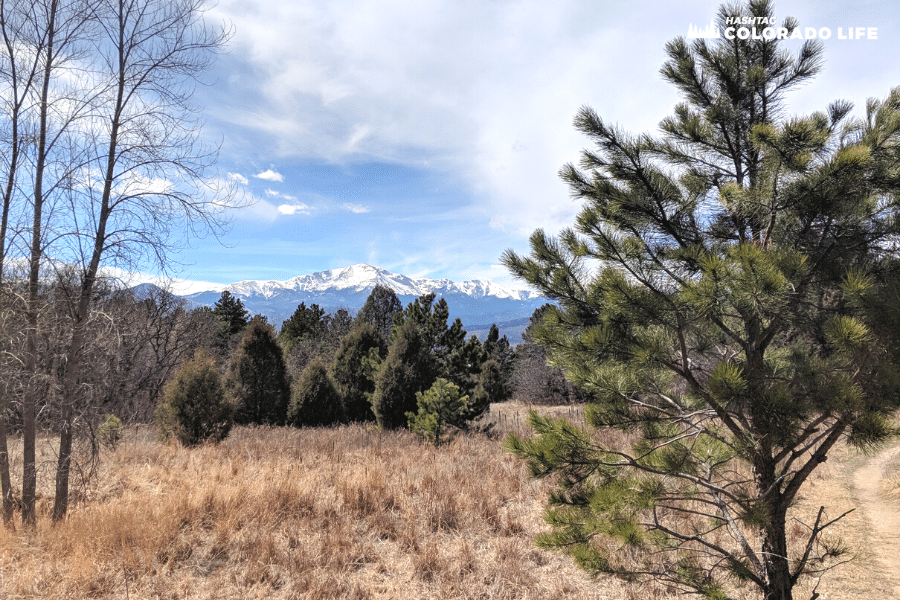 However, this makes it fun to create your own hiking adventure!
Our personal favorite is the Austin Bluffs Main & Pulpit Ridge Trail which is a 3.6 mile loop that features a lake and picturesque views.
This trail stretches across most of the Open Space all the way to the top of Pulpit Rock.
You will see views of Pikes Peak from nearly all angles. And again, it's never crowded as not many tourists know about it.
Dogs, kids, friends and family members will all love hiking and exploring Austin Bluffs Open Space!
8. Helen Hunt Falls
Difficulty: easy to hard
Helen Hunt Falls is a unique day hike near Colorado Springs for several reasons.
The main trailhead is basically a hike from the parking lot to the base of the falls.
Helen Hunt Falls Trail connects to Silver Cascade Falls which is a short but very intense hike to the overlook at the top.
Both waterfalls are epic during the winter months when they are frozen over.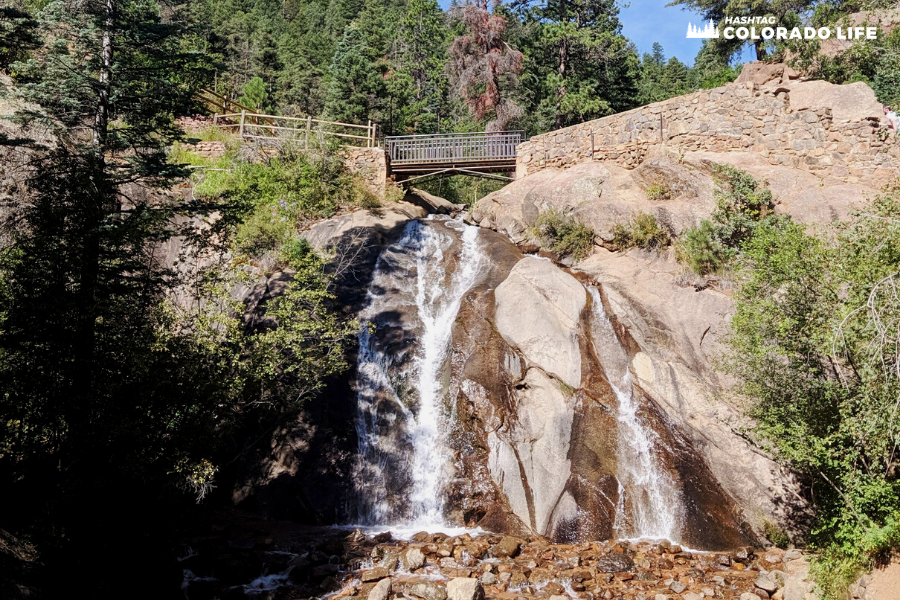 But be sure to check them out in the spring too, just as the snow run-off starts to melt.
Helen Hunt Falls is located inside North Cheyenne Canon Park at 3440 North Cheyenne Canyon Rd.
After your short uphill hike, take a break at the Visitor Center & Museum for a bathroom break, snacks, and a map.
Plus, learn about the history of the falls and what makes this place so unique.
Access to the Seven Bridges Trail is a short 1 minute drive up the road from Helen Hunt Falls!
9. Black Forest
Difficulty: easy to moderate
Black Forest, Colorado is an unincorporated community north east of Colorado Springs.
The town's population is 14,081 residents and includes just over 100 miles of neighborhoods, secluded homes, and forests.
One of the best trails in the area is Section 16 Loop. This is a 3.8 mile loop that starts and ends at the main parking lot on Burgess Road.
Fox Run Regional Park is also a favorite of ours as it includes many trails, a dog park, and kids playground.
You will also find picnic tables, pavilions, and easy parking here.
One of the reasons that Black Forest is so unique is that the ecosystem features the types of animals and trees that you see in mountains.
But it's not located in the mountains and is, in fact, east of any mountains in Colorado.
Thanks to the abundance of Ponderosa Pines that make up the entire forest, temperatures are always cooler in Black Forest.
This makes for great summer time hiking, or a cool getaway from the heat, due to constant shade everywhere.
In 2013 a forest fire came through and destroyed a lot of the woods.
However, these days you can see the abundant regrowth and new life of the forest.
10. The Manitou Incline
Difficulty: hard to expert
With more stairs than the Empire State Building, the Manitou Incline is a beast of a hike.
The climb consists of 2,744 steps and is less than 1 mile long, with an elevation gain of 2,000 feet.
It requires an expert level of hiking and should not be attempted unless you have trained for it or are already in good shape.
If you begin hiking The Incline and find you can not finish the climb, take the Barr Trail which will return you to the base of the incline.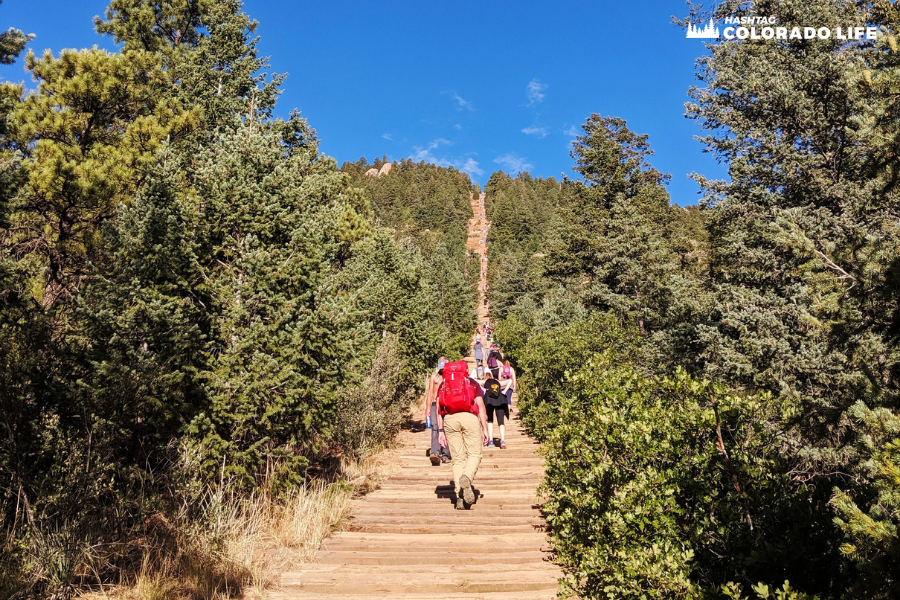 The Barr Trail actually goes on for 24 miles and starts at the Manitou Incline area and goes all the way to Pikes Peak.
Weather is a big factor when hiking The Incline and sometimes closes due to rain, snow or icy conditions.
It is quite an exhilarating trail to climb and should be on everyone's Colorado bucket list.
The Manitou Incline is located in Manitou Springs off Highway 24, west of Colorado Springs.
And if you're spending the day in Manitou Springs you may also want to check out Old Colorado City, which is very close.