9 Best Coffee Shops and Tea Houses in Colorado Springs
This website may contain affiliate links and we may be compensated (at no cost to you!).
Colorado Springs has a number of unique and tasty coffee shops and tea houses. There really is something for everyone!
In this post we dive into the best coffee shops and tea houses around the city to get a hot cup of brew or hot leaf juice.
You'll learn about some real coffee house gems dotted across the city to grab a quick pick-me-up or nestle in with a good book and enjoy the atmosphere.
Not only that, but you'll find some insight on the other goodies offered by these venues in Colorado Springs.
iTunes | Google Play | Stitcher | Spotify
1. Wayfinder Coffee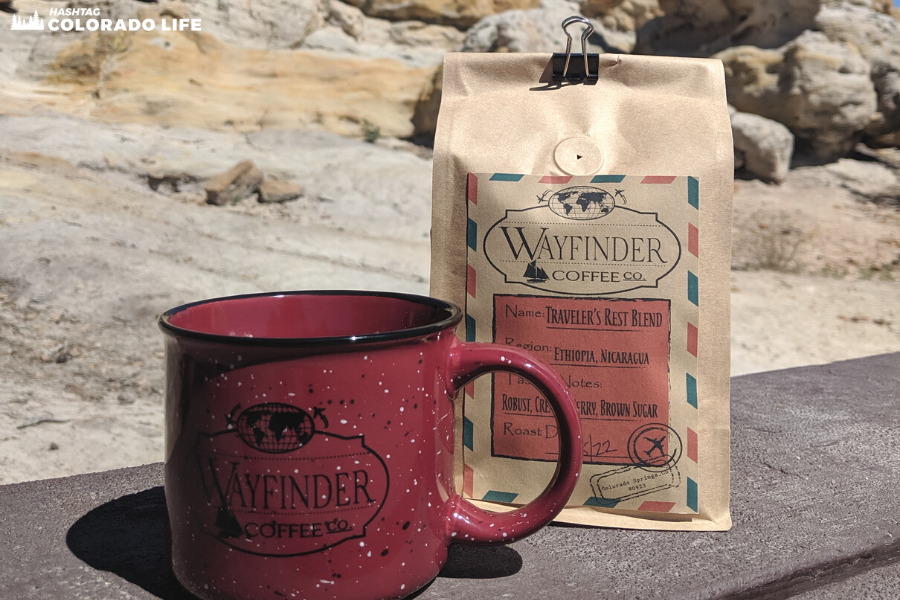 At Wayfinder Coffee, travel and good coffee are a state of mind. Founded by two ladies, Megan and Anna, this coffee shop brings together all of the coffee cultures of the world.
You'll find excellent coffees from across the globe and an atmosphere that will make you want to sit down and stay a while.
The decor includes rustic wood floors, chairs and tables with large vintage maps all over the walls.
Located in northeastern Colorado Springs, you'll find Wayfinder off Austin Bluffs Parkway. It is snuggled up in a small neighborhood and definitely feels like a special, local coffee shop.
We enjoy the Spiced Road coffee and their giant croissants (and other baked goods!) that are made fresh daily.
Wayfinder brings together the all-day-and-all-night coffee communities of Italy, the slow pace of a French bistro, and the bustling streets of a South American village.
2. Yellow Mountain Tea House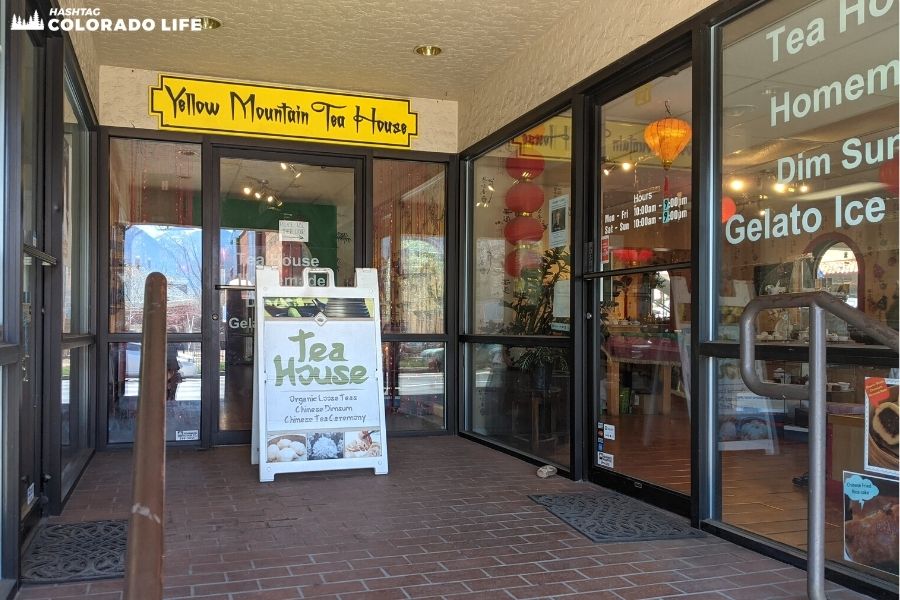 Tea-lovers rejoice! The Yellow Mountain Tea House brings all the best things about a traditional Chinese tea house to Colorado Springs.
You can order a cup from the counter to go, or stay for a full Chinese tea service. With over 300 teas to choose from, you can also grab some loose leaf tea to steep up at home.
We personally enjoy the Milky Way Chai blend as well as the Stress Relief blend.
Another must-try are the "sweet tea leaves" which are leaves from the Chinese Blackberry bush and are about 200 times sweeter than cane sugar.
They also make delicious Chinese food in their kitchen, from veggie dumplings or the summer rolls which are a family recipe.
Yellow Mountain is located in Old Colorado City, on the west side of Colorado Springs.
It is easily accessed when on your way to hiking Red Rock Canyon Open Space or exploring what Manitou Springs has to offer.
3. Loyal Coffee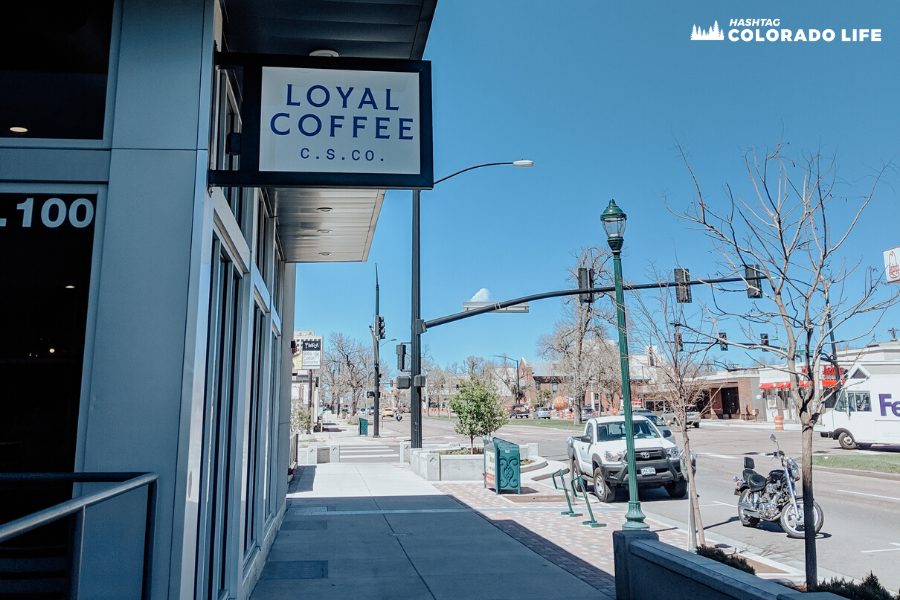 Roasting and serving up coffee in downtown Colorado Springs is Loyal Coffee. This is a barista-owned speciality coffee shop that locals love.
The beans are roasted locally at the Loyal Coffee Clubhouse, and we love the bright, clean, and modern look for this shop.
You may even see the owner and his family around the shop!
Located in the heart of downtown Colorado Springs, Loyal Coffee is a quick stop off I-25 and near to Memorial Park.
We like Loyal Coffee's commitment to supporting the local community of growers who supply their beans. Grab a cup in-house or bring home a bag of beans to get that Loyal jolt anytime.
4. Kangaroo Coffee
If you haven't been to Kangaroo Coffee it's a popular stop for anyone in Colorado Springs. They serve up organic coffees, etas, smoothies, and plenty of baked goods.
Their motto is "to keep you hoppin' all day long!"
At Kangaroo Coffee, all things are organic, whether it's the bean, the leaf, or the fruit.
Their cookies, scones, biscotti and other baked goods are provided by Organic Bliss and The Sourdough Boulangerie, which are also located in Colorado Springs.
Currently Kangaroo Coffee has three locations around Colorado Springs, each with super convenient drive thru's.
5. Dutch Bros Coffee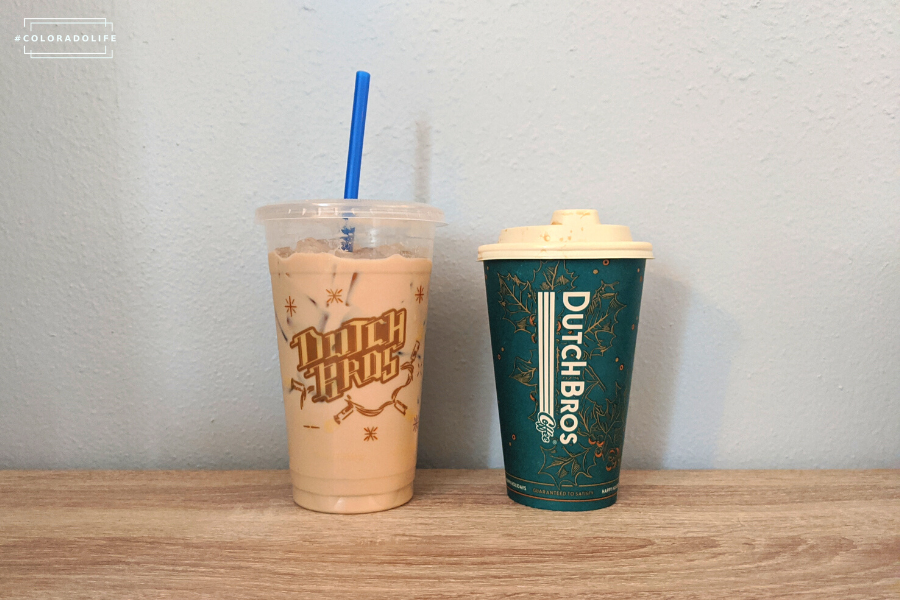 The popular Dutch Bros Coffee house may not have been started in Colorado, but that doesn't mean it's not a favorite of locals and visitors alike!
Originally founded in Grants Pass, Oregon, this regional chain has locations across the western states.
They are best known for their extensive menu and even more extensive secret menu! They often have long but quick-moving lines.
You can walk up or drive thru to pick up everything from a Dutch soda (an Italian soda with a Dutch twist) to a standard hot cup of joe.
Since Dutch Bros is a chain, you'll find multiple locations along the Front Range, and several in Colorado Springs specifically.
When we visit Dutch Bros (which is often!) we order the Iced Kicker and the Golden Eagle.
6. Switchback Roasters
Started in a garage in 2010 with a couple of friends, Switchback Coffee Roasters was founded by a desire to share tasty coffee in Colorado Springs.
These roasters are truly a hometown operation, and proudly roast their beans and serve them up in the downtown area.
Switchback Roasters makes an effort to provide drink & food options to fit many diets. Both their cafes are open and feel friendly and their coffee is higher than fair-trade quality.
Give their Avocado toast a try or check out the Colorado granola made with local granola.
Pick up a bag of Switchback Roasters coffee online or in-store, and visit one of their two downtown Colorado Springs locations.
There are two coffee houses brewing Switchback beans. Their original cafe, on Institute Street is called the Shooks Run Cafe, near downtown.
Or visit their other location, the Hillside Cafe on Moreno Avenue, is west of Memorial Park.
7. The Perk Downtown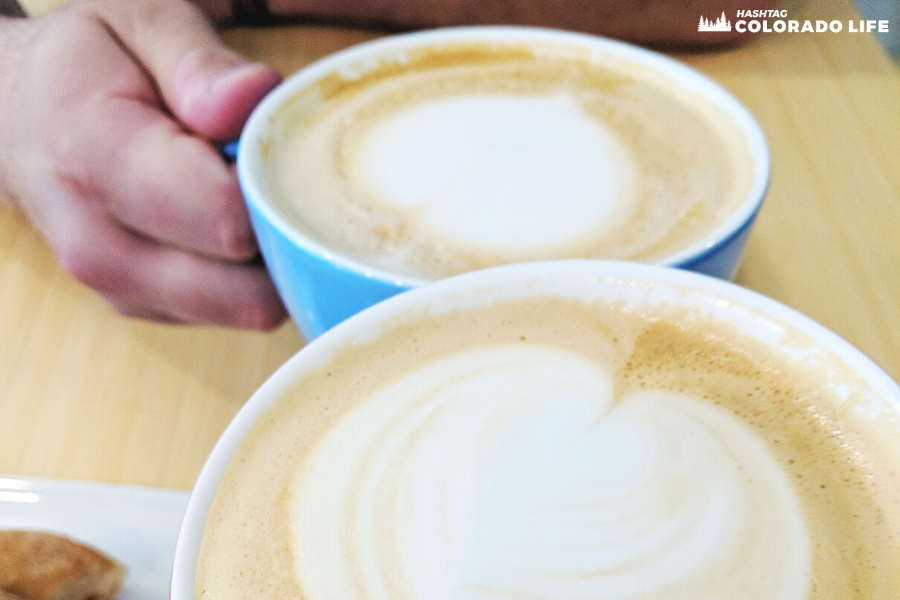 The authentic coffee house, Perk Downtown, is your local coffee destination.
As one of the oldest coffee shops in Colorado Springs, the place continues to deliver great coffee and a charming atmosphere.
They make the biggest and most amazing Cinnamon rolls, which are a perfect companion to any cup of coffee.
The Perk Downtown is most notable for its second story of seating, where you can bring your cup and gaze down on the sidewalks below.
Located on Tejon Street in the heart of the city, Perk Downtown is a must-stop for that morning cup before a day of shopping or for that afternoon pick-me-up to finish out your day strong.
8. Carnelian Coffee
Carnelian Coffee is a cozy coffee shop that serves up flavorful coffees, teas, and matcha. They are best known for using real ingredients and their status as a traditional kitchen.
All baked goods are made with nuts, dairy, eggs, gluten, wheat, or soy. We recommend trying the Cinnamon Cappuccino and the Orange Cranberry Scones
Carnelian Coffee is located on the west side of I-25, in Old Colorado City.
9. The British Pantry and Tea Room
Owned by Maria, who grew up in Brighton, Sussex, The British Pantry and Tea Room feels like a European vacation.
Tea services are offered weekends only, but the shop is open 7 days a week. And it is well stocked with all the crumpets, clotted cream, and Cadbury Dairy Milks a true Brit could ask for.
Plus, grab your favorite UK tea flavors and other popular British brands.
Located in Old Colorado City, the British Pantry and Tea Room is straight across Bancroft Park on Colorado Avenue.