What Living at High Altitude in Colorado is REALLY Like [Secrets]
This website may contain affiliate links and we may be compensated (at no cost to you!).
Living at high altitude in Colorado presents some unique challenges. The air is drier and there is less oxygen available.
Even the water boils differently and the food cooks longer when you're up so high up!
As both a Colorado native and newcomer to the state, we share our secrets for surviving and thriving at high altitude in Colorado.
You will learn the best tips for living at high elevation, as well as the effects of altitude sickness and how to decrease the symptoms.
If you want to learn exactly what it's like to live at high altitude, then let's dive in!
And we promise to keep the "high in Colorado" jokes to a minimum! 🙂
What is considered high altitude?
Altitude is considered high when it's between 5,000-11,500 feet above sea level. Very high altitude is anything from 11,500-18,000 feet in elevation.
All of Colorado's most famous peaks and mountain ranges are situated at very high to extremely high altitude.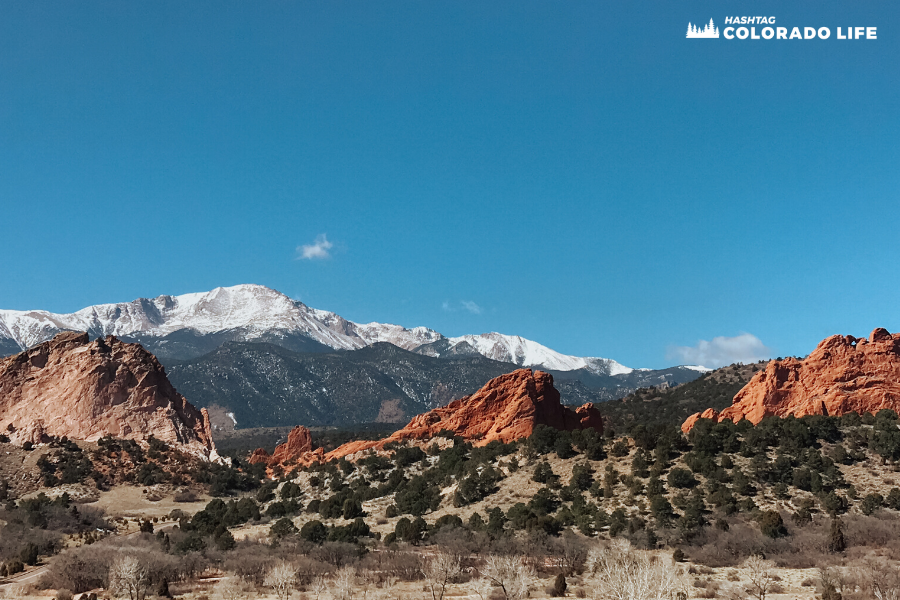 And even at some of the lowest points in Colorado, like out on the Eastern Plains, the elevation is still considered moderate to high.
That is to say, no matter where you live, you're living pretty high in Colorado. (Sorry, but we had to just once!)
The highest elevation towns in Colorado
With that said, here are some of the highest elevation towns in Colorado.
And more specifically, these are mountain towns that we enjoy visiting often!
Alma
Alma, Colorado is the highest town in the United States with permanent residents. And it sits at 10,578 feet in elevation.
This town is very quaint, and a cute place that we frequently pass through on our way to skiing in north central Colorado.
It's very high above sea level and you can definitely feel the change in elevation here!
Leadville
Leadville is the highest elevation city in Colorado at 10,152 feet and has the second highest community in the state.
It is also America's highest incorporated city in the country!
Take a stroll downtown and see the well preserved historic district and all the history the town has to offer.
It is also home to two of Colorado's highest peaks, Mount Elbert at 14,440 feet and Mount Massive at 14,430 feet. Both can be seen from the town.
Woodland Park
Woodland Park, Colorado is a cute mountain town with lots to do.
We love to visit in the summer time as a way of escaping the heat in Colorado Springs. The elevation of Woodland Park is 8,465 feet high.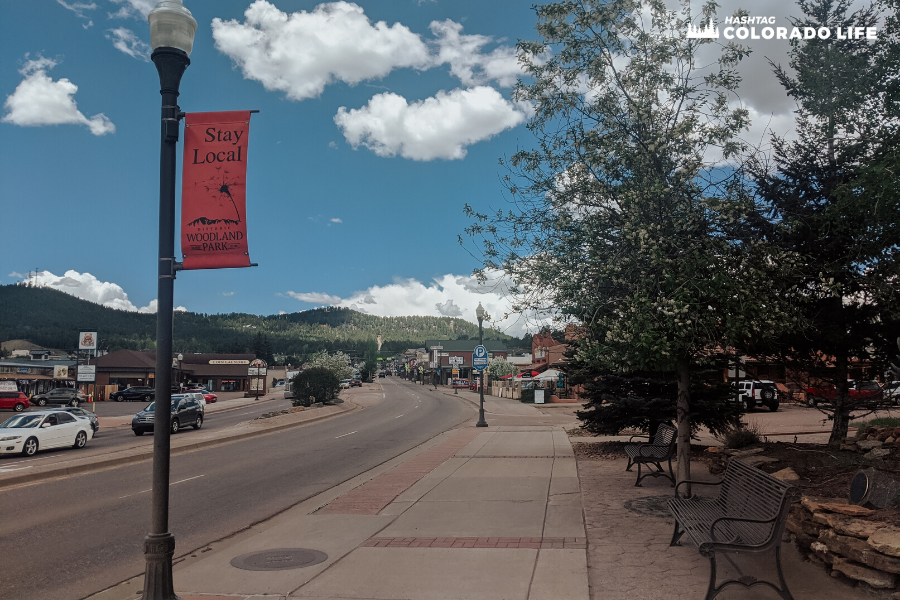 The town sits northwest of Colorado Springs and is surrounded by mountains, which makes camping and hiking easy.
The Donut Mill is a great brunch place with delicious (and huge) donuts and pastries.
It also has one of the best biscuits and gravy combos you'll ever taste!
Colorado Springs
The city of Colorado Springs elevation is over 6,035 feet above sea level.
And Colorado Springs is home to one of the tallest peaks in the United States, Pikes Peak.
It is also known as the "purple mountain majesties" that Katharine Lee Bates referred to in her poem, America the Beautiful.
At 14,115 feet from sea level this magnificent mountain stretches miles and miles to the east.
It's actually a very safe, paved drive up the mountain, unless of course you want to climb a 14'er.
At the top, you can stop by the Summit House, which is a great place to get out and feel like you're on top of the world.
Denver
The elevation of Denver, Colorado is legit at 5,280 feet in elevation, making it true to its name, The Mile High City.
As of 2019 Denver was home to over 705,000 residents and is truly one of the most populated cities in the state.
There are so many things to do in Denver and it's proximity to nature is a big draw for many people.
Climb to the 13th step of the State Capitol building and it's exactly 1 mile above sea level at 5,280 feet.
You will see the marker there and can even take a picture to document your fun!
8 tips for living at high altitude
When trying to adjust to high altitude living here are seven of the best tips to stay healthy and avoid altitude sickness.
1. Stay hydrated
As you're traveling and ascending quickly, be sure to drink lots of water. Don't wait until you are thirsty before drinking a lot of water.
The high altitude will cause you to become dehydrated quickly which can lead to altitude sickness and other problems.
Sip water frequently and keep track of how many ounces your body needs every day.
This tip is even more important if you are doing a lot of outdoor sports and working up a sweat. Stay hydrated and replenish your body's electrolytes often.
Colorado's water supply is one of the best in the nation. As winter snow begins to melt it runs off into our reservoirs.
So, there's no excuse not to drink plenty of water while you are here.
Local's tip: Start drinking a lot of water early when on your way to visiting Colorado. This will allow you to acclimate to the altitude faster!
Staying hydrated can help prevent symptoms of altitude sickness, or at least reduce their intensity.
2. Nourish your body
One of the amazing things about living in Colorado is the fantastic food scene.
There are so many delicious restaurants and local favorites to eat it from food trucks to coffee shops and unique dining experiences.
But when living at high altitude you have to watch what you eat and focus on nourishing your body.
Keep yourself well fed with foods that energize your body and keep you feeling your best.
At high altitudes your body's working overtime to make sure your blood is staying oxygenated enough to function at high altitude.
Strike a good balance between sweets, sugary drinks, and alcohol with healthier foods like vegetables, granola, and fruit.
Colorado is known for growing delicious cantaloupe, peaches, apples, and many other vegetables. So, you won't have an excuse not to eat well!
3. Get a lot of rest
Along with staying hydrated and well fed, it's also important to take it easy and rest often.
The best advice I can give anyone visiting Colorado for the first time is to take an extra day or two to be lazy.
I recommend staying below 7,000 feet the first day to give your body time to acclimate.
Don't expect to go hiking or skiing your first or second day. Your body needs time to adjust to altitude.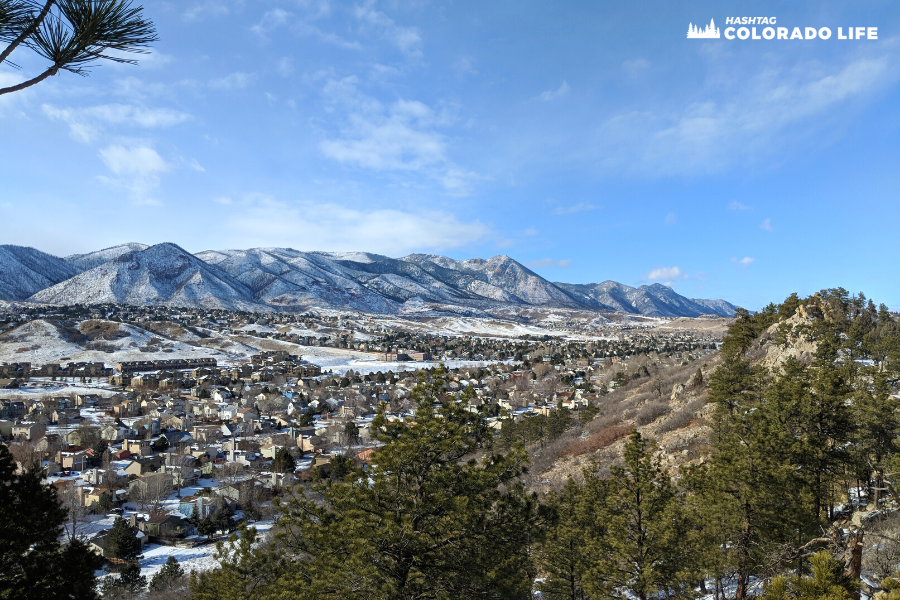 The elevation here leads to dry, low-oxygen conditions which your body is not used to. It will take a few days to acclimate so rest up and take it easy.
In addition to taking a break from your vacation itinerary, take naps throughout the day as needed.
Get a good night's sleep when you can, then use power naps to stay rested and allow your body to recover.
4. Avoid alcohol and too much sugar
At higher elevations it's very easy to get tipsy from drinking too much alcohol.
The effects of alcohol and sugar will feel more intense when you're so far above sea level.
If your body is not used to high elevation, slow down your consumption of alcohol and sugary drinks or foods.
Pair your booze intake with a lot of water and don't drink on an empty stomach.
Drinking too much alcohol or eating a lot of sugar can exacerbate the symptoms of altitude sickness.
So, it's smart to reduce your intake of these things while acclimating to the altitude in Colorado.
Focus on eating and drinking items that fuel your body while at high elevation, at least until you acclimate better.
Your body will thank you for this later when you can enjoy your vacation with more energy and fewer symptoms of altitude sickness.
5. Stay protected from the sun
You may not realize this but Colorado gets over 250 sunny days which is more sun than Miami Beach!
Because the state sees so many sunny days, do what you can to stay protected from the sun when going outdoors.
Even when temperatures are cooler outside, or you're on the ski slopes, you can still get sunburned.
You're more likely to get a sunburn as the altitude increases, so wear sunscreen and any protective clothing as a barrier.
Think of it like you are packing for the beach, except it's a beach in the mountains. 🙂
The air is thinner (and drier!) in Colorado which makes the sun's rays much more intense.
The drier air can also quickly sap your body of moisture and leave you dehydrated.
I recommend wearing sunscreen, bringing a hat or cap, and drinking a lot of water. Protect yourself from the sun as much as possible!
6. Use proper eyewear
Whether it's while out hiking in Colorado or on the slopes skiing or snowboarding, always use the proper eyewear.
As mentioned, the sun is hot, bright and can be quite intense the further up the mountains you go.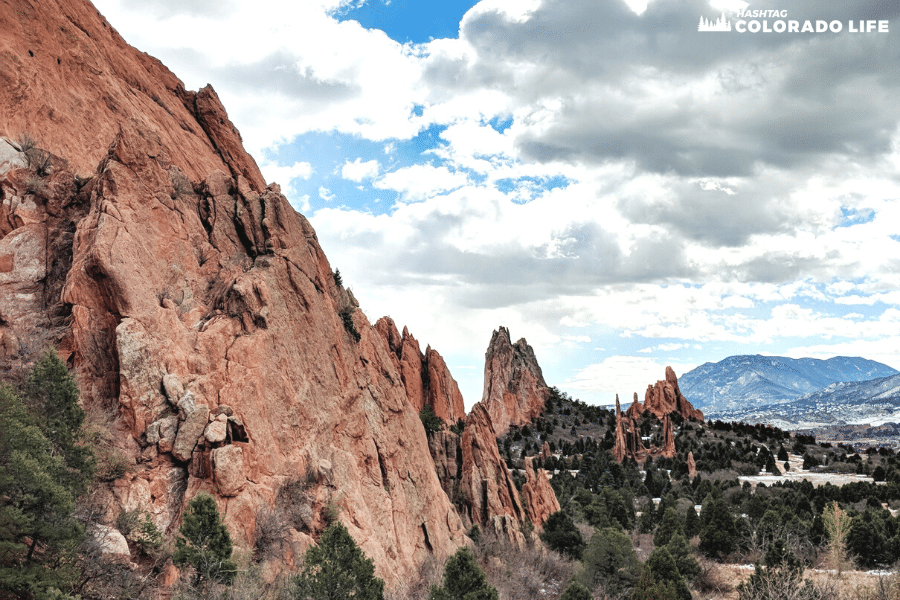 Always bring sunglasses and any ski goggles to protect your eyes from the sun and snow blindness.
The right eyewear can help protect your eyes from the sun's glare and light sensitivity, as well as any accidents that might happen while out in nature.
When we go out hiking or to visit a mountain town, we usually wear both sunglasses and a hat or cap to protect our eyes and face.
7. Take Ibuprofen
Some of the main signs of altitude sickness are headaches and nausea.
If you are experiencing these symptoms, it's recommended to use Ibuprofen when visiting high altitudes.
Taking the recommended daily amounts of Ibuprofen can help reduce the pain and increase blood flow to your body.
As you know, the higher in elevation you go the less oxygen-rich the air is.
And this can lead to blood flow issues which results in headaches and body aches.
Drink a lot of water and take the recommended dosage of Ibuprofen to help with any head or body pains.
8. Prepare for a quick ascent
When visiting Colorado from Texas as a teen, Carrie would get altitude sickness when skiing in the mountains.
She would seldom prepare herself for the drastic change in elevation, simply relying on her resilience as a youth to recover quickly.
Don't let this happen to you!
When ascending to a high altitude rapidly, there are some important steps you can take during your travels to ensure you're not as affected.
In many of Colorado's mountain towns, you will likely find places called, Oxygen Bars.
They are exactly what they sound like!
An Oxygen Bar is a place you can visit, stick your head into a tube, and pay to briefly breathe highly oxygenated air.
The goal is to highly oxygenate your blood to help keep the symptoms of altitude sickness at bay.
Adjusting to living at high altitude
Our first summer living in Boulder, Carrie was outside doing some gardening on our apartment balcony.
As she was pruning and transplanting her succulents, she wasn't paying much attention to her body.
After being out in the sun for hours, without the proper amount of fluids, she started developing symptoms of heat stroke.
The air is much thinner and dryer here, so it's easy to not notice you're getting dehydrated.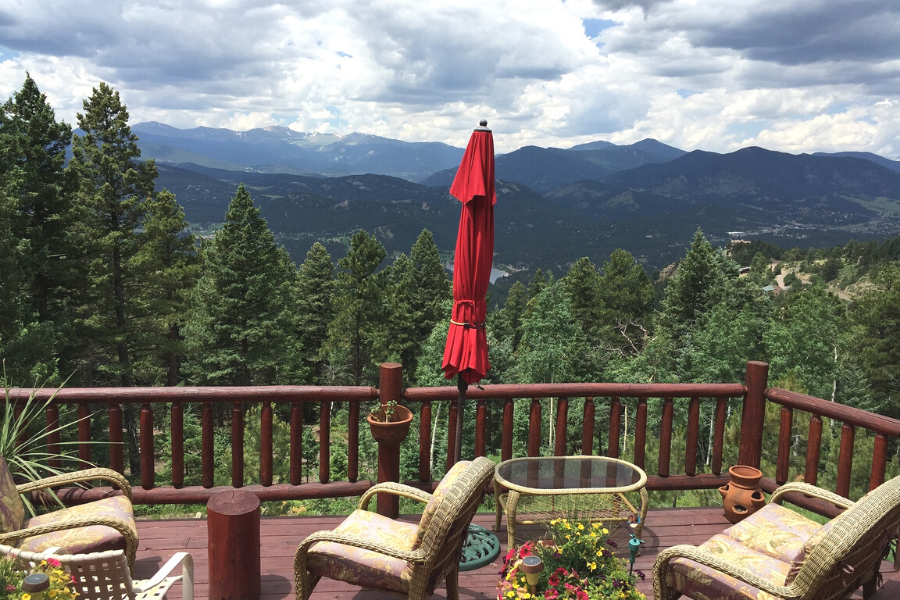 Even though she had lived in Colorado for more than six months, she was still a bit unaccustomed to the high altitude.
This is why it's so important to be mindful of living at high elevation at any time, especially if you weren't born here.
Even now, after living in Colorado for several years, Carrie still struggles with the effects of high elevation when hiking or visiting the mountains.
As a Colorado native, I have almost no reaction to elevation change whether going up or down.
But you never know, especially as you age, how different elevations will affect you. So, be careful!