by Ryan Nicholson
|
Last Updated:
April 22, 2020
The content of this website may contain affiliate links and we may be compensated (at no cost to you!). Thank you for your support!
Looking for the next best Colorado events and festivals? These are outdoor activities that you can attend anytime!
Summer is a very busy time of year for festivals, and Colorado has lots of beautiful sunny days and balmy nights.
There are a lot of festivities going on both during the day and at night.
Listen in to our podcast episode below. Or check out this guide for details on the best outdoor festivals and events happening in Colorado all year long.
iTunes | Google Play | Stitcher | Spotify
Note: due to what's happening in the world in 2020, many of these outdoor events have been postponed or cancelled until 2021. 
Growing up in Colorado, I remember attending lots of local art shows and parades in many historic towns. If you're planning a visit to Colorado in May, line up with the locals to celebrate the history and culture of our cities!
Many of the bigger cities in Colorado will be celebrating Territory Days with music, performances, food, and even petting zoos. And nearly every town will be putting on their own Territory Days sometime around Memorial Day.
You'll definitely feel like a local, and it's a great way to learn more about the history of Colorado!
Important: Due to the dryness of our air in basically all of Colorado, fireworks for personal use are almost totally illegal.
It is a bit of a bummer that you can't put on your own backyard show, but nearly every city will have a large community fireworks show on holidays like Fourth of July and New Year's for your viewing pleasure.
Best Summer Food Festivals in Colorado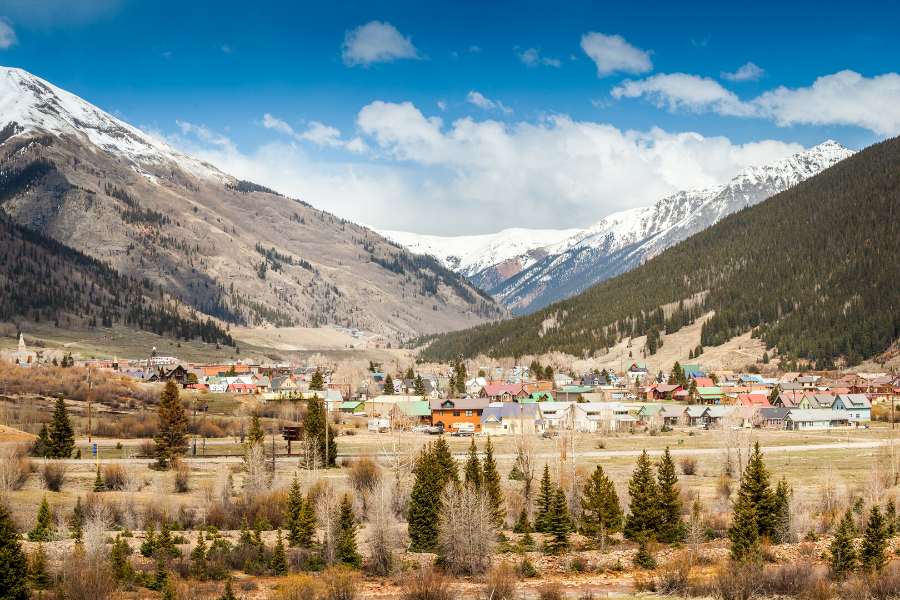 Denver BBQ Festival
On Father's Day weekend, join thousands of other barbecue enthusiasts for the Denver BBQ Festival! Hosted at the Mile High Stadium in Denver, this event is free to enter with drinks and food available for purchase.
Over 18,000 pounds of meat will be barbecued up and served during this delicious weekend, and VIP Pit Pass purchasers will go behind-the-scenes to meet the barbecue Pit Masters.
A Taste of Colorado
While many cities host their own food tour events, by far the biggest food tour in Colorado is A Taste of Colorado. On Labor Day weekend this year in downtown Denver, celebrate the rich diversity of Colorado's food culture.
You'll get a chance to try food and drinks from popular restaurants throughout the state, meet the chefs, and sample local beers and wines as well!
Fun Colorado Outdoor Activities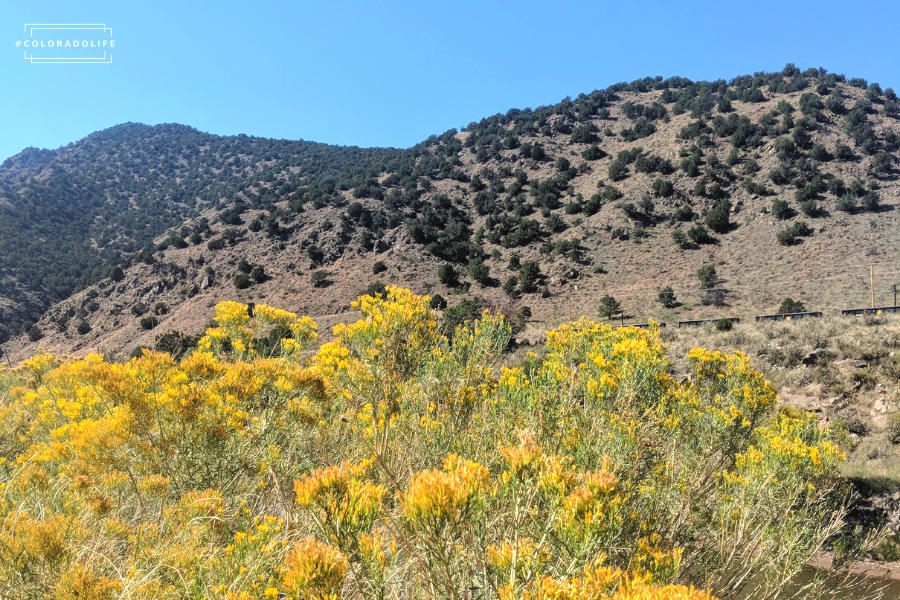 Crested Butte Wildflower Festival
As we mentioned in a previous post, Crested Butte, Colorado is best known as the wildflower capital of Colorado. Every July, the city of Crested Butte hosts the Crested Butte Wildflower Festival.
Flower lovers will enjoy hiking tours to see the flowers, get a lift into the backcountry with a 4×4 Jeep tour through the wildflower fields, or take an art or gardening class!
Telluride Bluegrass Festival
For music fans head to Telluride, Colorado for the Telluride Bluegrass Festival in June! Past performances include some big names like John Butler Trio, Mumford and Sons, Elvis Costello, and more!
This is a 4-day-long musical event, and is a favorite among locals and visitors alike!
Telluride also made our list of best places in Colorado to beat the heat. It's a mountain town with much cooler daily temperatures, and perfect for a summer getaway!
Hot Air Balloon Festivals in Colorado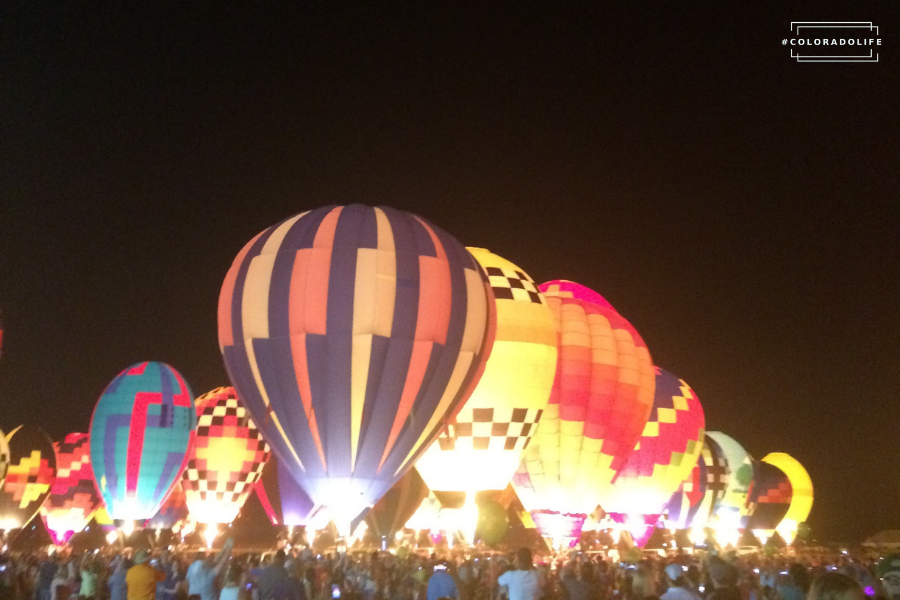 Due to the cool nights, warm days, and generally dry air in Colorado, we are host to many hot air balloon festivals throughout the year.
After the sun sets, you can even catch a balloon glow! Watch the lighted balloons float through the night sky. It's a spectacular end to any balloon festival.
Telluride Balloon Festival
At the beginning of July 2020, catch the first major balloon festival of the season, the Telluride Balloon Festival. Rise early, and you may even get to help balloon operators launch from Town Park on the east side of town!
The balloons then sail off down the box canyon to land about one mile out of town. On Saturday night, grab a sweater and stick around for the balloon glow!
Frederick in Flight Hot Air Balloon Festival
Towards the end of June, visit the Frederick in Flight Hot Air Balloon Festival in Frederick, Colorado.
Take off starts at 6 am, so get there early to partake of the breakfast food vendors. Then, watch the balloon pilots fire up for the morning takeoff.
Steamboat Springs Hot Air Balloon Rodeo
In mid-July, grab your lasso (just kidding) and head to Steamboat Springs for the Hot Air Balloon Rodeo!
Join the balloon pilots for lift off in the morning, and later, tour the Art in the Park to see locally made art.
Then watch live entertainers, grab some food from local vendors, and let the kids show their art skills in the interactive children's art area.
Colorado Springs Labor Day Lift Off
If you're in Colorado Springs for Labor Day weekend, you're in for a Labor Day Lift Off treat! This free event is fun for all ages!
Start your morning off right with a hot air balloon mass ascension of more than 70 balloons, and enjoy breakfast and drinks from local vendors.
You'll definitely want to stay for the entire weekend! There are activities such as skydiving demonstrations, wakeboarding exhibitions, live entertainment, chainsaw carving, and donut-eating competitions continuing throughout the daytime.
Just when you think you can't have any more fun, the balloon glow starts at dusk!
Snowmass Balloon Festival
After Labor Day, catch the Snowmass Balloon Festival in Snowmass, Colorado.
One of the highest-altitude hot air balloon events in the country, this festival challenges 30 pilots to compete over three days in a series of races and competitions, while spectators can snap some beautiful pictures of the high-stakes action!
This event is free and open to all ages. Grown-ups can round out the weekend with shopping and local beer and cider sampling at Septemberfest and Cidermass, happening during the balloon festival.
State Fairs and Rodeos in Colorado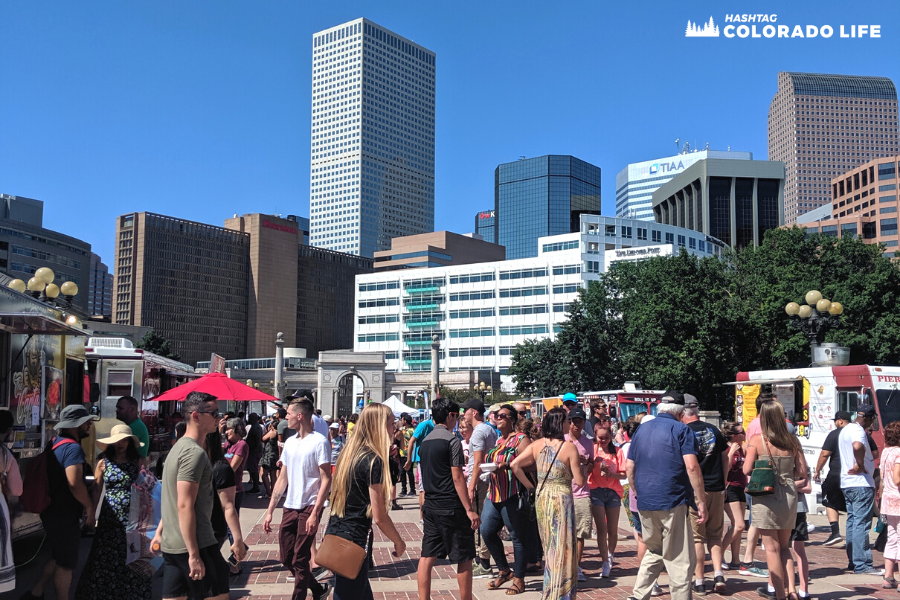 Colorado State Fair
In Pueblo, Colorado at the end of August through early September, come on out to the Colorado State Fair! Adult admission cost $12 in 2019 and is expected to be a similar price in 2020.
But there are lots of special discount days including:
Kids day
Senior day
American heroes day (military and first responders enter free)
The Colorado State Fair features all your state fair favorites: rides, food, carnival games, a concert series and rodeo tour, as well as craft and homebrew competitions and live music throughout the fair's 11 day run.
Pikes Peak or Bust Rodeo
In Colorado Springs each July, throw on your boots and spurs and head for the Pikes Peak or Bust Rodeo!
If you've never been to a rodeo before, you'll see all the rodeo staples: rodeo clowns, five days of competition and themed performances, and watch the opening rodeo parade!
Favorite Outdoor Day-time Events in Colorado
Cheyenne Mountain Zoo
If you're looking for outdoor fun any time of the year, you can't miss the Cheyenne Mountain Zoo! Voted #6 best zoo in America by USA Today and consistently rated among the best zoos in the country, it's also our favorite zoo in Colorado.
It's definitely called the Cheyenne Mountain Zoo for a reason! Not only will you be driving up into the mountains to get to it, be prepared to trek up and down a lot of incline during your visit.
Dress in layers because depending on the time of year, the sun is behind the mountains as early as 2 pm and it can get chilly!
We love this zoo because it has lots of hands on activities for the whole family.
Every zoo seems to have its most "known-for" animal, and the Cheyenne Mountain Zoo is best known for the giraffes! Grab some crackers and get ready to get licked by some giant purple giraffe tongues!
Denver Zoo
For a less strenuous zoo experience, you'll love the interactive features throughout the Denver Zoo!
This zoo is very family friendly, and offers lots of educational programs and even hosts day camps for a full-immersion zoo experience for kids! (Who better to take care of crowds of kids than zookeepers, amiright?)
It is a very big zoo, so you can break up your visit into two days to really absorb all that this zoo has to offer. Be sure to download the app, available for iOS and Android mobile devices.
You'll find lots of goodies in the app, including fun facts about the animals, the schedule for feeding times and other events throughout the day. It even stores your membership card in the app for fast entrance!
Water World
Locals know that no visit to Colorado is complete without a trip to Denver's Water World.
On the west side of Denver, near Westminster in Federal Heights, Water World is known as America's largest water park.
There are tons of water rides spread out across a huge park. Cabanas and bungalows are available for rent, as well as Shaka Shacks for birthday parties at Water World.
With lots of shopping and dining options inside the park, kids and adults will have plenty to do during their visit!
Elitch Gardens
Another super popular theme park in Colorado is Elitch Gardens! It is located in Denver, near the Broncos Stadium. This expansive theme park includes tons of rides and even a water park during the summer months!
Elitch Gardens was originally founded (in a different location) as Elitch Zoological Gardens in 1890.
Relocated to its current location and reopened in 1995, Elitch Gardens features wooden roller coasters and thrill rides as well as more family-friendly kid rides.
Fun fact: Elitch Gardens is named after Mary Elitch. She became the first female zookeeper, the first woman to run a botanic gardens, and one of the first women to own a theater in the United States? And this was back in the late 1800s, so it was a big deal!
Botanic Gardens
A great outdoor activity right here in Denver is a visit to the Botanic Gardens! We highly recommend you stop in on Wildflower Wednesday.
Every third Wednesday from April through October is Wildflower Wednesday where you can learn more about the wildflowers!
Many wildflowers bloom at Denver's elevation before they bloom in the mountains, so take a tour with the horticultural expert to study up on your flower species.
GetOutPass
If you are interested in attending even a few of these amazing events, festivals, and activities in Colorado this summer, you need the GetOutPass!
The GetOutPass will get you free entrance into tons of different venues in Colorado, including popular attractions like Elitch Gardens and Water World.
Normally only $150/year per person for the annual membership, when you use our code, coloradolife40 you can save $40 instantly on this already-amazing deal!
Best Outdoor Festivals in Colorado Anytime of Year
Here is a quick line up of all the festivals you can't miss!
All Summer
Colorado Shakespeare Festival in Boulder: Catch performances of your favorite Shakespeare plays ever week during the summer outdoors in the amphitheater on the Colorado University campus.
If you're visiting around Memorial Day weekend, stop into the Colorado Springs Territory Days in Colorado Springs, or visit Manitou Springs Territory Days.
July
Steamboat Springs Hot Air Balloon Rodeo (July 11-12, 2020): As we mentioned above, the Hot Air Balloon Rodeo is a great excuse to check out the town of Steamboat during the summer!
August
Telluride Jazz Festival (Aug 7-9, 2020): Another great music festival in Telluride! Head to the mountains for a scenic music festival in this mountain town.
Palisade Peach Fest (Aug 13-15, 2020): Head down to Palisade for live music, vendors, activities, and yes, peaches! We mentioned this festival in another post about the Colorado food scene.
These peaches are even sweeter and juicier than a Georgia peach, and well worth the trip!
August/September
Colorado State Fair in Pueblo (Aug 28-Sept 7, 2020): Close out the summer with classic fair food, rides, and attractions in Pueblo, Colorado!
Renaissance Festival in Larkspur: Hosted Saturday August 1, 2020 for eight weekends through Sunday, September 20, 2020. There is still some construction delays on Interstate 25 so give yourself plenty of time to get to and from the festival.
All Year
And if you're looking for other festivals or events to attend any time of year, check out Colorado.com/Events to get travel inspiration, deals, and other info directly from the Colorado destinations.
Ryan Nicholson is a homegrown born and raised Colorado native. Being a rare unicorn to have grown up in CO, he has a unique perspective on the changes here and knows all the hidden spots to get outside in this state. Ryan's a classically French trained chef so he LOVES to try new foods and places to eat. When he's not experimenting in the kitchen or working as a personal chef along the Front Range, he loves to get outdoors and away from it all hiking, camping and backpacking.