7 Beautiful Hot Springs Near Denver: Mineral Waters Within 3 Hours
This website may contain affiliate links and we may be compensated (at no cost to you!).
Colorado boasts some of the best natural hot springs in the country, and the Mile High City is within close proximity to many of them.
The Eldorado Springs Pool is actually the closest hot springs near Denver. It's about a 35-minute drive from the city via Highway 36 on the way to Boulder.
However, they are currently closed for renovations through the 2024 summer swimming season.
With that in mind, here are the closest hot springs near Denver that are within just 2-3 hours travel time.
To help you plan a fun weekend or day trip, these hot springs locations are listed in order from nearest to furthest from the city.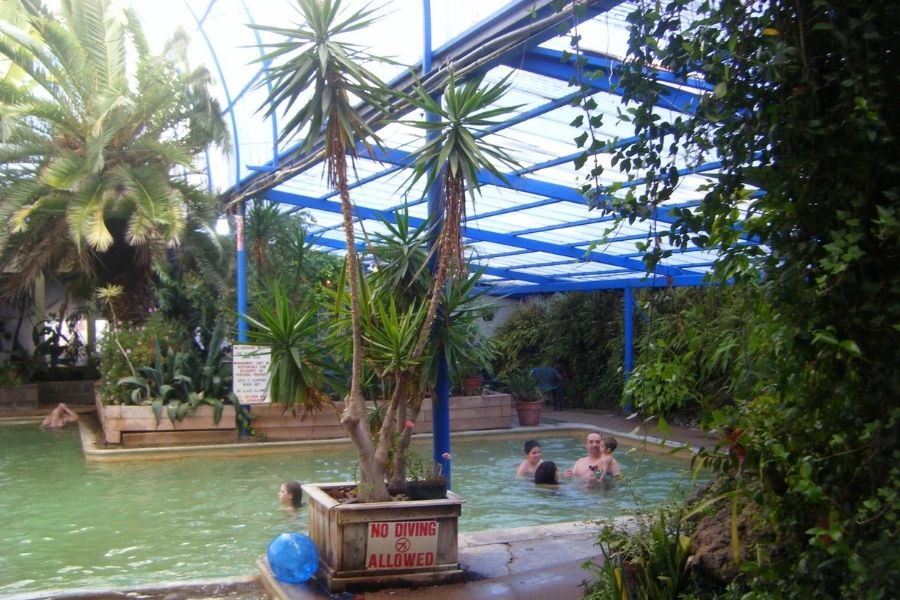 In the small town of Idaho Springs, Colorado sits the historic Indian Hot Springs. It's located very conveniently off I-70 and is about 30 miles west of Denver.
In fact, most locals pass the Indian Hot Springs area on their way to and from the ski slopes each year.
The resort is family-friendly with private baths, outdoor jacuzzis, and hot springs caves that are gender-specific.
The mineral water is spring-fed from underground and continuously fed with 115 degree water for optimal relaxing.
The main mineral water soaking pool is enclosed indoors under a beautiful dome. It feels like you've been transported to a warm, tropical getaway.
We recommend making a day out of it and booking this Geothermal Cave Pools & Glacier Hike.
Address: 302 Soda Creek Road, Idaho Springs, CO 80452
Distance: 33 miles
Travel time: 40 minutes
2. Sunwater Spa, Manitou Springs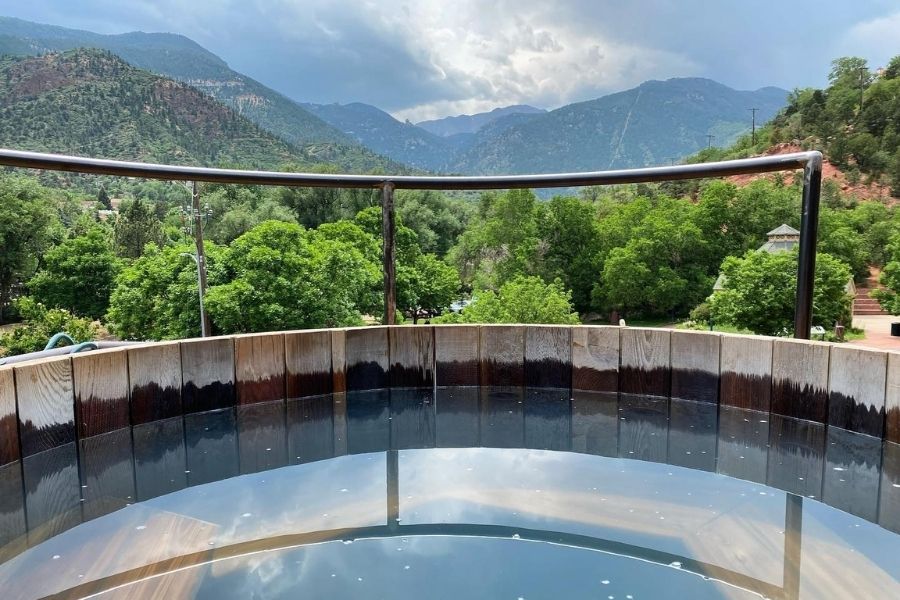 If you're looking for a unique hot springs spa experience, check out the Sunwater Spa.
Located southwest of Denver near Colorado Springs, this all-encompassing spa offers a wide variety of ways to relax and unwind.
The main feature are the mineral-water soaking tubs that are made out of cedar. You can book a personal tub for 90-minutes for a couple or even a small group.
The hot springs water is filled from the nearby 7 Minute Spring in downtown Manitou Springs. The crystal-clear mineral water is heated between 100 to 104 degrees.
In addition to the soaking tubs, all guests can enjoy access to the public pools, saunas, meditation stream, and even a cold plunge pool.
After a day at the spa, spend some time exploring the historic city of Manitou Springs and enjoying delicious food, architecture, and activities.
And you're only a few minutes away from epic attractions like Garden of the Gods.
Address: 514 El Paso Blvd, Manitou Springs, CO 80829
Distance: 76 miles
Travel time: 1 hour 15 minutes
3. Hot Sulphur Springs Resort & Spa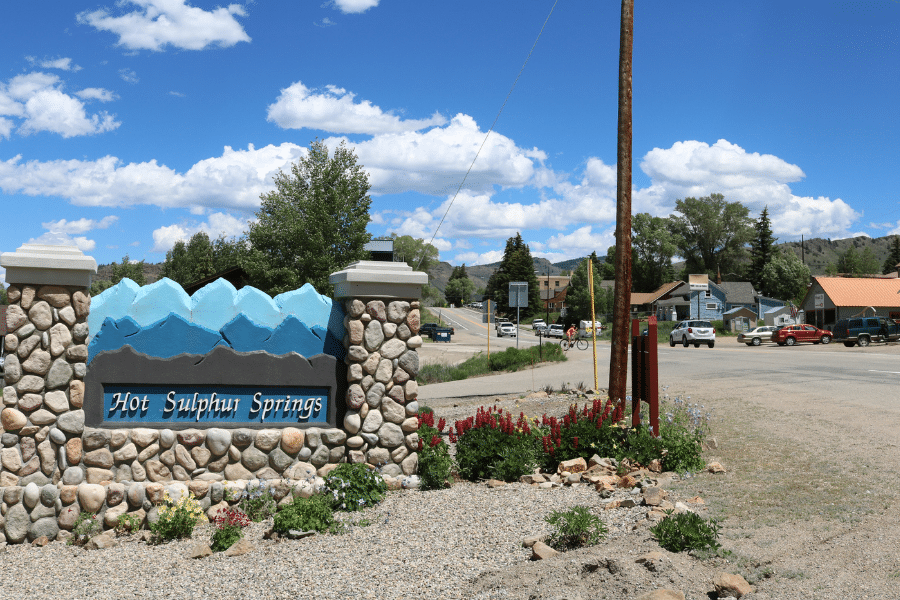 As the name suggests, the Hot Sulphur Springs Resort is located in Hot Sulphur Springs, Colorado.
It is widely considered one of the oldest and best hot springs resorts in America.
The resort and spa features seven natural hot springs with heated waters between 104 and 126 degrees.
These mineral waters bubble up from the ground and keep the resort's 21 hot springs pools consistently heated.
Thanks to the naturally-occurring sulfur minerals in the hot springs, the water makes the air smell strongly of rotten eggs.
After enjoying a calm day in the hot springs, book a Swedish massage, body wrap, salt glow, or deep tissue massage at the spa for further relaxation.
Guests who book a massage will receive a free 1-hour session in the hot springs pool.
Address: 5609 Spring Rd, Hot Sulphur Springs, CO 80451
Distance: 97 miles
Travel time: 1 hour 56 minutes
4. Cottonwood Hot Springs, Buena Vista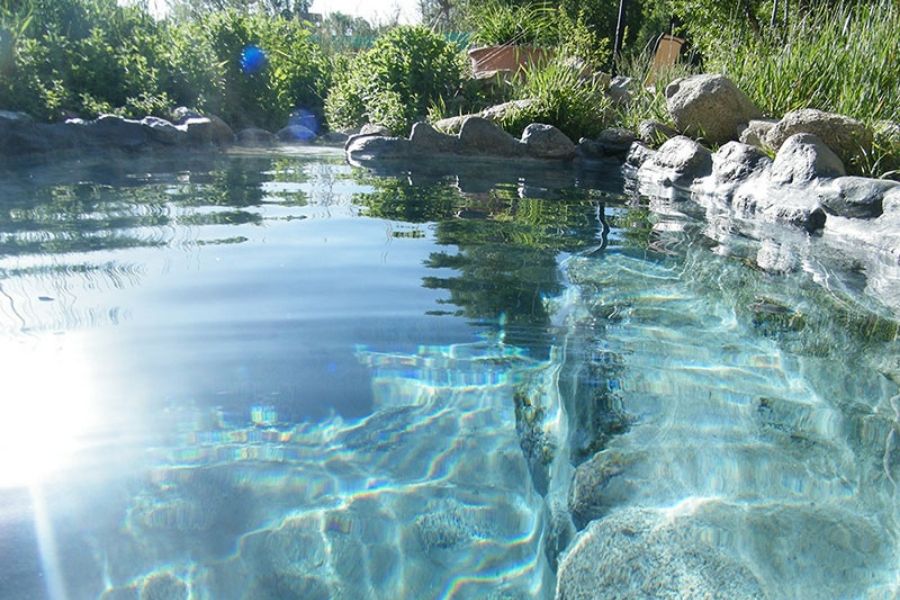 About 2.5 hours from Denver in central Colorado you will find Cottonwood Hot Springs.
And there's nothing artificial or unnatural here! You are surrounded by nature and the pools are made out of natural stone and local rock.
The resort features several natural-fed hot springs pools that are heated between 94 and 110 degrees.
Enjoy a distraction-free environment thanks to quiet soaking tubs or personal tubs in a private cabin.
Other services that the spa offers include body wraps, energy scrubs, facial and body massages, as well as hydration therapy.
Make a weekend out of your trip and visit the nearby town of Buena Vista or Monarch Mountain and Ski Cooper ski resorts.
Due to its proximity to the San Isabel National Forest, there is also tent camping or dispersed camping available in the area.
Address: 18999 Co Rd 306, Buena Vista, CO 81211
Distance: 128 miles
Travel time: 2 hour 22 minutes
5. Mt Princeton Hot Springs, Nathrop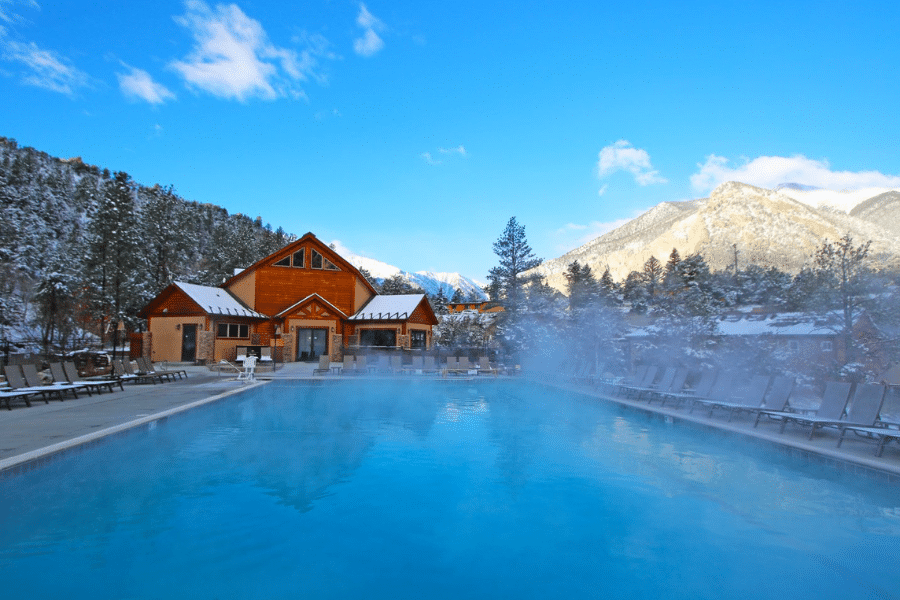 Another hot springs resort near Buena Vista is Mount Princeton Hot Springs Resort.
It's located just south of the town before you hit Salida (which also has a few hot springs resorts).
Mt Princeton is one of the largest and most popular hot springs resorts in the state.
Why? Unlike most mineral hot springs on this list, Mt Princeton Hot Springs is known for its odorless water.
Sit back, relax, and unwind in the natural hot springs in Colorado without having to endure the strong mineral water smell.
(If you've ever been to Glenwood Hot Springs, you know what we're talking about!)
Mount Princeton Hot Springs is nestled right next to the Nathrop Chalk Creek Canyon, so the views and experience are unmatched.
It's also near the St Elmo ghost town and historic main street if you're into that kind of thing.
The resort offers a wide variety of hot springs pools from creekside soaks and larger swimming pools.
Additionally, there are private hot springs available for rent, world class dining nearby, luxury accommodations, and more.
Address: 15870 Co Rd 162, Nathrop, CO 81236
Distance: 130 miles
Travel time: 2 hours 25 minutes
6. Old Town Hot Springs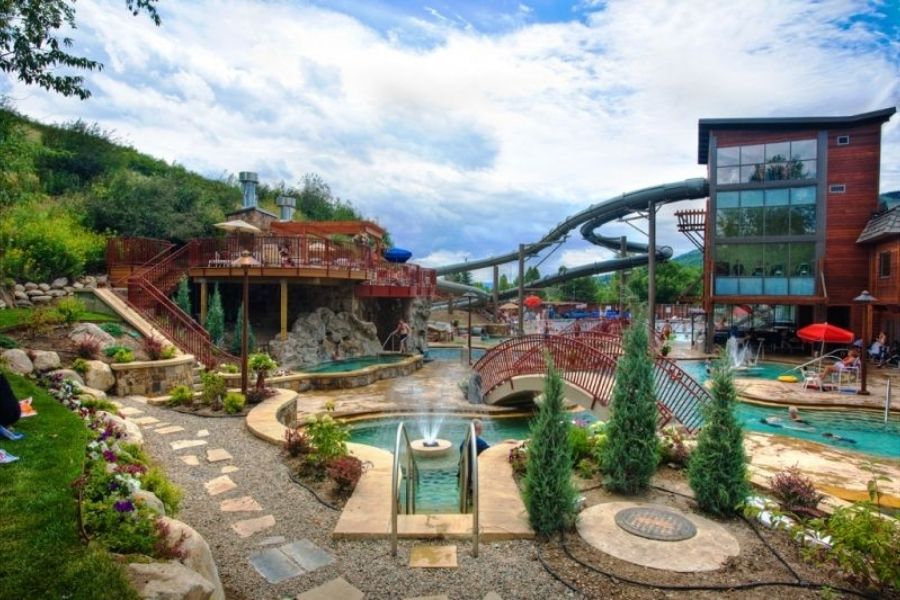 In downtown Steamboat Springs you'll find the natural hot springs resort called Old Town Hot Springs.
This hot springs resort and spa is less rustic and has more of a traditional health club feel.
But the views are incredible and the landscape nearby makes you feel like you're in the mountains.
Old Town Hot Springs is a family-friendly resort with pools that have been here for over 100 years.
Approximately 220 gallons of natural mineral hot springs water is pumped out of the ground every minute.
Choose from eight different pools with temperatures varying from 80 degrees in the lap pool to 103 degrees in the Heart Spring.
Kids will also enjoy the waterfall, water slide, splash pool, the shallow pool, and the main swimming area.
The spa is also fully equipped with a fitness center, workout classes, body massages, and even childcare.
Address: 136 S Lincoln Ave, Steamboat Springs, CO 80487
Distance: 156 miles
Travel time: 2 hours 49 minutes
7. Glenwood Hot Springs Resort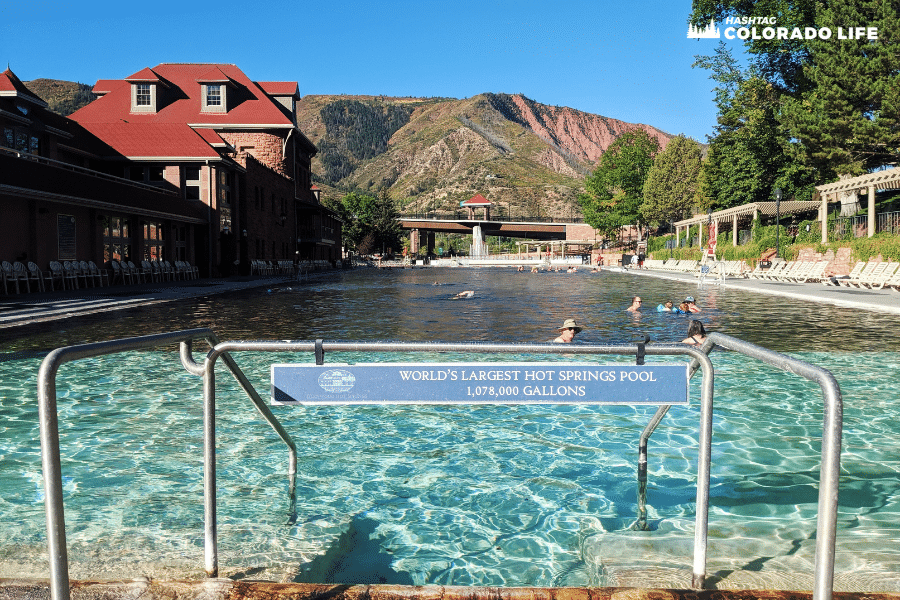 Glenwood Hot Springs Resort is last on our list because it's the furthest away from Denver, but it's actually our favorite hot springs resort.
These mineral waters are steeped in history and offer loads of health benefits.
In fact, Glenwood Hot Springs is home to the world's largest mineral hot springs pool. It produces over 3.5 million gallons of water every day.
Plus, Glenwood Springs is about an hour away from large ski towns like Vail and Aspen ski areas. So it's the perfect place to unwind and relax after a long day on the slopes.
While you're here, be sure to check out Doc Holliday's grave and tour the newly renovated downtown area.
Address: 401 N River St, Glenwood Springs, CO 81601
Distance: 157 miles
Travel time: 2 hours 52 minutes
Whether you're looking for relaxing indoor pools, a private mineral soak, or a way to unwind after a day of skiing, these hot springs resorts don't disappoint.
And the best part is that these mineral-rich hot springs are just a few hours west of Denver so you can visit them all year long.