by Carrie Nicholson
|
Last Updated:
October 13, 2020
The content of this website may contain affiliate links and we may be compensated (at no cost to you!). Thank you for your support!
Looking to create an epic Colorado bucket list? With the mountains in your backyard, an ever-growing food scene, and endless indoor and outdoor activities where do you start?
There are so many places to see and cities to explore it can be hard to figure out what to do first. What are the best things to do in Colorado without busting your budget?
That's what we are here to help you find out. Here are the top 16 things we recommend you add to your bucket list this year.
Important: If you just moved to Colorado consider taking several months to acclimate to the weather and altitude.
Living at high altitude is much different than sea level and you may get altitude sickness if you attempt to do too much within your first year living here.
iTunes | Google Play | Stitcher | Spotify
How to save BIG on bucket list attractions
While you are building your Colorado bucket list, I have an amazing resource for you to check out.
It's called the GetOutPass Colorado and it is a very budget-friendly way to see many of the popular attractions and theme parks the state has to offer.
For a flat-rate yearly fee you and your family can get passes to places like Water World, Monarch Mountain, SeaQuest Aquarium, Elitch Gardens, Skyzone Trampoline Park, FatCats Bowling, Colorado Mini Golf and tons more.
The passes include over $3,000 in FREE admissions for attractions in 4 Colorado cities! And if you use code: coloradolife40 you will save $40 off each pass.
This is one of the best deals I have found for visiting theme parks and attractions around the state.
Just go to getoutpass.com/colorado and use your exclusive code: coloradolife40 to save $40 instantly!
1. Hike Rocky Mountain National Park
Rocky Mountain National Park is another iconic destination in Colorado. The landscape is quite large and can be very rugged.
Visiting it anytime of year will yield a completely different, and amazing experience.
Whether you're just going on a drive, or stopping for a hike, there are limitless areas to see and explore.
Within the park is Trail Ridge Road, which is a paved road that takes up a staggering 12,183 feet, quite a bit above treeline. It will give you unmatched views of the surrounding areas, so you'll want to bring your camera.
The park's varying habitats include deer, moose and elk, and even black bears and cougars. So beware when visiting for the first time.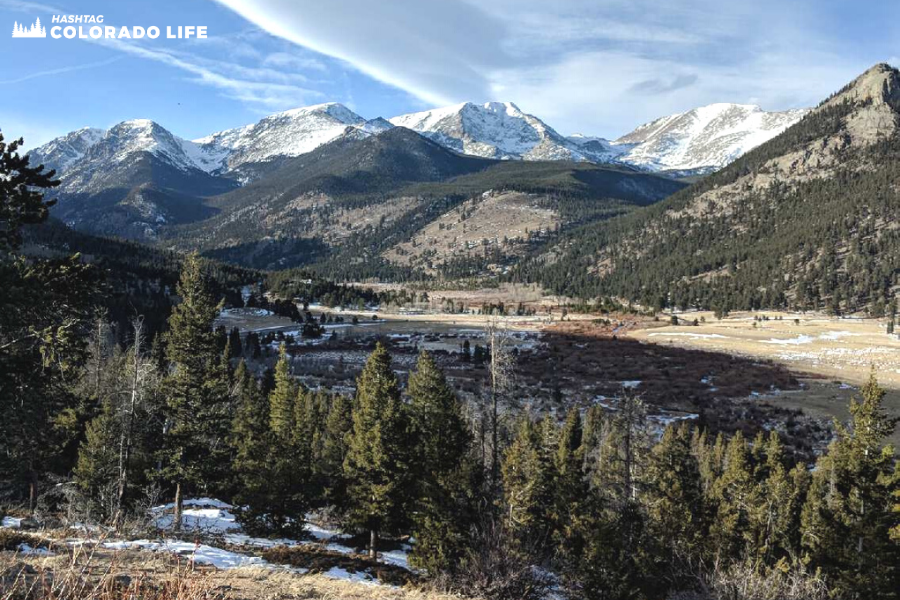 2. See a show at Red Rocks Amphitheater
The Red Rocks Amphitheater is another iconic concert venue that's hosted bands and musicians from Daft Punk to the Beatles.
The natural rock formations in the area make this outdoor amphitheater the perfect stage for acoustics.
We recommend going to see this venue at least twice — once in the daytime and the other at night. Either way, it's definitely an experience you'll never forget.
If you don't want to see a performance there, the park also has lots of hiking trails, and offers fitness and yoga sessions throughout the year.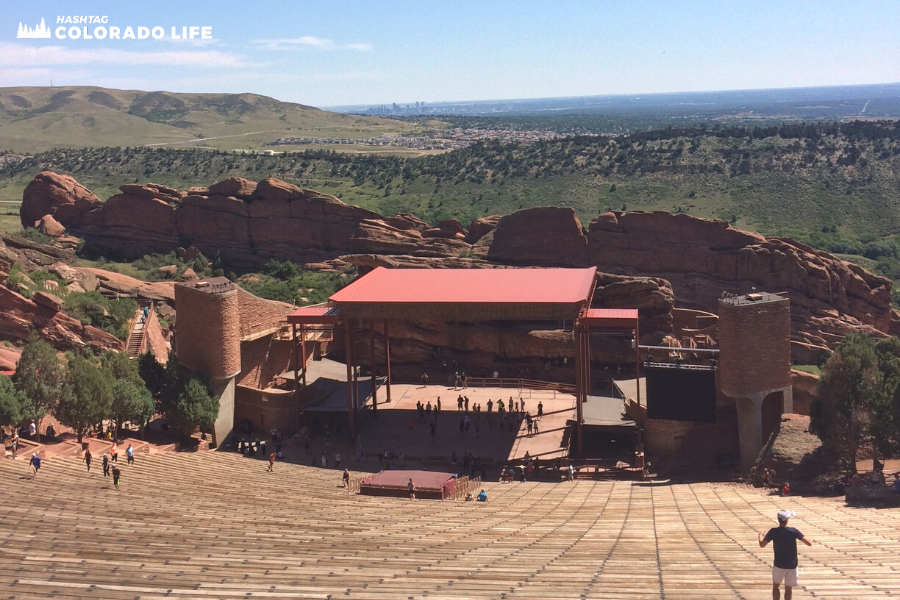 3. Ride the Durango-Silverton Train
Located in the southwest corner of the state, Durango is a former mining town. And it offers a stunning steam train ride through the mountains of Colorado.
The train winds in and out of the mountains for three hours with views of Colorado's vast landscapes.
The Durango-Silverton train makes a stop in Silverton, where you'll take a step back in time. You can visit a real old-west mountain mining village, with all of the history over the years. It is a great experience for kids and adults alike!
4. Dillon Ice Castles
The Ice Castles in Dillon are back for winter 2020, and we couldn't be more excited! These giant ice sculptures are only one of six other ice castles in cities across the country.
The castles are all hand built by ice artists and thousands of LED lights to give them a glow at night. You can also find things like ice slides, thrones, and sculptures available when visiting.
You can go on weekends during the day or during weekdays at night. The sculptures make for an awesome place to get some family, wedding or other photos done.
And be sure to bundle up as this experience is completely outdoors and is completely made of ice!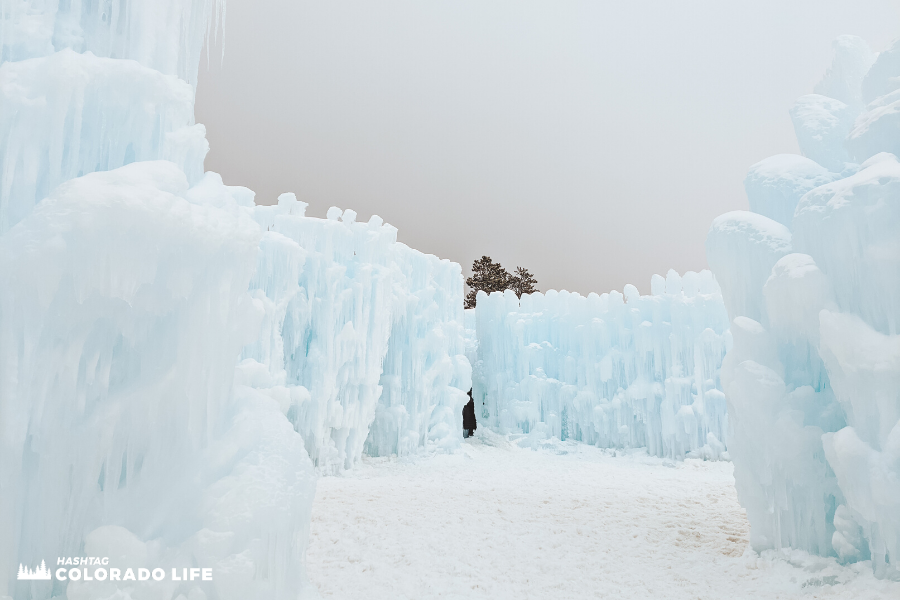 5. Relax in a hot springs pool
Colorado is full of hot mineral springs that naturally pop out of the ground at very warm temperatures. Our favorite destination is the hot springs pool at Glenwood Springs, Colorado.
It is home to the largest mineral hot springs pool and produces over 3.5 million gallons of water a day.
The resort has upgraded the pool with a lazy river ride for the entire family and fountains for kids to play in during the summer months.
A local favorite hot springs is Pagosa Springs, which we currently have been on our bucket list.
Or check out the Dunton Hot Springs Resort. This was originally an old mining town where they turned the old buildings and structures into cabins for a nice resort feel.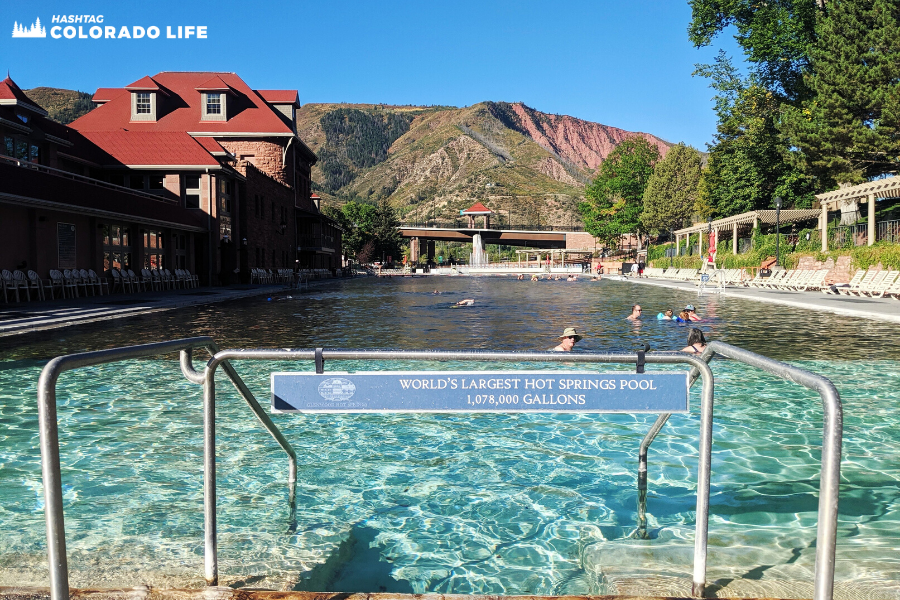 6. Drive through the Garden of the Gods
If you are planning to move to Colorado Springs you have likely Googled to learn more information about the city. Likely, the first thing to pop up was a photo of the Garden of the Gods.
This park is home to stunning red rock formations which are totally free to visit. You can take a slow drive through the park and get out to take pictures, or go for a relaxing hike.
Check out the visitor center for a free tour of the museum and walk out onto the balcony for some of the most breath-taking views ever.
7. Cheyenne Mountain Zoo
Voted the 6th best zoo in the country, in 2019, Cheyenne Mountain Zoo is another must-see. This is one of the only zoos in America where it is built into a mountain, and is a bit of a hike to see.
It offers amazing views of the surrounding Colorado Springs city. It was founded in 1926 by Spencer Penrose to house his growing collection of excotic animals.
After he died he deeded it over to the city of Colorado Springs in 1938 as a public zoo.
8. Check out Union Station
Denver's Union Station is a 100 year old landmark located in the city's downtown area. It has been renovated and updated in a way that still captures the history of the past but has many modern features.
It is a historic feature you don't want to miss!
You can shop at the station's Great Hall with retail stores, eat award-winning food prepared by local Colorado chefs, or stay at the historic Crawford hotel.
We enjoy going into the station to have coffee and take in the sites during the cold winter months.
9. Visit the Great Sand Dunes
The Great Sand Dunes National Park and Preserve is just outside of Alamosa, Colorado in the San Luis Valley.
They exist there because long ago there was a lake that covered almost all the Valley. But due to climate change, the lake suddenly disappeared and all that was left was lots and lots of sand.
There are so many things to do when visiting the Great Sand Dunes, including hiking, biking, sandboarding, and sand sledding.
Fun fact: the Great Sand Dunes are home to the tallest sand dunes in North America. It's true, the Star Dune is over 700 feet tall.
10. Hanging Lake
It's important to know that Hanging Lake is a VERY POPULAR destination and on nearly everyone's bucket list. So, take that into consideration when visiting this place.
But it is perfectly named because of its cliffside location, lush landscape, and pristine green water. You probably haven't seen anything else like it!
Located right outside Glenwood Springs, Colorado makes it a nice day trip experience for any avid hiker. You do need to make a reservation to visit as there are limited spots available each day.
11. Maroon Bells
Have you ever seen a generic picture of Colorado's mountains? This is mostly likely a photo of Maroon Bells!
Located in White River National Forest, Maroon Bells is about 10 miles from Aspen, Colorado.
It does require a bit of a hike to get to Maroon Valley. But once you arrive you will see a beautiful reflective lake with two towering snow peaks — Maroon Peak and North Maroon peak.
Don't be surprised if you see fields of wildflowers and wild animals in the summertime. And pictures can never do this place justice!
12. See the Continental Divide
A popular point of interest in Colorado is the Continental Divide, or the Great Divide.
The spine of this mountain range cuts through all of North and South America, starting in Alaska and going all the way down to Patagonia in Chile and Argentina.
From the top of this ridge, all water flows down either to the west coast or to the east.
You can drive through and visit this area of the mountains from Divide, Colorado or driving on I-70 into the mountains.
A popular drive is Trail Ridge Road which starts in Estes Park in the Rocky Mountain National Park area, and crosses the Great Divide.
This route is the highest continuous vehicle road in the country and should definitely not be missed.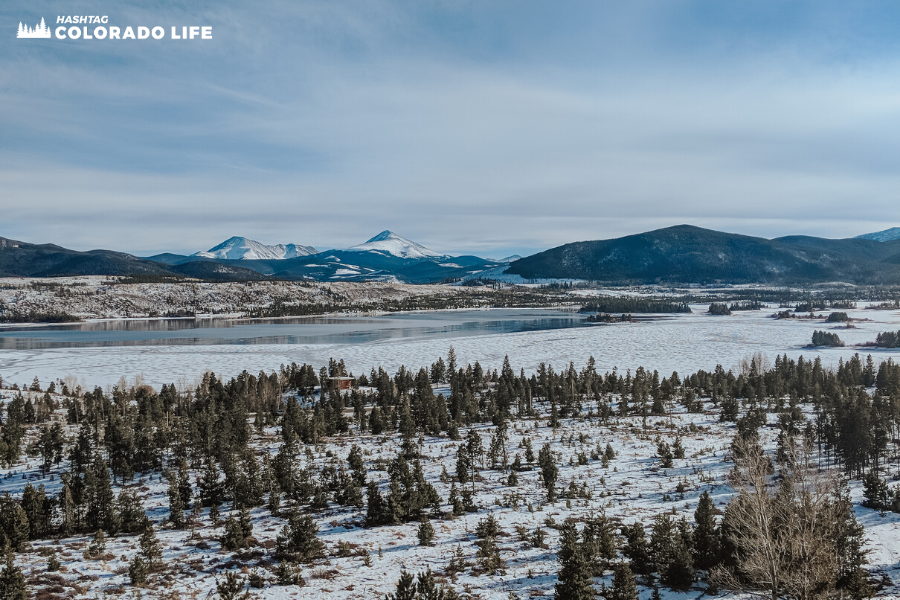 13. Cross the Royal Gorge Bridge
The Royal Gorge Suspension Bridge outside Canon City is quite a spectacular thing to behold. It is a somewhat terrifying, but an amazing experience that should be on everyone's bucket list.
In fact, the number one bucket list item for visiting Colorado is the Royal Gorge suspension bridge. It's the tallest suspension bridge in the U.S. at 1,250 feet at its highest point off the canyon floor.
The drive there from Denver or Colorado Springs is actually pretty pleasant. The area is a valley so you are surrounded by mountains that protect the Bridge from harsh weather conditions.
This makes it a great place to visit year round.

14. Crested Butte's wildflowers
Home to the Crested Butte Wildflower Festival that happens in mid July each year, this is another popular Colorado bucket list item. The wildflowers can be seen from spring through fall.
In the summer they have mountain biking, hiking, fishing, climbing, horseback riding, wildflowers, river rafting, kayaking, and more.
If you prefer to visit during the winter, there are plenty of things to do this time of year as well. You can ski and snowboard, enjoy sleigh and horseback rides, snowshoeing, and ice skating.
15. Paint Mines Interpretive Park
If you are looking for a unique non-mountain Colorado experience, check out the Paint Mines Interpretive Park. This is very unique it is actually out east on the plains instead of heading west into the mountains.
The park showcases painted rocks that are made up of layers of different colored rocks.
These rocks have varying degrees of iron oxidized in them that have been exposed to weather over thousands of years, giving it layers of different colors.
The park is actually located in the same county as Colorado springs, El Paso county via Highway 24 going out east from the Springs.
Fun fact: the Paint Mines rocks were used by the Native Americans for creating different shades of colors for painting.
16. Pikes Peak
Pikes Peak is called America's Mountain and is America's most famous mountain because it was the inspiration behind "America the Beautiful".
Yep, the "purple mountain majesties" part of the song is talking about Pikes Peak! And you really can ascend above the clouds here.
It is one of Colorado's fourteeners, and you can bike up and down the mountain, hike the trails, or take a drive.
There is also a shuttle service to the top you can ride, or is mandatory for travelers during peak seasons due to limited parking at the top.
At the top is a visitor center and a View House where you can check out the amazing views from 360 degrees. It is very high up so be careful of getting altitude sickness or if you are scared of heights.
Another thing to watch out for are the mandatory brake checks while driving down. Take your time when driving down the mountain as slow as steady is the best policy here.
There are so many things to do your first year living in Colorado it can be difficult to know where to start. Use this as a guide for your Colorado bucket list and enjoy your next year of living in this awesome state!
Carrie Smith Nicholson is one of the co-founders of Hashtag Colorado Life. After living in Texas for her whole life she moved to Colorado 4 years ago. As a travel blogger and entrepreneur for the past 8 years, her writing has been featured on NBC News, HuffPost Live, Glamour Magazine, Inc Magazine and many other media outlets. When she's not writing about new travel locations, she enjoys spending time outdoors hiking, camping in her NuCamp teardrop trailer, and trying new foods. You can follow her outdoor adventures on Instagram, @hashtagcoloradolife.