15 Best Steamboat Springs Summer Activities in 2023 [Local Tips]
This website may contain affiliate links and we may be compensated (at no cost to you!).
I currently live in Denver, Colorado and recently took a weekend trip to Steamboat Springs. The mountainous city is a popular ski destination in the winter, but is no less popular during the summer.
From floating down the Yampa Valley River to soaking in the natural hot springs, there is so many fantastic things to do in the warmer months.
Located in the gorgeous Routt National Forest, there is an abundance of outdoor activities as well as local shops and restaurants.
You could spend a lifetime in this city, but here is how I spent a fun-filled weekend near Denver.
If you're looking for the best Steamboat Springs summer activities, then keep reading.
1. Steamboat Springs Scavenger Hunt
Once arriving in the city, there's no better to way to explore it than on a Scavenger Hunt Adventure.
This quirky Colorado mountain town is full of history thanks to the Wild West. Throughout this interactive scavenger hunt you will be able to learn about the city, talk to locals, and hunt for art.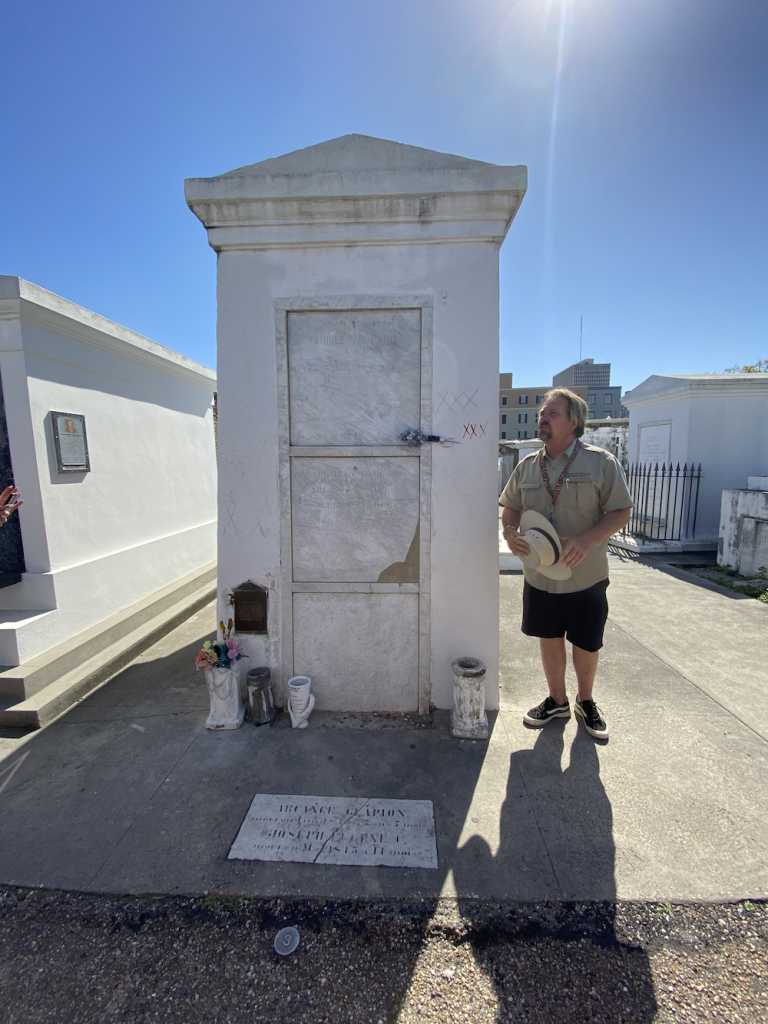 This guided experience includes an easy scenic hike, or take your own bike, alongside the beautiful Yampa River.
A local guide will join you on this customized experience as you and your family look for clues and unlock local stories from the past.
This two-hour hunt provides entertainment for both kids and adults, and is a great summertime activity.
Once the hunt is complete, consider a stroll down the Yampa River Core trail, which is a paved, multi-use trail that runs through the city.
2. Off the Beaten Path Cafe
After the scavenger hunt, I visited Off the Beaten Path (a bookstore and café) to meet one of my favorite authors, Brianna Madia.
The wild, van-lifer, dog-mom of four was doing a book signing for her New York Times Bestseller, Nowhere for Very Long.
The store was absolutely packed with women who admire Brianna's adventurous spirit and honest, humorous storytelling.
While I anxiously waited to meet my idol, I enjoyed an iced "Mr. Darcy". This year-round drink special is the cafe's take on a cinnamon vanilla latte.
The folks running the shop couldn't have been kinder to all of us crammed in their small bookstore.
When I finally got to meet Brianna, she was so sweet, embracing me with a good, long hug. We chatted for a few minutes about our shared New England upbringing and our love for dogs, and then I was on my way.
3. Steamboat Springs Downtown
Next up I explored Steamboat Springs' beautiful downtown area along South Lincoln Ave.
The streets are lined with all sorts of businesses, from jewelry and clothing boutiques to ski shops and candy stores. There is also a wonderfully overwhelming number of restaurants, cafes, and pubs.
If you're into fine art, check out the Wild Horse Gallery which features paintings, drawings, sculptures, blown glass and more.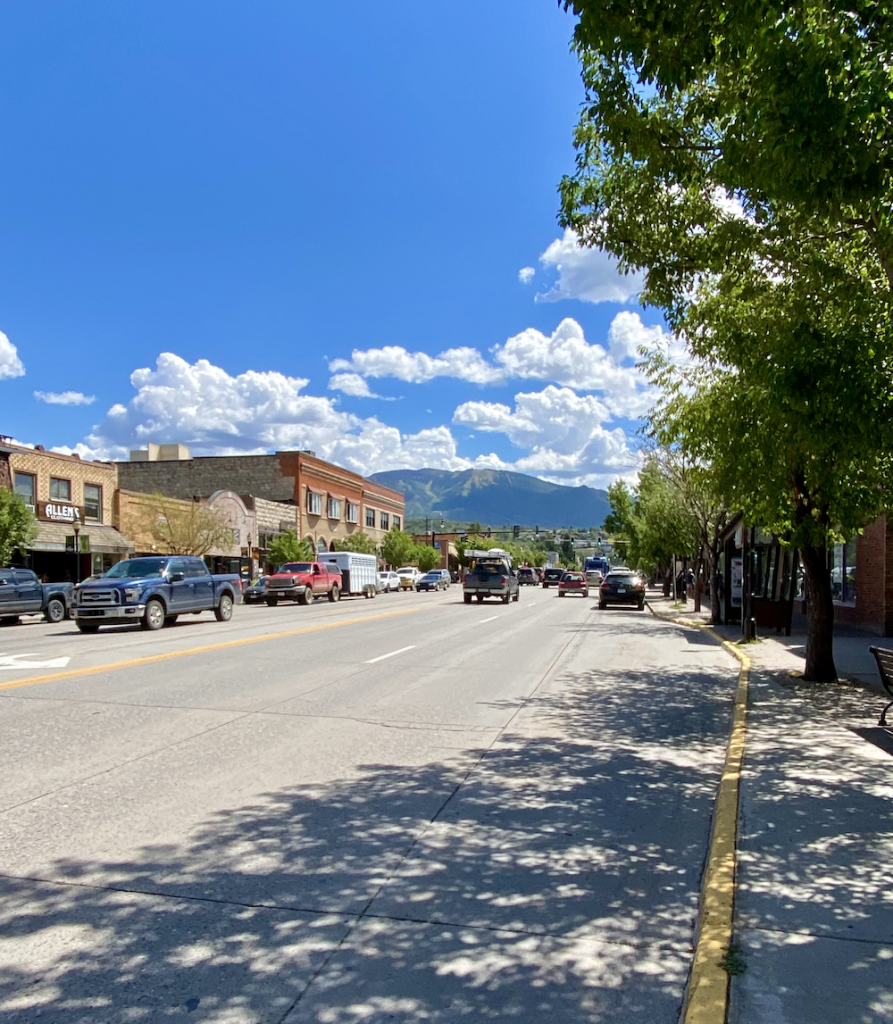 In the summer, the Steamboat Springs Arts Council offers fun art classes and events for both kids and adults.
These are just a few of the plethora of things to do in downtown Steamboat that are within walking distance.
Visitors can enjoy free transportation on any of Steamboat's free buses which run every 10 minutes. Or look for the long-term parking lots off Yampa Street if you need to park your car.
4. Mountain Tap Brewery
I'm a beer-lover, so I headed straight for the local brewery, Mountain Tap Brewery, which is just off the main street. Located right next to the Yampa Valley River, the brewery has plenty of outdoor seating for me and my pup to enjoy.
As I marveled over my newly signed book, I sipped on their "Current IPA" which is deliciously hoppy and malty, but not too strong (it had a 6% ABV).
While there, I munched on some fire-blistered shishitos that were covered in a sticky beer glaze along with hop salt.
To balance that out I also had a chickpea salad that was made with fresh arugula and heirloom tomatoes from their local Bee Grateful Farm.
5. Yampa River Botanic Park
After lunch, I headed to the Yampa River Botanic Park which is a beautiful area just 1-mile from downtown Steamboat Springs.
The park is free and open to the public from May to October, so you bet I stopped in to admire their lush flowers and trees.
The sprawling, six-acre park is home to 60 unique gardens, and thousands of different plant species. As I wandered through the meandering dirt paths it was hard not to stop and smell every flower!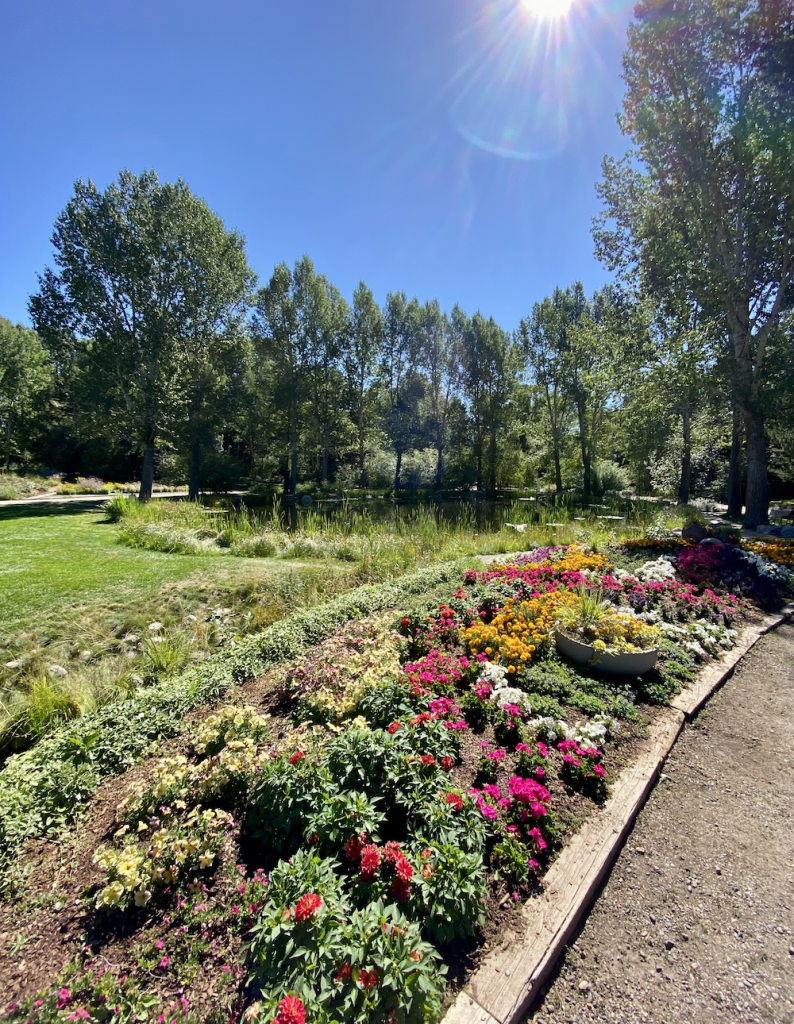 The entire Yampa River Botanic Park was so quiet and peaceful. What I would have given to curl up on a bench with a book for a few hours.
But I had to be quick since dogs were not allowed in the park (Bo stayed in the car for a few minutes while I wandered through the garden).
This place of serenity hosts music festivals, group walks, weddings, and yoga all throughout the summer. Definitely take a few minutes, or hours, to come visit this lovely spot.
6. Strawberry Park Hot Springs
Steamboat Springs is known for having two beautiful, natural hot springs: Old Town Hot Springs and Strawberry Park Hot Springs. I chose to visit Strawberry Park since several locals recommended it to me.
Nestled in the Colorado mountains just twenty minutes north of Steamboat Springs lies Strawberry Park Hot Springs, a gorgeous outdoor oasis.
It is even one of the top hidden hot springs in Colorado for escaping the crowds.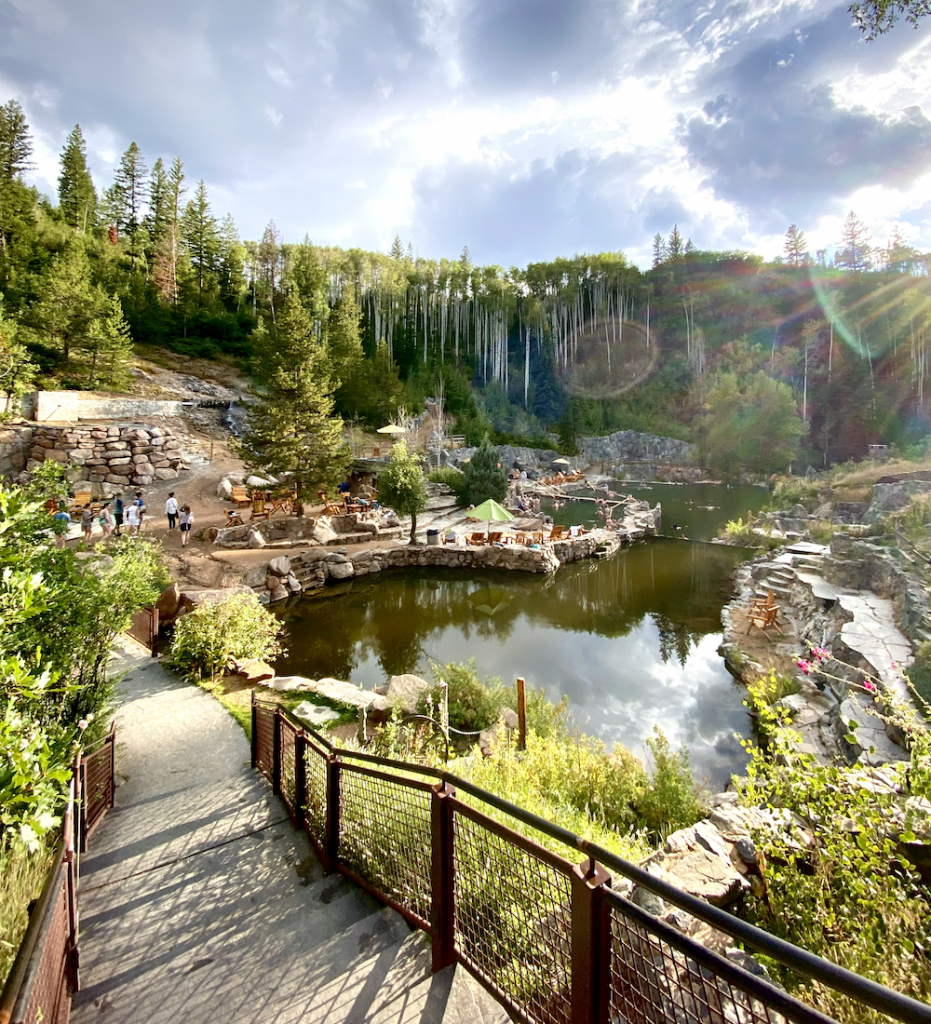 Walking into the park, I felt like I'd stumbled into a fairytale. The sun was shining through the trees with waterfalls and hot springs that were sparkling. Everyone was smiling as they soaked in the soothing, natural water.
Strawberry Hot Springs features several connected hot springs that are naturally heated from the Earth's crust.
Some of the pools vary in temperature, but the water stays comfortably hot (similar to a hot tub) all year-round.
Natural hot springs are said to help naturally detox your skin and strengthen your bones, so enjoy swimming and relaxing for as long as you wish.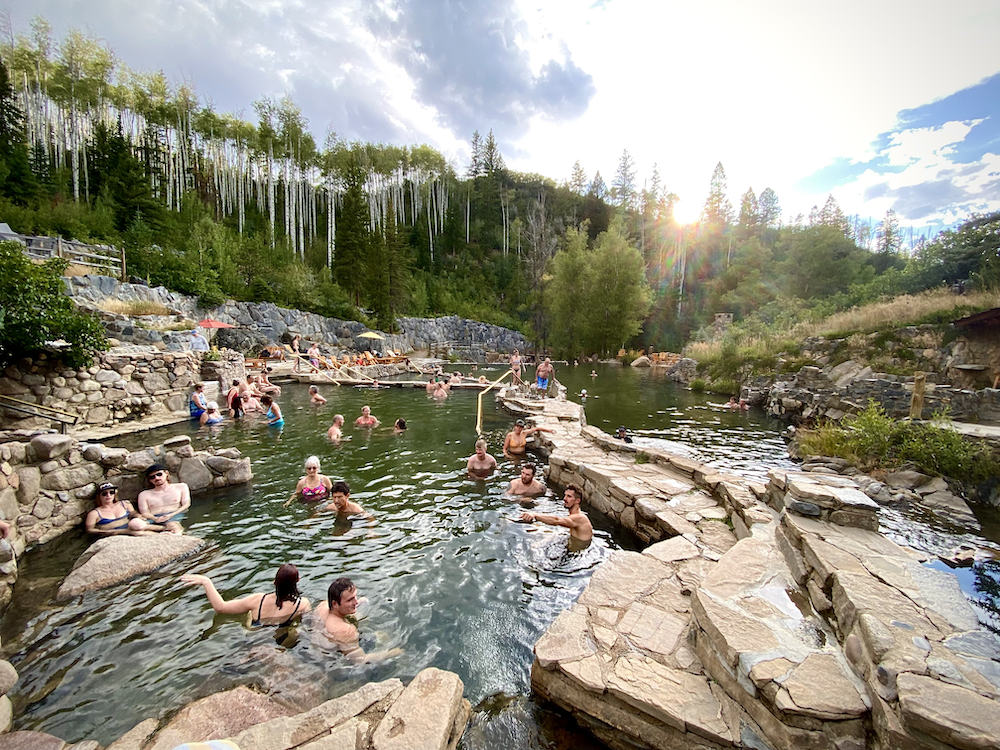 The park offers campsites and rustic cabins for those who want to stay the night. Guests of all ages are welcome throughout the day, but kiddos are not allowed past dark.
Rumor has it that clothing is optional once the sun goes down! Regardless of clothing, you're sure to see incredible views of the stars in this quiet, remote area.
7. Back Door Grill
There's no shortage of great restaurants in Steamboat Springs, so take your pick!
If you're looking for great Italian, then make a reservation at Mambo's and enjoy their fine dining.
Or if you're craving a burger, head to Back Door Grill. Here you can choose from any of their 21 mouth-watering burgers.
And there's nothing that celebrates the summer months more than grilling up a delicious burger.
Or if you want to share a variety of tapas plates, then visit Laundry for charcuterie and their globally-inspired small plates.
8. O'Neil's Tavern & Grill
While I was there, I was looking for a pub style restaurant, so I headed to O'Neil's Tavern & Grill, Steamboat's Irish Pub.
While sitting on their outdoor patio with my dog, I ordered the sharable fried chicken sliders topped with pickles and roasted jalapeno honey.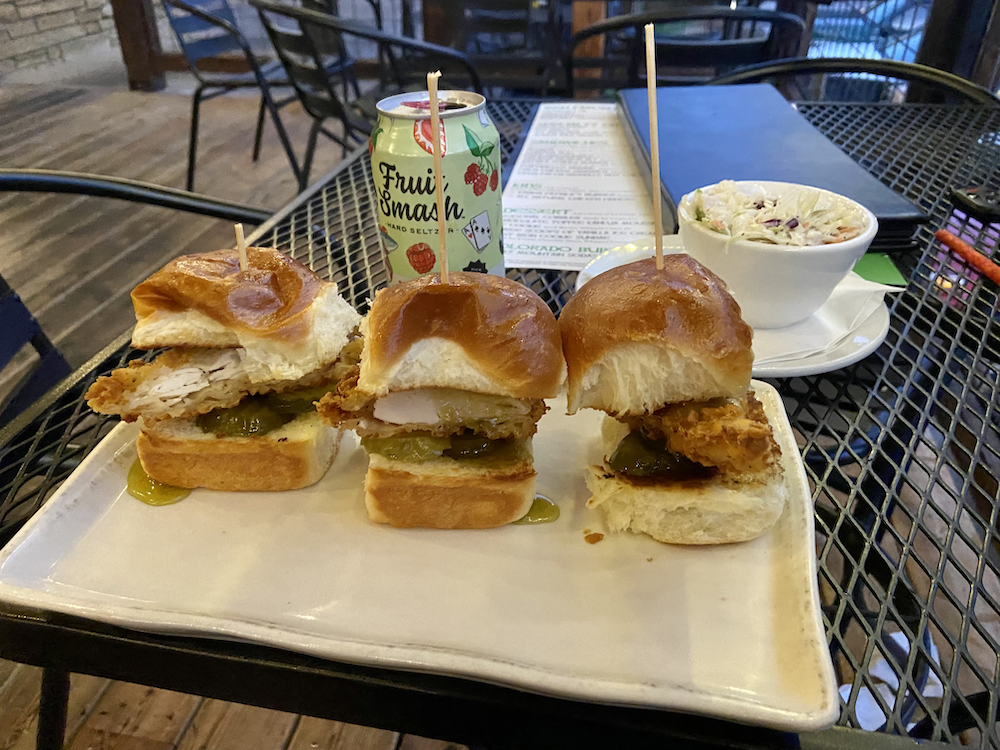 I'll be honest, I did not share any of these—they were just so tasty! Okay, okay, I gave Bo a tiny piece of chicken.
And rather than getting an Irish whiskey or Guinness pint, I opted for a Fruit Smash Hard Seltzer from New Belgium's Fort Collins brewery. It is so refreshing after a long, hot day.
9. Big Iron Coffee
The next morning, I headed to Big Iron Coffee for breakfast before my three-hour journey home. The inside décor is filled with exposed wood, comfortable seating, and cool skeleton artwork.
Outside, they have a spacious, dog-friendly patio that's in the heart of Steamboat Springs' downtown.
I sipped on a creamy cold brew and ate a sausage, egg, and cheese breakfast sandwich on a sesame bagel.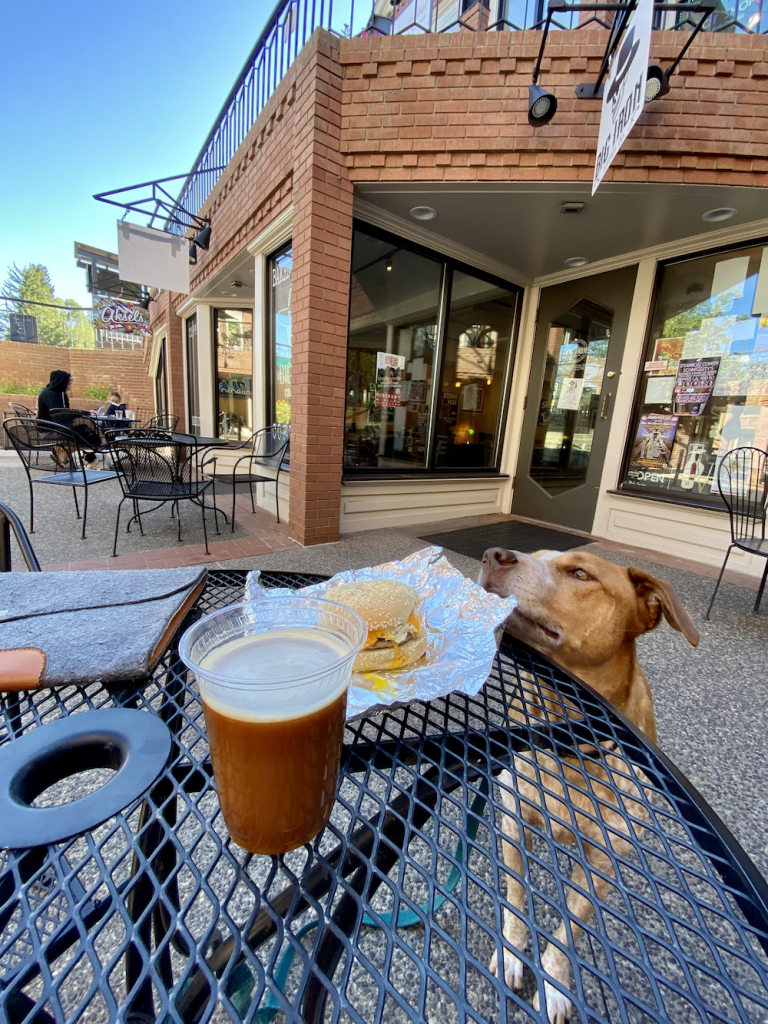 The sandwich is made with freshly cracked eggs, which I really appreciated. Next time I visit, I want to try their frozen coffee, which is their take on a Frappuccino.
10. Loveland Pass
On my way back to Denver, I decided to take a detour over Loveland Pass. At 11,992 feet, it's one of the highest paved roads in America.
It's also the highest mountain pass in Colorado that stays open during the treacherous, snowy winters.
As someone who is terrified of heights, I found the journey to the top of Loveland Pass surprisingly easy.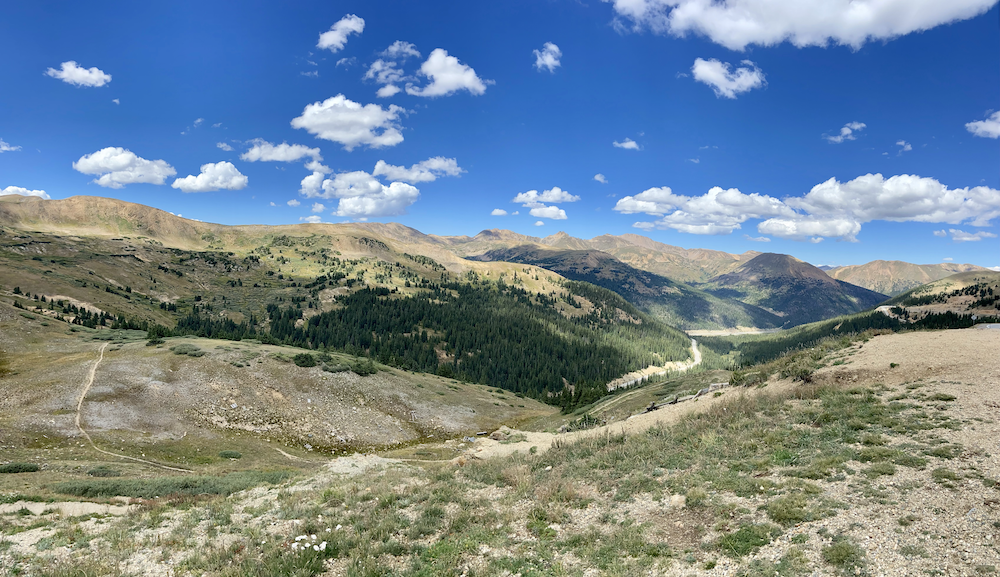 The winding roads and sprawling views are absolutely breathtaking. I was too in awe to be afraid!
At the top of the pass there's a dedicated area where everyone pulls over to take photos. When I stepped out of my car, I was shocked by how cold it was and how hard it was to breathe (thanks to the elevation).
I took my time taking photos and videos, which truly don't capture the beauty of the Colorado mountains.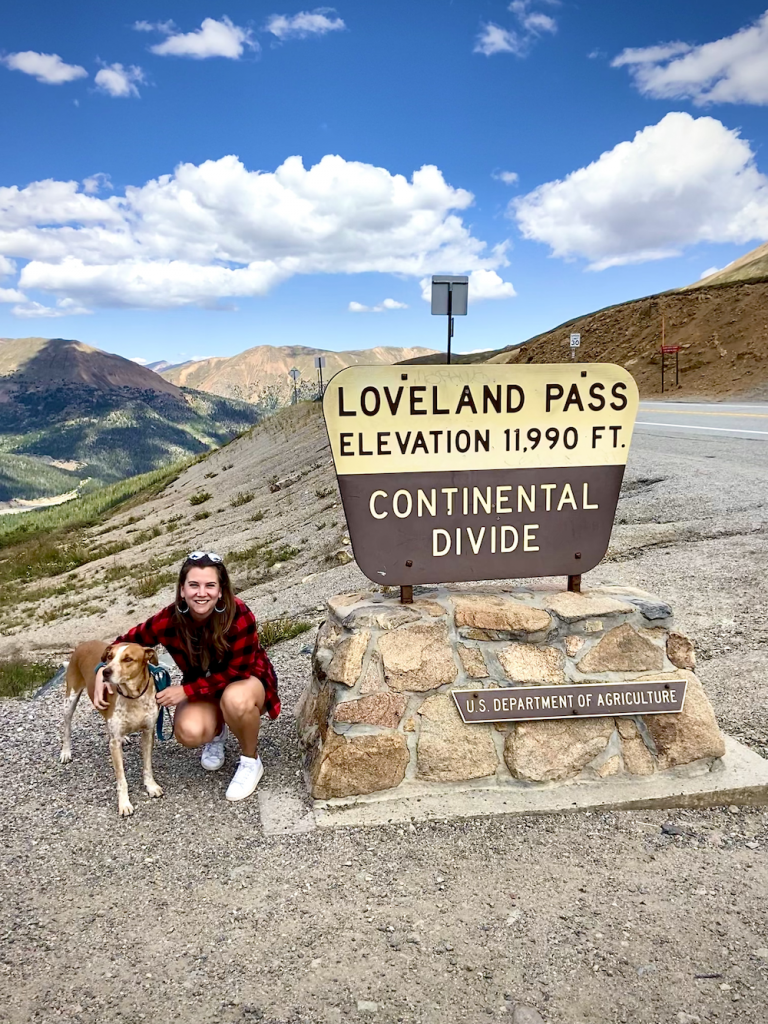 If you bring your hiking shoes, then you can hike Grizzly Peak's 7-mile climb to 13,427 feet.
I walked up about 20 steps and was completely out of breath. So, there's no shame in taking in the view and getting an obligatory picture with the Loveland Pass sign.
11. Fish Creek Falls
Fish Creek Falls is a natural wonder and an amazing hike located in the town of Steamboat Springs.
The main appeal to this summer destination is the mountain lake and a majestic waterfall that cascades down a 283-foot drop and provides breathtaking views.
Fish Creek Falls is surrounded by pristine wilderness, with rugged cliffs, towering trees, and wildflowers creating a picturesque backdrop.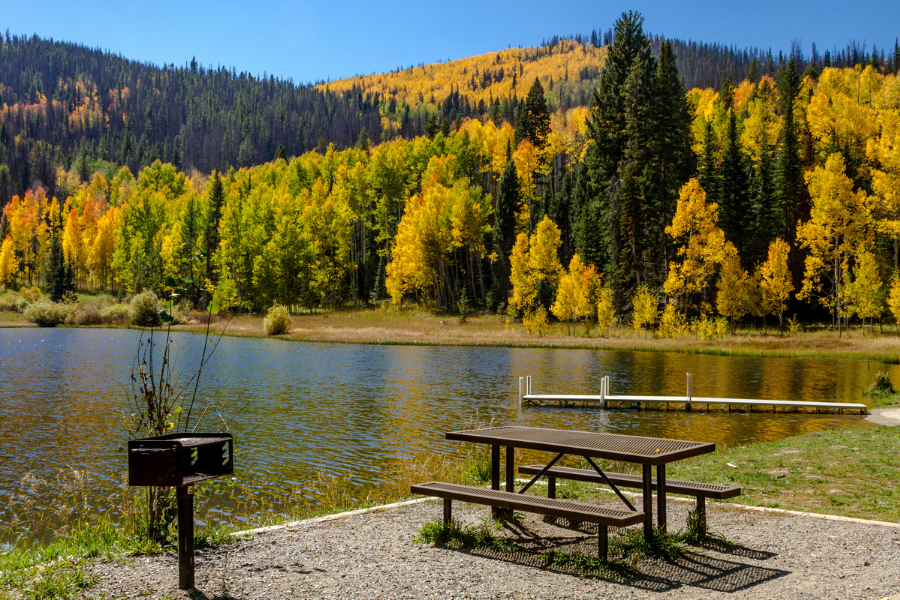 Reaching the first waterfall can be accessed via a short and easy hiking 0.5 mile trail that winds through the stunning scenery of the Fish Creek Canyon. It's a perfect hike for people of all fitness levels.
You can also access the scenic picnic area, making it the perfect spot for a family outing or a romantic getaway.
Fish Creek Falls is not only a popular destination for sightseers but also for adventure enthusiasts. The area is home to an array of outdoor activities, including hiking, camping, fishing, and skiing.
The falls freeze over in the winter, providing a unique opportunity for ice climbing and winter sports.
12. Horseback Riding
Horseback riding is always a fun summer activity in Colorado, no matter what town you visit.
But a horseback ride in Steamboat Springs is especially grand as there are numerous scenic horseriding trails all around the valley.
Explore the landscape the way the cowboys use to when they first settled in Yampa Valley, on horseback.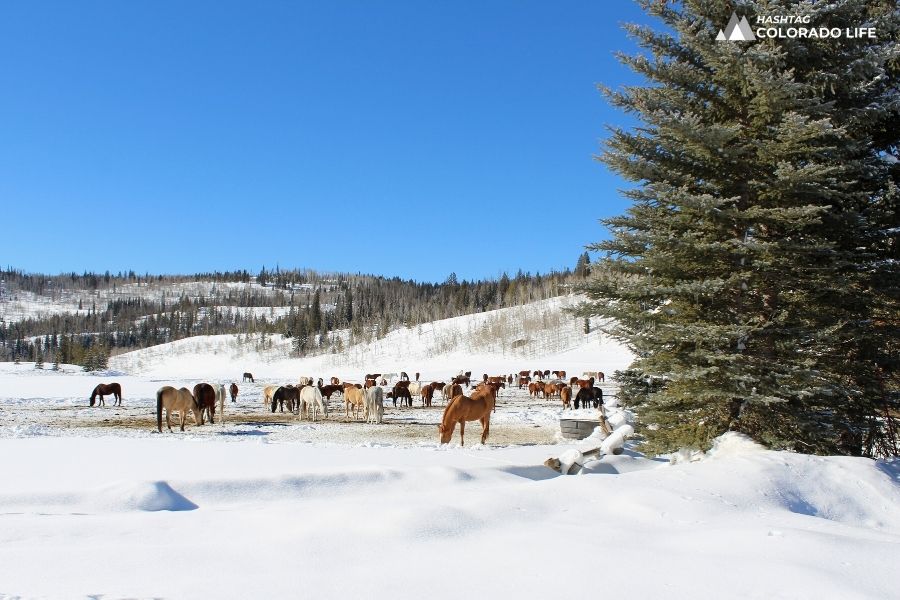 Don't worry the horses at local ranches are used to lots of riders and are often very gentle. They can also accompany all sorts of riding levels from beginner to expert.
It's a perfect activity for couples, families, friends, kids and even large groups. Horseback rides can last as short as an hour long or an entire day depending on your preferences.
You can even go horseback riding in the winter through muddy trails and snow-covered paths.
13. Steamboat Bike Park
Steamboat Bike Park is a thrilling destination for mountain bikers of all skill levels.
There are over 30 miles of cross-country mountain trails and multi-use trails on Mt. Werner. You'll wind through scenic forests and meadows and experience everything from smooth cruisers to challenging downhill runs.
Mainly open from June to September, the Steamboat Bike Park now offers lift access to its trails.
The Christie Peak Express lift is open for the first time since 2018. This allows riders to quickly and easily access the high-altitude terrain.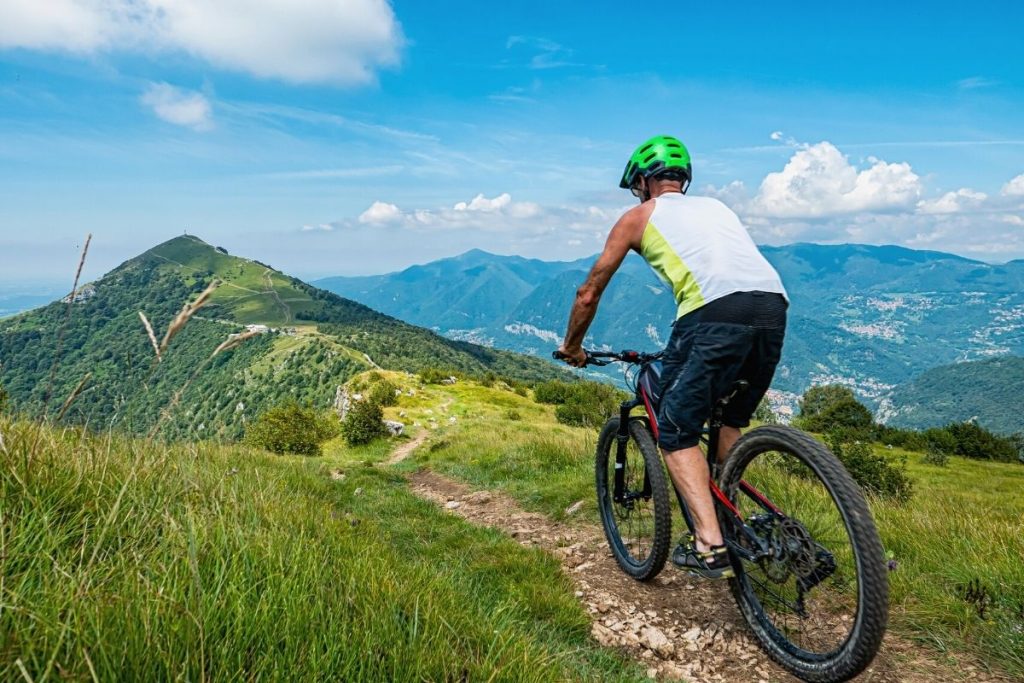 The terrain is well-maintained and varied, offering something for everyone, from gentle, beginner-friendly trails to steep, rocky descents for the more experienced riders.
The Bike Park also features a skills area where riders can practice and refine their techniques before heading out on the trails.
The park's staff offers lessons and guided tours for those who want to improve their skills or explore the trails with an experienced guide.
With its stunning scenery and diverse terrain, Steamboat Bike Park is a must-visit destination for any mountain biking enthusiast.
14. Steamboat Springs Gondola
One of the best Steamboat Springs summer activities has to be taking a scenic ride on a gondola up the side of the mountain.
Check out the infinite views of Yampa Valley at the top of Mount Werner inside this 8-passenger, glass-sided gondola.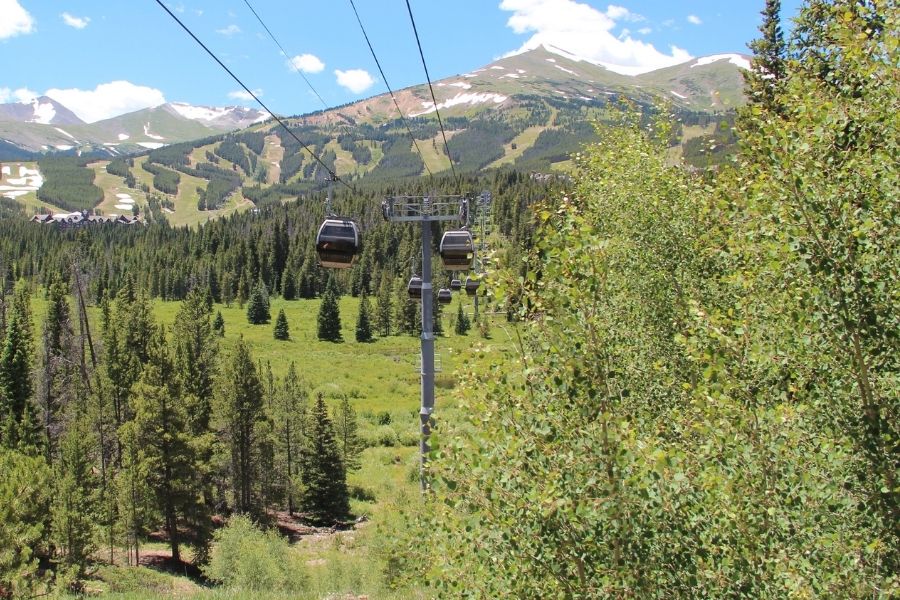 Once at the top, get ready to experience Sunset Happy Hour and any of the other amazing summer events happening in Steamboat Springs.
Taking the gondola to the summit of the mountain costs $15. Or you can hike up for free and then take the gondola down for no cost.
It's one of the best things to do in the winter as well if you're interested in snowshoeing or cross-country skiing.
15. Howler Alpine Slide
The Howler Alpine Slide in Steamboat Springs, Colorado is an exhilarating ride that takes visitors down a 2,400-foot track at high speeds.
The slide is located at the base of the Steamboat Ski Resort, and offers stunning views of the surrounding mountains and valleys.
Riders can control their own speed using a hand brake, giving them the freedom to choose a leisurely ride or a more thrilling one.
The slide is open during the summer, providing visitors with a fun and exciting way to explore the mountain terrain.
In addition to the slide, there are a variety of other activities available at the base of the resort, including mini golf, gem panning, and a climbing wall.
There are also several dining options, making it a great place to spend a day with friends and family.
Overall, the Howler Alpine Slide is a must-do summer activity and an exciting way to experience the natural beauty Steamboat Springs.
How to get to Steamboat Springs
The drive from Denver to Steamboat Springs took less than three hours. It is a straight shot up Highway 9 and Route 40.
The surrounding views of Colorado were absolutely stunning, and I passed through multiple mountain tunnels.
About halfway through the drive I stopped at Maryland Creek Park in Silverthorne. And it was the perfect spot to take a quick break.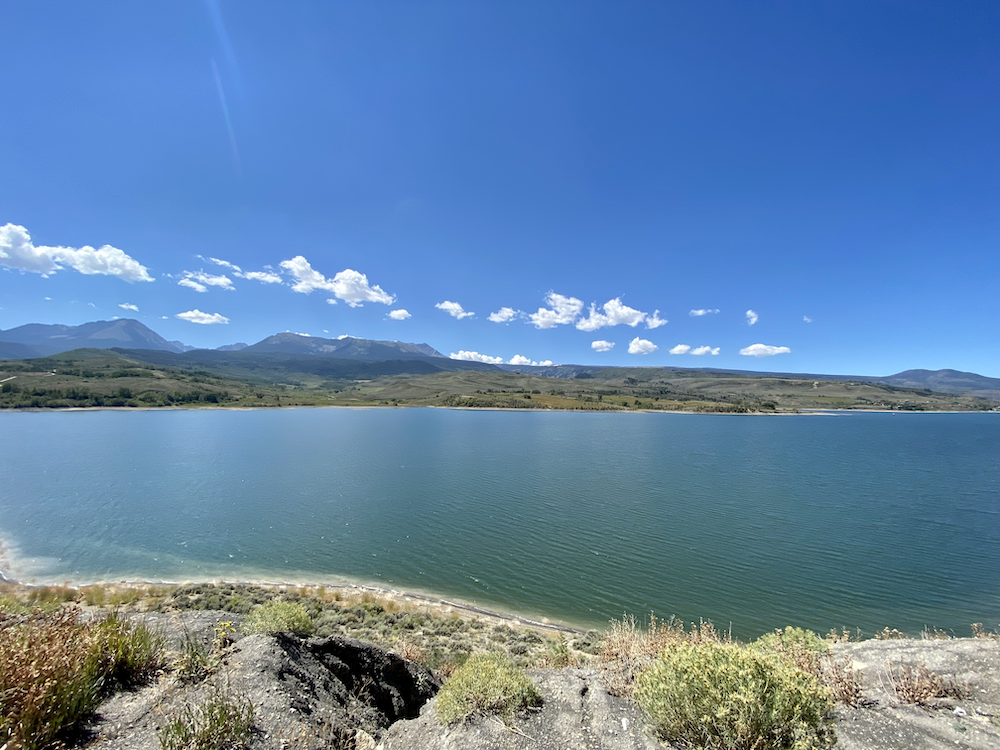 They have clean restrooms, water fountains, and even a dog park for my pup, Bo, to run and play!
Also bordering the town of Silverthorne is the Dillon Reservoir (or Lake Dillon). I stopped to take photos of this gorgeous, sparkling lake.
Planning a Steamboat Springs Summer Vacation
My trip from Denver to Steamboat Springs, Colorado was a non-stop whirlwind of scenic views and stunning photos.
But a quick summer weekend could only scratch the surface of what this city has to offer.
Steamboat Springs has a common motto that states, "come for the winter, stay for summer". And I find this to be true!
From live music to scenic hiking trails, and even hot air balloon rides, the Steamboat Springs area is nothing short of amazing.
The diverse food, the Strawberry Park Hot Springs, and bustling downtown are great reasons alone to visit this city.
Not to mention the nearby Rabbit Ears Pass which offers even more camping, fishing, skiing, and outdoor activities for the entire family.
I highly recommend visiting this town any time of year, because it is absolutely worth the scenic drive.