7 Well-Known Companies That Are Born or Built in Colorado
This website may contain affiliate links and we may be compensated (at no cost to you!).
To celebrate Small Business Saturday this year we are highlighting popular companies that are based in or born in Colorado!
There are quite a few companies that started in Colorado as well as some that might even surprise you.
The state is well-known for supporting an entrepreneurial lifestyle along with delicious and seasonal food.
Listen in or read on to find out about the Colorado companies that keep our economy going and what makes each one great.
---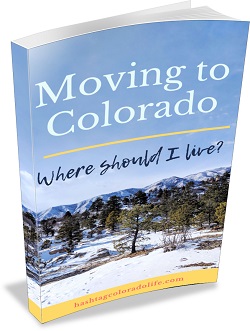 Need help moving to Colorado? Want more ideas for the best places to live in the square state?
We literally wrote the book about our experience moving across the country to Colorado.
Get our new book, Moving to Colorado: Where Should I Live? which has been updated for 2022.
---
1. Celestial Seasonings
Celestial Seasonings started in Boulder, Colorado in 1969, when founder Mo Seigel, handpicked wild herbs and began brewing them into tea.
In the next few years he began selling his herbal tea blends to local health food stores in the Boulder area.
And in 1972 the company introduced "Sleepytime" and "Red Zinger" which are some of their bestselling specialty teas of all time.
Sleepytime, in particular, is what helped make Celestial Seasonings a household name.
As a kid, I remember my mom would give me Sleepytime tea to drink before bed as a way of helping wind me down.
It's one of those fun memories I have as a child!
Celestial Seasonings continued to grow throughout the 1970s and into the 1980s.
They began selling teas internationally in 1977 and by 1984 they were bought by the food giant, Kraft Foods.
In 1987, Kraft tried to sell Celestial Seasonings to Lipton, another large tea company, but the sale was blocked citing anti-trust laws.
The lawsuit stated that the merger of Lipton and Celestial Seasonings would effectively create a monopoly on herbal tea and eliminate competition.
After the failed merger, Celestial Seasonings bought back the company from Kraft in 1988.
Since then, the company has grown and expanded their tea lines into Green tea, Chai tea, Brewed Iced teas, Rooibos teas, and more.
And since Celestial Seasonings is headquartered in Boulder, Colorado, you can schedule a free tea tour of their facilities.
The tour is pretty popular and receives more than 100,000 visitors annually.
If you love tea, we highly recommend this free activity. You can also visit the Celestial Cafe for breakfast or lunch Monday through Friday.
Also, this story is likely the most "Boulder" origin story of a company we've ever heard!
2. Coors Brewing Company
One of the most recognizable business names in Colorado is Coors Brewing Company.
Coors was founded by German immigrant Adolph Coors in 1873 in Golden, Colorado.
The factory still resides in Golden, and has grown to be the largest single brewing facility operating in the world.
Coors was one of the few breweries to make it through Prohibition when they were ordered to drain 561 barrels (nearly 31 gallons each) of beer in 1916.
Adolph Coors didn't give up though, and he shifted the factory towards producing malted milk balls which were sold to Mars Candy Company.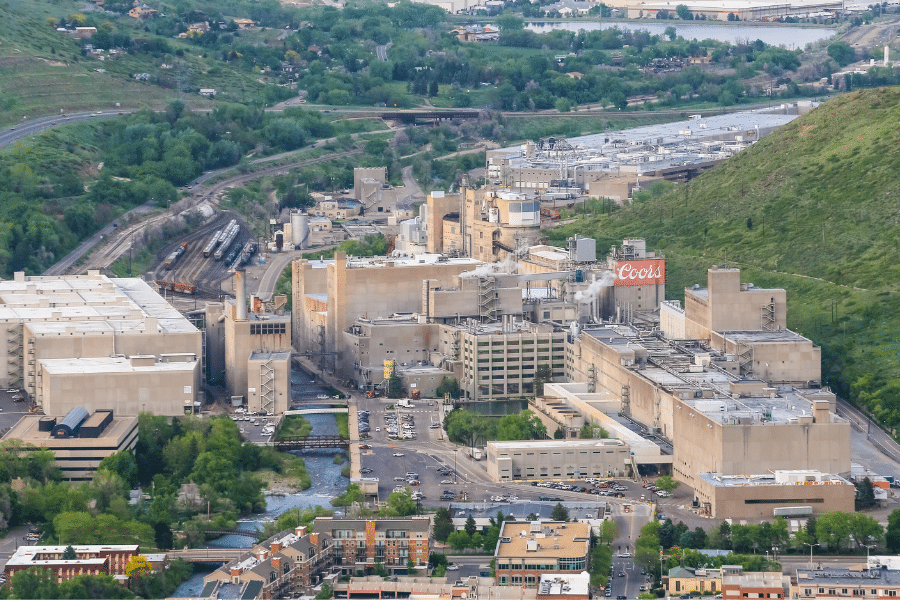 During this time, they also changed their name to Coors Manufacturing Company and began producing porcelain and cement.
Once Prohibition ended in 1933, Coors went back to brewing beer but supply was limited to only a handful of western states.
Then, in 1936 Coors launched the "Stubby" bottle which helped propel the popularity of the beer to the rest of the country.
The company recently brought back production of a limited edition "Stubby" bottle to signify dedication to overcoming adversity.
If you love beer and history, we recommend going on the Coors Brewery Tour.
The 30-minute tour details the history and brewing techniques of the company as well as their packaging process.
You will also see old photos, historic beer cans and bottles, and other memorabilia from the company archives.
3. Ibotta
Started in 2011 by Brian Leach, Ibotta is the #1 shopping rewards app for driving new customers and more trips.
This shopping app rewards customers for simply uploading a copy of their receipt.
Over the years, Ibotta has partnered with more than 1,500 brands and retailers to offer rebates and cash back on food and grocery items.
Rewards and cash back are obtained when shopping in-store or online.
You can also earn additional bonuses when you refer a friend to sign up for Ibotta.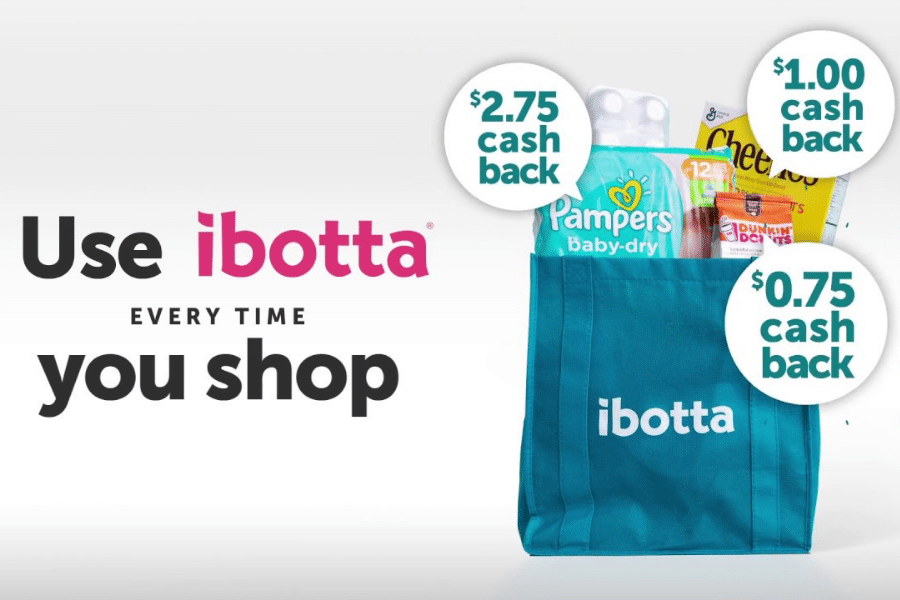 The app is now one of the most frequently used shopping apps in the United States.
In 2014, Ibotta began offering cash back rewards for purchases of alcohol. Then in 2016, it launched rewards for online and mobile purchases.
These days, the company offers "Pay with Ibotta" which is a way for shoppers to pay their entire purchase through the app and earn cash back instantly.
Ibotta is located in downtown Denver near the 16th Street Mall.
4. Western Union
The financial services company called Western Union is one of the oldest companies on our list to be stationed in Colorado.
Originally founded in New York in 1851, this global company has been headquartered at the Meridian Campus in Englewood, Colorado since 1995.
The Western Union Telegraph Company first gained popularity thanks to building the first Transcontinental Telegraph line.
In October 1863, the Pacific Telegraph Company merged into Western Union.
Together, they built a wire along the South Platte River from Denver to Julesburg, connecting Colorado to the Transcontinental Telegraph.
Before this two-hundred mile line was built, telegraph messages were processed much slower as they had to be sent via coach.
Through 1943 Western Union expanded and grew rapidly, absorbing more than 500 other companies.
Then in 1988, Western Union Telegraph Company was reorganized as Western Union Corporation and began offering money orders and other financial services.
Today, the company employs more than 1,300 employees at their Colorado headquarters.
And to-date, more than 50,000 customers have used a Western Union agent location in the Denver area.
5. Crocs
Crocs was founded in 2002 in Niwot, Colorado and has become one of the most popular footwear manufacturers in America.
(In case you don't know, Niwot is a very tiny town located between Boulder and Longmont, Colorado.)
First unveiled in Fort Lauderdale as a boating shoe in 2001, Crocs has sold more than 600 million shoes.
They aren't the most fashionable pair of footwear, but they are widely accepted as the most comfortable shoe.
Crocs are often worn by nurses, doctors, chefs, waiters, and other service workers.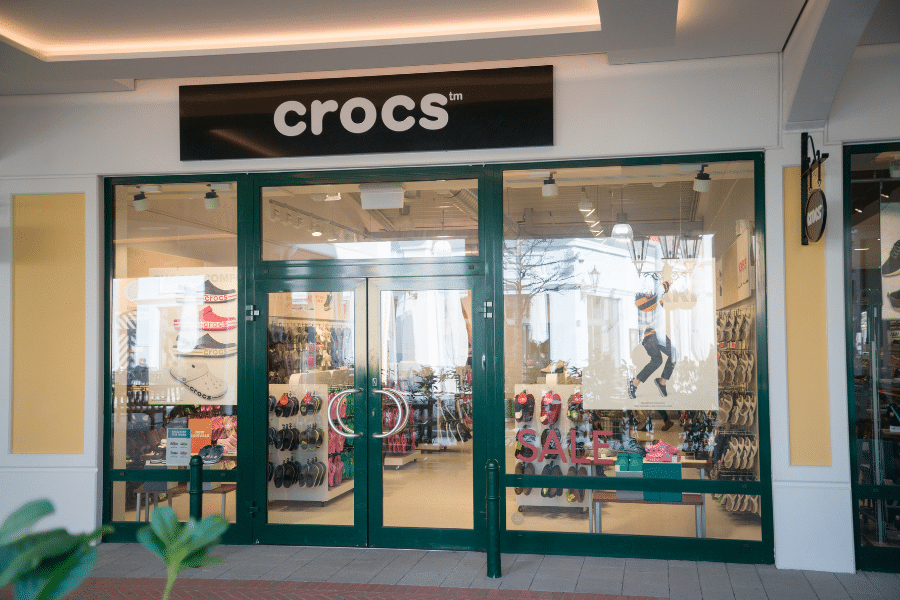 Their comfort is also paired with smart design as they are non-slip and waterproof. They were designed to be a boating shoe after all!
I personally used to wear Crocs every day while working in kitchens.
The non-slip and waterproof features are two things you really want when you are working in a kitchen.
Crocs are also easy to clean and fun to customize.
The shoes come in a wide variety of colors with customizable designs with accessories that can be clipped to each shoe.
In 2008, Crocs created a golf shoe called the "Ace" which quickly sold out online and in-stores across the country.
To-date the company sells their famous Crocs in over 90 countries worldwide.
And as of June 2020, Crocs announced the opening of their new headquarters which is now located in Broomfield, Colorado.
6. OtterBox
OtterBox is a privately owned electronics accessory company that is based out of Fort Collins, Colorado.
It was founded in 1998 in Curt Richardson's garage, who currently serves as founder and chairman.
OtterBox was popular for producing water-resistant, shock-resistant and nearly unbreakable phone cases for mobile devices.
Today, the company has expanded their product line to include power banks, charging kits, universal adapters, and other phone accessories.
When forming the company, Curt Richardson was strongly influenced by the 1985 business book, E-Myth.
Because of this, the company has a strong entrepreneurial environment that is carefree and creative.
Business started really taking off for OtterBox in 2004 thanks to their durable iPod cases, which were popular among parents of small children.
In 2013, OtterBox was named one of "America's Most Promising Companies" by Forbes Magazine.
These days, OtterBox is a global company that employs about 830 employees and has offices in San Diego, Hong Kong, and Ireland.
7. Red Robin
Red Robin was founded in Washington State and called Sam's Tavern in the 1940s.
The first official Red Robin restaurant was formed in Seattle during the 1960s.
In 1973 the menu was revamped to include the Red Robin Gourmet Cheeseburger and the Royal Red Robin Burger, which was topped with a fried egg.
This really set Red Robin apart and gave America a taste for gourmet burgers!
By the mid 1980s the gourmet burgers and brews served at Red Robin were more popular than ever.
This was also the time when "Red" the colorful mascot was invented.
In July 2002, Red Robin was listed on the NASDAQ and became a publicly traded company selling at $12 per share.
The company immediately sold 4 million out of more than 5 million shares, proving the high demand for gourmet burgers.
And although Red Robin wasn't founded in Colorado, it has become a local staple since moving from Irvine, California to Greenwood Village, Colorado in 2000.
Red Robin employs about 27,000 employees in over 570 restaurants, and is ranked 5th among it's top 10 competitors.