11 Best Ziplining Tours in Denver for Mountain Adventures
This website may contain affiliate links and we may be compensated (at no cost to you!).
Are you looking for the best ziplining in Denver to experience the thrill of soaring through the air? Then you're in luck.
In this guide I'm sharing an in-depth look at the best ziplining options near Denver, and the best obstacle courses in the state.
As a Colorado local, I have been ziplining several times and always love the thrill of gliding through the trees and over the mountains.
Get ready to experience the excitement of the best ziplining in Denver on some of Colorado's longest and highest zipline courses!
Is there ziplining in Denver?
Yes, there is epic ziplining in Denver thanks to being so close to the Rocky Mountains.
In fact, ziplining in Colorado near Denver is not only available but easily accessible!
The city's central location makes it easy to access the mountains, which are just a short drive west from downtown.
So, grab your gear and head to the majestic Rocky Mountains just an hour from Denver.
Here are the best zipline tours in Denver if you're looking for a thrilling day zipping through the forests, above creeks, and over mountains.
What are the best Denver zipline tours in Colorado?
✔️ Rocky Mountain Zipline Adventure: Best for kids & families
✔️ THE EDGE Zipline Tour: Most highly rated reviews
✔️ The Royal Gorge Extreme Zipline: Best for adrenaline junkies
The top zipline tours in Denver are listed below with more info, along with many more recommendations.
Many of these zipline courses operate year-round, whether it's hot or cold outside.
1. Rocky Mountain Zipline Adventure
As you're looking for the best ziplining in Denver, you have to check out this Rocky Mountain Zipline Adventure in Conifer, Colorado.
Experience an exhilarating adventure as you soar through the Rocky Mountains on one of the longest ziplines in the state!
Choose from a variety of tour times and zipline options that range in length from 850 feet to 1,900 feet.
Friendly and professional guides will provide safety training and all the necessary equipment for you, so no prior experience is required.
This 6-zipline tour is recommended for those in good physical condition, as it involves a short scenic uphill nature hike. And the heights aren't for the faint of heart!
Marvel at the stunning landscape from above as you whiz through the alpine air along a series of cables spanning over 6,000 feet in length.
Your adventure includes a certified guide, safety equipment, snacks, pictures, and video to capture your unforgettable experience.
This Rocky Mountain Zipline Adventure is perfect for all experience levels, including beginners.
If you want to fly through the trees and admire the spectacular views of the Colorado Rockies, this is for you!
Enjoy the sunshine and take a break from the hustle and bustle of Denver adventures as you hike between the tracks of this scenic foothill location.
2. THE EDGE: Zipline Tour
Immerse yourself in this high-speed zipline experience with THE EDGE: Zipline Tour in Castle Rock.
This beginner-friendly tour offers the best zipline experience in Colorado. It boasts a 10-line zipline adventure spanning almost 2 miles, with short hikes in between.
Soar over 320 acres of stunning open space and take in the scenic beauty of Colorado from a whole new perspective.
With one-on-one instruction and hands-on assistance, you'll safely navigate different zip lines and take in the magnificent Rocky Mountain vistas.
Your tour will be fully guided and lasts between 2 to 3 hours. Choose from multiple start times, whether you prefer morning or evening.
Even if you're a beginner, this thrilling, but scenic outdoor experience is suitable for all skill levels. Plus, all safety equipment and gear will be provided.
And to make things even easier, the zipline center is located within a quick drive from Denver.
Don't miss this chance to experience the wonder of Colorado's landscape in a whole new way.
3. Royal Gorge Extreme Zipline Experience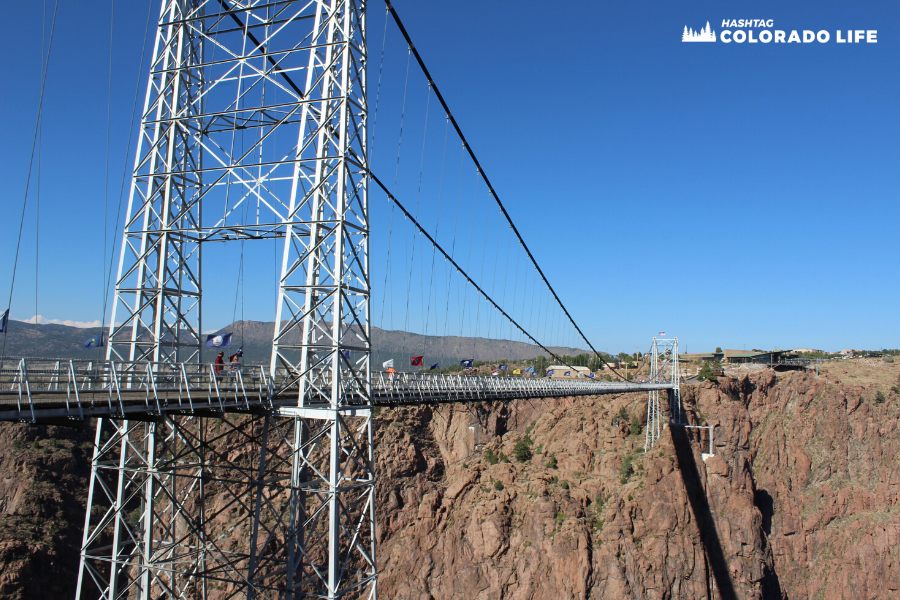 Experience the ultimate thrill of ziplining on one of the fastest ziplines in North America: the Royal Gorge Extreme Zipline Experience.
This 11-line zipline adventure in Canon City is perfect for adrenaline junkies.
During this 3-hour tour you'll take in breathtaking mountain views and vistas overlooking the Arkansas River.
This zipline tour near Denver begins with an expert guide who will teach you everything you need to know about ziplining. This will ensure you feel confident and ready to soar through the air.
You'll need to climb to the top of the tower, which requires similar physical exertion to walking up 10 flights of stairs. So, it's best if you are in good physician condition.
The final Royal Gorge zip line is a dual, side-by-side 1,200 feet racing line that ends on a massive 7-story tower.
From here you get to choose your epic finish from leaping off the tower and freefalling 30 feet, or the belay which is used by firefighters and military teams.
Safety is a top priority with a course that is constructed, and equipment that is specifically designed for ziplining.
This Royal Gorge zipline tour includes all of the gear and safety equipment you need:
seat harness
chest harness
trolley system
two lanyards
secure clips
gloves
a helmet
You can enjoy this zip line course completely, knowing that all aspects of your adventure are designed to ensure your safety.
This tour is run by the Royal Gorge Rafting company and is located in Canon City, about one hour south of Colorado Springs.
4. Clear Creek Ziplining in Idaho Springs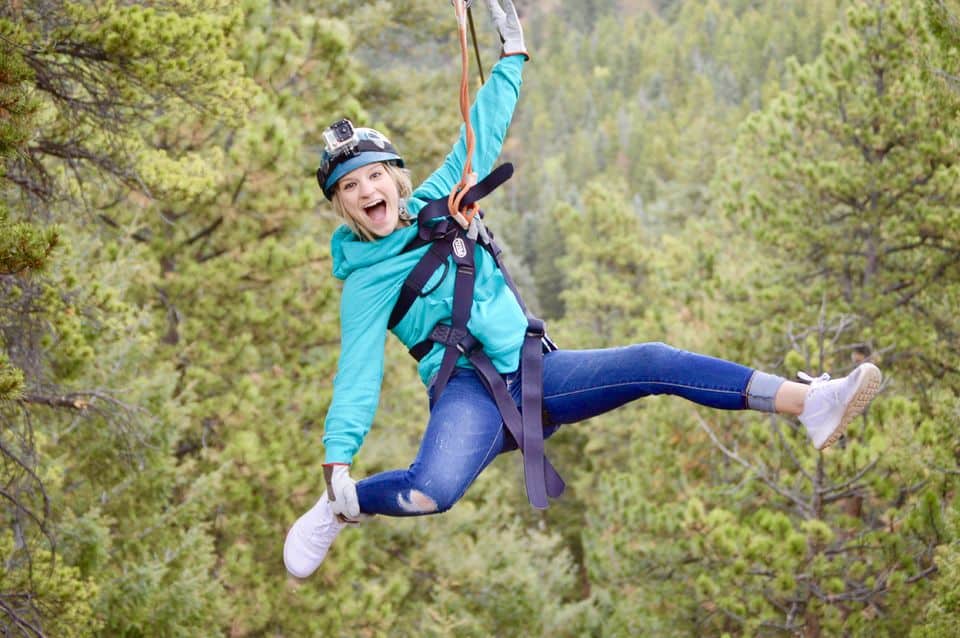 Prepare for an adrenaline-fueled ziplining adventure as you soar across Clear Creek in Idaho Springs.
This is one of the highest and longest high-tower zipline courses in Colorado! With 8 separate ziplines to conquer, this 3-hour tour is sure to get your heart racing.
Your tour guide will equip you with all the necessary safety gear as well as the training you need before your adventure. Then you'll make the climb up the 65-inch towers to take off over the treetops.
You'll soar above Clear Creek's whitewater rapids for nearly a mile of pure ziplining thrills.
The longest line in the course spans a quarter mile, giving you plenty of time to appreciate the stunning scenery.
Be prepared to reach speeds of up to 40 miles per hour and remain high above the ground at all times.
This zipline course in Idaho Springs, a charming mining town along Clear Creek, is conveniently located just off I-70. It's a short 35-minute drive from downtown Denver.
Don't miss this chance to experience the sensation of flying through the air while admiring Colorado's scenic beauty from a bird's eye view.
5. Skytrek Aerial Challenge Course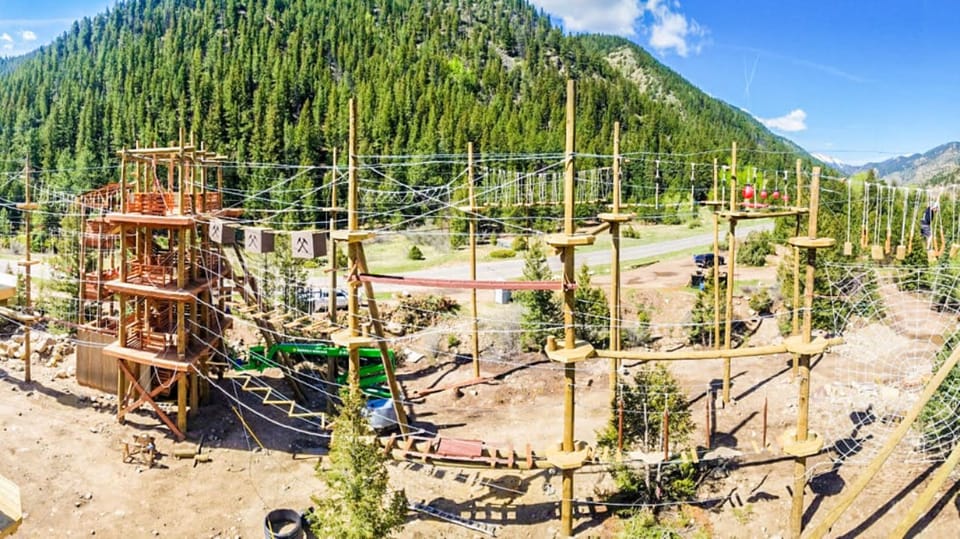 Purchase your admission to this Sky Trek Aerial Challenge course in Idaho Springs.
This exhilarating aerial adventure park offers 60 unique obstacles and ziplines spread over three different levels of difficulty suitable for all ages.
Immerse yourself in the local mining history of the region as you navigate through the obstacles on one of the three courses.
Copper, Silver, and Gold skill level courses are available, each designed to test your physical and mental abilities.
Ascend to heights of over 50 feet as you traverse this epic Colorado Adventure Center course.
But don't worry, you'll be securely fastened to a harness and safety device the entire time.
Finish each route with a short zipline ride back to the central tower. This is a great experience to challenge yourself and have fun while learning a bit about the area's past.
This Sky Trek Challenge course is located just 35 minutes from downtown Denver. It's also only about 40 minutes from Boulder, Breckenridge, Vail, and Winter Park.
6. Canon City Classic Ziplining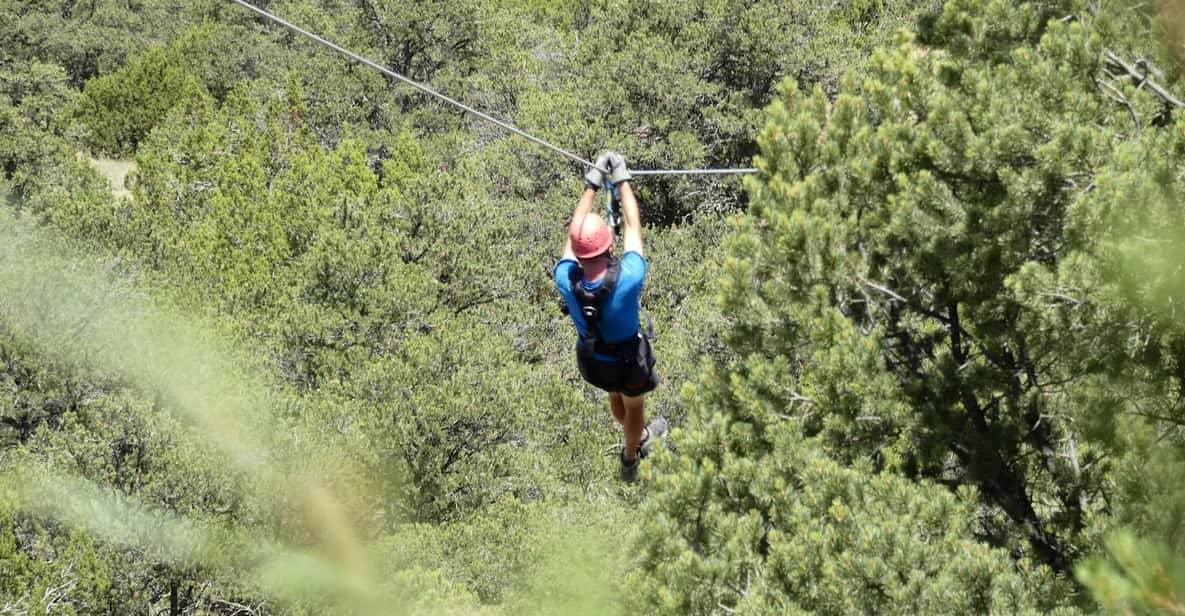 Experience the thrill of ziplining over forests and rolling hillsides with an entry ticket for this Canon City Classic Ziplining course.
This 9-line cliffside zipline tour includes 3 hours of fun and adventure. It starts with ground school where your guides will teach you everything you need to know about zip lining.
This beginner-friendly course is carefully planned for your safety, from course construction to equipment, guide experience, training, and operations.
Climb to the top of the tower, which is similar to walking up 4 flights of stairs, and get ready to take off on the different lines.
The highest line runs 50 feet over the Royal Gorge plateau, providing truly inspiring views of Colorado.
Reach exhilarating speeds of up to 45 miles per hour, and finish the ride with dual racing lines on the longest 1002-foot line.
Get your adrenaline pumping while enjoying incredible views of Canon City on this thrilling zipline course.
7. Mountain Climb & Zipline for Beginners
Get ready for the ultimate rush of adrenaline with this mountain climbing and ziplining adventure for beginners.
Climb straight up the rock face of the mountain and traverse the granite cliffs to get an epic view of the stunning landscape.
Then, take it to the next level with the 2.5 hour forest zipline tour and soar through the treetops.
The Duo package is the perfect combination of adventure and thrills! Start your journey with a guided mountain climb up the Via Ferrata, where you will be equipped with a helmet, harness, and gear.
Traverse to the zipline platform and then get ready to fly above the trees! Please note that lunch is not included, but there is a food truck available.
Experience the only private Via Ferrata in Colorado and enjoy the thrill of forest ziplining near Denver!
This guided mountain climb comes with all necessary gear included. However, this adventure is only suitable for those 12 years and older.
8. Zipline Adventure Over the River
Get ready for an incredible zipline adventure over the river thanks to the Colorado Adventure Center.
Located just 30 minutes west of Denver, this ultimate basecamp is perfect for thrill-seekers who want to experience the best of Colorado's outdoor adventures.
Whether you're up for rafting, ziplining, or aerial adventure parks, you're covered here.
This exhilarating zip line tour is one of the highest, longest, and most exciting in the state.
You'll soar through the treetops for nearly a mile, high above the roaring rapids of Clear Creek, for an unforgettable 3-hour adventure.
The course is built on historic mining claims where gold was first discovered in Colorado, adding to the allure of this amazing experience.
You'll climb sky-high sixty-five foot towers and fly across 8 separate zip lines, crossing Clear Creek three times. Plus, you can combine your zip line adventure with any of the other thrilling activities.
All required zip line harnesses, gloves, and equipment are included. Don't miss out on this unforgettable ziplining experience.
9. Lost Canyon Zipline Tour in Salida
Join Captain Zipline for a fully-guided, heart-pumping adventure as you soar across ancient canyons on this Lost Canyon Zipline tour.
This 2 to 2.5-hour experience includes training, six zip lines with significant height exposure, and scenic hikes between each line.
And thanks to participant braking, you can control your own speed and level of thrill.
Learn about the ecology, natural history, and geology of the region as you zip through the air.
Captain Zipline is an adventure company based in Salida, Colorado that offers a variety of outdoor activities for all experience levels.
Enjoy ziplining with breathtaking views of the Arkansas River Valley and surrounding mountains.
Then challenge yourself on one of the aerial courses, or climb to new heights on the rock climbing and Via Ferrata tours.
For ziplining near Denver, get ready to experience a unique and thrilling adventure thanks to this Broadmoor Soaring Adventure zipline combo.
Located in the Seven Falls Canyon in Colorado Springs, this canopy tour has it all. The course includes:
eight zip-lines
two suspension bridges
a 180-foot assisted rappel
And the entire zipline course is designed to showcase the geological features of the nearby waterfall park.
This Combo Zipline Tour boasts 8 different zip-lines ranging from 250 to 1,800 feet in distance and reaching heights of 500 feet.
This combo tour includes admission to Seven Falls Park, as well as all activities and equipment, professional guides, a safety introduction, bottled water, and transport by air-conditioned minivan.
Before starting the day, you'll receive a safety orientation and ground school before venturing onto the first zipping platform.
As the tour progresses, the ziplines become longer, faster, and higher, providing an adrenaline-packed adventure.
Don't miss this opportunity to experience the natural beauty of Colorado Springs on an unforgettable zipline tour.
11. Fins Scenic Zipline Tour
Discover the awe-inspiring beauty of Colorado from a fresh perspective with this Scenic Zipline tour at Seven Falls.
The Fins Course features five exhilarating ziplines, with lengths reaching up to 1,800 feet.
It also includes two suspension bridges and a 180-foot controlled rappel to the canyon floor.
Soar through the air and take in breathtaking views of steep drops, jagged cliffs, and unique rock formations over Seven Falls Canyon.
This half-day adventure in Colorado Springs also includes custom-built suspension bridges that add to the excitement.
In order to ride on this zipline you must weigh between 90 and 250 lbs, wear closed-toed shoes, and not be pregnant or under the influence. Plus, children who meet the weight limit can still enjoy the thrill.
Don't miss out on this adrenaline-fueled experience that showcases the stunning Colorado scenery from a new perspective.
What is the fastest zipline in Colorado?
The speediest ziplines in Colorado can reach top speeds up to 60 mph. But the absolute fastest zipline in North America is the Royal Gorge 11-Line in Canon City.
It is ranked as the top zipline tour in Colorado, which is why it's listed number three on our list.
With a thrilling 1,700 feet of speed, this highest speed line will leave you exhilarated. It's an awesome zip line ride for all adrenaline lovers.
When is the best time to go ziplining in Denver?
Denver is a year-round destination with activities that cater to every season. And with more than 300 days of sunshine annually, you can enjoy outdoor adventures throughout the year.
However, a great time to go ziplining in Colorado is in spring and fall. You'll be able to avoid the large tourist crowds that come with the busy summer season.
Plus, you'll get to experience the changing seasons and without the extreme weather that the state is often known for.
What is the highest zipline in Colorado?
If you want to experience the highest zipline in Colorado, then you're looking for the Cloudscraper Zipline on the Royal Gorge Bridge.
You'll fly through the air at 1,200 feet above the Arkansas River and spectacular Royal Gorge Canyon.
A visit to the Royal Gorge Bridge is a must-do for anyone, which is why it's one of the top Colorado bucket list items we recommend.
Ziplining in Denver
Don't miss this opportunity to enjoy a thrilling zipline adventure in the heart of the Rocky Mountains.
With minimal height and weight restrictions, ziplining is a fantastic adventure activity suitable for all.
Many of these Colorado adventure companies also allow for a fun whitewater rafting trip and ziplining tour bundle. Which makes for an amazing day trip experience.
Explore the beauty of the Denver area with an exhilarating ziplining adventure in or around the city.
I hope this list helped you discover the best Denver zipline tours for your next outdoor Rocky Mountain adventure.