Denver to Salt Lake City Road Trip: 9 Best Stops On Your Drive via I-70
This website may contain affiliate links and we may be compensated (at no cost to you!).
It's no secret that Colorado has fantastic scenery across the state, which makes it very popular for day trips and road trips.
But the neighboring state of Utah also features epic landscapes, national parks, and one-of-a-kind road trip stops.
I recently made the drive from Denver to Salt Lake City and it was an experience I won't soon forget.
The 525-mile route along I-70 takes about 8 hours of driving but is well worth taking your time.
During my drive I made sure to take it all in, visiting National Parks, dining at local restaurants, and grabbing lots and lots of photos.
Here is what the drive was like for me, along with advice on how to plan your own road trip from Denver to Salt Lake City.
How long is the Denver to Salt Lake City drive?
There are several routes to take when going from Denver to Salt Lake City from Denver. The fastest route is about 519 miles when driving through Wyoming via I-80.
No offense to Wyoming, but I decided to take my time and do a three-day road trip through western Colorado and southeast Utah instead.
The majority of the drive was along beautiful I-70 which passes through Silverthorne, Glenwood Springs, and Grand Junction.
Just north of Moab I transferred onto Route 6 and took that the rest of the way to Salt Lake City.
What is the most scenic route from Denver to Salt Lake City?
Both routes to Salt Lake City via I-70 through Colorado or I-80 through Wyoming have stunning scenery the entire way.
Each direction has amazing places to explore along the way so you can take your time enjoying the beautiful views and roadside stops.
If you're looking for the fastest route from Denver to Salt Lake City via driving, then taking US-40 through the mountains is your best bet.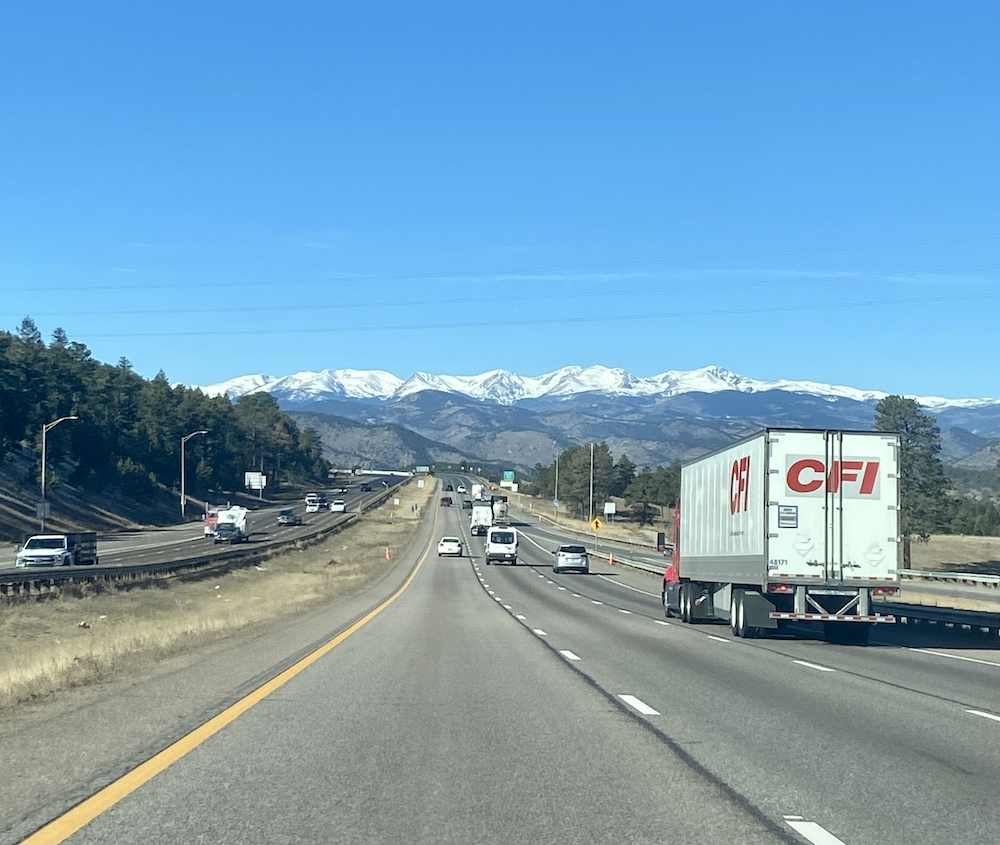 You can't really go wrong with any road trip direction, this is just the route I decided to take!
Driving for three days via I-70 can be a bit tiring, so I recommend stopping for a break every couple of hours. It's a good idea to stretch your legs, use the restroom, and grab a bite to eat along the way.
What are the best roadside stops in western Colorado?
Starting my journey from Denver to Salt Lake City I headed west on Interstate 70 towards the mountains. There are so many stops along the way it can be hard to choose which one.
Here are the best roadside stops in western Colorado, including many that I stopped at and explored.
1. Silverthorne, Colorado
A great, quick stop just an hour out of Denver is Silverthorne, Colorado. You can pull off at a scenic byway to admire the sparkling Dillon Reservoir with the mountain peaks in the background.
Or for a quick hike, checkout the Blue River Trail which is one of the most popular in the area.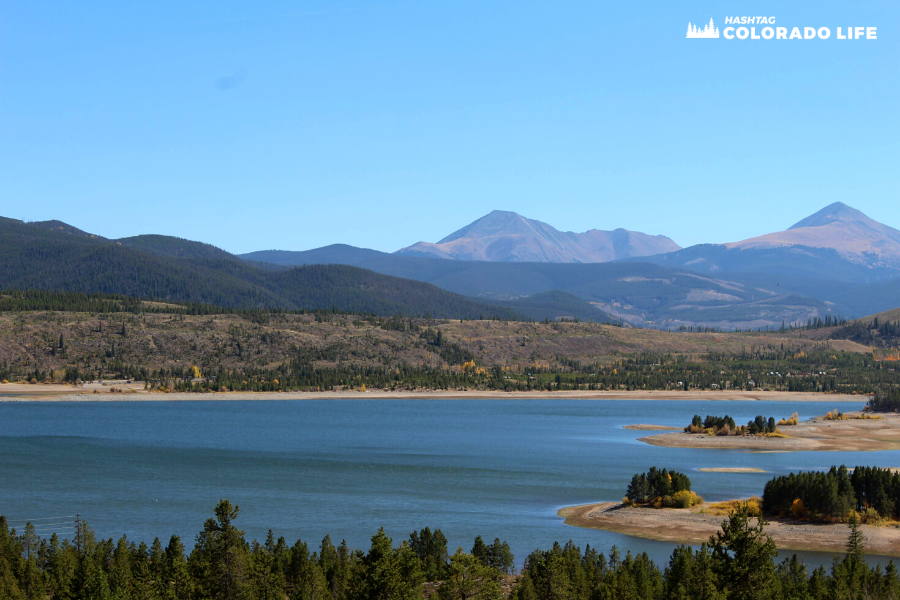 This trail connects many of the small mountain towns including Silverthorne to Dillon, Keystone, Frisco, and Breckenridge.
There is also some great shopping available at the Outlets at Silverthorne, in case you want to purchase something for someone special.
2. Vail
While Vail, Colorado is only a 2-hour drive from Denver it's worth a quick stop to take in the fresh mountain air.
While the city is known for some of the best skiing in the country, there are plenty of things to do in Vail in spring, summer or fall.
Vail is very scenic with great shops and places to eat for a yummy snack inside Vail Village.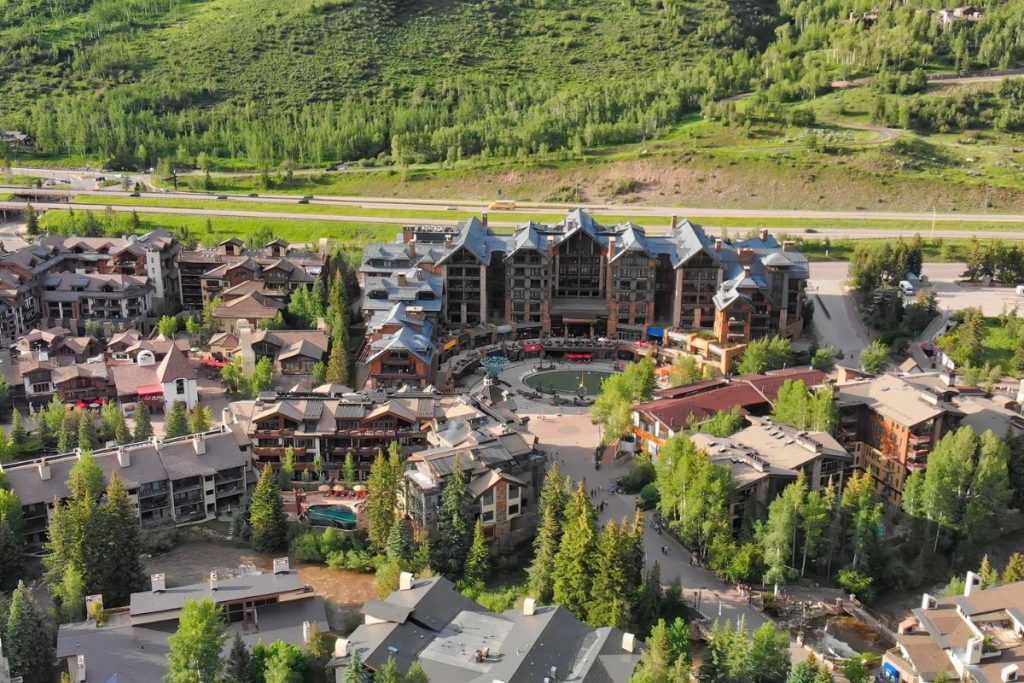 Stop for a nice walk inside the Betty Ford Alpine Gardens which is the highest elevated botanical garden in the world.
Enjoy a fun mid-morning or early afternoon hike at Piney Lake, one of the best hiking spots in the area. Or go for a quick ride on the Epic Discovery Gondola at Vail Ski Resort.
3. Breckenridge
While I didn't take the time to stop in Breckenridge this time, the small ski town is a local favorite. Simply drive through the historic downtown area to take a stroll along the Blue River Rec Path.
If you have some extra time, stop for lunch at Eric's Downstairs or Crepes A La Cart for some custom crepes you can take on the go.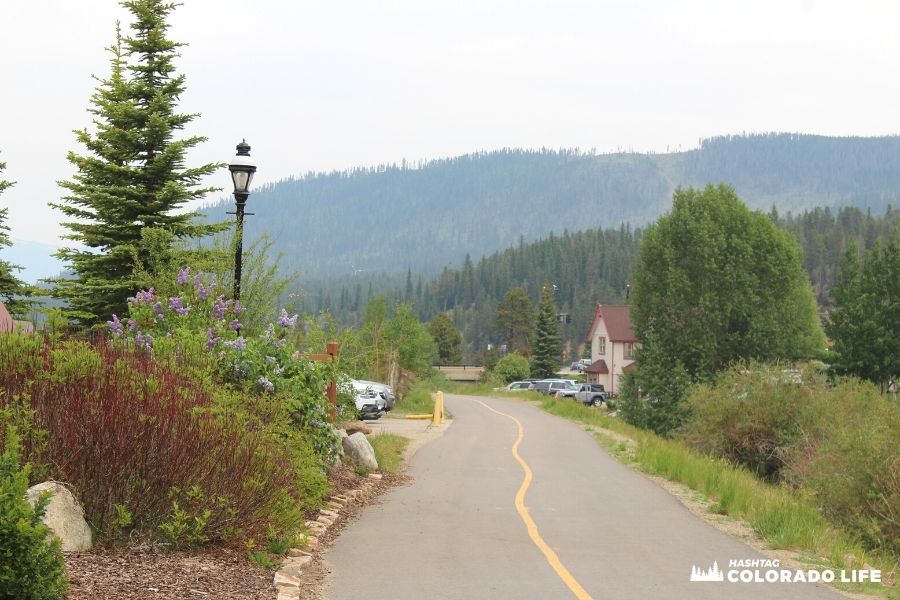 Or stop for a 15 minute hike to see the Breckenridge Troll, one of the only famous sculptures in America created by Danish artist Thomas Dambo.
There are so many awesome things to do in Breckenridge, it will be hard to choose where to go.
4. Glenwood Canyon
Two and a half hours from Denver is Glenwood Canyon, located near Glenwood Springs, Colorado. This road trip destination is a favorite of many locals and it's easy to see why.
As you wind through the canyon, you'll find there's a perfect spot to pull off and rest for a moment.
You can take in the view of Roaring Fork River and grab some photos. Then, use the clean restrooms, and— if you have a dog—take them for a short walk.
5. Grand Junction
During my drive from Denver to Salt Lake City, I stayed the night in Grand Junction, Colorado.
I received so many recommendations to visit this spot, and it definitely lived up to my expectations. The historic downtown offers plenty of shopping and dining.
And since I was there on a foggy, rainy day, I still got to have some fun without exploring the outdoors.
I randomly stumbled upon Tacoparty, and I am so glad I did. The legendary Guy Fieri visited this little restaurant in 2020 for Diners, Drive-Ins & Dives, so you know it's got to be good.
I bought the tacos that Guy ordered—Crispy Cauliflower & Hot Fried Chicken—and trust me when I say they were dynamite!
These tacos were honestly some of the best ones I've ever had. Definitely make time to stop here if you can.
6. Colorado National Monument
In the morning, once the fog had cleared, I made my way to the Colorado National Monument. This national park sprawls across 32 square miles, offering breathtaking views of canyons and rock formations.
Driving along the winding Monument Road took about an hour and a half to see the entire park.
I stopped off and walked Otto's Trail (which was only a 1-mile route) to get the best view of Independence Monument.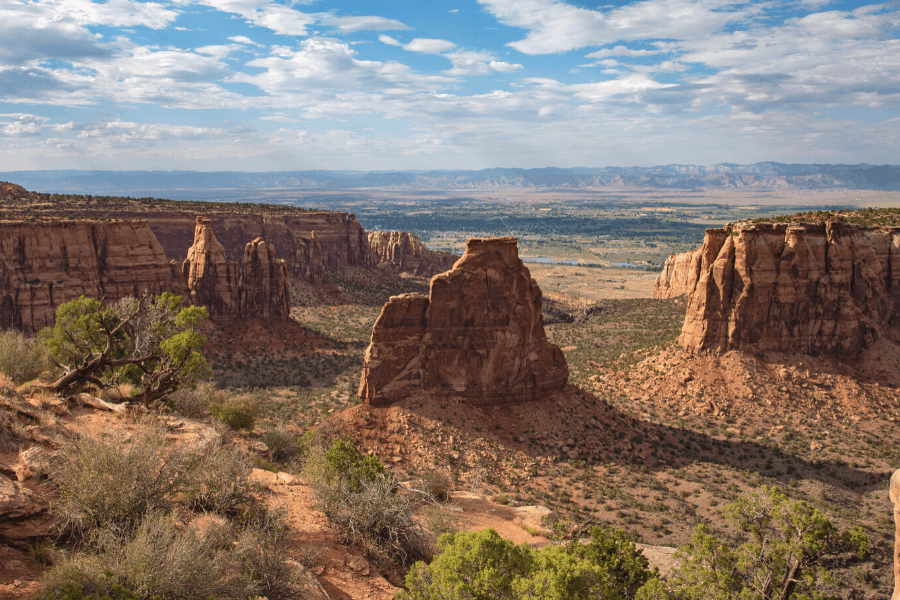 There are plenty of hiking trails throughout the park, with some even leading you down into the canyons.
But I was more than happy to enjoy the view from my drive along the switchback roads and through mountain tunnels. I challenge you to try not to stop every five seconds to pull over and take photos.
What are the top road trip destinations in southeast Utah?
Driving from Colorado into Utah, here are some of the top road trip destinations in the southeast part of the state.
7. Moab
Just over the Utah border is the popular city, Moab. The city is a hot spot for outdoor enthusiasts due to its proximity to state and national parks.
Some of the closest and most popular destinations being Arches National Park, Dead Horse Point State Park, and Canyonlands National Park.
8. Dead Horse Point State Park
I visited Dead Horse Point State Park at sunset, and I was in awe. The 40-minute drive out to the park was absolutely stunning, but the view from the overlook took my breath away.
I was able to see for miles and miles while admiring the Colorado River and surrounding Canyonlands as the sun set beyond the clouds.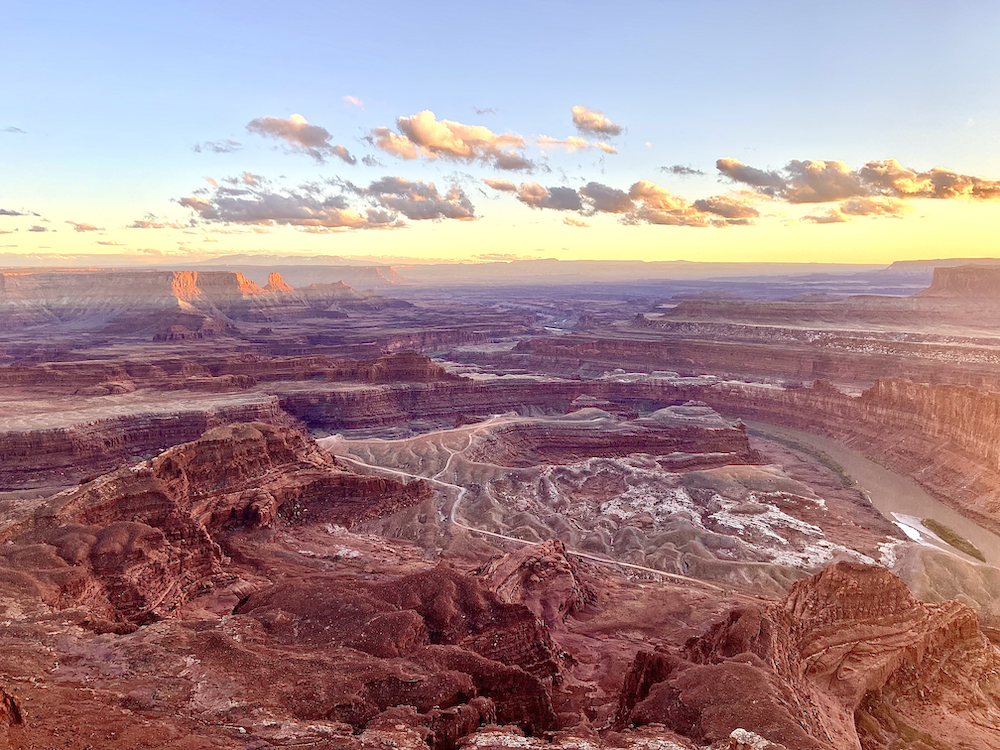 Bonus: If you've seen Thelma & Louise (1991), then you may recognize this Dead Horse Point State Park location from the final scene.
9. Arches National Park
The next morning, I woke up bright and early to catch the sunrise at the famous Delicate Arch in Arches National Park.
The 52-foot-tall natural arch—which you'll see all over Utah memorabilia, including its license plate—is a must-see for those visiting Moab.
To get to the famous location, take the 10-minute drive into Arches National Park. Then it's time to lace up your hiking boots and follow along the 3.2 mile Delicate Arch Trail.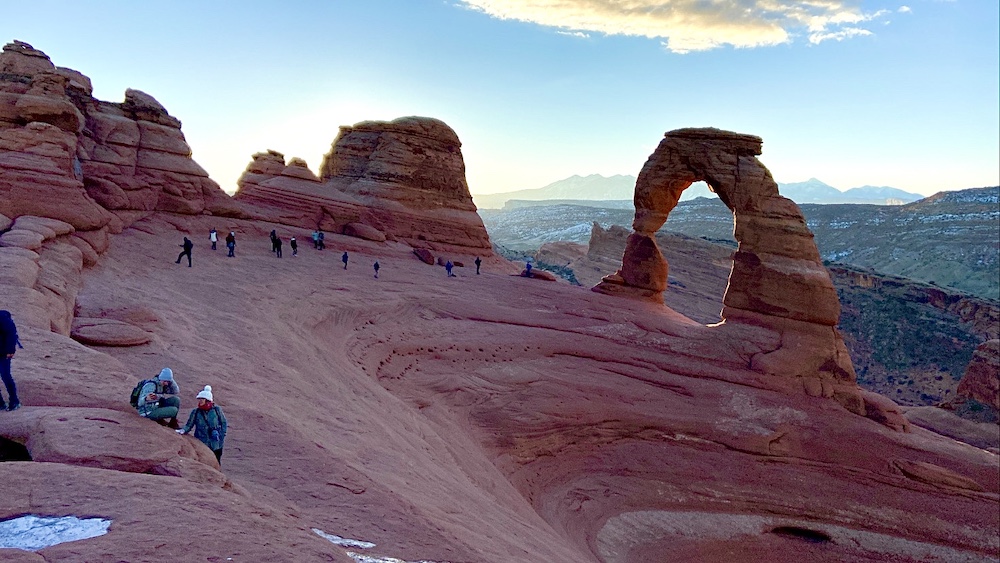 Don't let the moderate difficulty rating of this hike scare you away from doing it. I'm not an avid hiker, and I found it pretty easy!
Oh, and if you're going for a sunrise hike, make sure to bring a flashlight and extra layers.
The view from Delicate Arch is incredible. It sits near the middle of the national park, so you get 360-degree views of the red-rock wonderland all around you.
This site is the perfect depiction of Utah's state slogan, "Life Elevated." From Moab, it's only 234 more miles to Salt Lake City via several state highways.
The rest of the road trip is full of winding roads surrounded by towering mountains that you can practically reach out and touch.
When is the best time to drive from Denver to Salt Lake City?
Whether you drive straight to Salt Lake City in one day, or take your time to explore each stop, you can enjoy the journey any time of the year.
I would just be cautious during the summer and winter months, specifically, each for different reasons.
During the summer, you'll want to bring plenty of sunblock and water if you plan to do any hiking. Remember, you are traveling in the desert!
And during the winter, despite being in the desert, there is still plenty of snowfall.
I traveled from Denver to Salt Lake City in early November, and saw plenty of snow capped mountains and dustings of snow at the Colorado National Monument.
Thankfully, the roads were clear so I didn't have any difficulty driving. If there is snow or ice on the roads, it's important to be cautious.
It's better to take it nice and slow along the western, winding roads of Colorado and Utah during the colder months.
Whenever you choose to go on a road trip from Denver to Salt Lake City, I hope you enjoy your adventure!