by Ryan Nicholson
|
Last Updated:
July 1, 2021
The content of this website may contain affiliate links and we may be compensated (at no cost to you!). Thank you for your support!
Looking for things to do in Denver this weekend? As locals, we share our ideal 48-hour itinerary for exploring Colorado's capital.
We discuss the top Denver tours, things to do, and the best food to eat.
You will learn our favorite day-time activities and the best restaurants when exploring the Square State's largest metropolitan city.
Whether you're looking for a romantic night-time spot or a fun outing with kids, Denver has tons of options.
This is part of our 48 hours series, where we offer our best tips for exploring a single city in Colorado in just ONE weekend. Check out our 48 hours in Colorado Springs and 48 hours in Boulder episodes, too!
Living in Denver as locals
We first came to know Denver when we lived in the Aurora neighborhood in 2013. We lived there for about six months when we moved from Texas to Colorado for the summer.
I was born and raised in Colorado, so we wanted to be closer to family and a loved one who was going through surgery.
Since living in Boulder (and now in our current home in Colorado Springs), we continue to visit Denver often because there is so much to do and see!
We want to give a big shout-out to Alyce Blum (alyceblum.com) and my cousin, Donnie Flood (@donnieflood) for their awesome recommendations and help putting together this epic guide to a weekend in Denver!
iTunes | Google Play | Stitcher | Spotify
How to get to Denver
If you're visiting Denver from out of state, we recommend flying into the Denver International Airport.
As frequent flyers, DIA is one of our top airports to fly in and out of. And it has been rated one of the top-ranked airports in the U.S.
One thing to note is that the airport is actually pretty far away from downtown. So, once you fly in, you'll need to make arrangements to get into town.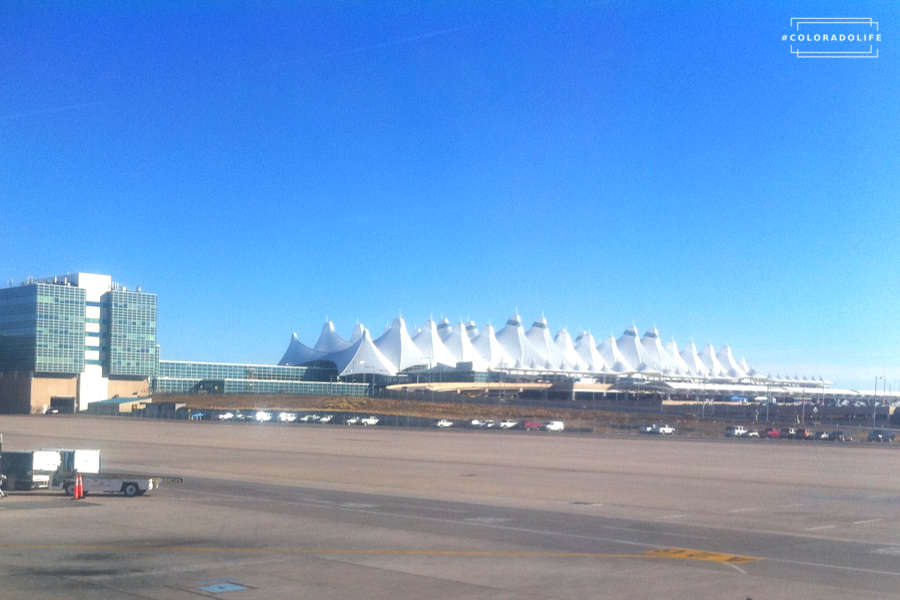 A-Line Commuter Train
Skip the notorious Denver traffic and save some money by taking the A Line Commuter Train from DIA to downtown's Denver Union Station. The ride takes about 37 minutes and costs $10.50 per person.
Taxi cab ride
Other options include taking a taxi cab ride, though be prepared for the added expense.
A one-way ride from the airport to the Cherry Creek Shopping Center (near downtown) typically costs about $70 plus a $5.02 airport access fee for each metered taxi trip.
Rideshare app
You can also grab a ride on your favorite rideshare app, including Uber and Lyft, among others. These options will be more affordable than a taxi ride, but are subject to traffic and high demand periods.
Where are the best places to stay in Denver?
Rather than giving you a list of specific hotel recommendations, we're sharing a few of the best neighborhoods to stay in when visiting Denver this weekend.
In such a big city, there are lots of different areas where you can stay, so you really can't go wrong. Just look for the neighborhood that offers the experience you're looking for.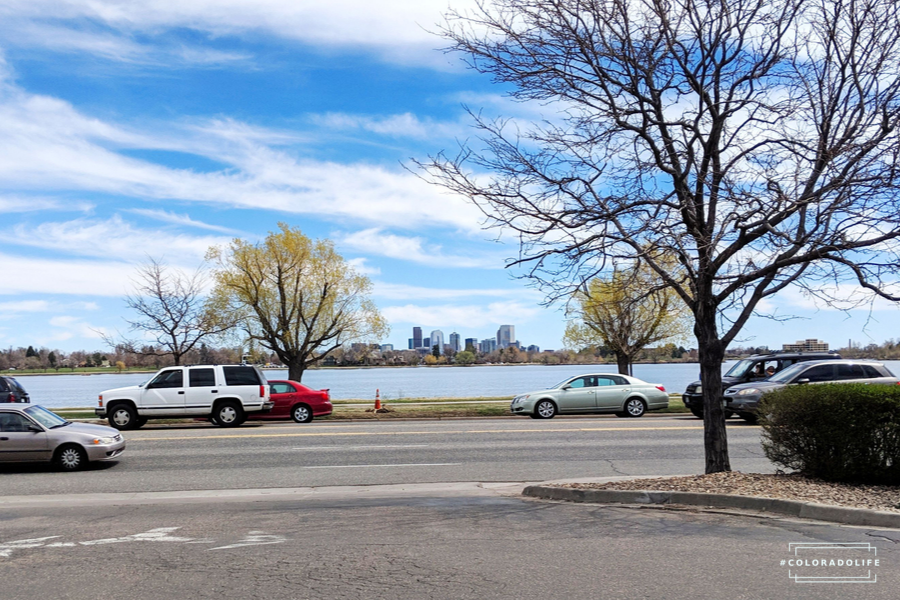 Highlands
As the name suggests, the Highlands neighborhood is on the west side of I-25 across from downtown Denver, and it overlooks the city and the mountains.
It's a hilly neighborhood with lots of views, lovely turn-of-the-century homes, small streets, and lots of quirky shops and restaurants. It's a quieter place to stay versus staying right in downtown.
Downtown Denver
On the other hand, if you love the bustle of a big city, you'll enjoy staying downtown!
You'll feel like you're right in the center of the city, and if you have an unusual craving late at night, you'll definitely be able to find it downtown!
Downtown you'll find lots of local restaurants as well as chains, and plenty of hotel options.
RiNo (River North Art District)
This neighborhood is an up-and-coming neighborhood that has really grown recently. It's got that artsy, kind of hipster vibe, and feels like uptown with its art murals and flea markets.
Here you won't find chain restaurants or big hotels, but you will find a growing community of coworking spaces! It's a great place to stay now, and we look forward to watching it continue to develop in the future.
Things to do in Denver this weekend
Note: When visiting Denver, Colorado (or any mountain town!) we highly recommend that you take it easy when you first arrive to acclimate to the high altitude.
Click here to learn more about what it's like to be living at altitude in Colorado.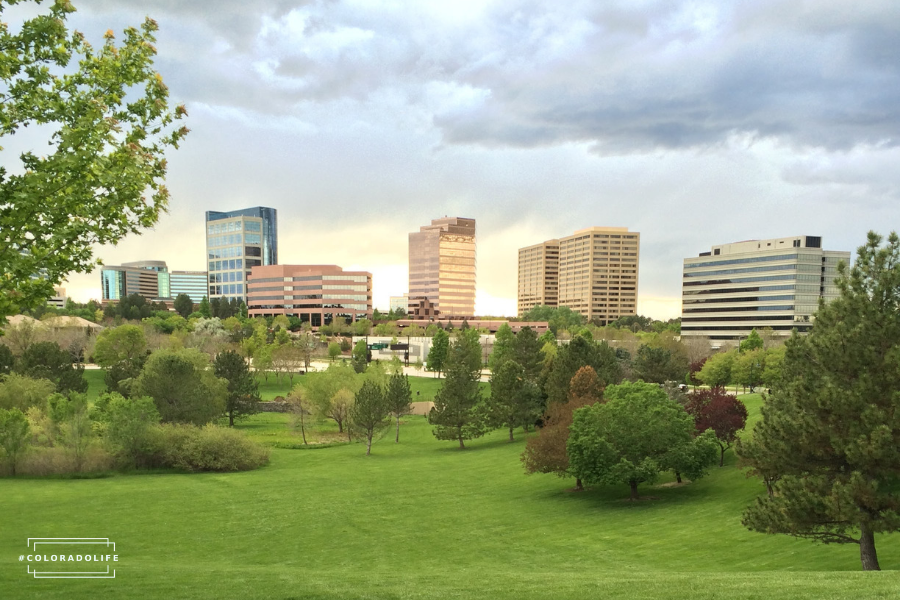 1. La Fillette Bakery
La Fillette Bakery is a French-inspired bakery on the east side of Denver. Opened in 2014, they make their own croissants and macaroons in-house and offer a seasonal menu of delicious pastries.
You'll even find their pastries available at other coffee shops around Denver.
2. Racines
A Denver favorite since 1983, Racines is great for breakfast, lunch, brunch, dinner, late night grub… any time of day! They have a huge menu and even have a totally separate menu of gluten free options if you ask.
Located between the Cherry Creek neighborhood and downtown Denver, Racines is on the way to many big attractions around the Denver area.
3. Snooze Eatery
No Denver breakfast restaurant list would be complete without mentioning Snooze Eatery! Now with multiple locations around Colorado and the U.S., Snooze's first location was in Denver.
We recommend the pineapple upside down pancakes (which are almost always on the menu), but be sure to ask about their seasonal options too!
And the hollandaise sauce is always delicious — which is the hallmark of any good breakfast place!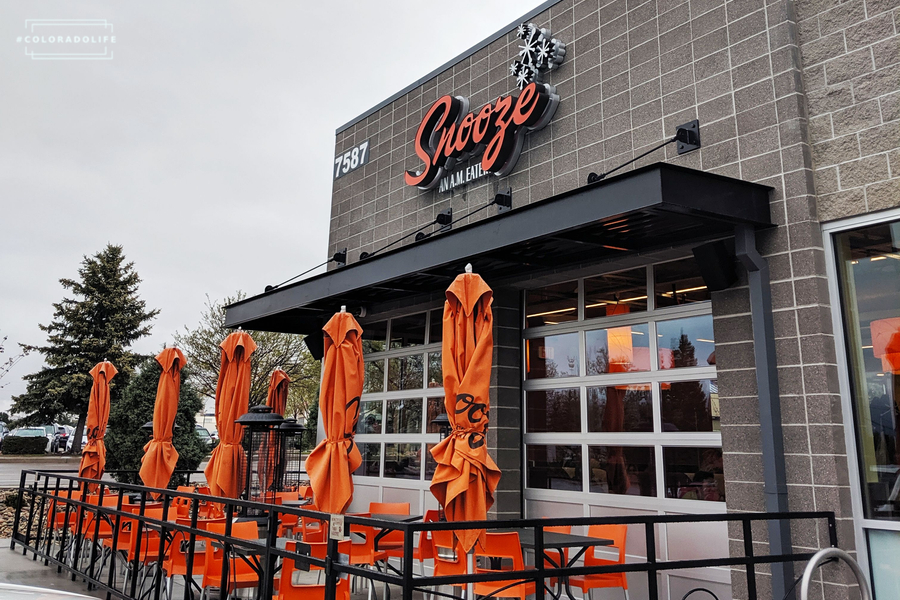 If you're ready to burn off some of those breakfast calories (or, maybe not!) there are plenty of fun things to do in Denver!
4. Rent an electric scooter
A great way to get around the city without too much exertion is to ride an electric scooter!
There are plenty of services that let you rent scooters around Denver, including Jump (by Uber), Lyft, and Lime. Remember to use a helmet and keep off the sidewalks while riding around.
5. Play around at Archery Games Denver
If you're looking for a family-friendly and fun place in Denver, check out Archery Games.
Get ready for action-packed archery games or battle it out over dodgeball.
Don't worry, you'll be using safe bows and foam-tipped arrows so it's fun for the whole family.
This activity is perfect for birthdays, special events, team building, or just for fun anytime!
The recommended age for most of the games is 10 years old and up. But if you have younger kids, they offer Nerf Wars on Sundays for ages 6 and up.
To learn more or book your next game, check out the Archery Games Denver website.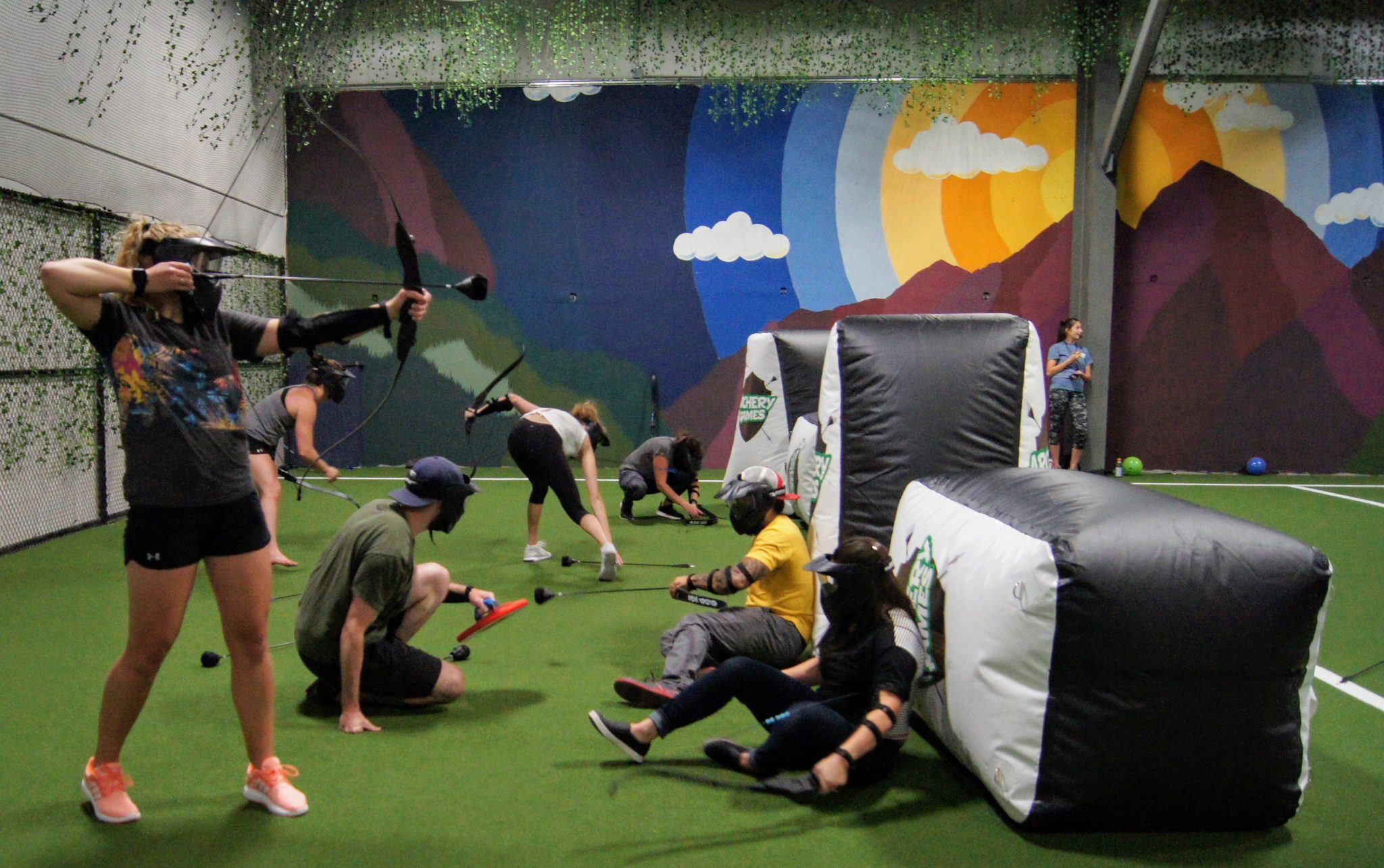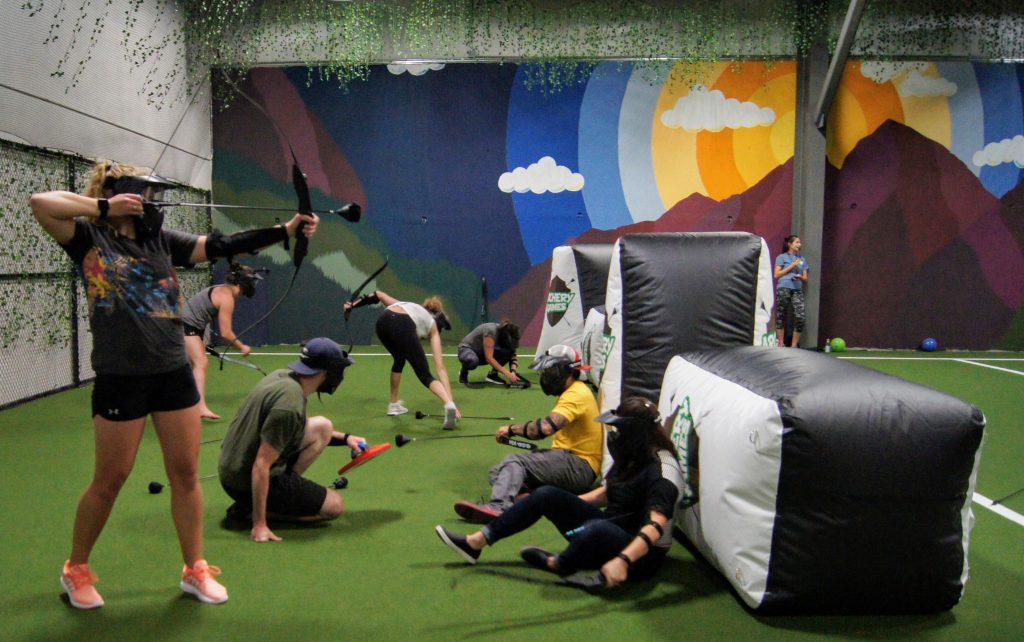 6. Walk around Sloan's Lake
If you're looking for romantic things to do in Denver, we recommend taking a leisurely walk around Sloan Lake.
It's located in the middle of the city in the Highlands neighborhood.
It's a flat trail around the lake that overlooks the city, so not too strenuous if you are filled too full of pancakes!
And the best part is that visiting Sloan's Lake is completely free. Parking is free and all of the activities you can explore nearby are free to use.
There are lots of geese at Sloan's Lake, so be aware if you're not a bird lover.
7. Hike Red Rocks Amphitheater
The Red Rocks Amphitheater is not precisely "in" Denver, but it's known as a Denver place and is a very cool site to see.
It's a naturally occurring amphitheater, and though they have added seats to make this a popular concert venue, it's still a pretty place to visit.
Even if you don't have a ticket to a concert, you can visit the amphitheater during the day time and take a walk around.
8. The Denver Milk Market
Check out the Denver Milk Market! This market-like atmosphere brings together an all-local mix of restaurants and bars run by Colorado chef Frank Bonanno.
The market is just a few blocks from Union Station, and has an artsy feel with the cool 3D art installations along the walls and sidewalks.
You'll notice a milk theme throughout the market (which takes up a whole city block!) because in the early 1900s, there was a large dairy located there.
9. Uncle Ramen
Some of our friends from out of state will visit Denver just to visit Uncle Ramen!
With two locations in Denver, you'll find ramen and other Asian flavors featuring local, Colorado ingredients.
They describe themselves as a small, no brow neighborhood restaurant, but believe us, they take their ramen very seriously.
10. Denver Zoo
We love visiting zoos on our travels. And one of our favorite zoos in the U.S. is the Denver Zoo.
This zoo has animals from everywhere around the world and stretches over 80 acres.
It was first founded in 1896 and was the first zoo in the United States to create naturalistic enclosures (not bars and cage).
It's still a wonderful zoo and we love visiting whenever we're in town.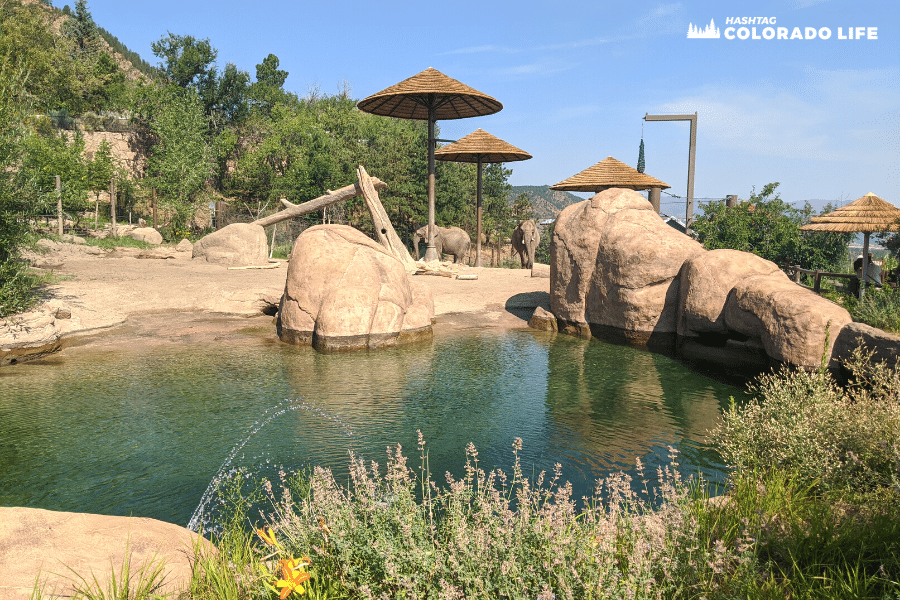 11. Brother's BBQ
Colorado has a pretty big meat and game scene, and we always enjoy a good barbecue place! At the top of our list is Brother's BBQ.
Started by two brothers (who were raised as vegetarians!), Brother's BBQ offers a wide variety of sauces to try. We love the Burnt Ends, but you've got to come quick! They go fast.
12. Moe's Original Bar B Que
We also enjoy Moe's Original BBQ for great barbecue! Not to be confused with Moe's Bagels (mentioned earlier), Moe's Bar B Que has locations in Denver and Boulder.
They offer great southern soul food and serve up Alabama-style pit barbeque — their smoked turkey is truly delicious!
13. City Park
Head over to City Park and take a walk around the lakes. City Park is a great spot for a picnic, a casual stroll, or a tour through the many attractions located in the park.
You can also access the Denver Zoo and the Denver Museum of Nature and Science from the park!
14. The Denver Museum of Nature and Science
Also accessible from City Park is the Denver Museum of Nature and Science.
The museum gained notoriety in the 1920s after the discovery of the Folsom points in Folsom, New Mexico.
This discovery proved that humans lived in North American 10,000 years ago — much earlier than previously thought.
Since then, the museum has continued to be at the forefront of archeological discovery, and now has many exhibits and an IMAX theater.
15. Teatulia Tea and Coffee Bar
After your tour around City Park, the zoo, or the museum, you may need a little afternoon pick-me-up from Teatulia Tea and Coffee Bar.
In addition to your standard teas and coffees, try one of their yummy tea sodas. Tea sodas are carbonated teas, and they are made and produced right here in Denver.
They come in many fruit flavors and are an unexpected twist on your usual teas!
For your first night in Denver, we have plenty of delicious dinner recommendations to share.
16. Bamboo Sushi
We seriously love Bamboo Sushi not only because it's delicious — and it is! But we like that everything is sustainably caught, humanely raised and naturally grown.
They take a unique take on everything they serve, and the vibe is definitely a bit "chefy."
Many of their combinations are original, and the servers will come out to explain, in depth, what it is that you're eating on each plate served.
One of our favorite things about Bamboo Sushi is that you can come in with a budget and the chef will bring out a custom tasting platter to fit your budget.
If you're not that into seafood, you might enjoy the Wagyu Burger as an alternative!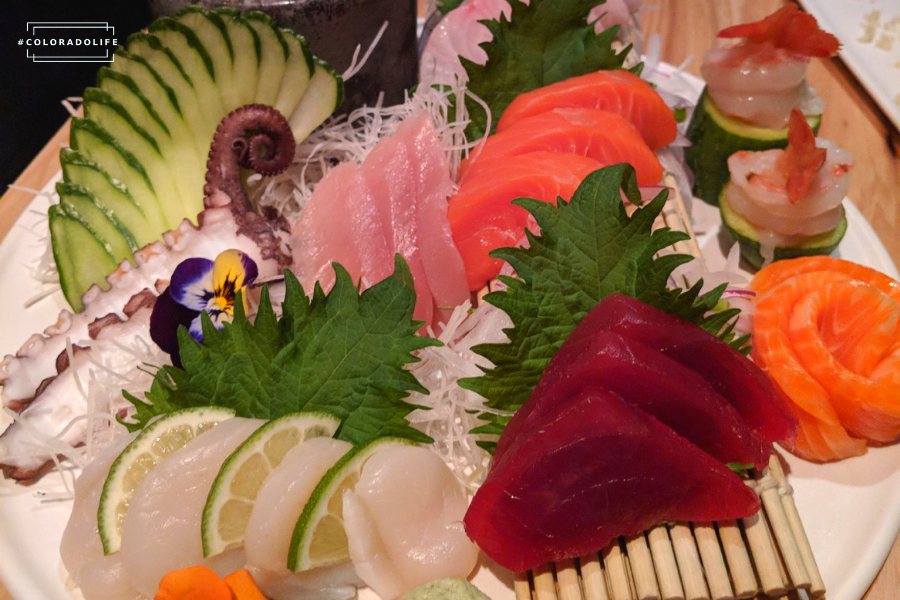 17. Hop Alley
A sister restaurant to Uncle Ramen, we love the relaxed and fun atmosphere at Hop Alley!
You'll find a nice selection of Chinese inspired dishes that are pretty high end but still with a casual vibe.
18. Monaco Inn
Monaco Inn has served Denver with homemade Greek food for over 30 years. We recommend the Greek lemon chicken, the avgolemono soup, and the Greek potatoes.
They are best known for their Greek food, but they also serve Mexican and American flavors too.
19. D Bar Denver
If you've just finished dinner, there's no better place to end the night than at D Bar Denver. You really can't go wrong!
D stands for dessert, and though they now serve dinner, we enjoy going to D Bar for their outstanding desserts.
We love their Milk and Cookies and their seasonal options.
Right now they are serving the Beach, Please! special which has coconut tapioca, passion fruit curd, mango pineapple chutney and lime yogurt sorbet.
20. Live Jazz music
If you're wrapping up a fun day in Denver, a great way to wind down the evening is with a cocktail and live music.
There's plenty of live jazz music playing throughout Denver, so take a look and see who is playing and where to catch a show.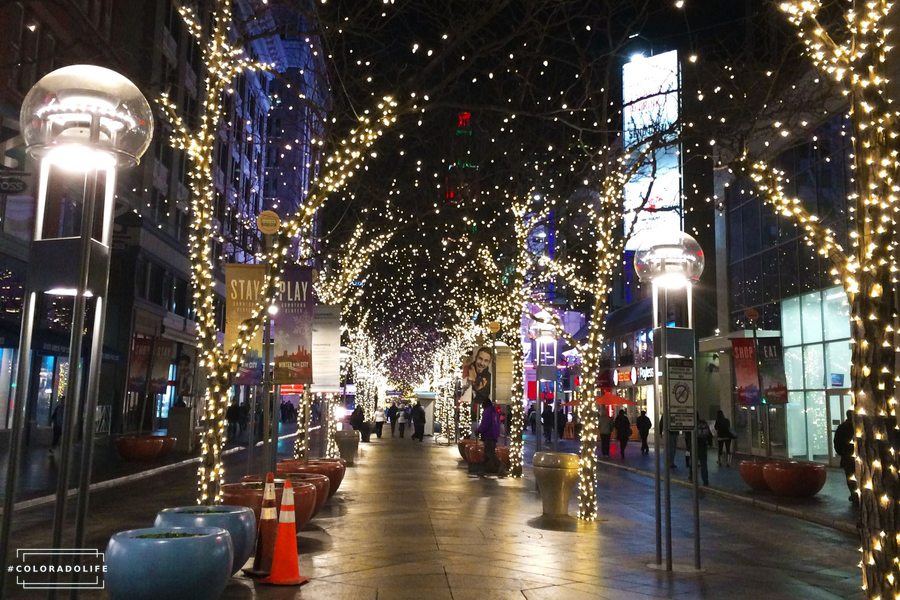 21. Nightlife in the Dairy Block
In downtown Denver, the Dairy Block is a thriving micro-district with 15 shops, 19 restaurants, and 7 bars and a luxury hotel.
There's always something cool happening in the evening, and it's a fun place to wander and explore.
22. Visit 16th Street Mall
If you're staying downtown, go on a walking tour of 16th Street Mall. It's an open air mall so go for a stroll or catch a ride on the free shuttle.
The mall is a great place to spend the evening even if you're just window shopping.
There's a piano and people will often be playing at night.
Our favorite store in the mall is UNIQLO. We can only describe it as the Ikea of clothing!
UNIQLO is a Japanese brand that sells very nice winter gear at really affordable prices, including some high-tech fabrics like heat-generating or moisture-wicking fabrics.
And while you're hanging out at the mall, stop into Moe's Bagel. They make their own cream cheese (which is delicious!) and serve 20 bagel varieties.
23. The Crawford Hotel at Union Station
Originally opened in 1881, Denver Union Station is one of Denver's most important historical landmarks.
And when you stay at the Crawford Hotel, you can stay in the station.
The Union Station building is one of the most beautiful buildings downtown, and there are some pretty sweet perks to staying at the Crawford.
Did someone say priority seating at Snooze Eatery?
24. Denver Biscuit Company
For day 2 of your Denver itinerary, we highly recommend hitting up the Denver Biscuit Company. It started out as a food truck on Colfax Avenue and now has multiple locations in Colorado.
You really can't go wrong with their biscuits and gravy or a biscuit sandwich. They are over the top delicious!
Our favorite is the giant cinnamon roll (you can even add bacon).
25. Pigtrain Coffee
Located inside Union Station, Pigtrain Coffee is named for the trains that carry truck trailers on flatbed rail cars.
They serve up locally roasted coffees (as well as coffee cocktails). If you're staying at the Crawford Hotel, you'll get the full visit experience.
26. Wooden Spoon Cafe & Bakery
Family-run and French-inspired Wooden Spoon Cafe & Bakery offers seasonal pastries and delicious brunch options.
Although their emphasis is on breakfast and lunch sandwiches, they have a rotating menu of fresh breakfast and dessert pastries, coffee, and tea.
Get in early because they do sell out.
27. Amethyst Coffee
We love the welcoming and accepting environment at Amethyst Coffee. With two locations in Denver, a great vibe, and great coffee, Amethyst Coffee is the perfect place for conversation!
They have created a space where anyone can feel safe, seen, and heard, and it's worth a stop to grab a cup.
If you didn't check out the Denver Zoo yesterday, the morning a great time to visit. Get there early to beat the crowds and see demonstrations or keeper talks with the zookeepers.
28. Denver Botanic Gardens
The Denver Botanic Gardens are a real oasis within the city and definitely worth a visit.
While they can be pretty busy, the botanic gardens are so beautiful.
Around the edge of the gardens are many apartment buildings, so it's a really unique experience.
It must be great to live somewhere with such a great view of these beautiful gardens!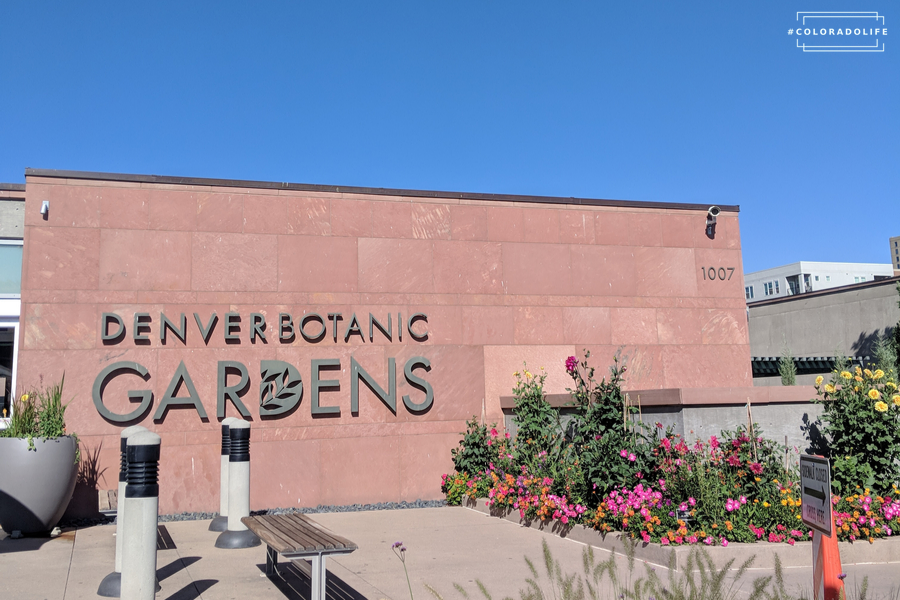 29. The Denver Mint
There are three mints for the U.S. Treasury where our dollars and coins are manufactured, and one of them is located here in Denver!
The Denver Mint offers free tours to see how our money gets made.
Visitors will learn about the history of the United States Mint and how coins are produced for the American public.
After the free tour, stop by the gift shop to check out the unique memorabilia for sale.
You can learn about money without spending any money!
30. Avanti Food and Bev
Avanti Food and Beverage is an awesome place for a variety of food. It's a collective eatery, so it's like going to a bunch of food trucks.
You'll get to sample foods from a rotating group of restaurants as they test their concepts.
Our current recommendations are Bistro Georgette (they have the best sugar chocolate chip cookie ever!) and Quickfish Poke Bar.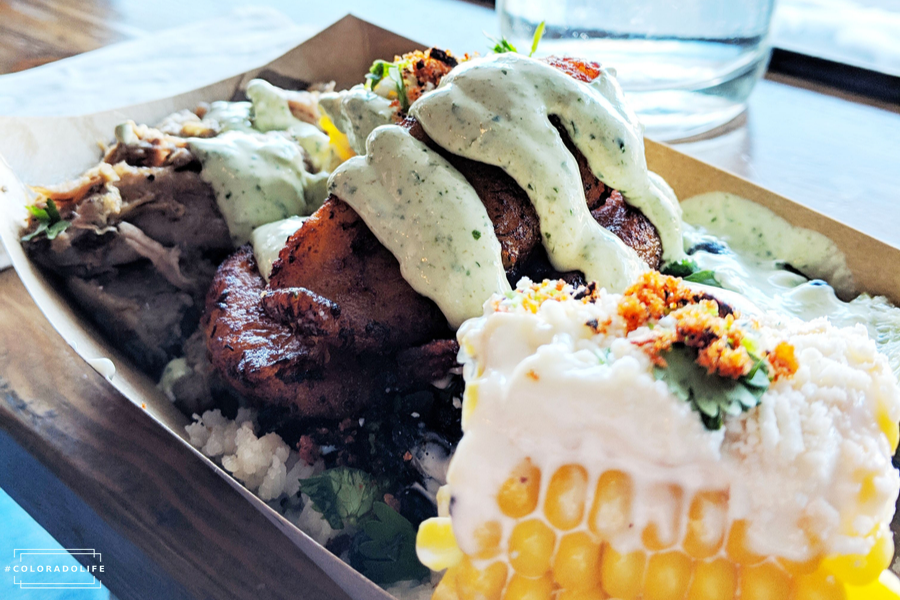 31. Hops and Pie
For a classic lunch of beer and pizza, we love Hops and Pie!
It's a little more upscale, and serves local beer and delicious handmade pizzas, salads, sandwiches, and shareable appetizers.
32. Blue Pan Pizza
At Blue Pan Pizza, they serve up Detroit style pizzas in blue pan dishes imported from Detroit.
With locations in the West Highlands and the Congress Park neighborhood in Denver, you can grab an award-winning slice of New York style, Chicago style, or classic Italian pizza.
We've been several times and have never been disappointed.
33. Larimer Square
If you're not sure what you're in the mood for, you can always take a walk around Larimer Square!
Larimer Square is Denver's oldest and most historic block, and has some of the best restaurants in Denver! It was even featured on season 15 of Top Chef.
Just take a look around and walk in. You really can't go wrong!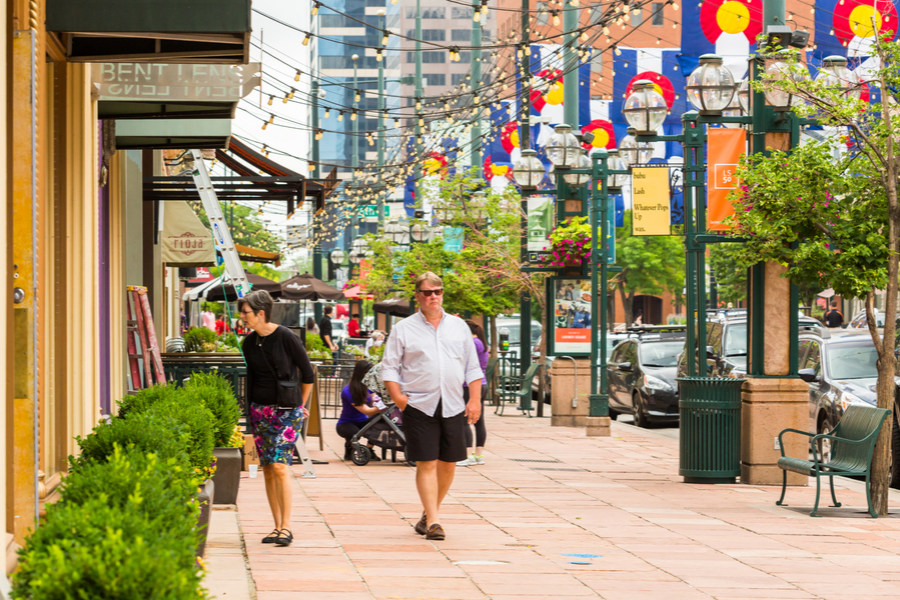 34. Denver Art Museum
No trip to Denver is complete without a stop at the Denver Art Museum.
The building itself is a work of art — it was designed so that no walls would meet at straight or right angles.
This museum is ideal for adults and families, with lots of rotating exhibits.
If you're visiting on a weekend, come to an artist demonstration in the Hamilton building!
35. New Saigon
Voted the best Vietnamese restaurant in Denver, New Saigon has been serving up authentic, delicious Vietnamese food since 1987.
If you're a foodie, there's plenty to explore! You'll find meat options like lamb, duck, and lobster.
If you want more exotic flavors, you'll find squid, frog legs, and snails.
36. Art District on Santa Fe
The Art District on Santa Fe is one of Colorado's designated Creative Districts. It features more than 30 art galleries, studios and businesses.
The neighborhood's traditionally Hispanic roots are on display in the many colorful murals and art installations.
On the first Friday of each month, tour the art from hundreds of artists in galleries, studios, co-ops, upstairs, downstairs, in alleys, on the street… everywhere!
37. Steuben's
For delicious, classic American food you've got to try Steuben's! We enjoy the mac and cheese, Nashville hot fried chicken and meatloaf.
The owner is originally from Boston, and the restaurant is named after one opened in 1945 by the owner's great uncles.
Back in the day, Steuben's was the center of the dining and nightlife scene through the 1960's and hosted big band, jazz and swing groups.
Today's Steuben's has a very Rat Pack vibe, though you'll find Kombucha and house-made black cherry soda on the menu!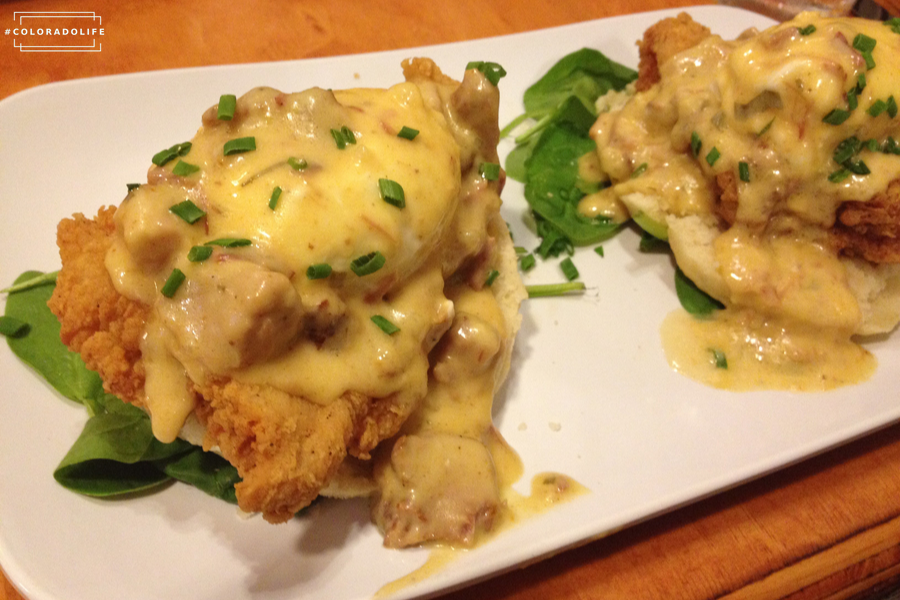 38. Root Down
We haven't forgotten to include a vegetarian option on this list! Root Down is best known for their veggie-burger sliders, as well as carrot and Thai red curry soup.
At Root Down, they cater to all dietary restrictions including vegetarian, vegan, raw, and gluten-free.
And if you have an allergy or intolerance, just notify your server to make sure your food is prepared safely for you!
39. Saint Ellie Cocktail Bar
For after dinner drinks and small plates, we love Saint Ellie Cocktail Bar!
Saint Ellie offers seasonal cocktails with names like "I Don't Trust You Phyllis" and "The Loneliest Monk" and a selection of wine and beer on tap.
40. Enjoy a local sports game
If you're a sports fan, grab tickets to a game! Denver is host to three professional sports teams.
The Colorado Rockies, our Major League Baseball team
The Denver Broncos, our National Football League football team
The Colorado Avalanche, our National Hockey League ice hockey team
41. Sweet Cow Ice Cream
Your visit to Denver will not be complete without a scoop of ice cream from Sweet Cow Ice Cream.
We mention Sweet Cow in almost every podcast episode, but that's because it's just so delicious! It's one of the most recommended things by anyone who visits or lives in Denver.
They offer a rotating menu of flavors, usually including a flavor inspired by a breakfast cereal. Try the hot fudge in dark chocolate and a waffle cone!
———
We hope you enjoyed these fun tours through Denver, Colorado to help plan your weekend adventure!
If you're planning a visit, we would love to hear about the favorites you find on your travels. Hit us up on Instagram @hashtagcoloradolife.
Ryan Nicholson is a homegrown born and raised Colorado native. Being a rare unicorn to have grown up in CO, he has a unique perspective on the changes here and knows all the hidden spots to get outside in this state. Ryan's a classically French trained chef so he LOVES to try new foods and places to eat. When he's not experimenting in the kitchen or working as a personal chef along the Front Range, he loves to get outdoors and away from it all hiking, camping and backpacking.