Our RVshare Review: 8 Insider Tips for How Renting an RV Online Works
This website may contain affiliate links and we may be compensated (at no cost to you!).
Thinking about renting an RV? Using an RV to travel and see new places is an exciting experience.
But the process of renting an RV can be overwhelming if you're doing it for the first time.
This is why we believe that RVshare is one of the top RV rental companies out there!
Here is our personal experience and review of renting an RV with RVshare in Colorado.
We take a look at everything from using the website to book your RV, what the insurance policies are, additional or hidden costs, and what to expect when picking up and dropping off your RV.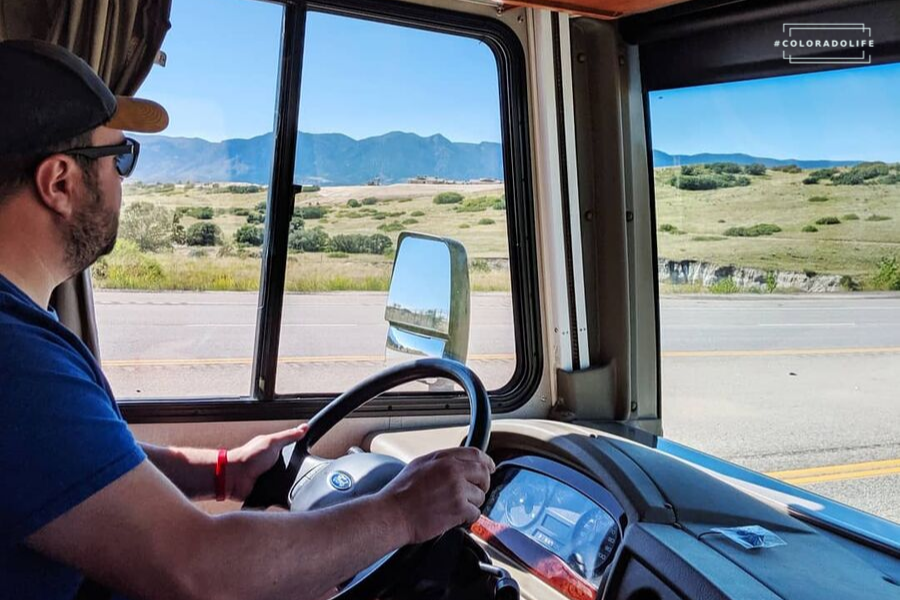 Note: We worked with RVshare.com in exchange for a free two-night RV rental package. Customer support was very responsive and helpful throughout our entire trip (and afterwards!). We highly recommend them!
What is RVshare?
RVshare is the first ever service and website to connect RV owners to RV renters, known as peer-to-peer RV rentals.
It all started in 2012 when one of the co-founders, Mark and his wife, bought an RV to go around the country for their honeymoon.
They loved the freedom it gave them to see different locations in a whole new way.
After coming back home they quickly realized that their new RV was just sitting around, unused for most of the year.
They considered renting it out as a way to make some extra money to cover the costs of owning the RV, while also making good use of it.
At this time though, there wasn't any type of peer-to-peer RV rental platform available.That's how RVshare.com was born!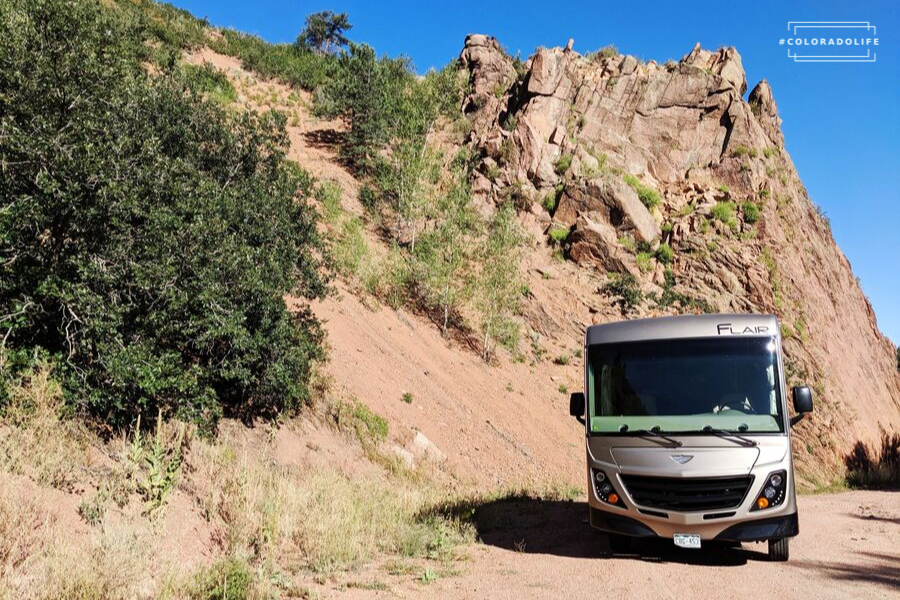 How does RVshare work?
RVshare is the first online resource for RV bookings. Think of it like AirBnB for RV rentals!
Anyone who owns an RV can list their RV for rent on RVshare's website and start making extra money.
Find the perfect RV rental by inputting your location and pick up / drop off dates. Once you hit the "search" button you can view the results by price, type of RV, location, and more.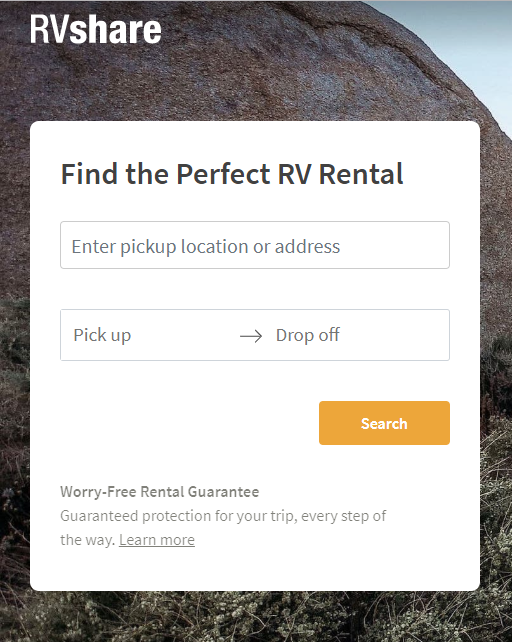 You will have the option to go through many different types of RVs that are available for renting in your area.
Once you've narrowed it down to the one you want to rent, you can move forward with the booking process (explained more below).
Watch the video below to get an idea of how RVshare works.
You can also read the reviews about other RVers who have used RVshare on TrustPilot, a third-party company.
Renting an RV with RVshare
Before booking an RV with RVshare, there are some requirements you have to fulfill. Nothing too major, but something to be aware of.
You must be at least 25 years old to book and drive an RV. In some cases, an owner will require you to be 26 or 28 years old, so double check this before booking.
You will also be required to pass a DMV check, have a valid driver's license, and have at least 3 years of driving history.
The DMV check is painless and automated. It's nothing you have to worry about unless it reveals these red flags:
A suspended license
A recent DUI
Two negligent collisions in the past 12 months
Two 20 mph speeding tickets in the past 12 months
You'll go through the DMV verification process once you book your first RV. Or you can create a renter's profile on RVshare ahead of time while you look through the listings.
1. Search through RV listings
RVshare offers a wide variety of RV listings to choose from. There are lots of great options!
You can book from a private owner who has one RV, or even a small business owner who has a fleet of RVs.
The types of RVs you can rent on RVshare include:
Class A motorhomes
Class C motorhomes
Campervans
Travel Trailers
Fifth Wheels
Popup Campers
Teardrop Trailers
And lots more
After reading the information and looking at the pictures in several RV listings, we found our top 3 choices for RVs to rent in the Colorado Springs area.
We confirmed the dates we wanted to rent the RV and requested to book online.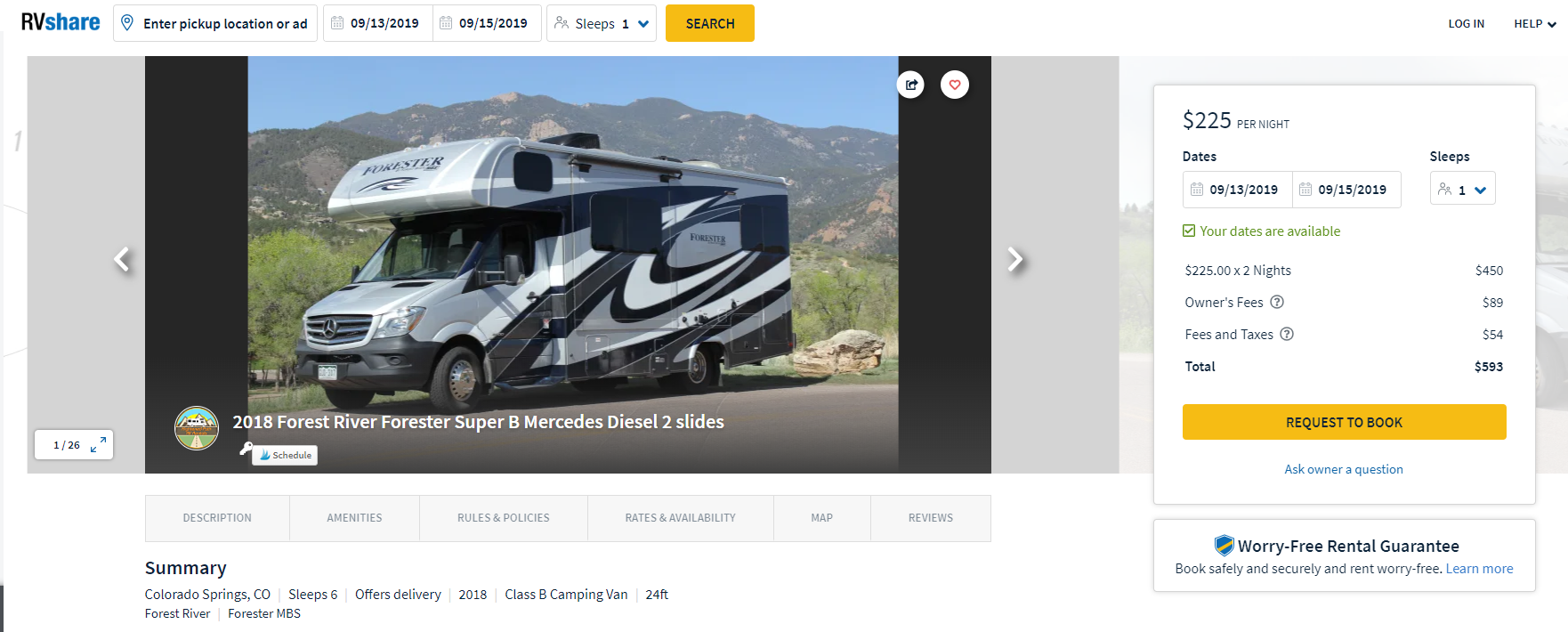 Some RV owners will have a feature enabled on RVshare called "Instant Book."
This means your reservation request will be booked instantly, versus going through the application process to see if the RV is indeed available.
Note: When searching through the RV listings we noticed that some of the prices changed once we finalized the exact dates with the RV owner. The original price advertised was $185 per night, but when we "requested to book" the price went up to $225 per night.
2. Begin your booking online
The booking process is reasonably quick and straightforward. The first step requires you to input your first and last name, email address, and phone number.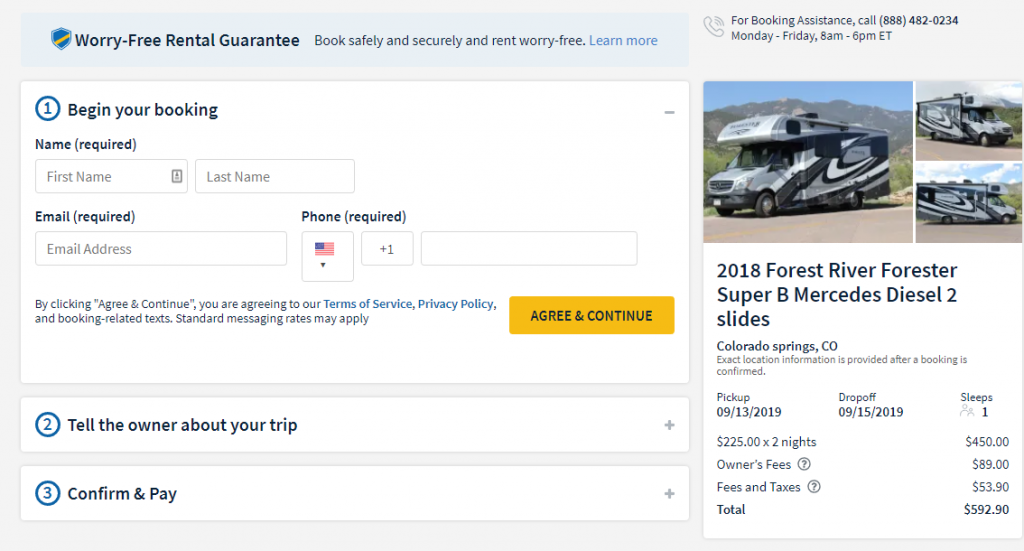 3. Tell the owner about your trip
The next step is all about your destination! Tell the owner about yourself, any guests, your reason for the trip, whatever!
The more information you share, the better.
Remember, you are renting from someone who owns an RV and they want to know you'll handle their vehicle with care.
This step is also where you can select optional upgrades for renting your RV.
Some upgrades include what RVshare calls the "Easy Living Package," which is where you can pay an additional fee to have the water dumped, tanks refilled, and the inside of the RV cleaned upon your return.
The RV owners will do this for you so you don't have to do it, but it can get pricey. The RV owner who we rented from charged an additional $400 for the "Easy Living Package."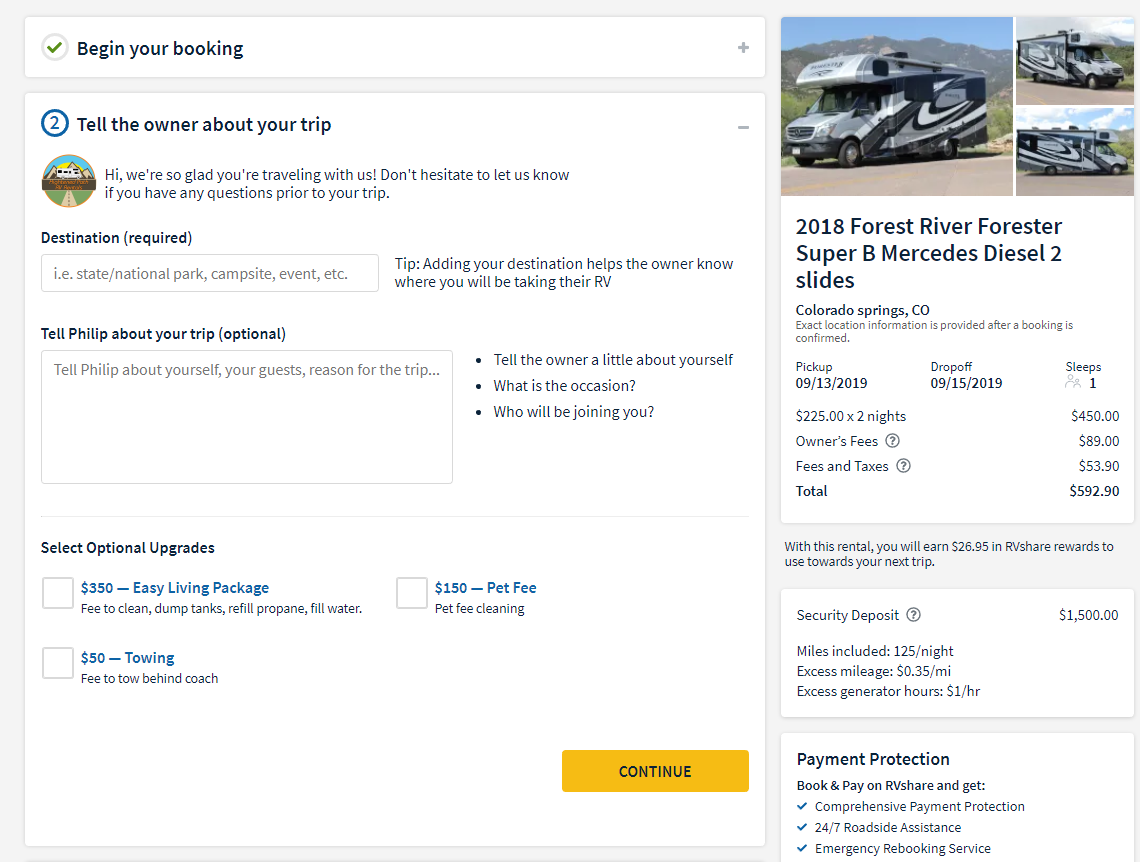 4. Confirm and pay
After filling in your personal information and details of your trip, the final step is to confirm and pay for the RV booking.
You will input your credit card number and billing address to process payment.
On this page you'll also see details of the cancellation policy. Be sure to read the Terms of Service and policies very closely before booking your RV.
Each owner will have different fees and options, so take your time to read carefully.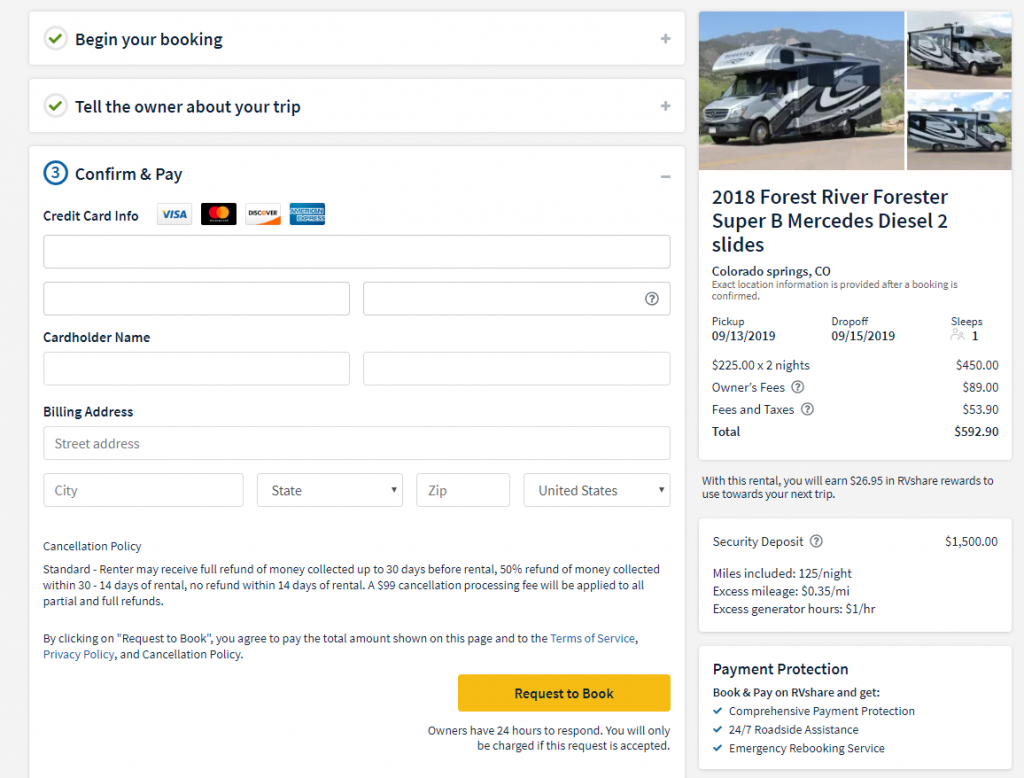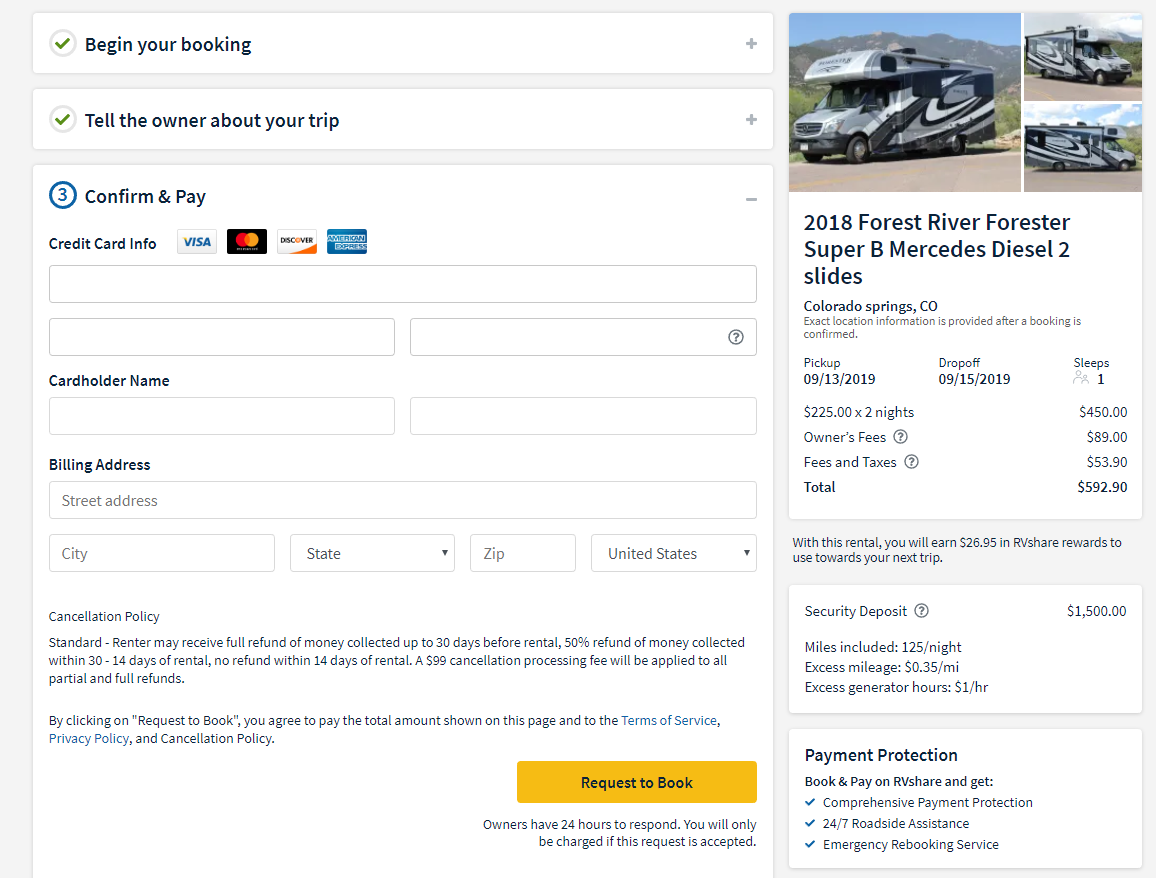 Note: After inquiring about the first option and going through the booking process, we found out that the RV we wanted to rent was unavailable. We went with our second option for renting an RV.
5. Use the RVshare dashboard
Before the location of the RV is disclosed, you'll be taken to dashboard to verify your identity.
The RVshare dashboard is where you interact with RV owners, review any documents, and input information into your profile.
This is what other RV owners will see when you "request to book" their RV, so make it count!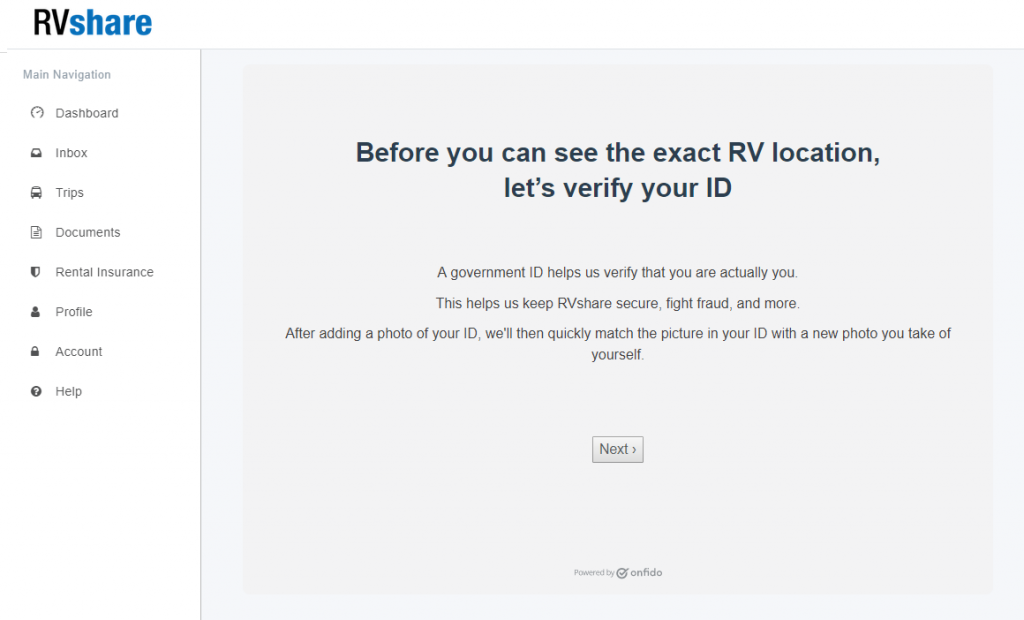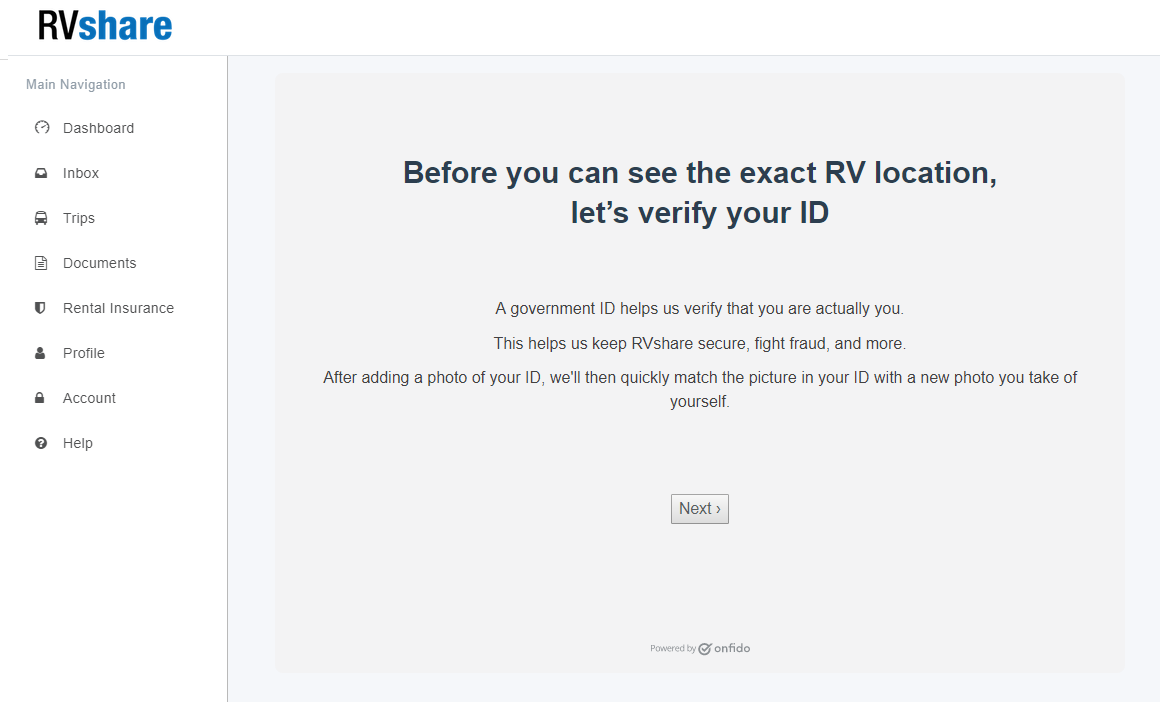 6. Verify your information
If this is your first time booking on RVshare, you'll have to go through the ID verification process.
According to RVshare, "A government ID helps us verify that you are actually you. This helps us keep RVshare secure, fight fraud, and more.
After adding a photo of your ID, we'll then quickly match the picture in your ID with a new photo you take of yourself."
You can choose to verify your identity by using either a passport or driver's license. It's quick and easy to upload this information by securely taking a picture from your mobile phone.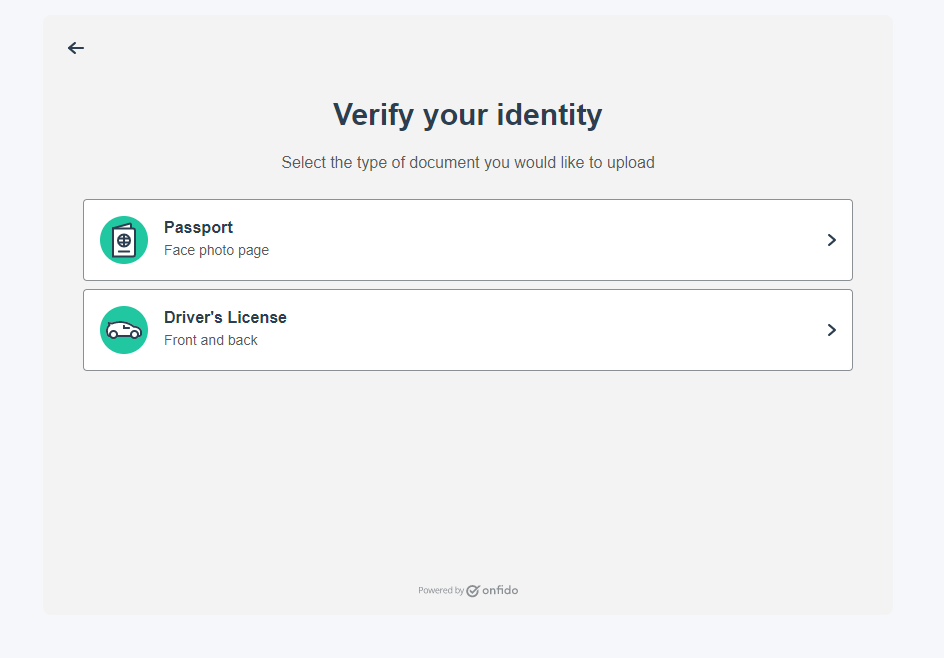 The rest of the verification process will be done via your mobile phone. RVshare will send a secure link to your mobile phone (no app needed).
Then, they'll walk through the steps of taking photos for verification and you can return to the computer to finish the process.
That's it.
It may take a few minutes for your account to be reviewed and verified. Once this is complete, you'll receive an email confirmation from RVshare.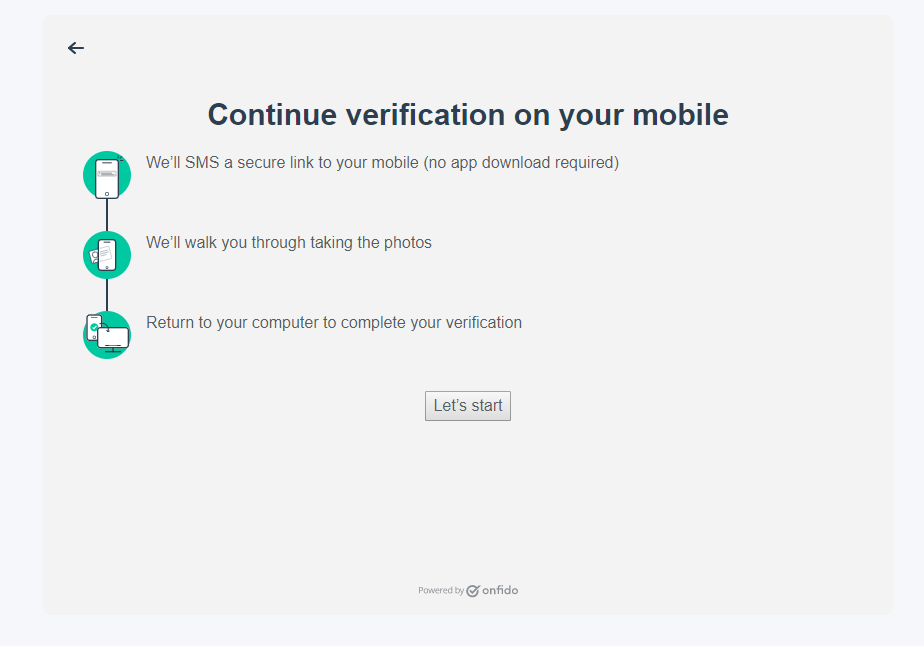 7. Fill in your profile dashboard info
As mentioned, the dashboard is where you will have the entire history of your RV rentals and all of your RV information.
You will also use the Inbox inside the dashboard to communicate with RV owners and secure your bookings.
Some of the information to fill in here is:
A personal photo of you
Date of birth
Where you live
Bio or personal description (aka why you love RVing!)
If you would like to reach out to RVshare support, the dashboard has a place where you can do this as well.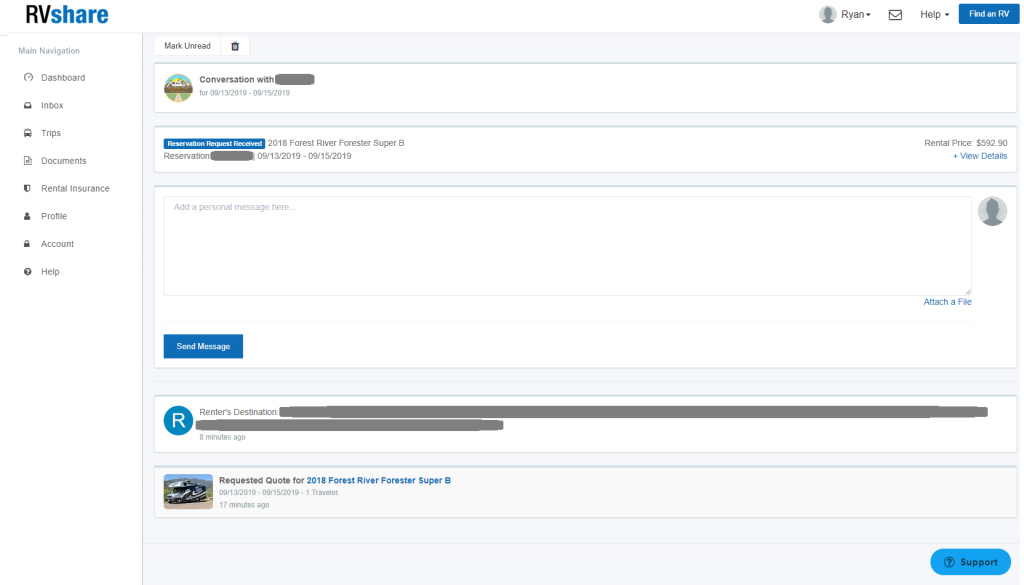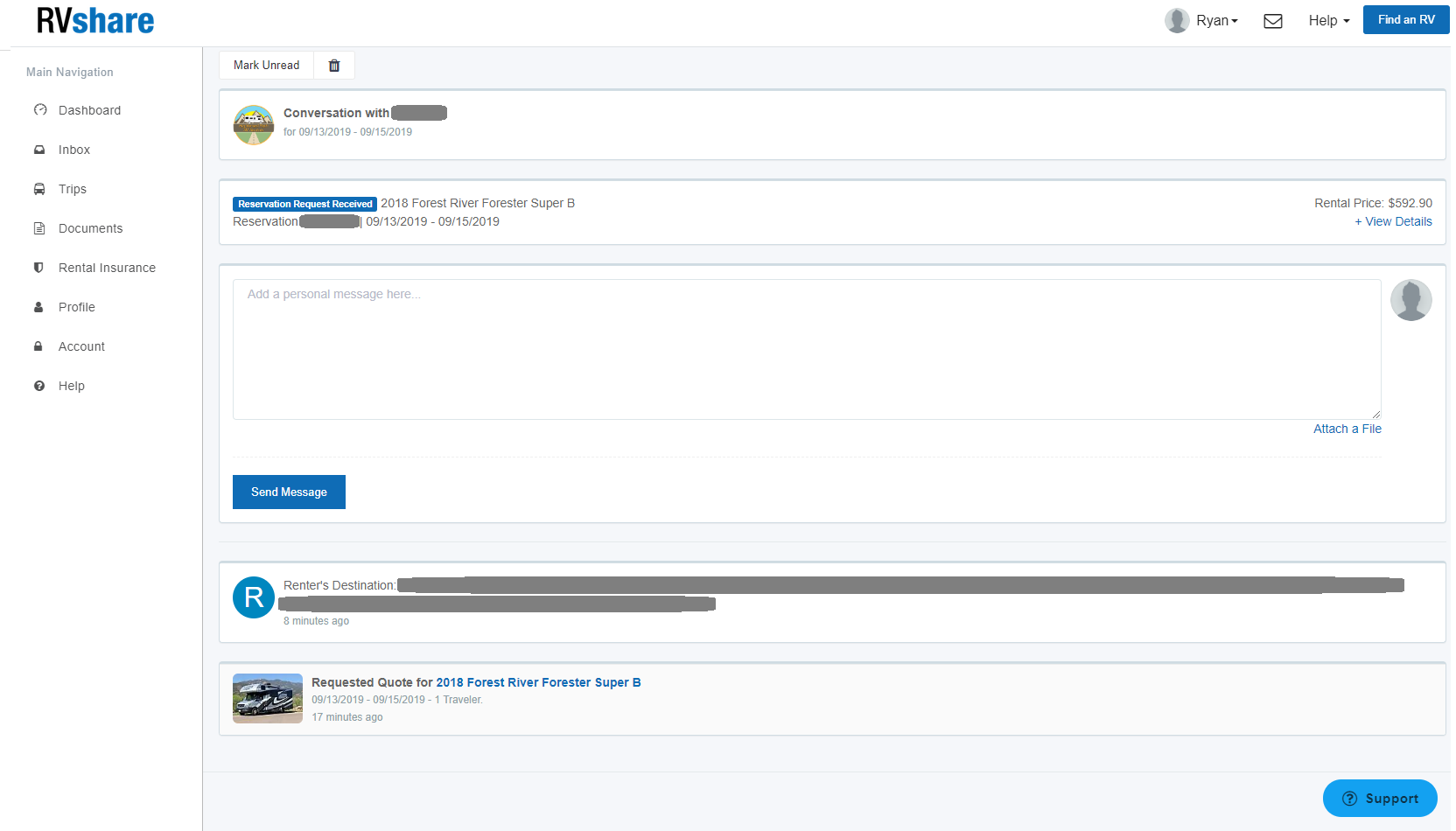 8. Wait for the owner's confirmation
After you've requested to book with RVshare and received verification of your identity, it may take the RV owner about 24 hours to review your application and respond. (Unless you booked using the "Instant Book" feature.)
We received a reply from the RV owner around noon the next day.
Note: It's important to correspond with the owner inside RVshare's dashboard and pay using the RVshare platform.
Taking the conversation off the platform is not recommended, or should only be done once confirmation has been made by both parties.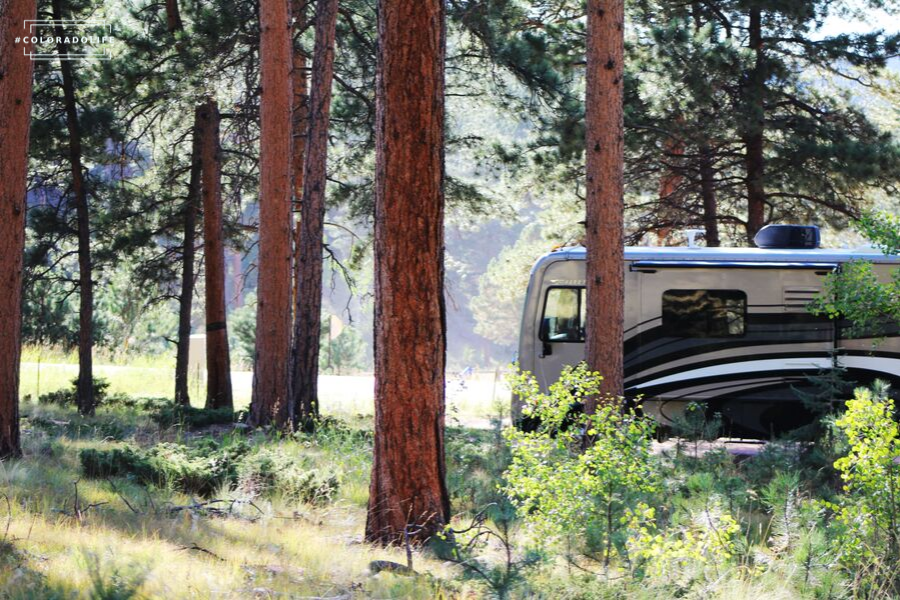 What's included in the cost of your RV rental?
Every RV you rent using RVshare.com comes with awesome perks! It's what RVshare calls "Worry-Free Rental Protection."
Here are the main things that are included in the cost of your RV rental.
Payment protection
When you book and pay on RVshare you get Comprehensive Payment Protection. This ensures that when the RV owner and renter exchange money, everything is protected against fraud.
If something goes wrong with your payment, as the renter RVshare will refund you.
Fraud screenings
Every account on RVshare's website is verified. Their support team performs fraud checks so you can be confident that your transaction is safe and secure.
24/7 emergency roadside assistance
If you need help while on the road, RVshare's 24/7 emergency roadside assistance is there to help.
If you need a towing service, tire replacement, or have issues with your battery, or get locked out the RV, this service is standing by to help you.
Emergency rebooking service
A cancellation at the last minute can happen as life can sometimes throw curveballs.
If this happens, RVshare's support team is there to help you find and book a similar RV so you can still enjoy your travel experience.
Cancellation policy coverage
As the RV renter you are covered in the event of a cancellation. As long as you adhere to the cancellation policy, you may receive the following:
A full refund of money collected up to 30 days before rental
50% refund of money collected within 30-14 days of rental
No refund within 14 days of rental
Also, it's important to know that a $99 cancellation processing fee will be applied to all partial and full refunds.
Damage deposit protection
This perk actually came in pretty handy for us since the RV owner filed a $175 damage claim on the RV we rented.
RVshare's support team reached out to us to confirm the claim, and assisted with mediating the dispute.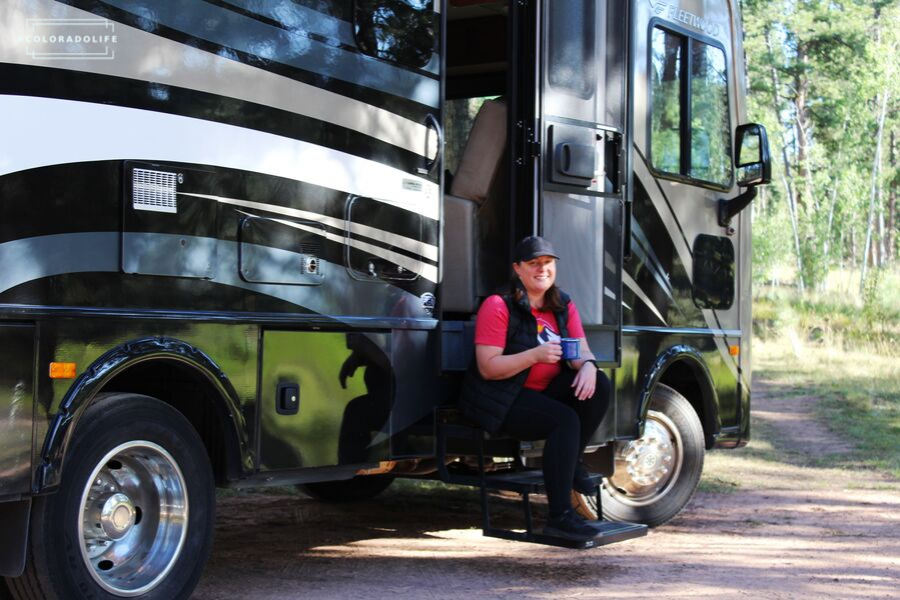 How much does RVshare cost?
Aside from the "per night" rate, which is listed on every RV booking page, there are additional costs as an RV renter.
It's important to note that each of these fees will vary widely from RV owner to RV owner. Some owners won't charge them at all while others will charge all of them!
Basic rates can also change with the weather or time of year, and may be listed as:
Base rate
Winter rate
Fall rate
RV rental insurance
According to RVshare's website, "when a renter books a reservation through a listing that has active RVshare Rental Insurance, the insurance cost is automatically included in the rental quote."
If an RV owner has the RVshare Rental Insurance activated, you as the renter are provided with collision and comprehensive coverage with a $1,500 deductible.
And you will receive a certificate of insurance from the RV owner.
The deductible is taken from your security deposit in the event of an insurance claim. RV renters are covered in all 50 states in the U.S. as well as Canada.
What is the cost of RV rental insurance? This cost is calculated using a daily rate that is based on the type, length, and stated value of the RV.
The pricing for RVshare insurance is pretty straightforward.
For RV trailers that are 35 feet or less you'll pay:
$10 per day if the RV value is $0-10,000
$18 per day if the RV value is $10,000-$34,999
$23 per day if the RV value is $35,000+
For RV trailers that are more than 35 feet you'll pay:
$16 per day if the RV value is $0-10,000
$24 per day if the RV value is $10,000-$34,999
$29 per day if the RV value is $35,000+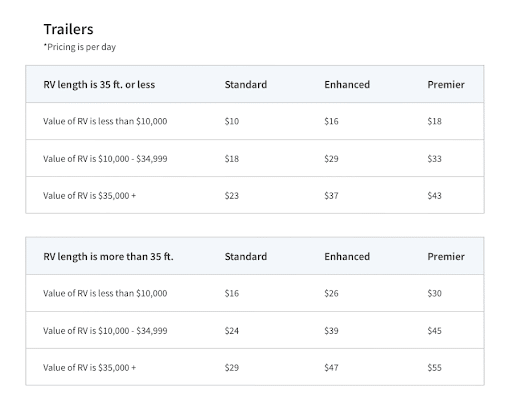 For Motorhomes that are 35 feet or less you'll pay:
$20 per day if the Motorhome value is $0-25,000
$30 per day if the Motorhome value is $25,000-$99,999
$40 per day if the Motorhome value is $100,000+
For Motorhomes that are more than 35 feet you'll pay:
$26 per day if the Motorhome value is $0-25,000
$36 per day if the Motorhome value is $25,000-$99,999
$46 per day if the Motorhome value is $100,000+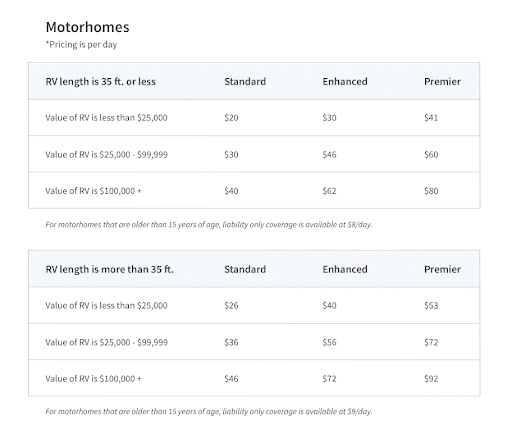 The RV that we ended up renting was a Class C motorhome and cost us $30 for insurance per day for a total of 3 days. This came out to costing and additional $90 on top of the RV rental night price.
Note: The RV insurance payment is processed separately from the rental payment. But you'll only be charged once you have submitted the digital rental agreement and the reservation is within 30 days of the start date.
Security deposit for damages
Every RV owner will list a certain amount for the refundable security deposit. Usually this is anywhere from $500-2,000 depending on the size of the RV.
A hold will be placed on your card for 48 hours prior to RV pickup and released after RV return, minus any damage charges.
Excess mileage usage
Most RV owners will include a certain amount of mileage on the RV within the booking price. In our case we could drive 250 miles before being charged any excess mileage usage fees.
Be sure to check this when you book so you can allot for the correct number of miles and not incur this additional charge.
Generator usage
If the RV comes with a generator, the owner may charge a fee for usage. The listings we looked at showed charges anywhere from $1-3 per hour of using the generator.
Clean up and dump fees
As mentioned above, the major part of the extra fees you have to pay when renting an RV are with clean up and dump fees.
Some owners break down the charges for cleaning the inside and outside of the RV, dumping black and gray tanks, as well as refilling the propane and water tanks.
RVshare does offer an "Easy Living Package" which is a full service clean up option that includes a fee to clean everything, dump tanks, and refill the tanks.
This will be in addition to your rental fee and insurance costs.
If you bring a pet along, there may also be a pet cleaning fee.
Towing fees
If you intend on towing your car behind a motorhome, there may be an additional towing fee. Each owner charges a different amount, but during our experience the towing fee was a flat $25.
Availability minimum
When looking through the listing of RVs be sure to check the minimum availability for the RV.
One RV that we were looking to rent had a minimum requirement of at least 4 nights, which didn't work for our weekend plans.
Questions to ask the RV owner
RVshare.com makes it easy to communicate with the RV owner throughout the booking process. Take advantage of this!
The RV owner will understand the quirks of the RV and can give you some much-needed tips.
This will also help make sure that you take good care of the RV and potentially avoid any fees that might come up.
Here are some suggested questions to ask an RV owner when picking up your RV:
Does the RV have GPS?
Is there a backup camera or additional mirrors to help with turning and backing up?
Does the RV come with towels, sheets, plates, silverware, and pillows?
What is the average cost to fill up the RV? Does it need special gas?
How many miles per gallon does the RV get?
Does the RV have air conditioner or heat?
Our RVshare review wrap up
Would we use RVshare again? The short answer is YES.
Renting our first RV was a very big learning experience. We already own a NuCamp Teardrop trailer but have been wondering if it makes sense to get a bigger RV for extended trips.
For now, we will enjoy the low maintenance that camping in our teardrop trailer brings.
We will also continue using RVshare to rent different types of RVs with our family and friends.
Colorado is one of the best states to rent an RV and there are tons of great RV owners to rent from on RVshare in the area!