3 Scenic Amtrak Routes in Colorado to See Gorgeous Sights
The content of this website may contain affiliate links and we may be compensated (at no cost to you!). Thank you for your support!
Colorado's railway system is both practical and scenic. From ghost towns to abandoned mines and old railroads, the state is full of history.
Today, these historic routes help fuel the growth of the Centennial State from transporting goods and supplies to offering tourism. 
And thanks to these scenic Amtrak routes, Colorado's train rides are some of the best in the country.
Whether you're looking to see Colorado's most famous mountains, have a relaxing day in a natural hot spring, or enjoy a day on the ski slopes, there is something for everyone.
Get ready to experience some of Colorado's railroad history with the modern amenities of today and technologies.
You can check ticket fares, routes, and schedules with Omio: an Amtrak's partner.
Here are three of the most scenic Amtrak routes in Colorado that you just can't miss.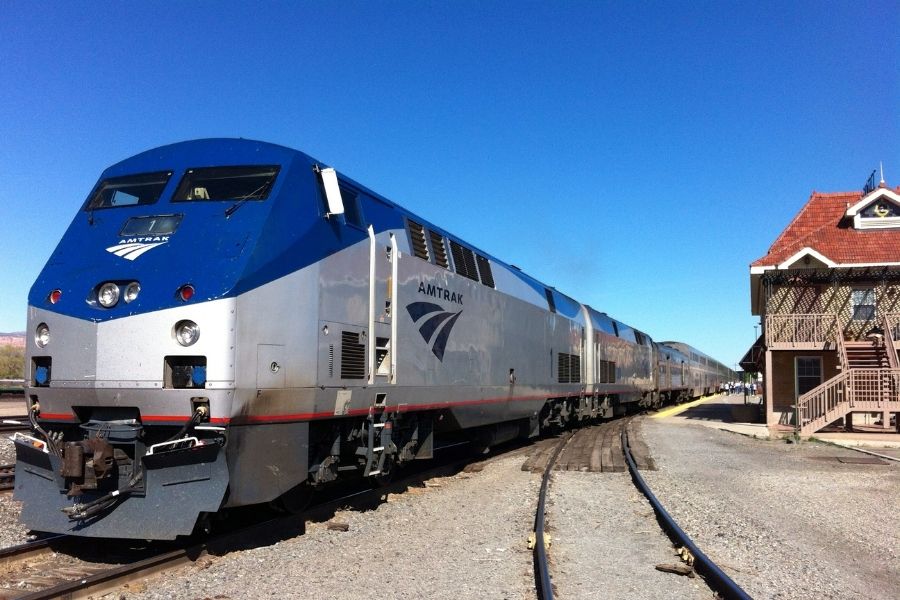 1. California Zephyr
The California Zephyr runs across the country between Chicago and San Francisco, passing through the iconic Rocky Mountains.
Thanks to the unforgettable sights, this scenic Amtrak route is often noted as the most beautiful train ride in North America.
The main part of this journey are the gorgeous views you'll experience from the Sightseer Lounge inside the train.
As you ride through the Colorado Rockies you'll pass through lush green valleys, high mountain passages, and over dramatic peaks.
The Zephyr then continues across the iconic Continental Divide onto the sandy deserts of Utah.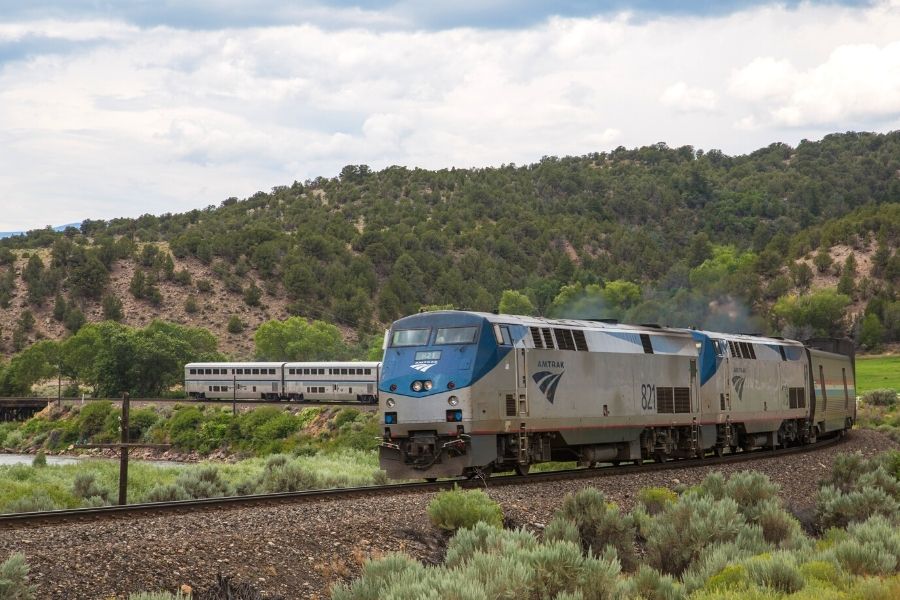 If a cross-country train ride isn't your thing, you can enjoy a short day trip route from Denver's Union Station to Glenwood Springs.
This scenic train ride specifically starts at Denver's Union Station and continues west. 
The route goes along Cold Creek Canyon to Winter Park heading north to Granby, along the Colorado River.
The Zephyr continues to follow alongside the Colorado River, weaving in-and-out of Glenwood Canyon offering views that are unmatched.
Stop off at Glenwood Springs for a relaxing day in the world's largest natural hot springs pool. 
Or enjoy some history by visiting Doc Holliday's grave then go for a picturesque hike at the Grizzly Creek Trailhead. 
Starts and ends: Chicago to San Francisco with multiple stops in Colorado.
2. Winter Park Express
Book a stay in downtown Denver and add onto your vacation with a trip to Winter Park thanks to the Winter Park Express. 
The Winter Park Express ski train takes passengers directly from Denver to the slopes on a special Amtrak train ride. 
And this tradition of traveling via train from Denver to Winter Park dates back to 1912.
Enjoy a calming, scenic ride through Arapaho & Roosevelt National Forests as you take off west from Denver's Union Station.
With floor-to-ceiling windows you can enjoy the Lounge Car which is fully stocked with snacks and drinks for your journey through the mountains.
One-way and round-trip tickets are available, so the Winter Park Express is perfect for a day-trip adventure or a week-long ski trip.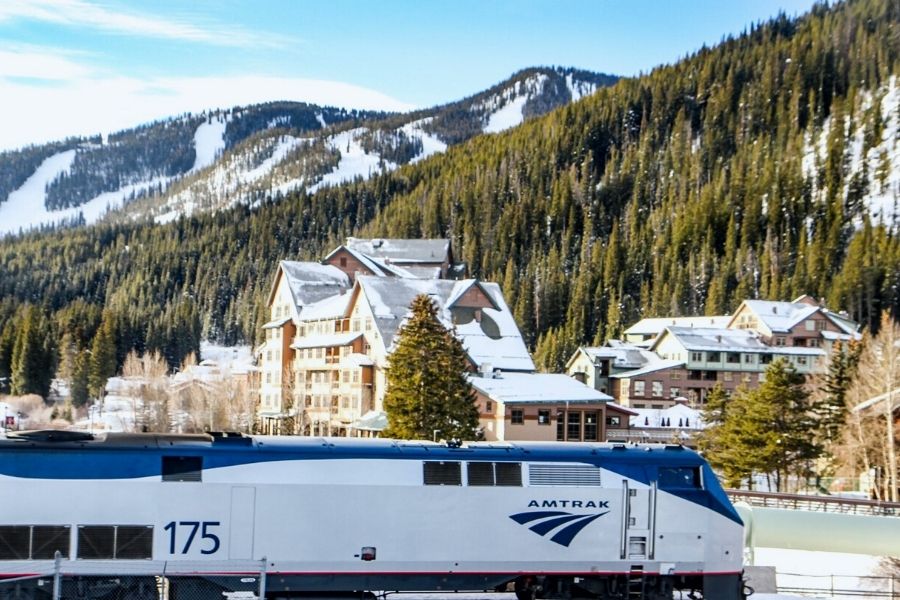 The train takes off from Union Station and rides along Cold Creek Canyon, passing several mountains including Eldorado Mountain and James Peak.
Continue enjoying a traffic-free ride as the train rolls through the historic Moffat Tunnel before arriving at the base of the Winter Park Resort.
Skiers and snowboarders will then step right off the train and onto the slopes! 
A ride up The Gondola or other chairlift to the top is just a few steps away from the unboarding point.
The Winter Park Express has been paused for social distancing and plans to resume service for upcoming the 2021-2022 season.
However, the California Zephyr is open year-round and currently has a stop in Fraser, Colorado with a shuttle to the Winter Park Ski Resort.
Starts and ends: Denver Union Station to Winter Park, Colorado.
3. Southwest Chief
The Southwest Chief train route runs from Chicago to Los Angeles with connections to the Grand Canyon. 
But along the way it makes stops at the Colorado towns of Trinidad and Lamar, which are located in the southeastern part of the state.
This train passes through the eastern plains south of the Arkansas River, along the Sante Fe Railway. 
Depending on which direction you're heading, you can view the Sangre De Cristo mountains from the Sightseer Lounge car.
Other breathtaking scenery includes passing through the San Isabel National Forest and riding over the Continental Divide.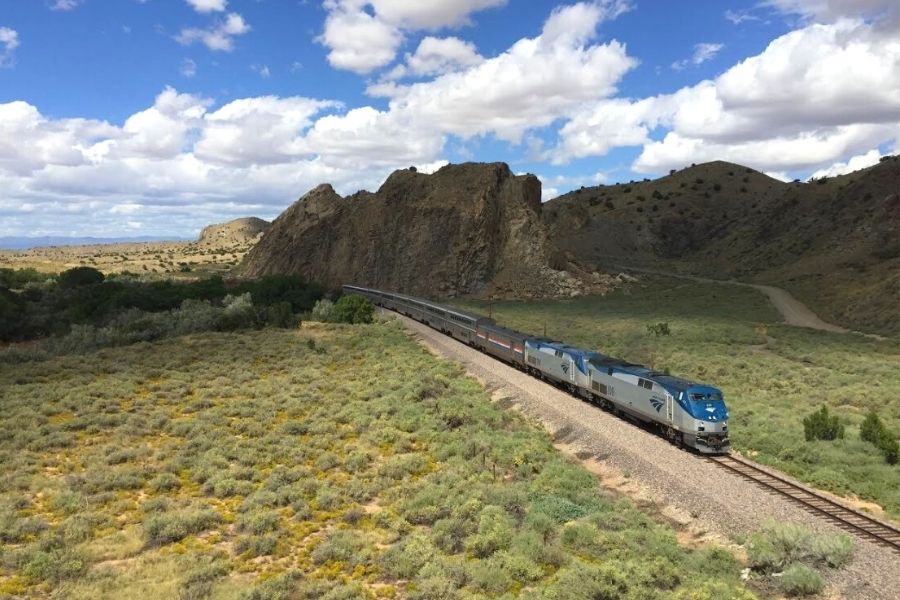 The views offered by this train are insane, especially when traveling through the Comanche National Grasslands, which are unexpected in a state like Colorado.
Unlike the California Zephyr, the Southwest Chief offers a unique perspective of the state.
You'll see more grasslands, pueblos, plains, and a different type of climate compared to traditional ski towns and the Colorado Rockies.
But in true Colorado fashion, this scenic Amtrak route travels over 7,000 feet in elevation near Trinidad. So, take care when traveling through high elevations.
Starts and ends: Los Angeles to Chicago with stops in Colorado at Trinidad, La Junta, and Lamar.
Colorado is a gorgeous state to experience no matter what time of year. 
And with so many best places to visit in Colorado, the hardest part might be planning which trip to go on. 
Even so, we recommend adding one of these scenic Amtrak routes to your list this year.