21 Best Things to Do in Manitou Springs This Weekend
This website may contain affiliate links and we may be compensated (at no cost to you!).
At the base of Pikes Peak sits the quirky mountain town of Manitou Springs! And it's right in our backyard in Colorado Springs.
In fact, Manitou Springs is a small town just 6 miles east of Colorado Springs.
It sits at 6,414 feet in elevation at the foothills of the Rockies, and has lots of history and fun attractions.
When you visit, you'll notice the historic, Old West feel of the town. Not unlike some of Colorado's most famous ghost towns.
And many of the old 1900s buildings and homes in Manitou Springs are still standing.
In the 1960s, Manitou Springs was known as a "hippie haven," so there is a very spiritual and artsy feel to the town as well.
Continue reading to learn the best things to do in Manitou Springs, Colorado this weekend.
Now, let's talk about the best things to do in Manitou Springs, Colorado.
What are the best things to do in Manitou Springs?
✔️ Manitou Springs Zipline: Best for thrill seekers
✔️ Manitou Springs Jeep Tour: Best for families & couples
✔️ Driving Tour of Manitou Springs: Best for creatives
These top activities in Manitou Springs mentioned, plus many more, are listed below in more detail.
Check out the best things to do in Manitou Springs that we enjoy doing when visiting this quirky town.
1. Manitou Springs Zipline
Join the Adventures Out West team as you soar high above the historic city of Manitou Springs on a zipline.
Join a local guide as you're instructed on how to use the zipline course safely. Then embark on a thrilling journey as you zip through the forest at the foot of Pikes Peak.
See spectacular views and stunning vistas while ziplining over an alpine canyon.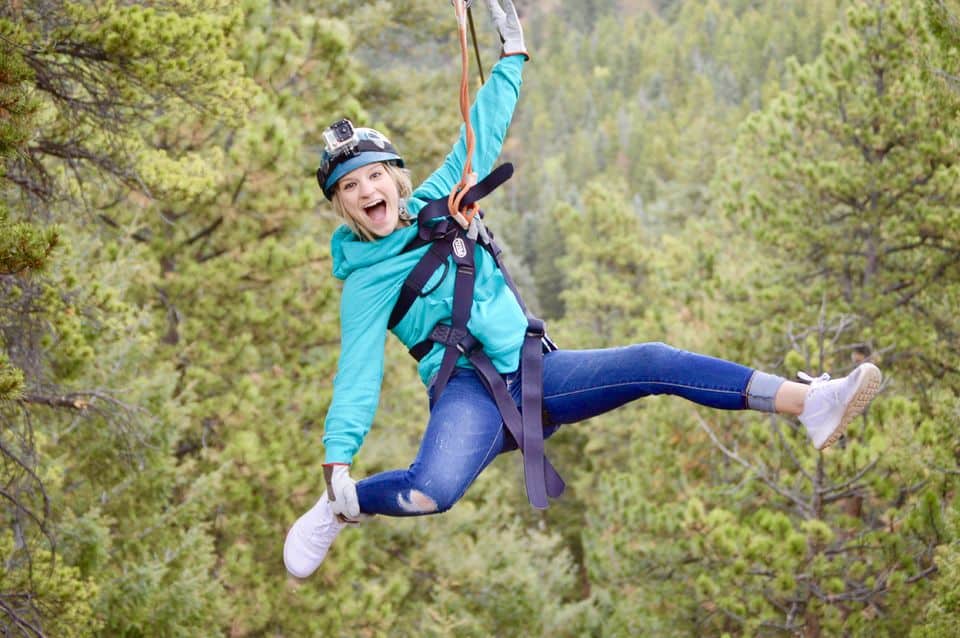 This natural-terrain course features five different ziplines, varying in length from 225-650 feet. So, you can customize the experience to fit your skill level.
Included with the Manitou Springs Zipline tour is all the gear you need including helmet, harness, and trolley.
Grab your ticket for this thrilling 1.5 hour ride as you zip across the Front Range. This zipline course is popular for adults, kids, couples and families of all ages.
2. Manitou Springs Jeep Tour
No visit to Manitou Springs is complete without seeing Garden of the Gods. The city sits at the backdoor of this iconic park afterall.
Join an expert guide on this 2-3 hour Jeep tour of Manitou Springs, including other historic stops like Old Stage Road.
The Jeep tour begins with Garden of the Gods, with the option to step out and grab a photo of some of the most beautiful views in the state.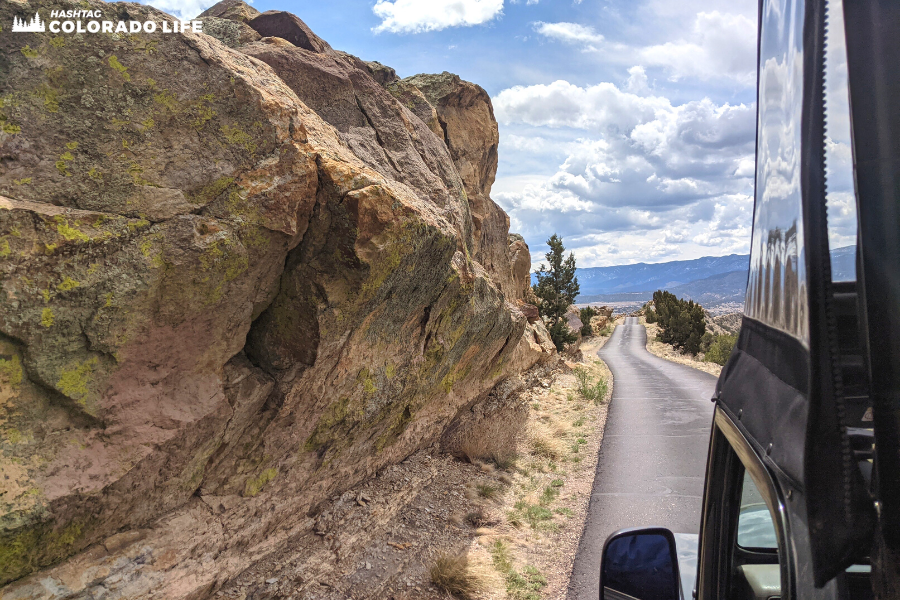 Then you'll tour Manitou Springs as you listen to the unique history of the area. You'll even be able to stop off at a few natural springs to take a drink of the mineral water.
The tour finishes with Old Stage Road, which is an old stagecoach road that travelers used to use.
You'll climb up 1300 feet in elevation and be met with gorgeous views of Colorado Springs from above.
A Jeep tour of Manitou Springs is perfect for anyone over the age of 1 years old, and includes snacks and bottled water.
3. Private Manitou Springs Driving Tour
For a more intimate experience when looking for things to do in Manitou Springs, why not book a private driving tour?
This half-day driving tour includes many hidden gems in Colorado including Denver's Union Station. It finishes with a nearly 2 hour visit to downtown Manitou Springs.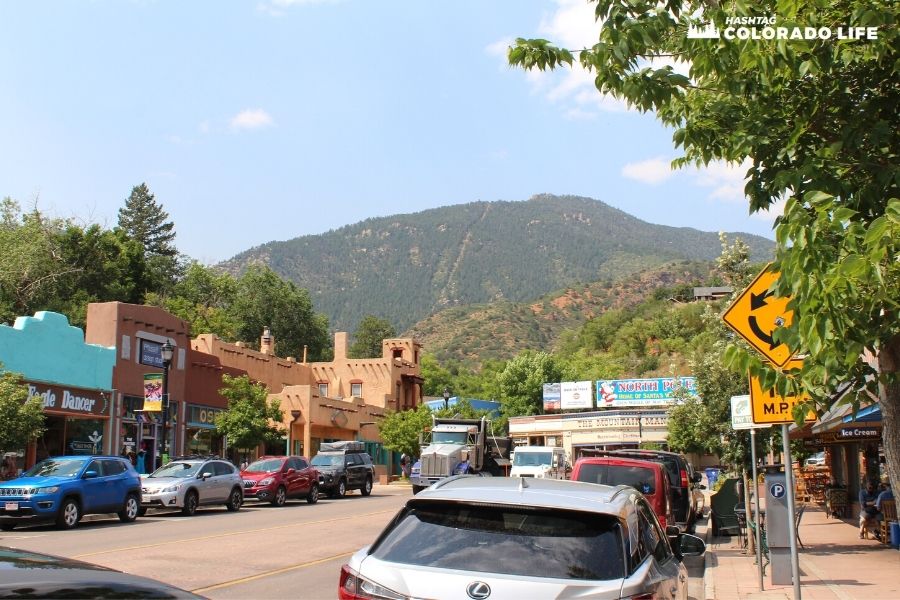 You will also have a nearly 3-hour tour of Garden of the Gods to explore the ancient history and see towering red rock formations.
This private driving tour of Manitou Springs and other classic Colorado locations is perfect for anyone who lives in Denver.
Let someone else do the driving while you and your loved ones sit back and enjoy the stunning scenery that towns near Manitou Springs have to offer.
4. Mineral Springs Walking Tour
If you're looking for more of a DIY day in Manitou Springs, we highly recommend going on a free mineral springs walking tour. This is one of our favorite things to do in Manitou Springs anytime we visit.
There are a total of 8 natural springs and the walk will take you on a tour of the entire downtown area. Get started with a mineral spring walking map available at the visitor center.
These springs are NOT hot, unlike some of the other hot springs near Colorado Springs.
Grab your map and take a stroll, and a sip, at every natural spring in Manitou Springs.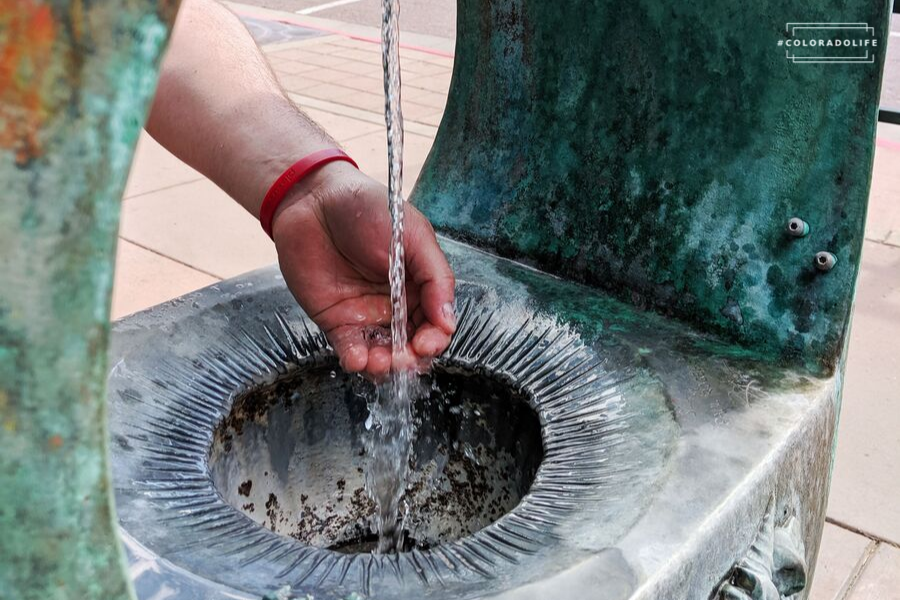 Each spring has a different mineral content and natural carbonation, so each has a slightly different taste.
Due to their various different mineral contents, doctors in the area used to prescribed these natural mineral waters to their patience for ailments.
5. Garden of the Gods
Manitou Springs sits in a canyon at the foot of the mountains making it an amazing scenic place.
It's an awesome gateway to explore nature and the rugged Rocky Mountains.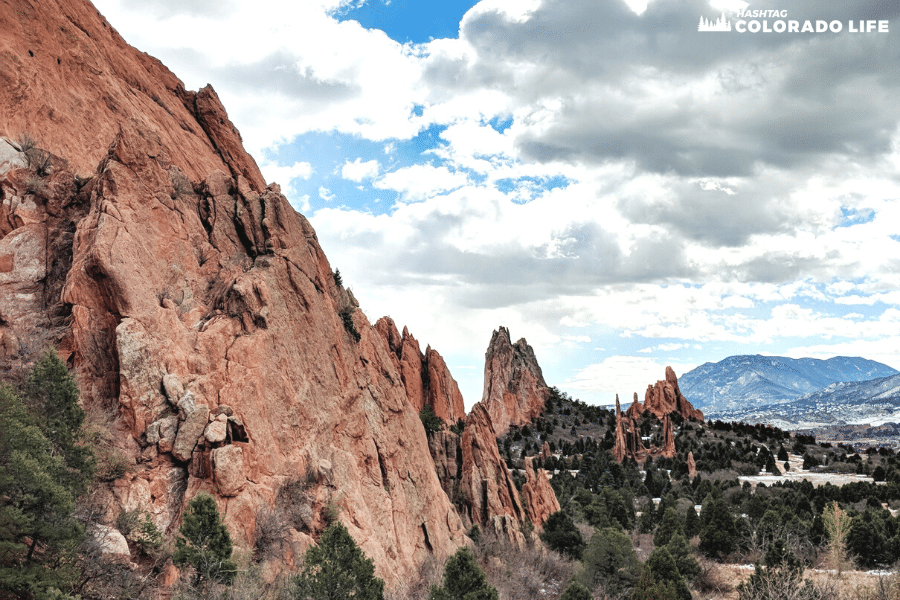 As we've mentioned, it is right around the corner from the Garden of the Gods, which is a must-visit place in the state!
Garden of the Gods is completely free to visit anytime of year. Check out the Visitor's Center that is home to a quirky museum, gift shop and cafe.
6. Manitou Cliff Dwellings Museum
Visit the Manitou Cliff Dwellings Museum to explore realistic cliff dwellings like those found in Cortez, Colorado.
This authentic replica archaeological site was shipped to Manitou Springs in the early 1900s.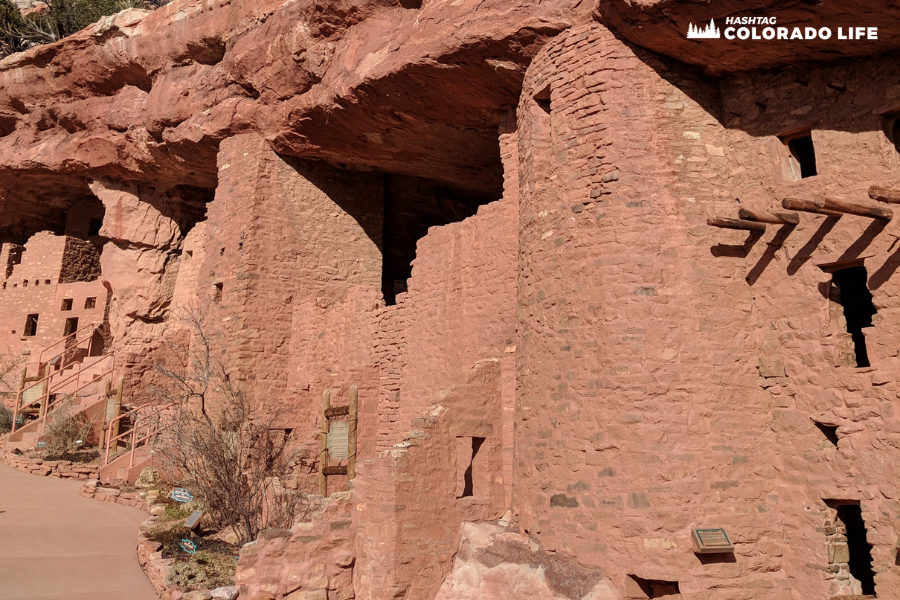 It was made to accurately reassemble the same likeness and style as the original in southwest Colorado.
Visitors can walk through the cliff dwellings and learn more about the native history of Colorado.
Once you pay for admission, your time is your own as you can explore the museum, gift shop, and the cliff dwellings at your leisure.
7. The Manitou Springs Incline
This super steep hike ascends 2,000 feet in less than a mile. Whew!
If you're up for more than just a stroll around town, grab your hiking boots and get ready for an epic climb.
The base of the incline is a short walk from the free shuttle drop off and pick up location.
Check out our guide to hiking the Manitou Incline to learn more about this epic trail and the funicular.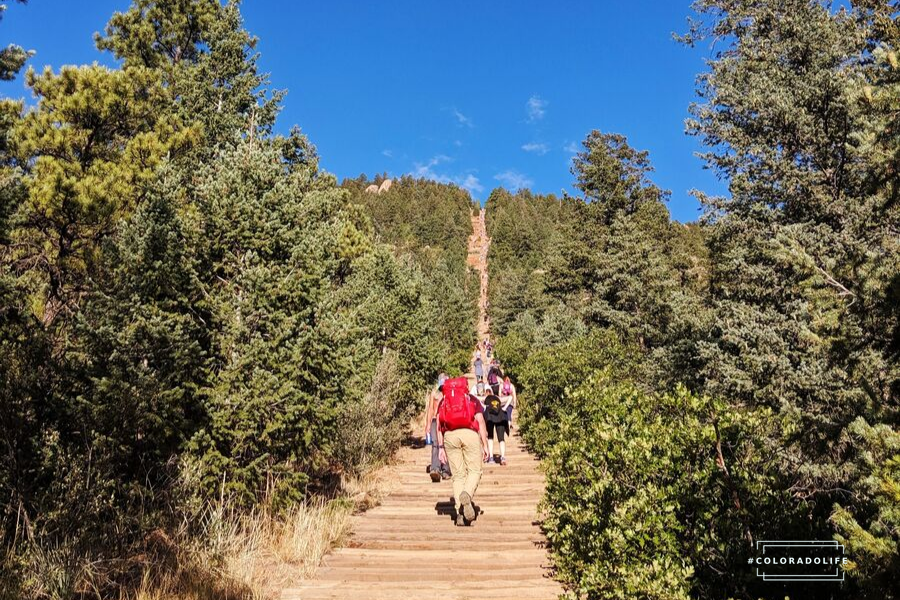 What's a funicular? It's a double railcar system that uses two cars (one going up, and one coming down) to pull riders up the mountainside by cable.
The cars counterbalance each other along the ride up and down.
The funicular was officially closed in 1958, and the railways were washed out by a 1990 rock slide.
The incredible incline remains one of the most challenging athletic hikes in Colorado.
8. Manitou Penny Arcade
Play hundreds of old arcade games at the Manitou Penny Arcade. This arcade features:
rides
prizes
new and old games
pinball
skeeball
pool
air hockey
And the arcade truly lives up to its name with some vintage games only costing a penny to operate, with many more costing between $0.10 – $0.25 each.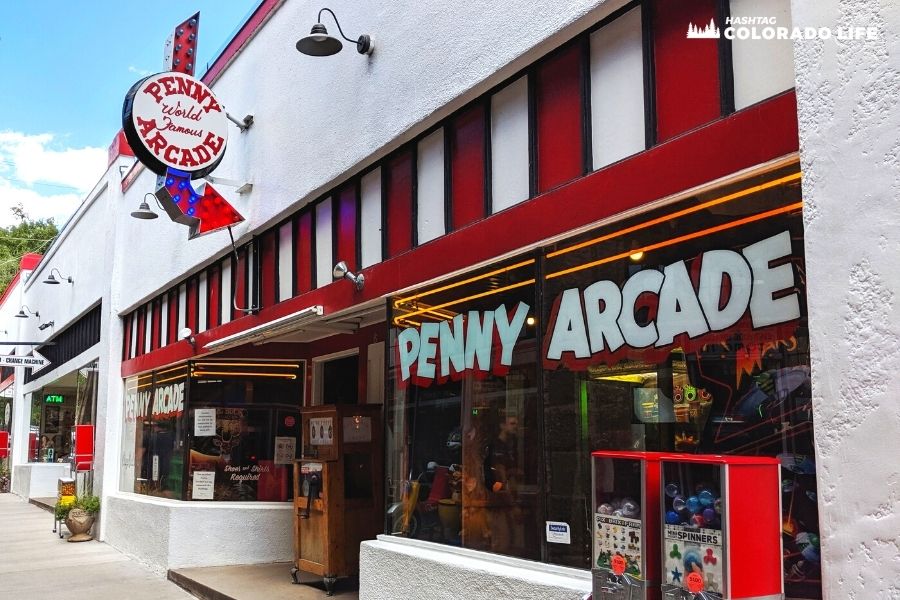 This is a bit of Manitou Springs nostalgia for long-time residents of Colorado, and anyone who still loves to hear those pinball flappers clacking!
9. Red Rock Canyon Open Space
Red Rock Canyon Open Space is a hidden gem that locals enjoy for hiking, biking, and rock climbing all year round.
The park is totally free and offers gorgeous views of large sandstone rock formations. You can explore architecture from exploration and mines years ago.
The trails are perfect for kids and adults as most of the trails are an easy to moderate level of difficulty.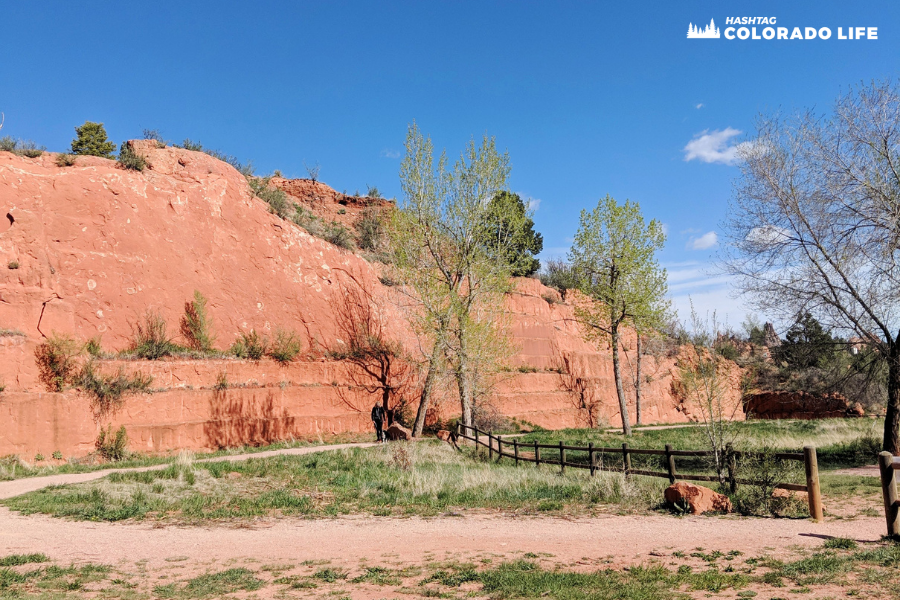 Dogs can also enjoy the off leash space at the dog park and cyclists will enjoy the numerous biking trails.
Rock climbing is also a popular activity here, but you must request a permit before climbing.
Individuals in a wheelchair can enjoy the ADA-accessible trail called Red Rock Canyon Trail.
10. Manitou & Pikes Peak Cog Railway
Since the first train reached the top of Pikes Peak from Manitou Springs in 1891, the Manitou & Pikes Peak Cog Railway has been a popular tourist destination.
Though it has been closed for repairs since late 2017, the railway reopened in June 2021 with all new equipment.
As you drive into Manitou Springs, you can see one of the original steam engines on display, just east of the downtown area.
Manitou Springs is a wonderful place to shop, eat, and hunt ghosts (yes really!).
11. SALUS
SALUS is a natural bath and body care company that specializes in bath and shower bombs, and lots of other amazing, all-organic products for your skin.
If you have sensitive skin, or just love supporting a local family company with amazing products, you'll enjoy creating your own custom bath products at SALUS.
This store is their first retail location right here in Manitou Springs.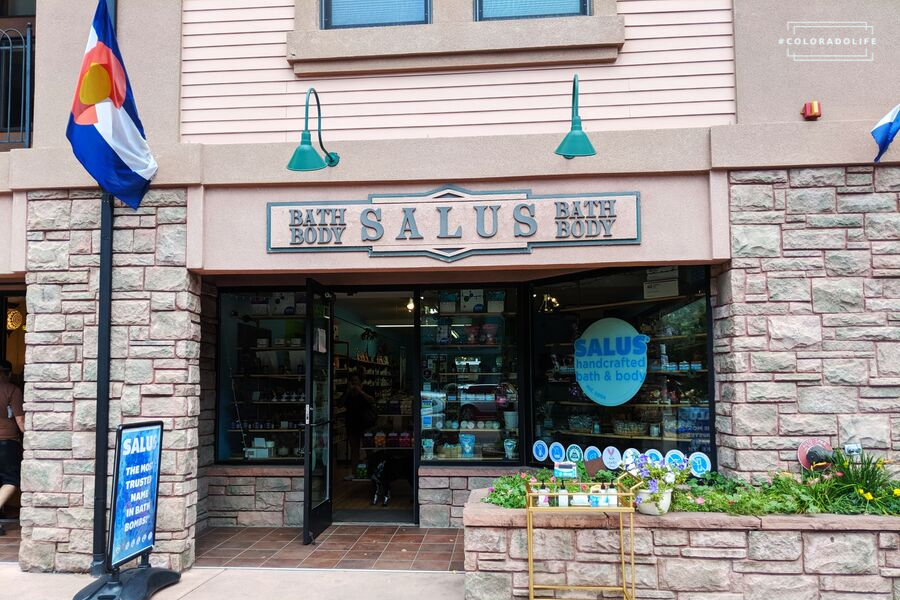 12. The Loop
Built in 1903, The Loop became popular as a place to barbeque the wild game that patrons harvested from the surrounding mountains.
Hunters would bring their elk, deer, and other kinds of game to be barbequed out back and served right back to them.
While the barbeque remains behind the restaurant, today you'll see why The Loop won the Gold award in 2014 and 2015 for the best Margarita in the Pikes Peak area!
Fact: The Loop was coined because the trolley from Colorado Springs to Manitou Springs looped around the building.
13. Patsy's Chocolates and Gift Shop
This open air concession stand is the only permanent open air stand in all of Colorado!
Famous since 1903, you'll love the gourmet popcorn and the best salt-water taffy you'll find anywhere.
Find lots of old fashioned candies and gifts at Patsy's Chocolates and Gift Shop.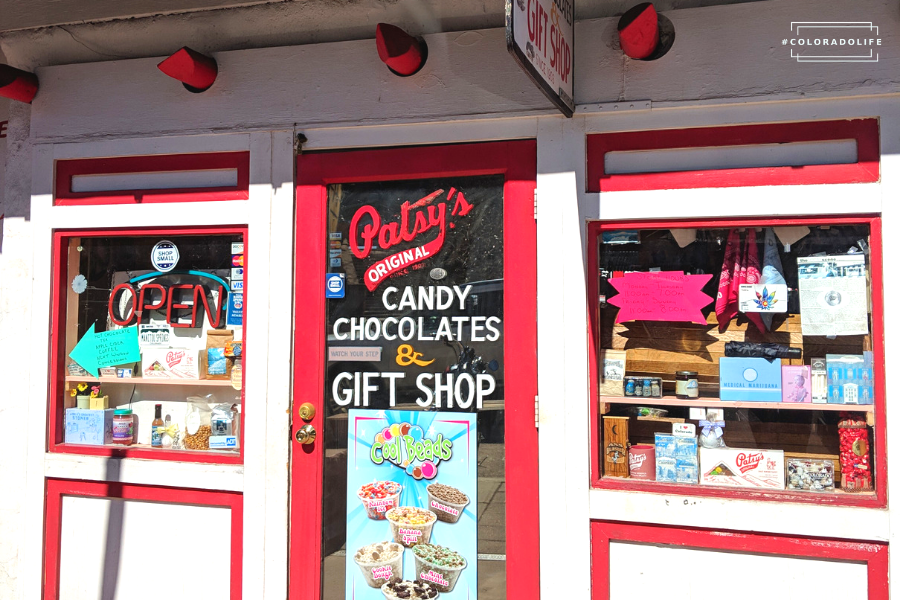 14. Colorado Custard Company
The Colorado Custard Company is the perfect stop to cool off on a hot summer day.
Only open when the weather is above 40 degrees, this frozen custard shop serves up cones, cups, sundaes, and avalanches.
What's an avalanche? It's a frozen custard with your favorite toppings mixed in!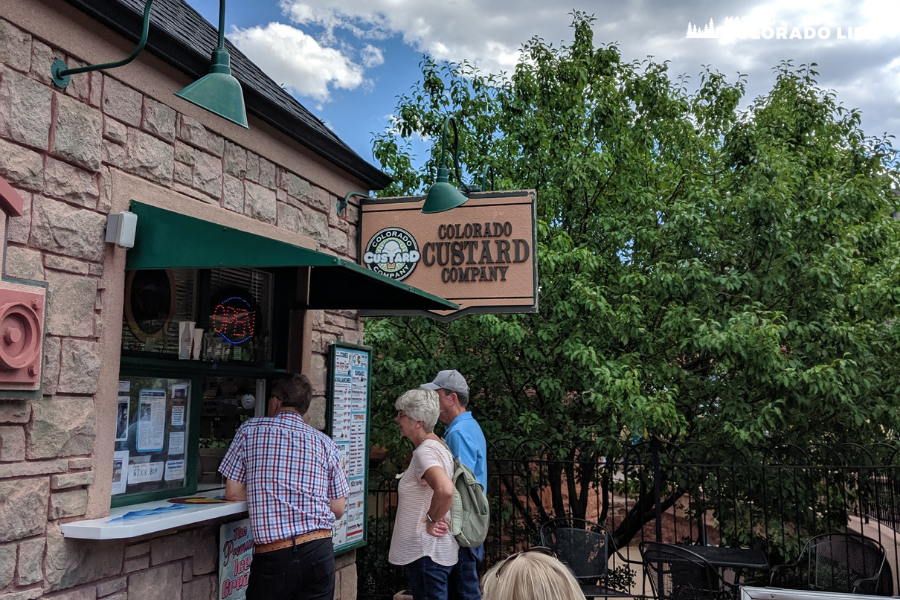 How is frozen custard different from ice cream? Frozen custard contains more egg yolk than regular ice cream, which gives it that signature creaminess.
There is much less air in custard because it is churned much more slowly. It's smooth, dense, and not as cold as regular ice cream, so it tastes much better!
Try a Front Range split, a Volcano avalanche, or keep it simple with a classic sundae.
15. Miramont Castle and Cliff House
Since Manitou Springs is a historical town, it has its fair share of ghost stories and haunted houses.
These incredible castles were built in the 1890s and have collected plenty of spooky stories over the years.
If you're up for a fright, take a ghost tour at the Miramont Castle Museum or The Cliff House (if you dare!).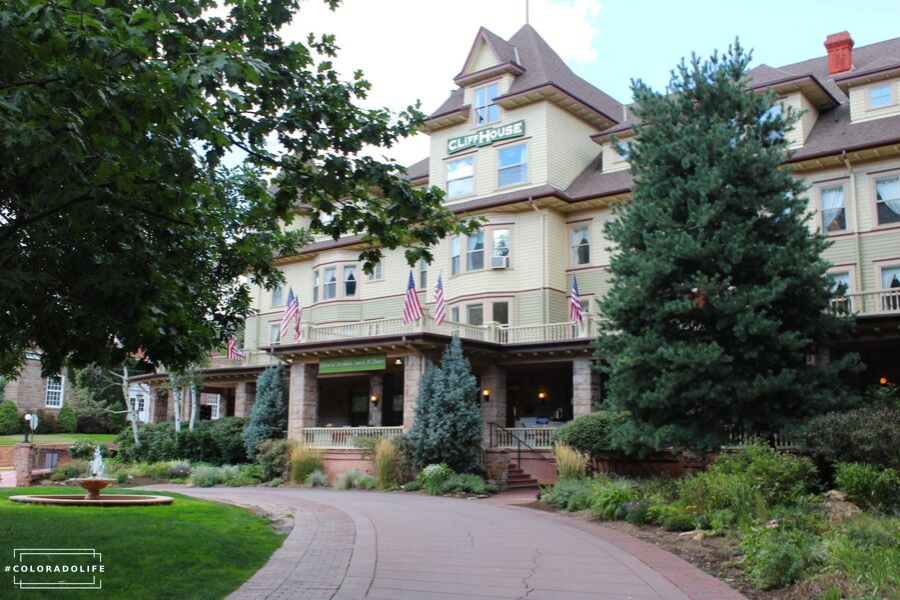 Simply pass by these historic castles on your own tour of the city, or head inside for a closer look.
Either way you'll be enthralled with the unique history and architecture of these beautiful buildings.
16. The Emma Crawford Coffin Races
This top thing to do in Manitou Springs is exactly what it sounds like.
The story goes that Emma was a musical prodigy that lived in Manitou Springs. Before she died, she requested to be buried on top of a nearby mountain.
For some reason, she was not placed at the top of the mountain, but on the slope. And over time, due to erosion, poor old Emma came loose and slid down into the canyon in her coffin.
Nowadays, around Halloween, you too can race around in your coffin!
At the Emma Crawford Festival each October, one Emma and four mourners prepare their costumes and their coffins for a race to the finish line.
Winners can also take home prizes for "Best Entourage," "Best Emma" and "Best Coffin!"
17. First Friday Art Walk
On the first Friday of each month Manitou Springs features virtual and in-person Art Walks.
Visitors can check out local galleries and experience live music throughout the Creative Circuit.
This organization features art on the streets from downtown Colorado Springs, Old Colorado City and Manitou Springs.
Take the free First Friday Shuttle Bus that connects the Avenue Creative Circuit to each city to enjoy your custom art walk.
18. Cave of the Winds
Cave of the Winds Mountain Park is considered one of the best things to do in Manitou Springs.
It offers a plethora of outdoor activities that are unlike anything you've experienced before.
This complete Colorado adventure offers thrilling mountain rides and exceptional tours through some epic underground caves.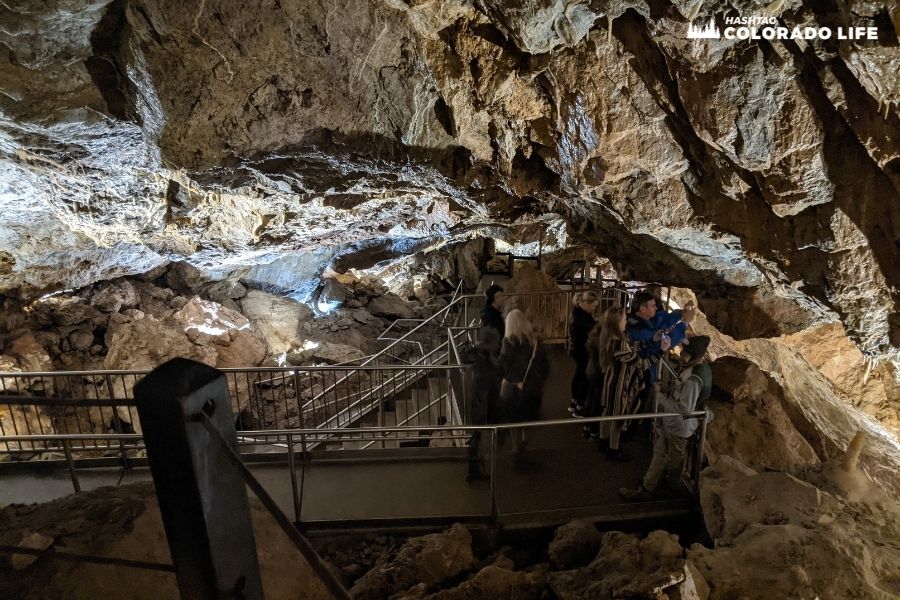 However, this adventure park offers above ground activities too. Enjoy rock climbing, get launched over the canyon, or ride the Terror-Dactyl.
And it's fun for the whole family, from young kids to teens and older adults. Everyone will find something fun to do at Cave of the Winds.
The most popular tour is the Discovery Tour which lasts 45 minutes and takes visitors through 15 different cave rooms.
19. Manitou Springs Heritage Center
It's no secret that Manitou Springs is a unique town with lots of history.
To get the full experience of what life was like during the gold rush days, check out the Manitou Springs Heritage Center.
From the exhibit of the famous Manitou Incline to historic pottery, this museum offers historic attractions and artifacts.
Experience the true essence of the Pikes Peak region while learning more about the rich history and experience the culture of the city.
20. Sunwater Spa
Sunwater Spa is a must-visit if you're looking for a relaxing atmosphere to enjoy the hot natural spring water in Manitou Springs.
Sunwater Spa is a tranquil traditional spa that is located right downtown. In fact, it's across the street from Memorial Park.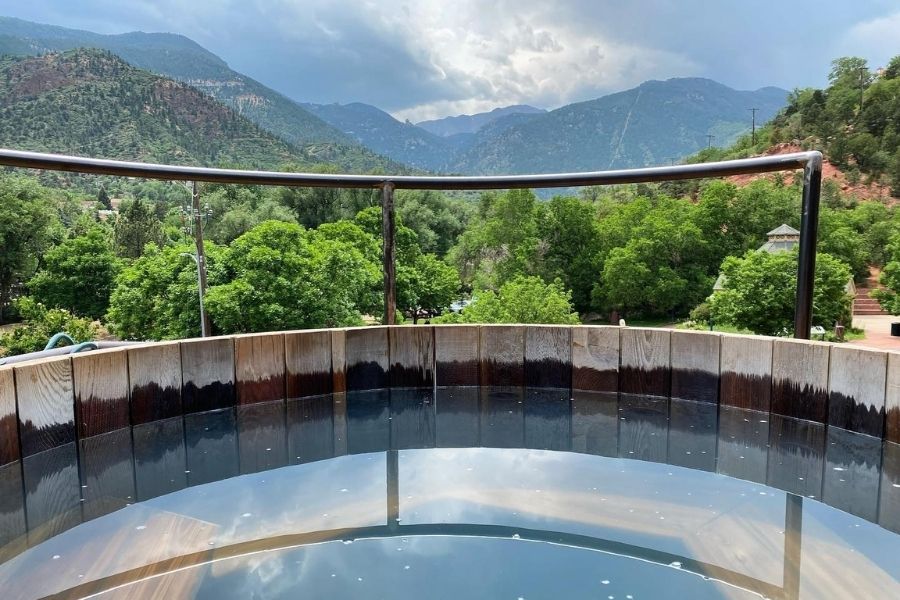 If you're looking for the best hot springs near Colorado Springs, this is at the top of our list.
From relaxing massages to therapeutic saunas, a cold plunge pool, yoga classes and steamy saunas, the Sunwater Spa has it all.
Couples can enjoy a 90-minute soak in one of the cedar tubs while enjoying relaxing music and views of Pikes Peak.
We hope you enjoy your next visit to this historic, off-beat little town surrounded by gorgeous mountain views.
21. Rainbow Falls
Hidden underneath a bridge is the popular Rainbow Falls destination in Manitou Springs.
The waterfall runs from the Fountain Creek in town and flows down beneath the highway overpass.
It's about a tenth of a mile long and located just a short walk from downtown Manitou Springs.
Because of the colorful (although illegal) graffiti art along the base of the water, Rainbow Falls has been nicknamed Graffiti Waterfall.
Since this is off the main path, this area is mostly known to locals and is not a touristy destination. Still, it's a great place to stop, rest, and take in the local beauty in between shopping trips.
Where is Manitou Springs in Colorado?
Getting to Manitou Springs is pretty easy, especially if you're coming from downtown Colorado Springs.
Head west on Colorado Avenue for about 16 miles, which takes about 5-6 minutes depending on traffic.
Or if you're driving from Denver, head south of I-25 and get off on the Highway 24 exit. Then just follow the signs for Manitou Springs.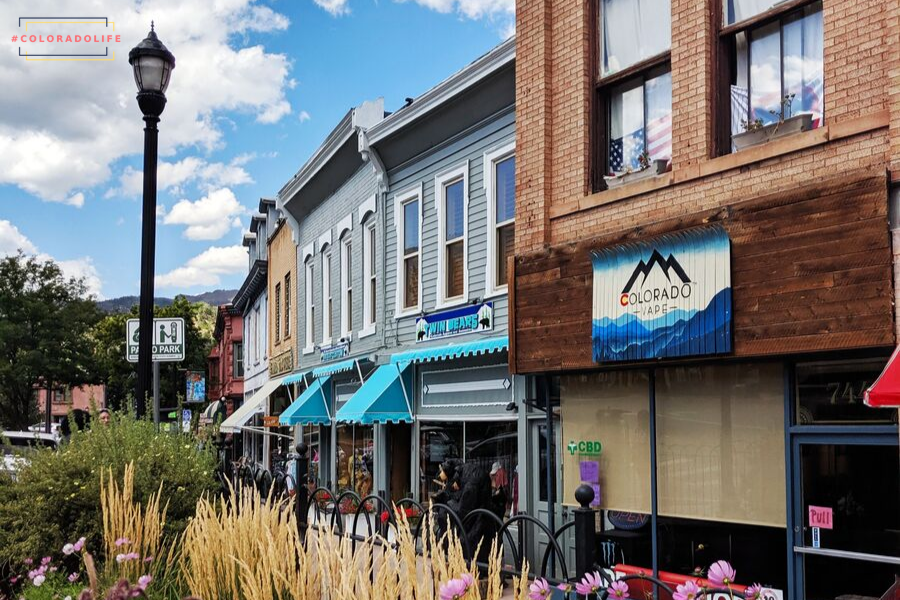 Best known for its small mom-and-pop shops, restaurants, pubs, and parks, Manitou Springs offers plenty to do in a relatively small area.
Once you arrive in Manitou Springs, leave your car behind and enjoy this quirky town on foot, starting on Manitou Avenue.
While the town has a booming tourist season from summer through Christmas, you won't feel crammed.
And it's a great place to visit all year round. There is something for everyone, no matter if you are a Colorado native or newcomer!
From picturesque hiking trails to jeep tours and pinball machines, curious visitors and history buffs alike will find Manitou Springs the perfect place to visit.
The town's natural beauty is made even more appealing thanks to its location near Pike National Forest.
We hope you enjoy your next visit to this historic, off-beat little town surrounded by gorgeous mountain views.